If you're a bald man, you're in good company. Guys like Dwayne Johnson, Patrick Stewart, and Samuel L Jackson have made a smooth dome look slick and stylish. The challenge, for most men, is that you don't go entirely bald. Instead, you end up with the classic horseshoe pattern, or with extremely thin hair on the top. In that case, you used to have two choices. Either rock the thinning look, or use a razor. But razors aren't always practical for shaving your entire head. And working around the back in particular is a great way to cut yourself. Unless you can have your head professionally shaved every few days, it's not practical.
Electric razors have become a viable alternative. Because there are no exposed blades, you don't have the same concerns about cutting yourself. But even electric razors have their own major drawback. They're designed for your face, including your upper lip. This limits the total size of the razor surface. Does that stop you from using one on your head? No. But it makes the job take longer. Meanwhile, the handle design also won't be right for working on the sides or back of your head. If you want to get the job done correctly, you want a head shaver that's purpose built for the task. Thankfully, we've found one of the best.
Today, we're going to review the Wyklaus 7D Floating Head Shaver. This is an ergonomic head shaver with seven independently-mounted cutting heads. It covers a large area, so you can shave your entire head in just a couple of minutes. And if that's not enough, it comes with several attachments for clipping and trimming. But how well does it actually work? To answer that question, we're going to have to take a closer look at all of its features and attachments. We'll need to find out how well it trims, and how long the battery lasts. After we've given it a thorough evaluation, we'll be ready to render our verdict. Let's get started!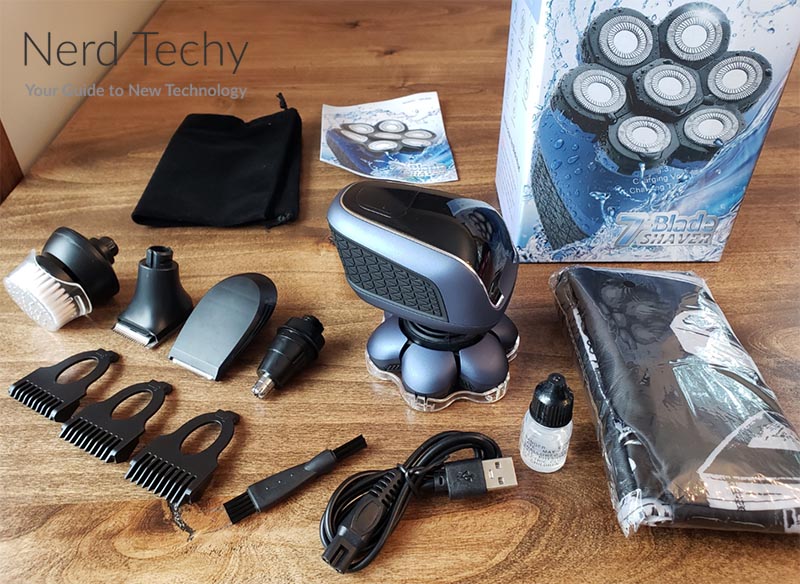 Overall Design
The main attraction of the Wyklaus 7D Floating Head Shaver is in the name. By "7D," it means there are seven independent shaver heads. The center one is hex-shaped, with the six others arranged around the outside. Each cutting head is mounted on its own separate base. This allows all of them to rotate and pivot as needed to fit the shape of your head. They can also move up and down independently. As a result, this is one of the most ergonomic head shavers on the market. Even if your head has some irregular lumps or folds, the heads will pass over those areas with ease.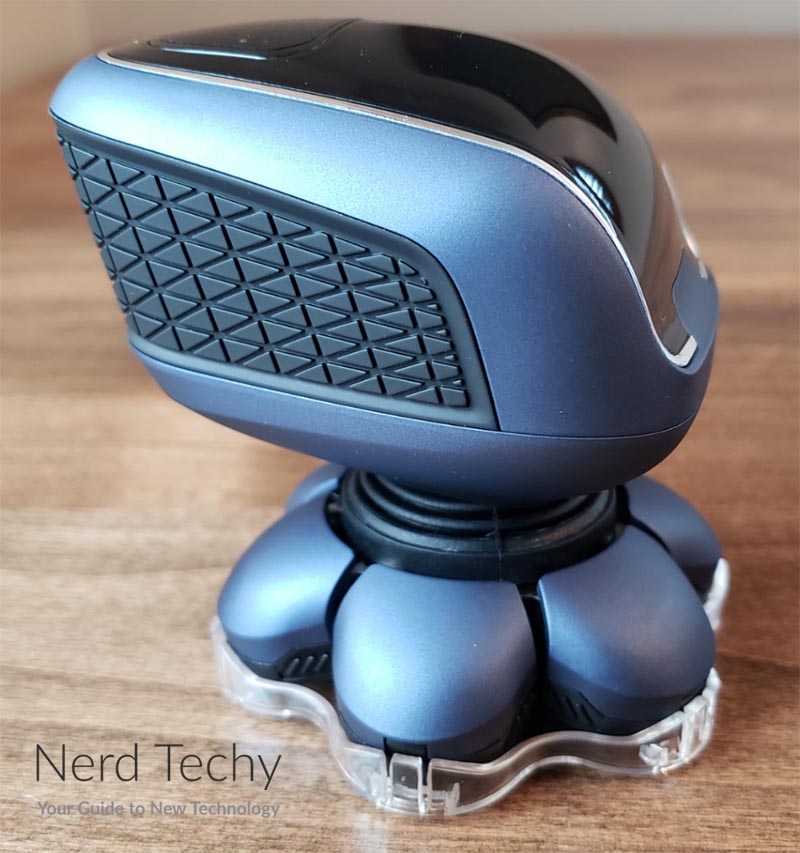 Behind the cutting heads is an ergonomic handle. It's big and beefy, with a rounded back and a sloped top. It fits comfortably in a single hand, and can be held from almost any angle. There's also a black rubber grip around the back side, so it's easy to hold when your hand is wet. This is fortunate, since the shaver has a water-resistance rating of IPX6. This means it's safe for any amount of water exposure, short of full submersion. So if you want to shave your head in the shower, you'll be able to.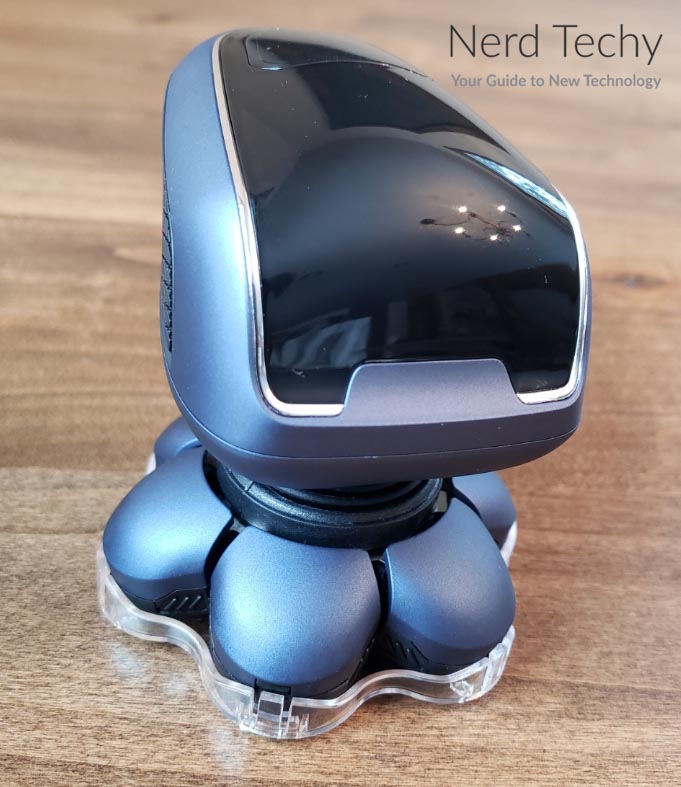 The bulk of the rest of the housing is a dark blue plastic, with a smooth, easy-to-clean finish. On the back of the handle, there's a black LCD display. The bulk of this display is a percentage readout of your current battery level, in big, white numbers. Beneath these numbers, there are a pair of warning lights, which illuminate when necessary. The red warning light to the right is a low battery alert. When this light comes on, you're starting to lose power, and your blades aren't cutting as effectively. The yellow warning light to the left is a cleaning light. It lets you know when the blades are dirty, and hair clippings need to be swept out.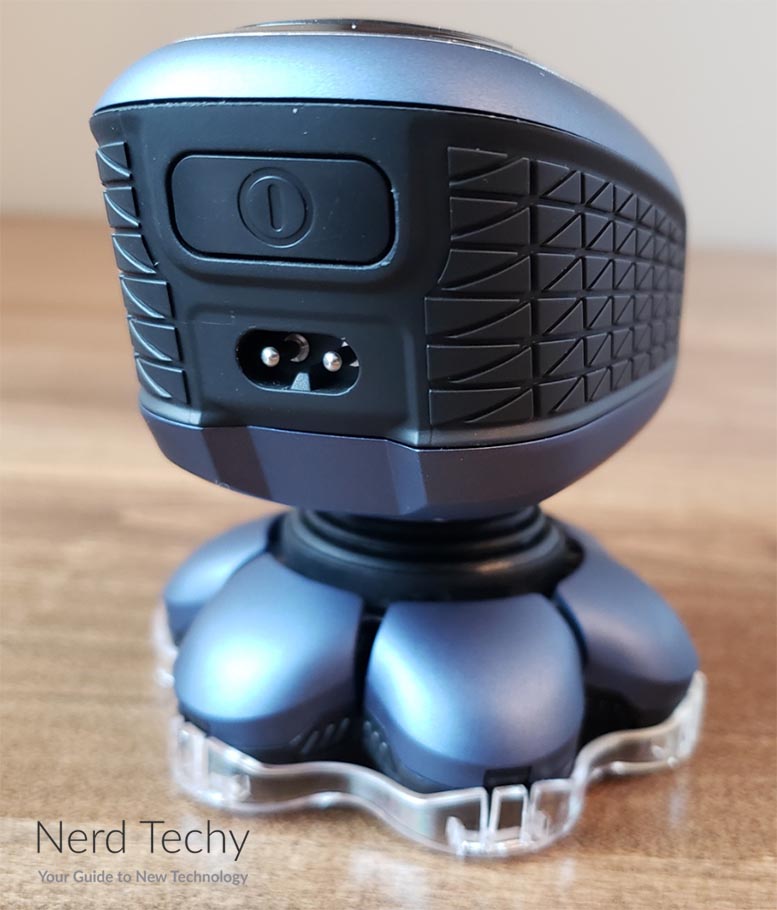 Along with the 7D head shaver itself, you get a few accessories to help you out. Besides the trimming accessories, which we'll discuss next, you also get a plastic smock. It's well put together, and secures comfortably around your neck with a velcro closure. There's a little bottle of clear blade lubricant, along with a double-ended brush. One end is designed for cleaning out the blades, while the other is designed for applying the lube. There's a charging cable, which you'd expect from any rechargeable electronic device. And there's a knit carrying bag for both the trimmer and all the accessories.
Trimming Functions
So, how well does this head shaver actually perform? Let's start with the main, 7D cutting head. This head works exceptionally well on top of your head. It glides comfortably across your skin, and provides a nice close cut. And unless you're trying to cut longer hair, you don't have to worry about any snagging or pinching. That said, a lot of the marketing revolves around using the 7D as a face shaver. While it's true that it's capable of the task, it's not really ideal for your face. The main problem is that the cutting surface is so large. That's great for getting your head shaved quickly, but it's tougher around your jawline or lower lip.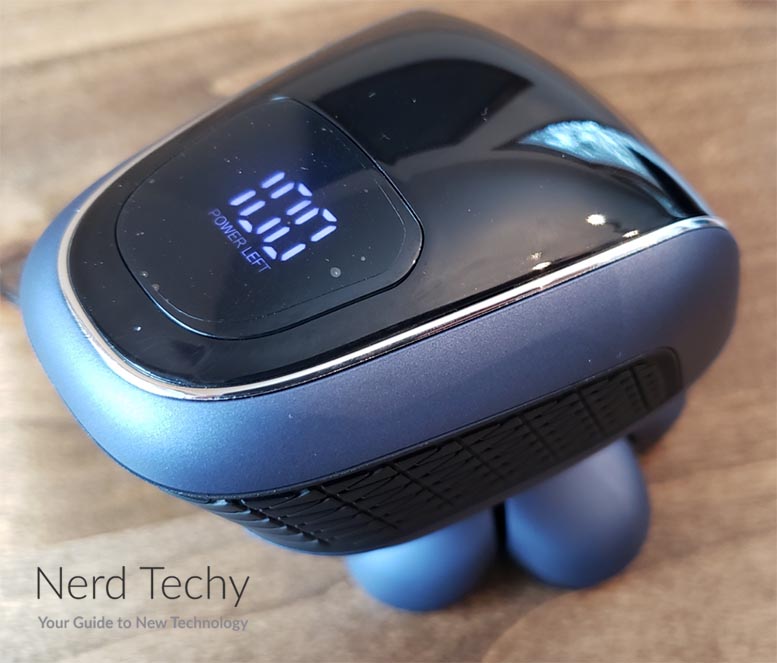 But what about the other attachments? If you prefer a buzz cut to a full shave, you'll have the option. The hair trimmer attachment has a metal backplate, with a powerful set of blades on the front. The blades cut quickly and cleanly, and won't easily tug even on very thick hair. There are also three plastic guide combs in the kit, so you can trim your hair to different lengths. These cut to 3, 5, and 7mm, so even the longest is pretty short.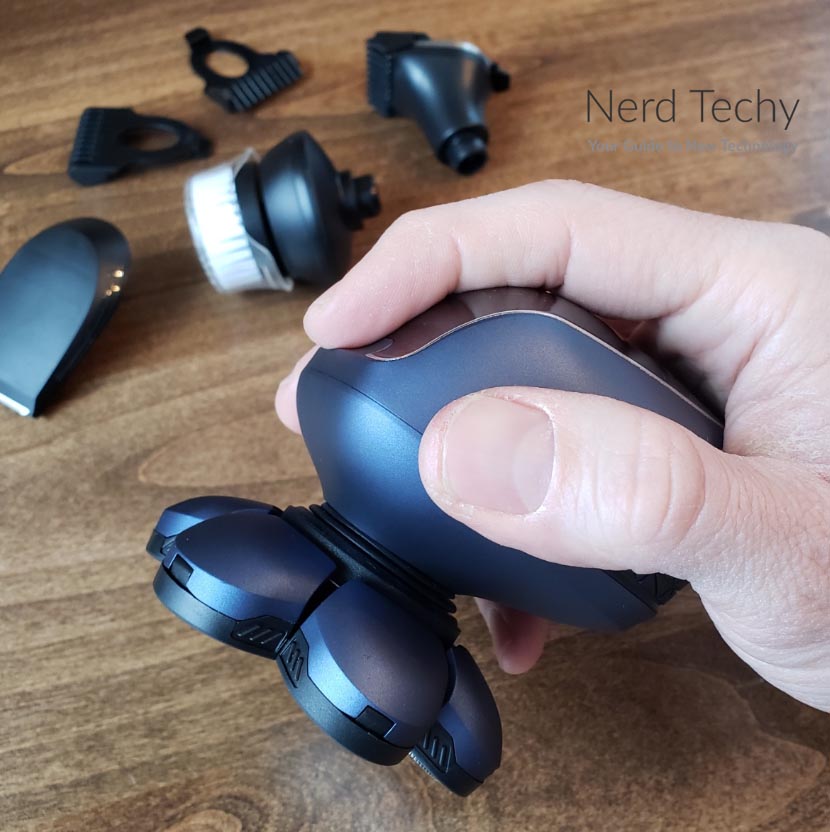 The trimmer attachment is a great addition to an already well-designed head shaver. But what if you want a more comprehensive trimming kit? In that case, take a look at the TOFULS Professional Hair Clippers. These provide a much wider variety of hair trimming options. On the other hand, they're not designed for shaving, and there no other attachments.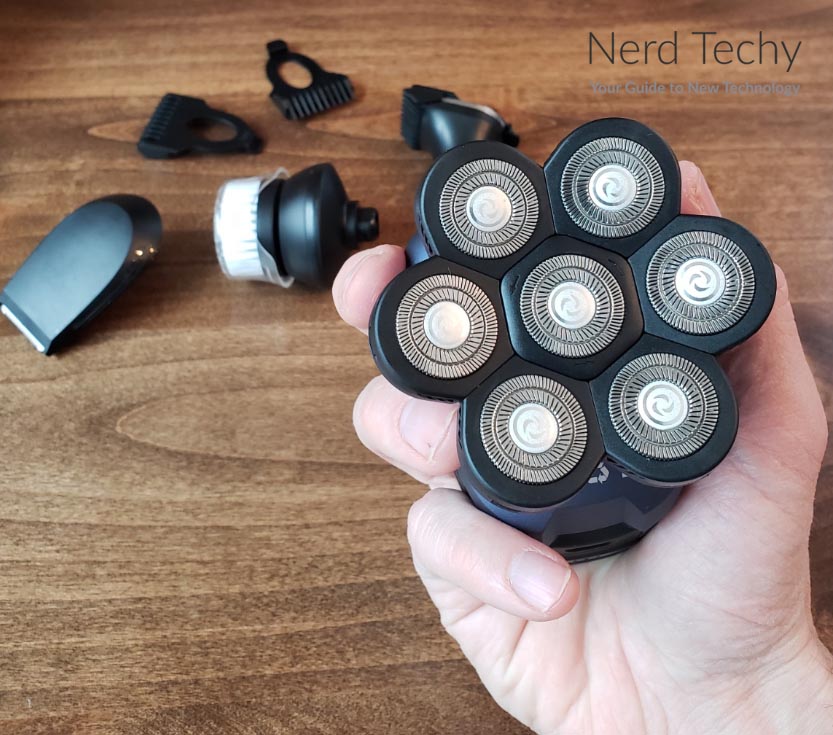 The second attachment is a sideburn trimmer. The sideburn trimmer has a black backplate, and finer blades than the hair trimmer. It's also longer, with a narrower set of blades at the tip. It doesn't have quite as much power as the main trimmer. However, it's better-suited for use without the protection of a guide comb. It won't snag your skin at all, and in fact, it actually tickles a little bit. It's great for detailing around your ears, or fading out your sideburns. You can even use it for trimming your beard.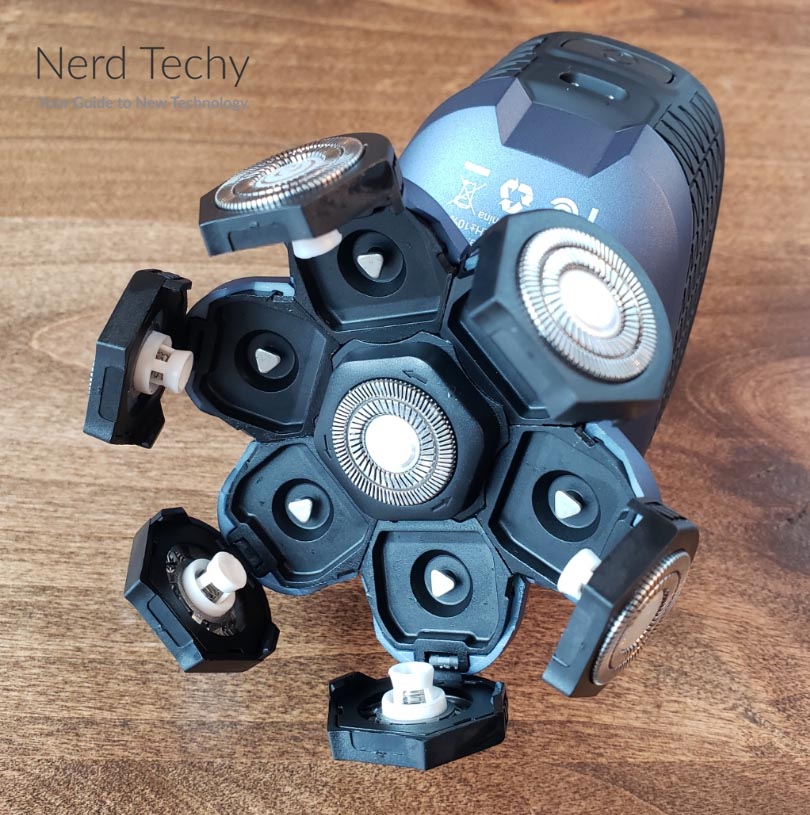 The next attachment you get is a nose hair trimmer. This is mostly black and cone-shaped. At the tip, the silver blade assembly extends forward, with a cylindrical profile. This cylindrical portion goes into your nose, and protects your delicate nasal lining from the internal blades. It does a great job of clipping away any excess hairs, and it's very comfortable to use. Unlike a lot of nose hair trimmers, it won't snag and yank at your hairs while you're cutting.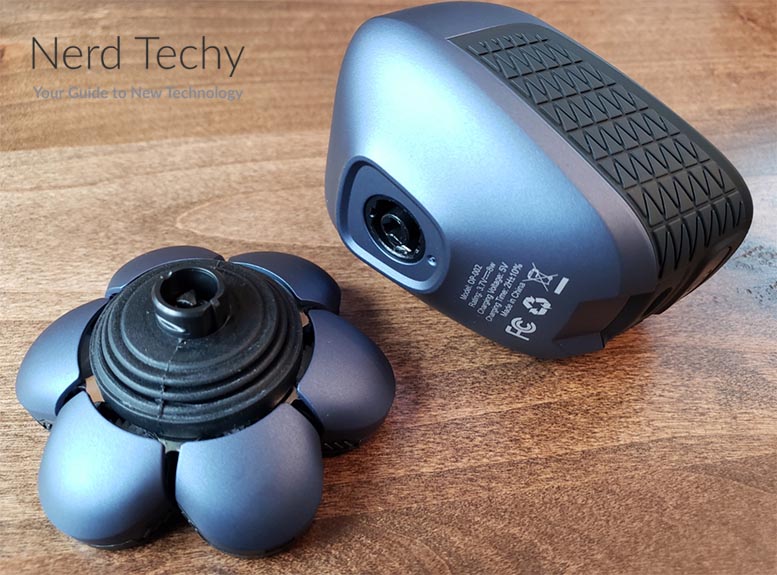 The last attachment is a bit of an oddball, but it's an interesting one. This is a rotating nylon brush, with soft white bristles. Wyklaus calls this a cleaning brush, and it can certainly be used for that task. It's great for clearing away hair clippings, so you can tell if you've missed a spot. That said, it can also be used for shaving cream. If you work from an old-school shaving cream bar, you can use this brush to lather it up in seconds. Then, you can shut the power off and use it to apply your cream. It's a niche application, but it's neat to have the option.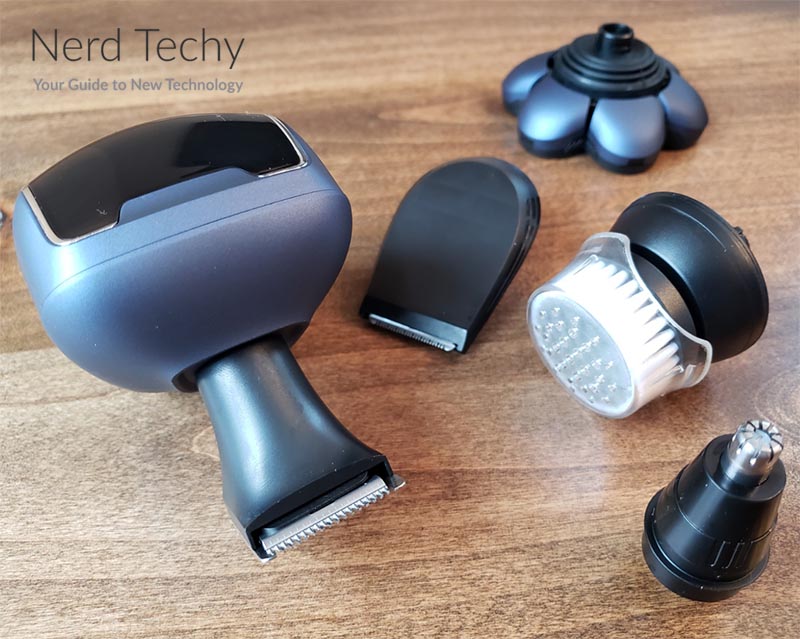 Battery and Maintenance
The 7D has an internal rechargeable battery with a capacity of 600mAh. This is enough for 90 minutes of continuous operation. That might not sound like much, but keep in mind what we're talking about. Even if it takes you 10 minutes to shave your head, you'll still get 9 full uses on a charge. Not only that, but running out of juice isn't a major concern. You can charge the battery in only 90 minutes via any USB power supply. You can charge it from an AC adapter, power bank, or even from your computer. That said, it uses a proprietary charging cable with a USB tip on one end. If anything happens to the cable, you'll only be able to get a new one by ordering from Wyklaus.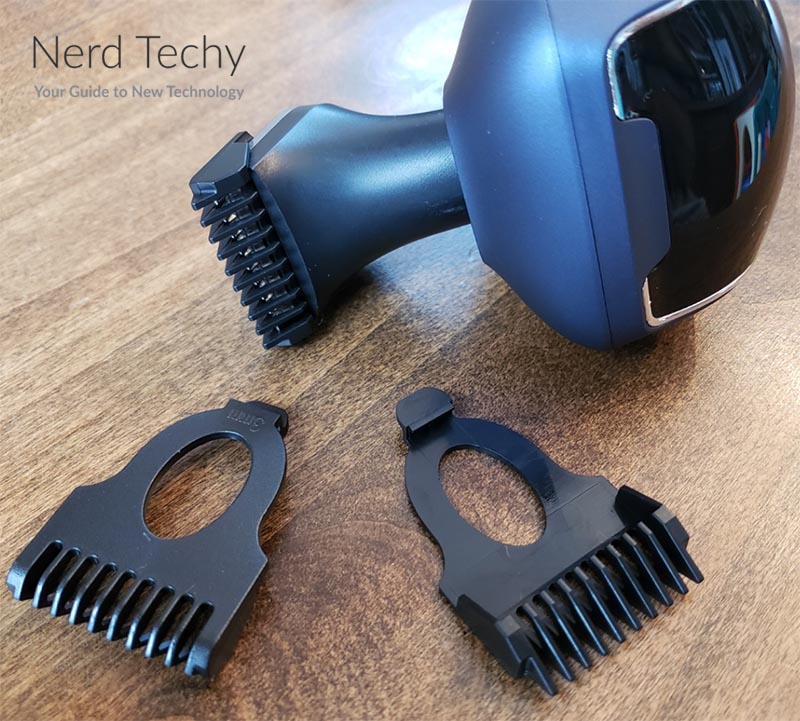 Another noteworthy feature of the 7D is the travel lock setting. When you press and hold the power switch for three seconds, you'll engage the lock. Once the lock is engaged, the power button will no longer activate the motor. This keeps your shaver from accidentally getting switched on in your luggage. When you get to your destination, you just have to press the power button for three seconds again. This will disengage the lock, so you can shave away.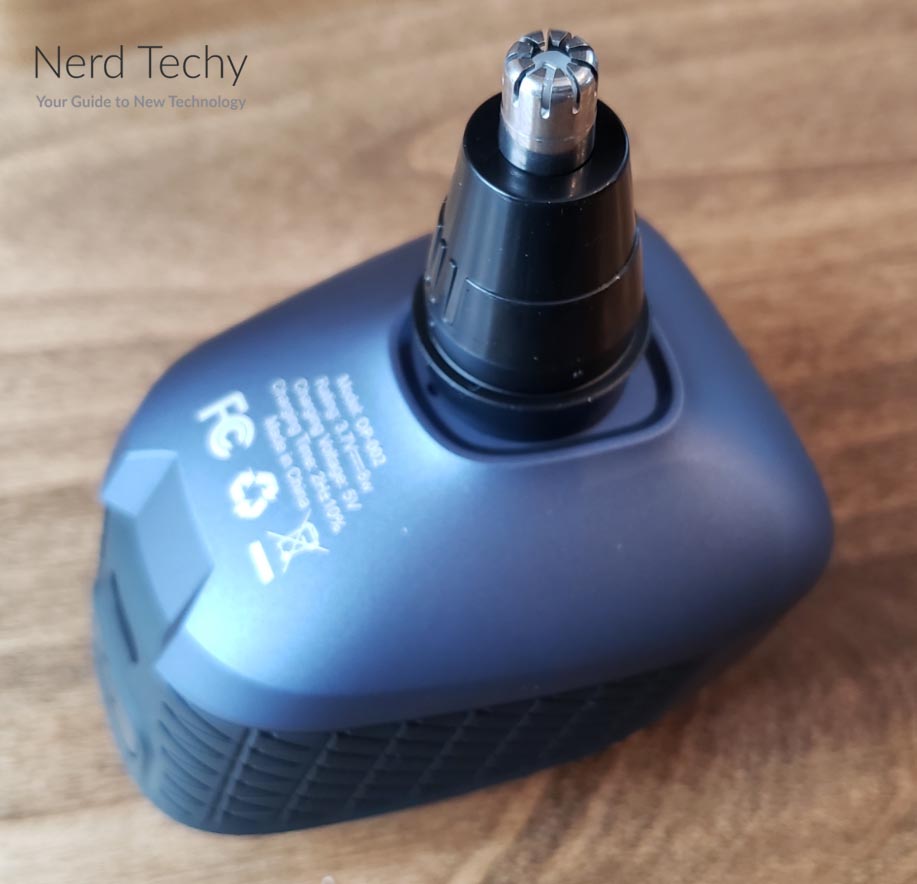 For maintenance, you have to use the brush to clean out the insides of the cutting heads. These are easy to twist off, revealing the blade compartments. Clean out any hair with water and the brush. Then, use the other end of the brush to apply a little bit of oil. The oil is essential to keep the blades and guards from rusting.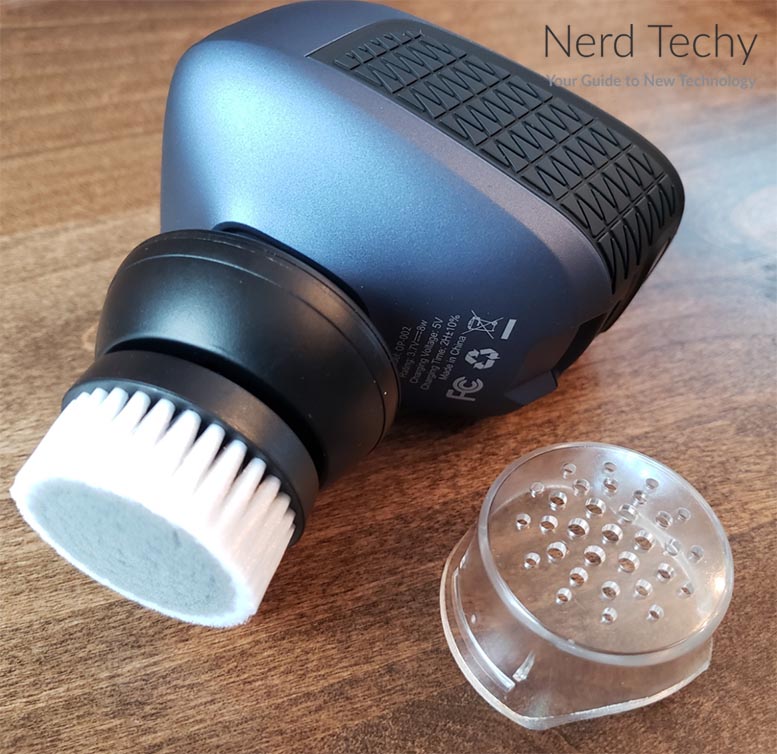 Final Verdict
As you can see, the Wyklaus 7D Floating Head Shaver is a well-engineered piece of equipment. With plenty of accessories for just about any task, it's modular and easy to use. The battery has plenty of power, and the blades are easy to keep clean. It's water-resistant, so you can freely use it in the shower, and it cuts smoothly and comfortably. There's a lot to like here, and not much to complain about.
Meet Derek, "TechGuru," a 34-year-old technology enthusiast with a deep passion for tech innovations. With extensive experience, he specializes in gaming hardware and software, and has expertise in gadgets, custom PCs, and audio.
Besides writing about tech and reviewing new products, Derek enjoys traveling, hiking, and photography. Committed to keeping up with the latest industry trends, he aims to guide readers in making informed tech decisions.