Getting a good haircut can be a challenge under the best of circumstances. It's often hard to communicate exactly the hairstyle you want. Sometimes, even the most talented hairstylist won't recreate what you saw in your head. But if last year's lockdowns taught us anything, it's that cutting your own hair is harder than finding a good stylist. This is obviously true for more complex or layered hairstyle. But even a simple fade or a buzz cut can be tough to pull off if you don't have the right tools. A bad set of clippers can snag in your hair, or fail outright in the middle of a job. And nobody wants to go out, mid-haircut, to find a new set of clippers. Best to get things right the first time.
Typically, we focus more on "tech" type devices. But it's actually surprising how much technology goes into everyday hygiene gadgets. For instance, we recently reviewed the Oclean X Pro, an advanced electric toothbrush. As we went along, we were surprised to learn just how much tech is packed into a simple toothbrush. The same is true for hair clippers. You want a motor that cuts tough, thick hair, but blades that keep your skin safe. You need to consider the battery life, and how long the battery takes to charge. The interface, settings, and other features are also anything but simple. If you're not careful, it's easy to wind up with a less-than-ideal set of trimmers.
The TOFULS Professional Hair Clippers are one set that really caught our eye. They're designed to be ergonomic in your hand, and not to accidentally nip your skin while you're cutting. They come with a load of accessories, including a neat carrying case. They're relatively easy to use, and you have multiple charging options. But to find out whether or not they're worth your investment, we'll have to dig a little deeper. We want to consider all aspects of the design, including the charging base and accessories. We also need to talk about the various trimming settings, s well as the battery performance. At that point, we'll be able to paint a full picture of how these clippers operate. Let's see what we discover!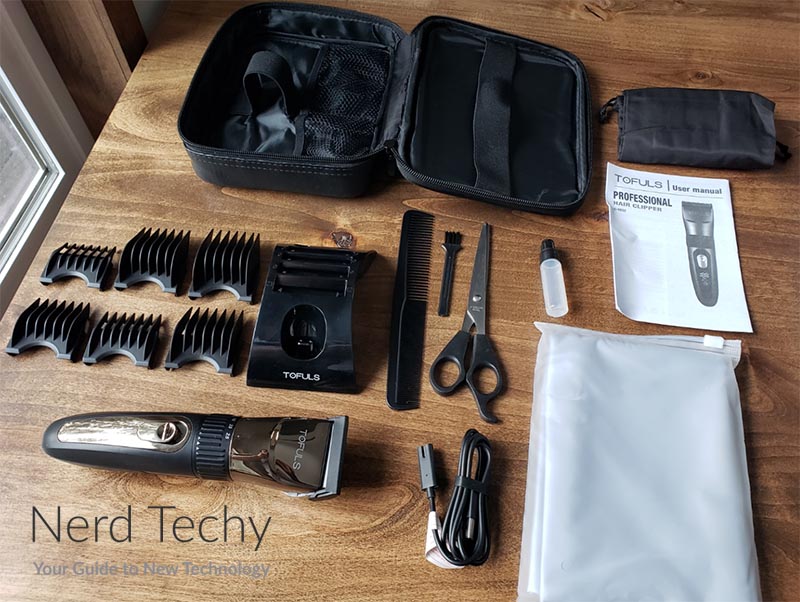 Overall Design
The TOFULS Professional Hair Clippers have a beautiful, functional design. The housing has a split design, with a soft rubber handle that's comfortable to grip. The design is slightly tapered, narrower at the base than at the top. As a result, it rests easily in the pinky-side of your hand, while you work the top with your other fingers. The top half of the housing is a durable glossy plastic, with a chromed rose gold finish. Right on the front of this area, in front of the blades, there's a white TOFULS imprint. This is the only branding on the trimmers, which is something we appreciated.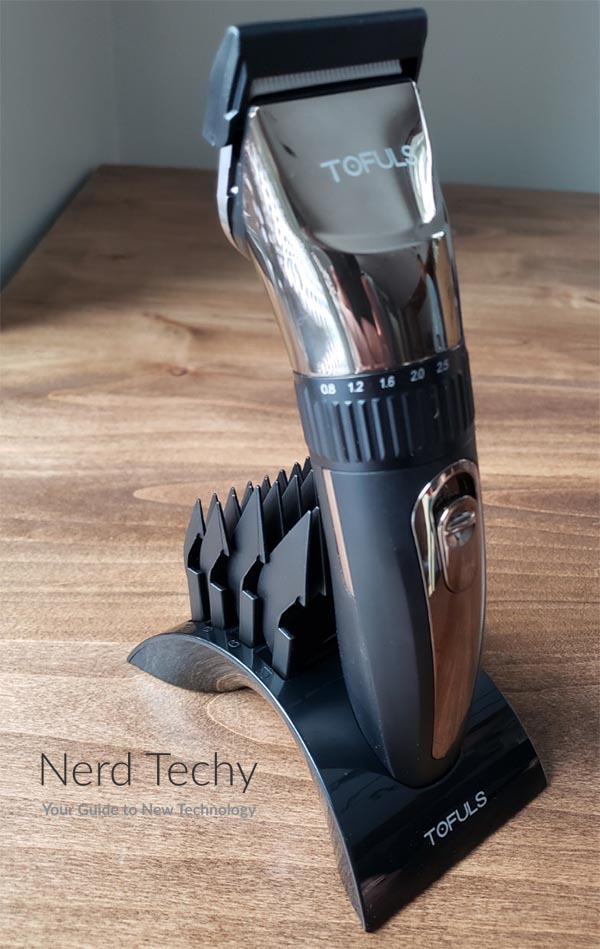 Where the two sections of the housing meet, there's a rotating black collar. This collar is used to make fine blade adjustments, which we'll discuss more in the next section. Just beneath that collar, there's the power button, which you operate with your thumb. This area is also chromed rose gold plastic, similar to the top of the housing. The power button sits at the top of an LED display, which shows the remaining battery life. It lets you know approximately how many minutes of use are remaining, based on your current power level. This same display will also display a warning when you need to apply more blade oil.
The housing itself is water-resistant, with a rating of IPX5. This means it's not submersible, but can withstand a light stream of water. In other words, it's just fine to wash it under the sink to get your old hairs off it. You can also cut wet, freshly-shampooed hair without causing any issues. Just make sure not to immerse the trimmer in water, and you'll be alright.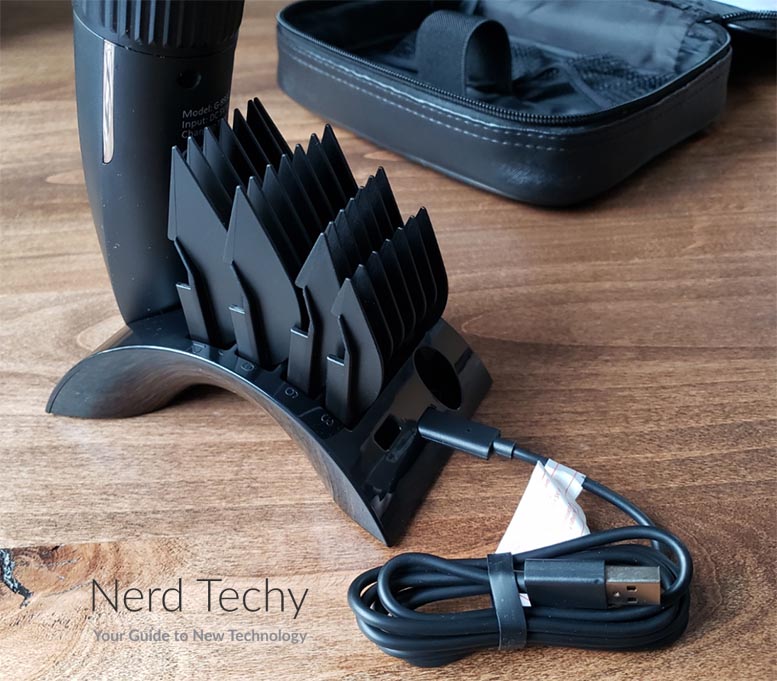 Used as-is, the TOFULS clippers will cut your hair almost down to the scalp. But unless you're actually trying to shave your head, you probably want to use some cutting guide combs. These are the black plastic attachments that clip onto the top of the blades, and separate them from your skin. In total, there are six of them included in the kit. These will cut your hair to 3mm, 6mm, 9mm, 12mm, 16mm, and 19mm respectively. We were actually mildly disappointed, since the kit could have used some longer guides. 25mm and even 30mm guide combs are commonplace, after all. Another thing you won't get are any fade attachments for trimming around your ears.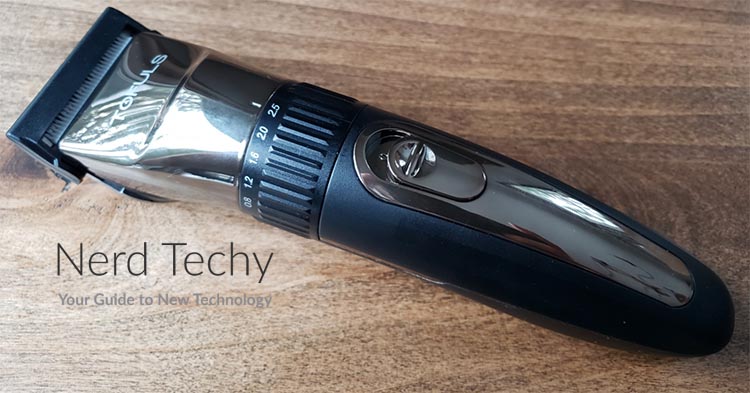 The kit also includes a charging base, which is made from black ABS plastic. It has an arched design, with a charging slot at the front where the trimmer stands upright. Just beneath this, there's a white TOFULS imprint across the entire front of the base. One thing we liked about this design is that there are additional storage slots behind the charging slot. These are wide and rectangular, designed for the guide combs, so you can keep everything together. There are additional slots for the included cleaning brush and lubricating oil.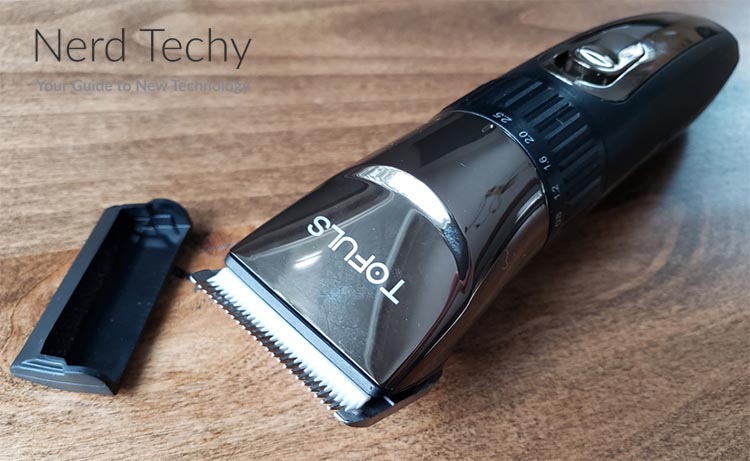 Beyond that, you get a few more accessories to help you get started. There's a comb and scissors, which will be very helpful if you're starting with longer hair. There's a little yellow cleaning sponge that's safe for the housing. There's a USB to Micro USB charging cable, so you're ready to plug in. There's even a little hair cutting smock to keep the clippings from getting all over your clothes. Finally, the kit comes with two carrying solutions. The first is a simple drawstring pouch, big enough for the trimmer itself. This one is great if you just want to take the trimmer on vacation. For storing all the accessories along with the trimmer, there's a larger zipper case with a faux leather cover.
All of these things are protected by TOFULS' 12-month manufacturer's warranty. If there are any issues with materials or workmanship, you'll receive a refund or replacement.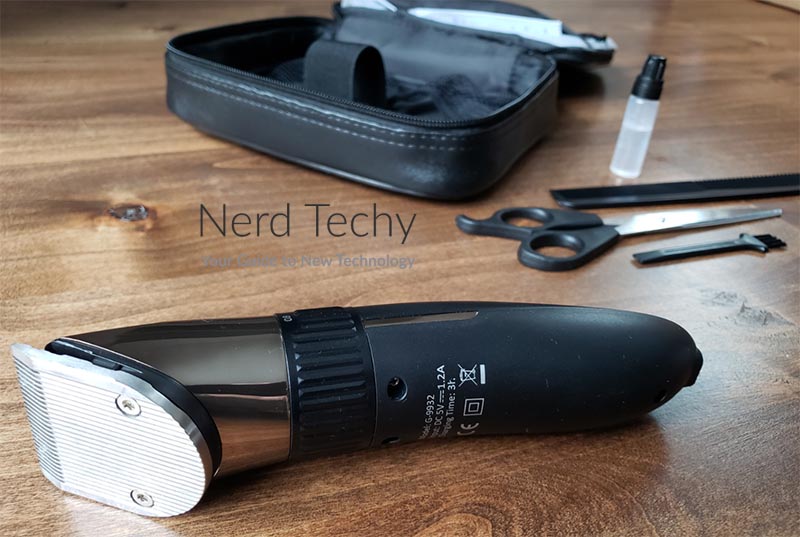 Trimming Functions
So, what can you actually do with this hair clipper? To begin with, you have two power modes. The first, standard mode is just fine for cutting most types of hair. But if you slide the power switch forward to the second position, you'll go into "Pro Mode." In Pro Mode, you can cut even the thickest hair. You can also move the trimmers more briskly without the blades getting bogged down in your hair. That said, Pro Mode burns through the battery faster. So if you're working at a modest pace, the lower mode can often be a better choice.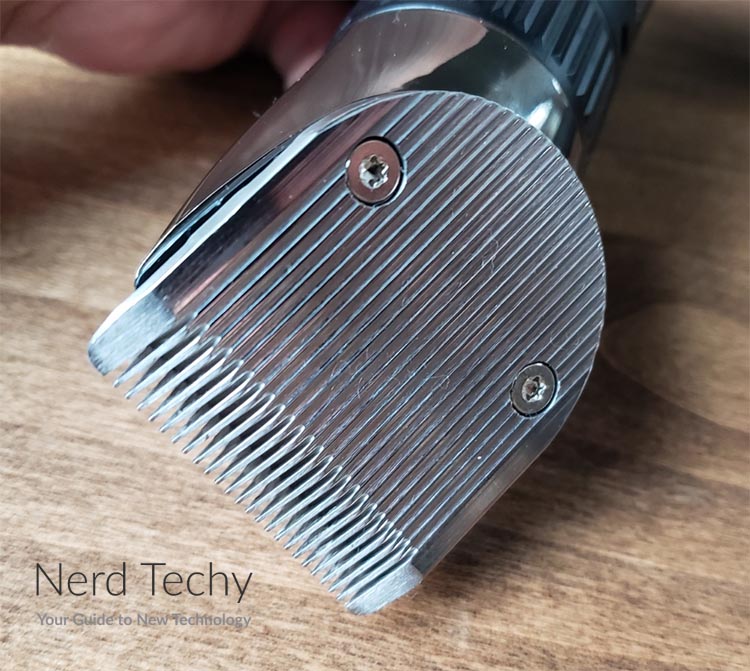 As we previously mentioned, you can twist the collar to make fine blade adjustments. This will move the teeth closer or further from your scalp. On the lowest setting, you'll be trimming all the way down to 0.8mm – basically stubble. You can also set the blades at 1.2mm, 1.6mm, 2.0mm, or 2.5mm. That's still very short, but it creates a heavier stubble that's easier to see. You can also make adjustments with the guide combs in place. This allows you to fine-tune the length to exactly the level you want.
One thing we really appreciated about the TOFULS hair clippers is the intelligent control system. And in this area, technology is key to making the feature work properly. A sensor inside the motor detects when it meets sudden resistance – such as from a snagged hair. When this happens, the power will automatically be increased if possible, to help cut through. Of course, it's still possible to snag if you're cutting too quickly. There's only so much hair any given trimmer can cut, regardless of the power. Take your time, and slow down if you hear the motor starting to struggle.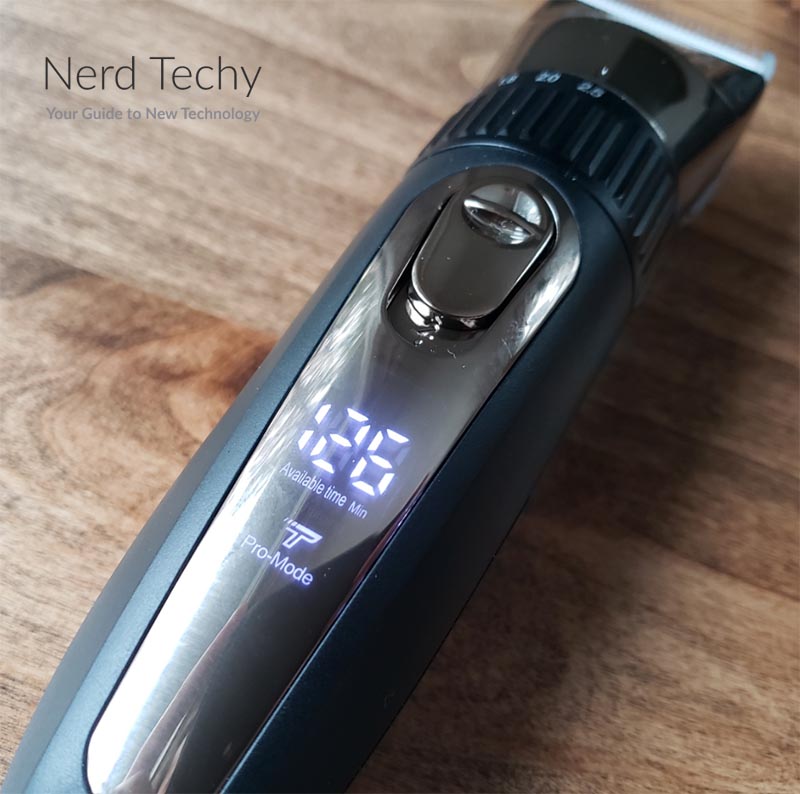 Battery & Maintenance
The TOFULS Professional Hair Clippers will run for 200 minutes on a full charge. That's well over three hours, and enough for several cuttings. Not only that, but charging the battery only takes three hours. If you're always leaving the clippers on a charger, you'll never have to worry about running out of battery. Even without a charger, you can take the trimmer on vacation, and it will make the trip.
There are actually two different charging methods. When you're at home, the most obvious method is to simply use the charging base. But you can also plug the Micro USB cable directly into the bottom of the trimmers. This is a convenient option when you're traveling, since you can charge with your phone charger.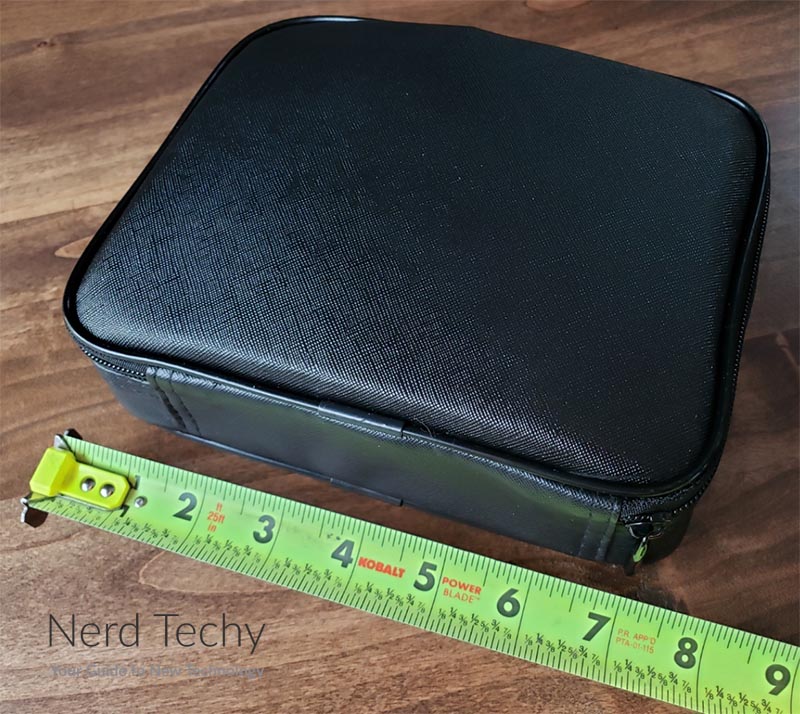 Like any set of hair trimmers, you'll have to perform some maintenance from time to time. To begin with, you'll need to clean out the blade housing after each haircut. To do that, first shut off the motor. Next, put your thumb above the TOFULS imprint, and push up against the blades until they swing free. Use the cleaning brush to remove all hair from the blades, and from inside the housing. Finally, just press the blade back into position.
You'll also need to oil the blades from time to time. How often this is necessary will depend on how hard your trimmer is working. When oiling is required, a warning light will appear on the LED display. Just use one or two drops of oil near the middle of the blade. Then, run the blades for a few seconds to allow the oil to distribute. That's all there is to it!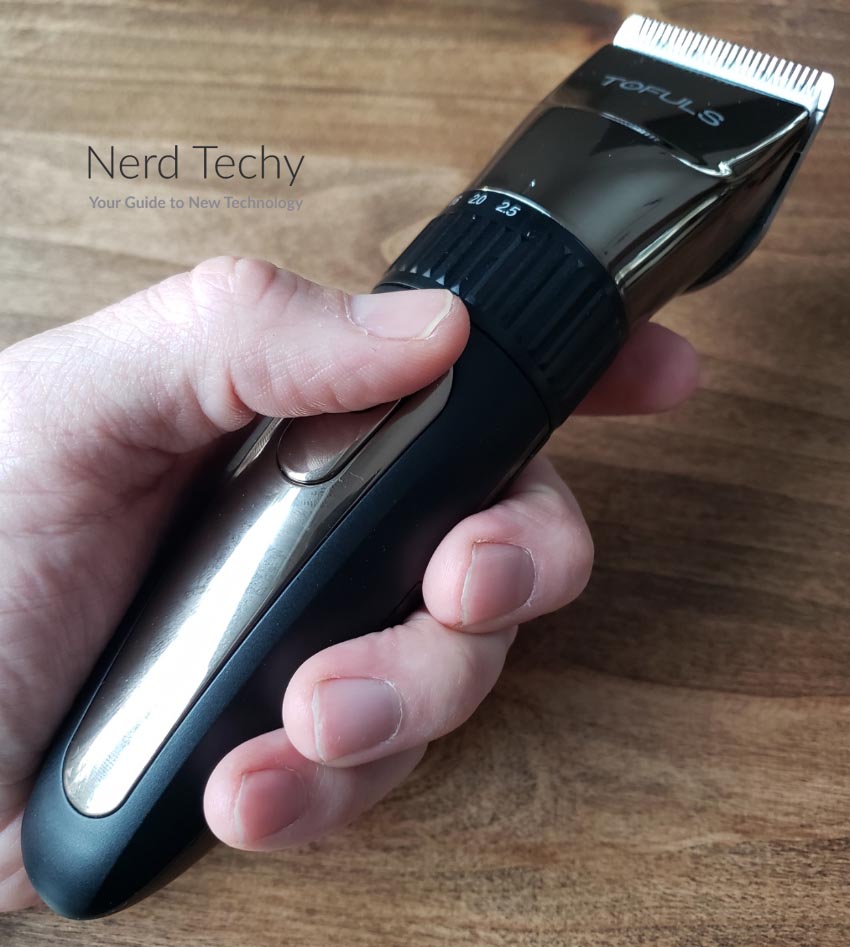 Final Verdict
The TOFULS Professional Hair Clippers are a highly-capable set of DIY shears. We were a bit disappointed by the guide comb selection, but everything else about it is top notch. The housing is sturdy and washable, as well as attractive to look at. The cutting performance is powerful, and includes safety features to help avoid snagging. And with plenty of battery life, you'll have plenty of power for multiple haircuts.