XTAR SN4
Charging Capability
9.0/10
Battery Compatibility
8.0/10
Pros
Compatible with Nikon, Canon, and Sony camera batteries.
Fully modular design.
Powerful charging capacity.
Compact, portable design.
Cons
Not compatible with Panasonic or GoPro cameras.
Ordering process can be confusing.
Nowadays, many people don't even own a dedicated camera. We use our smartphones for that. And yes, it's true that you can get a beautiful picture with a modern phone camera. But for a dedicated photographer, they're still inherently limiting. If you want to attach a telephoto lens or access advanced features, you still need a standalone camera. Unfortunately, though, this has become a bit more complicated than it used to be. Old fashioned cameras usually used standard batteries that you could buy at the store. This was wasteful and bad for the environment, but it was convenient.
Modern cameras, on the other hand, use their own dedicated battery packs. These are much better for the environment, since they're rechargeable. So instead of going through hundreds of batteries over the life of your camera, you'll only need a few. That said, there's no universal, agreed-upon standard. Every manufacturer has their own batteries, with their own form factor and capabilities. This makes it difficult to find aftermarket chargers and other supplies. It makes things even more complicated if you're using cameras with more than one type of battery. Thankfully, there are solutions. For example, we recently reviewed some of the best chargers for Ring doorbell batteries.
We're about to review the XTAR SN4 7-in-1 Multiple Camera Modular Battery Charger. As the name implies, this is a modular charger. There's a main power station, with various attachments for charging different types of battery. You can order multiple attachments for the same battery, or mix and match attachments for different battery types. But to truly understand this charger, we're going to have to look a little bit deeper. Beyond the physical design, we'll want to discuss the charging power and speed. And of course, we'll have to talk about what types of camera batteries you can charge. At that point, we'll have a good idea of where this charger excels, and where it falls short. Let's get started!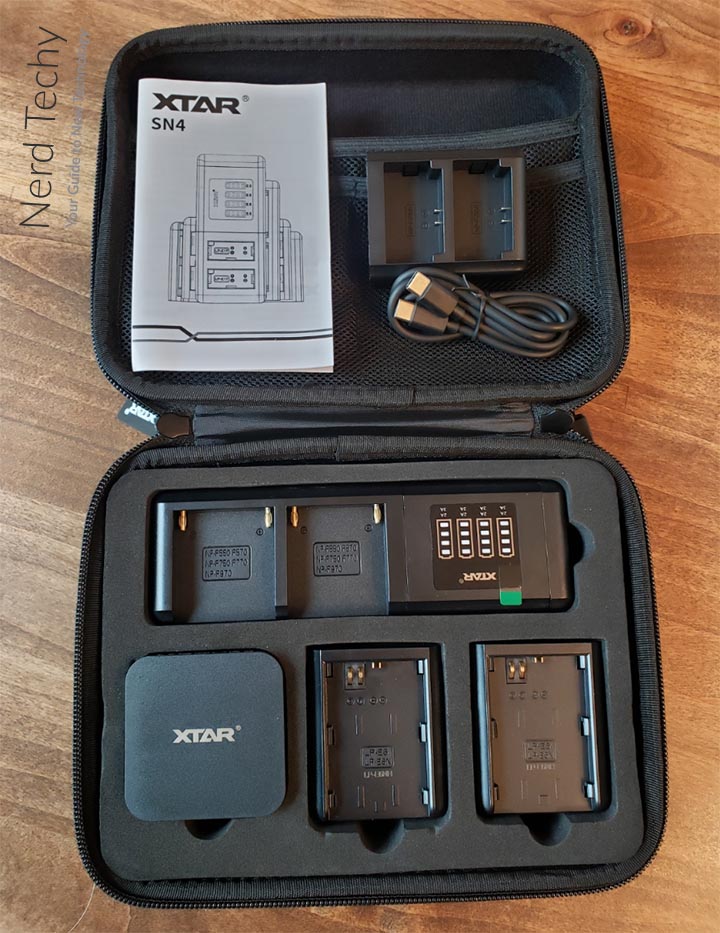 Overall Design
The XTAR SN4's housing is constructed from black ABS plastic. It has a matte finish that won't collect dust or fingerprints, and looks slick and professional. The main charger unit measures 2.4 inches wide, 2 inches deep, and only 0.9-inch thick. This makes it small enough to slip into a coat pocket, and more than small enough for a camera bag. On the top, there's an LCD display, with four four-bar battery meters. Each battery meter also has an amperage indicator light, so you know how much charge you're getting. On the back of the housing, you'll find a USB Type-C power port, as well as a simple power switch.
Use code "NT10" for a 10% discount when you order the XTAR SN4 through their official website.
On the sides of the main charging unit, there are a pair of removable panels. When unclipped, they reveal a set of clips and four metal contact pins. This is where you attach the battery charging modules. The modules are the same thickness and depth as the main unit, but a bit wider, at 3.9 inches. Depending on which modules you order, the batteries can slide in from the side or drop in. And depending on the battery size, there will be either one or two slots per module. You can attach up to two modules, one on either side of the main charging unit. This allows you to simultaneously charge anywhere from one to four batteries, again depending on type.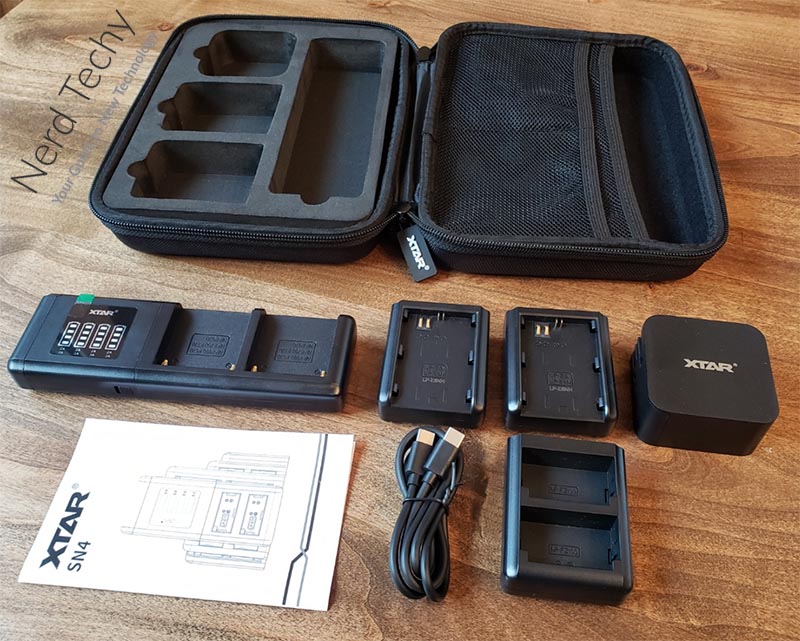 Here's where things get a little bit complicated. Because the SN4 is modular, it has a bewildering number of ordering options. This can be confusing, so let's break it down. There are three main "sets," or packages to choose from, each with its own variations. So within each set, you'll also have options for different types of charging module.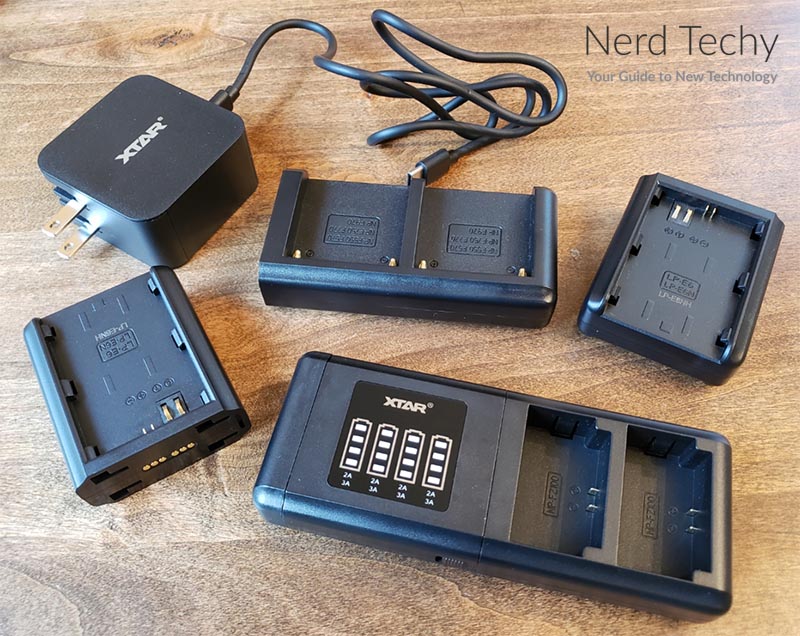 The base SN4 set comes with the charging module, and two of your choice of charging module. These modules will be the same type, so you'll have 2 to 4 charging slots for your choice of camera. The package also includes a 45-watt, 3-amp USB Type-C to Type-C charging cable. As long as you have a USB charger that puts out 45 watts, you'll be ready to go. If you don't own one, XTAR sells the SN4 Set + PD45. This kit is the same as the base kit, but it also comes with a 45-watt USB Type-C wall adapter.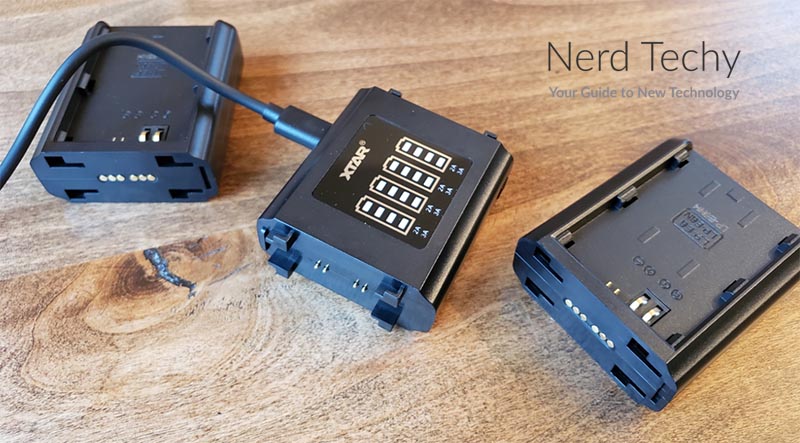 The final option is the SN4 Set-B. It comes with everything you get in the SN4 Set + PD45, plus a bunch of extras. You also get one charging module of your choice, plus three extras. The ordering process will let you choose the type for the first one, then the type for the last three. This means the last three will all be the same type by default. That said, XSTAR lets you choose up to four different types by putting a comment on the order. So technically, you can order up to four different types of charging module with this kit. As an added bonus, you get a black nylon storage bag, which you'll probably want with that much equipment.
Battery Compatibility
Now that we understand the basics, it's time to dig into compatibility. What cameras can you charge with the XSTAR SN4? Let's break things down by brand, starting with the easiest brand, which is Nikon. Nikon likes to keep things simple, so all their current cameras use the same battery: the EN-EL15. This charging module is wide and flat, with slots for two batteries. Keep in mind that we're only talking about current Nikon models. If your Nikon camera is an older model, it's not going to charge.
Use code "NT10" for a 10% discount when you order the XTAR SN4 through their official website.
Canon is a bit more complicated. They have three current battery types: the LP-E6/E6N, the LP-E8, and the LP-E17. The first two are large, although the LP-E6/E6N are black and arched while the LP-E8 is white and flat. Because of their large battery size, these two charging models will only fit a single battery. The LP-E17 is a smaller, rectangular black battery. That charging module will accept two batteries at once.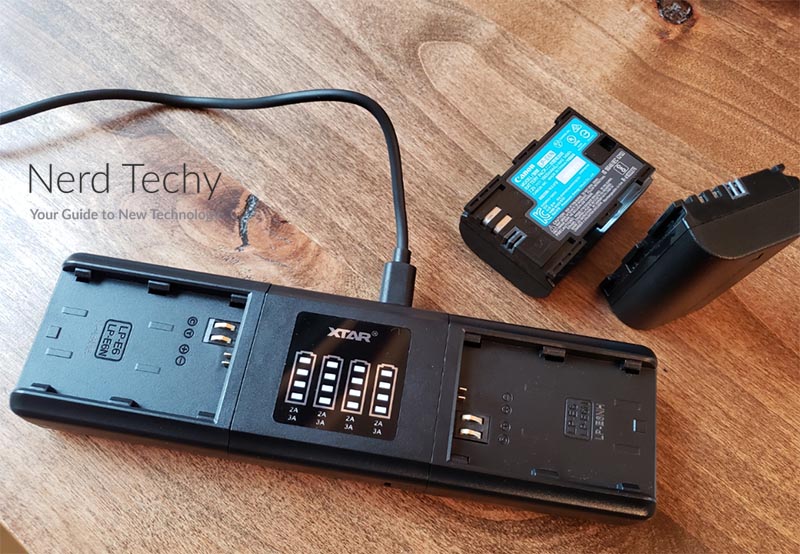 Sony uses many battery types for their current lineup. However, these fall into three broad categories. The first two are the NP-FZ100 and the NP-FW50. Both are black and rectangular, with a small form factor. The only major visual difference is that the NP-FZ100 has an LCD display, while the NP-FW50 doesn't. The third category is the NP-F970/F770/F750/F550. These are all block-shaped, but the higher-numbered ones get taller and taller. All Sony battery charging modules will charge two batteries at once. However, the large size of the NP-F970/F770/F750/F550 class requires an oversized module.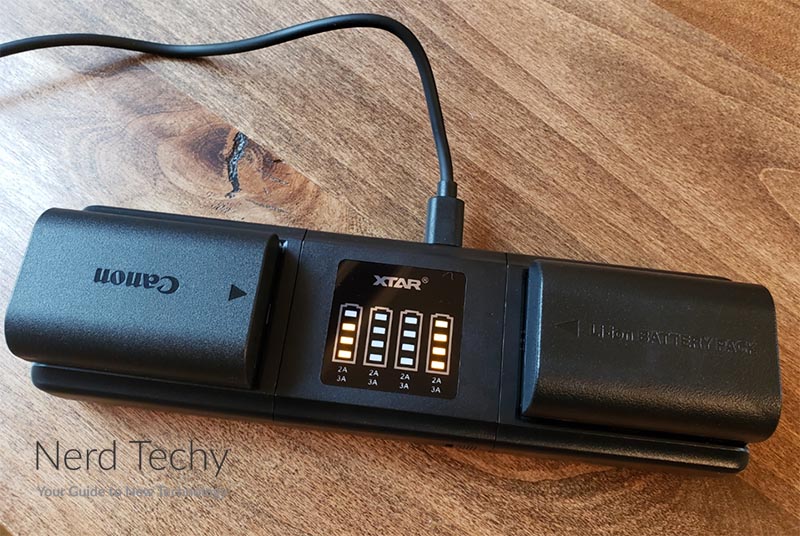 So far, so good. We're looking at a ton of compatibility for three premium camera brands. That said, there are a number of other popular brands that you might be using. In that case, you won't be able to charge your batteries with the SN4. On the upside, XTAR has announced plans to offer more charging modules in the future. These include modules for Panasonic, GoPro, and Fujifilm. The SN4 is a new product – it just began normal sales after completing the Kickstarter campaign. So it's understandable that XTAR is rolling out support for more brands over time. But even so, they currently only support Nikon, Canon, and Sony.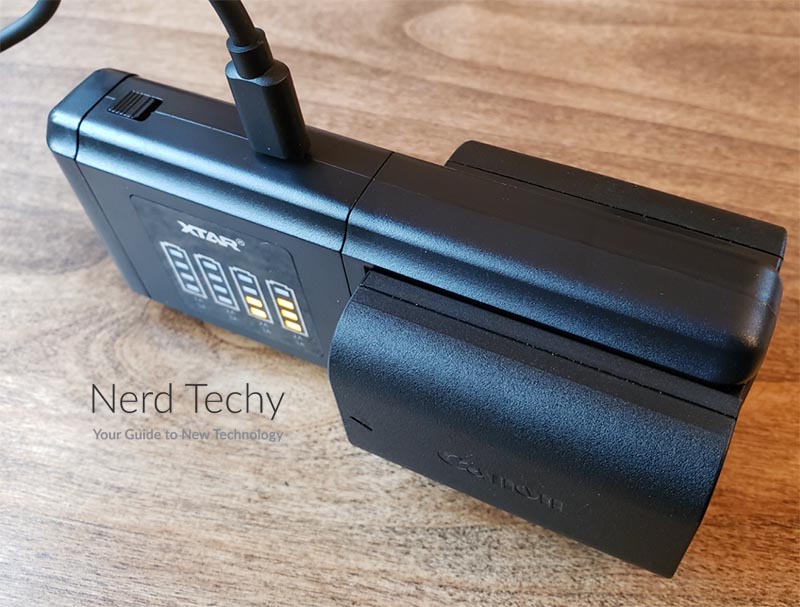 Charging Power
So, how well can you expect the SN4 to perform when it's charging your batteries? Let's start with the basics. This charger can supply up to 45 watts of total power, at up to 3 amps. It also doesn't plug directly into a wall outlet. This means you'll need a 45-watt or higher USB Type-C port to plug in to. As we already mentioned, you can order a package that includes a suitable power adapter. But if you want to buy your own, there are plenty of options available. Take the UGREEN Multiport Charger, for instance. It provides up to 100 watts of power through three USB Type-C ports and one Type-A port. So you can fast charge your smartphone at the same time as you charge your camera batteries!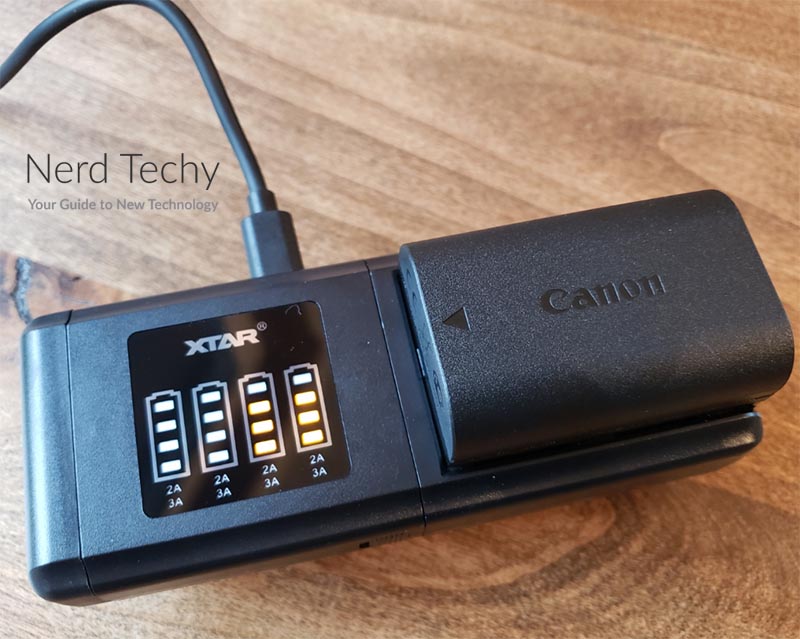 Now, let's get more into the specifics. How fast your battery charges will depend on the type. The higher the capacity, the longer it's going to take the charge. In addition, some batteries charge at 3 amps, while some can only charge at 2 amps. All other things being equal, a lower-amperage battery will take longer to charge. So let's go back to the different battery types.
Sony's NP-FW50 and Canon's LP-E8 and LP-E17 will fully charge in less than an hour. The Sony NP-FZ100 will get to about 80 percent within an hour's charge. The Canon LP-E6/E6N will get to about 75 percent, but both of these types will fully charge within 90 minutes. The same is true of the Nikon EN-EL15, as well as the Sony F550 and F570. Sony's beefier F750 and F770 batteries will get to less than 70 percent in an hour. They'll also take nearly two hours to get a full charge. The slowest of all is the Sony F970, which is a very large battery. It won't even hit 50 percent within an hour, and will take over 2 ½ hours to fully charge. Then again, if you're already using the F970, you'll be used to it taking a while to charge.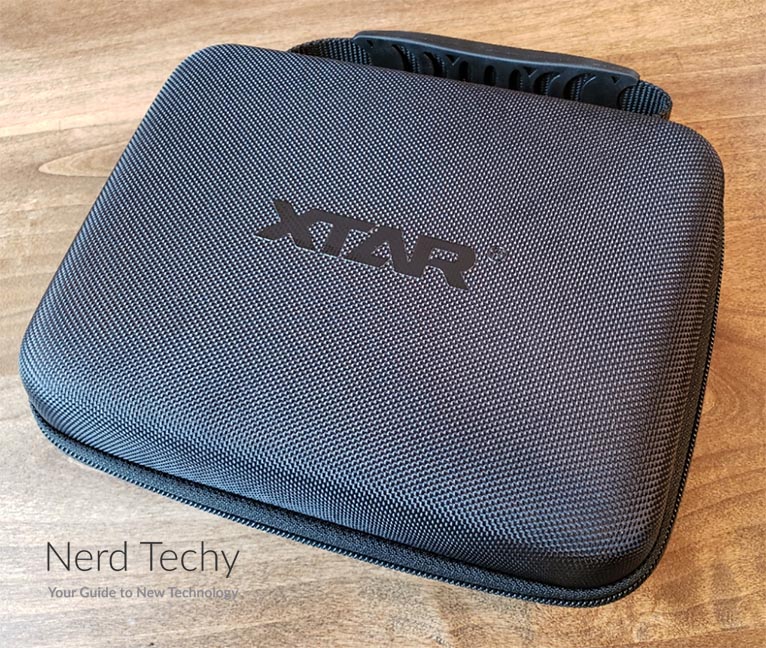 Final Verdict
The XTAR SN4 7-in-1 Multiple Camera Modular Battery Charger is a highly capable device. It will charge some of the world's most popular camera batteries, and it's totally modular. You can add multiple charging modules of the same battery type, or mix and match to suit your needs. The slim design makes it nice and portable, while it's rugged enough to be somewhat shock-proof. It puts out a lot of power, so even when you're charging four batteries, you'll charge at full speed. Finally, the design is well thought-out, with an easy-to-read display. If you have a Canon, Nikon, or Sony camera, you'll love this charger.
Meet Derek, "TechGuru," a 34-year-old technology enthusiast with a deep passion for tech innovations. With extensive experience, he specializes in gaming hardware and software, and has expertise in gadgets, custom PCs, and audio.
Besides writing about tech and reviewing new products, Derek enjoys traveling, hiking, and photography. Committed to keeping up with the latest industry trends, he aims to guide readers in making informed tech decisions.