UGREEN 100W Multiport Charger
Pros
6-foot power cord for desktop use.
Wide device compatibility.
Provides up to 100 watts of power.
Compact, portable design.
Cons
Briefly stops charging when devices are plugged/unplugged.
Cannot efficiently use USB Type-C and Type-A port simultaneously.
Nowadays, we rely on our electronic devices in all areas of our daily lives. For example, just think of all the things you can do with your smartphone. You can use it to send a text, answer an email, or order takeout for dinner. You can check your bank account balance, send money to a friend, and manage your investments. You can play games, watch movies, and catch up on the latest news. Your phone gives you traffic directions, connects you to social media, and lets you photograph your favorite moments. With all of these features, it's easy to forget that your phone can also be used for actual phone calls!
Point being, even running out of battery on that one device can be a major headache. To make things more complicated, many of us also have a tablet and a laptop to keep charged. This requires more than your ordinary, vanilla charger. If you're going to use a single charger for all your devices, it needs to be powerful enough for all of them. This means supplying the maximum amount of voltage, across multiple charging ports. Unfortunately, a lot of USB chargers have fallen behind the times. If you're not careful, you could end up with a charger that doesn't have enough juice for all your devices.
With the UGREEN 100W USB-C Multiport Charger, total wattage won't be a concern. It has 100 watts of total power, sufficient for even the most demanding laptop batteries. But that's just the beginning of what you should be looking for in a USB charger. You also need one that's compatible with all your devices, not just the most powerful ones. A good charger needs to have the right safety features, and it needs to be easily portable. We're about to look at all these aspects of the UGREEN charger, and more. Once we're confident we fully understand what we're dealing with, we'll be ready to render our verdict. Let's take a closer look!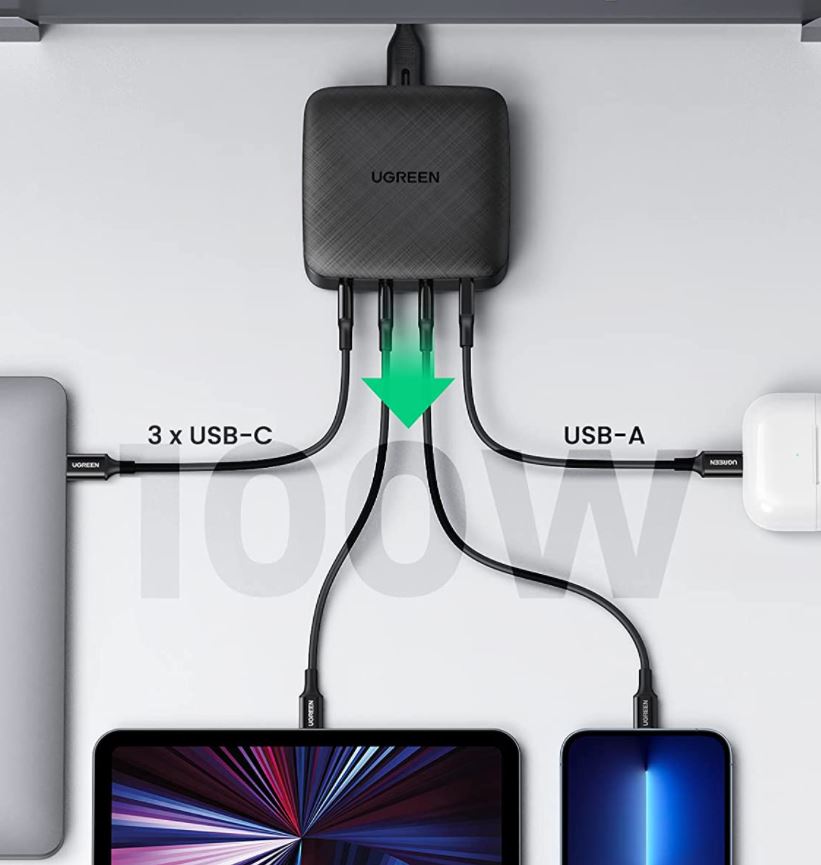 What's So Special About PD Power?
USB was originally designed just for data transfer. It was created by a group of hardware manufacturers known as the USB Promoters Group, in the mid-1990s. At the time, there were many types of data transfer cable, with no universal standard. This made it difficult for people to connect peripherals, and require the use of cumbersome adapters. In fact, USB is actually short for "Universal Serial Bus," which simply describes its original purpose.
However, any copper wire can carry a current. And since USB uses dual braided wires, you can even create a closed circuit. As a result, manufacturers started making low-powered USB devices. Early USB-powered devices drew less than a watt, and weren't terribly powerful. But future versions of USB were built with power in mind. The modern USB 3.0 standard delivers 5 volts at 2.4 amps, for a total of 12 watts.
This modern standard is ideal for smartphones, which usually charge at 12 watts. You can even leave a phone plugged in while you're using it, and it will continue to charge. That said, 12 watts is still woefully insufficient for larger electronics. A MacBook Pro might be able to charge at that speed, but it's going to charge very slowly. And you can forget about using it while it's charging. Even most tablets are going to draw significantly more than 12 watts while they're in use.
The USB Promoters Group has actually been addressing this concern since 2012. That year, they introduced USB PD, which stands for USB Power Delivery. Unfortunately, early USB PD power wasn't very capable. It wasn't until 2018 that manufacturers started producing PD chargers that provided the maximum 100 watts. Keep in mind that not all PD chargers provide this much. Technically, any charger with more than 18 watts of power could be considered "PD." That's why it's important to make sure you're getting as much wattage as you need.
You also don't need to worry about your charger being too powerful. PD chargers are smart, and automatically detect the maximum wattage for any connected device. So if you plug in a low-wattage set of wireless earbuds, you're not going to damage the circuitry.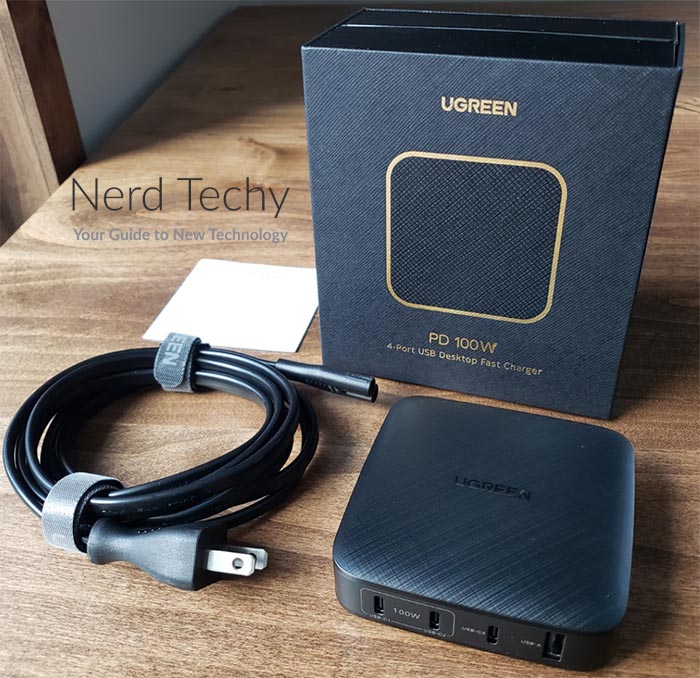 Overall Design
The UGREEN 100W USB-C Multiport Charger is a slim charging block, only about an inch thick. It measures less than 4 inches to a side, so it's very easy to transport. You can put it in a backpack or briefcase, or even slip it into the side pocket of a laptop bag. The housing is molded from black plastic, with a matte finish on the front, black, and sides. The top has a brushed finish, with a glossy UGREEN logo engraved in the center.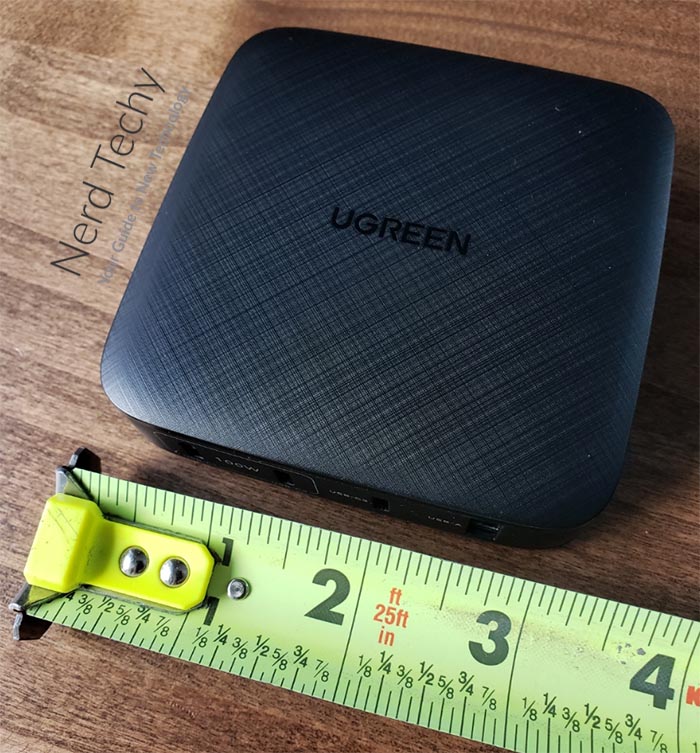 On the front face, you'll see the four power ports. To the left, there are two USB Type-C PD ports, with a white border around them. In the center, there's a single, standard USB Type-C port. To the right, you'll find the single USB Type-A port. There are no bright lights, obnoxious branding, or anything else to detract from the appearance. It's all trim and professional, and will look great on your desk. Not only that, but having all the ports on the front makes it easy to manage your cables.
This charger is specifically designed for desktop use. Most USB chargers are simple blocks that plug into your power outlet. However, to work on your desk, this UGREEN charger comes with a 6.5-foot power cord that plugs into the back. This lets you position the charger where it's convenient to plug in, not down by your power outlet.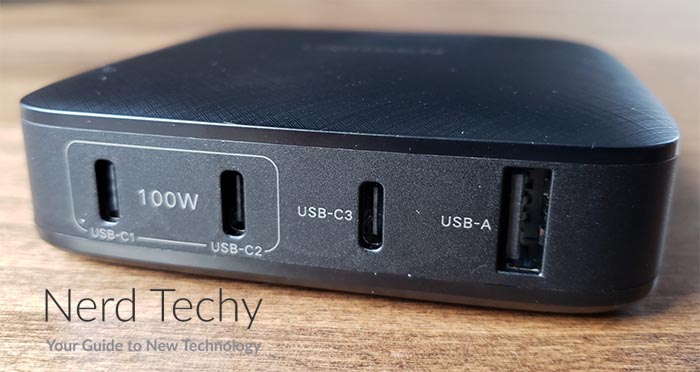 As we mentioned, UGREEN's charger has a staid, professional look. But what if you want something altogether different? In that case, check out the VogDUO GaN Fast Charger. It has a slick design, with an eye-catching orange leather wrap. It alto utilizes the latest, ultra-efficient GaN charging technology. On the downside, it has fewer ports than the UGREEN, and a maximum power of only 65 watts.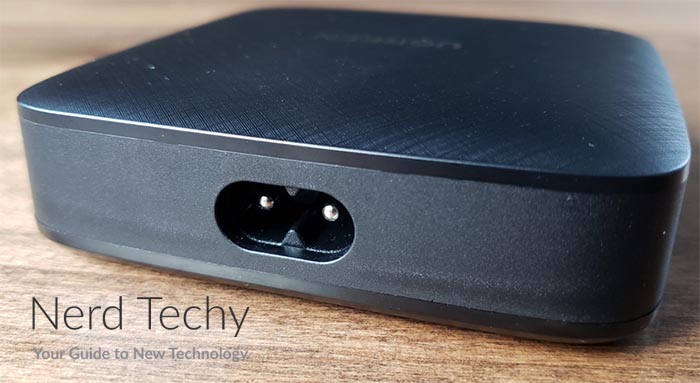 Charging Technology
So, how much power will the various ports deliver? To begin with, the first two USB Type-C ports are true PD ports, with up to 100 watts of power. However, this assumes you're only using one of those ports. In fact, the maximum rated power for the entire power bank is 100 watts. So if you're using both PD ports, each one will only deliver 45 watts, or a total of 90. The reason you're not getting a full 100 is because there are inefficiencies involved in splitting the power.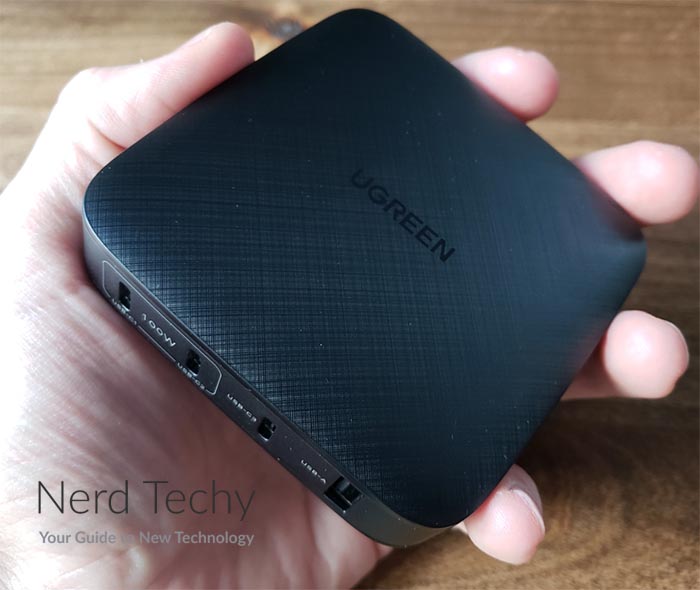 The ordinary USB Type-C port delivers up to 20 watts, depending on how much power your device needs. When the 20-watt port is used in conjunction with a single Type-C port, it will continue to deliver 20 ports. The Type-C port, on the other hand, will drop to 65 watts. If the 20-watt port is used at the same time as both Type-C ports, the breakdown is not even. In that case, the first Type-C port will deliver 45 watts, while the second will deliver only 30.
The USB Type-A port supports QC 3.0 technology. This allows you to charge an iPhone or other compatible device at up to 18 watts. The QC charging technology continues to work when you're using one or both PD ports. In those cases, the breakdown will be the same as if you were using the 20-watt Type-C port. However, when the 20-watt Type-C and Type-A port are both plugged in, each drops to 10.5 watts. This happens regardless of which other ports are being used, which is a bit disappointing.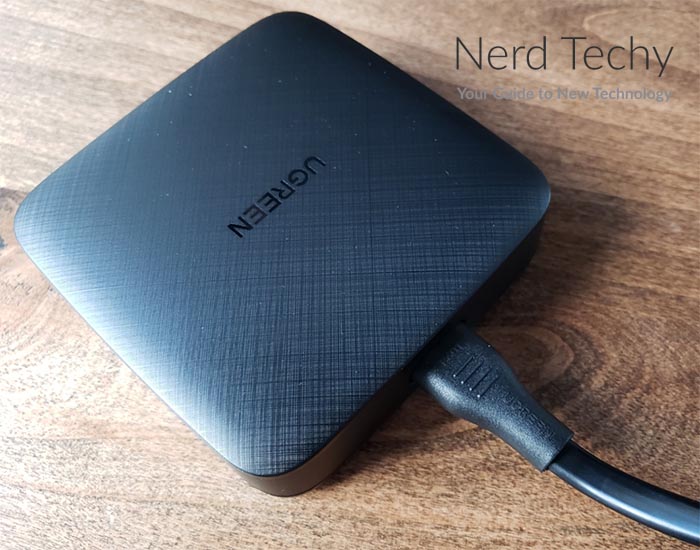 One other downside is that there's a delay when you plug or unplug a device. For less than a second, while the power is redistributed, the power bank shuts off entirely. This isn't a big deal, since you only lose about half a second of charging. That said, it can cause your devices' charging notifications to go off multiple times.
Safety & Compatibility
So, what can you charge with the UGREEN 100W USB-C Multiport Charger? The answer is: just about anything that charges via USB Type-A or Type-C. It will charge any smartphone on the market, including any iPhone or Android phone. It will charge any USB tablet, as well as many laptops. It's even capable of charging a MacBook Pro 16" in less than two hours, while the laptop is in use. Of course, this assumes you're only using one port. If you're using several ports, you won't be able to use laptops during charging. But you'll still be able to charge up to four devices simultaneously. Just keep in mind that this is not an AC power bank. If your laptop charges via an AC outlet, it won't work.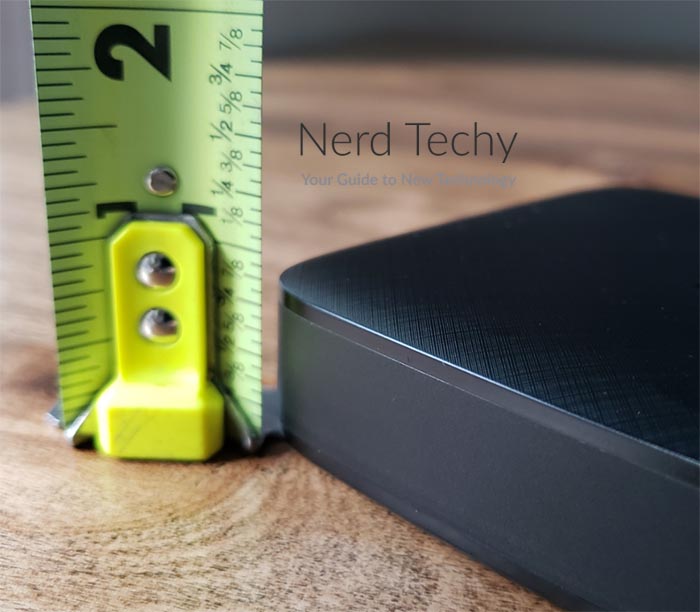 The Multiport Charger utilizes all the safety protections you expect from a modern USB charger. To begin with, it's thermally protected, and will shut off if the sensor detects overheating. For another thing, it's protected from short circuits, which keeps your devices from being damaged. It also has similar protections for overcurrent, which can cause the same type of damage. Meanwhile, overvoltage protection ensures that you don't waste energy when your batteries are fully charged.
This isn't the only multi-port charger that UGREEN offers. Not long ago, we reviewed the UGREEN 100W GaN Fast Charger. It has all the same safety features, plus a high-efficiency Gallium-Nitride chipset. It also provides identical charging capacity, but it's just a standard block charger, with no power cord.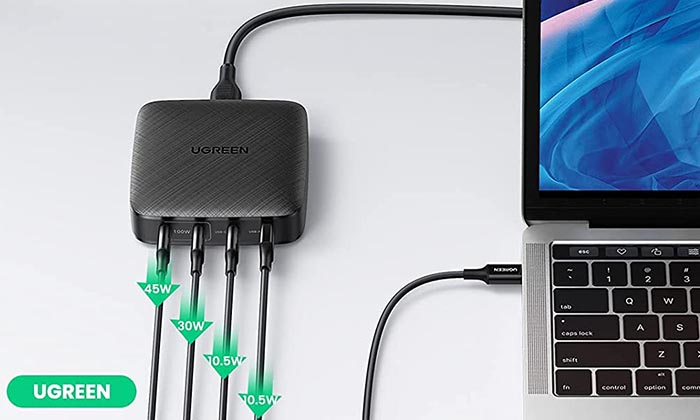 Final Verdict
The UGREEN 100W USB-C Multiport Charger is one of the most impressive we've seen. Its desktop-friendly design is ideal for use in your office, or for leaving it out on the kitchen counter. The maximum power of 100 watts is the highest USB Type-C can deliver, so you can charge any device. You get plenty of safety features, as well as support for four simultaneous charges. Until someone comes up with a new USB standard, it's the only charger you'll ever need.