VogDUO Fast Charger
Design & Construction
9.0/10
Travel & Portability
9.5/10
Pros
65 watts of maximum power.
High-quality leather design.
Folding prongs for travel.
Safe, efficient GaN circuitry.
Cons
Not powerful enough for the largest laptops.
Only available in bright orange.
Nowadays, we rely on our electronics for all aspects of everyday life. To use the most obvious example, consider your smartphone. If you're like most people, you use it for a lot more than just calls and texting. The modern smartphone is a tool for calling a rideshare service, banking, and ordering food. Without a smartphone, many of us can't even do our everyday jobs. Speaking of jobs, many require a laptop, PC, or tablet. This means always having access to power, or some kind of reliable battery backup. Otherwise, you could easily find yourself without the means to get anything done.
Thankfully, most devices are now capable of running on USB power. This makes it easier to mix and match components. You used to have to travel with a separate charger for each of your devices. But with the right USB charger, you can charge all of your devices from the same source. This isn't a huge deal when you're bumming around the house. But when you're on the road, it helps you keep all your necessary supplies in your carry-on bag. A quality USB charger is also important for commuters. Do you really want to have to carry multiple chargers in your laptop bag, every single day? In most cases, you no longer have to.
Today, we're going to review the VogDUO 65W PD GaN Fast Charger. This is a compact AC adapter that plugs into your power outlet. It sports three USB outlets, enabling you to charge three devices simultaneously. But how well does it work, and what can you actually charge with it? How easy is it to transport, and how durable is it? To answer those questions, we'll need to take a closer look at this unique USB charger. We'll start by going over the physical design, including the unique leather wrap. Next, we'll consider the charging power, and what it's compatible with. We'll wrap up by discussing safety features and anything else we've missed. Let's take a closer look, and see how this USB fast charger compares to the competition!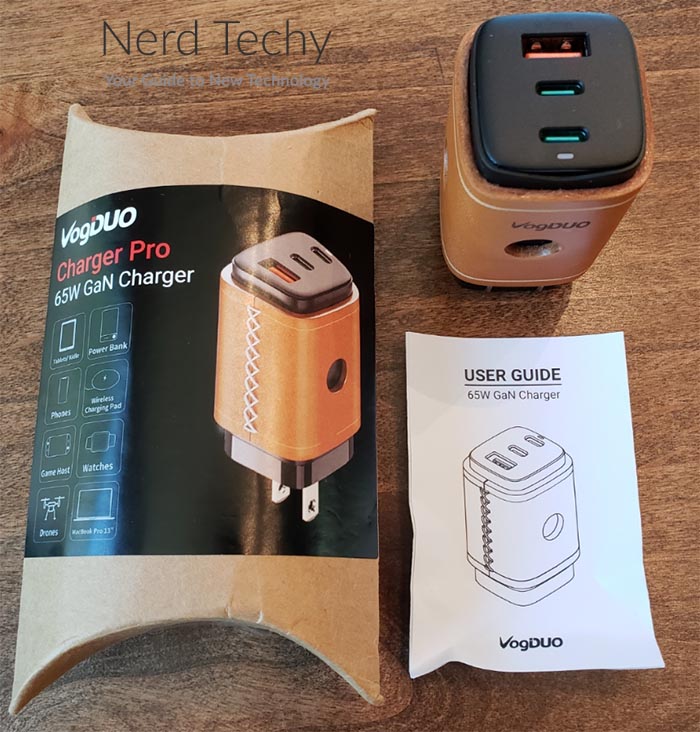 PD Power Basics
Before we talk about the VogDUO charger's capabilities, it's important to understand how it works. This means looking at a relatively new technology called Power Delivery (PD). The long and short of it is that PD technology is a faster, better version of existing USB technology. But there's a bit more to it than that.
USB was designed by a group of hardware developers called the USB Promoters Group as a universal data transfer format. By using a Universal Serial Bus (USB), manufacturers could ensure compatibility with other devices. As a result, the original design was made only for data transfer. But by their very nature, copper wire cables are capable of carrying electricity. Some manufacturers took advantage, and managed to create very low-voltage devices that ran on USB power. The USB Promoters Group took note, and future versions of USB included higher voltage capability.
Today, the most common USB version is USB 3.0. This type of USB can provide 5 volts at 2.4 amps, or 12 watts of power. This is plenty for most modern smartphones. You can use your phone while it's charging at 12 watts, and the battery will continue to fill up. On the other hand, some larger devices require more power to keep going. Some laptops, for example, can take more than 12 hours to charge via USB 3.0. And those laptops draw more than 12 watts, so you can't use them while they're being charged. For more powerful devices, you need a USB port with more capacity.
The USB Promoters Group responded in 2012, with the announcement of USB Power Delivery, or PD. In theory, PD power would supply higher voltages over compatible cables. In practice, the difference between early PD and ordinary USB was virtually nothing. But this would soon change, with the invention of USB 3.1. Shortly thereafter, in 2018, PD power cables were capable of carrying 100 watts of power. Suddenly, you could run even the most powerful devices via PD power. Even the most powerful laptops and the Nintendo Switch use PD chargers.
For a variety of technical reasons, USB PD ports must utilize the newer USB Type-C format. These are the very small, reversible tips found on some newer Android phones. They also require special PD-rated cables. An ordinary USB cable will still carry data just fine when plugged into a PD port. But you need the correct type of cable in order to take advantage of the increased voltage.
PD power ports are also compatible with non-PD devices. For example, many modern smartphones use a related USB technology called QC 3.0 instead. QC 3.0 allows for charging at 18 watts on compatible 18-watt USB ports. This is the maximum charging rate for most modern smartphones, such as the newer iPhones. When one of these devices into a PD port, the port will detect the lower wattage requirement and adjust. You don't have to worry about overcharging your devices, overheating them, or wasting energy.
One last benefit of PD technology is that you can send or receive power through the same port. This doesn't work on all devices, since not all manufacturers have taken advantage of this. But it gives you some interesting capabilities that we can expect to see more of in the future. A good example is some newer Android phones, which can also be used as power banks. This can allow you to supply an emergency charge to a flashlight or similar safety device. You can even charge your friend's phone to help them out of a jam.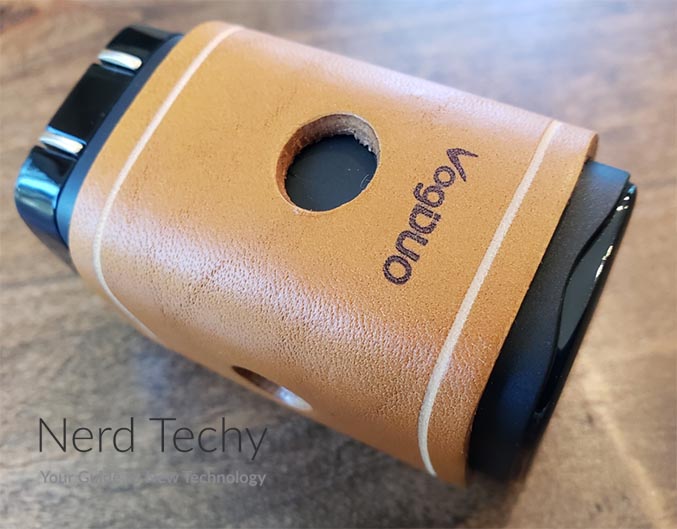 Overall Design
The VogDuo 65W PD GaN Fast Charger is a compact, rectangular charger that's constructed from black ABS plastic. However, the plastic is wrapped with an orange leather skin that occupies most of the surface. This is high-quality leather with tough stitching, and holes in the sides for an easier grip. Our only complaint is the color, which stands out a bit too much for taste. But even so, it's a leather USB charger, which is pretty cool! It's also reasonably robust, protected by a 12-month manufacturer's warranty.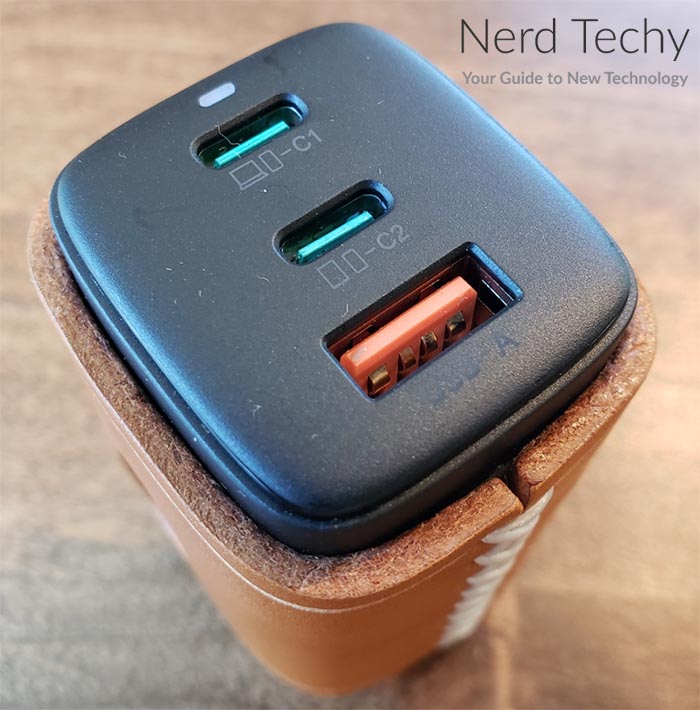 On the front of the housing, you'll find the two prongs, which are standard North American style. They fold down for travel, so you don't have to worry about them jabbing you or your luggage. On the back of the housing, you'll see the three USB ports: one USB Type-A, and two USB Type-C. All three are clearly labeled, so you know which ones provide which amount of power. There's also an orange tab inside the Type-A port, so orienting your USB plug is easy. The Type-C tabs are high-visibility as well, but we're not really sure why, since they're reversible. Still, the blue tabs are a nice contrast to the orange overall theme.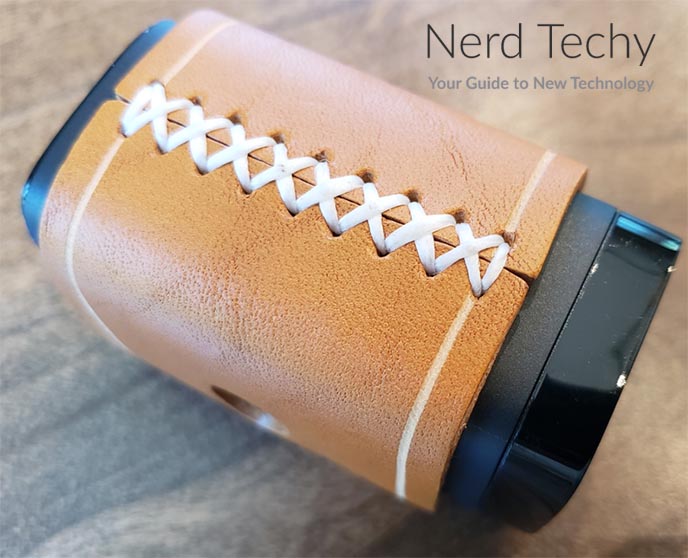 If you want even more ports, take a look at the Cirtek Fast Charger. It sports two USB Type-C ports and two Type-A ports, so you can charge four devices total. It also supplies an impressive 100 watts. On the downside, it's a bit large, and will block the bottom half of a duplex outlet.
Charging Technology
The VogDUO charger uses Gallium-Nitride (GaN) circuitry. GaN circuitry is more efficient than ordinary silicon, reducing power wastage during the charging process. It's also less prone to overheating in the event of excessive voltage. The charger provides a total of 65 watts of power, but the exact performance depends on what's plugged in. Here's a quick explanation.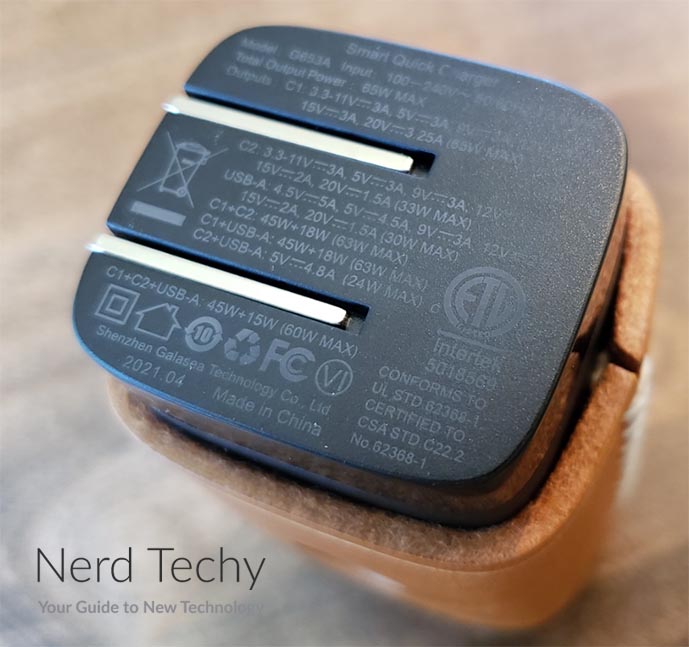 The top USB Type-C port – the one with a picture of a laptop – provides a full 65 watts. This is enough to use a mid-sized laptop while it's being charged. The next Type-C port – the one with a smartphone icon – provides up to 35 watts of power. That's the maximum for the most powerful smartphones, and even enough for most tablets. The bottom, USB Type-A port provides up to 30 watts of QC 3.0 power. This is more than twice as much power as a standard Type-A port. That said, the 65-watt maximum for the whole charger still applies. If you have multiple devices plugged in, you won't get a full 65 watts on the top Type-C port. The exact breakdown gets more complicated from there.
For even more Type-C power, consider the Hyppr 100W USB-C PD Charger. This charger has two Type-C ports, including a PD port that can provide up to 100 watts all by itself. On the downside, there's no USB Type-A port.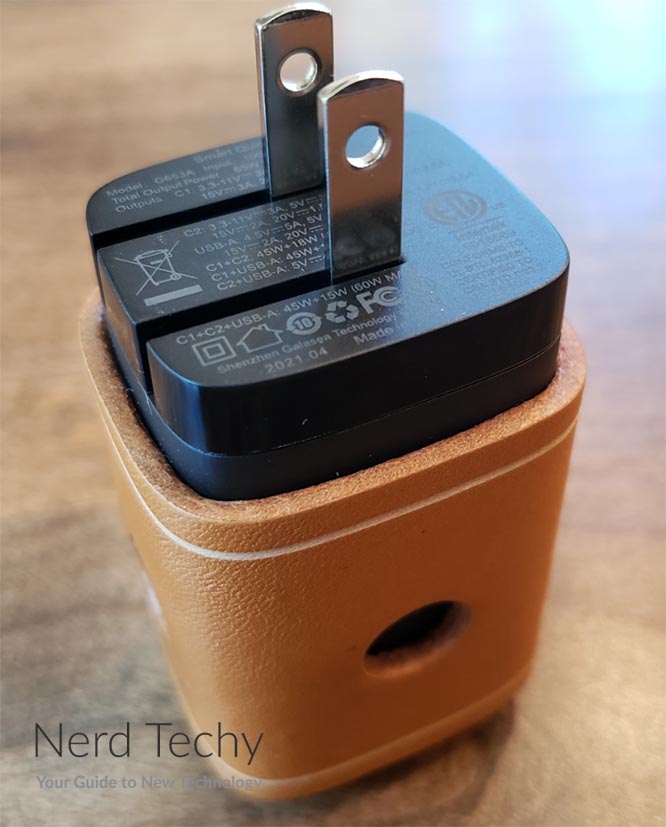 Safety & Compatibility
The VogDUO 65W charger includes all the safety features we expected from a modern PD charger. These include protection from over current, over voltage, and over temperature. You don't have to worry about short circuits, power spikes, and other hazards. In the worst case scenario, the temperature sensors will kick in and shut the charger off.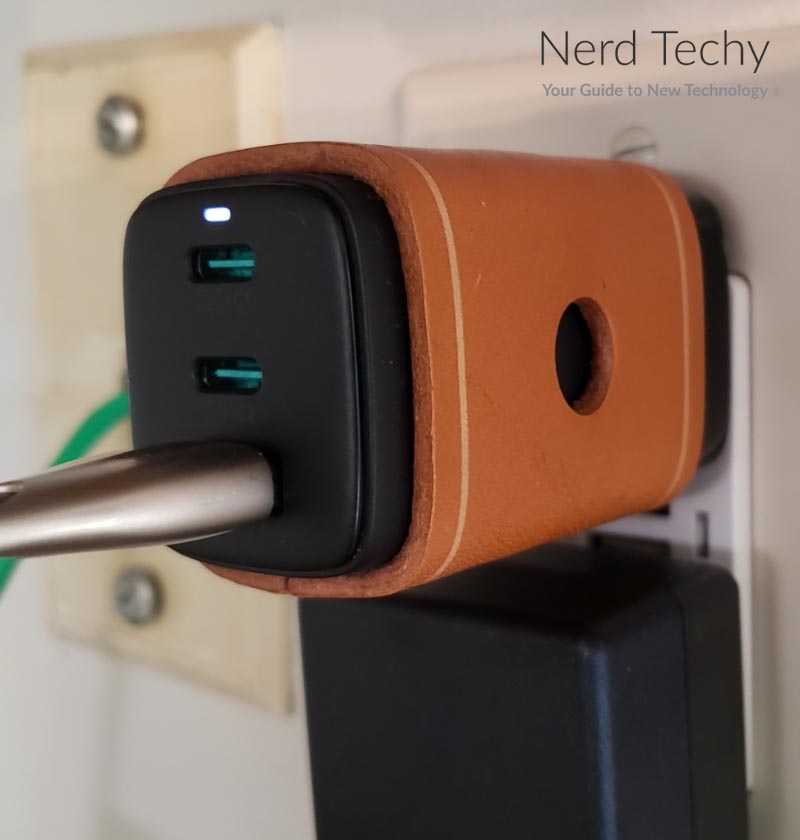 This charger is compatible with any modern USB device that draws 65 watts or less. This includes all smartphones and tablets, wireless earbuds, and most power banks. It's capable of charging any USB laptop, but you'll run into issues with larger laptops. Those machines draw more than 65 watts when they're running, so they'll only charge when they're off.
If you want a simpler solution, look no further than the Aukey PA-B5 Omnia. It's about as compact as the VogDUO, and provides 100 watts of PD power. On the downside, it only has a single USB Type-C port, and no Type-A port.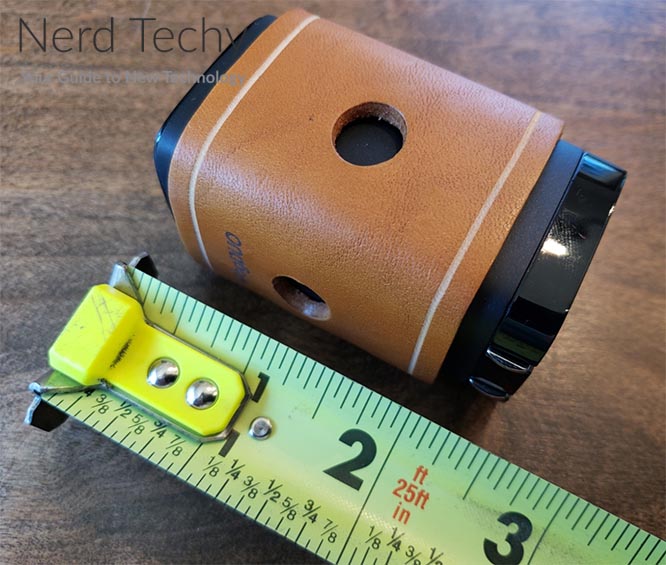 Final Verdict
The VogDUO 65W PD GaN Fast Charger is one of the better-designed chargers on today's market. At 65 watts, it's not the best for a larger laptop, but it's more than enough for most other devices. It's compact and easy to transport, with convenient folding prongs. And who could say no to a charger with this tough leather wrap? It's an ideal compliment for a well-engineered package.
Meet Derek, "TechGuru," a 34-year-old technology enthusiast with a deep passion for tech innovations. With extensive experience, he specializes in gaming hardware and software, and has expertise in gadgets, custom PCs, and audio.
Besides writing about tech and reviewing new products, Derek enjoys traveling, hiking, and photography. Committed to keeping up with the latest industry trends, he aims to guide readers in making informed tech decisions.