Back in the 1990s, computer engineers were in a pickle. PCs were more popular than ever, and manufacturers were getting ever more creative with peripherals. This is the age when external hard drives, for instance, first started becoming popular. Unfortunately, without a universal standard, connecting any of these devices was a pain. You either bought everything from the same manufacturer, or you spent even more money on adapters.
The answer to this problem was USB. The aptly-named "Universal Serial Bus" was designed to allow any peripheral to connect to any computer. But along with this technology came the ability to supply a small amount of power. At first, this was just enough to power a mouse or keyboard. But as peripherals became more advanced, the USB standard was updated to supply more voltage. This ended up becoming a virtuous circle. The more power USB could provide, the more versatile it became. The more versatile it became, the more devices started to use it.
These days, it isn't just computer peripherals that use USB power. Your smartphone and even your computer itself may now use USB. With the latest USB Type-C 3.0 standard, the format is stronger than ever. We're about to review the Hyppr 100W USB-C PD Charger, one of the most powerful USB chargers on the market. Of course, "most powerful" doesn't always mean "best". So is the Hyppr charger worth all the fuss? Or should you look for a more mundane, but proven, USB charger? We're about to look at all the Hyppr charger's features. Once that's done, we'll render a final verdict. Let's get started!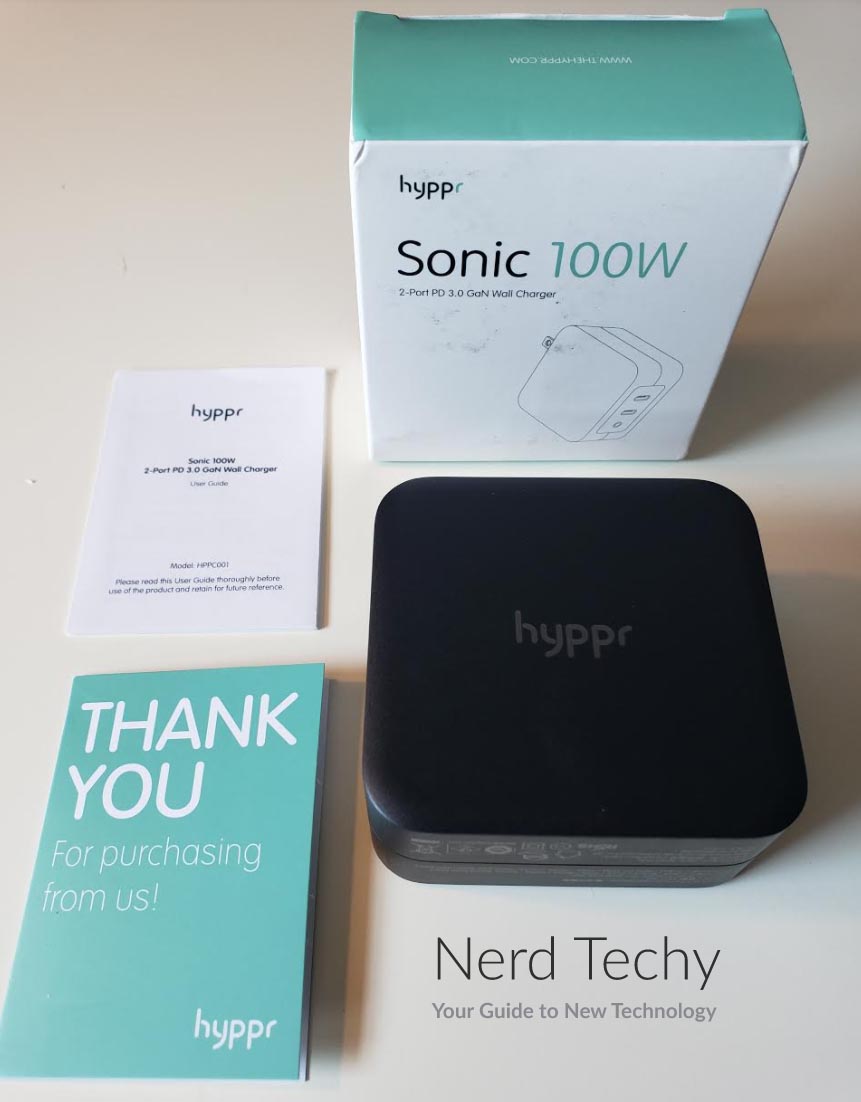 What is PD Power?
Pretty much everybody knows what USB is. Unless you've been living under a rock, you've already been using it for years. But what's the deal with this PD technology we keep talking about? The answer lies with the limitations of earlier USB technology. As we mentioned earlier, previous generations of USB were originally designed for data only. The format worked great for that purpose, but growing power demands led to more powerful ports and cables.
Along the way, we got a variety of standards, including USB 2.0 and USB 3.0. USB 3.0 can supply up to a 5V/2.4a current, equivalent to 18 watts. This is more than enough for charging a phone while it's in use. Unfortunately, more powerful devices need more juice to keep running. To use an obvious example, it would take over 12 hours to charge a MacBook Pro via USB 3.0. Not only that, but you wouldn't be able to use your MacBook while you were charging it. Needless to say, this was a nonstarter. In order for USB to be a universally viable power format, manufacturers needed even more power.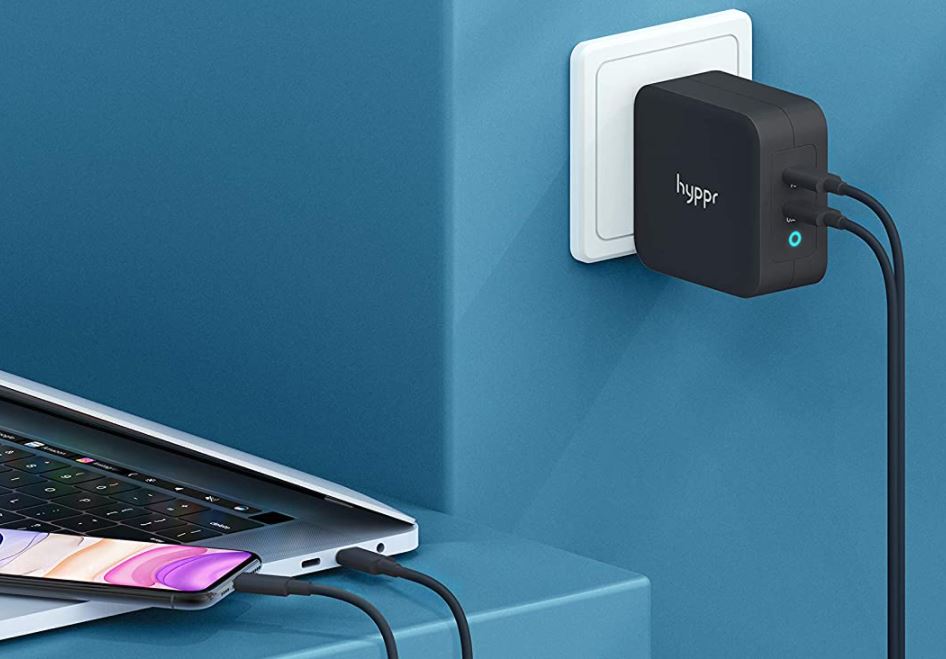 In 2012, the developers of USB technology announced their solution. At their annual conference, the USB Promoters Group debuted power delivery, or "PD" technology. This technology was designed to provide higher voltages over a USB connection. Early results were less than impressive. For several years, "PD" just meant "Slightly faster than regular USB". In 2018, that all changed. USB Promoters Group developed a format for providing 100 watts of current over USB. This was enough to supply power to even the most demanding of devices. Nowadays, if it's portable and electronic, it almost certainly uses USB PD. The Nintendo Switch even uses PD technology in its charger!
USB PD ports are based on USB Type-C technology. The ports look the same, and they're identical in size. In fact, you can even use an ordinary USB Type-C cable in a PD port. It will still provide data transfer, but you'll only get ordinary USB voltage. To get the most out of a USB PD port, you need a dedicated USB Type-C PD cable.
PD technology isn't just powerful. It's also smart. A PD port will automatically detect the power needs of a connected device, and adjust the power flow to match. For example, if you plug in a laptop that draws 75 watts of current, the port will deliver 75 watts. If you swap it out for a smartphone that maxes out at 18 watts, the power will scale back to 18 watts. This keeps your devices safe, and also ensures that you aren't wasting any "vampire power".
For instance, take a look at our review of the RAVPower 90W 2-Port USB-C Wall Charger. It provides up to 90 watts of power in total, so it can supply even the most demanding laptops. But it's also capable of charging low-voltage wireless earbuds with equal ease.
In addition to all this, PD technology also allows devices to supply power in both directions. This is an upgrade from older versions of USB, which only supplied power in a fixed direction. A PD port allows for more flexibility. For instance, some newer smartphone models also allow you to use the battery as a power bank. In an emergency, you can use your smartphone to charge a flashlight. You can even use it to get a few minutes' use from a laptop.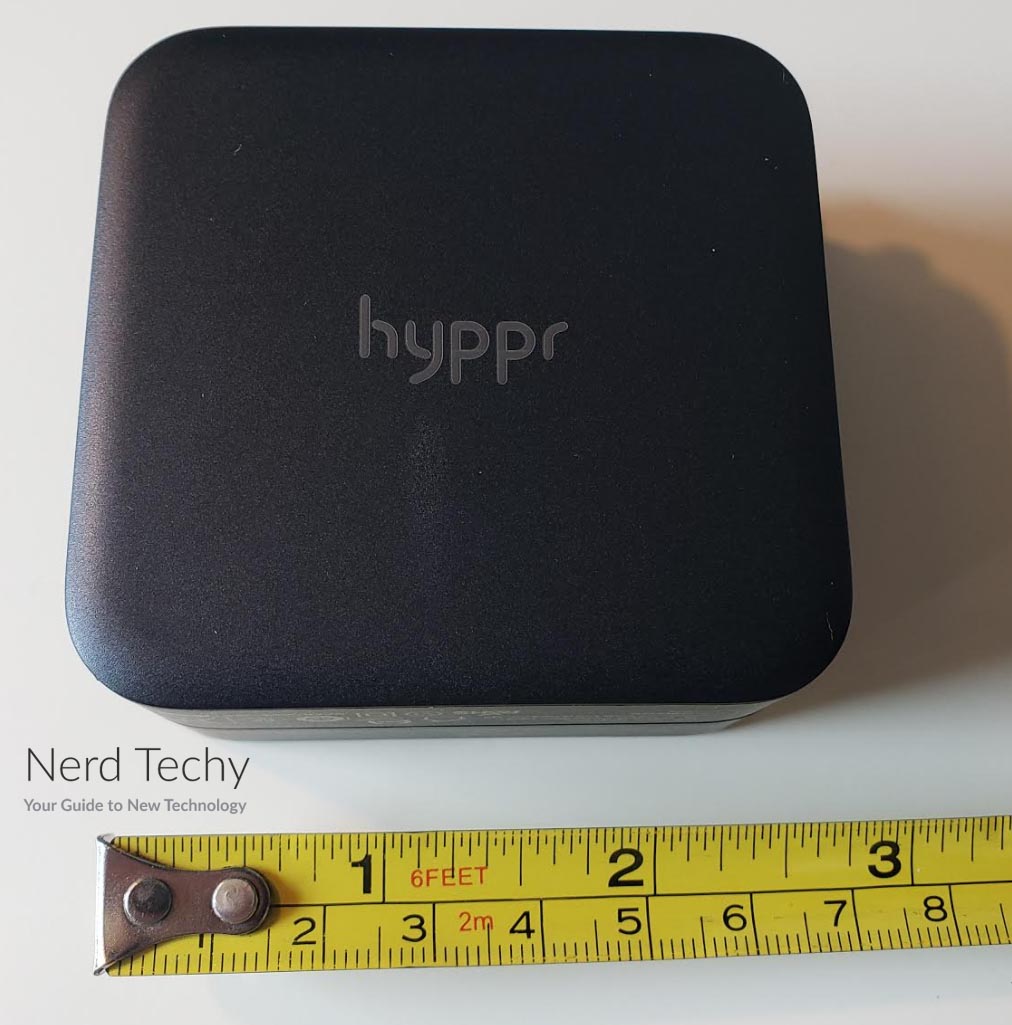 Overall Design
The Hyppr 100W USB-C PD Charger has a fairly basic design. It's a simple charging block, constructed from easy-to-clean white ABS plastic. It measures 2.7 inches high, 2.6 inches deep, and 1.3 inches wide. At this size, it's easy to carry around and plug into any outlet. Just make sure to plug it into the bottom outlet. If you plug it into the top, it will block the bottom outlet anyway. The travel-worthy design is enhanced by a pair of folding power pins. These collapse down as needed for transport, so they won't jab your other luggage.
On each side of the Hyppr charger, there's a snazzy grey "Hyppr" logo. On the front, you'll find a pair of USB Type-C PD ports, one stacked above the other. Underneath, there's a blue LED ring that lights up to let you know when the block is plugged in. If there are no devices connected, the LED will turn off after two minutes to save power. About the only thing the Hyppr charger doesn't have is an actual charging cable. You'll need to provide that on your own.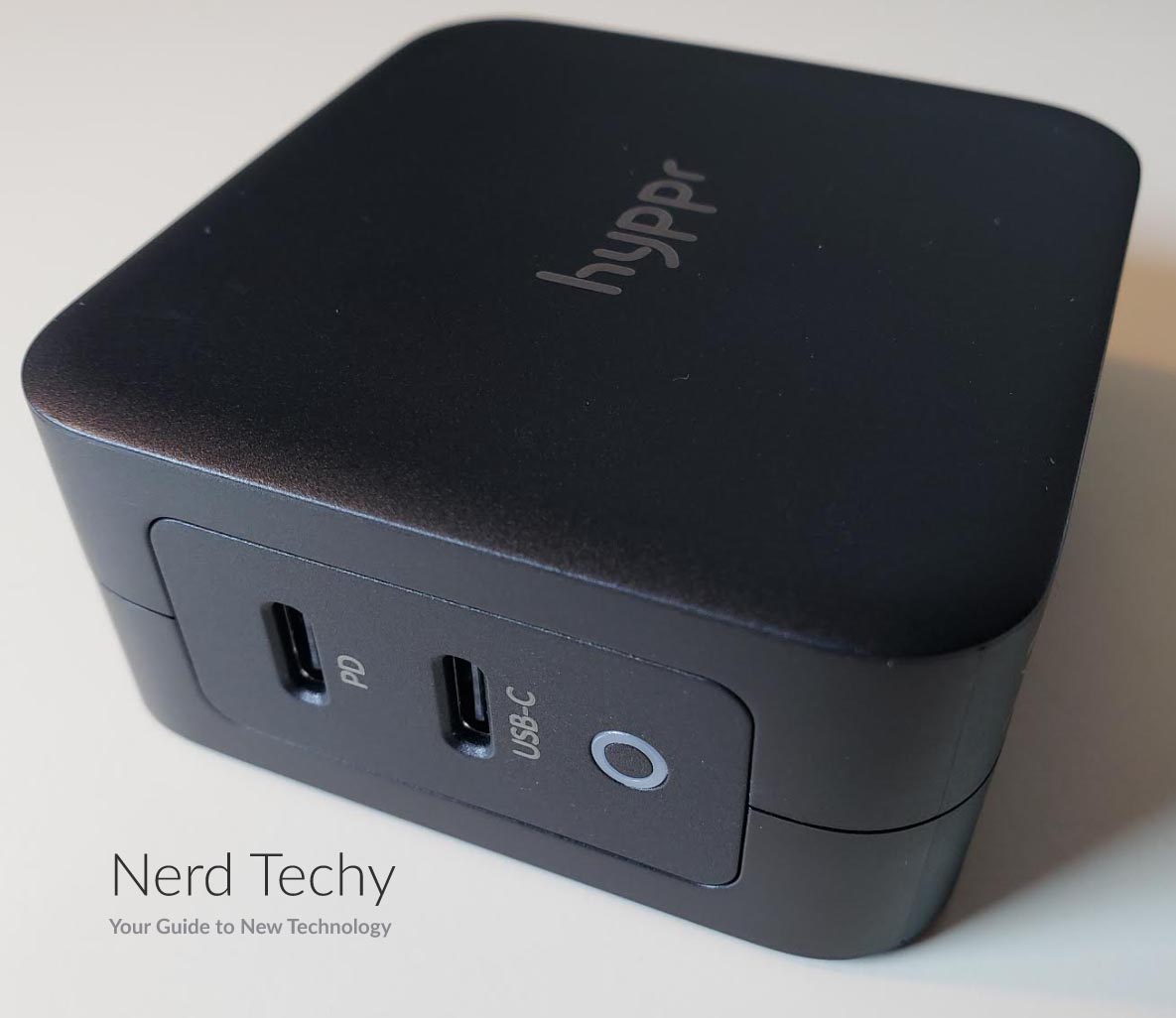 Compatibility and Performance
The Hyppr 100W USB-C PD Charger is pretty straightforward. Just as its name implies, it provides a total maximum power delivery of 100 watts. In and of itself, this is sufficient to power any USB Type-C laptop on today's market. Keep in mind, though, that this is the limit for the entire power supply, not just for a single port. If you try to charge two 90-watt laptops simultaneously, you're going to be disappointed. Instead of 90 watts a piece, the Hyppr charger will split the 100 watts two ways and supply 50 watts a piece.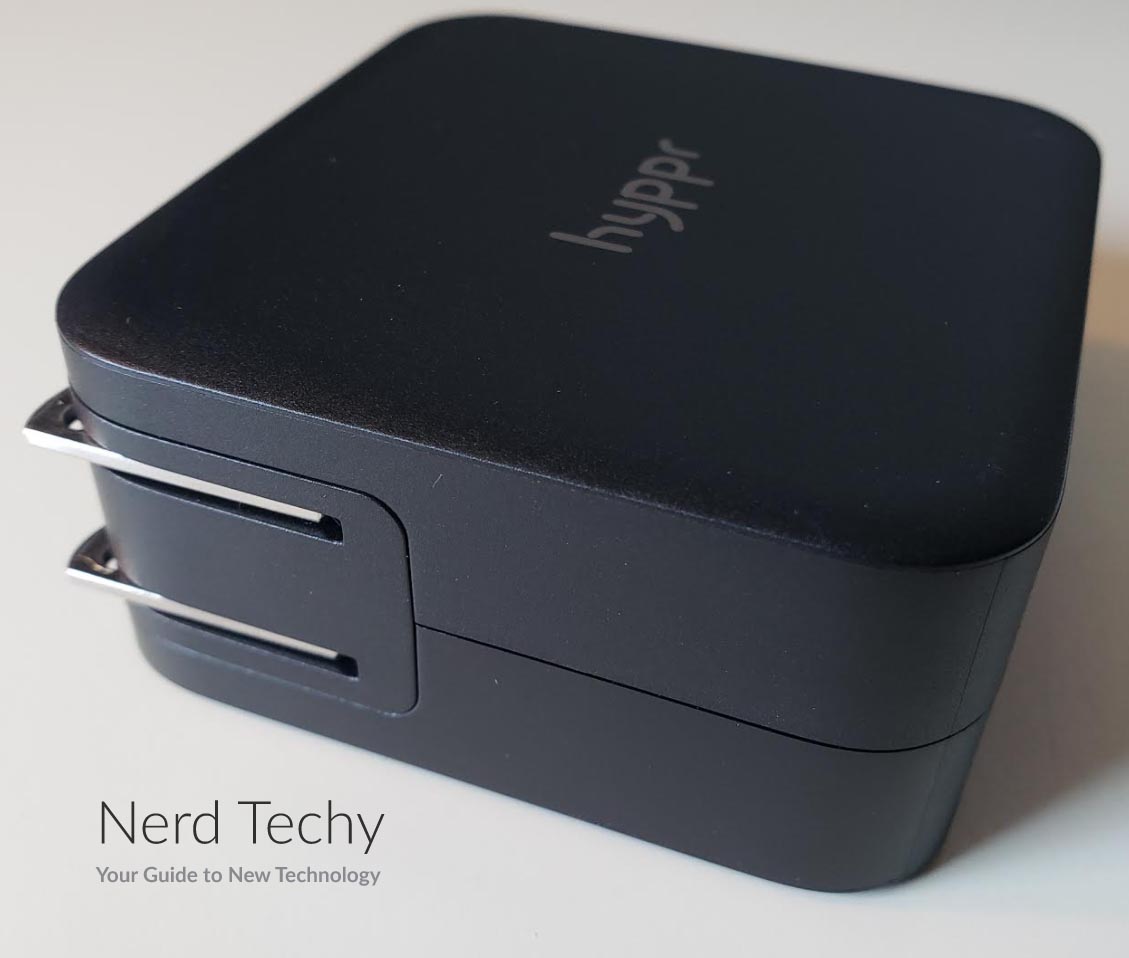 Regardless, 100 watts should be plenty for most purposes. The most obvious advantage is that you can charge a laptop and a phone simultaneously while using both of them. This is just something you can't do with a less powerful charger. Not only that, but both ports support QC charging as well as PD. Admittedly, QC isn't as powerful as PD. But the cross-compatibility means you can use the Hyppr charger with a wider variety of devices. Regardless of what you're charging, keep in mind that you'll need a PD-capable cable to get more than 45 watts. Look for the E-marker on the box to make sure you're getting the right kind of cable.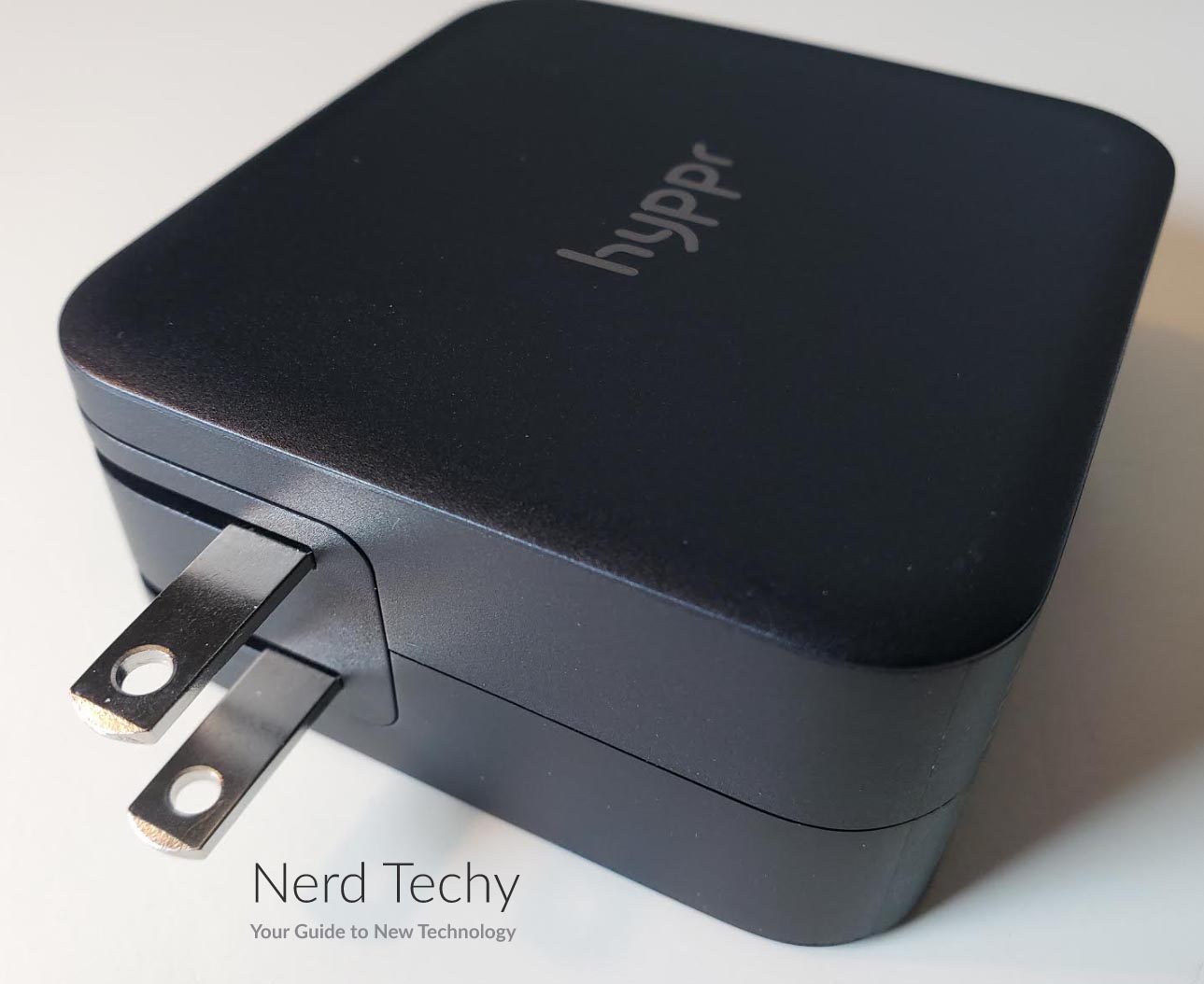 The Hyppr charger utilizes a Gallium-Nitride (GaN) chip. This is an advanced power chip that is more efficient than older silicon semiconductors. It's over 90% efficient, which means less risk of overheating and less wasted power. In addition to all that, the Hyppr charger comes with a full array of safety features. It includes overcurrent, over-voltage, over-discharge, and short-circuit protection. It also has a built-in temperature sensor that will shut things down if the charger starts overheating.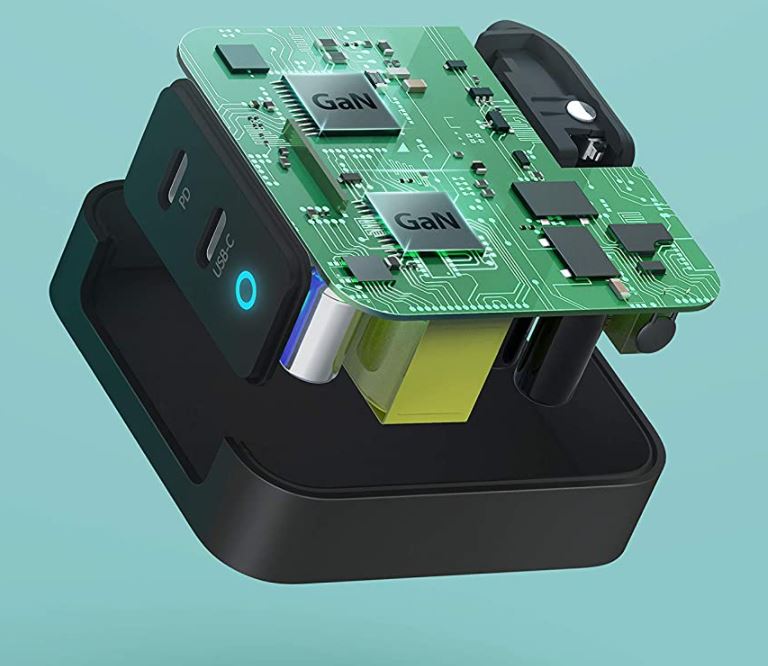 As you can see, the Hyppr charger brings a considerable amount of power and efficiency to the table. The only thing it doesn't provide is a standard USB Type-A port. This can be frustrating if you also want to use it for charging older electronics. If you want a more versatile USB Type-C charger, take a look at the Galio Charger. It pairs a USB Type-A port with two Type-C PD ports, but the resulting design is on the large side.
Technical Specifications
Suppose you're a power bank expert who just wants the quick and dirty lowdown on the Hyppr charger. In that case, here's a quick summary of everything you need to know.
Input power: AC 100-240V 50/60Hz 2.5A Max
PD power output: DC 5V3A / 9V3A / 12V3A / 15V3A / 20V5A (100W Max)
USB Type-C power output: DC 5V3A / 9V3A / 12V3A / 15V3A / 20V2.25A (45W Max)
As you can see, the Hyppr charger's 100 watts is among the most impressive charging performance available. If all you need is a more laid back charger, check out the CHOETECH 61W USB-C (GaN & PD) Charger. This is a more affordable option, but it only has a single PD port with 65 watts of charging power.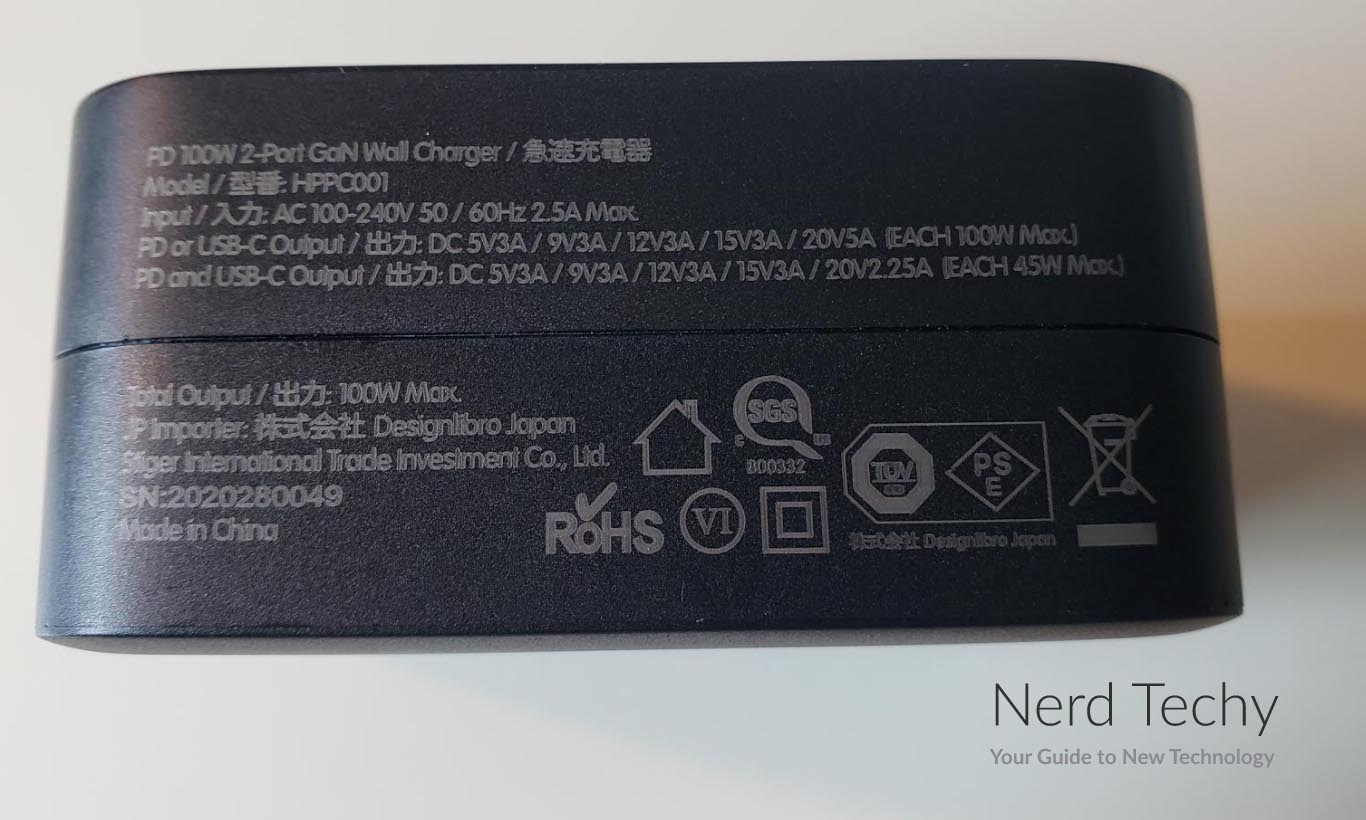 Final Verdict
The Hyppr 100W USB-C PD Charger is one of the more impressive chargers on the market. This is in regards to two factors. First, it delivers the PD-format maximum of 100 watts, so it's as powerful as they get. Secondly, its GaN chip is very impressive for the price. You can find other chargers that perform as well as this, but expect to pay two or three times as much. The only glaring deficiency was the lack of a USB Type-A port. This would have been nice for the added compatibility.
Even so, you're looking at a highly-capable charger that's equally useful for home or travel. If you're looking for a charger for a powerful laptop, this is an excellent choice.
Meet Derek, "TechGuru," a 34-year-old technology enthusiast with a deep passion for tech innovations. With extensive experience, he specializes in gaming hardware and software, and has expertise in gadgets, custom PCs, and audio.
Besides writing about tech and reviewing new products, Derek enjoys traveling, hiking, and photography. Committed to keeping up with the latest industry trends, he aims to guide readers in making informed tech decisions.