Quick Analysis
Pros
Good audio quality, especially for the price.
Can be tabletop or wall-mounted.
Three easy-to-change EQ settings.
No complex setup required.
Cons
Volume is no improvement over TV speakers.
No smart home assistant compatibility.
No HDMI connection.
If you want to add a little more punch to your living room sound system, don't fret. It used to be expensive and complicated to add sound to your TV. You needed a stereo and amplifier at a bare minimum. Even then, you'd end up having to install multiple speakers all over your room. Now, to be fair, you still need multiple speakers for the absolute best sound. There's just no way around it if you want to install a true surround sound system. But if you're just looking for a boost, a sound bar is a great way to get there. You may not get 7.1-channel surround sound, but it will be better than your TV speakers.
Not only that, but sound bars are generally easy to install. In most instances, you can simply run the sound output from your TV directly to your sound bar. If you're using an A/V controller, you can also connect that way. Under most circumstances, you should only need a single cable. Again, this is easier than a surround sound system, which requires running many wires. The last advantage of a sound bar is price. In general, the price of a sound bar will be much less than a comparable stereo system.
Today, we're going to review the SAKOBS 37-inch Sound Bar (Model #DS6601). This is a mid-sized sound bar that comes at a very affordable price. This makes it great for anyone who's trying to build a home entertainment system on a budget. But is it actually any good? Or would you just be wasting your money by buying one? We're going to take a closer look at all the features, and see how this sound bar stacks up. Once we know what it brings to the table, we'll be able to render a final verdict. Let's get started!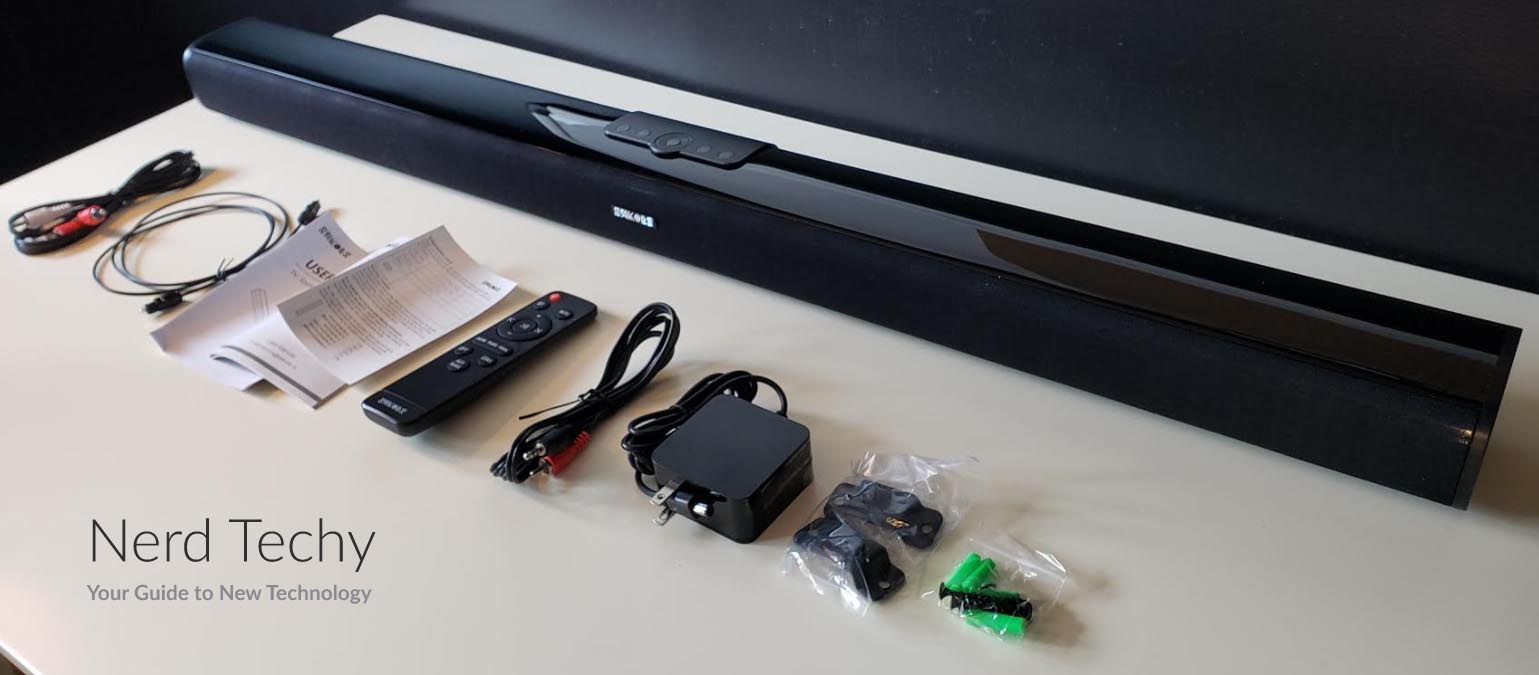 Overall Design
The SAKOBS 37-inch Sound Bar is surprisingly attractive for such an affordable unit. It's constructed mostly from matte black plastic, with glossy reinforced ends that are designed to handle the odd bump. The overall profile is mostly rectangular, but all the sides are softly curved. This gives the SAKOBS sound bar a contemporary look, which will match most modern furniture and electronics. On the front, you'll see a silver SAKOBS logo embossed above a row of multicolored LED lights. The leftmost light is blue, and indicates that the sound bar's main power supply is active. The next four lights are green, and indicate that each of the four respective speakers are also active.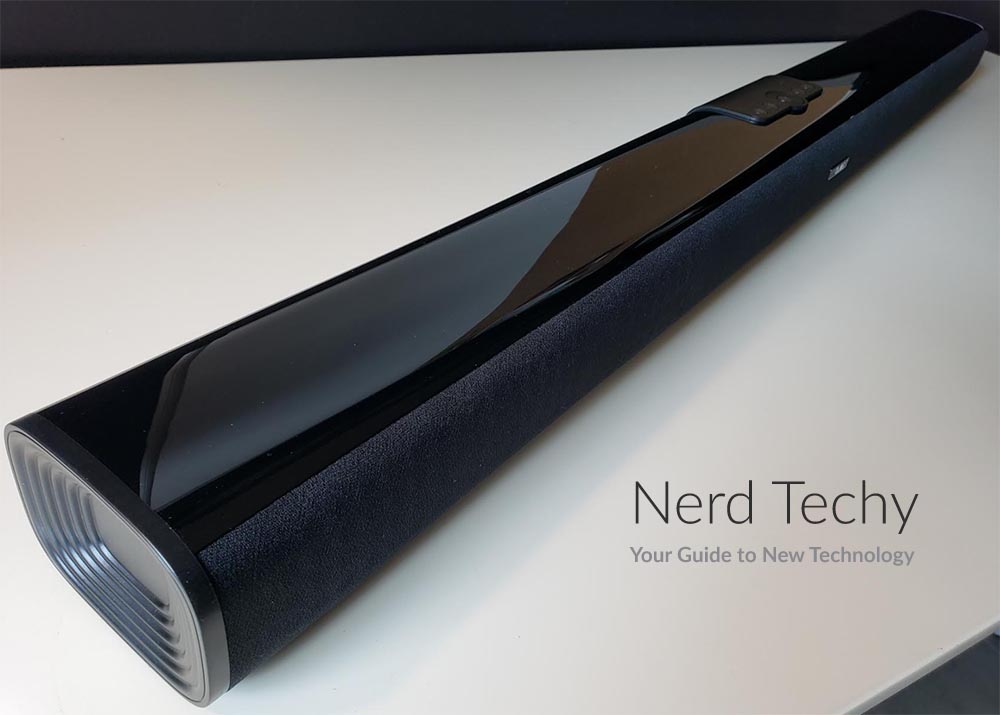 The speaker unit itself measures 37 inches wide, 3.5 inches deep, and 2.6 inches high. It looks surprisingly slender, despite being one of the larger sound bars we've reviewed. On the top, there's a small rubber control panel with basic controls. You can't do a whole lot, but you can at least adjust the volume and turn the sound bar on and off. In the back of the SAKOBS sound bar, you'll find a recessed panel with all the inputs and outputs. We'll take a closer look at each of these in a second.
The SAKOBS sound bar's standout feature is its versatility. It's designed to be wall mounted or set on a tabletop at your discretion. As such, it can be used under just about any circumstances. When it rests on your tabletop, it has a gentle, 15-degree upward slope. This is ideal for most living rooms, where you'll be sitting slightly higher than the sound bar.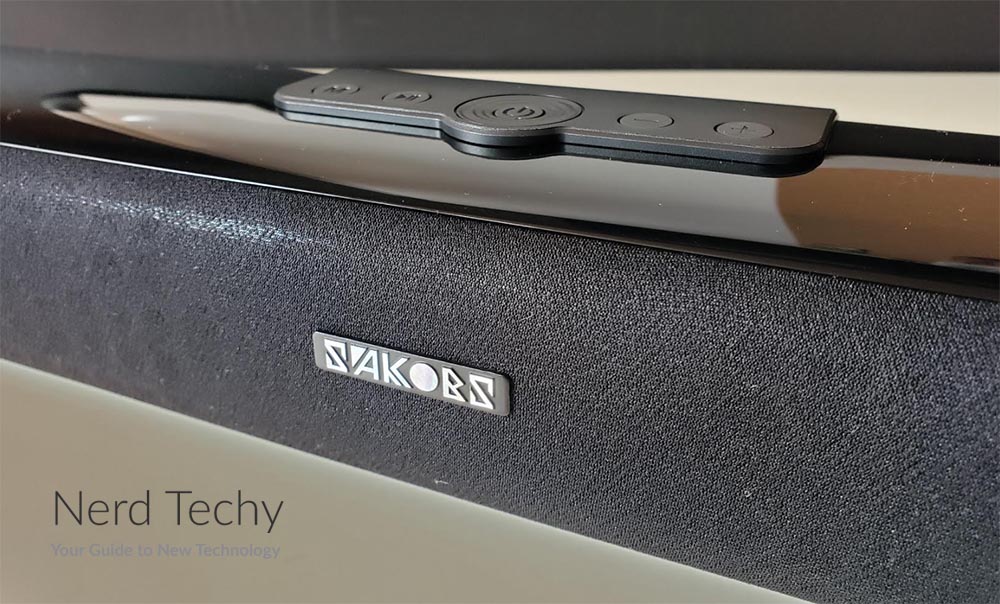 Alternatively, you can use the included mounting hardware to attach the SAKOBS sound bar to the wall. The kit includes two pairs of mounting screws and anchors, along with a pair of small wall mounts. Simply install the screws and anchors, attach the mounts, and slide the sound bar onto the anchors. Make sure you follow the instructions and get the placement right, though. Otherwise, you'll end up having trouble getting the sound bar to mount. At 6.49 pounds, it's nice and sturdy, but not to heavy to get into place. You'll also want to have any cables connected to the back before you mount it. Otherwise, it can be a real pain to get them connected.
Along with the SAKOBS sound bar itself, you also get a few extras that will help you get started. To begin with, you get an optical cable, as well as a 3.5mm to component audio splitter. Along with the wireless connection, these will help you connect to just about any output. You also get an AC adapter to provide power to the sound bar. Keep in mind that there's no built-in battery. Like your TV, the SAKOBS sound bar is designed to work only when your power is on. A small black remote rounds out the kit. It allows you to do everything you need to do with the SAKOBS sound bar.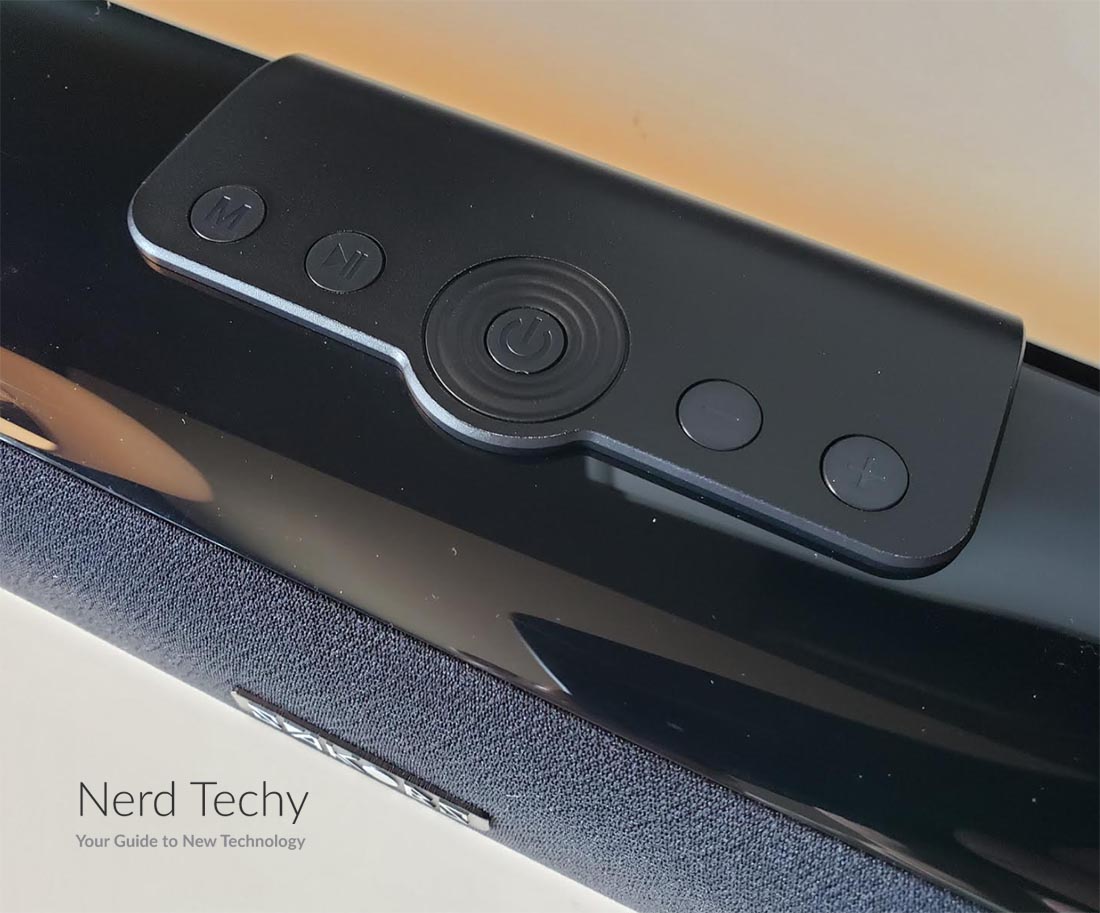 Connectivity & Compatibility
There are three ways of connecting the SAKOBS 37-inch Sound Bar to your devices. The default method for most devices is to simply use Bluetooth 4.2. This is great for streaming music from your phone or your laptop. But if you want to watch a movie or play a game, you'll want a low-latency, wired connection. In that case, you get your choice of RCA and optical inputs, with an RCA splitter for a 3.5mm aux input. In other words, you can connect just about anything, from a TV to a stereo system.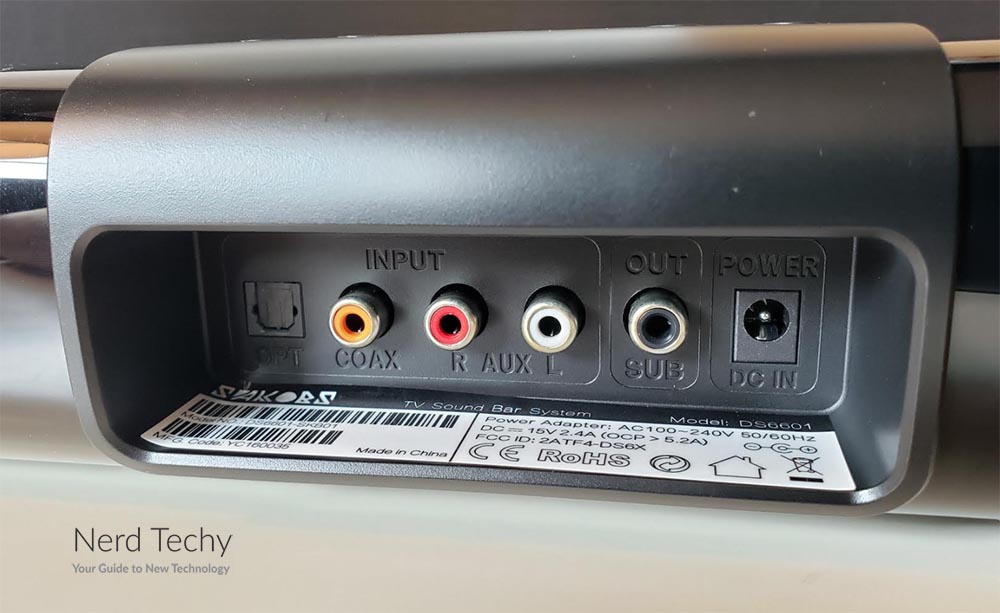 That said, there's no HDMI compatibility. This can be problematic if you want to take advantage of some of the newer HDMI features. Moreover, the SAKOBS sound bar doesn't support Alexa or other smart home devices. Admittedly, this makes it very affordable. But it also means that your only means of control is the remote. If you're willing to shell out more for a more connected sound bar, look at the Anker Nebula. It supports HDMI and voice assistants, although it costs more than the SAKOBS bar.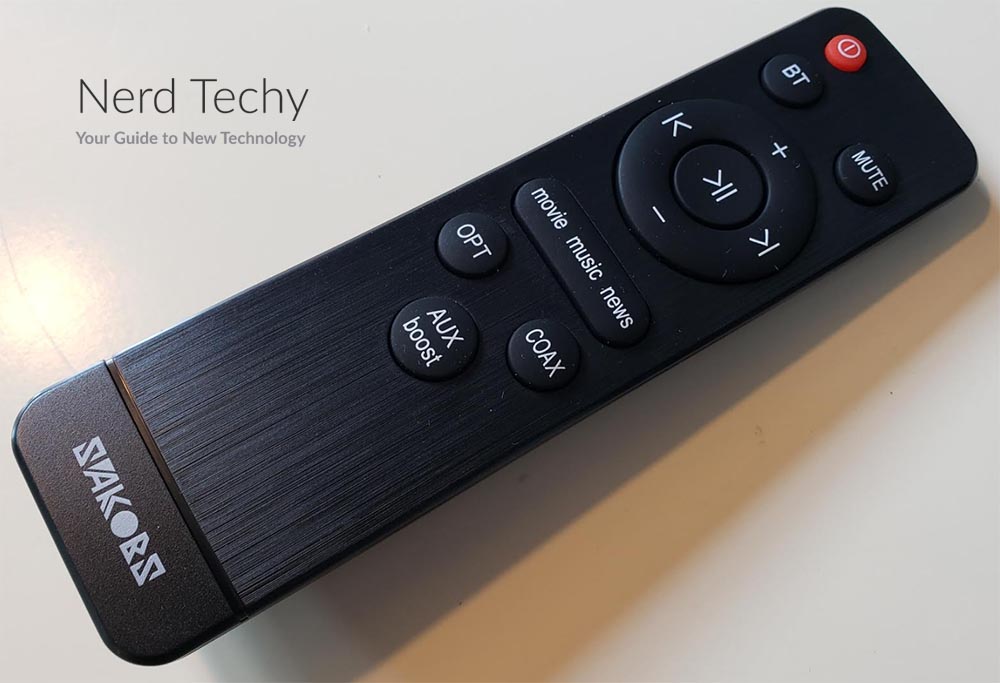 Sound Quality
The SAKOBS 37-inch Sound Bar draws a total of 80 watts of power, split between four built-in speakers. In total, there are four woofers and two tweeters. Because bass is tougher to push out, this actually gives a very well-balanced audio profile across the sound spectrum. To be fair, a lot of this depends on what EQ setting you choose. The SAKOBS sound bar has three different EQ modes for different functions. Probably the most commonly-used is movie mode, which is designed with the widest dynamic range. It's ideal if you want to enjoy all of the latest Hollywood blockbusters.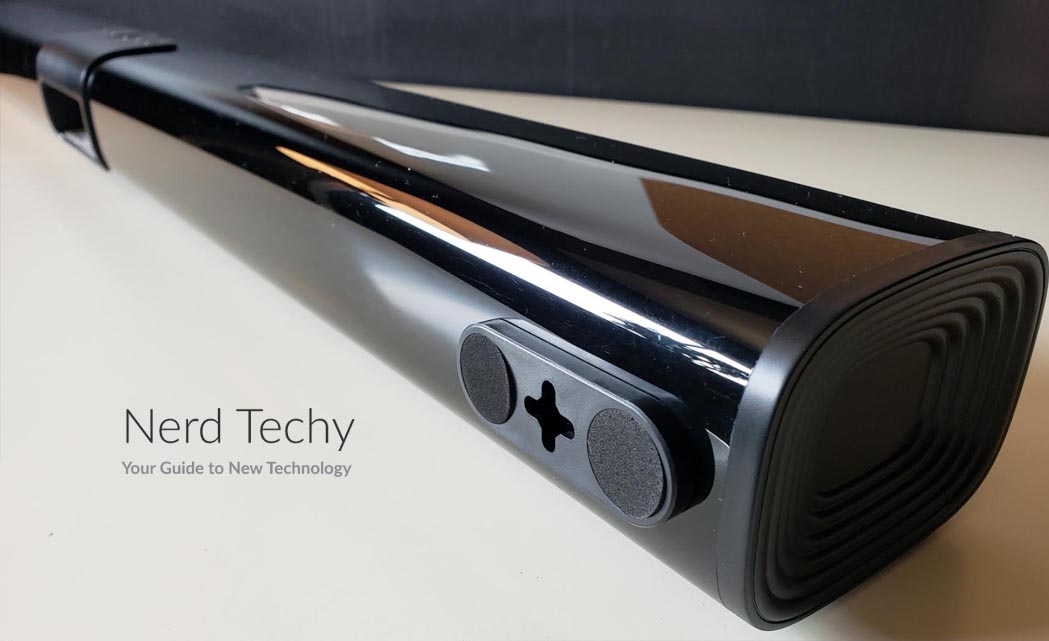 If you're listening to music, music mode will probably be your go-to option. Music mode enhances the speakers' bass, providing a better background for social gatherings. In practice, whether or not you want this will depend on what your preferences are. But if you're a fan of any bass-heavy genre, music mode will massively improve your listening experience.
Finally, there's TV show mode, which was called "news mode" on earlier versions of the sound bar. This mode is designed first and foremost to enhance dialogue. It's great not just for TV shows, but for anything that's heavy on dialogue. We immediately thought of watching a merchant ivory film like The Remains of the Day, where dialogue is literally everything. But TV show mode is equally useful for podcasts, audiobooks, and other spoken word media. Of course, all of this is in addition to any EQ options on your output device. If you're going through an amplifier, you'll probably already have more EQ options.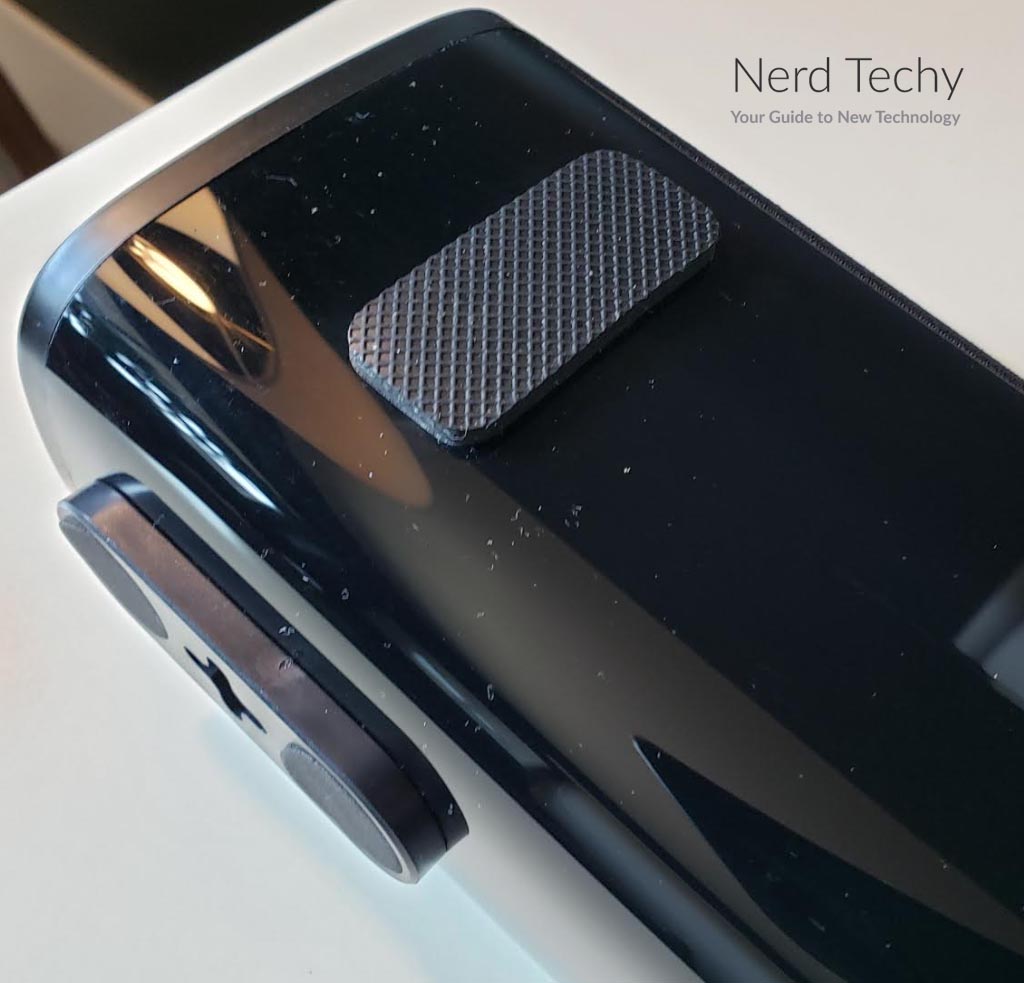 Regardless of your settings, the audio quality is very good. High frequencies are clear and shimmery. There's no lack of detail and shimmer in strings and cymbals. Moving down to the mids, they're clear and present. Dialogue sounds fine regardless of your EQ setting. Finally, the bass is nice and punchy. It isn't overly forward in the mix, but it's most definitely there. You won't have to strain to hear it bump like you will with other mid-priced sound bars. The soundstage is also very wide. The speakers replicate an excellent sense of space, with plenty of separation between voices and instruments.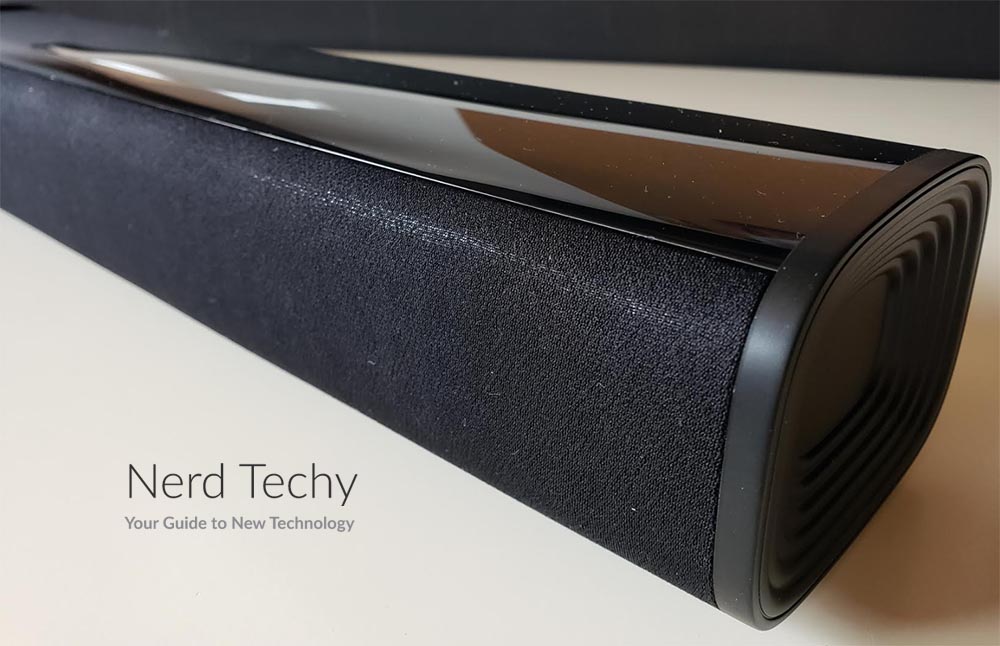 About the only thing that the SAKOBS 37-inch Sound Bar doesn't deliver is enhanced volume. With a rated maximum of 80 decibels, it's roughly equivalent to most TV speakers. For most people, this won't be a problem. How often do you actually crank your TV all the way up to 100? That said, if you're looking for volume enhancement for someone who's hard of hearing, you'll want a louder bar. Check out our review of the Wohome S9920. This sound bar has a similar design to the SAKOBS bar, but delivers exceptionally loud sound. With a maximum of 105 decibels, it's potentially as loud as a chainsaw.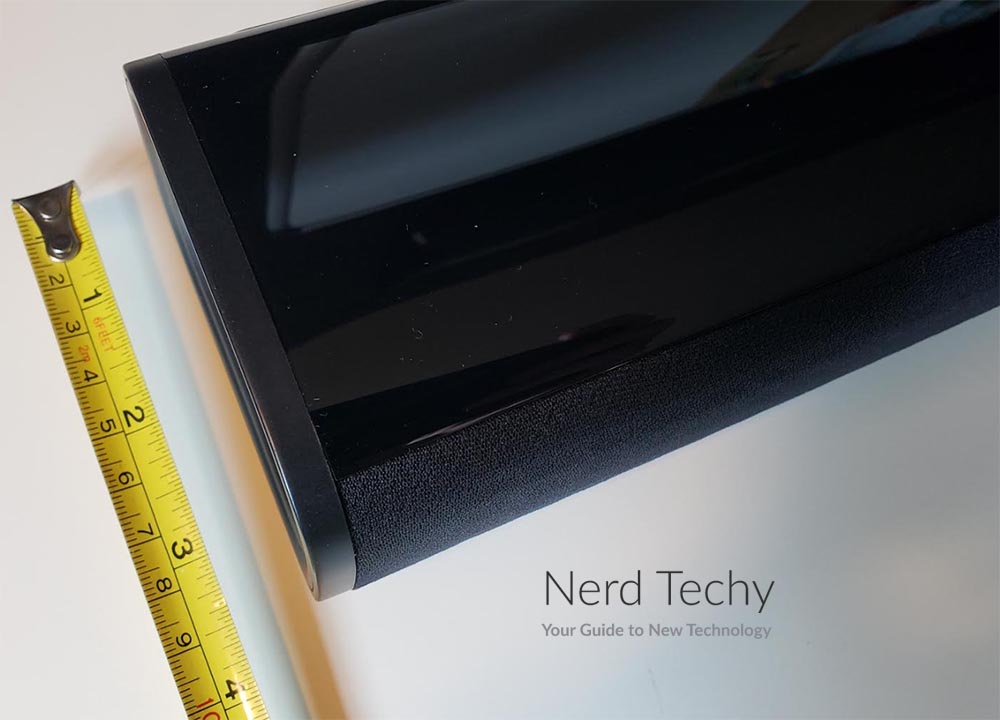 Final Verdict
So, is the SAKOBS 37-inch Sound Bar (Model #DS6601) worth its salt? In most respects, yes. Let's remember what we're looking at. This is an affordably-priced sound bar. It's not a top-grade piece of equipment, and we didn't expect it to perform that way. In fact, we were surprised by what we saw. Many manufacturers try to be all things to all people and cram in as many features as possible. On affordable electronics, this invariably means that some features suffer.
SAKOBS has cut to the chase by eliminating HDMI, Bluetooth 5.0, and smart home support right off the bat. They've also kept the volume to a moderate level. Instead, they focused on high-quality speakers that faithfully produce sound across the spectrum. They also produced a sweet physical design, which can be mounted or set on a table at will. Combine this with quality engineering and a full suite of accessories, and it's tough to pass up. If you need a sound bar, but don't have ton of money to spend, you're looking at a solid choice.
Meet Derek, "TechGuru," a 34-year-old technology enthusiast with a deep passion for tech innovations. With extensive experience, he specializes in gaming hardware and software, and has expertise in gadgets, custom PCs, and audio.
Besides writing about tech and reviewing new products, Derek enjoys traveling, hiking, and photography. Committed to keeping up with the latest industry trends, he aims to guide readers in making informed tech decisions.