These days, you can't be too careful about your car's safety. To begin with, you have garden-variety accidents. Someone hits you. They didn't start their day planning to cheat anybody, but suddenly they're faced with a conundrum. Do they tell the truth, and see their insurance rates rise, maybe to a rate they can't afford? Or do they lie?
After all, it's your word against theirs. In addition, there are people who set out with every intention of ripping you off. Scammers will cause an accident, then have an accomplice pose as a "witness" to verify their account. Later on, they may even fake an injury and rack up thousands of dollars in "medical bills." Through no fault of your own, you could find yourself "at fault" in an expensive insurance claim.
A good dash cam can help you avoid both of these scenarios. But while you're looking for a dash cam, why not also look for some extras, like top-tier night vision? In the past, we reviewed the Lanmodo Vast, and we liked what we saw. So of course we were excited to learn that Lanmodo is releasing an upgrade, the Lanmodo Vast Pro. It's currently available for preorder on Indiegogo, and we had the opportunity to get a look behind the curtain. We're about to spill the beans on everything we learned. We'll talk about the physical design, how it's installed, and how you can use it. We'll also evaluate the video quality and other extras. Here's what we learned!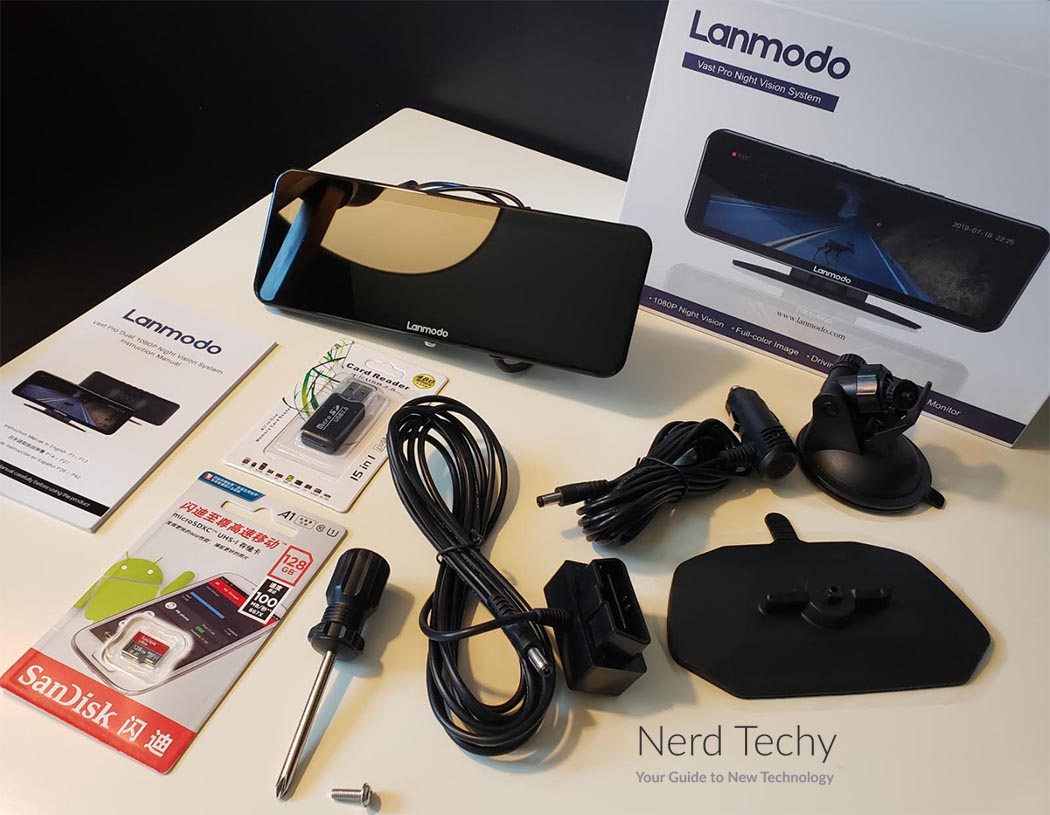 Overall Design
The Lanmodo Vast Pro Night Vision System & Dash Cam isn't as understated as some dash cams. Indeed, it's designed to be front and center on your dashboard. This is because it isn't just a dash cam; it's a night vision system, which we'll talk about more in a second. The IPS screen is designed to be viewed from almost any angle, so aligning it is easy. Regardless of how you position it, the cosmetics are appealing. It presents a full-color, high definition, real-time image of the road. This isn't just cosmetic, either. When combined with the night vision function, it can be a literal life saver.
The controls are located along the top of the display. This allows you to perform simple functions without the need for an app or a remote. You can switch between the front and rear display with ease. You can also adjust the brightness and contrast options, as well as more advanced connectivity options. Regardless, everything is controlled through a simple menu that's very intuitive to operate. You don't have to worry about getting confused while using this dash cam.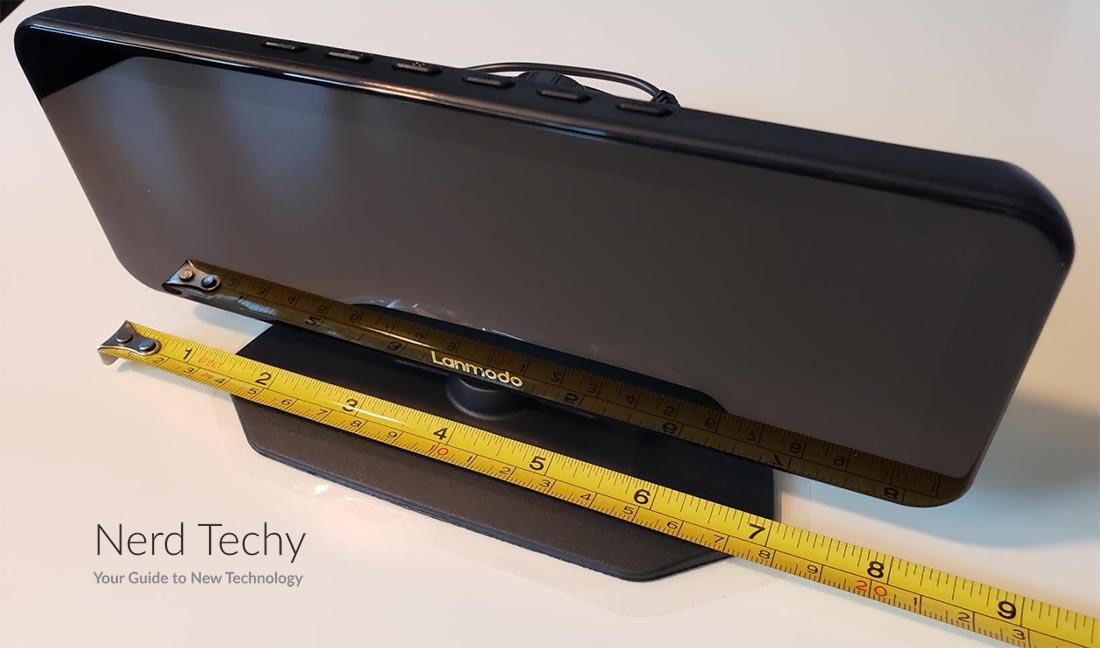 If you prefer a less obtrusive design, there are other options. For example, why not have your dash cam display replace your rearview mirror? If you want that kind of display, check out the Auto-Vox V5 Pro. This dash cam replaces your rearview mirror entirely, so it doesn't take up extra real estate. On the downside, if it's set to display the front camera, you effectively sacrifice a rearview mirror. Whether or not this is a good or a bad thing depends on your needs. The frame is narrow, allowing for a wide field of view. This maximizes your screen space, so you get the most from your night vision display.
The power cord comes out of the back of the Vast Pro Night Vision System's main unit. It's designed to connect to your vehicle's 12-volt power connection. With this type of connection, the unit will automatically power up when you turn your key in the ignition. This makes it easy to operate, no matter what you're using it for. Alternatively, you can leave the camera in parking mode for even more security. You'll need a hardwiring kit for that, which we'll discuss below.
In addition to the main display, there's also a rear camera for looking out the back of your vehicle. This camera is very small, only about an inch on each side. It's designed to be mounted externally, but in an unobtrusive location so thieves won't notice it.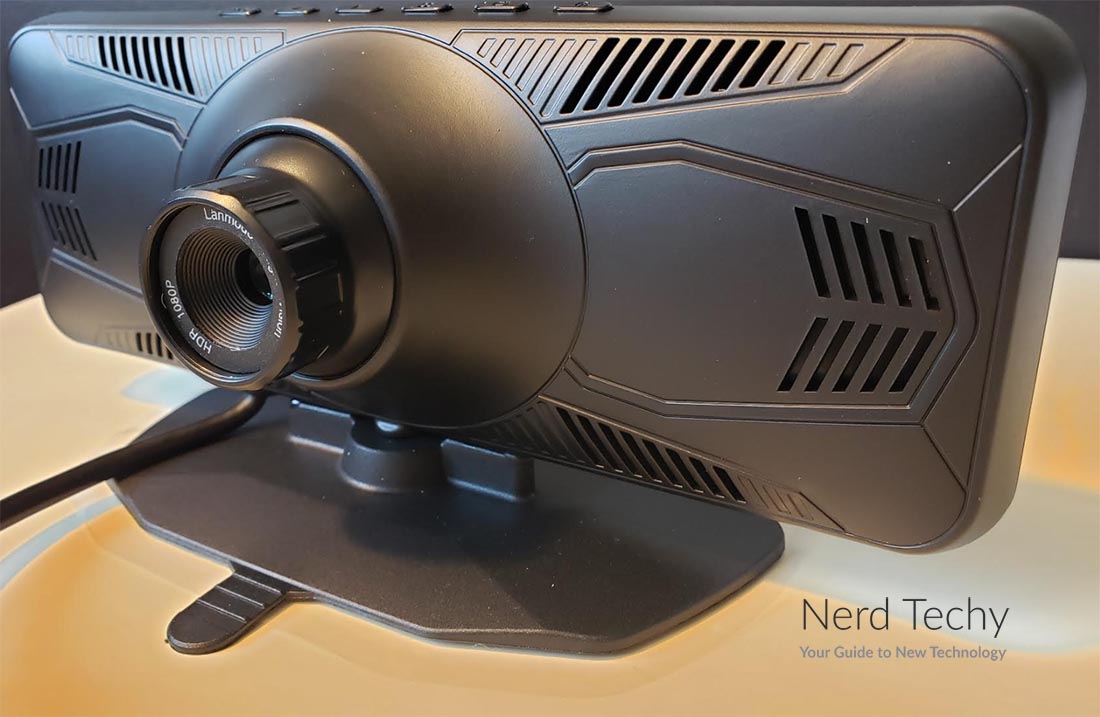 Installation & Storage
There are two ways of mounting the Lanmodo Vast Pro. The first, simplest way is simply to use the included sticky-back (washable/reusable) nano glue to mount it to your dashboard. This is the most straightforward method, but it doesn't allow for many options in terms of placement. You're stuck to the top of your dashboard! Alternatively, you can use the suction cup mount that's included in the kit. It's exceptionally secure, and won't vibrate use when you run over a few potholes.
The rear camera mounts easily using either a screw or clamp. Fortunately, it carries an official IP67 rating, so we can't tell you how water-resistant it is. Fortunately, it's been tested in hard, driving rain, and it doesn't fail even when it's getting soaked. Installing the rear camera is easy. Simply connect the black wire to your vehicle's power system. You'll also need to connect the red wire to the reverse light, so the camera will activate when you reverse. Your car's wiring schematic can be very helpful during the installation process.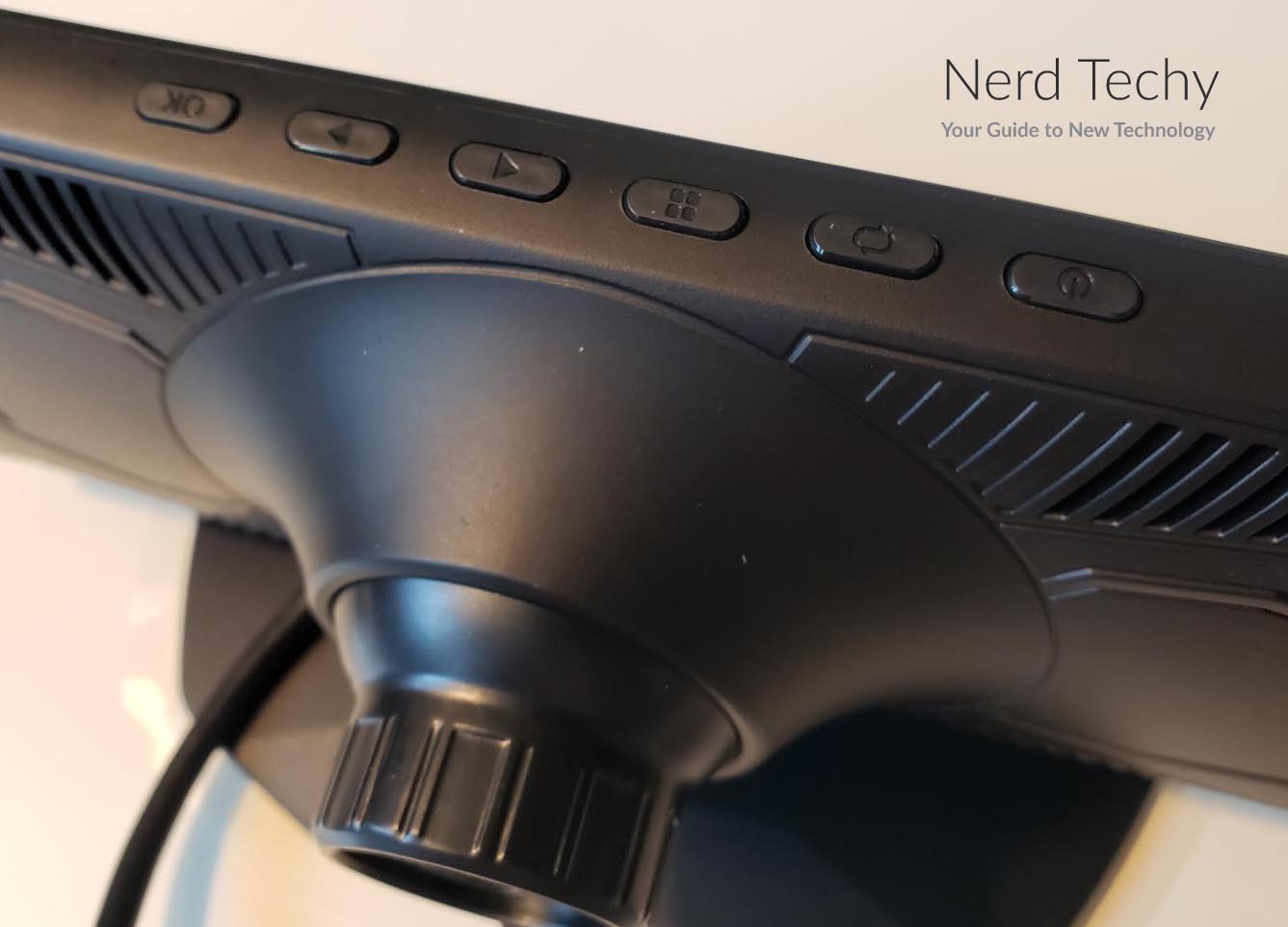 The Vast Pro system supports dual recording of both the front and rearview cameras. This footage is stored locally on an SD card, which is not included in the kit. The system supports up to a 128GB SD card, which is enough for over 48 hours of footage. The footage is recorded using loop recording. This means that as newer footage is recorded, it overwrites the oldest footage on your card. In other words, you shouldn't have any issues when it comes to video storage.
The Vast Pro camera features a built-in G-sensor, which can detect collisions. When a collision is detected, the camera will automatically record locked footage. This means that the footage will not be automatically overwritten. To get rid of it, you'll need to delete it automatically. This can be a pain if the footage is unwanted. But if you're involved in an accident and need the video for insurance purposes, it can be a life saver.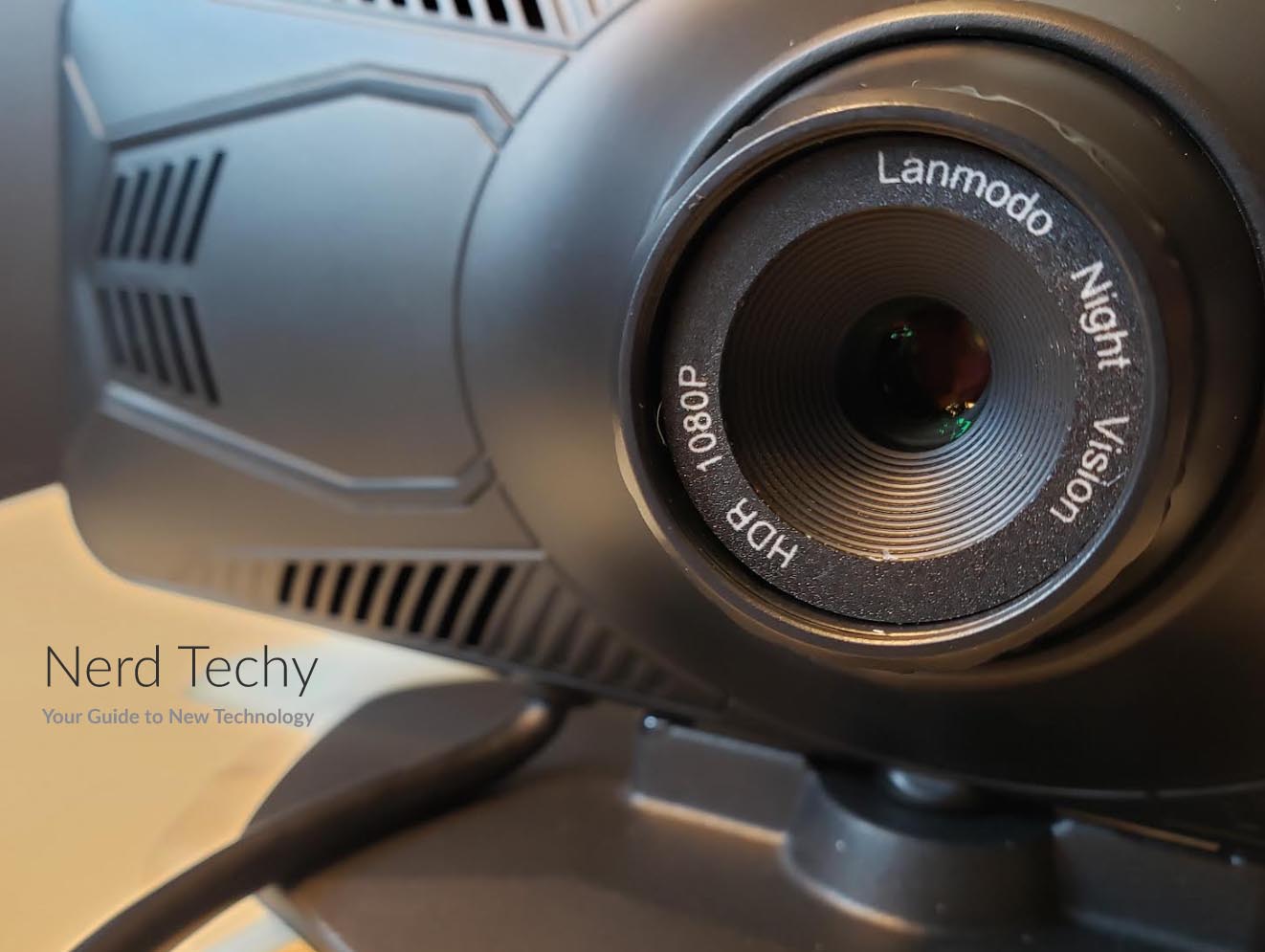 In addition, you can also use the Vast Pro camera as an anti-theft system. In this mode, the camera will trigger after any kind of shock, even when your vehicle is turned off. To use this mode, you'll need to plug your camera into OBD power. This will shut the camera off in the event of low voltage. To do this, you'll need a dash cam hardwiring kit, which is not included with the Vast Pro.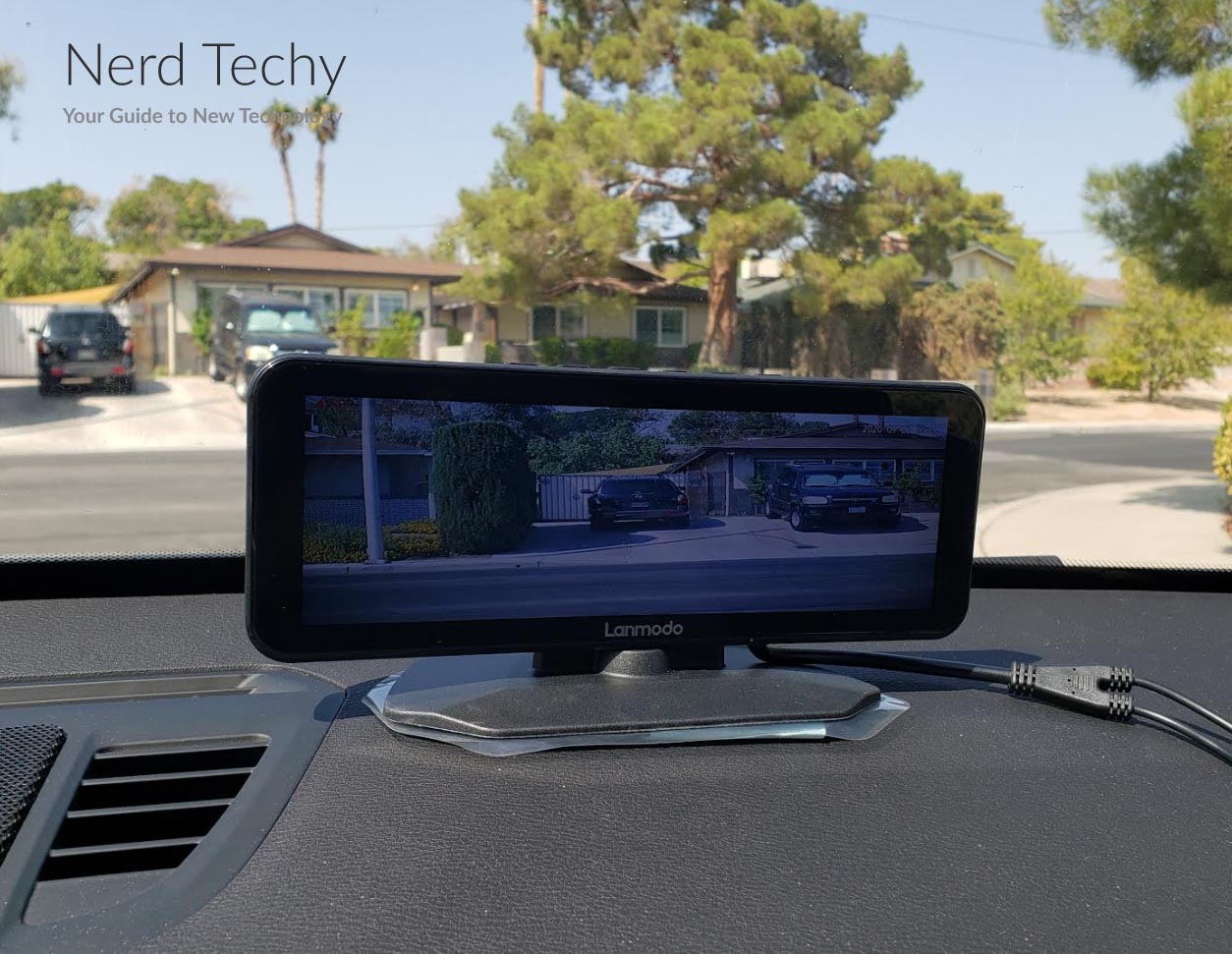 Video Quality & Extras
The Vast Pro's front and rear cameras both record in full 1080p. This will be sufficient for just about any purpose. For a home or business security camera, you might prefer 4K. After all, you'll be able to read a license plate even at very long range. But this is a dash cam. Anyone you're worried about recording will be within a few feet of the camera. So for our purposes, 180p is more than good enough resolution to read a license plate.
Perhaps the Vast Pro's best feature is its 984-foot night vision front camera. This camera can detect hazards at a very long range, far longer than you can see with your high beams. This makes it a great way to spot danger, regardless of your lighting situation. The downside here is obvious. If you're staring at a screen looking for long-range threats, you won't see what's right in front of you. On the other hand, if you're on a dark rural road with nothing in front of you, it can be a blessing. Whether or not this feature provides any benefit will ultimately depend on what kind of driving you do.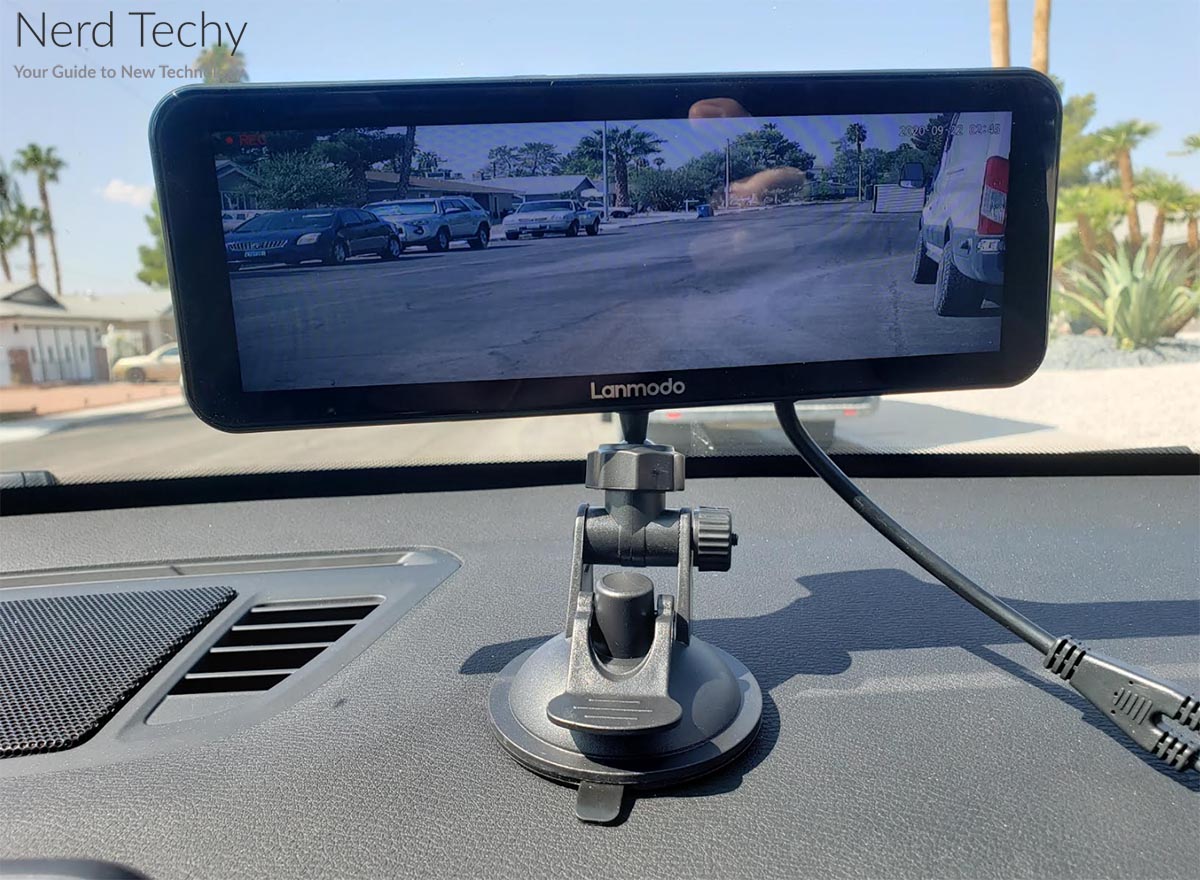 The one downside of the front camera is its 45-degree field of view. This field of view is designed to eliminate distortion and provide a "real life" image of the road in front of you. On the other hand, it can fail to capture the entire picture if you're looking for a camera for insurance purposes. If you want a wide field of view more than a "perfect" image, take a look at the Auto-Vox AD2. It provides a significantly wider field of view, albeit with some distortion in the image.
The Vast Pro's rear camera takes an opposite approach to the front camera. Rather than a narrow, 45-degree field of view, it has a wider, 170-degree field of view. This will distort the image somewhat, but shows you more obstacles to the left and right. This is ideal for parking, which is what the rear camera was designed for. Parking at night is no problem. The rear camera is equipped with the same powerful night vision technology as the front camera.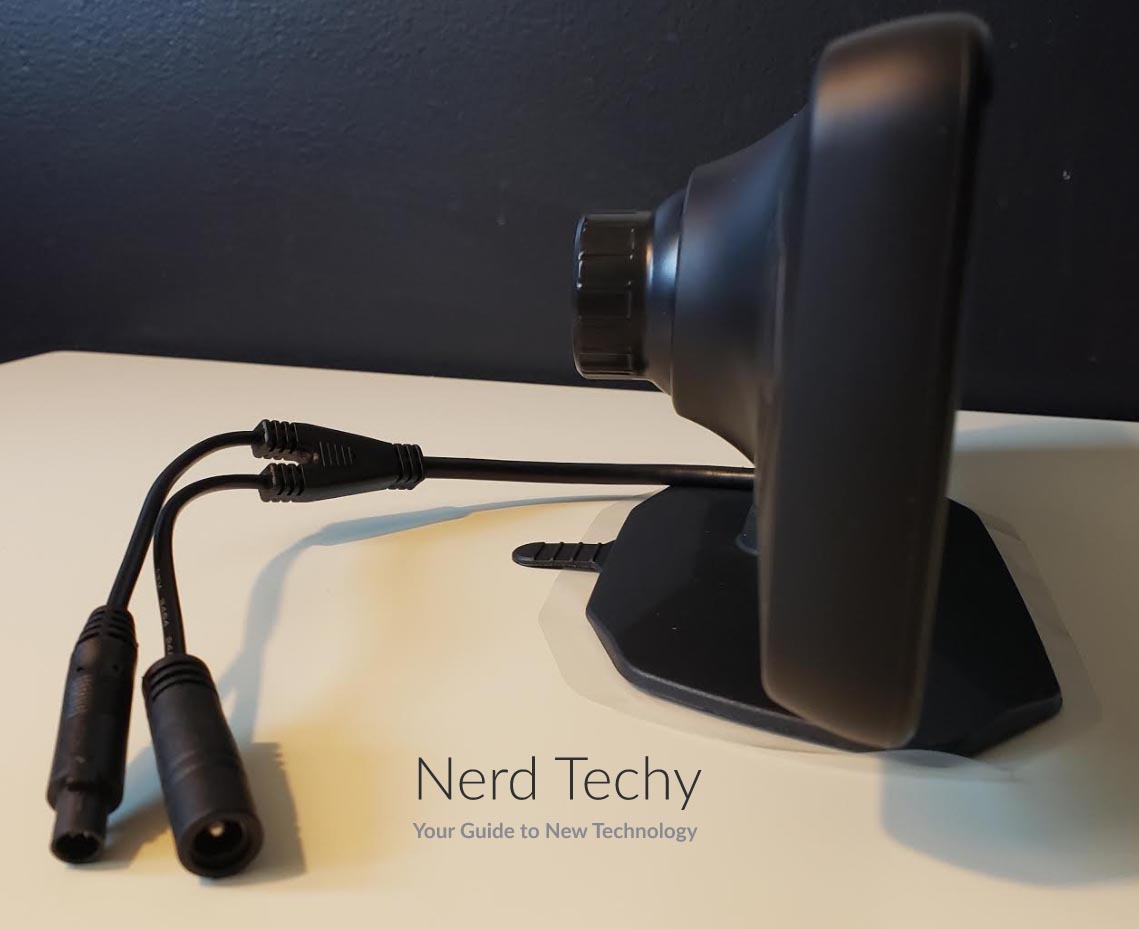 Final Verdict
As you can see, the Lanmodo Vast Pro Night Vision System & Dash Cam is a powerful device. To be fair, it doesn't offer some of the same options of some other dash cams. For instance, there's no online storage and no companion app. This makes the Vast Pro a relatively low tech option. On the other hand, it performs very well for what it is. Full 1080p front and rear video with good night vision is nothing to sneeze at.
Moreover, the Vast Pro is easy to install. Many dash cams have a complicated mounting system that requires some skill to figure out. The Vast Pro is nothing like that. You either use the nano glue sticky-back or a suction cup, so anybody can figure it out. Not only that, but the device itself is very well constructed. Once it's installed, the display almost looks like part of your car, providing a unified look. Is this kind of performance worth your hard-earned money? Only you can say. But if you're looking for an all-around well designed dash cam, you're looking at a solid choice.
Meet Derek, "TechGuru," a 34-year-old technology enthusiast with a deep passion for tech innovations. With extensive experience, he specializes in gaming hardware and software, and has expertise in gadgets, custom PCs, and audio.
Besides writing about tech and reviewing new products, Derek enjoys traveling, hiking, and photography. Committed to keeping up with the latest industry trends, he aims to guide readers in making informed tech decisions.