Driving at night can be dangerous. Even if you're a skilled and alert driver, that might not help you much when driving with poor visibility. What happens when a thick fog blankets the road, or when it's too dark to see more than a couple of feet ahead of you? When you're not persistently driving in safe conditions, it can make a lot of sense to get a little help.
Lanmodo Vast 1080P Automotive Night Vision System
The Lanmodo Vast Automotive Night Vision System is similar to having a pair of lights on your vehicle. The general idea is to help improve your ability to see the road. But in a variety of circumstances, the Vast is actually better than some simple high beams. Because as a night vision system, this device is somewhat like giving the driver super-powers.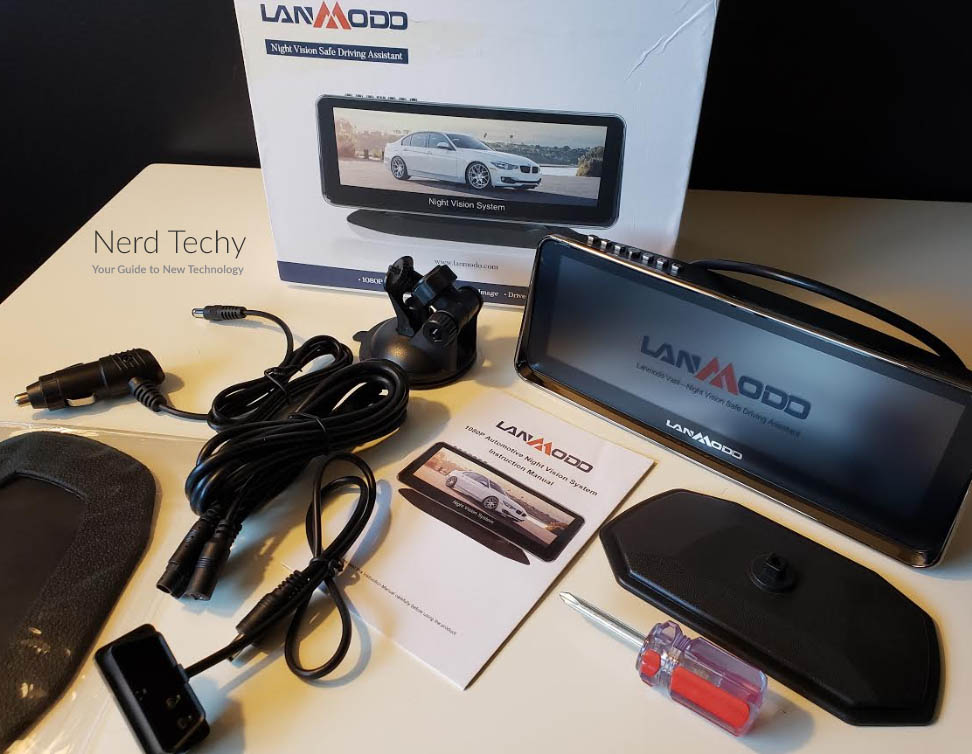 Between its two cameras, The Lanmodo Vast can capture a pretty wide view of the road. But instead of recording that footage, this system is designed to present the live feed to the driver. That way, the driver can use both their windshield and the display in order to help them see the road ahead. And using the power of infrared sight, that can allow the driver to maintain a clear view of the road even in the worst driving environments.
For installation, you're looking at a process that's easily done by yourself. There's no need to go into the shop for work, unlike a lot of similar night vision systems. This system is also pretty cheap compared to a lot of alternatives. But how well does the Vast manage to combine production quality and affordability in practice?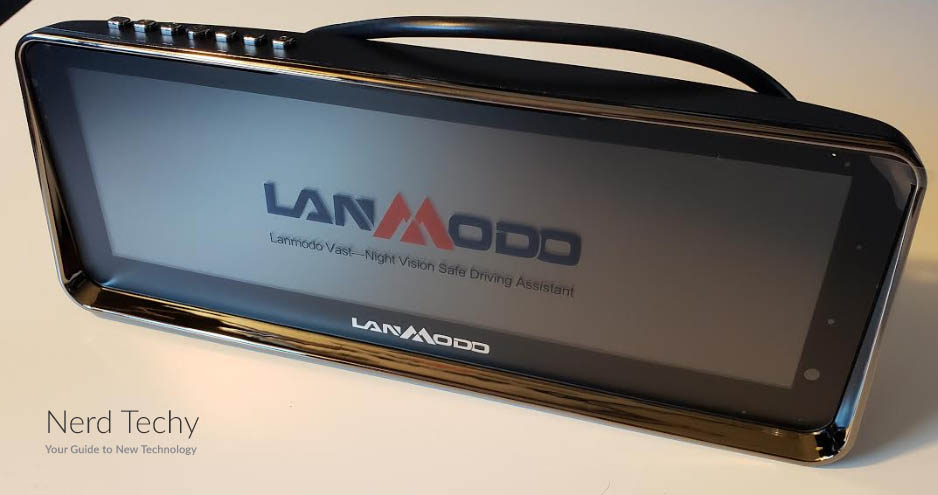 Design & Layout
Most of the time, adding a large screen to your vehicle runs the risk of being a bad idea. Because the screen could be distracting, right? Well, in this case, not really. For starters, the screen is always giving you a view of the road. So being distracted by the Vast isn't possible in most situations. And that's before we get into the analogue controls, auto-off features, and mounting options.
Looking at the device itself, the Lanmodo Vast is basically just a big screen. It's a bit like a smartphone flipped on its sides, and then stretched out like a widescreen display. The display measures 8.8 x 3.3 inches, including the modest quarter-inch bezel placed around its edges. The screen itself is actually 8.2" diagonally, almost coming out to reach the dimensions of a small tablet.
Since this is not a touchscreen, and there is no adjoining app, everything gets done with analogue controls. The topside of the display has a total of seven analogue buttons. Each are quite small, no larger than the end of a pen. Even though the buttons are articulated enough to be accessible to larger fingers, they're also close enough together that you do need a tiny bit of finesse to use them.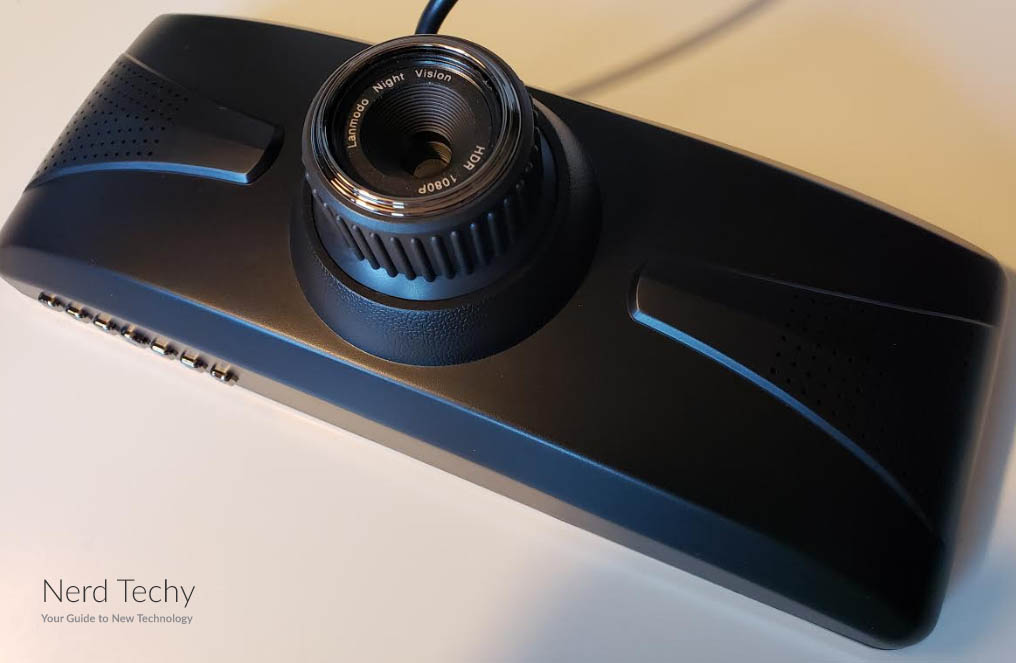 Control Interface
The first switch is a signal switch button, wisely positioned on the furthest left of the control line. Since this is one switch that you don't want to have to struggle to find, it's got a great positioning. The second switch is the menu window, which lets you adjust the contrast and brightness settings of the display. Then the third is a screen rotation button, letting you rotate the screen until you have the best view. And the fourth button, in the dead center of all the others, is the power button. Beyond that, there are scroll up and scroll down buttons to navigate the menu, and then the vision switch button.
Book-ending the vision switch button with placement in the end of this series is another smart design move. Because it's very easy to rapidly swap between black and white vision and full color vision, as changing circumstances require. Even though this array of seven switches does take some getting used to, the general placement is good enough that you can start being an effective and safer driver immediately.
Viewing Display
If you're not familiar, IPS panels are great for two things. The first thing is providing more true to life color than duller, cheaper TN panels. The second thing is providing far better viewing angles than TN panels. In fact, the viewing angle is pretty close to 180-degrees. You can basically look at this thing sideways and still end up with a good view of what's happening.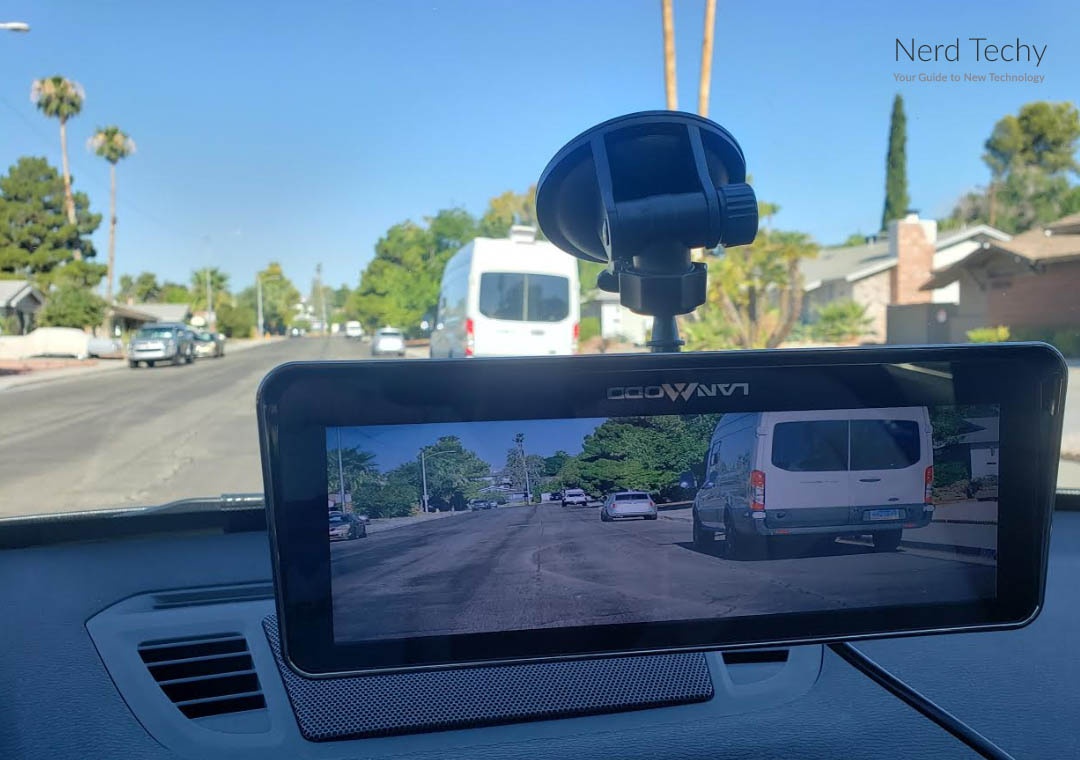 On screen, in order to achieve strong night vision abilities, the infrared type used by the Lanmodo Vast is active infrared as opposed to passive. That basically means the vehicle is pretty effective at looking around its environment, regardless of the level of ambient light which it's dealing with. And regardless to the kind of interference getting between your eyes and the road.
And the display itself is reasonably sharp. The resolution of the display is a fitting 1080p HD, which looks clear and crisp on the modestly sized 8.2" display. Since the resolution is much larger than the screen size calls for, the clarity is very life-like. From an experiential point of view, it even seems like it could pass itself off as 4K. But 1080p is really more than enough for a display like this.
In order to make sure the night vision system is only looking where it needs to be, the angle of the lens captures a 36° view around itself. That's a pretty narrow and highly directed lens. Internally, the camera is supported by a SONY MCCD chip. The night vision lens is 28mm. The built in night vision has an even more directed gaze, which can move between 18° and 30° as needed. Again, pretty highly targeted.
As for the backside of the vehicle, if you decide to integrate one, the rear view camera has a wide 170°wide-angle view. That's basically a full view of the road around you. On the other hand, the rear camera shoots in 720p. That's enough clarity to capture license plates, and it is also certainly enough clarity for viewing the road behind you. You do notice a small drop-off in visual quality when you swap from the 1080p front camera over towards the back, but it's hard to tell.
In either case, content is shot with a framerate of 30fps. For the sake of comparison, that's a good bit smoother than the smoothness you'll find from broadcast television. It's certainly smooth enough for serving as an effective automotive night vision system. Since you're not worried about recording the footage, it would've been fine if they'd run the camera out towards 60fps. But since that's not essential, and it would likely drive up the cost of the display, 30-frames are more than passable for safe driving.
Having night vision in your car has tons of advantages. For driving safely at night, the camera might have a better view of the road than your unaided eyes. How about when it's raining and your vision may be blurred by excessive downpour? The camera can cut through that, letting you see clearly. It works just as well in foggy conditions.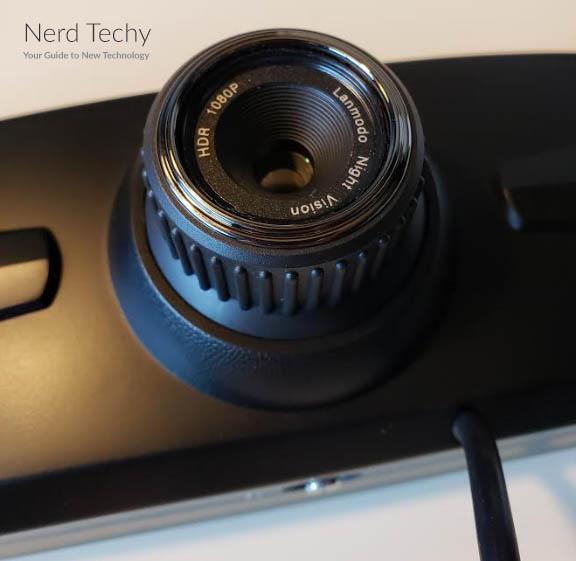 Installation Possibilities
It's available both independently, or with a rear view camera. Since there are two camera options, there are two camera cables to consider. The 6.25m cable is suitable for ordinary vehicles, like someone's sedan. The 25m version of the cable is more suitable for someone who's trying to rig the night vision system into a truck or passenger car.
There are actually two installation methods. The first is installation with a suction cup. Given the general lightweight nature of this device, the suction cup is able to provide a perfectly secure installation. It's also a better choice for people who want the display to have a more central position, or potentially even replacing their traditional rear-view mirror with the display.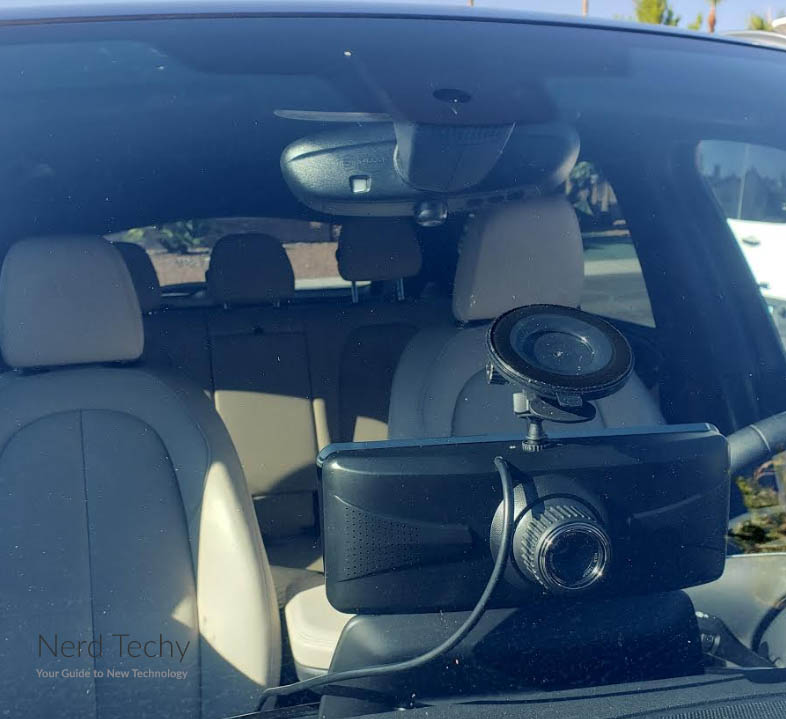 In either case, from there, you just run the OBD adapter or the cigarette lighter adapter, and you're done. It also makes it possible to quick add or remove the unit anytime you want to take it out of your vehicle. Maybe you don't want a big camera hanging behind your windshield when you park at the mall.
The second installation option is a non-slip mat. The non-slip mat gets attached to your dashboard, and then you just place the Landmodo Vast Night Vision System over the mat. The matte is made of a pleasant rubbery surface that does a good job of keeping the display stationary. Compared to the suction cup, that makes the screen even easier to pick up, move, or hide away as you see fit.
In either case, once you've placed the unit onto of the mat, or stuck it to your windshield with the suction cups, you're done with installation. Pretty smooth. And the length of this display shouldn't stop you from safely storing it inside of your glove compartment as needed. Though if you start piling stuff onto the screen, you might consider investing in a simple screen protector. The included glass is good at defending itself from minor scratches, but you're better safe than sorry when it comes to a pretty-looking display like this one.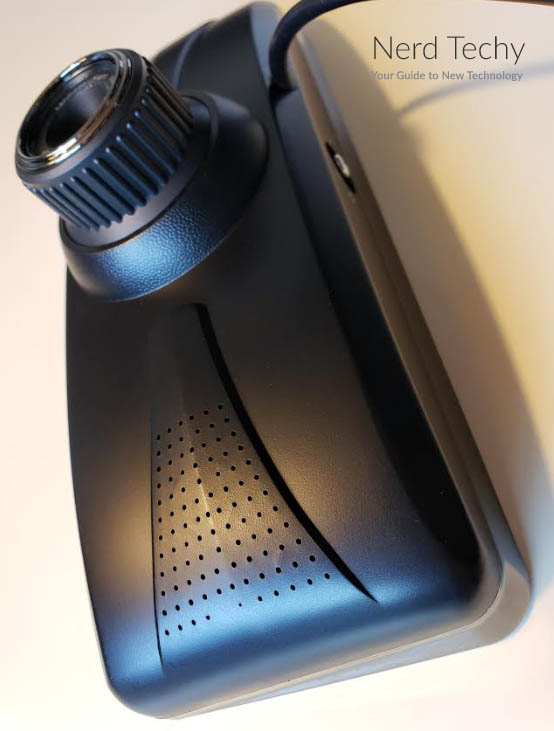 Other Considerations
The working temperature for this system is -4°F to 176°F. During the summer, it's not uncommon for the heat inside a vehicle to reach 150°F or more. Really, being covered out to 176°F should mean you're protected from basically everything outside of a doomsday scenario. If it's a record temperature outside, and you decided to park your vehicle directly under the sun, you could still encounter some problems. Basically, you still have to exercise common sense.
The Lanmodo Vast includes a cigarette lighter adapter, OBD adapter, three-in-one input cable, non-slip mat, suction cup, and one hand sized screw driver. The input cable can accommodate NVS connection wires, rear view signal inputs, and a DV 12V power input. That should be basically everything that the average person needs to get started using the Lanmodo Vast.
And if you need alternatives for powering the unit, you can pick up a 24V to 12V voltage converter. But that converter/adapter is not included.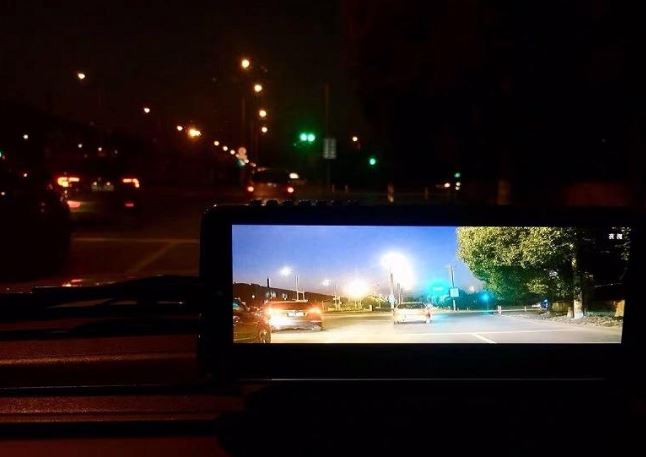 Who Should Choose Lanmodo Vast 1080P Automotive Night Vision System?
There are several reasons why this system might make sense. One is that it's very easy to install. You can add and remove the screen as needed, especially if you go with the more straightforward matt-style installation method. That makes the Lanmodo Vast's installation approachable for nearly anyone.
Another reason is safety. When you're not driving through a well-lit area, the lights on your vehicle alone are not always going to give you a clear view of the road. The Lanmodo Vast can fix that. In the distant future, even if self-driving vehicles start to become popular, it's possible that these kind of devices will become quite standard.
Because for a lot of different circumstances, a system like this is generally safer than relying on your high-beams alone. It doesn't take long to get familiar with this system, and have it almost immediately add to your safety while driving. Since you can flip it off as needed, adjust the brightness as needed, and toggle between driving modes as needed, it never gets in your way.
If you already have a dash camera, then it could be a little tedious to add this night vision system into your vehicle. It could be trickier to end up giving power to all your devices. It would also become a little burdensome to have a small arsenal of devices lining the inside of your vehicle. If you never drive at night, and you never have to deal with difficult road conditions, then you might be another exception. But outside of those potential issues, it's easy to suggest the Lanmodo Vast to most drivers.