The general idea of a keyboard-and-mouse combo is bringing PC-style controls to console gaming systems. Why? Well, there is a reason why game developers do not allow PC players to play alongside console players. There is a reason why popular games like Overwatch have to do game balance separately for the console version of the game vs. the PC version.
That reason is because PC controls are superior in a practical sense. They allow you to exercise a greater degree of control than those who are left playing with game controllers. When you allow people with a keyboard and mouse to play against someone who doesn't have one, the better equipped player tends to wipe the floor with the other.
GameSir VX AimSwitch Combo
This idea isn't new. For decades, people have been making keyboard and mouse adaptations for consoles. But doing this well is much easier said than done. These devices usually only support one platform, and they usually have a slew of minor issues related to game support. Because you're not truly using a keyboard and mouse.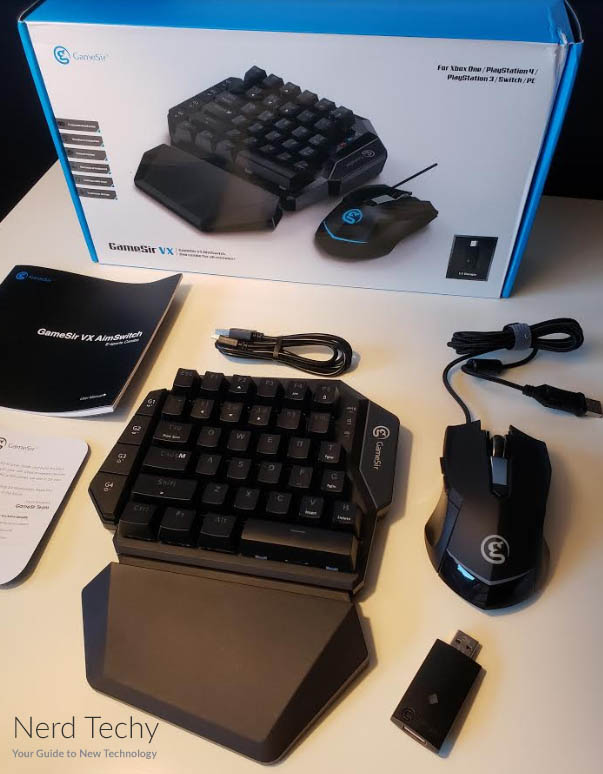 But some of those limitations have been eroding, as you can see with the GameSir VX AimSwitch Combo. For platform support, you can use the GameSir VX alongside Xbox One, One S, and One X. It's compatible with the PS4, PS4 Slim, and PS4 Pro. It also works with the Switch, PS3, and an ordinary Windows PC. Sadly, there's no Mac support.
One of the ways they allowed you to maintain control over so many consoles is with their G-Crux app. It allows you to adjust mouse smoothness, sensitivity, dead zone settings, and so forth. Basically, everything you might be able to manage from desktop software can be managed from their app. And app connectivity is also why these devices can technically connect with Bluetooth. But how well do these controllers work in practice?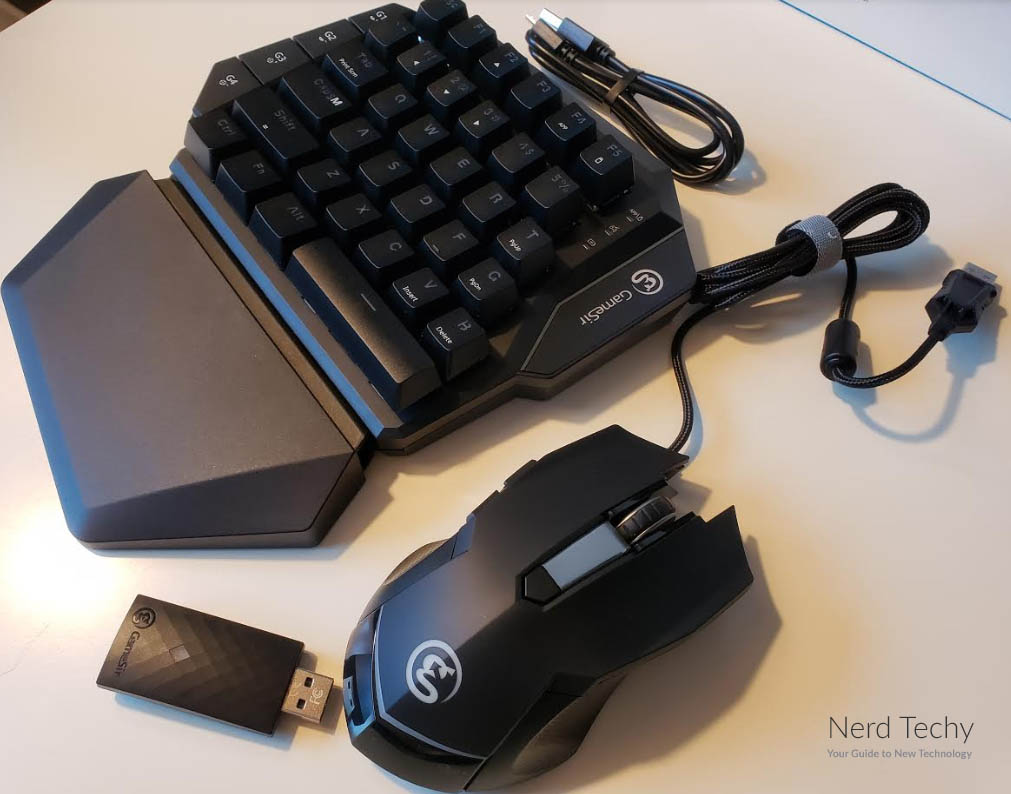 The Keypad
The keypad looks like a pretty ordinary keyboard. The topside includes an escape key, and F1-F5 keys. There are five number keys, a tab key, and half of a QWERTY keyboard. The only unusual additions are the adjustable wrist rest, some LEDs on the right side of the keyboard, and the four macro keys on the left side. Those LEDs are mostly to let you know about the battery and connection status.
Even though this seems like it might be one third of a full keyboard, it's actually closer to half. Because the function key can be used in conjunction with other keys in order to access additional keyboard commands. That includes print screen, page up/down, insert, delete, the equals sign, and caps-lock. So it's much closer to being a full keyboard than it looks – you can even alt-tab.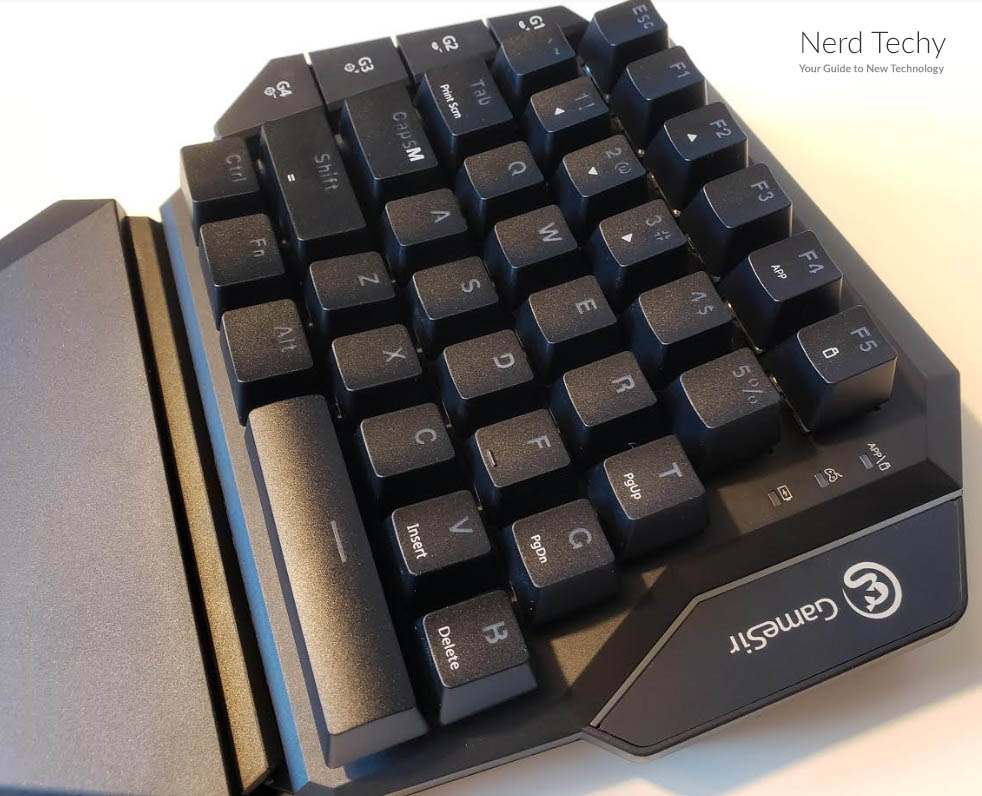 The keypad has a pretty ergonomic design, intended to be a good fit for a gamer's wrist while playing games. The wrist rest can be slid left or right in order to better accommodate the positioning and posture of your wrist. It's not full detachable, which would've been a nice addition.
As you would expect, those four macro keys can be programmed as you see fit. The fact they've shoved these macro keys off to the side of the board instead of just placing a few more letters on the board might seem questionable to some people. But in the interests of maintaining proper typing form, it does make more sense to do things this way.
Because the lettering on this board is intended to emulate the left-half of a keyboard, including all the keys your left hand should be responsible for managing. If they added a key that isn't supposed to be used by the left hand, like the Y or H keys, that would only promote bad form and bad practice.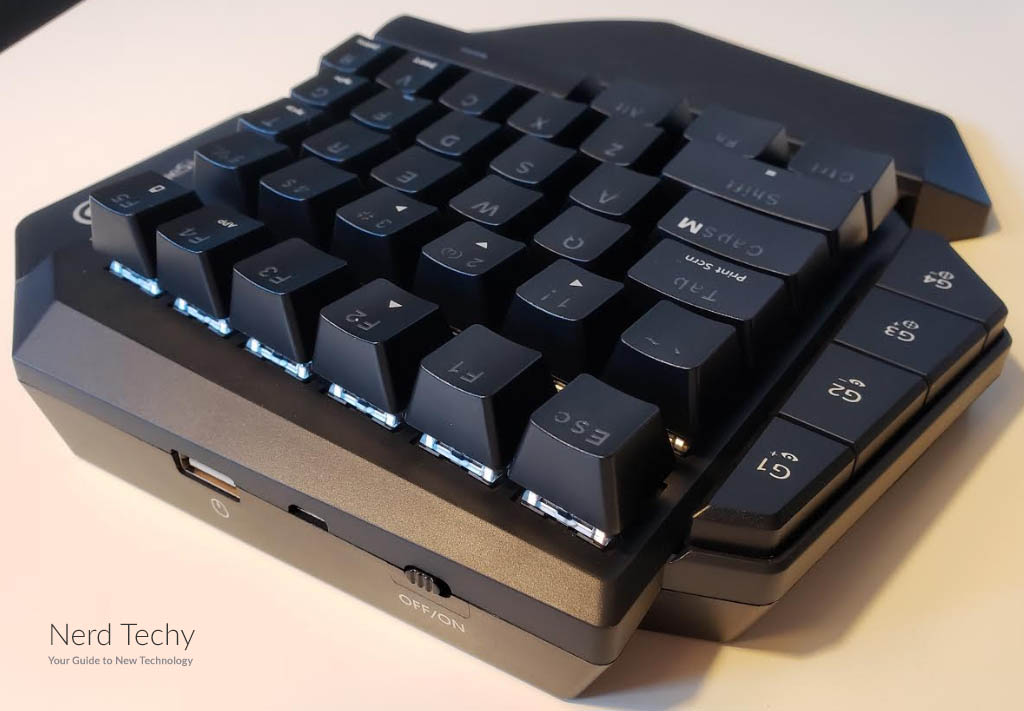 Inside the keyboard, wireless is powered by a respectable 1000 mAh rechargeable lithium-ion battery. And it's supported with fairly respectable wireless tech, Agility X, the same stuff used on basically all of GameSir's high-end controllers. It operates on the 2.4 GHz band, as expected. Charging current is 1A, which means you're not going to get very quick recharges. In fact, it takes about two or three hours, depending on the amount of battery left inside the device when you start charging.
Keyboard in Gaming
The keyboard layout includes four silicone keys and 34 mechanical keys. It's like they took a 60% keyboard, the type without F-keys or a num-pad, and then sliced it in half. Interestingly, the switches they've gone with are TTC Blues. Since those aren't common, there are some things you might want to know about how they feel. The total actuation distance for each switch is 2.2mm, while the travel distance is 4mm.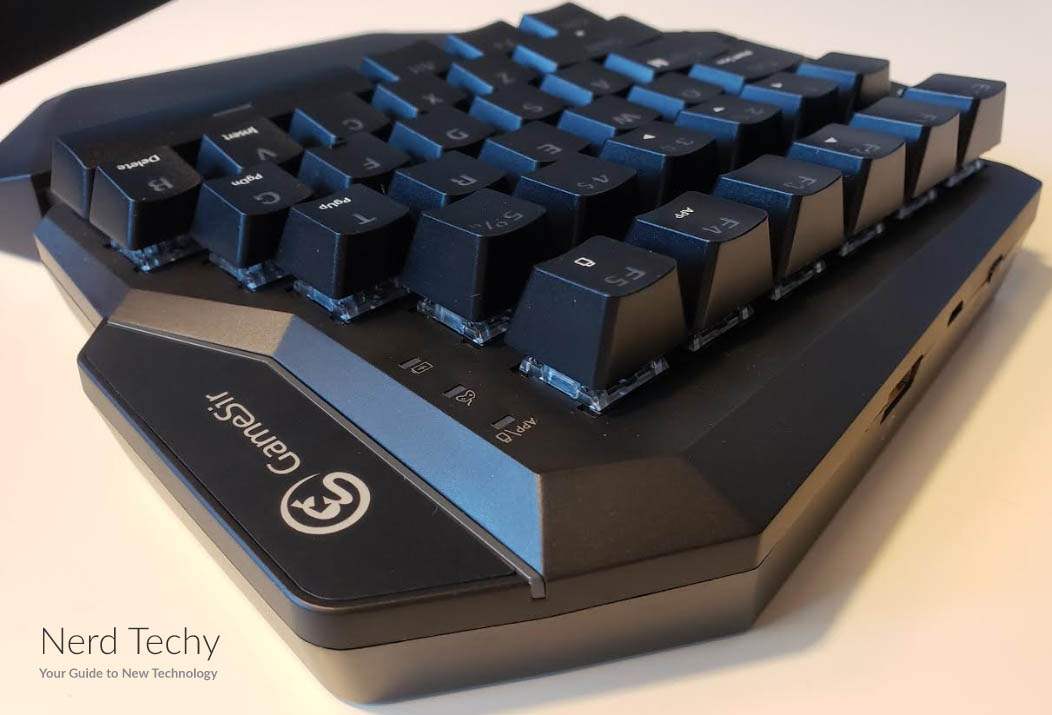 Along with the fact that pressure force for actuation is 60g, that means you need to push the keys pretty firmly in order to get them to recognize you. These switches feel heavier than most types of Cherry switches. It gives them a slightly stiff feel, which isn't the kind of design the average pro-gamer would be attracted to. But they're more than playable, and far better than non-mechanical alternatives.
Some other bright spots can be found in relation to longevity. The 50-million keystroke lifespan is pretty much twice as many keystrokes as more common gaming switches can offer. Put into perspective, it pretty much means you can anticipate these switches lasting for literal decades.
The Mouse
On the palm of the mouse you'll find some RGB lighting, enhancing both the logo and a strip of light towards the base. It's a minimalistic yet attractive design. And in terms of its gaming prowess, the mouse is clearly suitable for almost any gamer. The 1200 DPI mouse allows for precision and speed at the same time.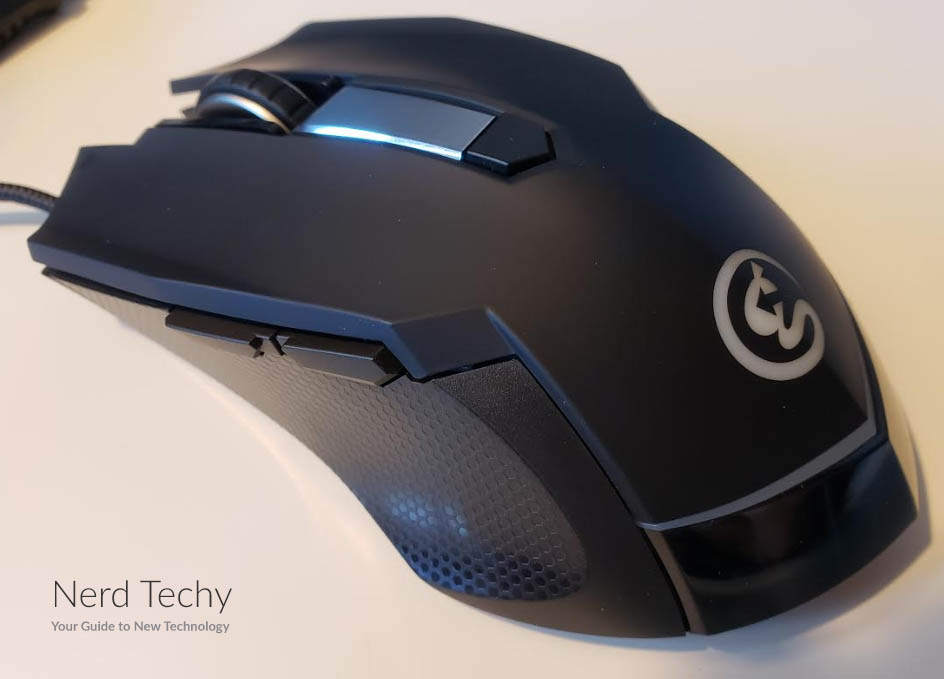 Being able to gradually increase or decrease the DPI settings as you see fit is pretty appealing, especially compared to mice that don't let you alter the defaults. The mouse also delivers when it comes to polling rate and generally good acceleration, making it good for people playing FPS titles.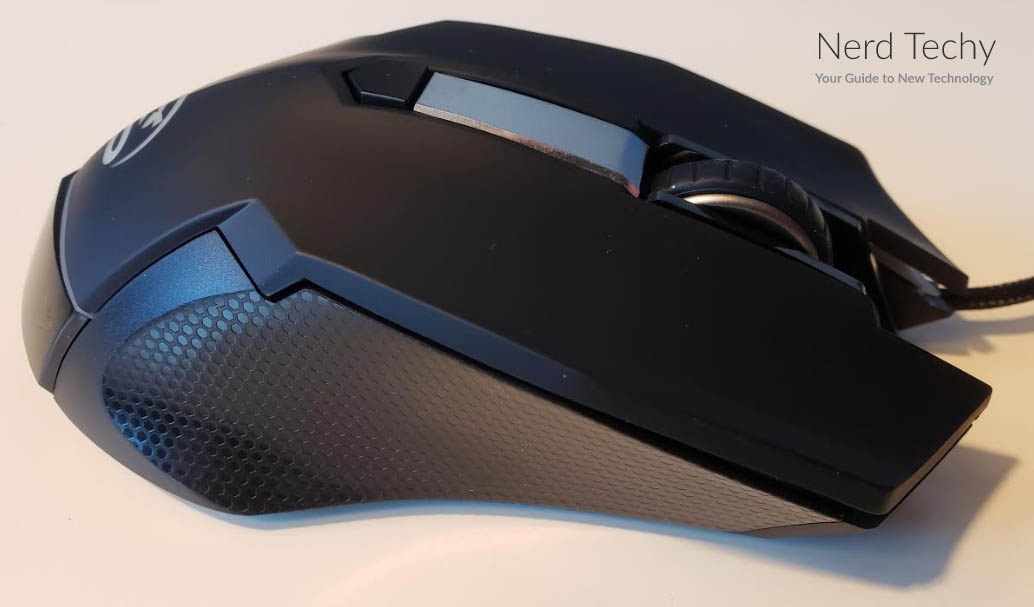 The left side of the mouse has two side-configurable buttons. These buttons are pretty standard in their placement and size. Beneath the mouse wheel, you'll find an adjustable DPI button. Since its just one button, you have to press it over-and-over to toggle between higher and lower settings. For instance, if you're on setting #3 and you want to get to setting #1, you have to press the button three times to cycle through. That's a little tedious compared to having two buttons, so you can move up-or-down between the speeds. But not having separate buttons to manage can be a good thing.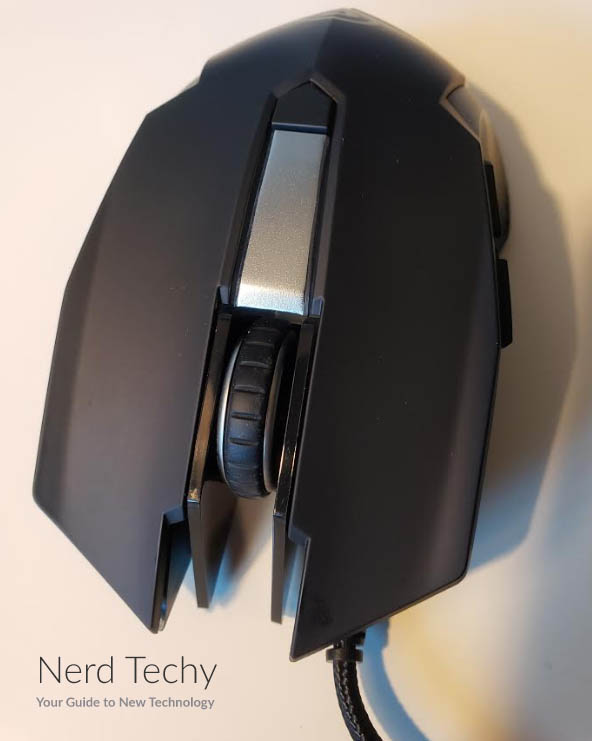 The polling rate can be moved between four settings. The first is 125 Hz, the second is 250 Hz, the third is 500 Hz, and the forth is 1000 Hz. That works out to about 8ms, 4ms, 2ms, and 1ms. In most cases, you pretty much can't tell the difference between them. The average gamer will probably end up throwing the setting on 1000 Hz and then forgetting about it.
DPI and Cable Design
Likewise, the DPI setting is adjustable, and can be moved between five presets. The first level is 400 DPI, the second is 800 DPI, the third is 1600 DPI, the forth is 3200 DPI, and the fifth is 12000 DPI. Since you're probably using these controls with a console instead of a PC, you'll probably end up lowering the DPI setting to 400 or 800 and leaving it there. There's usually no reason to go to those higher settings for a console, especially given the way the mouse is actually emulating a controller's joystick.
The wired mouse connection is one small area for complaint. It uses a very standard mouse cable, the type that's more common among non-gaming mice. Braided mouse cables don't just look better, they tend to last longer. In terms of longevity this probably won't be a real issue, not unless you're constantly traveling with your mouse. By contrast, the mouse connects with a 3.2 ft cable. Somewhat on the short side, but it still allows you to get the controls into place.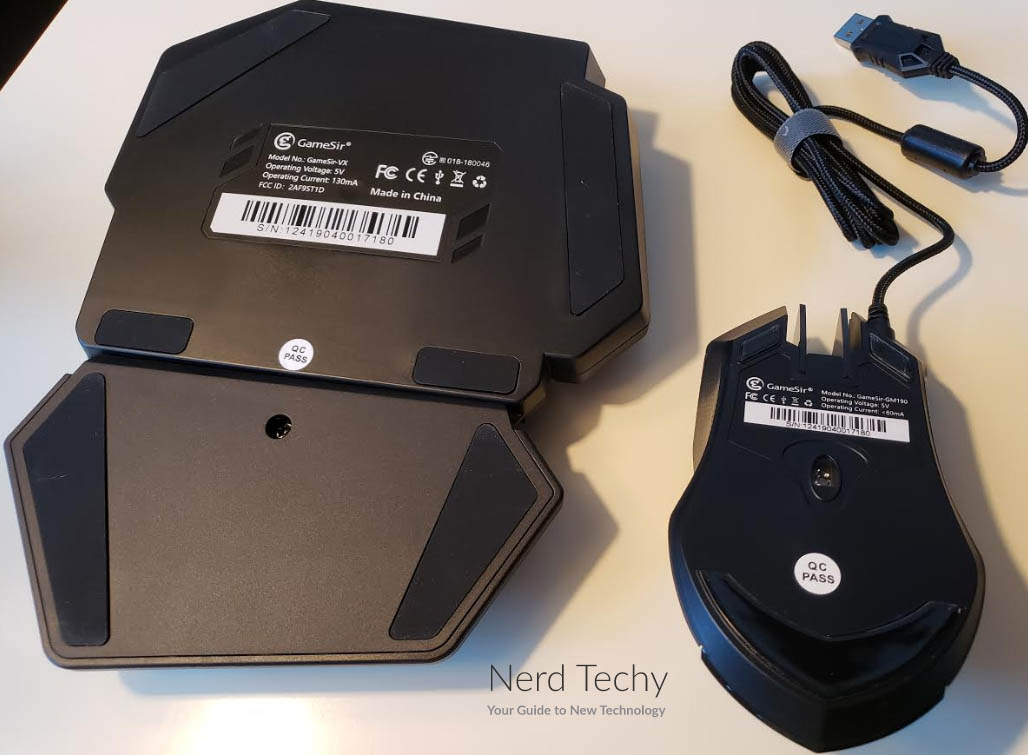 Other Considerations
This kit includes the VX AimSwitch Gaming Keypad, the GM910 gaming mouse, an Agility X 2.4 GHz wireless dongle, USB recharging cable, and a user manual. The user manual is pretty basic stuff, covering how to connect the various parts of the system, and exploring how to take care of the included rechargeable battery. You can pretty much toss it aside if you're not a novice with electronics.
One thing they haven't included is a Type-C USB cable. If you want to run a connection between the GameSir VX dongle and a Nintendo Switch, then you'll need a Type-C to USB cable in order to connect the two units.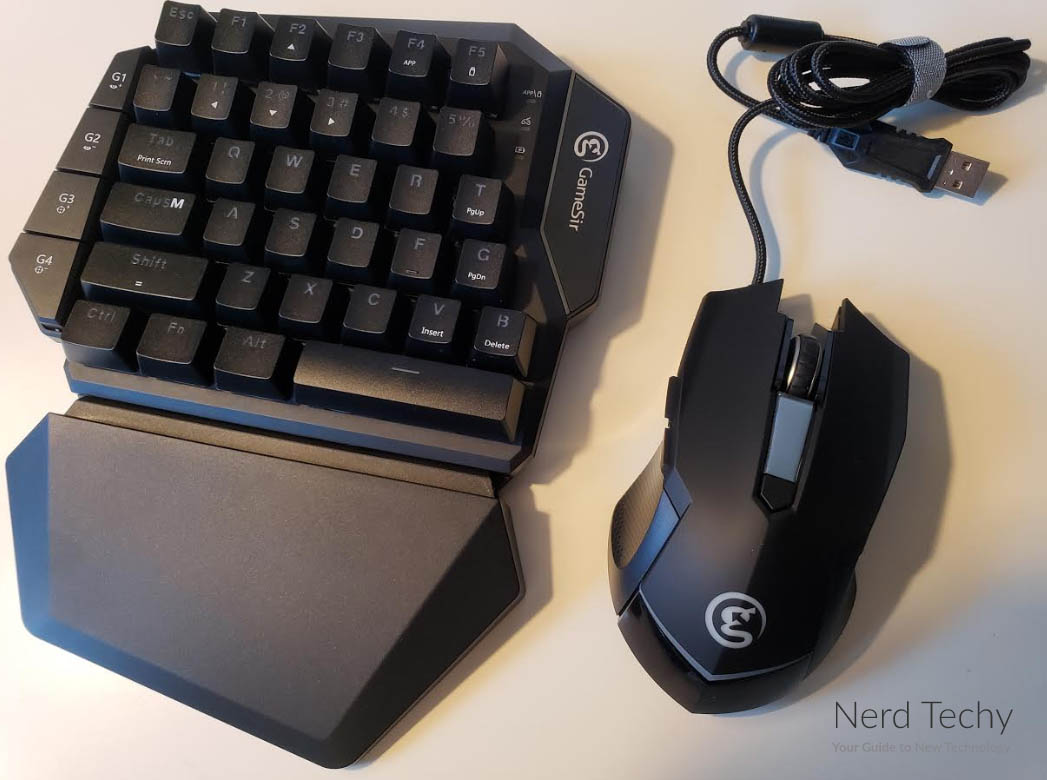 Who Should Choose the GameSir VX AimSwitch Combo?
The GameSir VX AimSwitch Combo has some attractive elements. They've used mechanical switches in the keyboard instead of using flimsy dome switches. The keyboard is pretty much functionally identical to a regular gaming keyboard. Having the extra macro buttons arguably makes this keyboard a little better than a lot of lower-end gaming keyboards. The adjustability of the wrist rest doesn't hurt, either.
The mouse is basically just as sturdy as the keyboard. Though it uses a wired design, and the wire is a tad short, the mouse delivers almost everything else a gamer might want. The polling rate is as quick as any competitor's mouse, and can be adjusted as needed. The range of DPI sensitivity is as good as any other gaming mouse, too.
There are some small things to complain about. The Agility X dongle is a bit large compared to the dongles used by other wireless gaming mice. Some people might've preferred if both the mouse and keyboard were wireless. But for what it is, this kit is a pretty good value. If you're interested in trying a keyboard and mouse on games intended for console controllers, this would probably be a good way to do it.
Meet Derek, "TechGuru," a 34-year-old technology enthusiast with a deep passion for tech innovations. With extensive experience, he specializes in gaming hardware and software, and has expertise in gadgets, custom PCs, and audio.
Besides writing about tech and reviewing new products, Derek enjoys traveling, hiking, and photography. Committed to keeping up with the latest industry trends, he aims to guide readers in making informed tech decisions.