Quick Analysis
Pros
Decent image quality when utilizing hard-wired connection.
Remote monitoring and panning.
Customizable motion detection.
Local and cloud-based storage options.
Cons
Does not have any battery backup.
Too large for in-home use.
Mediocre video/image quality when using wireless connection.
Not too long ago, security cameras were the realm of wealthy people and businesses. They were expensive to install, and they weren't much use without a professional monitoring service. You also needed room for on-site storage, which could get bulky fast in the age of old-school VHS recordings. But nowadays, technology has made it possible for just about anyone to install a security camera. Of course, there are still some cameras that are better-suited for businesses or larger homes. After all, if you've got a small suburban home, you probably don't want an enormous camera hanging outside.
TENVIS is a well-known manufacturer of security cameras and other similar technology. In the past, we've reviewed their TENVIS 1080p IP camera, and we were impressed. It's a great option for inside your home, or for anyone who wants a low-key camera.
But sometimes you want a big, highly-visible camera that deters thieves as well as it records. To meet that need, TENVIS has released the PTZ 1080p Outdoor Security Camera. This is a heavy-duty camera that's designed for covering a wide area. But does it perform up to expectations, or should you give it a hard pass? We're going to take a look at all of its features, benefits, and drawbacks. We'll talk about video quality, the quality of construction, and how it's installed. We'll also talk about how you store your video once it's been captured. Once we've given it a thorough review, we'll be better equipped to render a final verdict. Let's get started!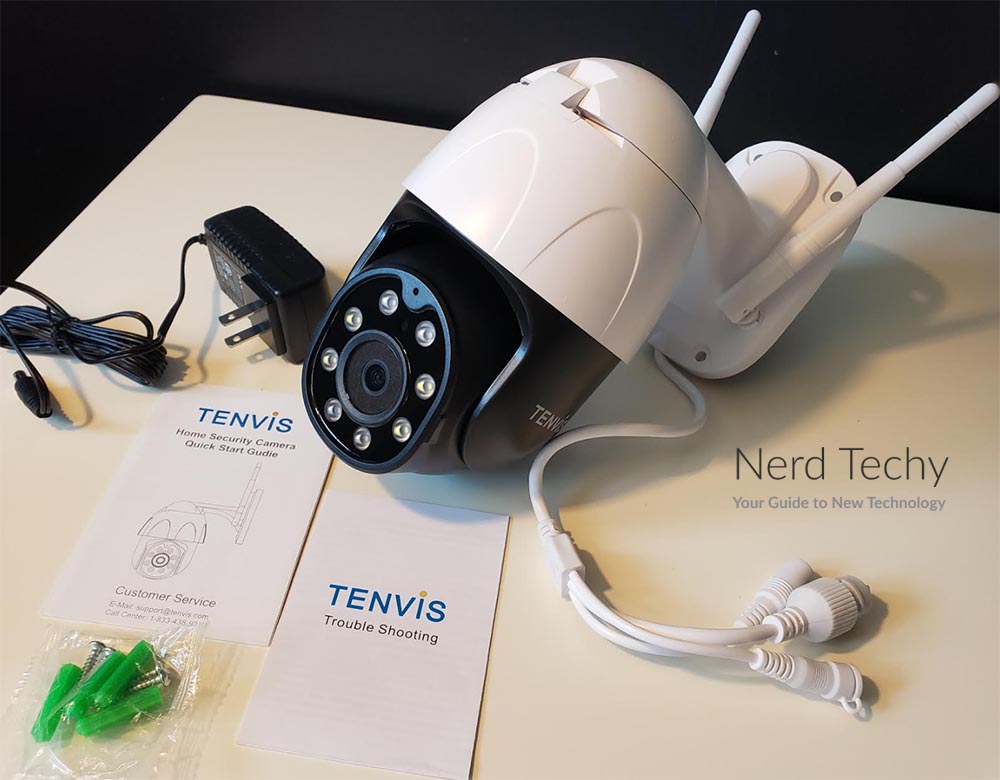 Design & Construction
The TENVIS FHD (PTZ) 1080p Outdoor Security Camera is no shrinking violet. It's big and bold, tough to miss on the outside of any building. At 9.8 inches in height, 8.2 inches in depth, and 5.8 inches in width, it's a great deterrent. Potential thieves will think twice once they see one of these big cameras hanging on your building. On the other hand, it's also probably best avoided if you have a homeowner's association. It's also a poor choice in general if you don't want anyone to know you have security cameras.
The camera mounts on your building with a four-point screw mount, and all the hardware is included. One exception is masonry. If you're installing the camera in stone or brick, you're going to need a set of anchors. But considering that you can buy good anchors for less than a cup of coffee, this is really a non-issue. A horizontal bracket extends from the mount, and supports the body of the camera underneath it. The end of the bracket houses a motor, which rotates the camera horizontally. The camera housing itself also houses a motor. This motor will rotate the camera vertically, providing a wide area of coverage.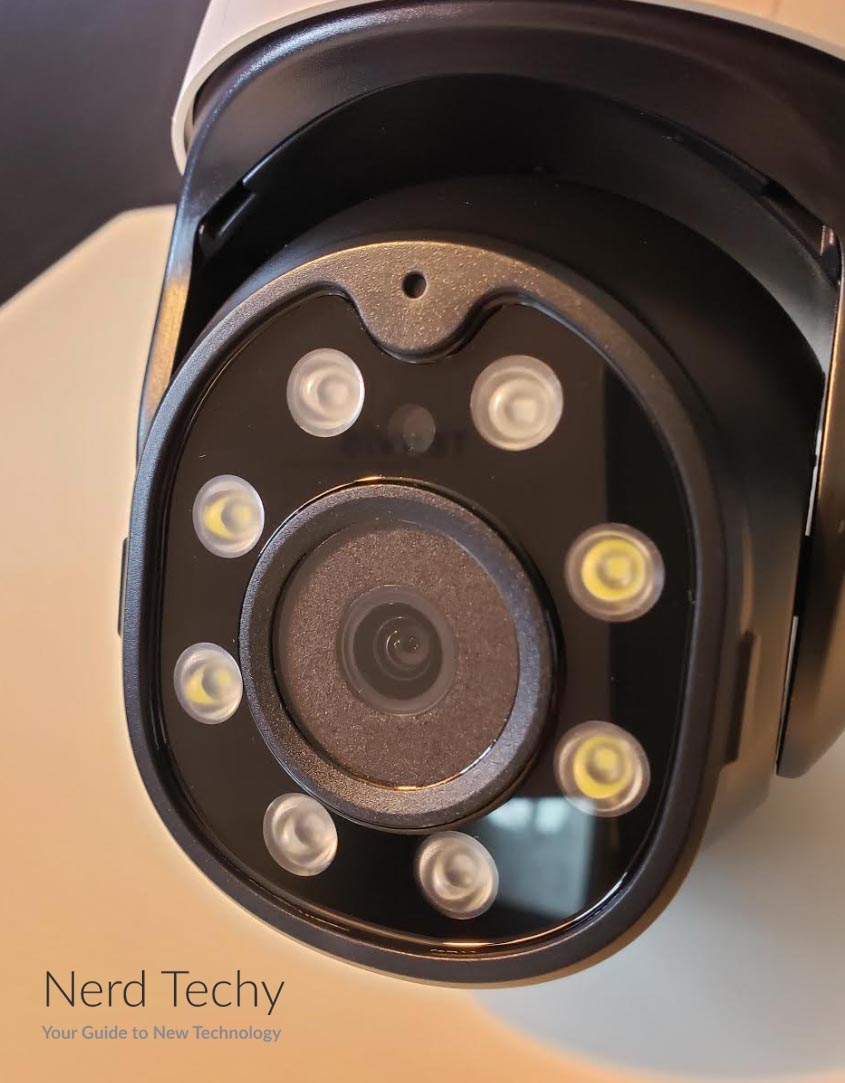 The camera housing is constructed mostly from white plastic, with a dirt-resistant glossy paint job. The only exception to this is the lens housing, which is black. The lens is clearly invisible within the housing, along with the white and infrared LED lights. On the base, there are a pair of WiFi antennas, both of which can be adjusted 360 degrees. These can be used to connect to your router, which we'll talk about more in a second.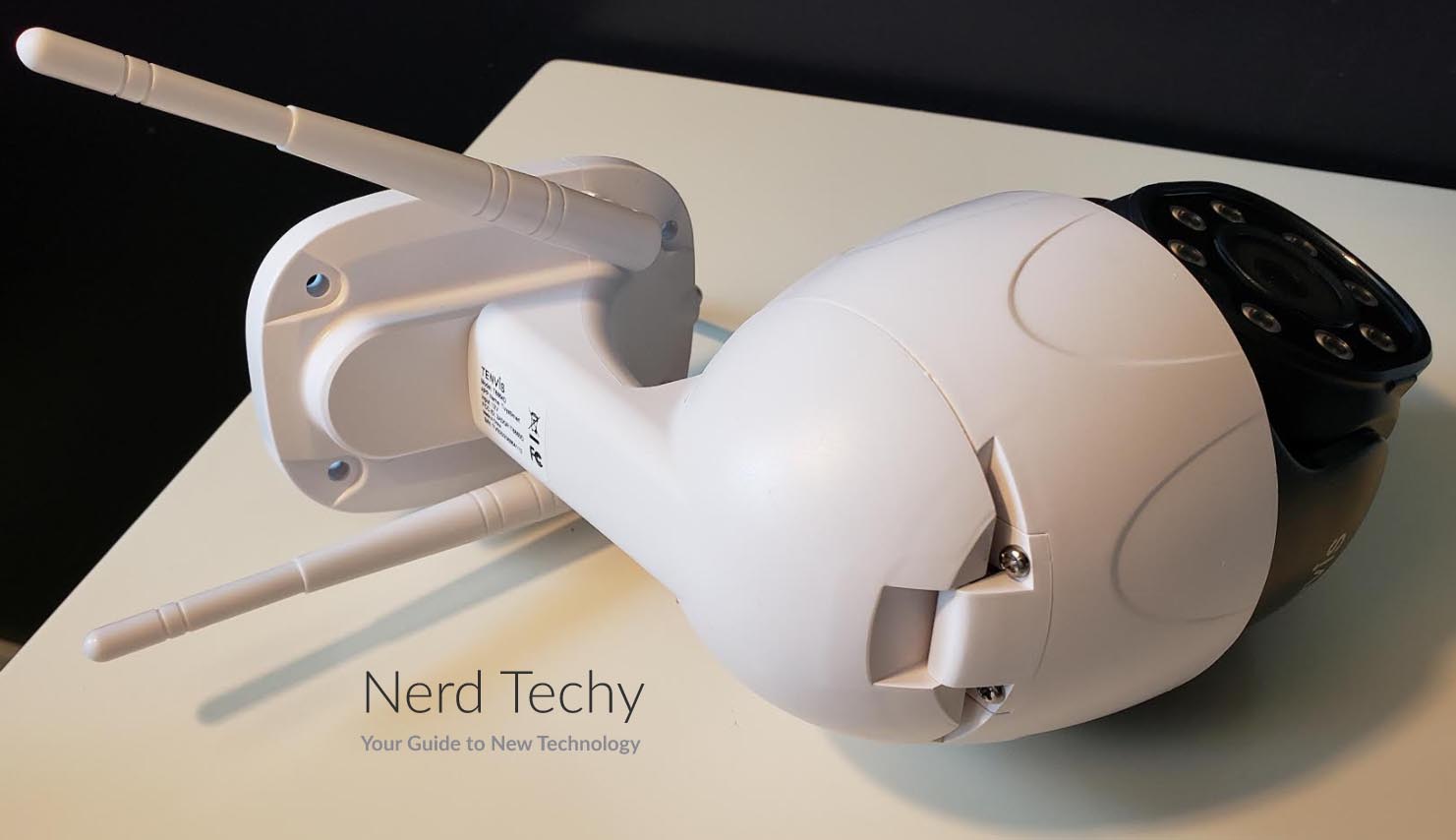 Alternatively, you can connect your camera via Ethernet. There's an Ethernet dongle built into the unit, along with a dongle for the AC adapter. The Ethernet connection may be optional, but the AC connection isn't. The PTZ 1080p doesn't have any battery backup or solar panel. In other words, you'll either need to be close to an outlet, wire one in, or use an extension cord. If you want total freedom of placement, consider the Vacos Wireless Home Security Camera. It's battery-powered, and there's a companion solar panel available for perpetual charging.
One thing you won't have to worry about with regard to placement of the PTZ 1080p is water exposure. It's IP65-rated for weather resistance. It's not submersion-resistant, but it can stand up to driving rain, fog, and whatever else Mother Nature throws at it.
Image & Video Quality
The TENVIS FHD (PTZ) 1080p lives up to its name, recording video in full 1080p. For most home and business security needs, this should be more than sufficient. One place you might run into trouble is if you have to see fine details at long distances. For example, if you need to read a license plate from 100 yards away. For any normal "everyday" purpose, you're going to get somewhat decent performance, with some minor limitations. You could probably read faces but you might not be able to read a license plate.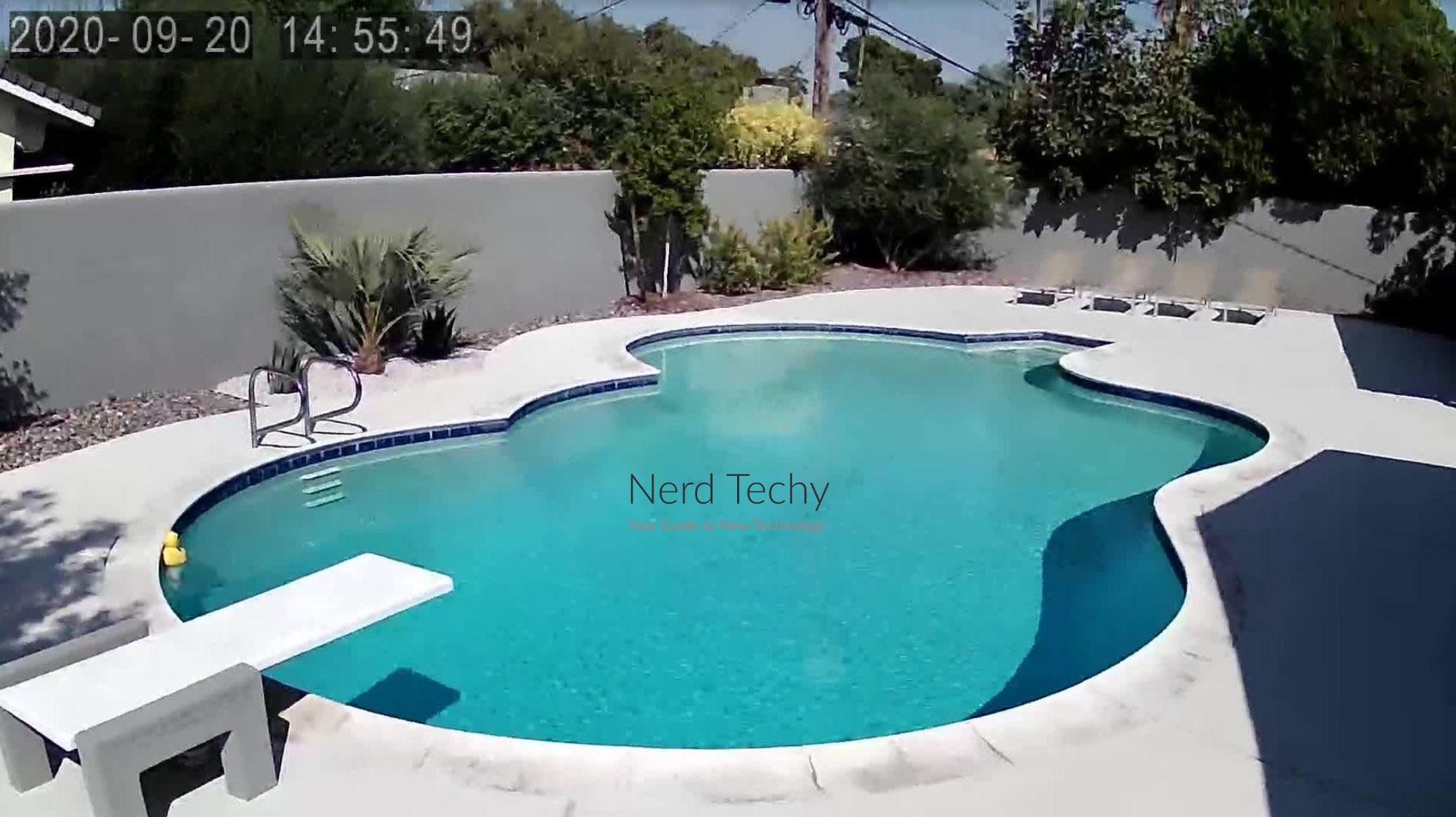 (These sample photos were taken via 2.4 GHz Wireless Connection)
However, if your wireless connection is limited or the camera is far away from your router, the image quality definitely suffers. Still photos and video clips are a bit grainy in this scenario. To combat this, simply place the camera closer to your router or utilize the hardwire networking cable connection. Sure, this may not always be ideal, but this is what's to be expected if you don't have a large budget for a better wireless camera.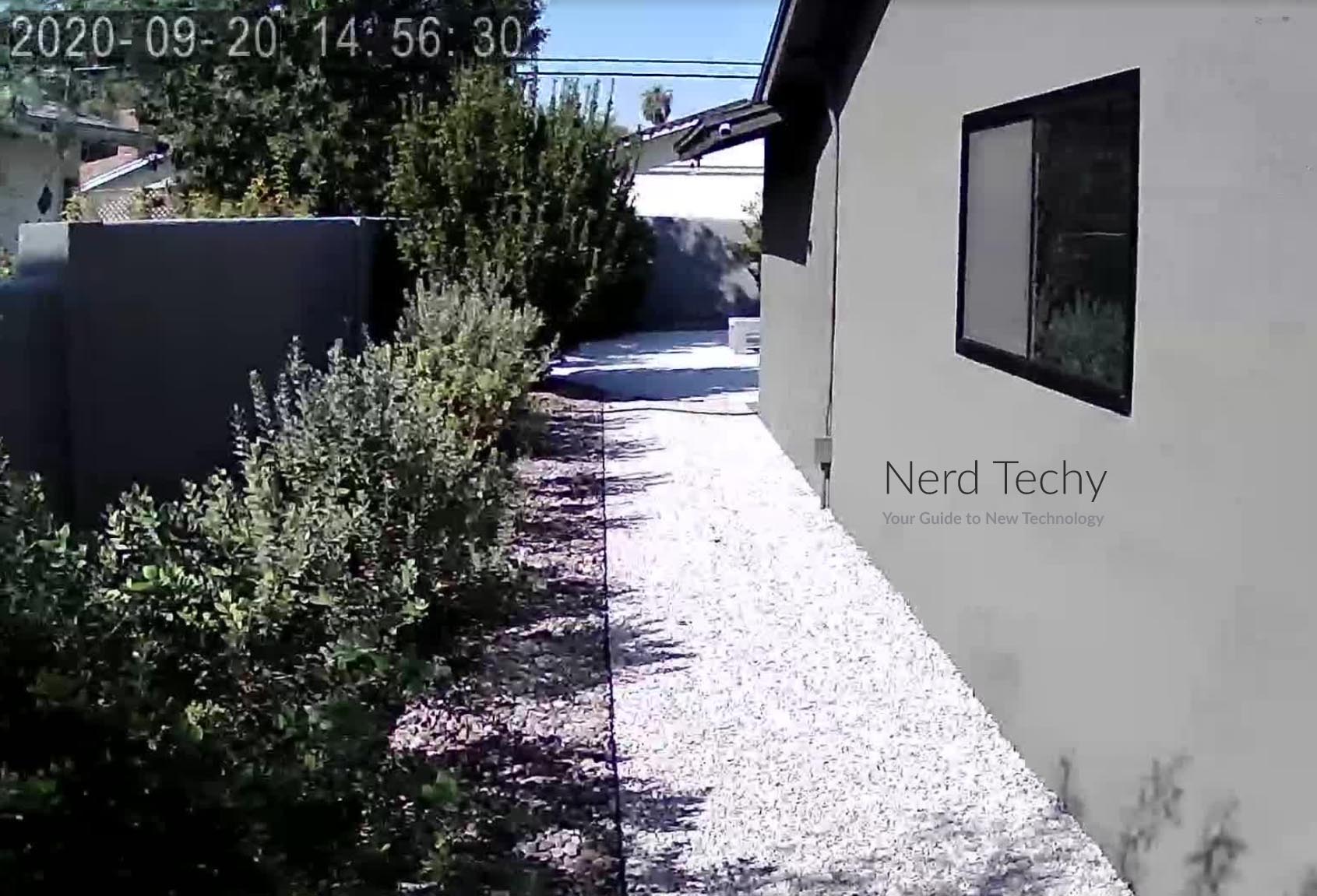 (These sample photos were taken via 2.4 GHz Wireless Connection)
Of course, most criminal activity happens at night, so a security camera without night vision isn't much good. The PTZ 1080p performs acceptably, with an array of white and infrared LEDs around the lens. These illuminate an area of 40 to 65 feet from the lens, for color night vision. To be fair, the image gets noticeably grainier as the range gets longer and the system has to rely more on infrared. Regardless, the night vision performance is OK. At close ranges, you'll likely see what you need to, but don't expect full high definition.
Moving on, the TENVIS camera isn't really ideal for indoor environments. This doesn't mean there's anything wrong with it. It's just too big to conveniently use inside your home or business! For that, you're going to want a small indoor camera, such as the HeimVision HM243. It's wireless, and it comes in a set of four to cover multiple rooms or angles.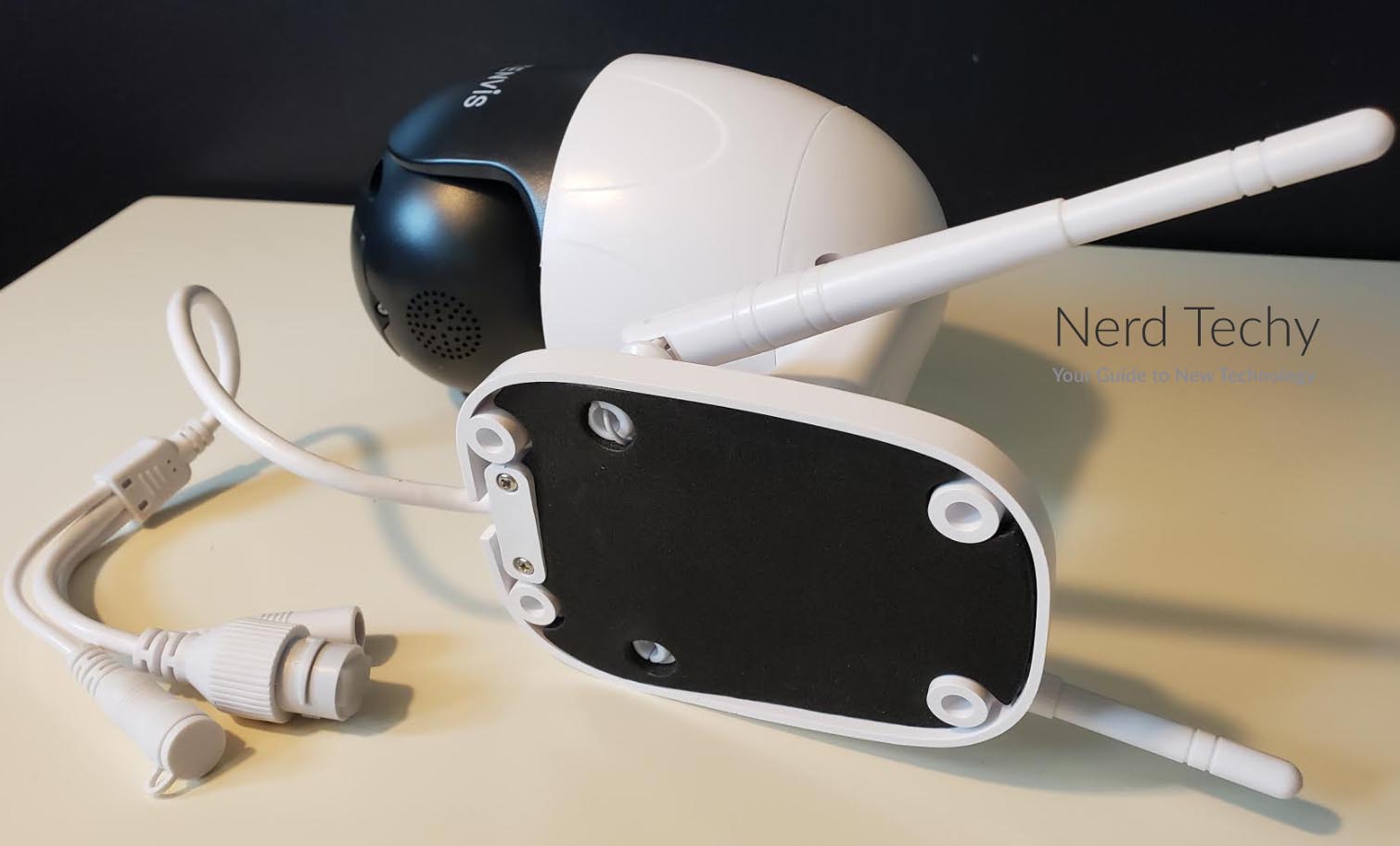 Connectivity & Storage
To take full advantage of the TENVIS FHD (PTZ) 1080p Outdoor Security Camera, you need to have it online. Otherwise, it's just a simple stationary camera with local storage. You can do that for half the price. The first step to getting online is connecting the camera itself to your home or business network. You can do this in one of two ways. The first is to use an Ethernet cable to connect to the camera's Ethernet dongle. When that's not practical, you can also connect the camera with a simple press of the WPS button. That said, the PTZ 1080p only works on the 2.4GHz band. The 5.0GHz band doesn't offer enough bandwidth to stream your video in real time. The 2.4GHz band has less range, though, so you might want to test your signal before installation.
Once your camera is connected to the web, the next step is to install the TuyaSmart App. It's available for free on iOS and Android, and takes just a few minutes to install. After the installation, follow the wizard instructions to create an account and pair your account with your camera. Once your account has been created, you can access your camera from multiple phones. You can also access it from PC, Mac, or even with Alexa voice commands.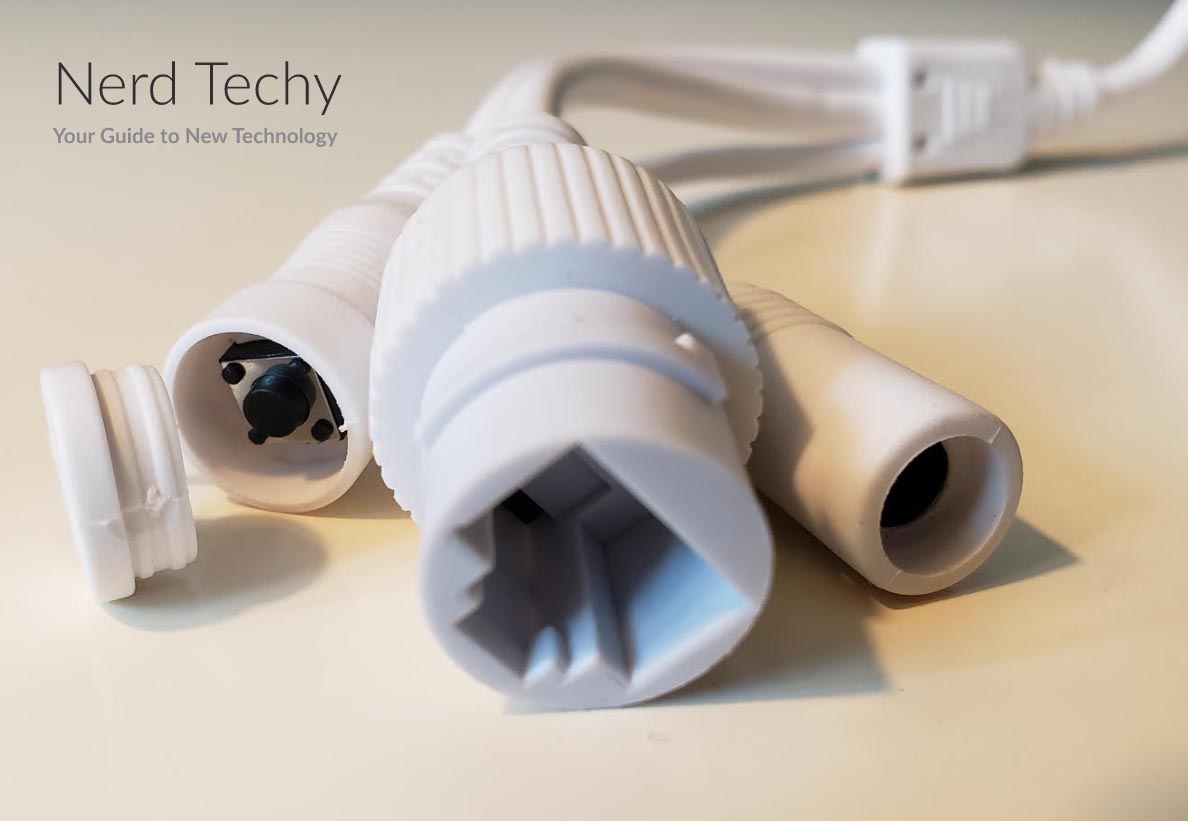 The most obvious use of the app is to remotely monitor your camera. In this way, you can keep tabs on your home or business even when you're not around. The camera has a built-in motion detector, and you can turn on push alerts to let you know when it's tripped. That way, you can peek in when needed, and rest in peace as long as your app is silent. If you do spot somebody, two-way voice communication allows you to easily communicate with friends or delivery drivers. And if you happen to spot an intruder, a quick shout might just make them need a new pair of pants.
Of course, nobody likes a motion detector that's overly sensitive. You don't want your phone going off every time a leaf or a piece of trash blows by. Within the app, you can adjust your camera's sensitivity so that doesn't happen. You can also set zones for the motion detector to ignore. If there's a road or sidewalk within the field of view, this is a great way to prevent false alarms. Moreover, you can adjust the camera's angle within the app. It can rotate 320 degrees horizontally and 90 degrees vertically. When you take into account that there's a wall behind it, you're basically getting total coverage.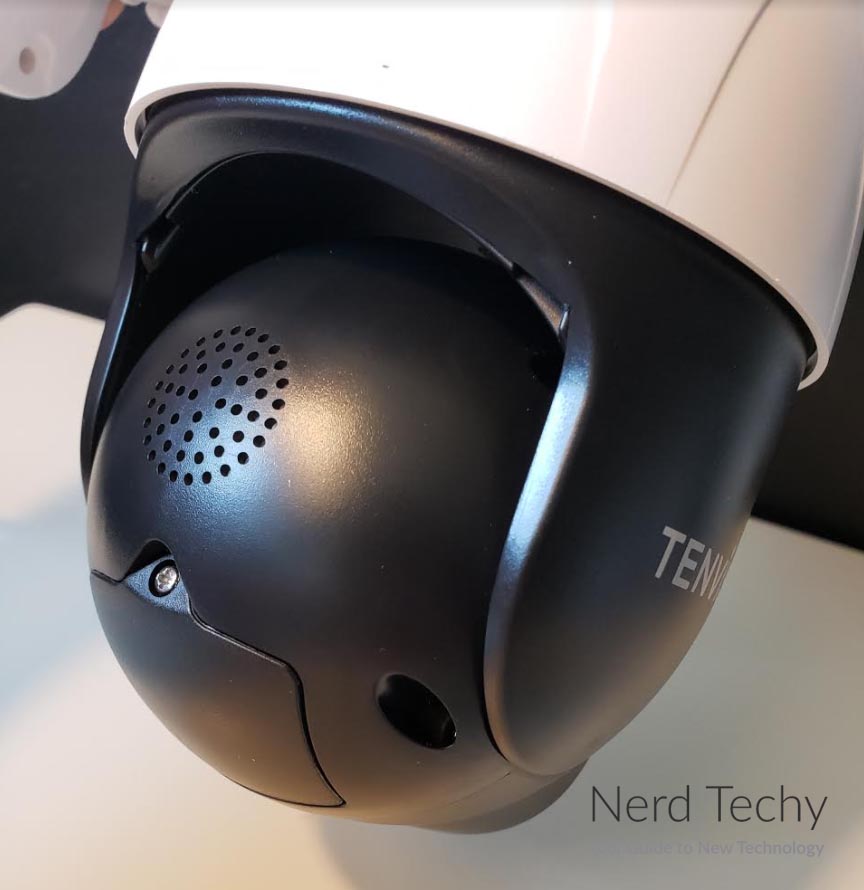 The PTZ 1080p camera will automatically record video whenever the motion sensor is tripped. It can store data either locally or remotely, and you can review stored footage in the app. Locally, you can use up to a 128GB SD card, although there's none included in the kit. Remotely, you can take advantage of TENVIS' cloud storage. The camera comes with a 30-day free trial, but you'll need to pay a monthly fee after that. Regardless of your storage method, the PTZ 1080p utilizes loop recording. This means that when your storage is full, newer footage will automatically overwrite the oldest stored footage.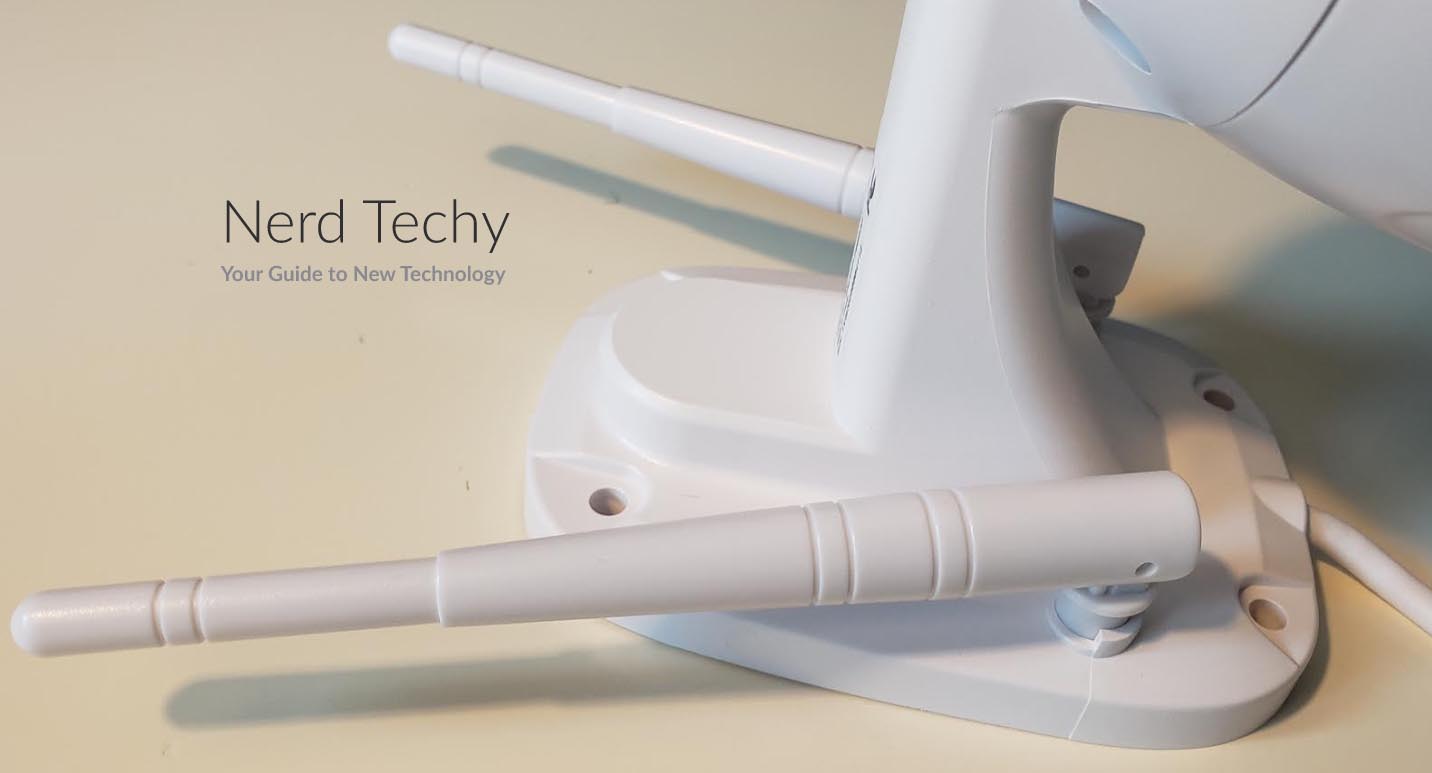 Final Verdict
So, is the TENVIS FHD (PTZ) 1080p Outdoor Security Camera worth your money? Or should you be looking for a completely different option? If you're looking for a big, powerful outdoor camera, it's an excellent choice for those on a budget. To be fair, it should be avoided if you want a discreet camera. But if you want deterrence as well as recording, it's a decent option. Installation is relatively easy, although the requirement for hardwiring can limit your options. Similarly, you're going to need to have either an Ethernet or 2.4GHz wireless connection to take advantage of online features.
Ultimately, whether or not you want to use the PTZ 1080p will depend on whether the online features are appealing. Do you want a camera that can be remotely rotated? Do you want two-way voice chat? How about remote monitoring? If you're willing to pay a bit extra for these features, the PTZ 1080p is a nice value. If you're not going to use them, there are cheaper cameras available. Regardless, you're looking at a durable, water-resistant camera with plenty of features.