These days, you can't be too conscientious of your home or business' security. Whether you're worried about burglars, shoplifters, or just keeping an eye on your family, a camera can help. Not long ago, security systems were relatively expensive. Moreover, they required a lot of space. For instance, you could only monitor your system on a large, CRT television. You also had to use video tapes for recordkeeping. This meant you needed a VCR, as well as room for several video tapes. With all this space and expense, it's not surprising that security cameras were rarely used outside of business. But nowadays, just about anybody can install a security camera system.
We've reviewed several security camera systems in the past. We've even looked at fake security cameras, which offer deterrent value at a lower price. But if you need actual recording and surveillance, you need a real set of cameras. No worries. We've got you covered.
Today, we'll be reviewing the HeimVision HM243 1080p NVR Security Camera System. This is a full-featured security system, that ships with four cameras, as well as a 12-inch monitor. It's DC-powered, so you don't need to worry about keeping batteries charged. Moreover, you get app control and alerts, so you can monitor your system from anywhere. But are the cameras actually any good? And do the bonus features work the way you'd expect? We're going to take a close look, and see what they bring to the table. Let's get started, and see what we learn!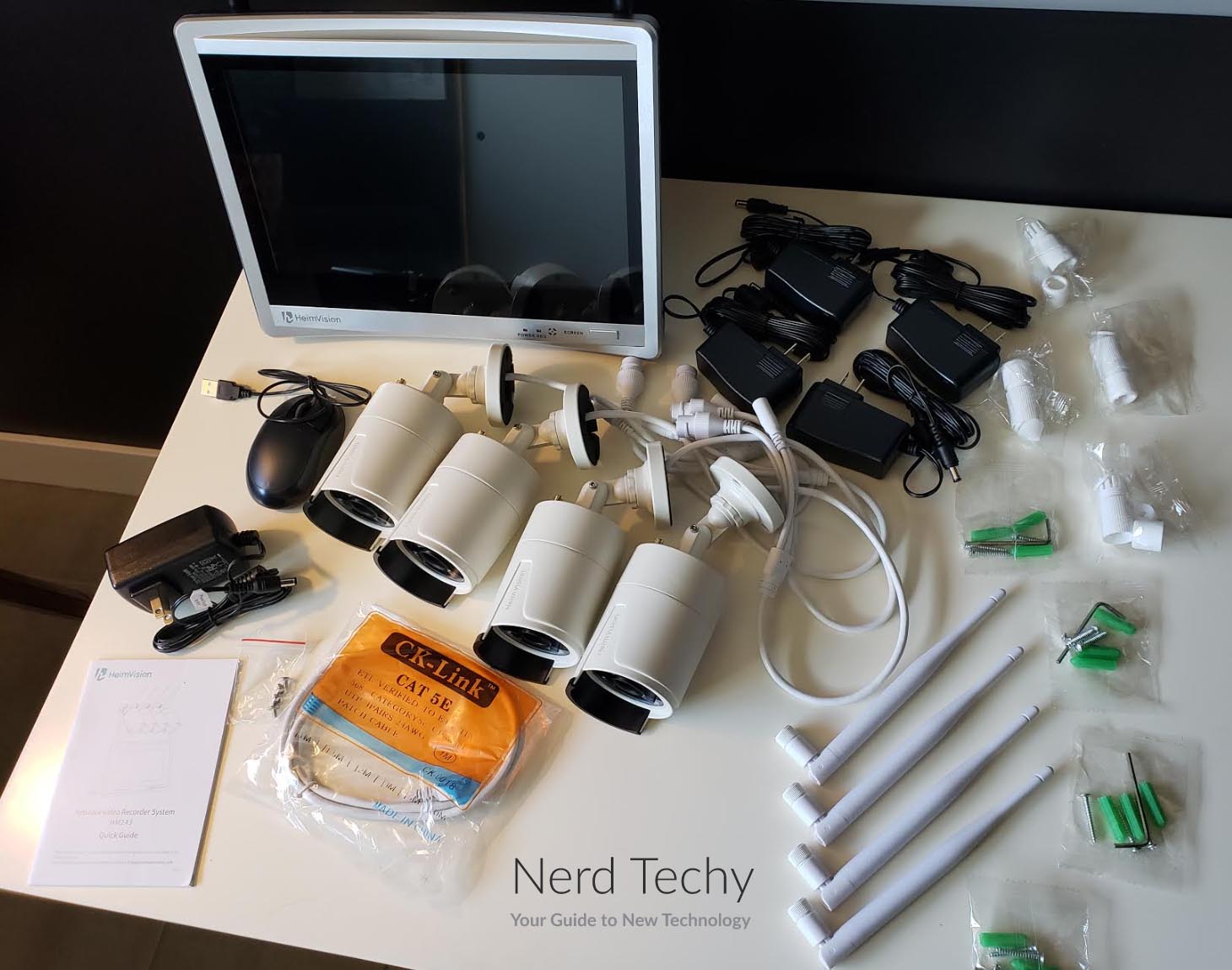 Design & Construction
The HeimVision HM243 1080p NVR Security Camera System comes with five parts. First off, you get four security cameras, which are constructed from durable anodized aluminum. The casing has an attractive white powder-coated finish that's corrosion-resistant and easy to clean. Each camera has a hooded top plate, which extends over the lens to keep it dry. This prevents distortion due to rain and other moisture. However, it's not needed to keep the cameras safe. Each camera comes with a water-resistance rating of IP66. This is sufficient to protect them from even the most torrential rain storms.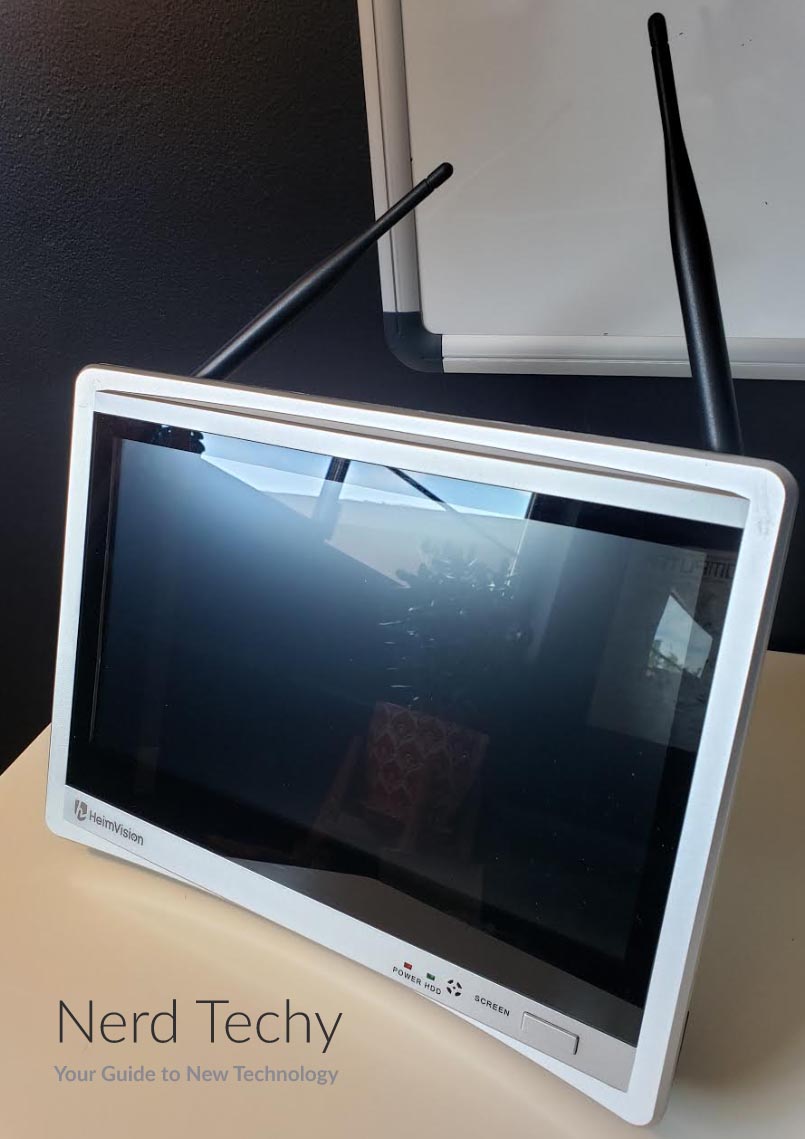 All four cameras come with mounting hardware, so you're ready to install them from day one. The screws are designed for installation in wood siding or fascia. There are also drywall anchors, so you can install them on interior walls if you so desire. If you want to install the cameras on brick or stone masonry, you'll need specialized masonry anchors. These can be bought cheaply at any home improvement store. The mounts can pivot 180 degrees in any direction. As a result, you can angle your cameras however you like. The cameras will also operate from -4 to 122 degrees Fahrenheit. Under any reasonable conditions, they work very reliably.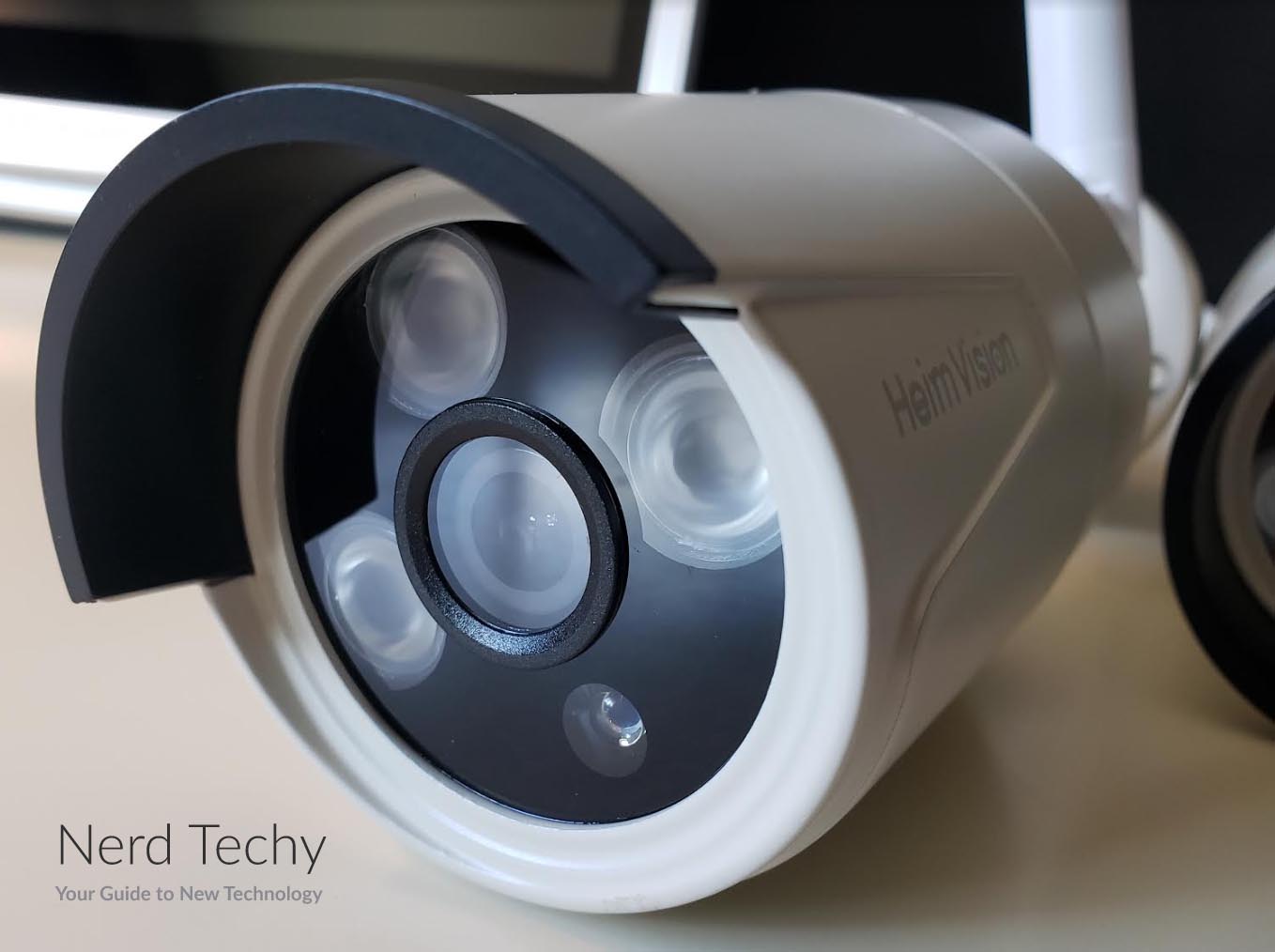 The monitor itself measures 12 inches on the diagonal. It sports a pair of six-inch black antennas that allow it to connect with the cameras. These correspond to the matching white antenna you'll find on each of the cameras. The monitor is relatively thick, with a white ABS plastic shell that's easy on the eyes. It sports a steel kickstand, so it can easily stand up on any desk or table. In addition, the monitor includes a USB mouse, which allows for easy control. That said, the monitor does not come with a hard drive. Out of the box, you don't have any options for data storage. That said, if you want to save your videos, you can install a hard drive for that purpose. The HM243 monitor will support a 3.5-inch hard drive, with a capacity of up to 6TB.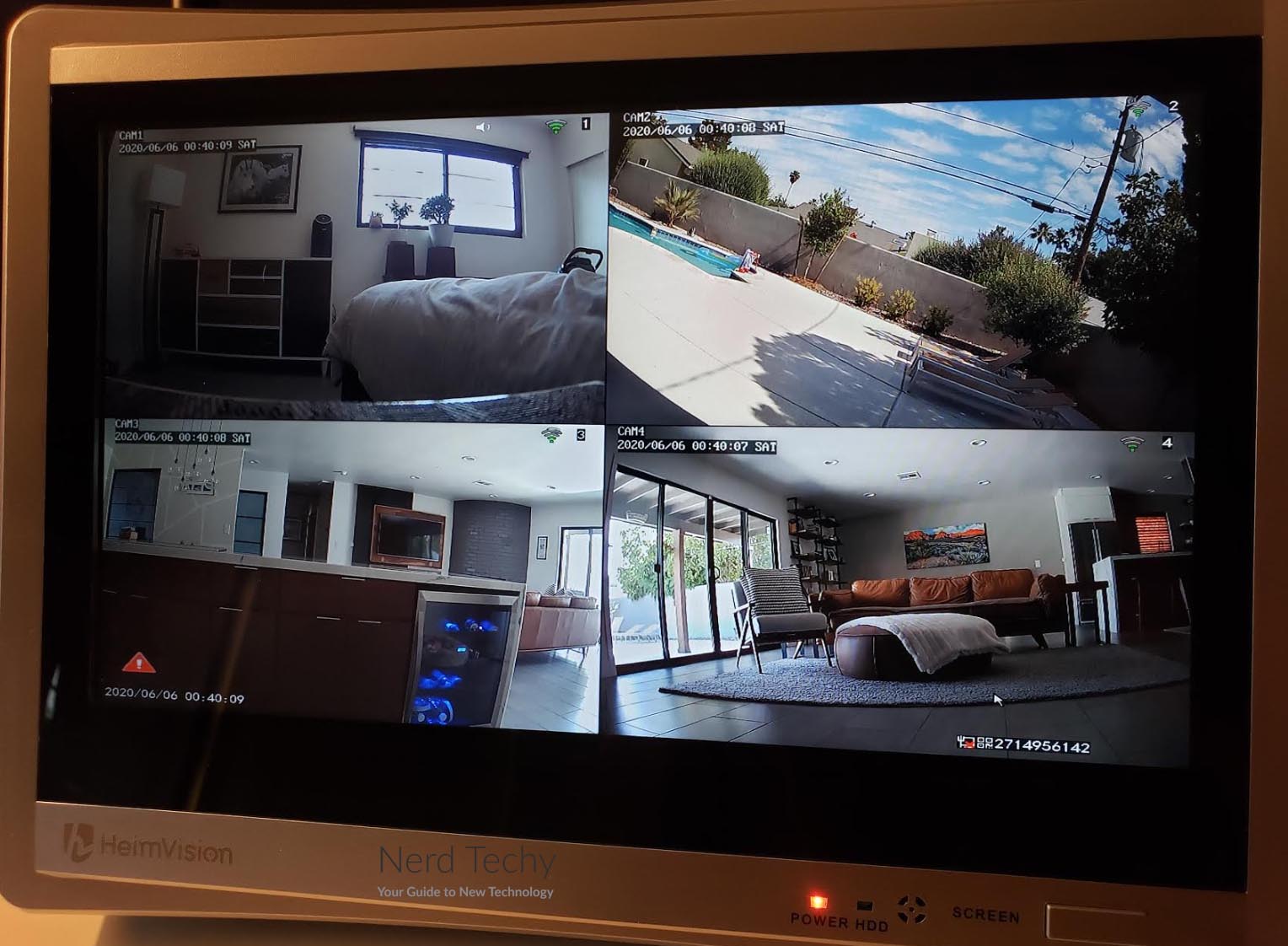 Image Quality and Video Quality
Each HeimVision HM243 camera records in 1080p resolution. This provides plenty of detail for most purposes. If you need extreme detail at very long ranges, you might prefer a 2K or 4K camera. That said, at any range inside of 50 feet, you'll be able to make out license plates and other details. The angle of view is 110 degrees, which translates to a roughly medium angle. As a result, you'll get a good view of most rooms, particularly if the camera is located in a corner. On the other hand, if your camera is located on the middle of a wall, you'll have to choose. It's best to turn it one way or the other.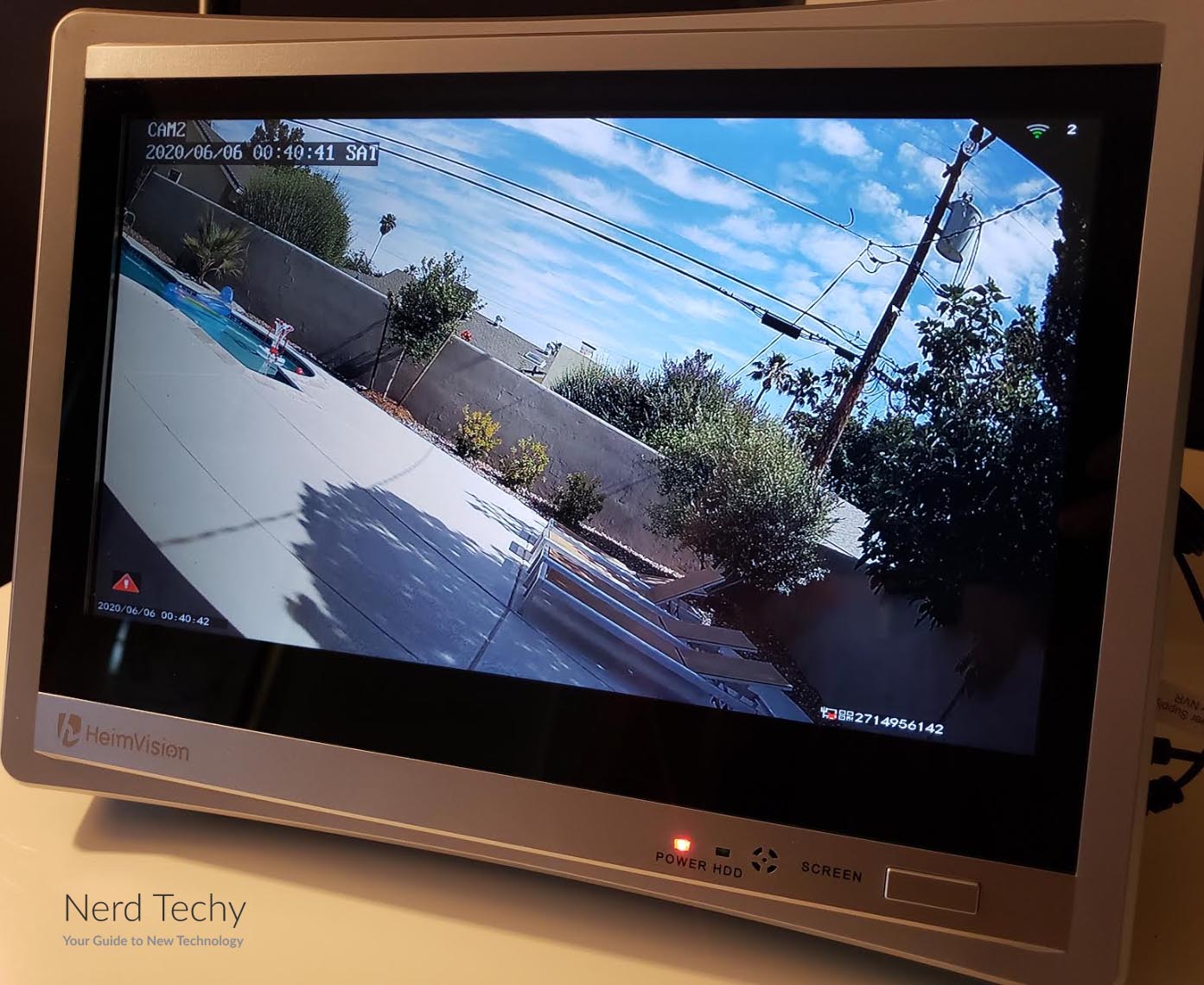 Moreover, the cameras feature night vision. The night vision is active, and not passive, which means it relies on built-in LEDs as a light source. The LEDs in each camera are located to the top and sides of the lens, and are exceptionally bright. All in all, they provide a night vision range of up to 50 feet. For outdoor use, this is only moderately helpful, since there's usually some kind of minimal lighting, even if it's moonlight. But for indoor use, it's a very useful feature. Even if your indoor space is pitch black, you'll be able to see movement and detail very clearly.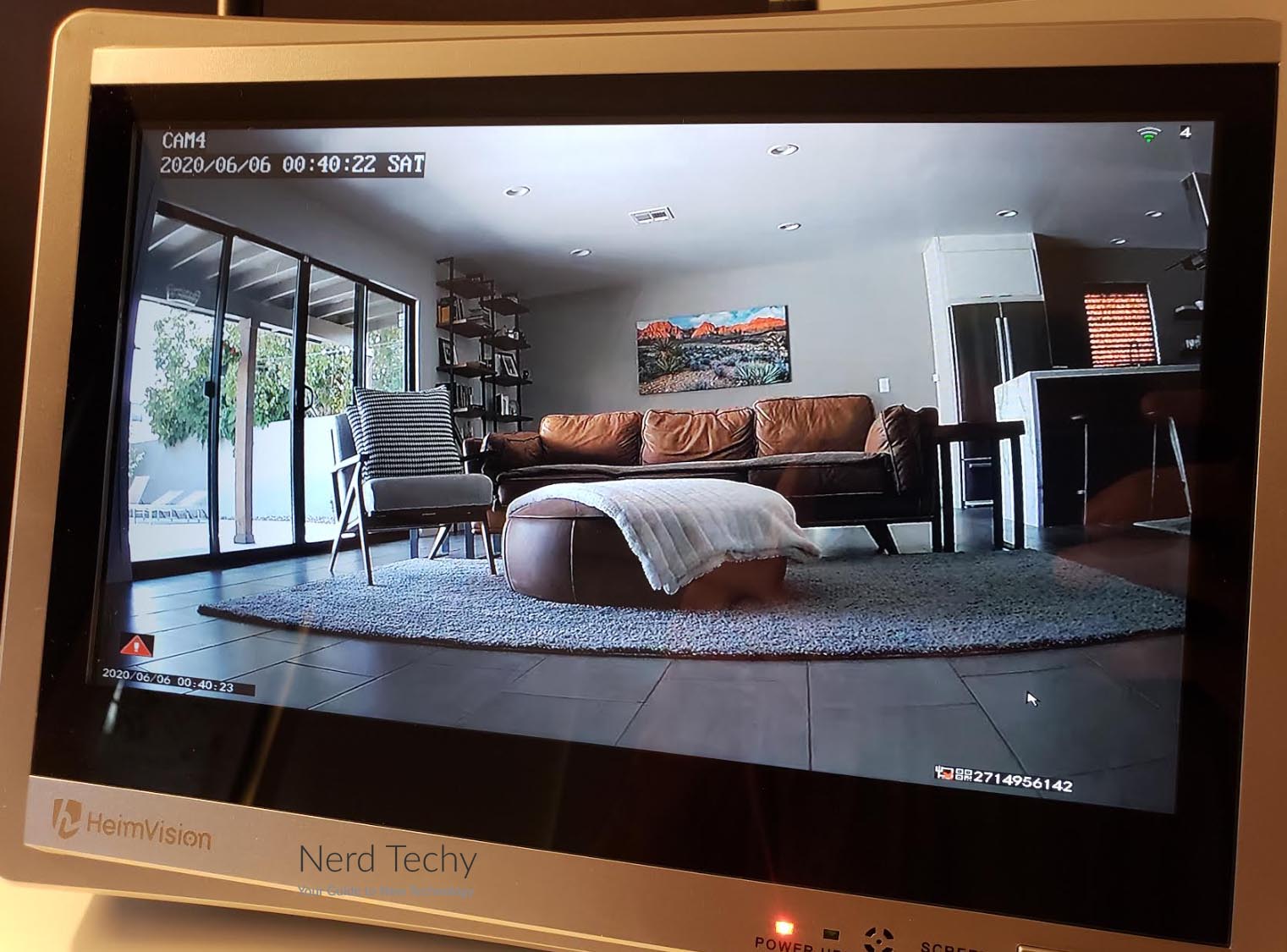 One thing the HM243 cameras don't offer is audio recording. This is no big deal for many applications. However, many home security cameras feature two-way audio. This can be a useful feature, for example, if you want to tell a delivery driver to go to the side door. On the other hand, some states take a dim view of audio recording equipment. As a result, the HM243 can be used in all 50 states without getting you into any hot water.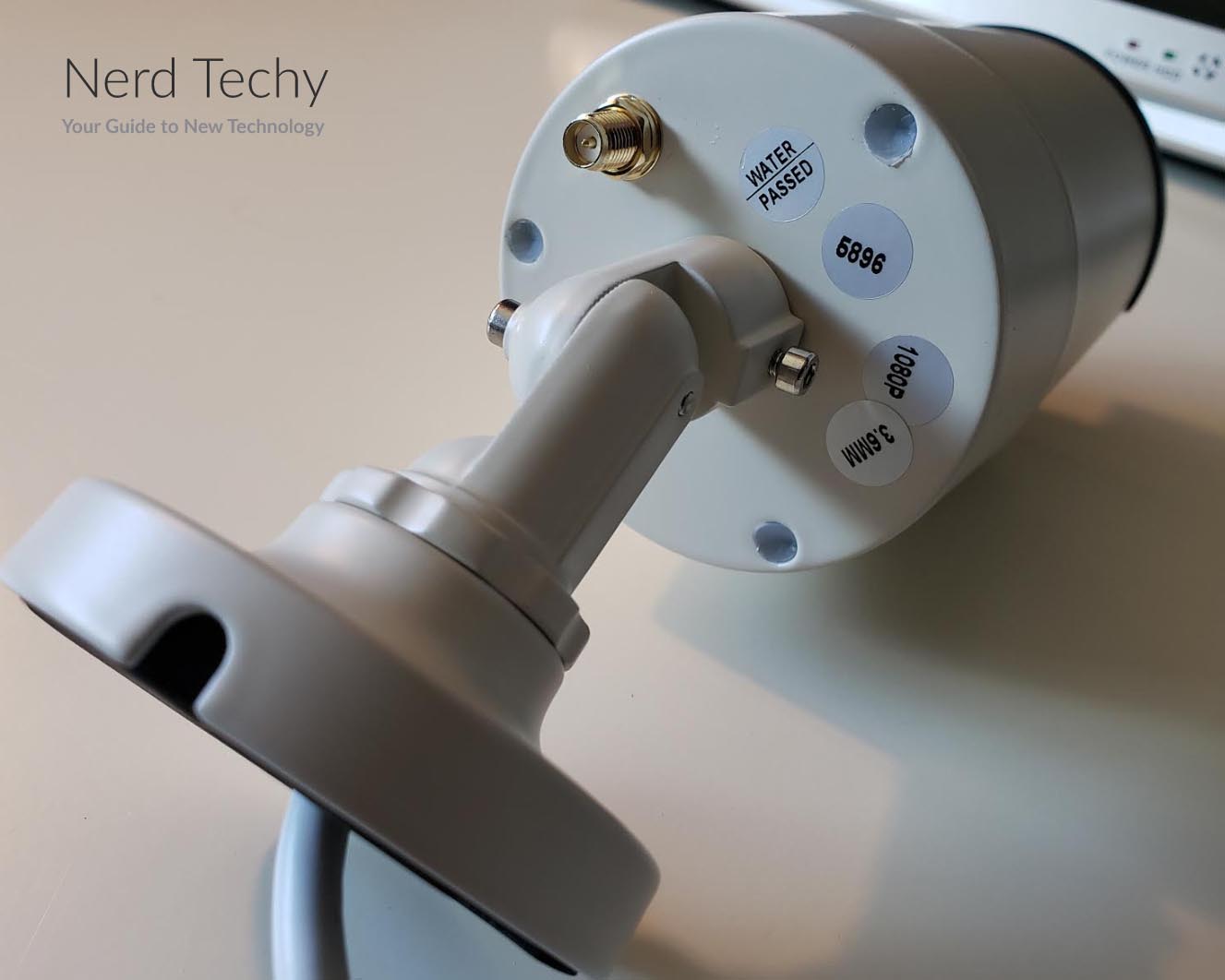 Connectivity
The HeimVision 243 cameras come with power supplies that plug directly into your wall outlet. Each camera has a 1-amp, 12-volt DC adapter with a 12-foot cord. For most purposes, this cord will be long enough for easy installation. If not, the adapters have a 2-prong design, so they're compatible with any extension cord. The monitor also includes a DC adapter, although the cord is a bit shorter, measuring only six feet in length. This design is a bit of a mixed bag. On the one hand, since there are no batteries, you don't have to worry about constantly charging your cameras. On the other hand, if there's a power outage, there goes your surveillance system.
Of course, not everybody wants a wired, plugged in security system. If you want a wireless system, there are plenty of options. For example, the HeimVision HMD2 Security Camera w/ HMS1 Solar Panel offers the complete package. The camera is powered by a solar panel, so you never run out of power. And with a battery backup, it will keep running all night long without interruption.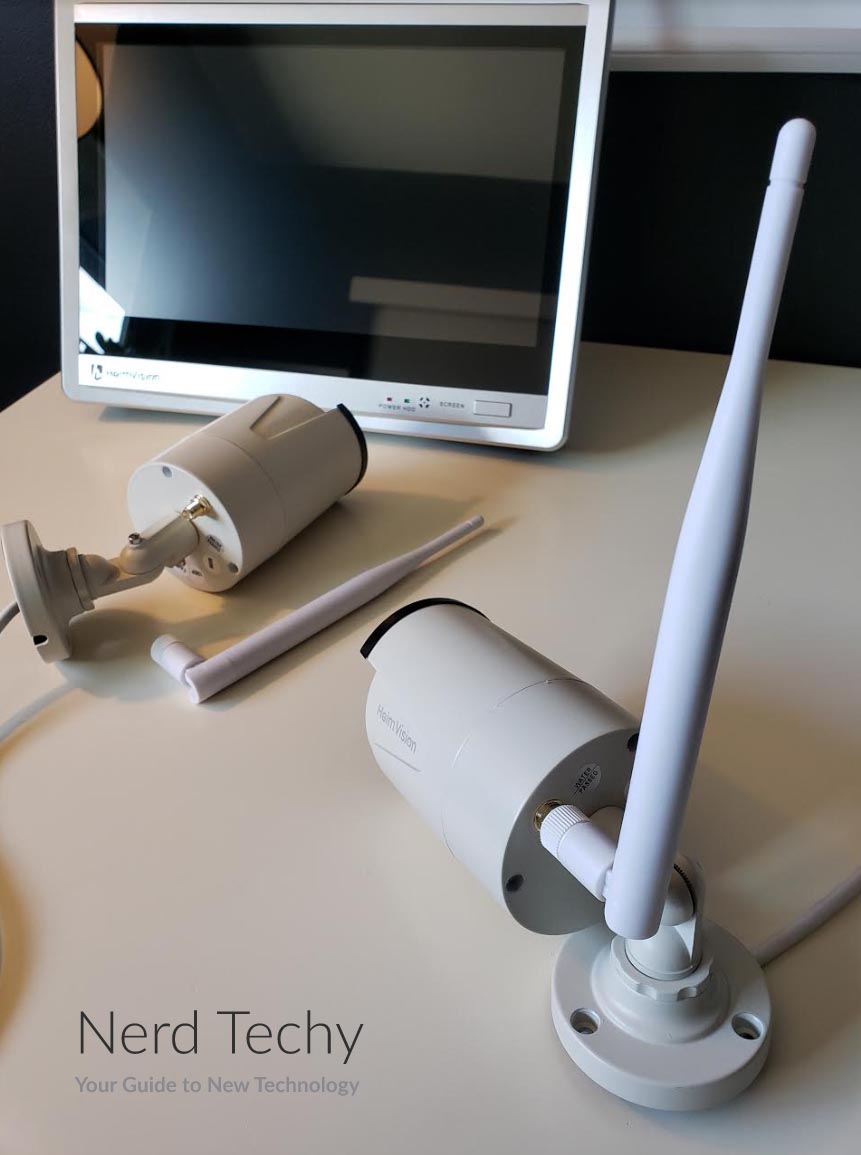 The cameras themselves all connect to your monitor via 2.4 GHz RF. This signal has a range of approximately 100 yards without obstruction. If there are obstructions, the range will be shorter, but it should still be good enough for most applications. The monitor connects to the internet via Ethernet. This allows for a relatively secure signal, as well as a more stable one.
The HM243 camera system might come with 4 cameras, but it's expandable. You can expand your system to up to 8 total cameras. This allows you to monitor an even wider area, without having to buy a whole new system. The best part is that the system is scalable. If you don't need such a large system, you don't have to pay for one. If you do, you can simply expand your system.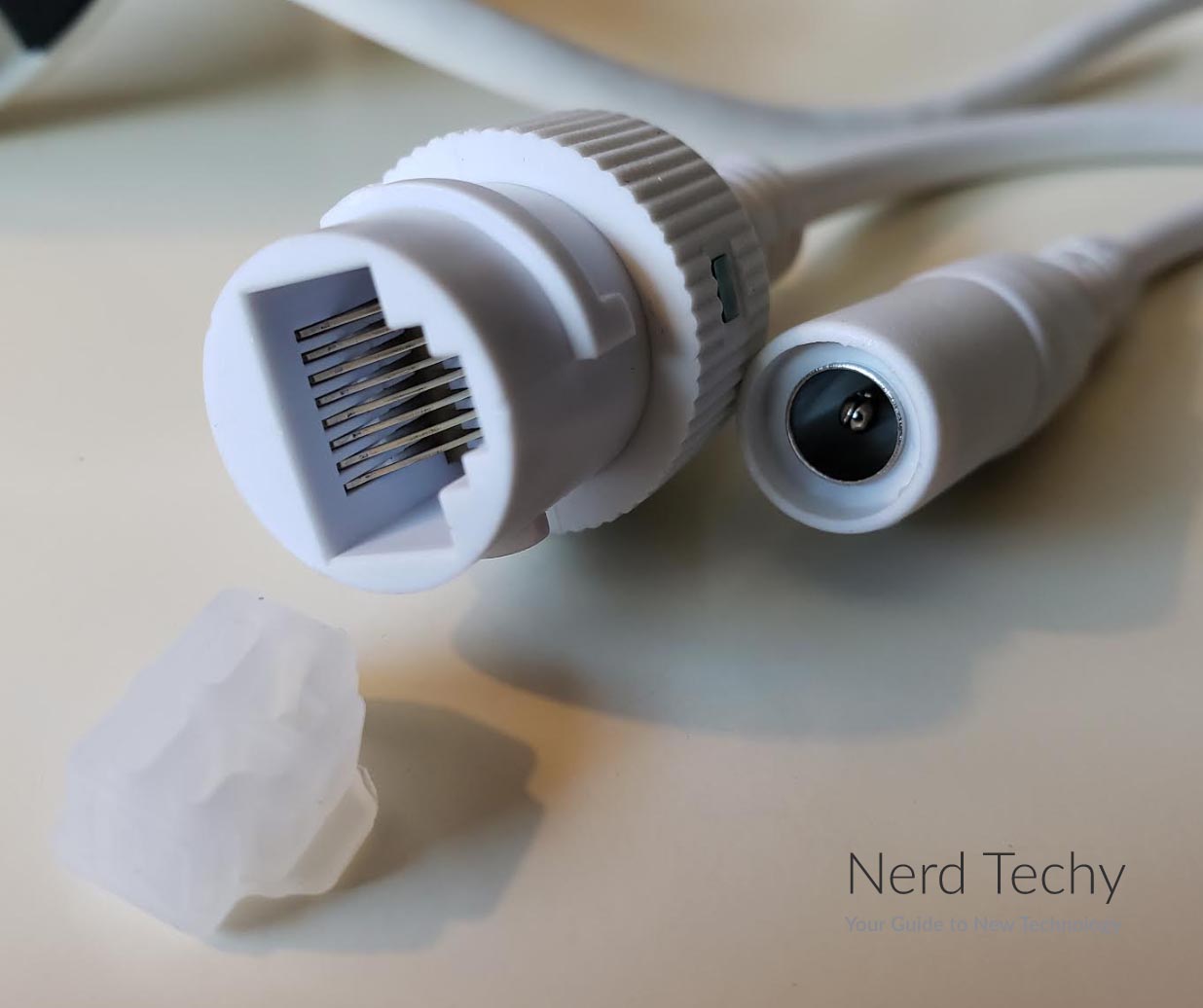 Extra Features
The HeimVision HM243 monitor works very well for on-site monitoring. But suppose you want to view your camera feed remotely? In that case, you'll want to install HeimVision's HeimKits app, available on Google Play and the Apple Store. The app is free to download, so there's really no downside. On your PC, you can also download the Eseecloud app for free. Link all of these apps with your HeimKits account, and you're ready to go. Not only can you view your cameras remotely, but you can also take advantage of motion detection. Whenever one of your cameras detects motion, you'll immediately get an alert. Click on the alert, and you can instantly see what's going on.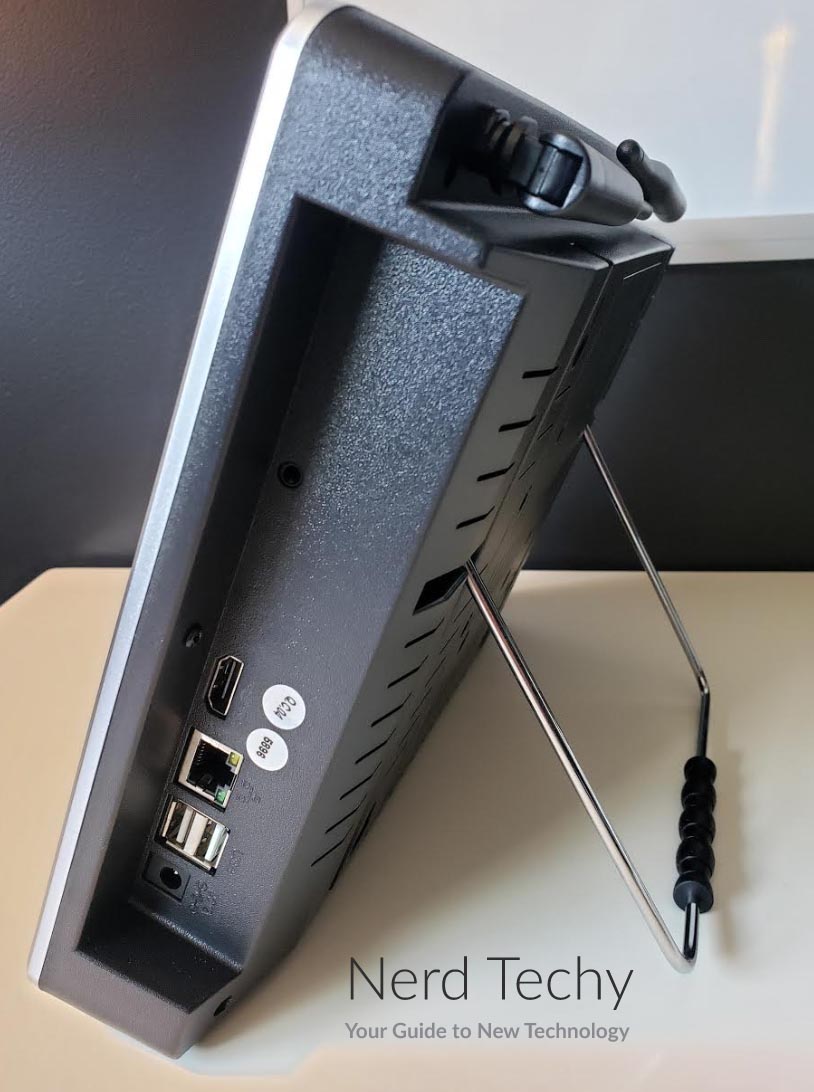 That said, the HeimKits app does not offer any online storage. As a result, your only option for data storage is an aftermarket hard drive. This isn't necessarily a bad thing, though. Most online storage plans charge a monthly fee, which can add up over time. Moreover, cloud storage is less secure than local storage, which resides on your own hard drive. If you do want online storage, HeimVision offers some other options. For example, their Heimvision HM205 1080P Security Camera comes with 72 hours of free online storage. It can also pan 360 degrees to monitor a wider area. But it's only rated for indoor use, so it's useful for fewer applications.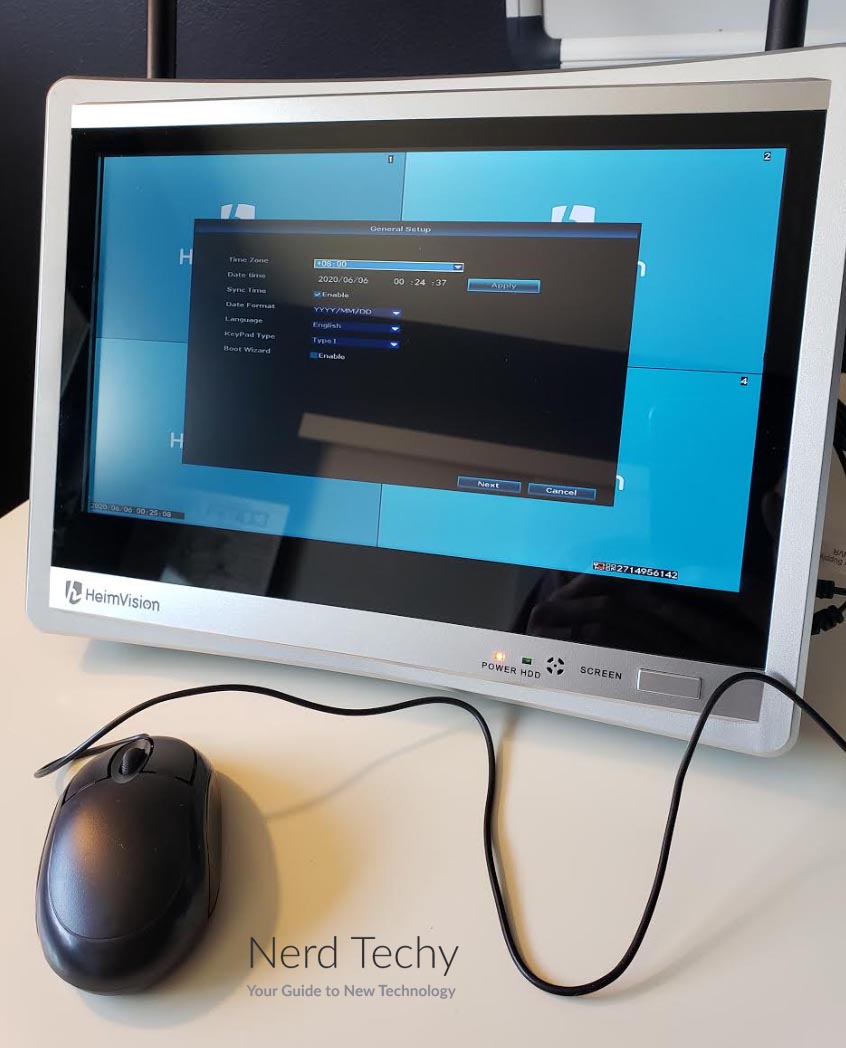 Final Verdict
So, is the HeimVision HM243 1080p NVR Security Camera System the right choice for you? It depends on what you need. To begin with, if you want to save your video, it might not be. At the very least, you'll need to install a third-party hard drive, which will cost you extra money. That said, a hard drive is easy to install, and offers more security than online storage. Moreover, you may not need storage. For instance, if someone is always watching the monitor, it may not be necessary at all.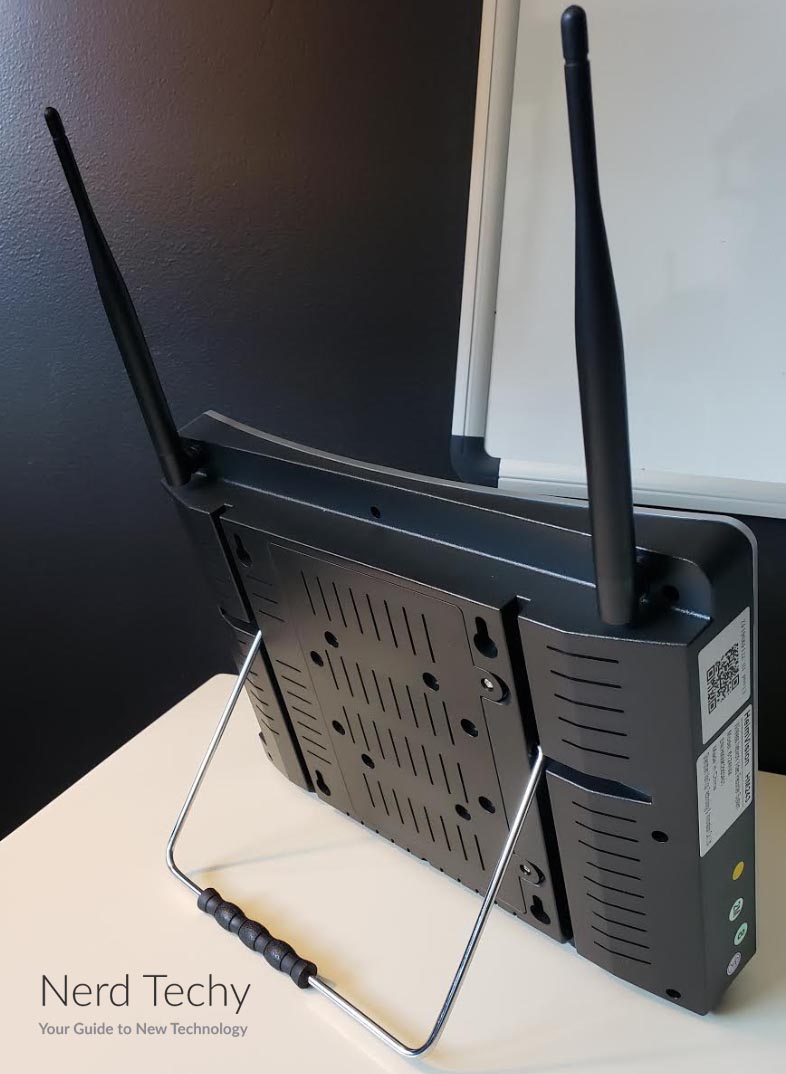 The cameras themselves are very well constructed. With an anodized aluminum case, they can take more of a beating than many security cameras. And with an IP66 weather-resistance rating, you don't have to worry about nasty weather knocking them out. The wired design is a bit of a mixed bag. It's low-maintenance, because you don't need to charge batteries periodically. However, it also means you'll need to install the cameras near a power source. The video quality is excellent, whether by day or by night. Better yet, with active infrared, you can monitor even fully-enclosed locations without losing night visibility.