In today's world, you can't be too careful about security. Whether at home or at work, surveillance cameras are quickly becoming the rule rather than the exception. But security cameras come with some significant disadvantages. To begin with, they can get pricey. And what's more, you need somewhere to store the data. This can require a local server, which means running a bunch of wires. Alternatively, it can mean cloud-based storage, which generally costs you a monthly fee.
One popular solution is mounting a combination of real and artificial security cameras. You can position the real cameras where you absolutely need to have coverage. Next, simply place dummy cameras anywhere else you want to deter theft or intrusion. It's not a perfect solution. But dummy cameras are virtually free once they've been set up. For many people, the savings is well worth it.
Today, we'll be looking at three of the best fake security cameras that money can buy. These options will keep your property safe without breaking the bank. But what else do they have to offer? We're about to take a close look at each of their unique features and benefits. Let's dig in!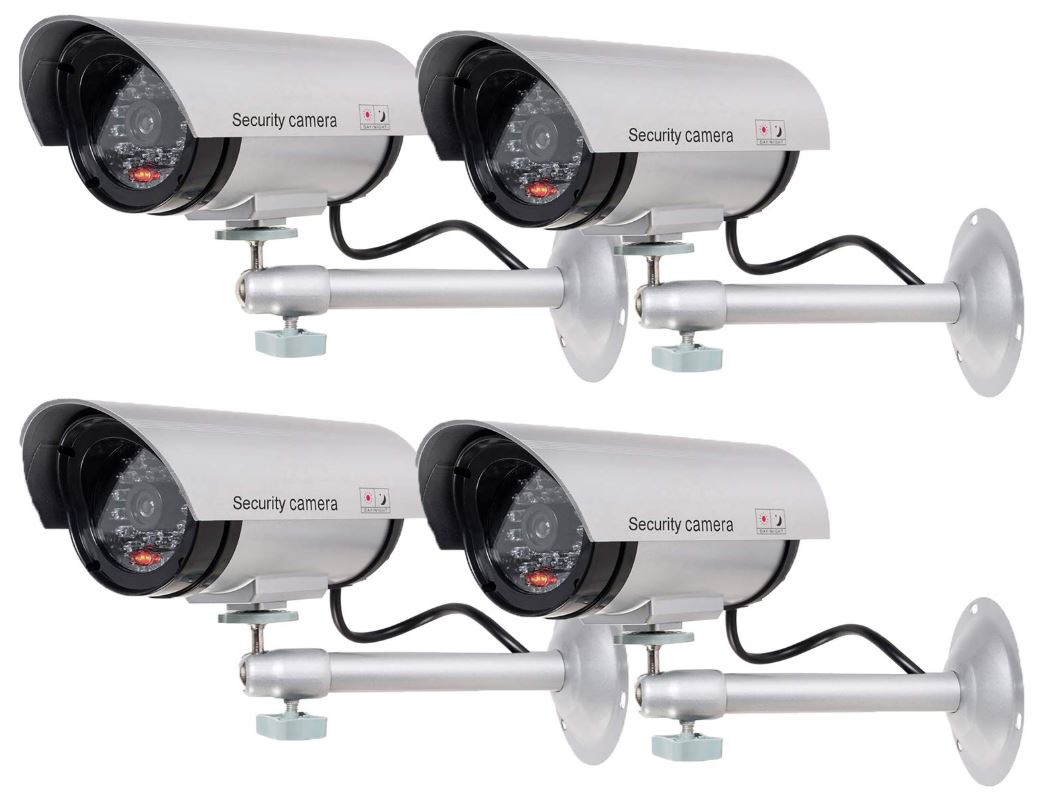 WALI Bullet Dummy Fake Surveillance Cameras
The WALI Bullet Dummy Fake Surveillance Cameras come in a 4-pack. This provides you with sufficient cameras to cover several entrances or other sensitive areas. They're available in silver or black, which isn't a cosmetic choice. The idea is that you'll match your dummy cameras as closely as possible to your existing, real security cameras. The more similar they look, the less likely it is that anyone will suss out which ones are fake.
The WALI cameras themselves are cylindrical in shape, measuring 6.7 inches long and 3 inches in diameter. This is in addition to the 5-inch mounting arm, which comes with all the hardware you need for installation. The cameras weigh less than a pound apiece, which makes them easy to mount on just about any surface. There's a fake wire that runs from each camera into a hole in the mounting arm. This enhances the realism, but there's no reason to worry. No actual wiring work is required.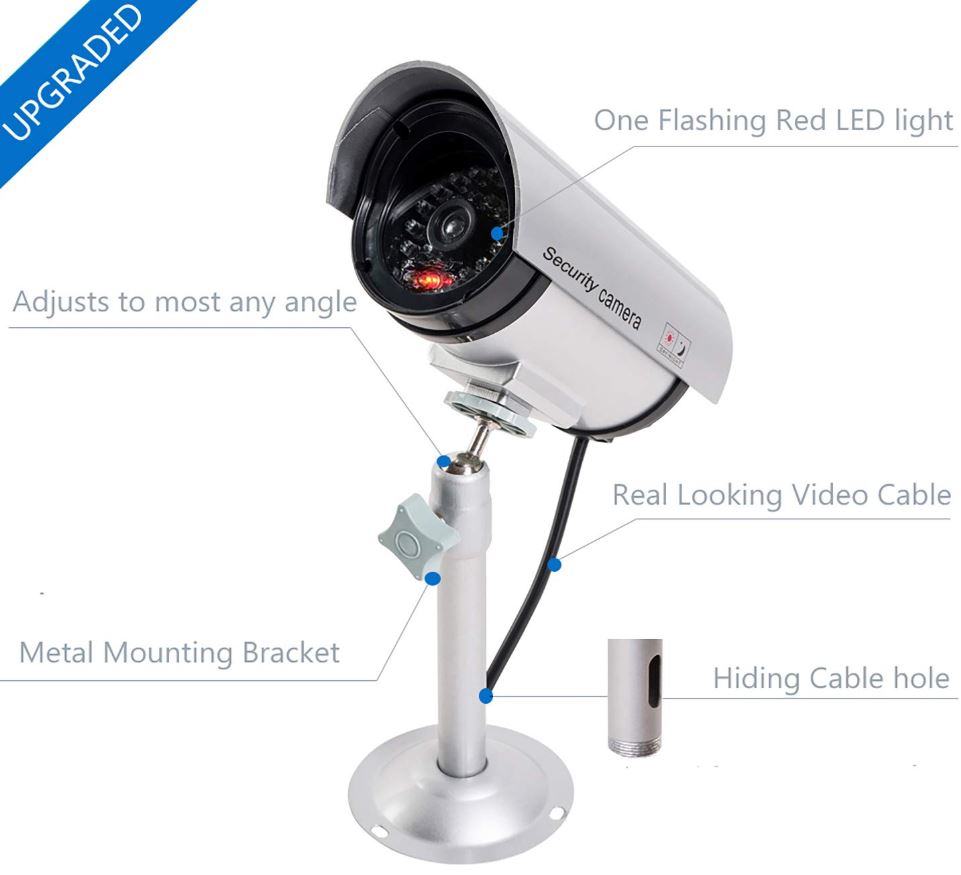 On top of each camera, you'll find a slidable top shield. This is mostly for show. However, it does offer some protection to the LED light in the "lens". If you're installing your WALI cameras outside, you'll want to use this feature. The rest of each camera case is also manufactured from aluminum, making them durable and reliable.
The WALI cameras and brackets offer fully adjustable tilt and 360-degree rotation. This way, you can point them exactly where you want them, just as you would with a real camera. If you're looking for realism, this feature is tough to beat.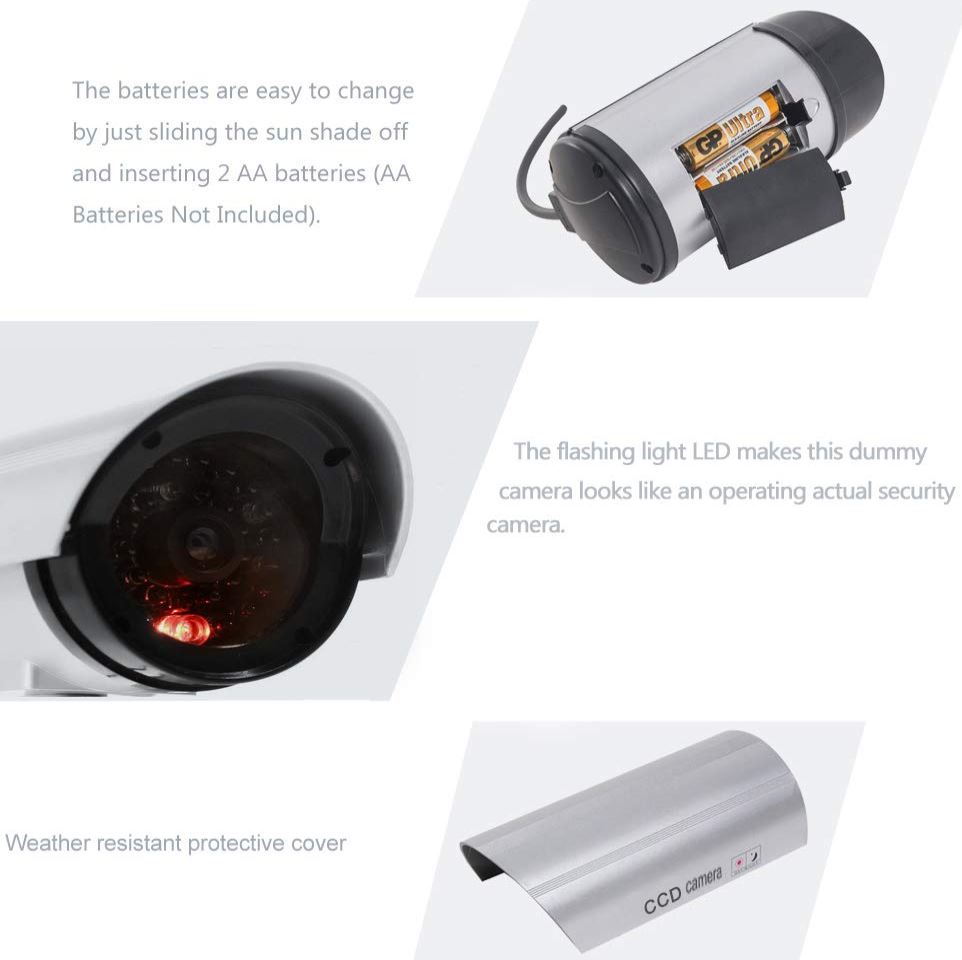 Bonus Features
To get the most out of your WALI cameras, you'll need to install some batteries. Each dummy camera takes 2 AA batteries, which are inserted into a compartment that's hidden under the sun shade. Simply slide the shade all the way forward to remove it, then insert your batteries. Once the batteries are installed, a bright red LED will start to flash inside the "lens". This further increases realism, and makes the cameras extra visible at night. This way, potential thieves are liable to see it and steer clear. A set of batteries will last about 6 months, so there isn't much maintenance involved.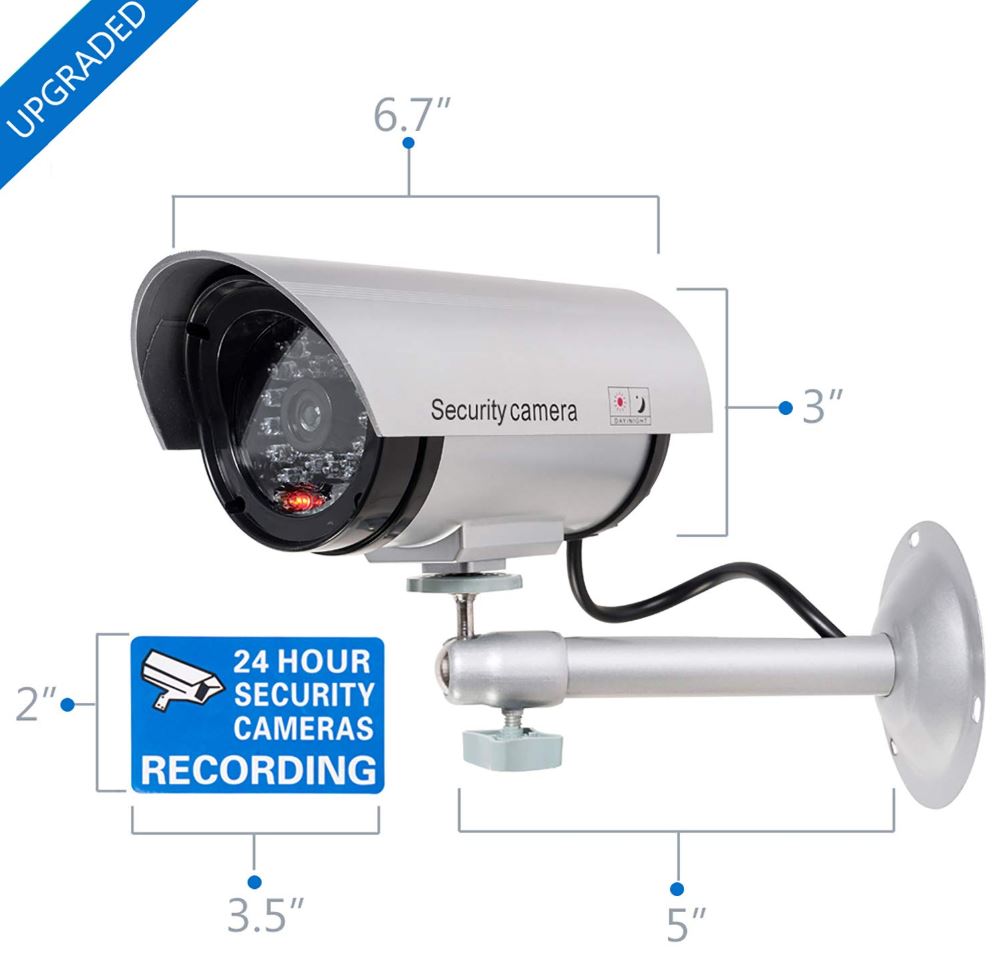 The WALI dummy camera kit includes 4 warning decals, one to go with each camera. These decals can be positioned in your windows or other high-visibility locations. They act as an additional theft deterrent, just in case a thief happens to miss the cameras themselves. The kit also includes an 18-month manufacturer's warranty. As a result, you'll be protected for three full battery cycles. For any type of electronics, this is an excellent warranty.
Of course, no fake camera is as effective as a real, functional security camera. We've reviewed many of these in the past, but the HeimVision HMD2 is one of the best. When paired with a solar panel, it provides complete home security without the need to run any wiring.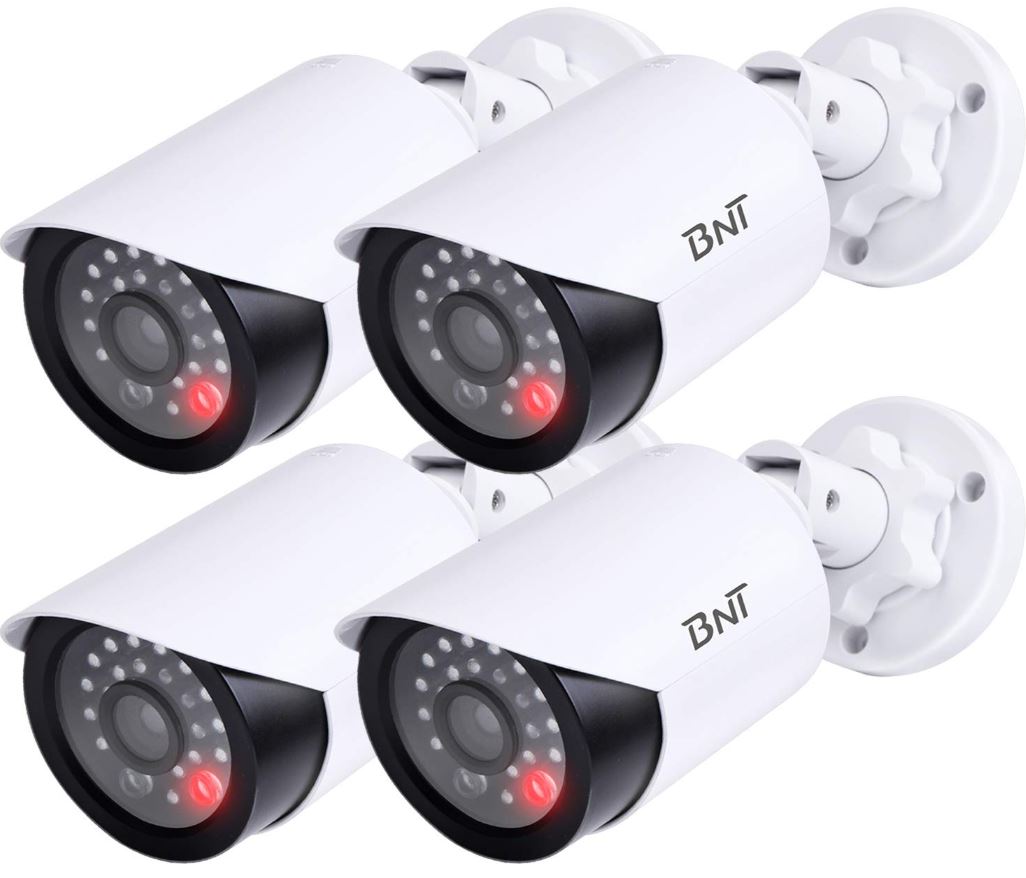 BNT Dummy Fake Security Cameras
Much like the WALI cameras, the BNT Dummy Fake Security Cameras come in a 4-pack. This way, you can protect several different areas at once. The design is cylindrical, and is 7.4 inches long including the mounting arm. At 2.8 inches in diameter and only 7 ounces in weight, each camera is lightweight, compact, and easy to mount. Even if you mount them on flimsy siding or lightweight fascia, you won't have to worry about your cameras falling.
The dummy cameras themselves are constructed from white ABS plastic, with glossy white aluminum mounting hardware. But this doesn't mean they're flimsy or easy to damage. On the contrary, they're IP65-rated against dust and water. This doesn't mean they can withstand full immersion. However, they're more than capable of standing up to rain, sleet, snow, and other foul weather.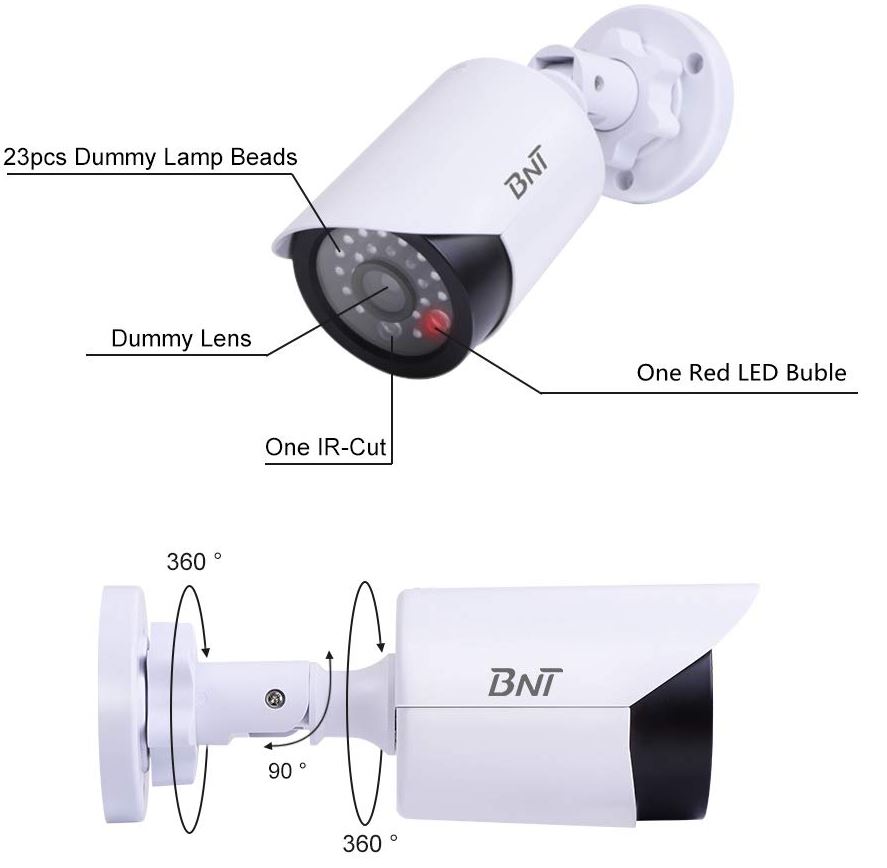 The overall look and feel is very realistic. A small, artificial sun shield extends over the "lens". There's even a ring of fake infrared LEDs, much like you'd see in a standard, functional security camera. In addition, the mounting hardware supports full 3-axis rotation. Flex the camera in any direction, then tighten the locking nut at the base to secure it in place.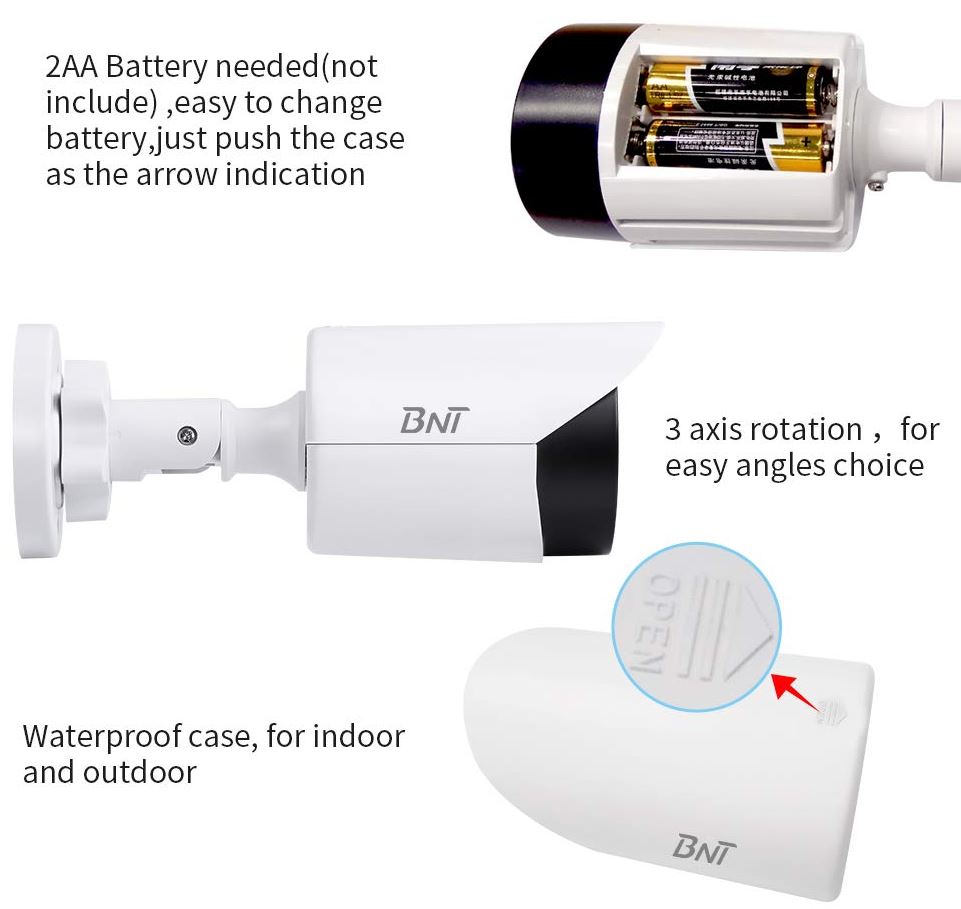 Bonus Features
BNT Dummy Fake Security Cameras each require 2 AA batteries for full functionality. To install the batteries, simply slide off the sun shade. This will reveal the battery compartment, allowing for easy insertion. What makes the BNT dummy cameras different from others is that they have a built-in photoelectric sensor. This ensures that the bright red LED in the "lens" will only shine at night. This enhances realism during daylight hours. However, it makes no difference regarding battery life, since the photoelectric sensor still requires power. The overall battery life is about 6 months.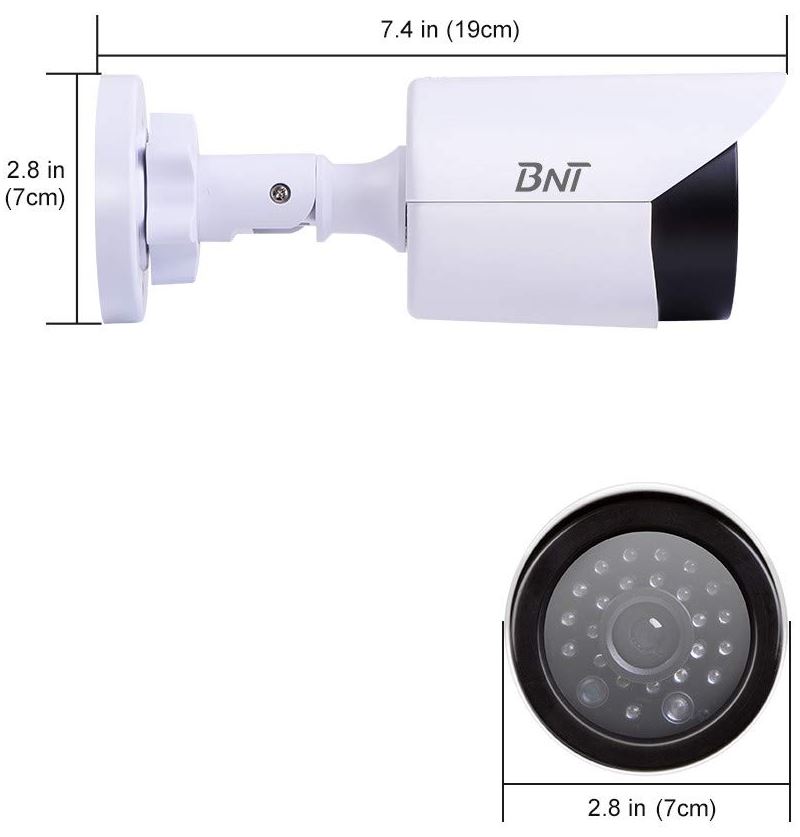 In some situations, an artificial camera just isn't going to cut the mustard. One of these situations is if you're driving an RV or camper. In that case, you're going to want a security camera that's tailored to your specific needs. We recently reviewed the best RV security cameras on the market. If you need protection for your rig, one of those cameras should be just what the doctor ordered.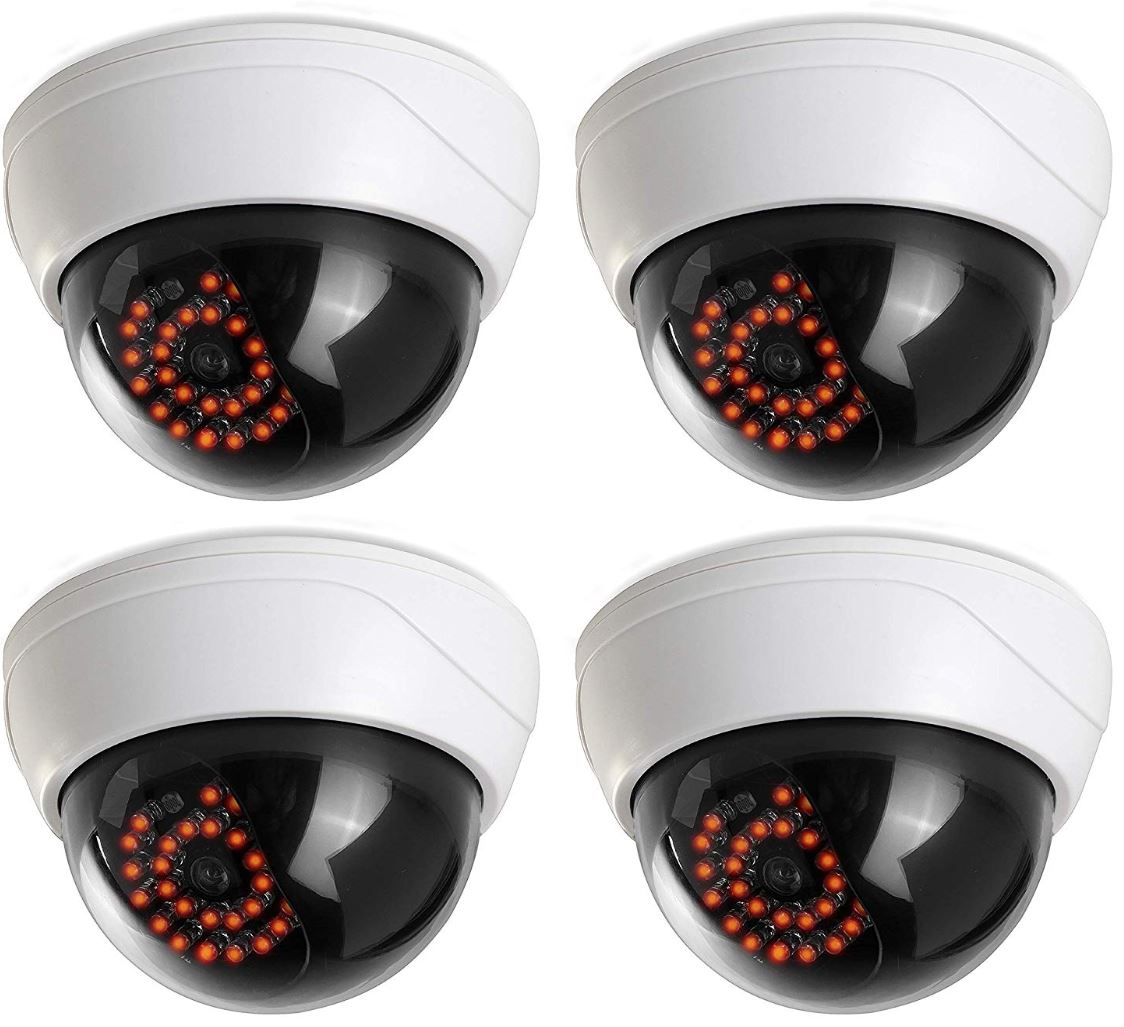 INKECI Fake Dome Camera
Unlike the last two cameras on our list, the INKECI Fake Dome Camera is built like a commercial dome camera. This makes it less well-suited for most home applications, but ideal for retail and other commercial uses. It measures 8.125 inches in diameter, and 3.25 inches in height. At 1.6 pounds apiece, all 4 cameras in the kit are a bit hefty. Still, they're light enough to mount on most ceilings, and the mounting hardware is included in the package. Once it's been hung, it looks very realistic.
The base is constructed from ABS plastic. It's a standard matte white, which should match almost any commercial interior space. The "camera" itself is covered by a blackened glass dome. About the only thing it doesn't do is rotate inside the dome. However, depending on your current security system configuration, this may not even be an issue.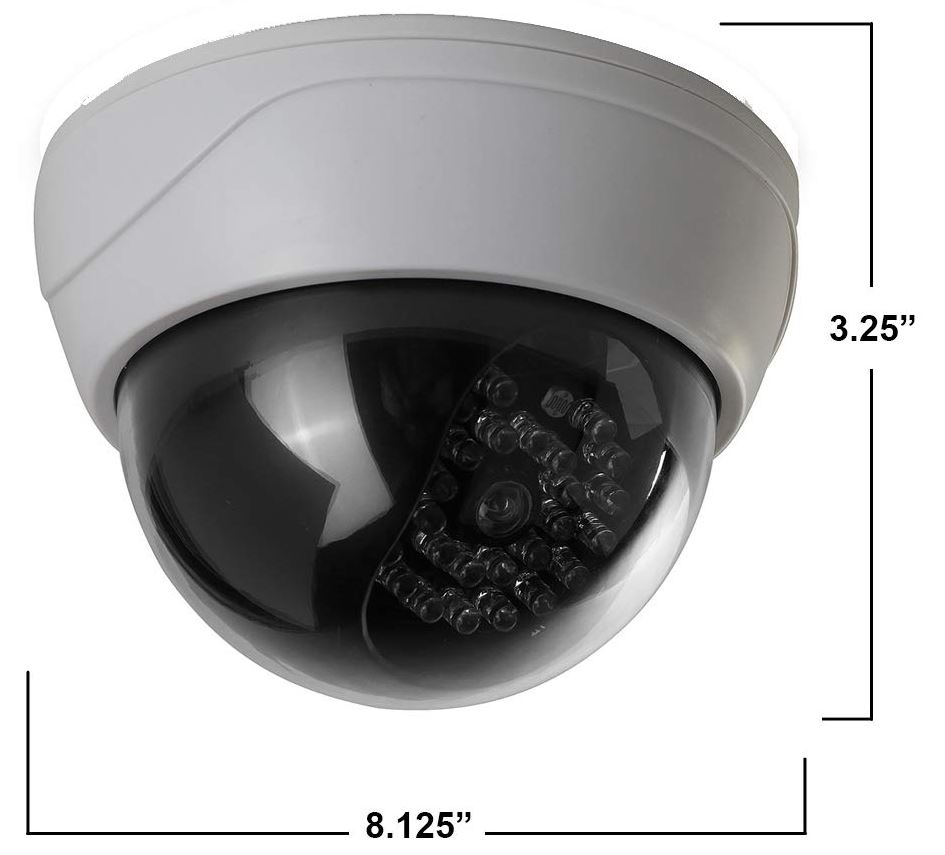 The one major downside of the INKECI Fake Dome Camera is that it's not water-resistant. This isn't exactly a major limitation, since most dome cameras are never used outdoors to begin with. However, it's still something you should be aware of. It also means that a leaky ceiling can potentially damage your dummy camera.
Bonus Features
To enhance realism, the INKECI Fake Dome Camera has a ring of LEDs surrounding the "lens". Depending on your existing security system, this may be an important feature to get your cameras to match. If you want to activate the LEDs, simply insert 2 AA batteries in the back of your camera. The battery compartment is located under a removable black plastic cover. There's also an on/off switch on the back of each unit. This allows you to quickly customize your dummy cameras as needed.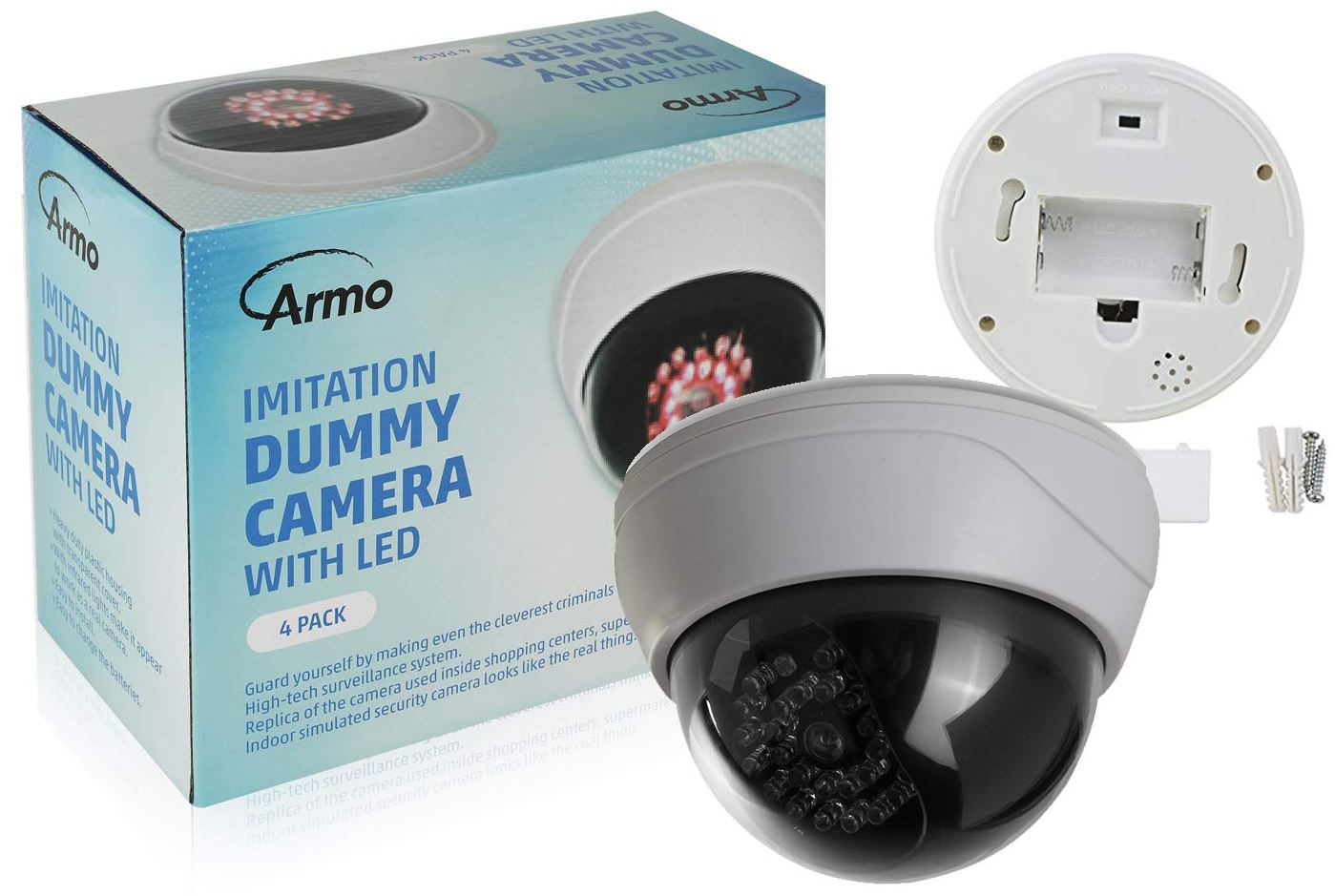 One thing that disappointed us about the INKECI Fake Dome Camera was the packaging. Most products, let alone security products, ship in discreet cardboard boxes. Not the INKECI camera. It arrives on your front porch in the manufacturer's packaging. For some products, this wouldn't be a big deal. But the INKECI's box has "IMITATION DUMMY CAMERA" printed on the side in bold, blocky text. If you're concerned about people sniffing out your fake camera, this could be an issue.
Say what you want about fake security cameras, but they perform a lot of useful functions. They're a highly effective deterrent against thieves or intruders. But one thing they don't do well is discretion; it would defeat the purpose. If you're looking for a discreet, functional camera, consider the Taococo Mini Spy Camera. It's compact, it's surprisingly powerful, and it's easy to use for monitoring your home or business.
Final Verdict
So, which one of these fake cameras is the best of the bunch? As usual, the devil is in the details. The WALI and the BNT cameras are remarkably similar at first glance. However, there are a few crucial details to keep in mind. The most important is that the BNT dummy camera offers better water resistance. While the WALI is also water-resistant, it doesn't carry any official IP rating. The fact that BNT's camera has actually been tested gives us a little more confidence. On the other hand, the WALI is the only camera on our list that's available in black. Depending on your décor and existing cameras, this might be a make-or-break requirement.
The INKECI Fake Dome Camera is a different beast entirely. Instead of using a cylindrical design, it's designed to match commercial dome cameras. This makes it an easy choice if you're protecting a retail store or an office. The on/off switch for the LED light is also a nice touch, since it lets you customize the INKECI's look. Just keep in mind that it offers no water resistance whatsoever. It's strictly an indoor camera.