UGREEN HiTune X6
Pros
Superb audio quality with deep bass and an ideal mid range.
ANC feature works very well.
Decent battery life with exceptionally quick charge times.
Very comfortable and form-fitting.
Touch controls are easy to use.
Cons
Other color choices would have been nice.
Glossy black appearance attracts fingerprints.
Everybody needs to have a decent pair of wireless earbuds these days. Whether you're a podcast listener or music lover, owning the right pair can be the difference between frustration and enjoyment. Simply put, not all earbuds are created equally. In fact, most are cheap, lacking features or simply don't offer the comfort you desire. Since there are literally thousands of different options to choose from, it can be incredibly difficult to find a good pair.
After scouring Amazon for hours, we've encountered several makes/models that are reasonably priced. However, they're often from smaller manufacturers that don't have the recognition that Sony, Beats and Apple have built over the years. Take UGREEN for example. As a lesser-known audio manufacturer, we've always been impressed with their offerings. In the past, we've reviewed several of their products and have always found each one to offer a nice blend of performance and quality. Recently, we found out about their new release ANC wireless earbuds; the X6.
As an improvement over the previous HiTune X5, these true wireless earbuds carry a simplistic, modern appearance with advertised features that we typically only see in expensive, name-brand earbuds. With active noise cancellation, six built-in microphones and a sleek appearance, it goes without saying; UGREEN is trying to make a name for themselves with the X6.
Recently, we were invited to test them out. Today, we're going to go in-depth and uncover exactly how they perform. We'll examine them from head to toe and look at comfort, sound quality, battery life, durability and more. We're going to take an honest, detailed approach to see whether or not the new UGREEN X6 are worth it.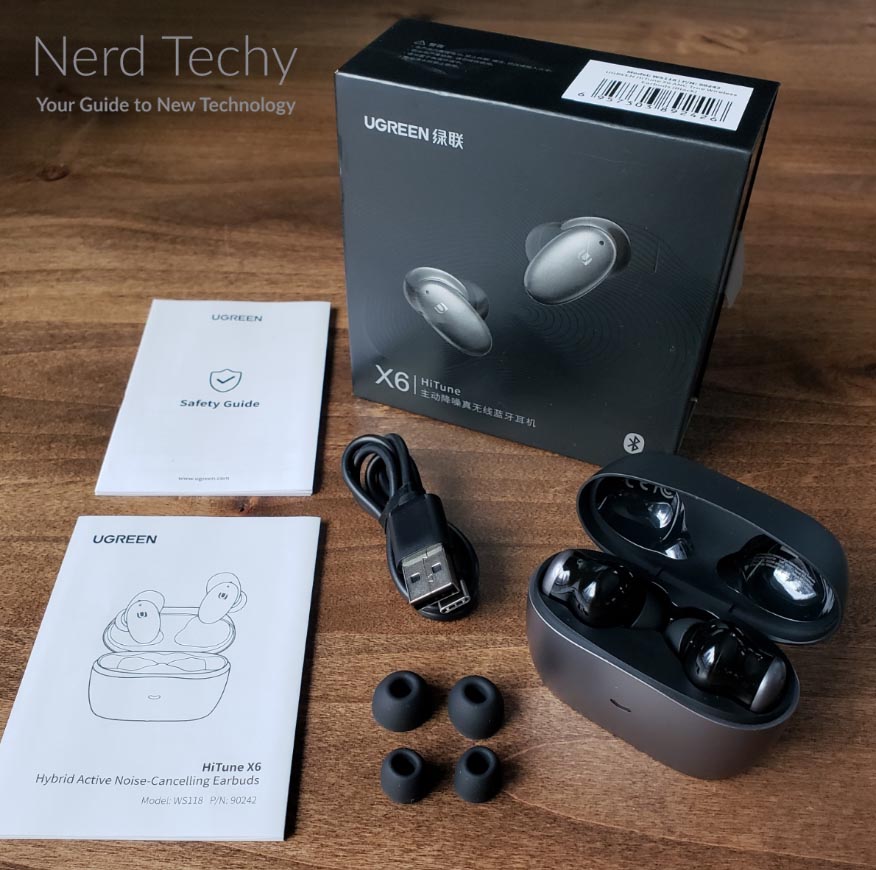 First Look
The UGREEN HiTune X6 have a smooth two-tone, silver and glossy black appearance. They come shipped in the box with a charging case, three pairs of different-sized eartips, a USB-C charging cable and a user manual. Their appearance is sleek and minimalist without any physical buttons or moving parts. At first glance, it's apparent that UGREEN took extra time into making the X6 earbuds have a visually attractive and high quality appearance. That said, we love the unique style that they decided to go with. They're simple yet visually pleasing in every aspect.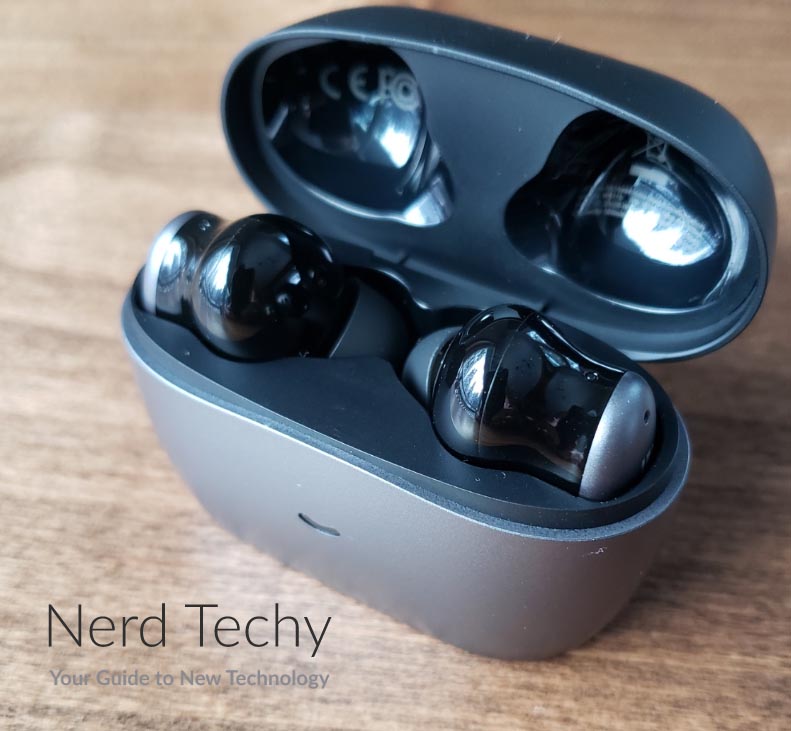 Comfort and Fit
Trying on the X6 earbuds for the first time is quite simple. With the eartips facing forward, simply press them into your ear canal with minimal pressure. You should feel them set into position without any pressure points or hot spots. At this point, you'll want to make sure you have the proper eartips installed. As stated earlier, UGREEN includes three varieties. The medium tips come pre-installed but there are both smaller and larger sized tips that you may want to consider.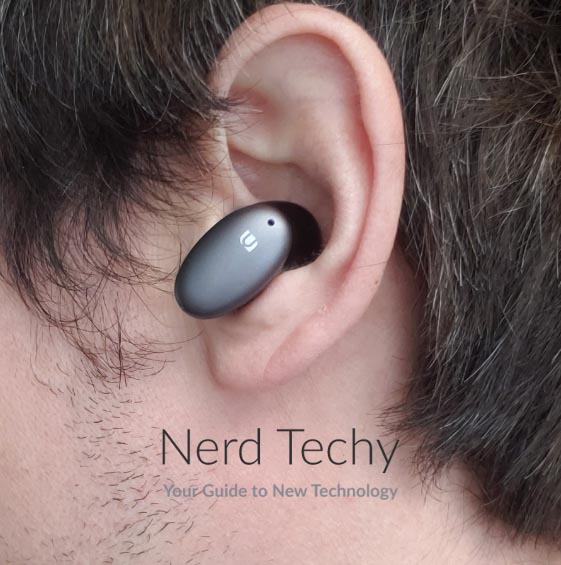 Swapping out the tips is simple. All you need to do is simply "pluck" the silicone tip with your fingernail and fold it over the tip. It'll pop right off, letting you test-fit all of the sizes to see which ones provide the most comfortable results. Simply put, you'll want to use the tips that create a firm seal in your ears without any hassle. If you need to press and pry them in, you should really consider a smaller set of tips. In contrary, if the buds seem to be loose and wiggle, move up a size. Either way, once you've decided on the proper eatips for your fit, you'll likely be please with the comfort.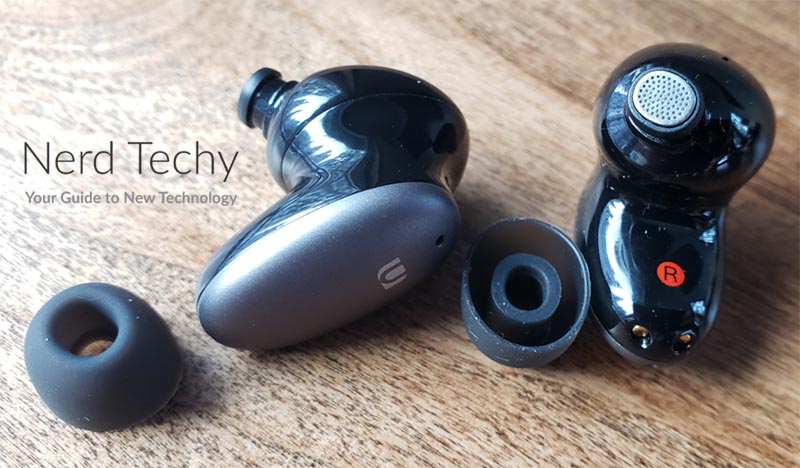 In our opinion, the UGREEN X6 earbuds have a wonderful fit. As long as you're wearing them correctly, we found that they provide ample comfort for even the longest listening sessions. Multiple times we have used the X6 earbuds for several two or three hour intervals. Each time, we had no complaints about the way they fit. In fact, we felt that these earbuds are better fitting than the majority of others we've used in the past. There's absolutely no wiggle-room with an excellent seal to keep out any background noise or distractions.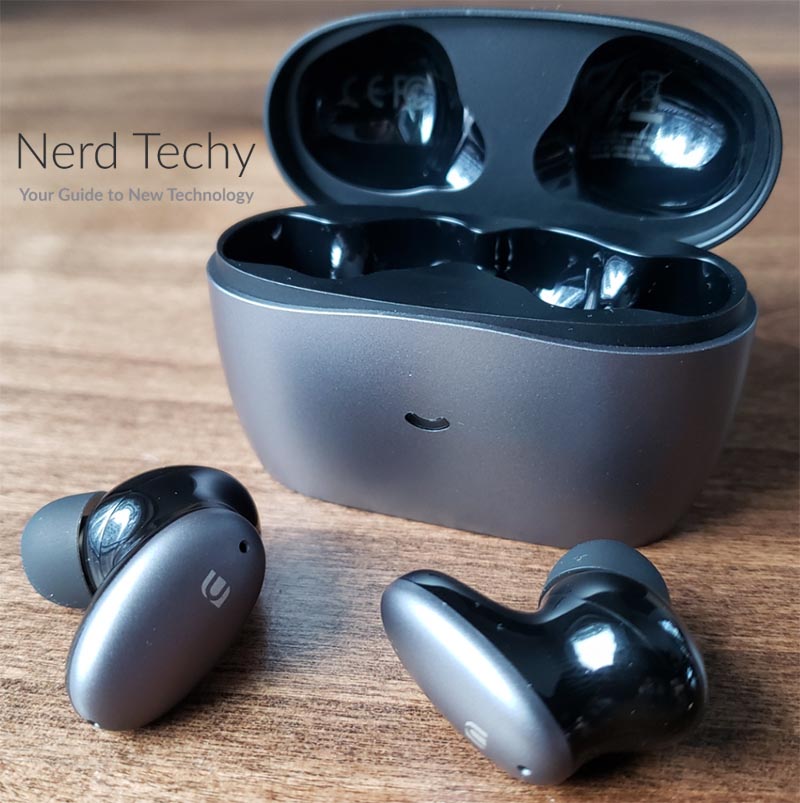 Sound Quality
The UGREEN X6 utilize the latest Bluetooth 5.1 protocol and RTL8773BFE chipset. What this means is that the sound is carried wirelessly with the most stable connection and transmission possible. What's more is that the X6 earbuds are equipped with ANC. Also known as Active Noise Cancellation, this is the most sought-after feature in the earbud industry, as it makes them capable of blocking out up to 90% of external background noise from the surrounding environment; no matter if you're indoors or outdoors.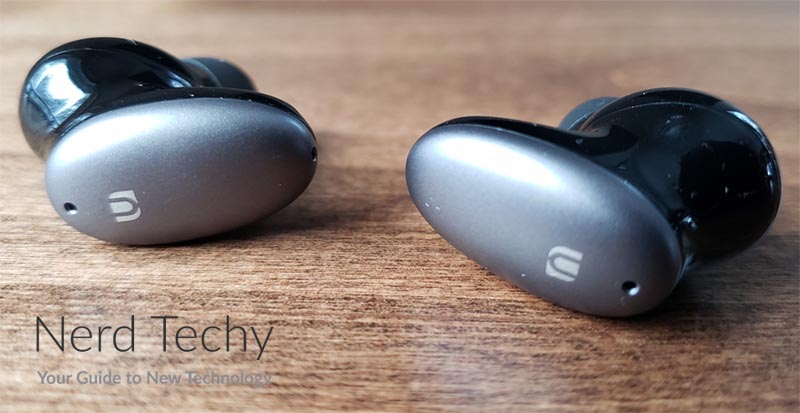 ANC is actually set in its own mode, activated by touching the outside shell of the earbuds with a single long-press with your finger. Once activated, we immediately noticed a difference in the sound clarity. The soundstage is fully isolated and background noises are automatically cancelled out. It's a very enticing feature that makes the audio much more vivid and realistic. We highly recommend keeping it activated the majority of time so you achieve the best possible audio quality.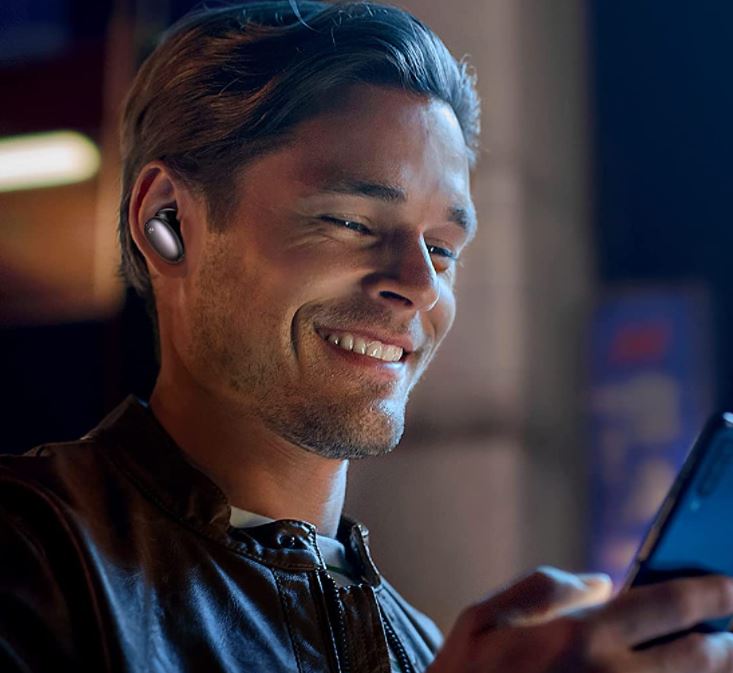 Inside each of the UGREEN X6 earbuds is a 10mm DLC diaphragm dynamic driver. It's comprised of a carbon material, rather than all-metal. Because of this, it's much more lightweight, giving the diaphragm better movement and improved stiffness for improved sound quality. Most notably, the bass seems to be incredibly powerful for a set of earbuds. We experienced deep, tight yet thumping low tones without any distortion or lag. Deep notes seemed to resonate well without reaching a level that becomes problematic. That said, the bass was never too-overwhelming as to drown-out vocals or notes that are in the high or mid range.
In fact, we also found a very crisp, lightweight treble that seemed to perfectly detail precise notes. Vocals carried-through vividly and were never underwhelming, even with the volume cranked up to the maximum level. Detailed and vivid are the two words we would give the sound quality. Anything we decided to listen to was a pleasure. Simply put, the audio quality that the X6 earbuds were capable of producing was fantastic. Quite possibly the best audio quality than any other earbuds we've seen at this price-point.
Last but not least, we wanted to mention the inclusion of low latency. In this mode, you're assured a 50ms extreme low latency so there is absolutely no lag in the wireless transmission. Ideal for gamers or movie-watching, it keeps the audio in-sync with the video. It may not be useful for all users, but gamers and movie-goers will likely love that fact that UGREEN included this feature.
Call Quality
Although we find ourselves rarely making calls with earbuds, we knew we needed to test the call quality. The X6 earbuds are equipped with a specialized technology known as RCV 4.0. Also known as "Real Clear Voice" this is a relatively new kind of technology that utilizes the six integrated microphones for improved call quality. It works by listening through a feedback microphone to detect noise in your ear and cancel it out on a digital level. Next, it will use the feedforward microphone to pick up and cancel-out any environmental noises as well. This, in conjunction with the call microphone smartly listens to the audio and delivers the ideal soundstage for perfect call quality.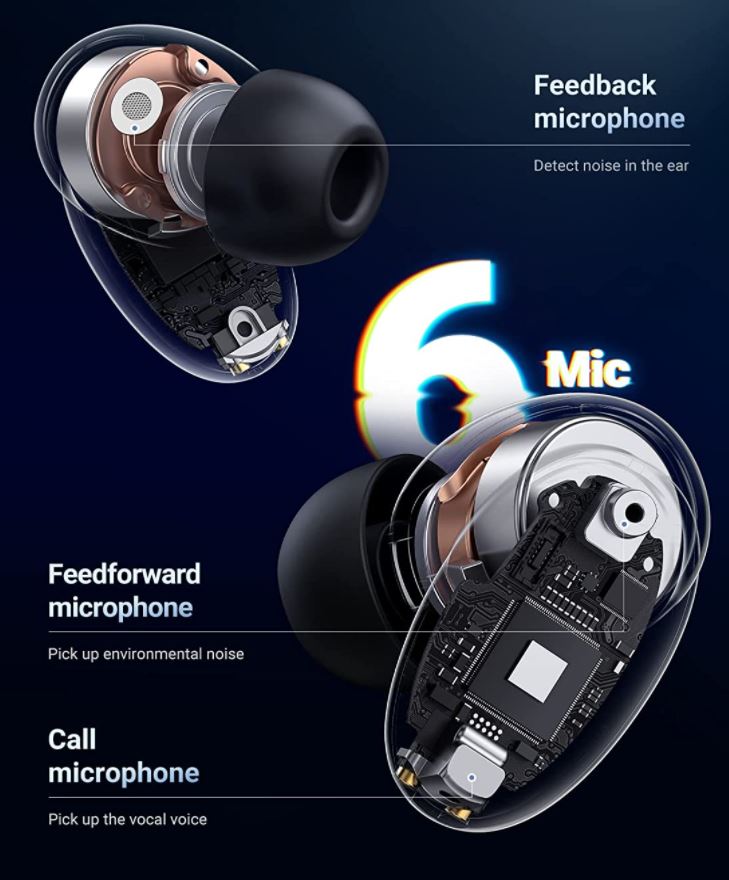 In reality, phone calls are easy to participate in. There's no need to quickly un-pair and use your smartphone when you're receiving an incoming call. In fact, we found that making or receiving phone calls with the X6 earbuds provided improved sound quality over using just our phone in a traditional manner. So far, we have tested four different phone calls and found that each one was high quality without any distractive noises interrupting the dialogue.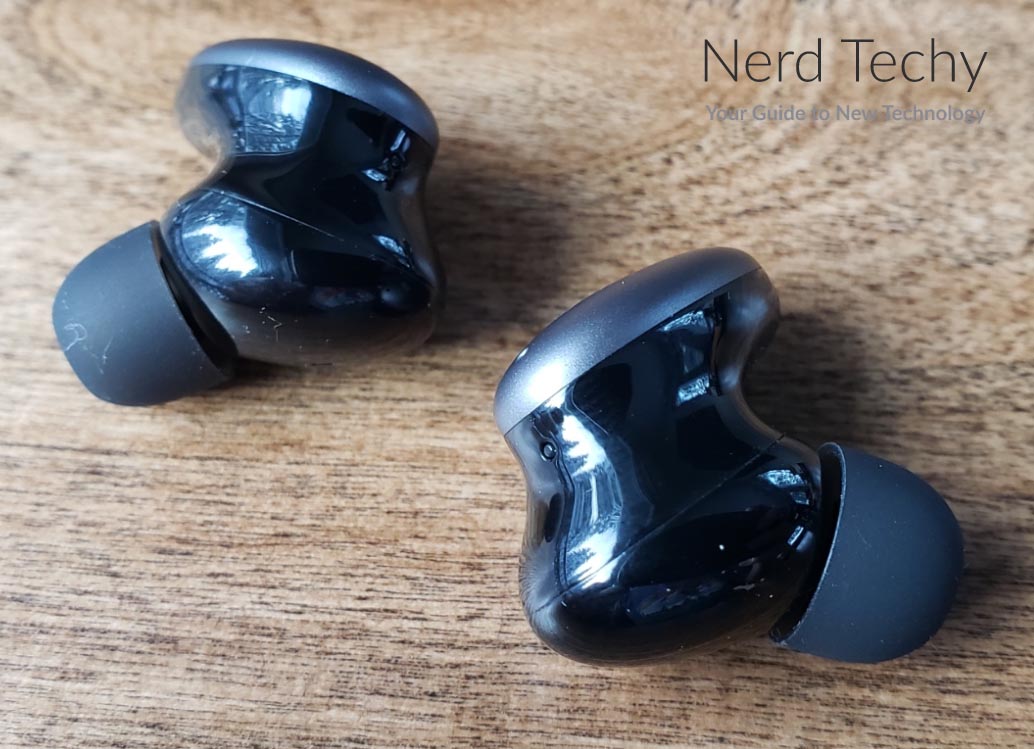 Charging & Battery
As earlier stated, the UGREEN HiTune X6 come included with a small charging case. It's built with an attractive, two-tone silver and black appearance. However, the black is matte, unlike the glossy appearance of the earbuds. The case doubles as a protective way to store them while not in use, but also keeps them charged-up and ready to use at a moments notice. The clamshell-design of the case is nice, since it opens easily but magnetically clasps shut when closed. The back of the case is a USB-C charging input with a small, circular pairing button nearby. The earbuds pop out of the case with ease and perfectly rest inside thanks to the contoured design.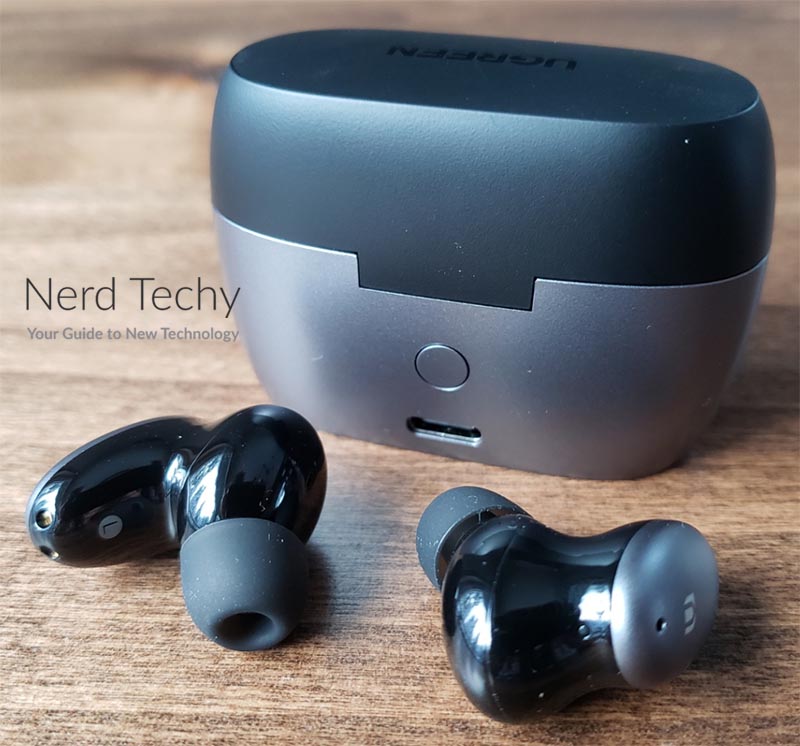 Speaking of battery life, the X6 earbuds are said to last around six hours in normal mode and 5.5 hours in ANC mode. We were pleased to find these estimates to be completely accurate. In fact, in every instance where we encountered a low-battery warning, it was always around the advertised time, give or take 15-minutes here or there.
Best of all, the re-charge times are downright impressive. To give you an idea of how fast they charge once depleted, ten minutes of charging equates to about one full hour of listening. That said, you're able to fully charge a dead pair of X6 earbuds in about 1.5 hours to their maximum battery capacity. What's more, the charging case has enough "juice" to offer approximately 26 hours of battery-life before you'll need to plug-in the USB-C charging cable.
We love the inclusion of the charging case a it offers a simple yet effective way to top-off the batteries while keeping the earbuds protected. We're very pleased to know that UGREEN didn't overstate the battery life estimates and accurately portrayed them without giving consumers any false hope with overstating their capabilities.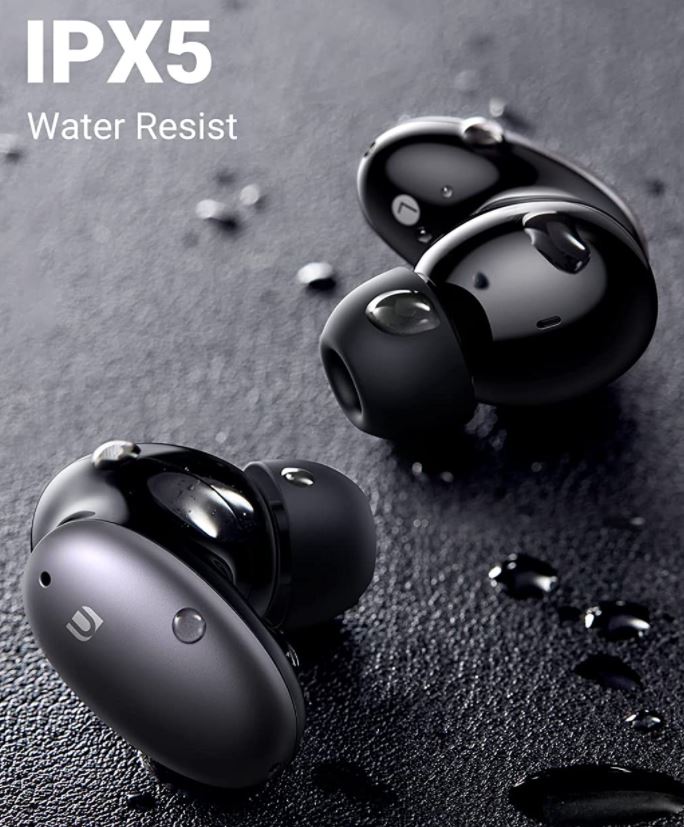 Durability
Feeling the X6 earbuds in your hands, you'll notice that they're tightly sealed. The reason for this is to keep out any moisture such as sweat or water droplets. In fact, they're given an IPX5 water resistance rating, meaning that they've been rigorously tested to resist low-pressure water jets from any direction. What this means for users is that you'll never need to worry about them in outdoor conditions. Rain, snow, sleet or puddle splashes cannot do any harm to them. However, you'll likely want to take extra care to make sure they are not submersed in water at any depth. That said, swimming is out of the picture but when running in a rain storm, they'll hold up just fine.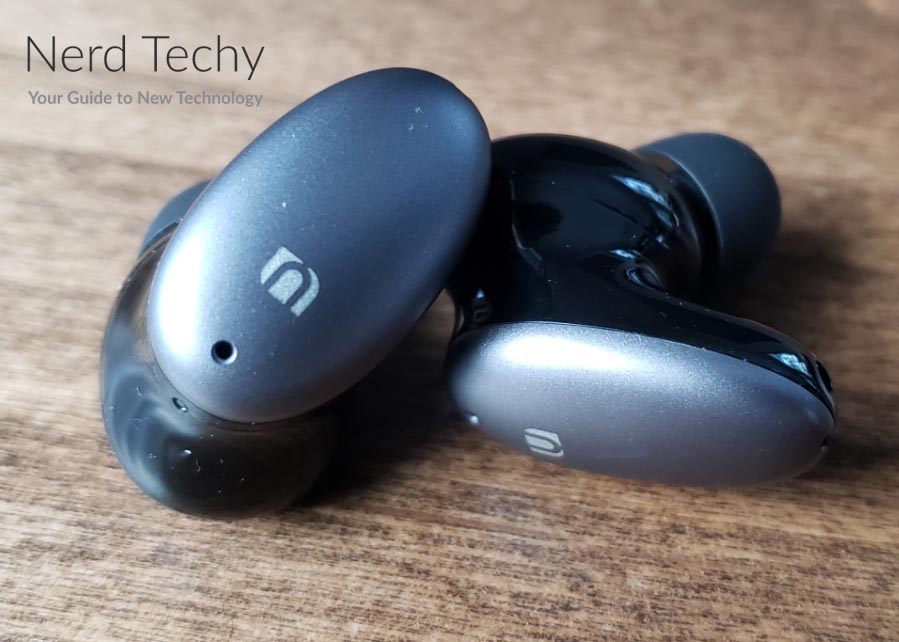 Final Thoughts
The UGREEN HiTune X6 are a high quality set of wireless earbuds that seem to tick every box. They're compact, comfortable, fully wireless and packed with some of the most enticing features we've seen at this price-point. Equipped with ANC and large 10mm carbon drivers, sound quality is superb with a stable, advanced wireless connection. Whether you're listening to music, watching a movie, or making a phone call, they seem to provide perfect quality without any compromise.
That being said, the battery life is also superb and never over-stated. These are quick-charging, highly efficient earbuds that, in our opinion, are priced very well. We would expect them to retail for closer to $100. Since they come in at a price-point of around $60, it goes without saying; UGREEN has outdone themselves with the HiTune X6.
The only small complaint we have is the use of glossy black on the earbuds. We would have loved to see a matte-black appearance such as the charging case, since the glossiness seems to attract fingerprints and oils from your skin. It would have also been nice to see them come in a few different color-choices. Nonetheless, the simple, sleek appearance is appreciated. Without the inclusion of buttons, touch-controls work well and do everything you could want. Needless to say, we here at NerdTechy love the HiTune X6 and all that they have to offer. A real home-run for UGREEN.