Depending on how you look at it, nowadays is either a good time or a terrible time to buy earbuds. On the plus side, you've got a huge number of choices. Ever since Apple's AirPods proved that Bluetooth buds could be successful, there's been a rush to manufacture more. This makes sense. If you make any other type of wireless or audio technology, they're going to be simple by comparison. Even if your buds aren't a huge hit, you're bound to make a few dollars. And if they do turn into the next popular item, you'll practically be printing money. All of this translates into plenty of choices – and low prices – for customers.
That said, having this many options isn't all it's cracked up to be. At a certain point, the thousands of choices all start blending together. Not only that, but having so many choices leads to a fear of missing out. Sure, you might be 99 percent happy with one set of buds. But what if the next one you look at is literally perfect? We have good news and bad news. The bad news is that we can't review every set of earbuds on the planet. That would be a superhuman feat. The good news is that we can review a lot of them, and we've got a promising choice for you today.
We're about to review the UGREEN HiTune X5 True Wireless Earbuds. These are compact, in-ear buds with a quirky oval profile and exceptionally low latency. The gaming mode is particularly impressive, reducing latency to just about zero. But how good is the audio, and how comfortable are they to wear? To find out, we needed to get our hands on a pair, and find out for ourselves. The X5 buds are a pending release, and will be available to the general public on July 6th. But we got an early look, and now we're going to tell you everything we learned. Let's get started!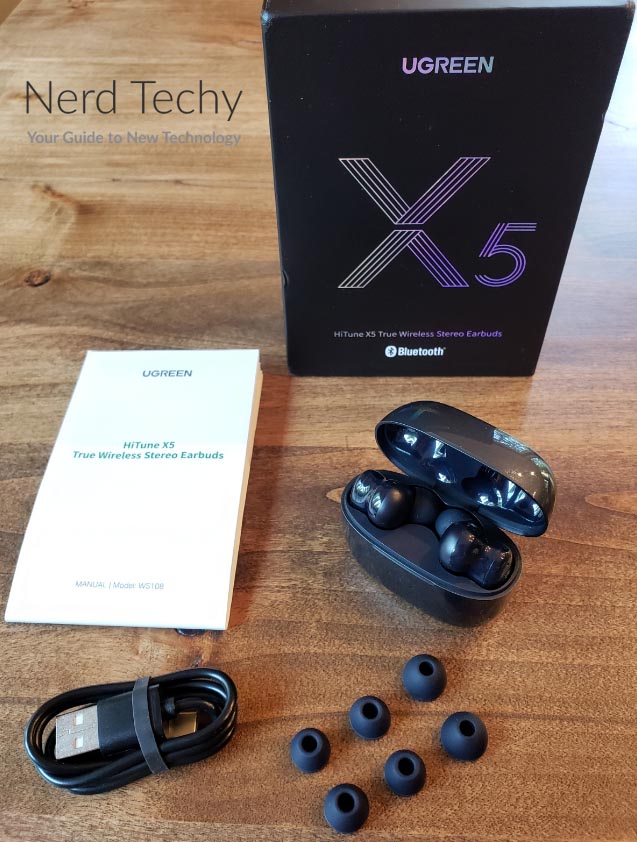 Overall Design
The most noticeable feature of the UGREEN HiTune X5 earbuds is their basic design. Most modern wireless buds fall into two categories: shell-style in-ear buds, and AirPod-style hanging buds. The X5 is a bit of a hybrid between the two. On the one hand, the bulk of the bud sits in your ear. On the other hand, there's a large oval plate on the outside, which forms a convenient touch control surface. These controls can be used to perform a variety of functions, such as advancing and reversing tracks. You can also answer or end calls, or even summon your phone's voice assistant for more advanced commands.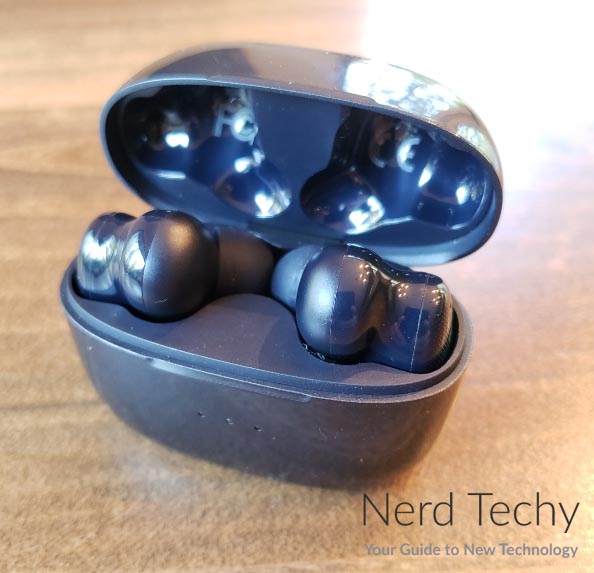 The plastic shells are a glossy black on the outer surfaces and matte on the inner shell. This provides a good balance of dust-resistance and fingerprint-resistance. The bottom-heavy fit is relatively secure, and doesn't come out easily by mistake. That said, a good fit requires the right set of silicone ear tips. UGREEN includes four pairs in the package, so just about anyone can find a secure fit. If the original pair is too tight or too loose, swap in a larger or smaller one respectively. Ideally, the right pair will feel snug and secure, without being so tight as to cause any kind of discomfort.
If you're looking for a similar set of functions in a slightly different design, consider the UGREEN HiTune T1. They're a bit more affordable than the X5 buds, and they have an elongated shape. They also have shorter-lasting battery life, and they're not water-resistant.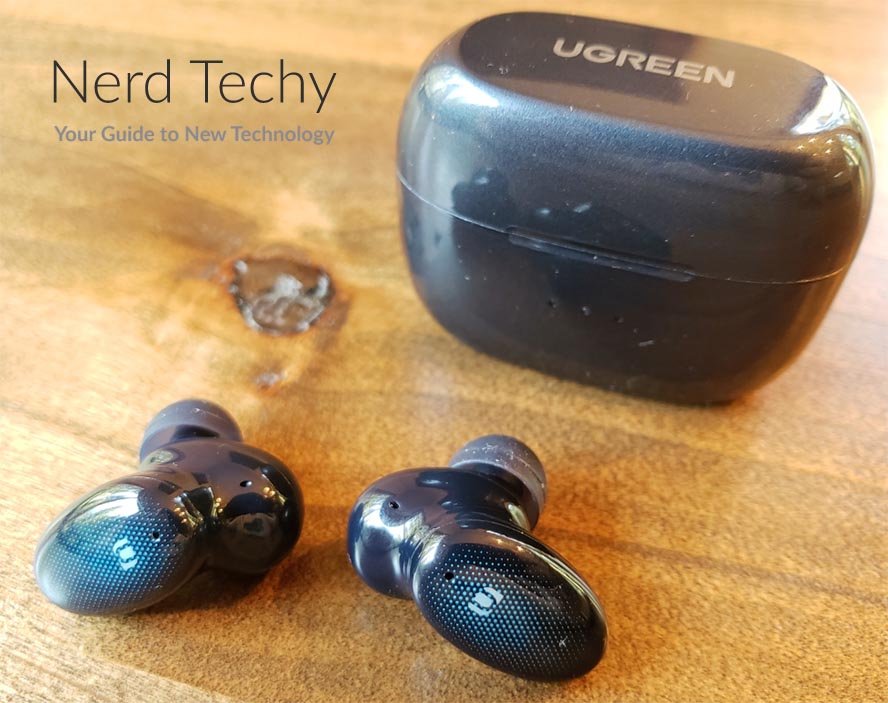 The X5 earbuds are IPX5-rated for water-resistance, which means they're resistant to heavy splashing. They're not quite shower-worthy, but you don't have to worry about getting them drenched with sweat. Similarly, you won't have to put them away if you're jogging in the rain. All in all, they're about as water-resistant as you'd expect from a pair of workout earbuds.
Like most wireless buds, the X5 come with a case that doubles as a portable charger. It's roughly rectangular in shape, with a vertical profile and rounded corners that won't poke you. This makes it easy and painless to carry in your pocket. The earbuds drop inside to charge, and fit in a pair of molded wells that are shaped for each bud. You don't have to worry about getting the left and the right mixed up and failing to charge. The top opens on a rear hinge, and snaps shut securely when you need it closed. It won't pop open in your pocket without something going seriously wrong.
The front of the case sports a row of three LEDs, which let you know the current case battery status. When you're down to one light, you know it's time to plug in. Charging is achieved via a USB Type-C cable, which plugs into the bottom of the case. The cable is included in the kit, although you'll need to provide your own AC adapter.
Battery & Connectivity
Each of the HiTune X5 earbuds has enough charge for seven hours of playtime, per manufacturer specs. As with most manufacturer battery ratings, this number assumes you're listening at half volume. At full volume, you'll find that 5 ½ hours is more realistic. This is about average for modern earbuds, so we were neither thrilled nor disappointed. The charging case has enough power to recharge both earbuds a total of three times. This gives you a total playback time of around 28 hours, or at least 22 hours at full volume. Again, that's more or less standard for today's market, and plenty to get you through a weekend trip.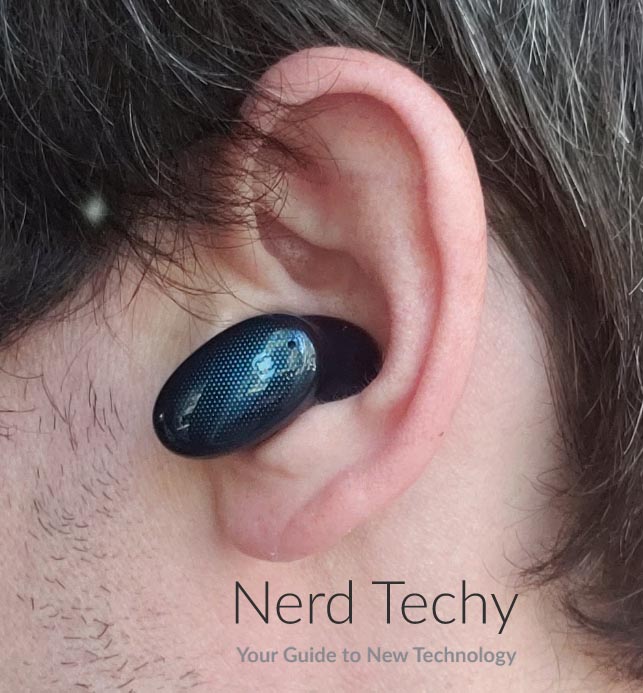 Charging the earbuds themselves takes about 90 minutes, assuming dead batteries. Realistically, you'll probably never have to wait that long. Since you'll be keeping your buds in the case when they're not in use, they should constantly get topped off. Charging the case takes a bit longer, around two hours from a dead battery. That's way faster than an overnight charge, so you can top up anytime you're near an outlet.
The X5 buds connect via the Bluetooth 5.2 protocol. This is the most advanced version of Bluetooth yet, and provides all the benefits of Bluetooth 5.0, with some extras. You get the high bandwidth of Bluetooth 5.0, as well as a stable signal that almost never disconnects randomly. But Bluetooth 5.2 offers even lower latency. On compatible devices, each earbud will receive its own separate signal. This is faster than earlier Bluetooth versions, where both channels passed through a single, primary earbud.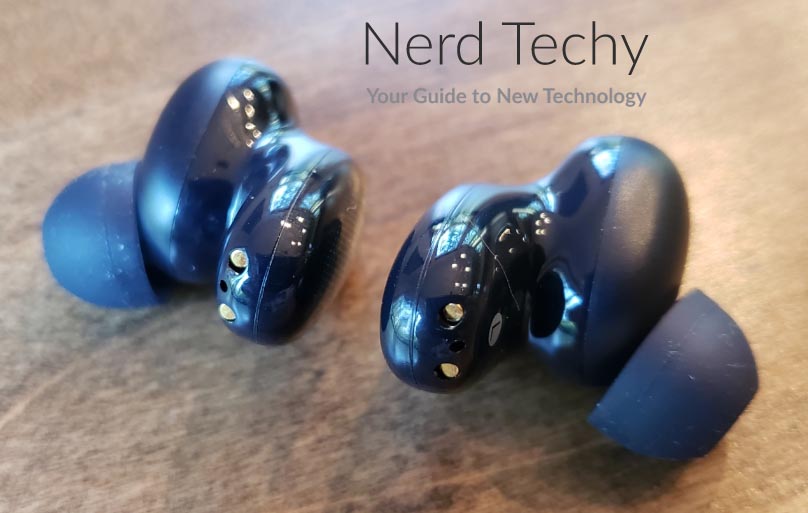 There's also an optional gaming mode which fine-tunes the signal to minimize latency. To be honest, we're not really sure what this does. Bluetooth 5.2 is already very low-latency, ideal for gaming and watching movies. That said, it's possible that the gaming mode lowers latency on older devices with older Bluetooth hardware. Either way, modern mobile gamers will love the audio. In addition, you can switch between stereo and mono mode. Stereo is obviously what you'll want for listening to music or gaming. But mono mode lets you maintain situational awareness while you're making a phone call. It also extends your battery life, since you're only draining one side at a time.
This isn't the only set of UGREEN earbuds to support mono and stereo. We've also reviewed the UGREEN HiTune WS100, an affordable pair of buds that can work both ways. However, it has smaller drivers than the X5, and doesn't offer the same low latency.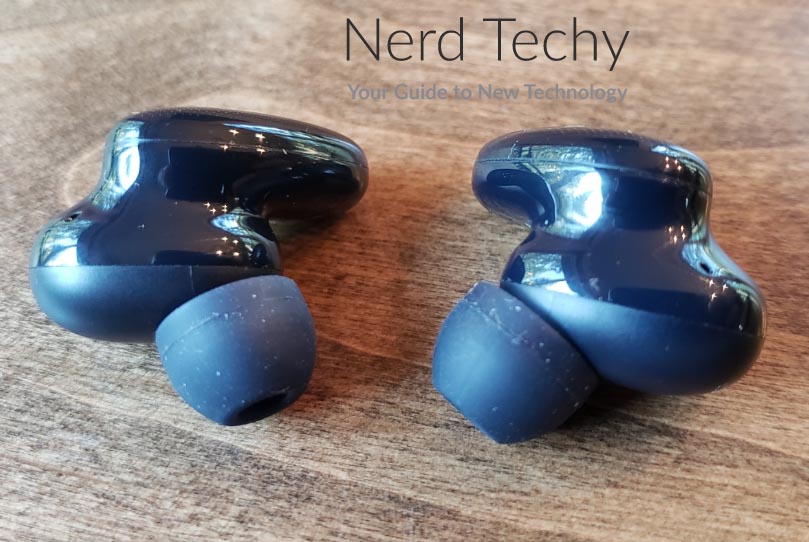 Audio Quality
The heart and soul of the X5 earbuds is their 10mm dynamic drivers. These are around 50 percent wider than your average earbud drivers, or about double the surface area. As a result, they're capable of moving a lot of air, and producing richer detail at lower frequencies. The big bass is a major part of the X5's appeal, and the entire design is geared towards low-end punch. If you want a driving beat for your workout, you'll love the EQ. That said, if you favor a more balanced EQ, you might find that the bass is a bit too heavy.
Regardless, there's plenty of separation between different instruments and parts. The wide soundstage ensures that vocals and other mid-frequencies don't get drowned out or muddied. That's really what sets the X5 apart from a lot of "bass boost" buds on today's market. You can enjoy the powerful bass without it interfering with the rest of your music.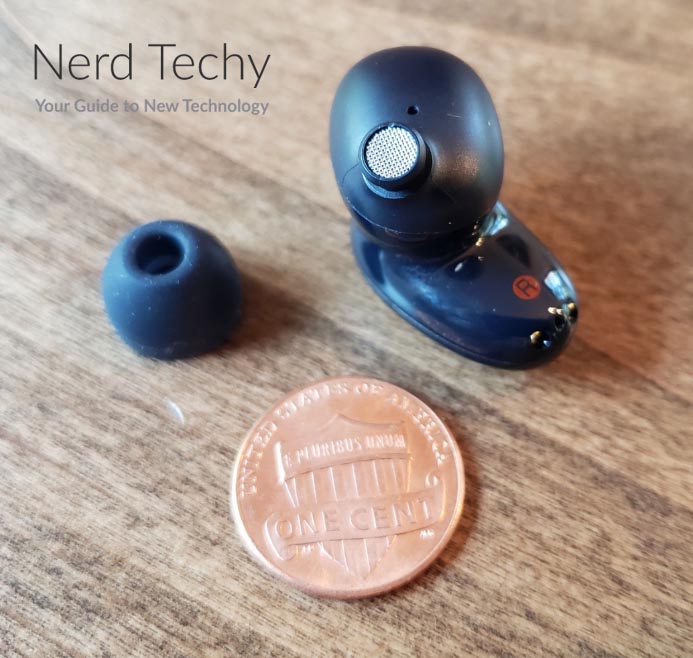 If you prefer a more balanced EQ, the UGREEN HiTune T2 might be a better choice for you. It offers similar richness to the X5, but with a less pronounced bass. On the downside, the batteries don't last as long, and there's no water-resistance rating.
The X5 utilizes the AptX Low Latency protocol, which provides exactly what it sounds like – less latency. This, combined with the Bluetooth 5.2 connection, makes the X5 one of the best sets of gaming earbuds around. Incidentally, the same features are a huge plus when you're watching videos.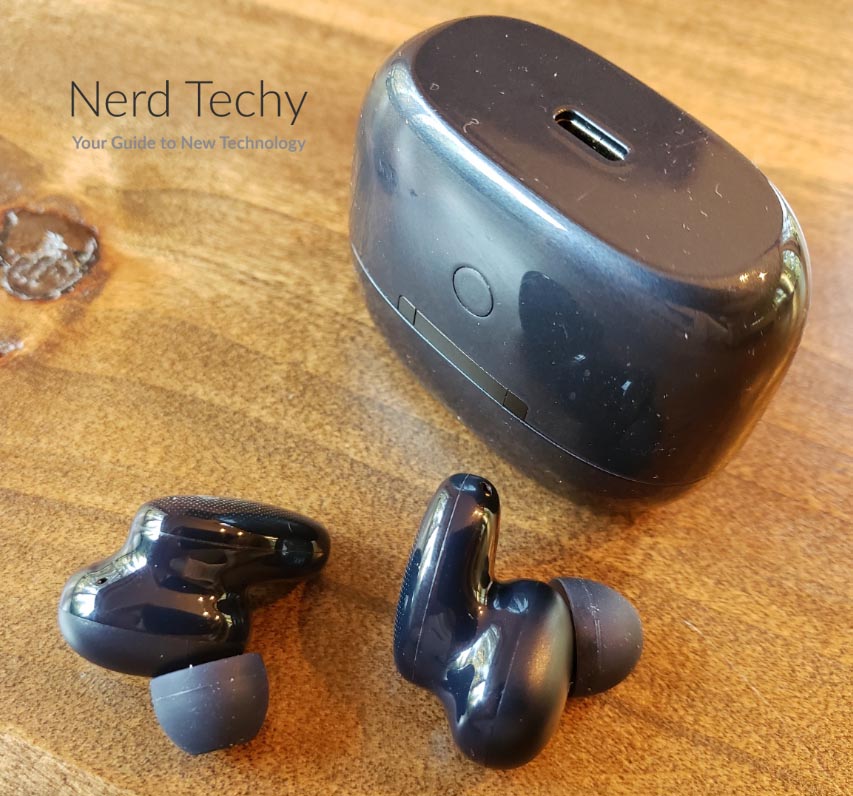 For hands-free calling, you can take advantage of four external microphones, two on each earbud. These mics communicate with internal Qualcomm chips using the CVC 8.0 protocol. This technology focuses on your voice and reduces background noise by as much as 91 percent. Keep in mind that this only works for phone calls – it doesn't affect the quality of your music. It also works much better with two earbuds than in mono mode.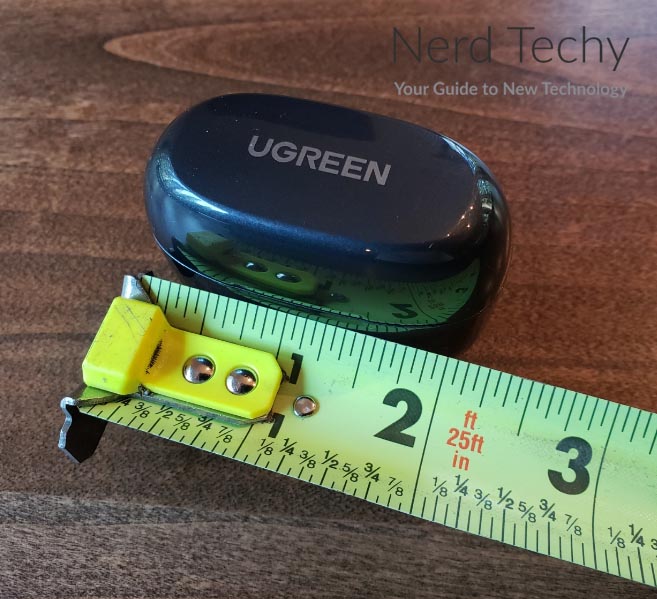 Final Verdict
The UGREEN HiTune X5 True Wireless Earbuds are some of the most exciting new earbuds of 2021. We like pretty much everything about them, from the quirky design to the ultra-low latency. The fit is surprisingly comfortable, and the touch controls are easy to use. The battery life is reasonably long, and charging is easy. Fans of rich bass will find plenty to enjoy, as will anyone who wants reliable gaming buds. All in all, we're excited for them to come out!