Sensibo Pure
Pros
Full array of smart controls, including geolocation.
Removes very small particles and odors.
Never gets loud while you're at home.
Compatible with Alexa, Siri, and Apple HomeKit.
Cons
Relatively small coverage area.
Pricey replacement filters.
When most people think of pollution, outdoor air comes to mind. After all, that's where pollution happens. But for many reasons, it makes more sense to worry about the quality of your indoor air. For one thing, if you're like most people, you spend around eight hours in bed. Combined with other home time, you spend at least half of your life inside your house.
But there's another reason indoor air can become hazardous. Outdoor air gets cleaned out periodically, especially by heavy rain and lightning. Most particulate matter is eventually washed to the ground, so you're not breathing it in anymore. Indoor air doesn't get cleaned, at least not by Mother Nature. And unlike most things about our homes, this has actually gotten worse over time.
In the old days, houses were drafty, and insulation was just a dream. You can even read about people storing liquids near the fireplace to keep them from freezing on cold days. Nowadays, we pride ourselves on energy efficiency. You'll rarely see a new home without proper home wrap, oodles of insulation, and sealed doors and windows. This has made it vastly easier and cheaper to control our homes' temperature. It's a major benefit for the environment. Unfortunately, our sealed homes don't allow for much air exchange. When particulate matter collects in the air, it builds up. This can be problematic for people with asthma, or who are allergic to mold, pollen, and other contaminants.
We're about to review the Sensibo Pure. This is a home air purifier that's designed to remove particulates as well as odors and germs. It's also a smart device, with app controls and integration with several online features. Sounds pretty cool, but how well does it actually perform in practice. To find out, we had to take a closer look. Now, we'll tell you everything we've learned about the Pure. We'll talk about the physical design, and how it's set up and used. We'll also look at the filter system, the performance, and any extra features we encounter. At that point, we'll be ready to render our final verdict. Let's begin!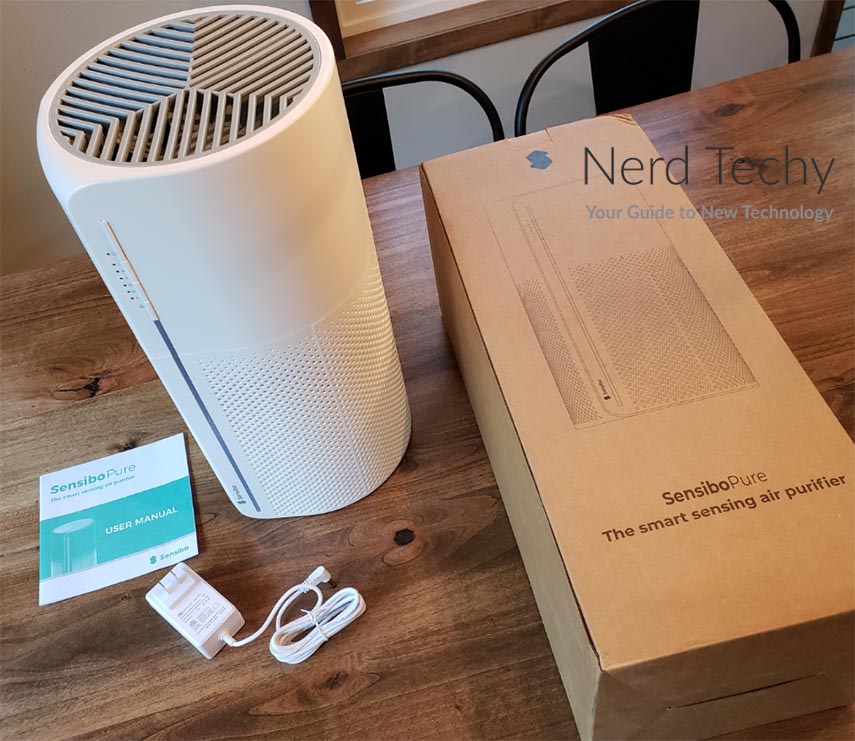 Overall Design
The Sensibo Pure is a cylindrical air purifier that's relatively compact. It measures only 7.68 inches in diameter, and 15.28 inches in height. The housing is constructed from white plastic, with an easy-to-clean matte finish. It has a two-part design. There's a small seam about two thirds of the way up, where the sides join together. Below the seam, you'll see the intake grille, which consists of a grid of circular holes. The grill has a 360-degree design, so it takes in air from all sides. Keep in mind that the filter works better when it's unobstructed. Because of the way the vents are designed, this means leaving it clear for at least several inches on all sides. Clean air is expelled through a grey vent on the top of the housing. The vent is slotted in three different sections, which directs the air evenly around the room.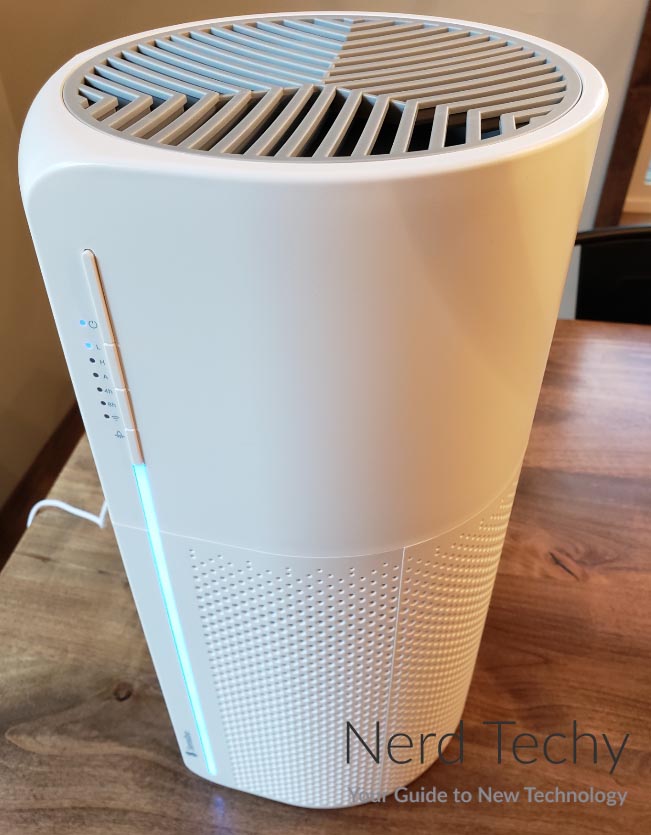 The controls on the Pure are a bit unique, because of the way they're positioned. On one edge of the housing, there's a triangular protrusion that runs from top to bottom. Near the top, on one side, there's a row of buttons, which can be used to perform basic functions. One turns the filter on and off. Another switches the fan between high and low power. A third can be used to put the filter into auto mode, where it will adjust fan speed based on air quality. If you're connected to the web, you can use Pure Boost to further automate the filter's function. We'll talk about that more in a second.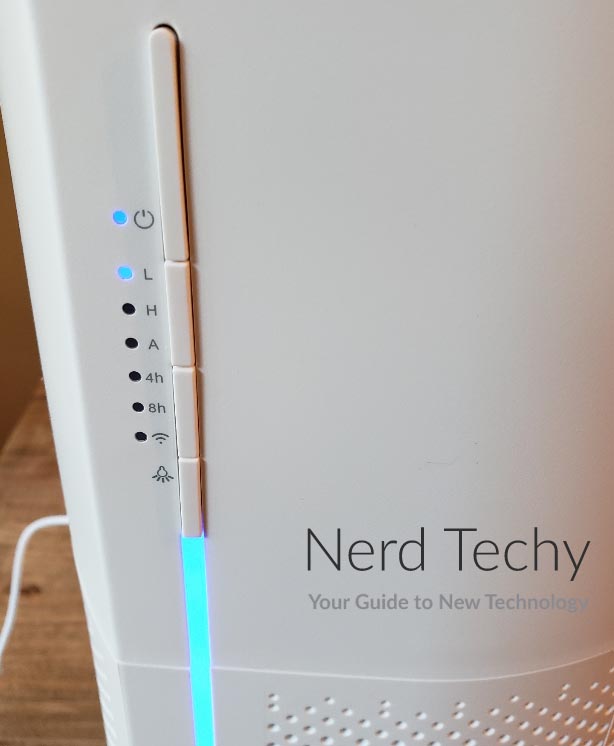 The last button serves as a reset for the filter warning light. This will illuminate automatically when the filter needs to be changed. When you reset the light, the filter sensor and timer will reset, and start fresh with your new filter. Other settings, such as the fan strength, are also visible in the row of blue indicator lights next to the buttons. Below the buttons, there's a bright blue LED light strip that runs the full length of the housing. This provides a nice accent on the edge of the protrusion, and gives the Pure's face an almost flat appearance.
The Pure can be ordered individually, or in a two-, three-, or four-pack for larger homes. It has a six foot power cord, so placement is not normally an issue in most rooms. Each unit also comes with a 12-month manufacturer's warranty. This protects you from any failures, should one occur.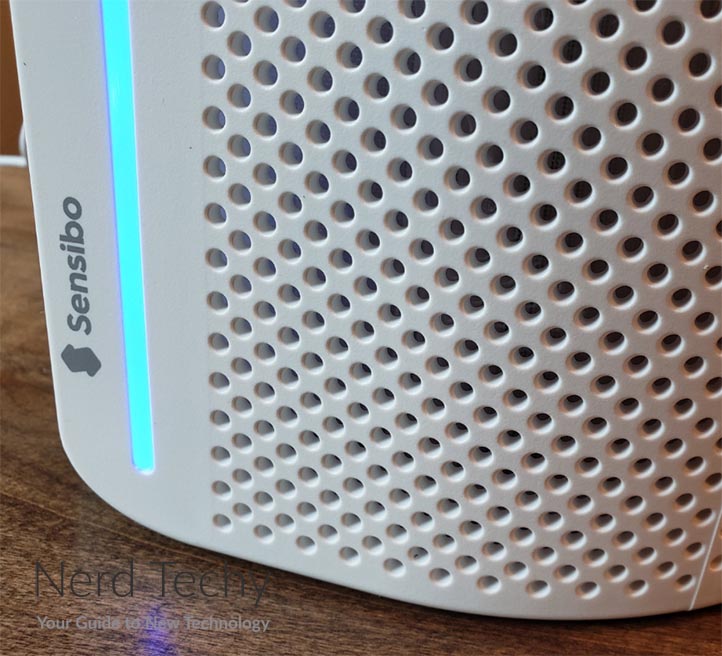 Everyday Operation
In addition to button controls, you can also operate the Sensibo Pure using the Sensibo app. This is actually the preferred option, since you'll be able to access extra features that aren't otherwise available. The Sensibo app is free, and installs easily on both Android and iOS devices. Once it's installed, it will need to be paired with your Pure. Follow the instructions for Bluetooth pairing, and you'll be prompted to enter your WiFi password. Once that's done, your air purifier will be connected to the web and paired with your smartphone. You can then optionally set up additional controls for Alexa, Google Assistant, or Apple HomeKit.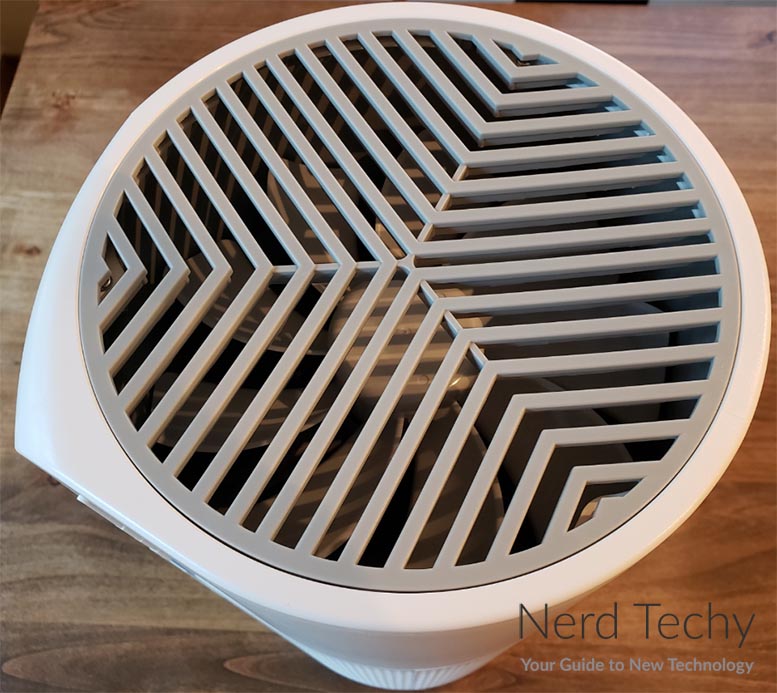 Within the app, you'll be able to do everything you can do from the physical controls. You'll also be able to monitor your home's air quality in real time, from anywhere in the world. The app also enables additional functions for the automatic filter mode. When your filter is online, it will automatically receive updates from street level pollution reports. From there, it will estimate outdoor pollution levels and adjust for extra contamination coming in from outside.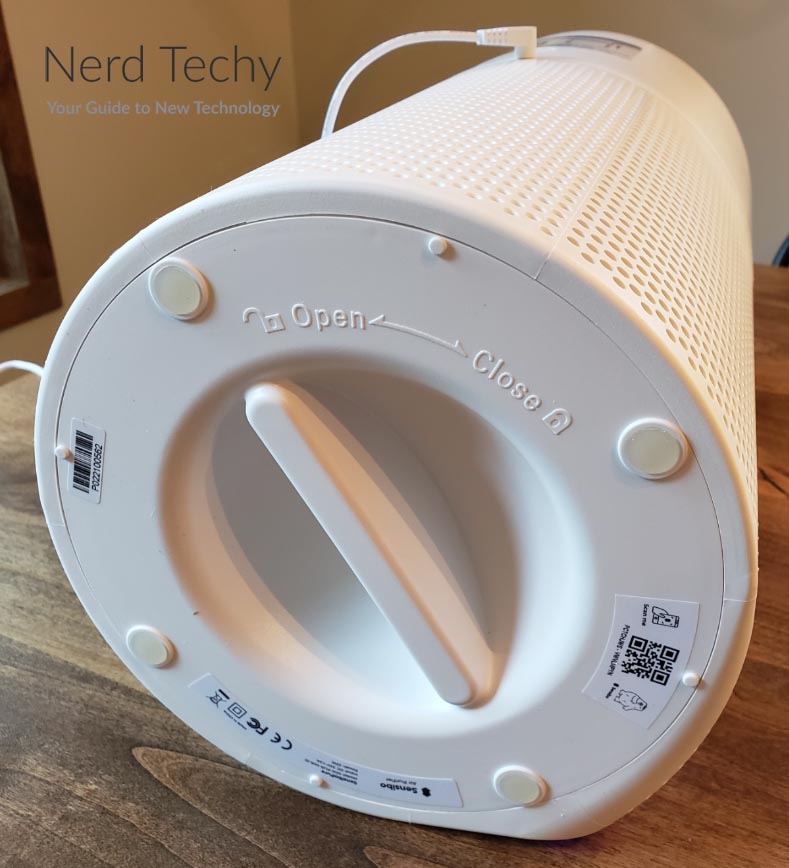 When you activate the Pure Boost function, you get to take advantage of geolocation. With Pure Boost active, the Sensibo Pure will actually know whether you're home or not. When you're home, it will keep the fan in low mode, which is little more than a quiet purr. When you're gone, the fan will speed up, which is louder, but cleans the air far more quickly. The Pure will also automatically integrate with your air conditioner if you're using a Sensibo AC Controller. When the air quality gets extremely low, it will engage your air conditioner's fan to help cycle air faster. This will improve circulation and the cleaning performance of the filter.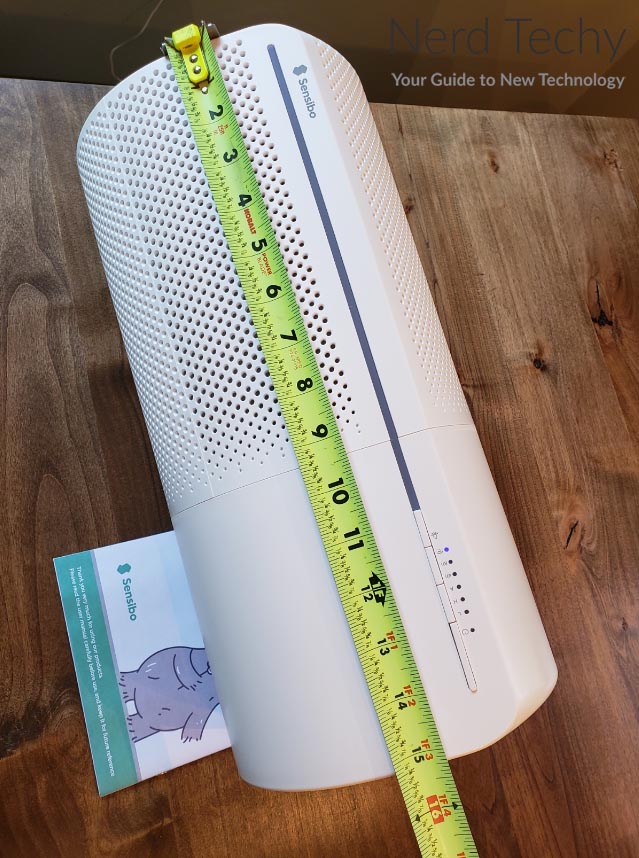 Each Pure air purifier is rated for 173 square feet of coverage. This goes up to 294 square feet apiece with Pure Boost active. This is not half bad, but the base number of 173 square feet is small for the size of the filter. On the plus side, with more than one filter, you can cover even an entire house. The app is even prepared for this, with the ability to name and separately control multiple purifiers. When you check in on them, they can be described as "Master Bedroom" or "Kitchen," for instance, for easy reference.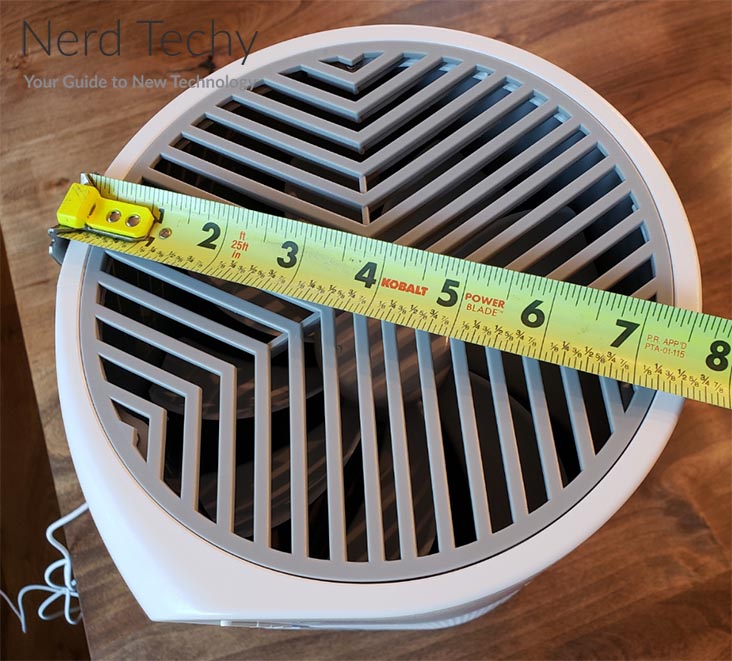 If you need to get maximum coverage from a single filter, consider the Zigma Aerio-300. It has a massive coverage area of 1,580 square feet, with a built-in UV sanitizer and ionizer. That said, ionizers have become controversial, so you may want to leave that function off.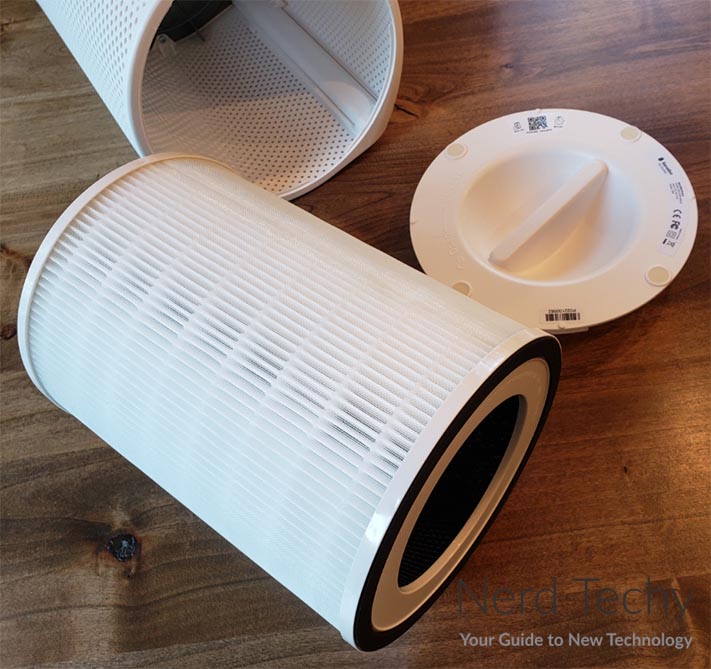 Filtration System
The Sensibo Pure filter consists of a single, one-piece unit with three built-in stages. This single-piece design has its benefits and its drawbacks. On the one hand, you don't have to cut a separate pre-filter or mess around with multiple parts. On the other hand, if one filter component gets saturated prematurely, the entire cylinder is shot. Replacement filters are pricey, but they're easy to pay for. You can either buy a pair straight-up, or subscribe and have them shipped semi-annually. They're also easy to replace. You just unscrew the bottom of the housing, pull out the old canister, and insert the new.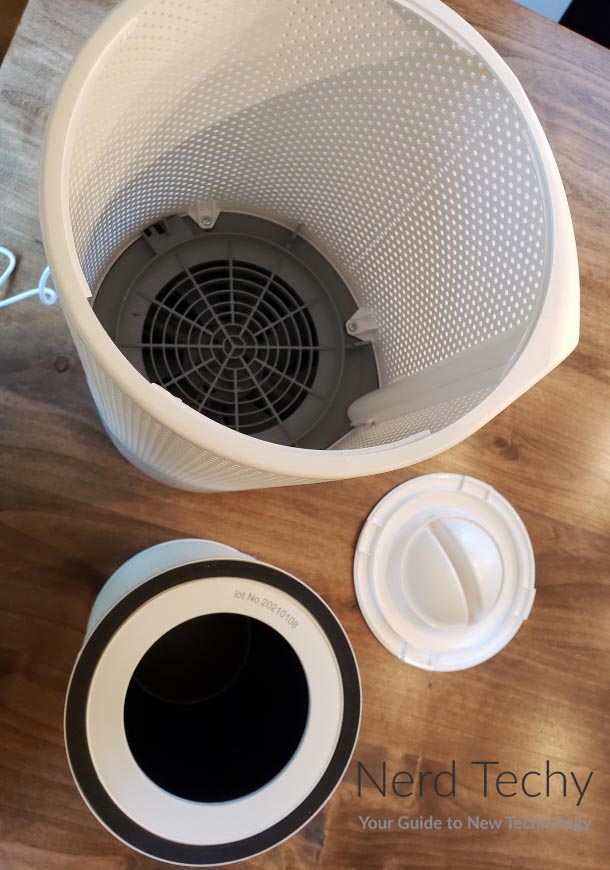 The three-layer canister consists of a pre-filter, a HEPA filter, and an activated carbon filter. The pre-filter is a tight mesh, which is meant to trap larger particles. This layer collects most dust, pet hair, and other similar contaminants. The primary purpose is to remove these materials early, before they have a chance to clog the inner filter.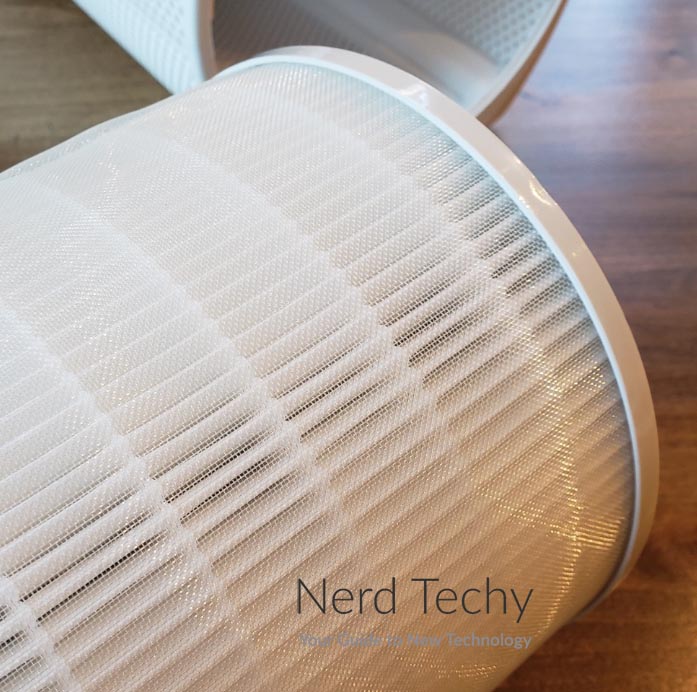 The second layer is the HEPA filter, and it's the workhorse of the bunch. This layer removes over 99.9% of all particles, all the way down to 0.1 micrometers in diameter. That's less than 1% of the diameter of a human hair, and it's fine enough to trap almost everything. Yes, it will capture pollen and mold spores. But it also removes smoke particles, and even many viruses and bacteria.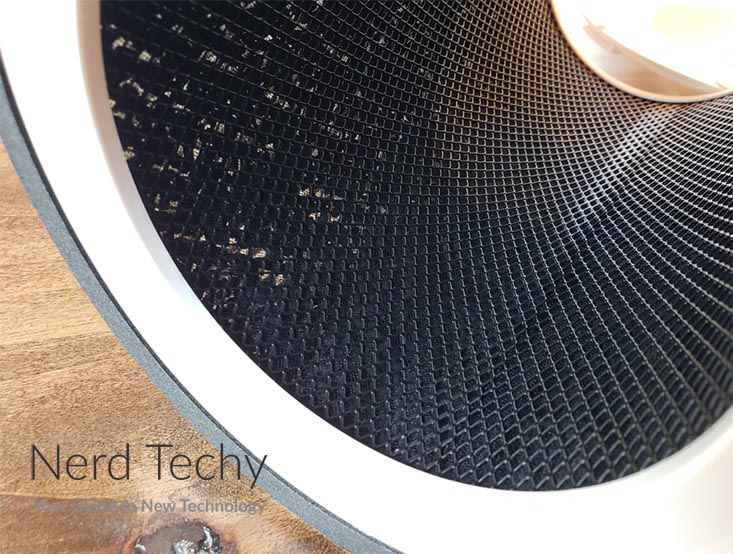 The inner layer is the activated carbon filter, and it's a bit different from the other two. This layer isn't meant to capture particles. Although it shouldn't need to worry about any, since particles have been captured by the HEPA filter. Instead, the carbon filter removes chemicals and odors from the air. It's highly effective against pet odors, cooking smells, and tobacco smoke. It also helps remove VOCs, like the formaldehyde that leaks from new upholstery.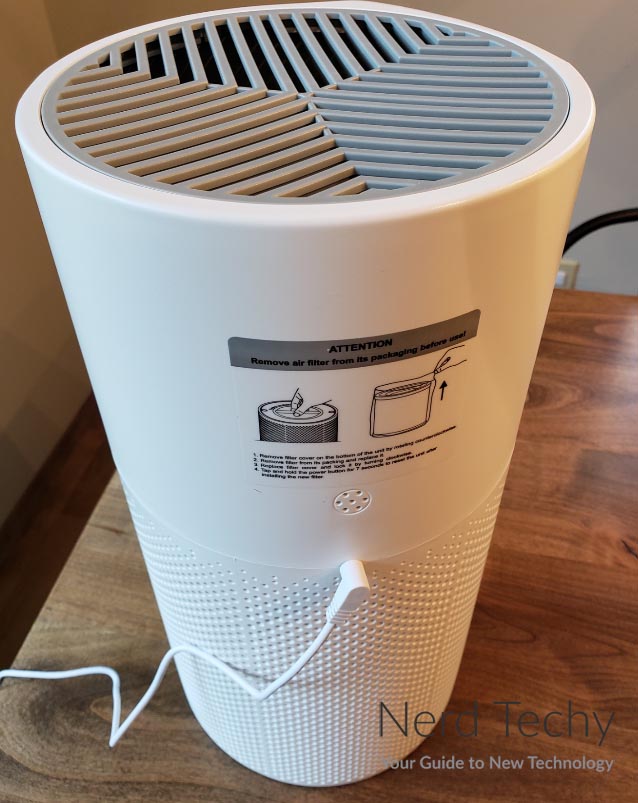 With all of that being said, maybe you want a more basic, old-school filter. In that case, consider the Afloia Air Purifier. It has no smart controls or online features, just simple manual controls and a very powerful fan and filter. It also sports a built-in UV sanitizer.
Final Verdict
The Sensibo Pure has more smart features than any other air purifier we've looked at. It not only measures the air quality in your home, but outside as well. It even keeps track of whether your home or not, so as to avoid making too much noise. And if you need to cover a wide area, you can sync as many of them as you like with your smartphone app. There's a lot to like here, and our complaints were fairly minor.