Novostella Blink
Brightness and clarity
9.5/10
Control and connectivity
9.0/10
Ease of installation
8.0/10
Pros
16 million colors and multiple white settings.
Rugged, weatherproof design.
Can set on timer, sync with music, and perform other smart functions.
Bluetooth mesh connection for almost limitless range.
Cons
Only works on the 2.4GHz wireless band.
Limited mounting options.
When most people think of a flood light, they think of a light that's big, burns hot, and draws a ton of power. If you grew up in the age of incandescent bulbs, you're probably used to flood lights drawing around 250 watts. That's a lot of power, so it's understandable why you wouldn't want to run one all night. But LED lighting hasn't just revolutionized the way we light our interiors. It's also affected outdoor lighting in a huge way. Nowadays, you can easily find flood lights that draw as little as 25 watts – with no sacrifice in brightness. This makes flood lights more practical than you may have realized.
Many people also think of flood lights only in terms of security. And to be fair, one of the main reasons people use flood lights is to deter would-be thieves. But security lighting is only one aspect of a flood light's function. A good light should also be attractive to look at. You should be able to bathe your lawn in a warm glow, instead of lighting it up like a prison yard. A good LED light will allow you to adjust the brightness, temperature, and color. That way, you can create the atmosphere of your choosing. The point being, if you haven't looked at a flood light in a while, now is a good time.
We're about to review the Novostella Blink Smart Flood Light. This is a compact flood light that can be adjusted to a variety of colors and brightnesses. It's reasonably rugged, and runs on an ordinary power outlet, so there's no splicing required. But this is a competitive market, and you've got more than a handful of options. Should you invest in the Novostella light, or should you look elsewhere for your illumination needs? To find out, we needed to get our hands on one of these lights, and see how it performs in real life. Here's what we learned about the Novostella light, including what it does well and what it could have done better.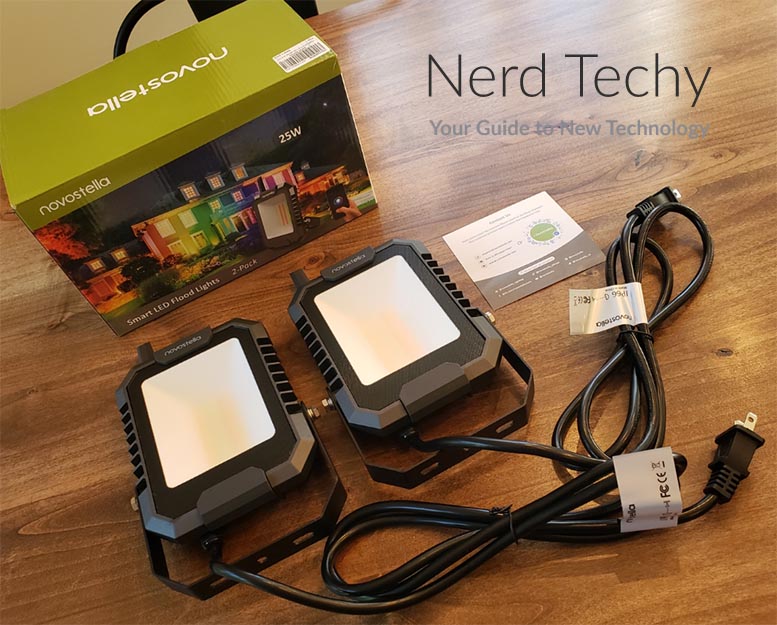 Design & Installation
The Novostella Blink Smart Flood Light is a roughly rectangular standalone light with a rugged black housing. It's constructed from lightweight graphene, with a black aluminum mounting bracket. Unfortunately, this bracket can only be attached by bolting it down or using a zip tie or strap. As a result, temporary installation can be a headache. On the other hand, permanent installation is rock solid. You'd have a hard time dislodging one of these lights by mistake once it's been installed. The fronts of the lights are also durable and well-engineered, with tempered glass that won't crack or shatter easily. These lights are available individually, or in a two- or four-pack.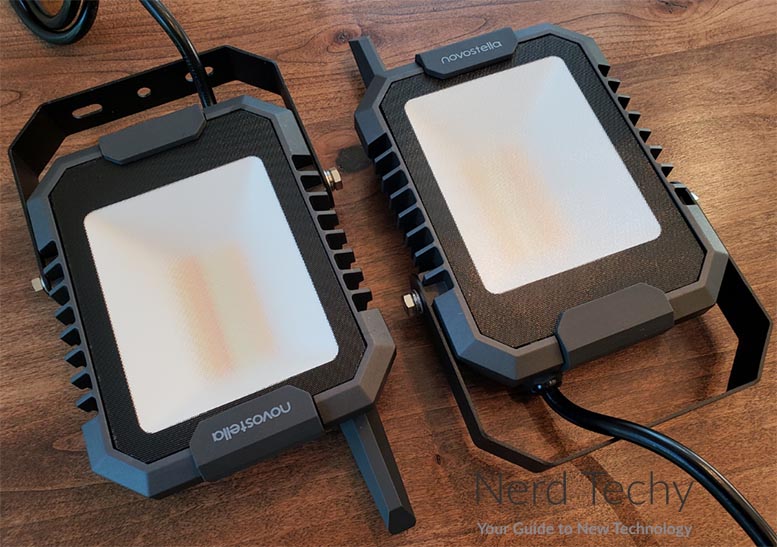 To say we were pleased with the Blink's durability would be an understatement. We were more than happy, and wouldn't hesitate to install one of these lights. That said, Novostella's 20W Smart LED Floodlights are even more durable. They have a rock solid aluminum housing, albeit with fewer color-changing options than the Blink.
There's one area where the two are equivalent, and that's water-resistance. The Blink has a water-resistance rating of IP66, which is just short of full submersion. It can withstand a sustained blast of high-pressure water, so even the worst storms won't cause any trouble. Incidentally, the IP66 rating also includes the highest possible degree of dust-resistance. Depending on where you live, this might be nearly as important as water-resistance. Suffice it to say that even very fine dust won't be able to infiltrate the Blink's housing.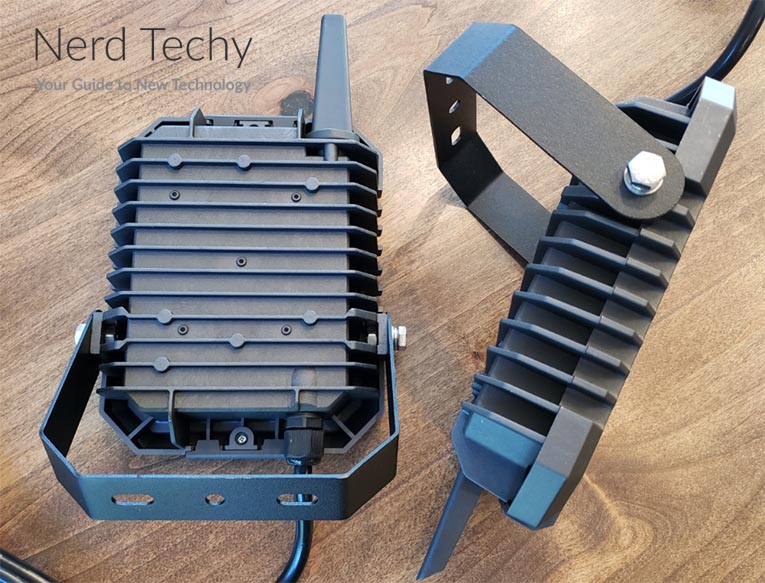 The light's durability isn't just limited to the housing, frame, and tempered glass. The LED element itself is rated for 50,000 hours, or more than five years of continuous use. Considering the fact that no-one runs their lights 24/7, you'll get a decade or more from these lights.
Finally, the cable is sturdy and well-designed. It's smooth and round, so there's little risk of kinking, and the insulation is thick and rubbery. At five feet long, we would have liked to see a bit more length. Depending on where you're installing your light, you're more likely than not to need an extension cord. On the other hand, it's a standard, three-prong plug. You don't need to hardwire this light into your power system as you would with many flood lights.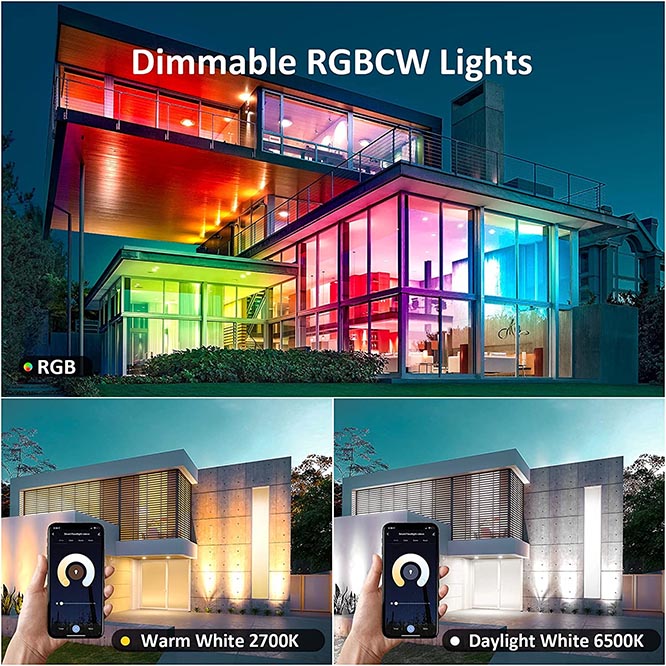 Connectivity & Control
The Novostella Blink is controlled entirely via an app, so you'll need an internet connection to get it set up. Each light has a built-in antenna, with a signal range as far as 85 feet. This should be long enough for most configurations. But let's say you need more range, and there are lights further from your house. What do you do then? There are a couple of options. The first is to simply connect the closer lights first. A single Blink light will create a Bluetooth mesh group with other lights within 80 feet. So as long as at least one light is close enough to your router to connect, the others will daisy-chain together.
The second option, if no lights are within 85 feet of your router, is to use a Novostella USB Mesh Hub. This hub will form a bridge between your lights and your router, extending your range. One thing we should point out is that both the lights and the hub will require a 2.4GHz WiFi connection. This is the longer-ranged of the two main WiFi bands, and is found on most modern routers. However, if you have a single-band 5GHz router, you won't be able to connect with these lights.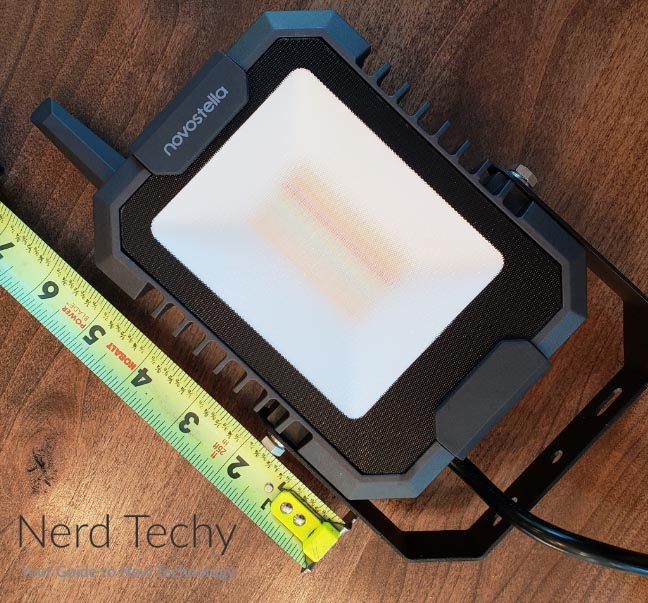 Once you've gotten everything in range, the next step is to install the Novostella Smart Home app. It's free on Android and iOS, and takes just a few minutes to set up and install. At that point, you'll be prompted to pair with your light via Bluetooth. With the light connected, you'll select your WiFi network, enter your password, and the light will connect to your router. From then on out, you'll be able to access your Blink controls directly through the app, from anywhere in the world. Lights can be controlled individually, or clustered into a control group. Let's say you have four lights, and you want them to change colors in an alternating pattern. You could set the first and third lights to one group and the second and fourth lights to another group.
If you don't want to use the app, you can also perform most functions via voice controls. The Smart Home app can be paired with Amazon Alexa and Google Assistant for hands-free operation. This will only work when you're at home, but it's still a great feature for many people.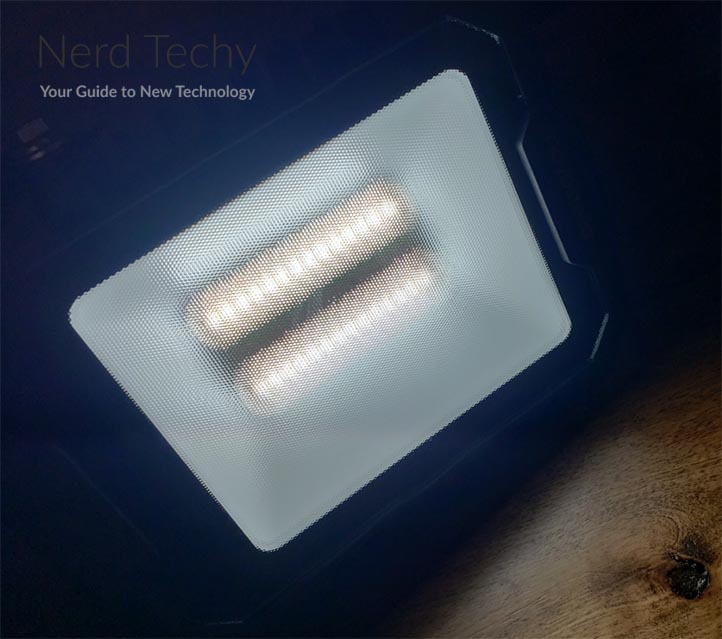 So, what exactly can you do with your lights? The first, and most basic function is to set them on a timer. This is great for security lighting, since you'll generally only want to use it at night. The neat thing is that you can set the timer on a weekly basis, not just a daily one. Suppose you run a bar that's open later on the weekends. You can leave the lights on later on Fridays and Saturdays without needing to make any manual adjustments.
Another neat feature is the color-changing function. You can set the lights to change colors according to a number of pre-set patterns. Admittedly, this is probably a bit much for your average suburban exterior. But for a bar or a restaurant, bright, color-changing lights are a great way to attract customers. Novostella has definitely thought of this, since they include a music sync option in the app. With this setting active, the lights will synchronize their color-changing pattern with the music. This is a great feature for parties, whether at home or at a bar.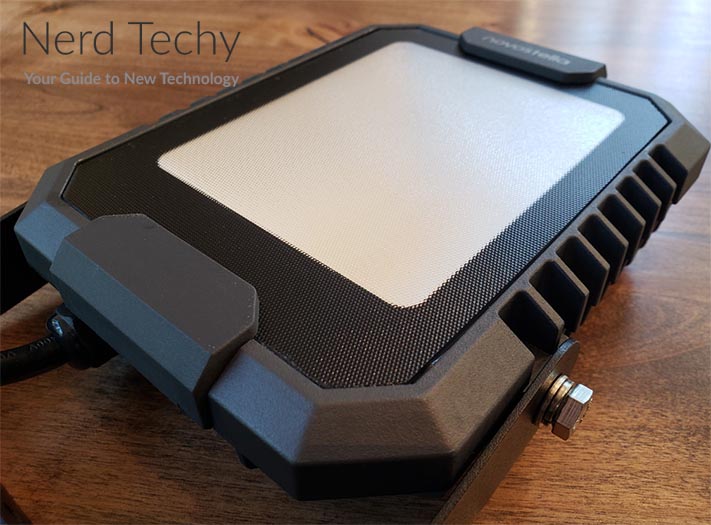 That said, there's one missing feature we would have liked to have seen: a motion sensor. The Blink lights are either timed or manual. You can light up your lawn all night, but they won't work as a standard security light. On the upside, each light only draws 25 watts. Running one all night will only use as much energy as running a traditional flood light for an hour a night.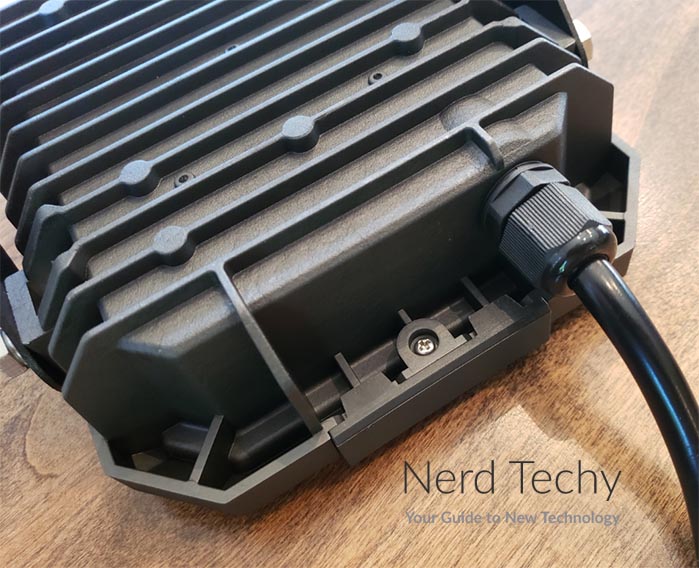 Light Quality
The quality of the Blink's light is beautiful, both in white and in colored mode. For colors, you get the full set of all 16 million RGB colors. If there's a hex value for a color, you can use it. You can also choose between eight built-in color-changing modes, which we've already discussed. These are a bit more limiting, since they're presets. But all in all, it's a solid system, comparable to other color-changing LEDs.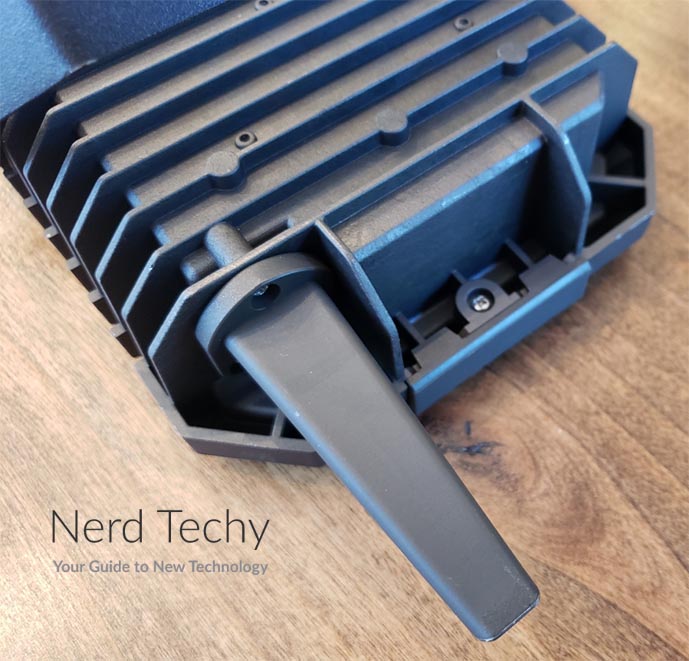 Of course, you might not want to use these lights with colors at all. Maybe you just want a standard flood light to illuminate your front lawn. In that case, you'll have a wide array of whites to choose from. Using the app, you can set the lights anywhere from an amber 2,700K to a blue-white 6,500K. This is done via an intuitive color wheel. Using a similar wheel, you can adjust the brightness. So if you want to use these as accent lights, you can.
That said, there are better options for strictly interior lighting. For example, the Novostella Smart Bulb screws into a standard light socket. It has the same features and app controls as the Blink, and it's considerably more affordable. On the downside, it's not suitable for outdoor use.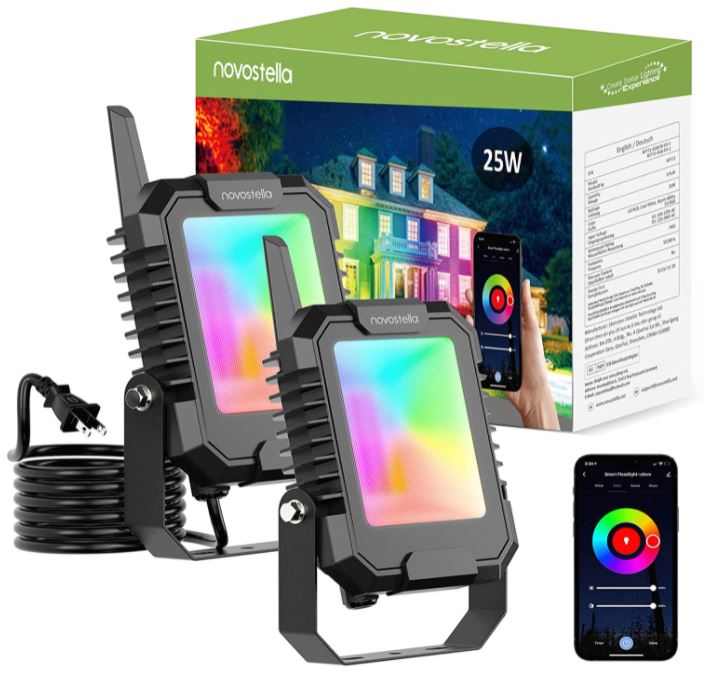 Final Verdict
The Novostella Blink Smart Flood Light checks most of the boxes we want to see checked. It supports all RGB colors, and it can be adjusted between 2,700 and 6,500K. You get intuitive app controls, as well as a Bluetooth mesh connection for near-unlimited range. Finally, the whole thing is rugged and weather-resistant, so it can be used in almost any environment. This is one of the best smart flood lights on the market.
Meet Derek, "TechGuru," a 34-year-old technology enthusiast with a deep passion for tech innovations. With extensive experience, he specializes in gaming hardware and software, and has expertise in gadgets, custom PCs, and audio.
Besides writing about tech and reviewing new products, Derek enjoys traveling, hiking, and photography. Committed to keeping up with the latest industry trends, he aims to guide readers in making informed tech decisions.