Novostella Smart LED Flood Lights
If you want to illuminate a large area, a flood light is the right tool for the job. Now, you might be thinking that flood lights are bulky, expensive, and high-voltage. And if we were talking about old-fashioned flood lights, you wouldn't be wrong. An incandescent flood light can draw as much as 250 watts per bulb. That's not an insignificant addition to your power bill, and it's not good for the environment either. Put two, three, or more of those lights around your property, and your electric bill will be noticeably higher.
Another concern with old-school flood lights is that the lights themselves aren't a complete system. To get any kind of practical use, you're going to need motion sensors, timers, or some combination of the two. This can add to installation costs, as well as making the system more of a pain to set up. By the time all is said and done, it may not even be worth the trouble.
With a smart LED flood light, you resolve both of these issues. Because you're using LEDs instead of wasteful incandescent bulbs, you save a lot of electricity. And because the lights are smart, you get smartphone controls and other convenient options. This makes installation far easier for the average homeowner.
We're about to review the Novostella 20W Smart LED Flood Lights. Novostella is an established manufacturer of smart LED bulbs. So they seemed like a good choice for smart LED flood lights. But how well do these lights perform in practice? To find out, we'll look at all aspects of their design. We'll talk about how to set them up, the various lighting options, and how to use them. After that, we'll know what we need to know to render our final verdict. Let's get started!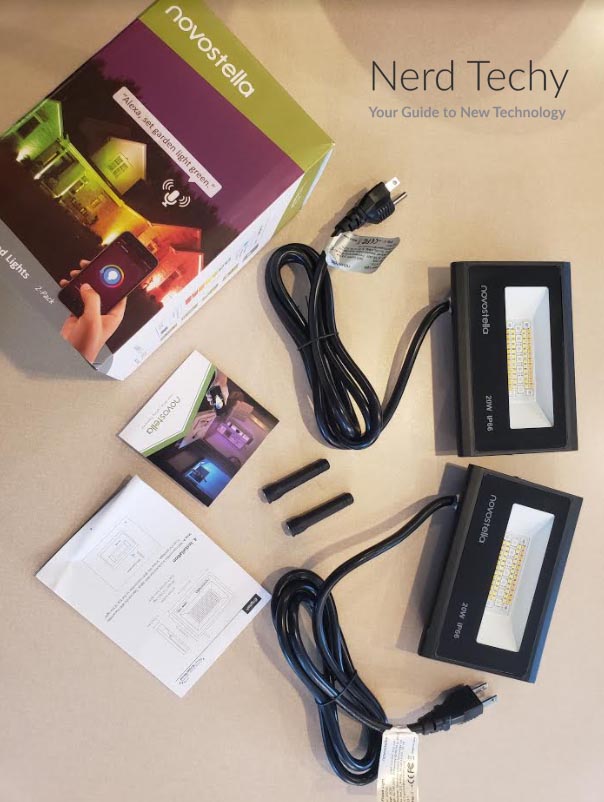 Design & Installation
The Novostella 20W Smart LED Flood Lights come as a pair, so one set may be all you need. Each light is fully self-contained, and can be used individually if you so desire. That said, the app can also be used to control all lights at once, or even to control custom groups. So if you want to add four, ten, or even a dozen Novostella lights, you can.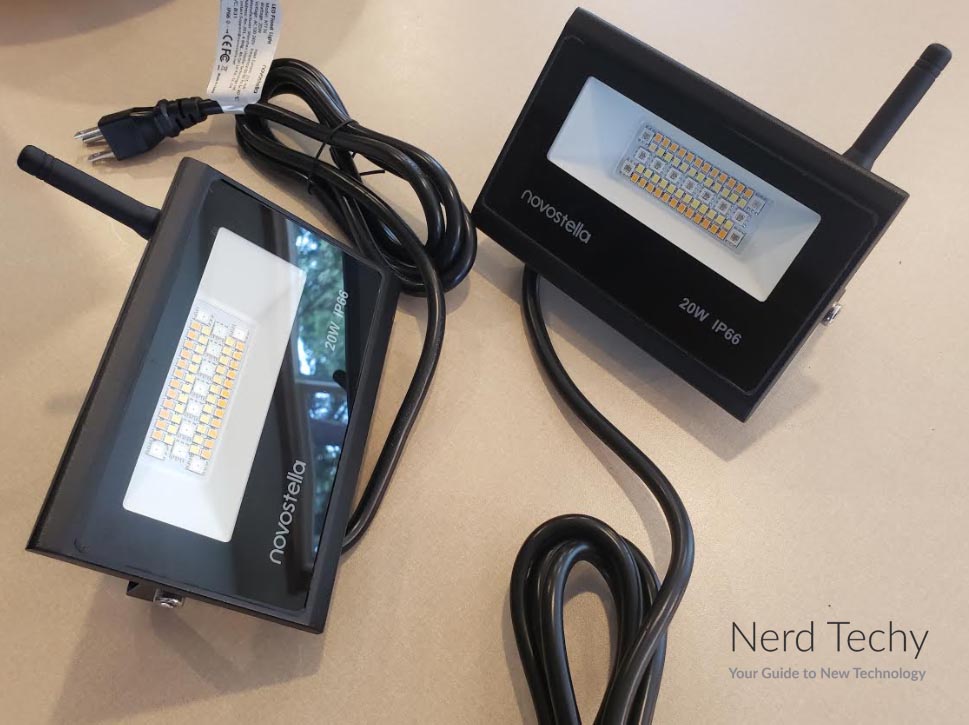 The light housing is made from die cast aluminum, which is very durable and sturdy. It has a black finish, which is glossy and easy to keep clean of dirt and fingerprints. The black color also means that the lights themselves can easily be kept hidden. If you conceal one under a bush, for instance, it will be practically invisible — at least until the LEDs turn on. These are located in the top center of the housing, and take up about a quarter of the available surface area. The rest of the front is plain black, save for a white Novostella logo and the words "20W IP66." The oversized housing is necessary to contain all the internal electronics, which are larger than the LEDs themselves.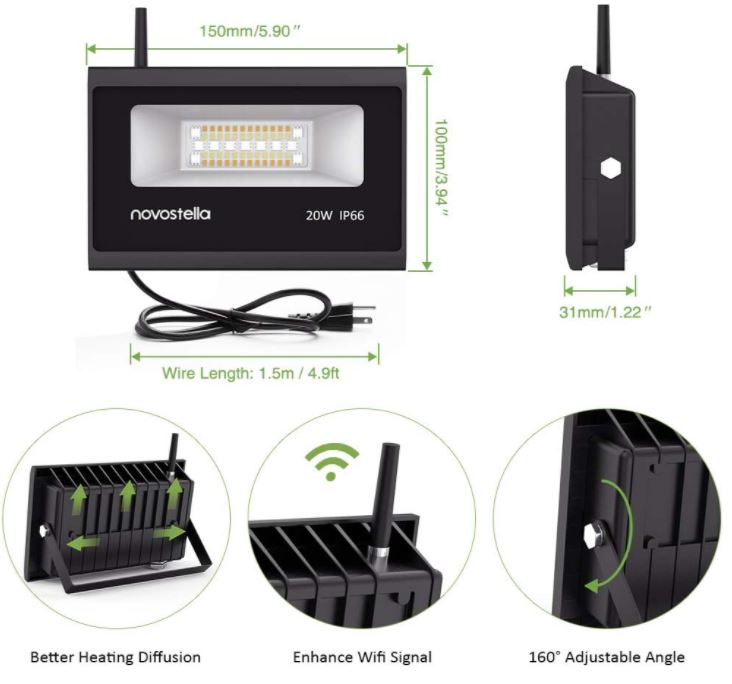 The IP66 is in reference to the Smart LED Flood Lights' weather-resistance rating. The first "6" indicates a high level of dust-resistance. Indeed, the housing is practically impervious to dust, and won't get damaged even in a dust storm. The second "6" indicates a medium-high level of water-resistance. In fact, it's the highest level of water-resistance you can have without being fully submersion-proof. You certainly don't have to worry about a summer storm. You can even hose the light housing off if you need to!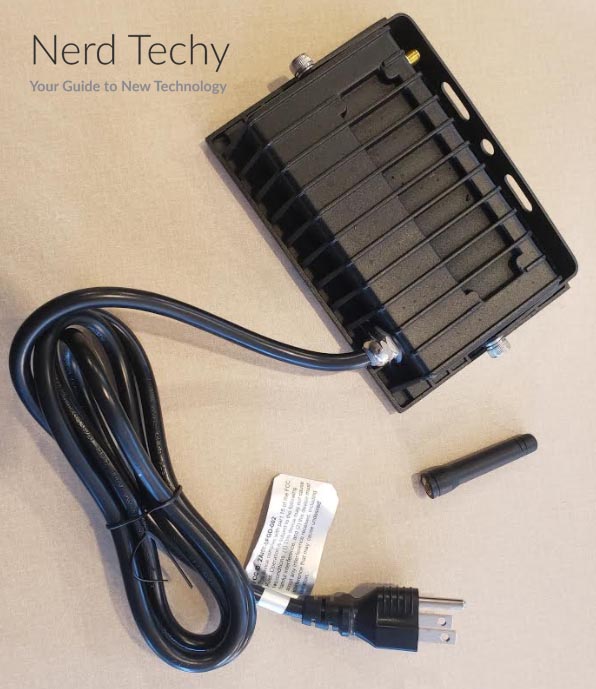 Each light has an adjustable stand, which bolts onto both sides of the housing. It's a simple metal swing arm, and it's painted black to match the rest of the housing. This stand can be pivoted as needed, so the light can be angled upwards or downwards for various situations. Keep in mind, though, that there are no mounting holes on the back. You can mount these lights to a pole or wall with aftermarket clamps and brackets. But there's no simple mounting option right out of the box. Similarly, the cord is only 3.28 feet (1.5 meters) in length. It has a standard AC tip and plugs into any three-prong outlet. However, due to its short length, you'll likely need an extension cord to plug it in.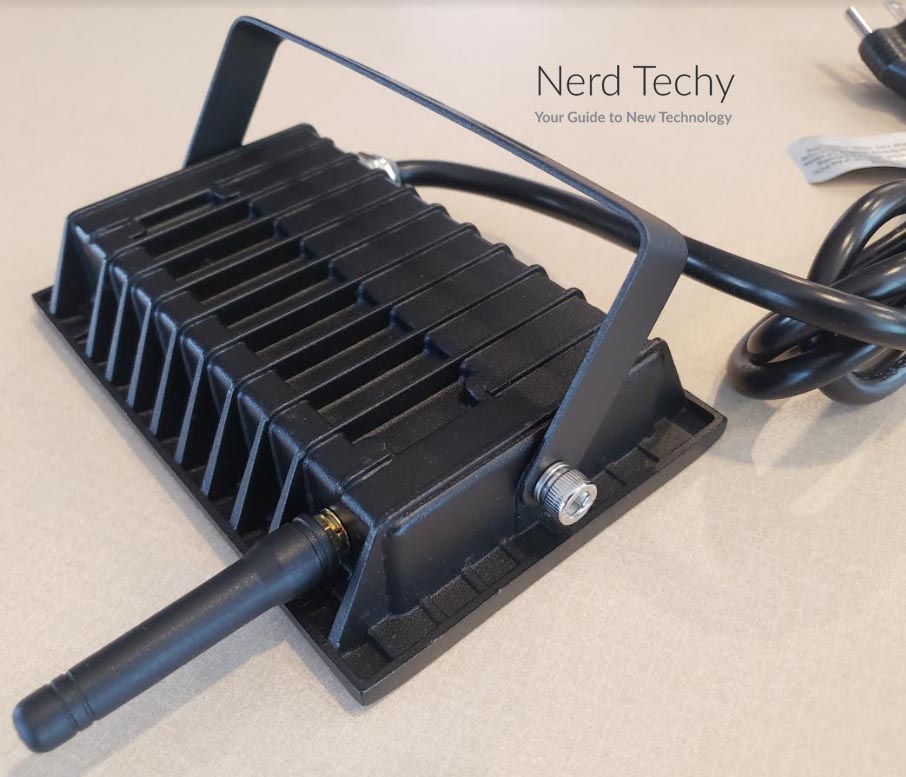 As you can see, the Novostella flood lights are well designed in general. However, they're clearly a bit limited in their installation options. If you need a light that can go anywhere, consider some solar powered lights. They're not as powerful as a true flood light, and they're not colorful. But they can be used anywhere you want, even off grid.
Connectivity & Control
On the back of each Novostella flood light, you'll notice a short plastic antenna that sticks up from the frame. This antenna allows for the powerful WiFi signal, which reaches as far as 85 feet. As a result, it should be able to connect to most home networks with relative ease. This obviously depends on the size of your lawn, though. Depending on where the lights are positioned, they could easily be further from your house. In that case, you'll probably need a WiFi range extender or mesh network to reach the whole area. Even so, you're looking at considerably better connectivity than a simple Bluetooth connection.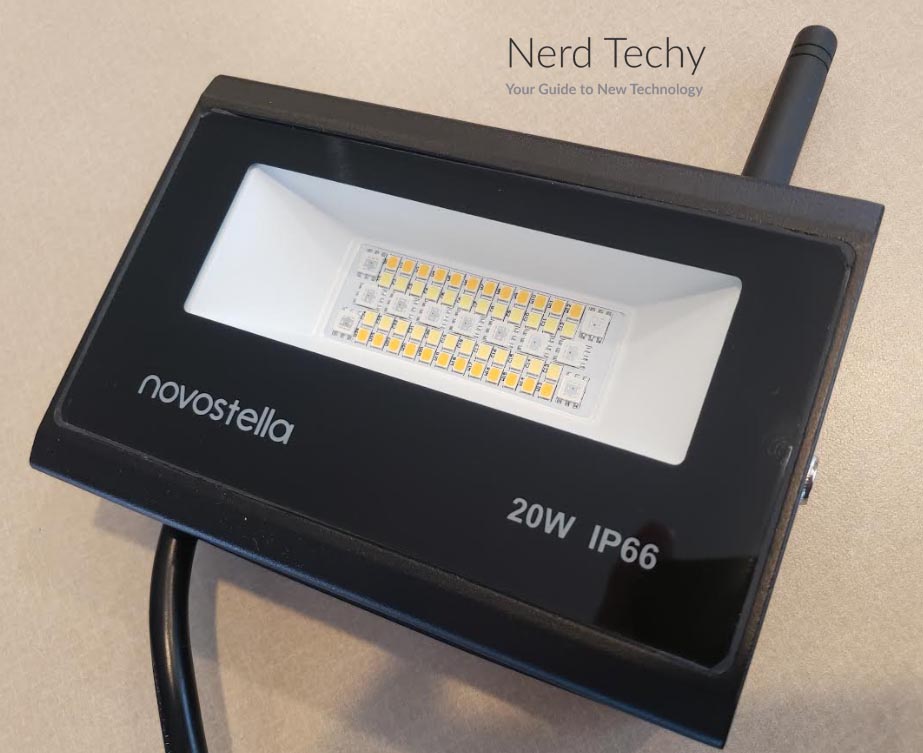 To allow for this large range, the lights utilize the 2.4GHz WiFi band. This enables a longer range, albeit at a lower bitrate than the faster 5GHz connection. However, you don't need a lot of bandwidth to operate a flood light. It's not as if you're streaming HD video from a security camera. That said, depending on your router and smartphone, you may need to do a bit of tinkering. If you can't see your lights on the network, you may need to tell your phone to forget your 5GHz WiFi SSID. This will ensure that you're looking for devices on the 2.4GHz band. This is an unusual quirk, and it's something you should be aware of.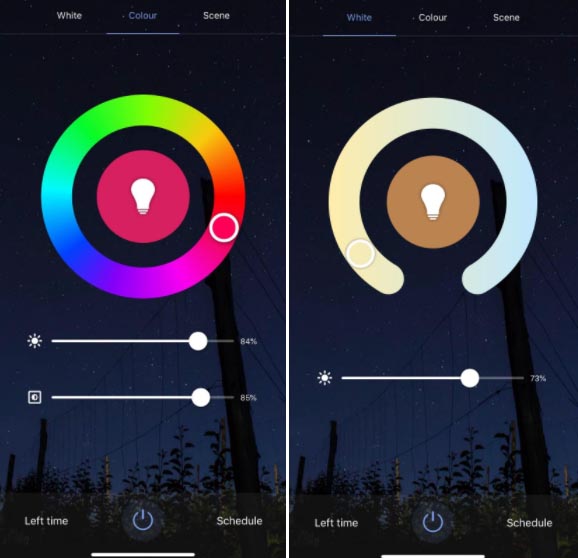 Before you even connect to the lights, though, you'll need to install the Novostella Smart Home app on your phone. This app is completely free, and is available both on Google Play and in the Apple Store. Once it's installed, you'll have access to all of your lights' options. We'll talk more about those in the next section. Another thing you'll be able to do is set control groups. Each group can be operated independently, allowing you to create zones around your property. So if you want your lawn to be green and red for the holidays, you can do it easily from within the app.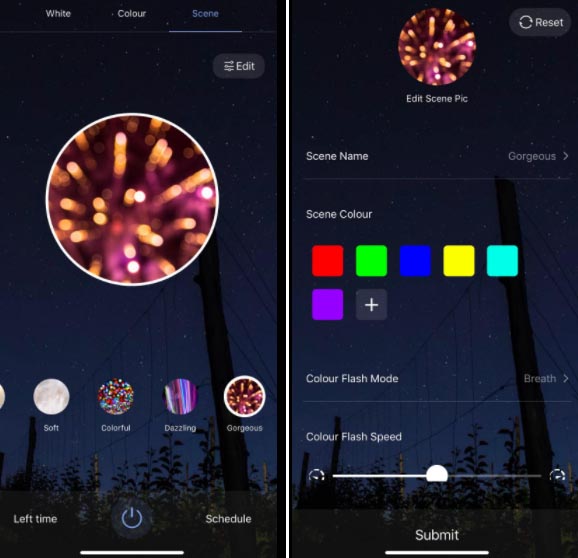 Once everything is connected, the Novostella lights can also be operated via voice controls. Using the app, you can pair them with your Amazon Alexa or Google Assistant. This way, you can control the lights from anywhere in the house, without even using your hands.
There's one notable missing feature you should keep in mind: these lights have no motion sensor. They're designed to be operated manually, or to run on a timer, not to act as a security system. That said, the low wattage means you're not using a ton of power, even if the lights are left on all night. If you do need a motion sensor, the Yeskamo Floodlight Wireless Security Camera System is a solid choice. These flood lights also function as security cameras, and can be viewed from a central unit. On the downside, you don't get any of the color or brightness adjustment options of the Novostella.
Light Quality
The Novostella Smart LED Flood Lights can be used in both white and colored modes, depending on your needs. The brightness is adjustable as high as 2,000 lumens, which is blindingly bright. In fact, you'll almost never want to have it cranked all the way up. That's a good thing, though! Far better to have unused capacity than to need more brightness and not have it.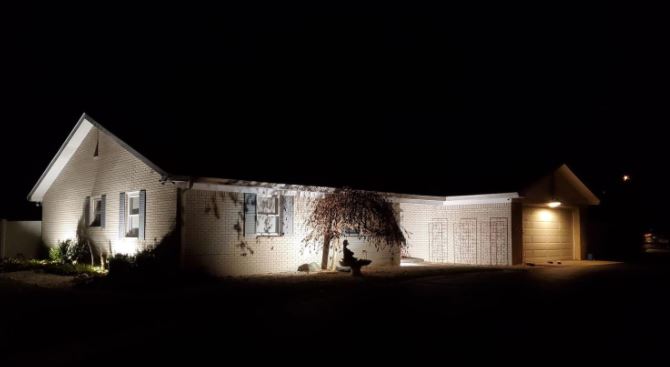 In white mode, the color can be adjusted between 2700 and 6500K. This is a fairly wide range, encompassing everything from an orangish warm white and a cool blue light. This allows you to get the correct type of light for your home's paint job and decor. You can even match the color temperature to street lights in your neighborhood. With many municipalities switching from old HPS street lamps to newer LEDs, this is a very real concern.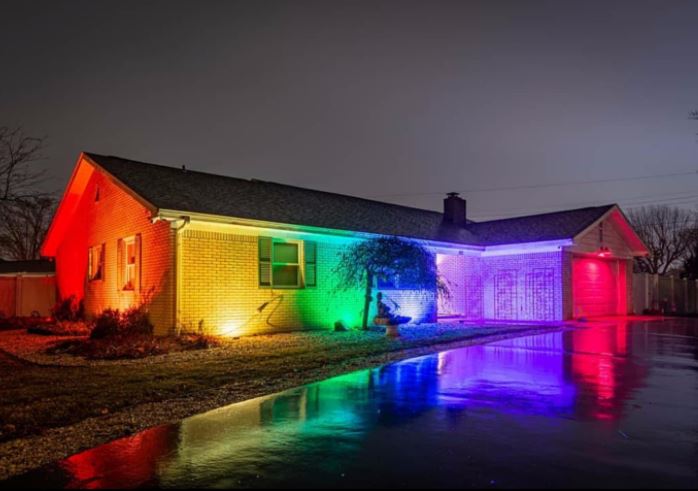 In colored mode, you can choose from all 16 million RGB colors. You can adjust the brightness and saturation, as well, which gives you more flexibility than most lights. For instance, you can light everything with a rich, emerald green for St. Patty's Day. Then, you can roll it back to a pastel purple for Easter. For everything in between, you've got the rest of the color wheel, and a wide saturation range. In addition, there are eight cycling light modes to choose from. These are pre-programmed patterns that seem to work for many people. You probably wouldn't want bright cycling flood lights at your home. But if you run a business, they can be a great way to attract customers.
Through the app, you can set a daily timer for your lights. This way, they'll come on and go off as needed, without your involvement. And the use of an app instead of a big mechanical timer makes seasonal changes easy to adjust for. You won't have to go out to your garage and fiddle with a dial just because it's Daylight Savings Time weekend.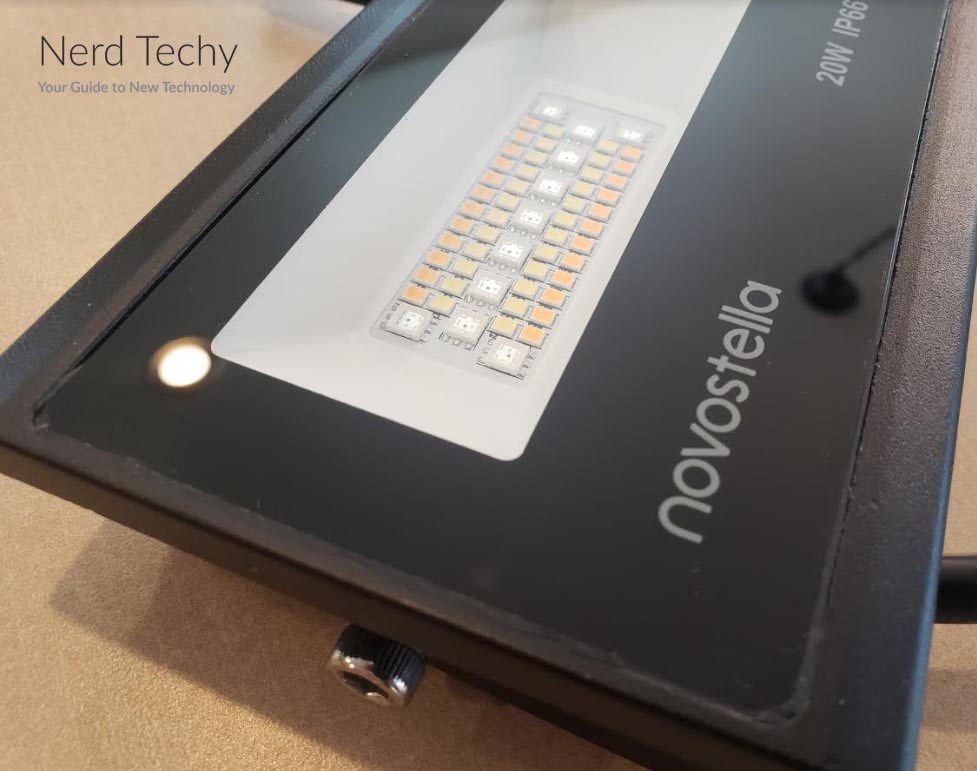 Final Verdict
The Novostella 20W Smart LED Flood Lights are an excellent choice both for decoration and for visibility. To be fair, you don't get any motion sensor options, and setup isn't always simple. But if you need lighting for lighting's sake, not as part of a security system, these are very well designed. And with near-infinite customization options, you can use them for just about any property.