Whether it comes to your home or your business, you can't be too careful about security. To be sure, there's the ever-present threat of burglars or other intruders. However, modern life has also created the "porch pirate." These people follow along behind delivery vehicles and steal packages off people's porches. Disgusting? Yes. Illegal? Very. Profitable? In the age of Amazon and online sales in general, it's enough to tempt many criminals. Regardless of what kind of criminal you're worried about, criminals don't like being caught on tape. If they spot a security camera, they're liable to run away. And even if they don't, a video can help police with any investigation.
Security cameras used to be reserved for businesses and rich people. Unless you had an entire room to dedicate to monitoring equipment, there was no point. But modern technology has allowed manufacturers to develop cheaper and cheaper cameras while maintaining good quality. And with modern monitoring and storage, you don't need an entire room for your security system. Nowadays, just about anybody can install a security camera system.
Today, we're going to review the Yeskamo Floodlight Wireless Security Camera System. Yeskamo is known for producing a variety of quality cameras, including webcams. But how does their wireless security system perform? We'll take a deep dive into its features, its benefits, and its drawbacks. We'll start with the physical construction, then move on to video quality, storage, and monitoring. Once we understand all of those features, we'll be able to make a sound recommendation.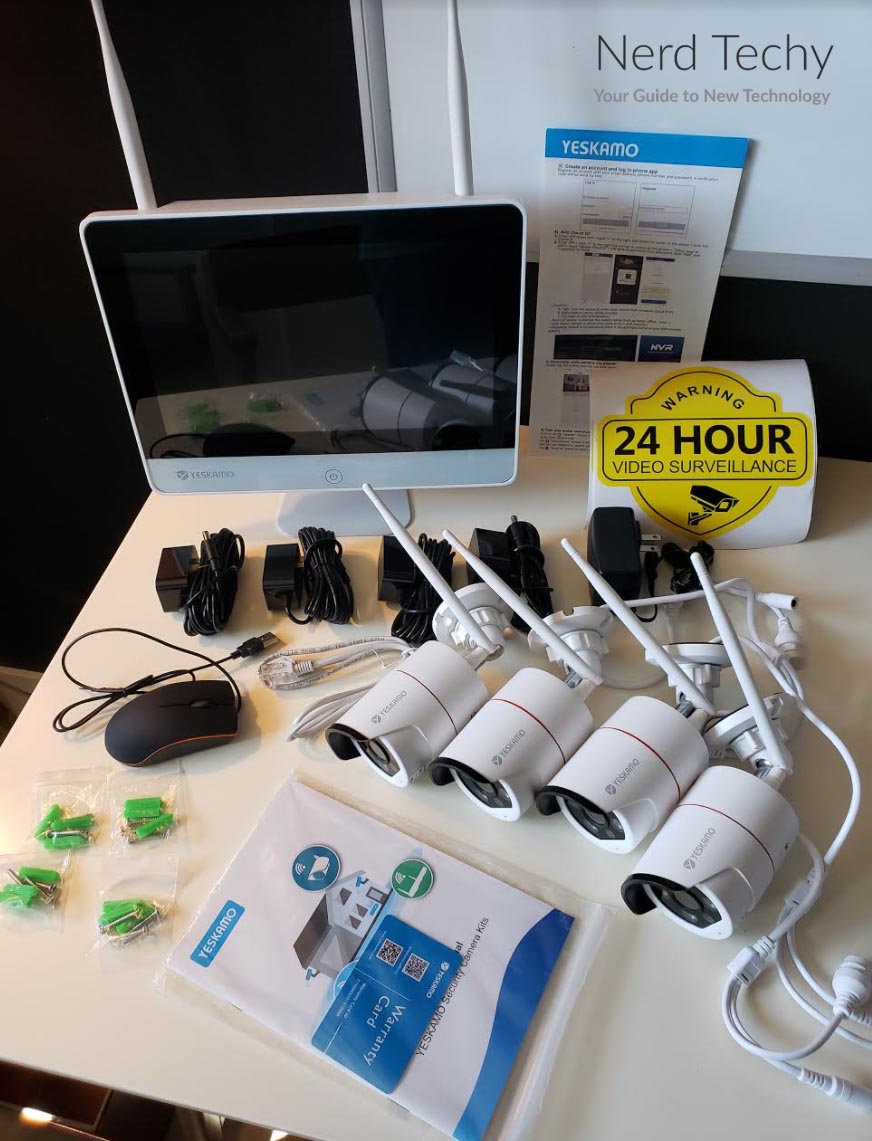 Overall Design
The Yeskamo Floodlight Wireless Security Camera System, as its name implies, isn't just one camera. It's a complete camera system, consisting of four cameras and an external monitoring station. Not only that, but you can expand the system to up to eight cameras on a single monitoring station. That's probably more than most people need, but they're readily available if the need should arise.
The cameras are constructed from rugged polycarbonate, which can withstand a lot of abuse. They're white in color, and are cylindrical in shape. A small black shroud extends over the lenses, protecting them from rain and glare. Each camera includes an aluminum mounting bracket, along with mounting hardware. This makes the cameras easy to mount, although you'll have to provide your own masonry anchors if needed. Once mounted, the cameras can be pivoted in any direction. This makes it very easy to get the angle you need. You can also pivot the plastic antennas to get a better signal to the base station.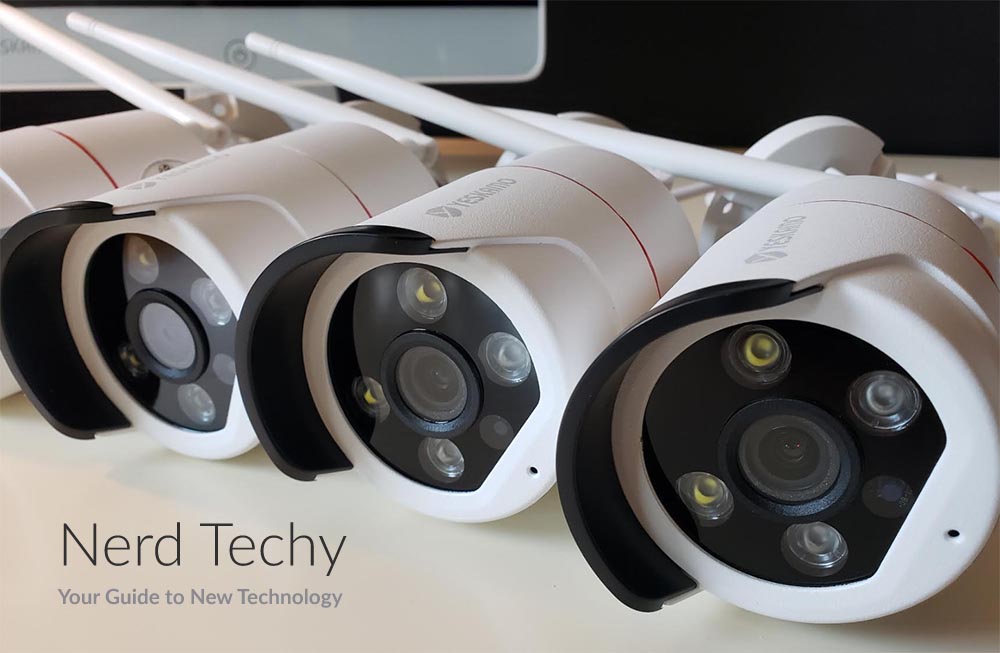 Keep in mind, though, that while the Yeskamo cameras communicate wirelessly, they're still AC-powered. You'll either need to position them near a power outlet, or install outlets where they're needed. If that's a deal breaker for you, read our review of the Yeskamo HD Solar Security Camera. It's solar powered, so you don't have to worry about plugging it in. That said, it doesn't come with a monitoring station like the full security system does.
The front of each camera has a pair of built-in floodlights above the lens, enclosed in the same housing. There are also speakers and microphone housing underneath, which we'll talk about more in a minute. Most importantly, the Yeskamo cameras are IP66-rated for water and dust resistance. This isn't the same as being submersion-proof, but it may as well be. Even the most powerful rainstorm will not cause any damage.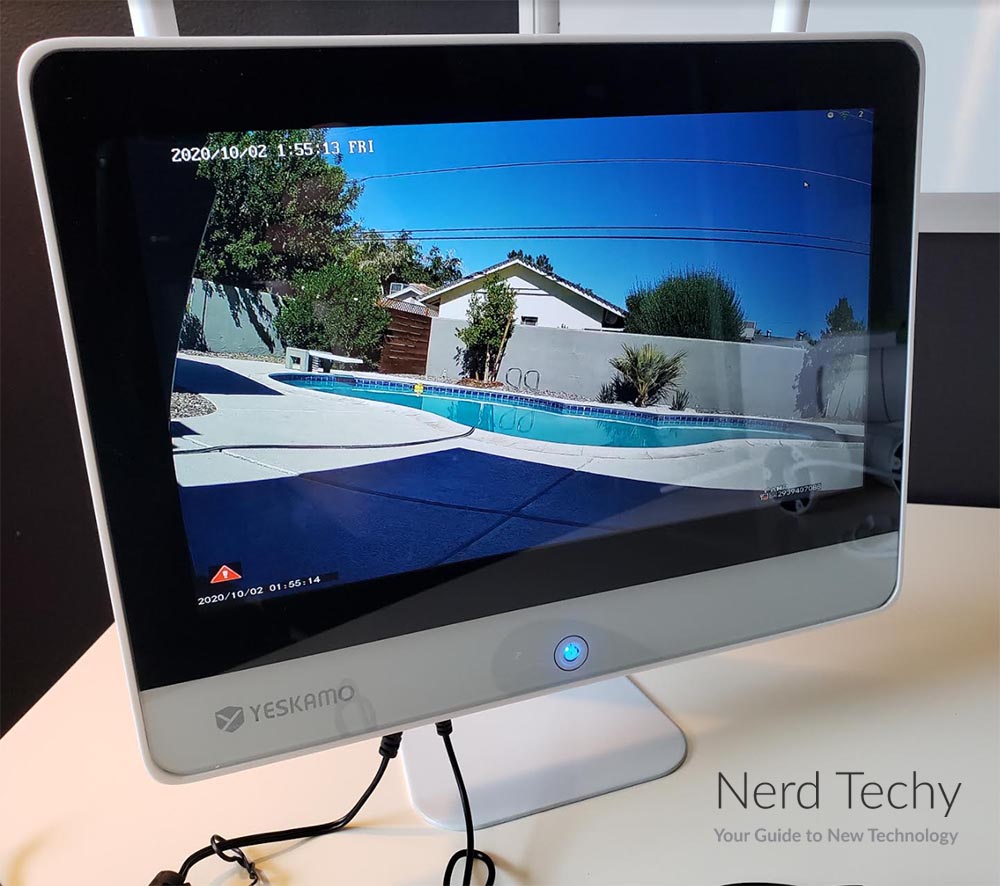 All four cameras connect to a monitoring station that looks a bit like an all-in-one PC. It's a flat screen display, positioned vertically on top of a simple metal stand. The housing is entirely white, giving it a sharp appearance that matches many other electronics. There's a simple power button under the screen, but most functions are performed on the touchscreen display. The screen measures 12 inches on the diagonal, so it's small enough to be easily positioned in your home. In addition, it utilizes an IPS display with a viewable angle of 178 degrees. As a result, you can view your feed from an odd angle and still see plenty of details.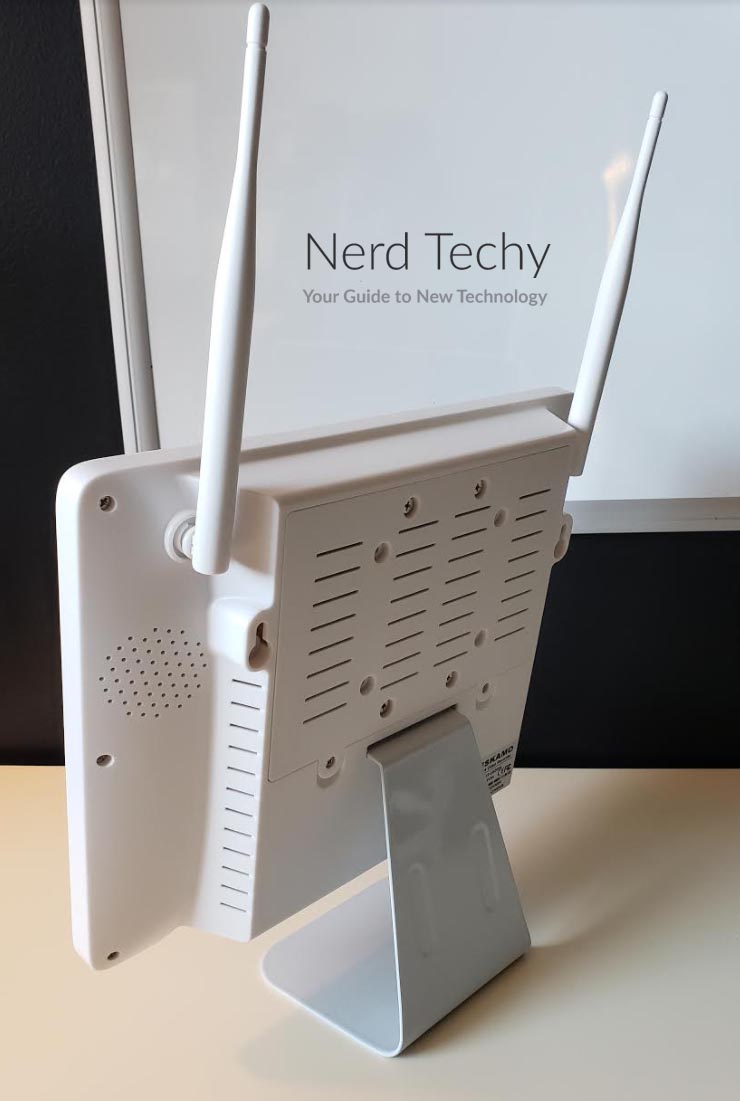 Video Quality
So, we've established that the Yeskamo camera system has a good physical design. But how good is the video quality? After all, a camera system is only as good as its cameras. The recording quality is 3.0 megapixels, which works out to a resolution of 2048 x 1536 pixels. This is more than 50 percent sharper than 1080p, if not quite 4K quality. Nonetheless, you can easily make out any fine details in the image. This is a major improvement when compared to old-school grainy security footage.
Each camera has a 100-degree field of view. Yeskamo advertises this as a "wide view," but it's really a medium view. Moreover, that's a good thing. A wider angle can tend to distort details, whereas a narrower lens is a bit more precise. Not only that, but you get four cameras, and you can expand the system to eight. With that much coverage, there's no need for a wide-angle lens.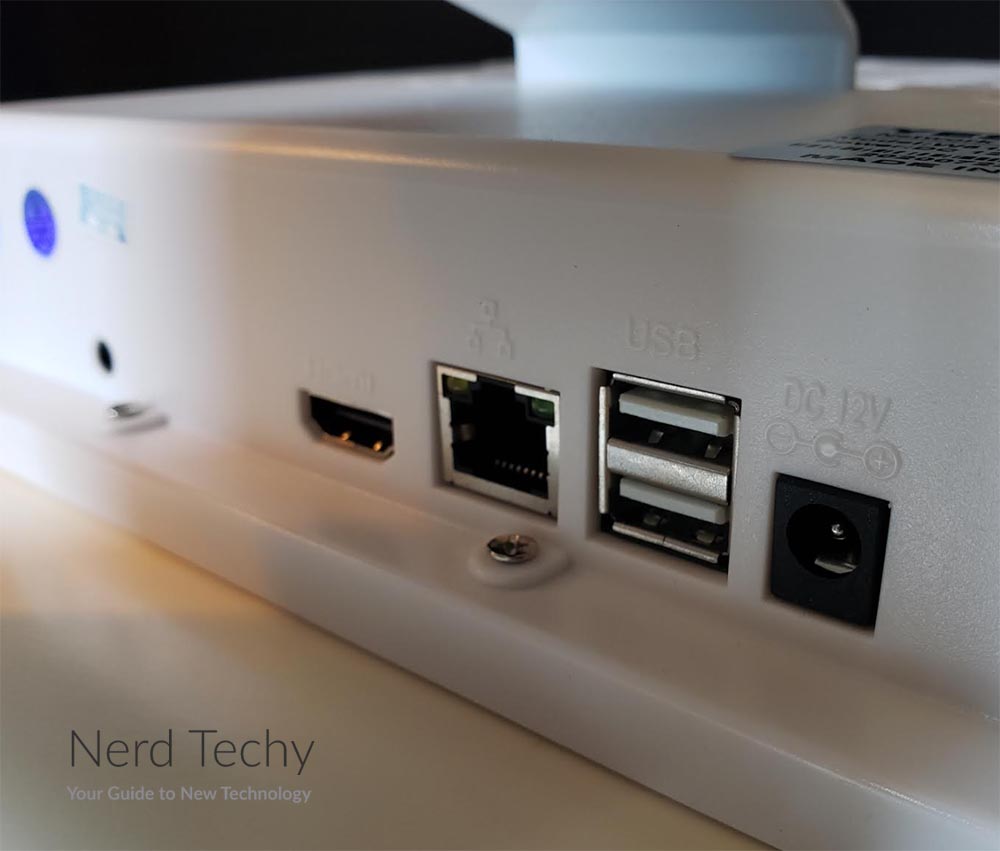 The Yeskamo camera system doesn't come with traditional night vision. Instead, it lives up to its name with a set of powerful floodlights. When the motion detector is tripped, the floodlights will automatically turn on. Much like ordinary floodlights, this provides a powerful deterrent effect. The idea isn't just to be able to see an intruder, but to let them know they're being seen. And with a range of 100 feet, you'll be able to see them a lot further than you will with ordinary night vision.
Of course, you don't want those floodlights being on all the time. Not only would it be a nuisance, but it would be a waste of power. Instead, each Yeskamo camera uses powerful AI motion detection. This means that it won't trip for anything but a human. Trees, blowing debris, and pets aren't going to cause constant false alarms. To be fair, it's not 100 percent foolproof, but neither is any AI system. It's certainly a lot smarter than any ordinary motion activation system.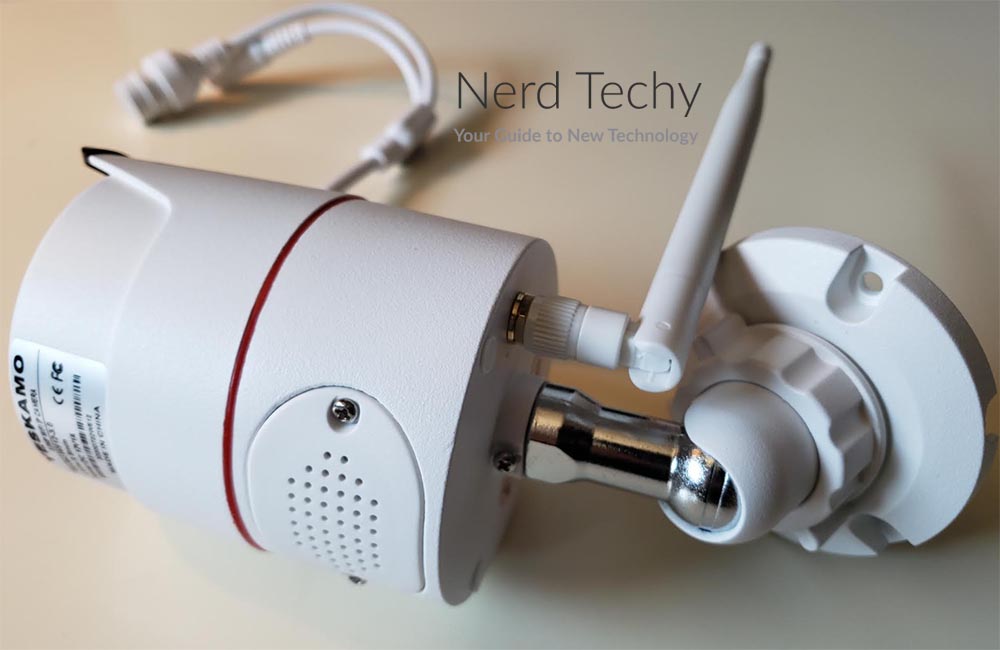 Whenever a motion detector is activated, you can get smartphone alerts. This allows you to take action immediately upon seeing an intruder. Of course, it also requires an internet connection and the smartphone app. Let's take a closer look at the monitoring features, as well as data storage.
Storage & Monitoring
Once the cameras have been installed and the base station is plugged in, they'll automatically connect. The wireless range is rated at 80 meters, or a little over 250 feet. This assumes an unobstructed signal, but it's more than enough for most purposes. At this point, the system will be technically working. You'll see a live video on the monitoring screen, and you'll be able to switch between cameras with a swipe.
Not only that, but video will record automatically to a built-in 1TB hard drive. This is enough for 30 days of loop recording. When the drive is full, older video will be overwritten first. You can extend this even further within your settings. You can choose to record constantly, or to record on motion activation only.
If you want to get more functionality, you'll need to connect your camera system to the mobile app. The first step is to connect the base station to the web. This can be done easily within the base station's settings. Keep in mind, though, that it needs to be in wireless range in order for this to be effective.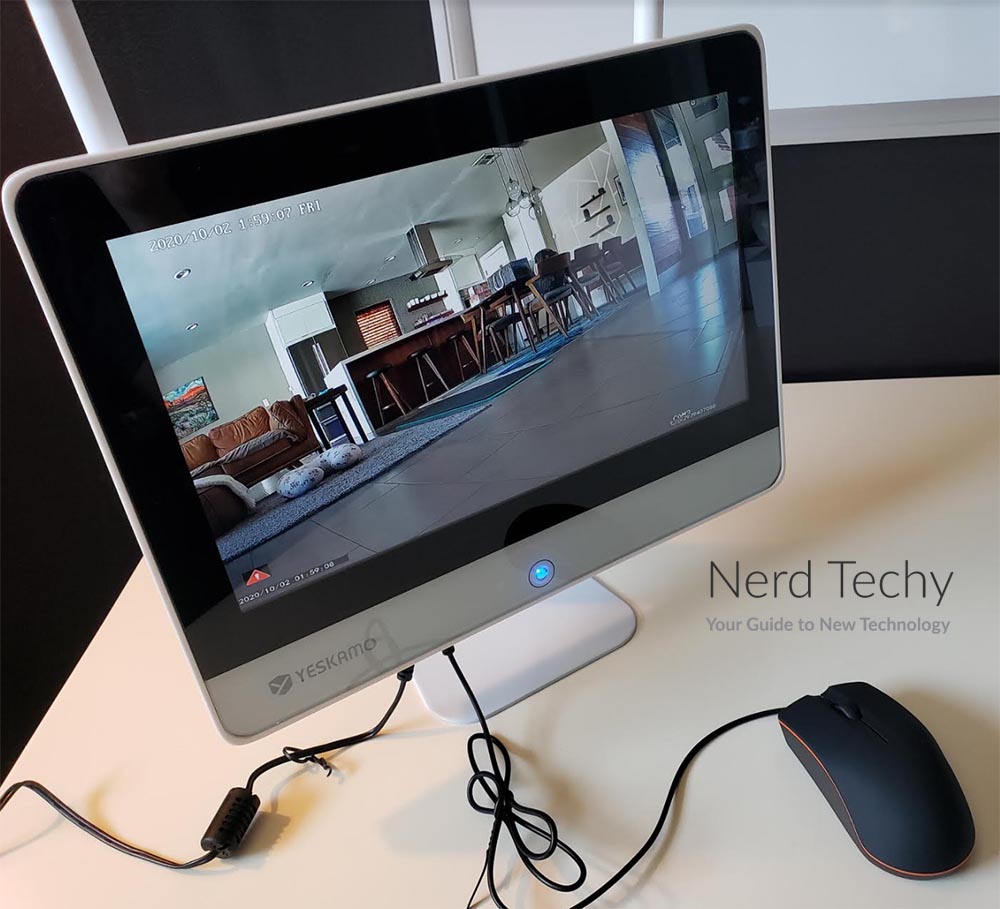 Once that's done, the next step is to install the Yeskamo app on your phone. It's available for free on Android and iOS. There are even free monitoring apps for Mac and PC, if you want to use a separate monitoring computer. Install the app, follow the wizard, and you'll be connected to your cameras in no time. At that point, you'll be able to bring up a live feed of any camera whenever you like. You can also manually trigger recordings, and receive mobile alerts when motion is detected.
In addition to all this, the app allows you to take advantage of two-way audio. This has any number of applications. You can say hi to friends and relatives, even if you're not home. You can ask your kid to set some meat out to thaw. You can ask the delivery driver to leave your package around the side of the building. And if you do happen to spot a burglar, a quick shout is liable to make them run away. Regardless, this is a nice tool to have in your toolkit.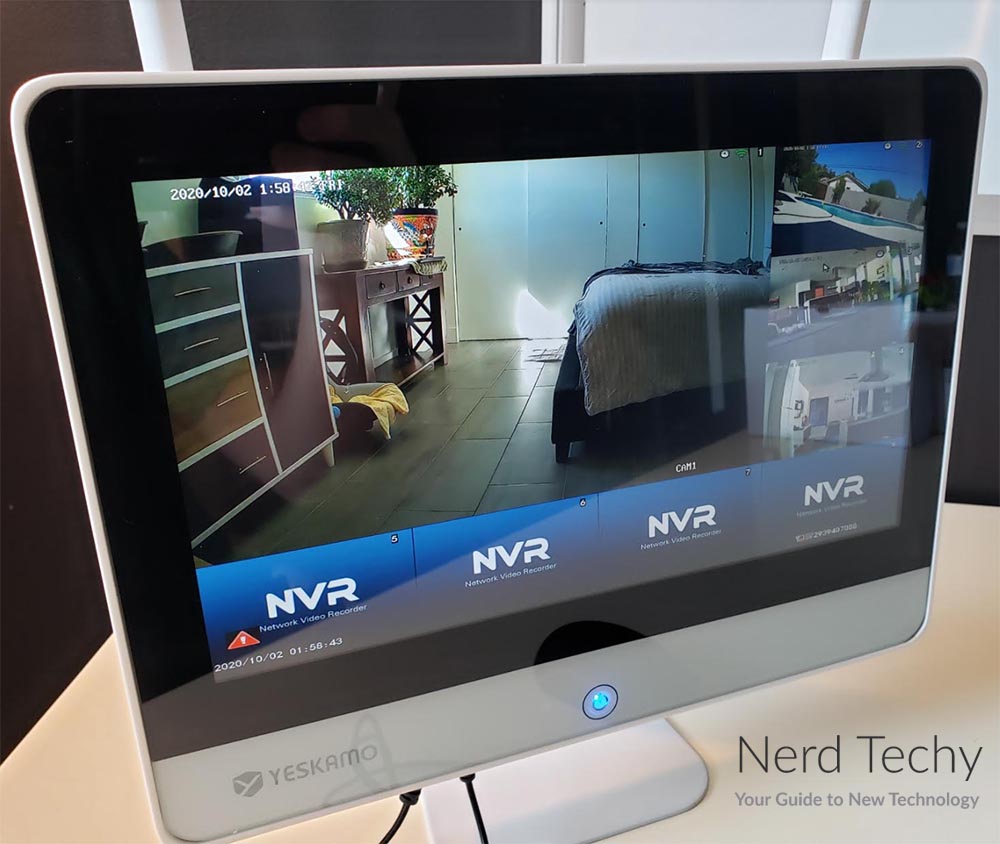 Final Verdict
The Yeskamo Floodlight Wireless Security Camera System is an all-around well designed system. With four cameras, you can monitor any normal residential home. And with expansion to eight cameras, you can monitor even a very large property. The scalability is only part of the equation, though. The monitoring station makes it useful for commercial as residential use. And the 1TB built-in hard drive allows for plenty of storage right off the bat. There's no need to worry about the limitations from SD card storage.
To be fair, there are some limitations. Most notably, the cameras require access to AC power outlets. There's also no cloud storage option, although that should be less of an issue with a dedicated 1TB hard drive. Even so, it's something you should be aware of.
The video quality is excellent. At 2048 x 1536 pixels, it's half again as sharp as 1080p. This allows you to see as many details as you need. Moreover, the night vision is really a floodlight mode. It doesn't just let you see an intruder. It provides a significant deterrent effect by suddenly lighting up your lawn. Moreover, the app allows for remote monitoring and two-way audio. If you want a full-featured security system with multiple cameras, the Yeskamo kit is a solid choice.
Meet Derek, "TechGuru," a 34-year-old technology enthusiast with a deep passion for tech innovations. With extensive experience, he specializes in gaming hardware and software, and has expertise in gadgets, custom PCs, and audio.
Besides writing about tech and reviewing new products, Derek enjoys traveling, hiking, and photography. Committed to keeping up with the latest industry trends, he aims to guide readers in making informed tech decisions.