These days, there's no end to the number of Bluetooth headphones and earbuds on the market. If we reviewed a pair every single day, we still wouldn't be able to keep up with all the new offerings. The reason for this is that we're currently living in an age of rapid growth in that industry. A few years back, Bluetooth earbuds or headphones couldn't offer very good audio quality. You could only listen in stereo, and the bitrate was low. With True Wireless Stereo technology, suddenly wireless earbuds were worth using. Apple released the AirPods, and the rest is history.
This huge growth in the number of products is good news for consumers. It means you can get high-quality earbuds at a lower price than ever before. On the other hand, it also makes it tough to shop around. With so many options, how do you know what's what? One way is to choose a good manufacturer.
Tronsmart is known for producing high-quality audio equipment, from earbuds to Bluetooth speakers. Today, we'll be reviewing their Tronsmart Apollo Bold ANC TWS Bluetooth Earbuds. These buds are designed with active noise cancelling (ANC), a rare feature in any wireless earbuds. But there's a lot more to making a good pair of earbuds than just ANC. For one thing, the sound quality has to be good, or you're just emphasizing low-quality audio. In addition, the earbuds need to be effective. They need to maintain a strong connection and have enough battery life to get the job done. Let's see how the Apollo Bold earbuds stand up!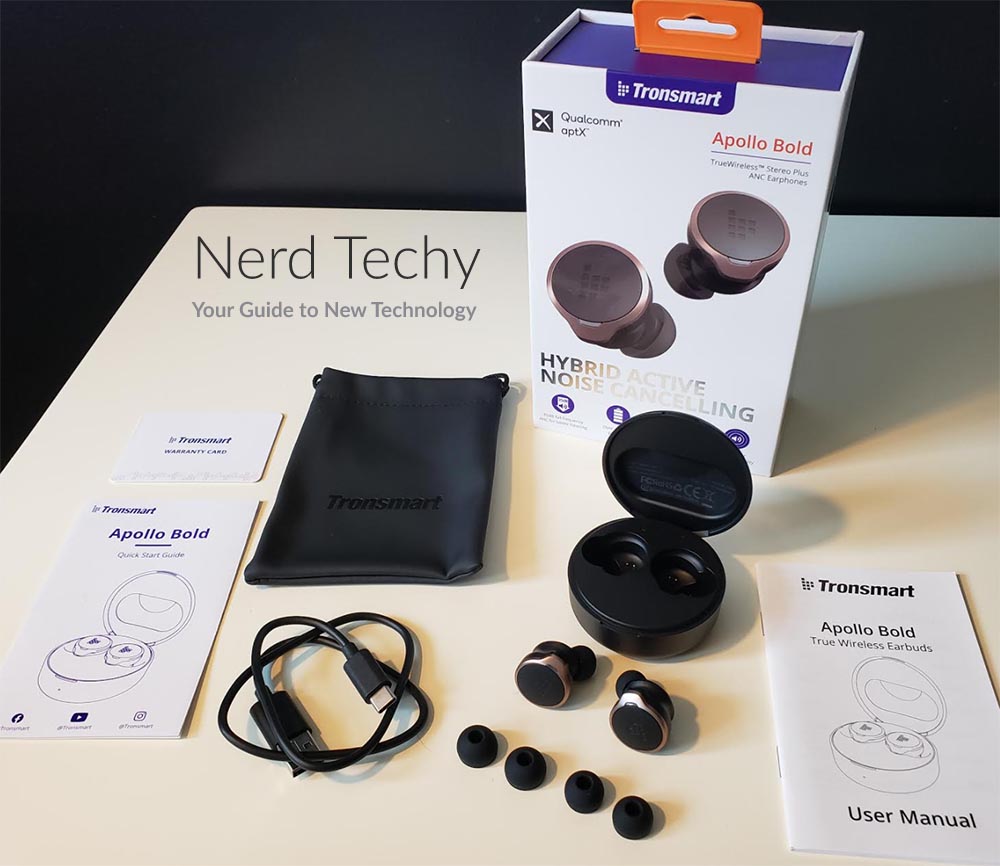 Overall Design
The Tronsmart Apollo Bold ANC TWS Bluetooth Headphones have a low profile that's designed to sit inside your ear. When worn properly, they shouldn't protrude far, but this doesn't mean they're low visibility. Unlike many wireless buds on the market, these come with a splash of color.
The backs sport chocolate-colored rings around the flat soft touch buttons. With a single tap or hold, you can perform most earbud functions. Adjust the volume, skip tracks, play and pause music, answer and end calls, and even use your voice assistant. This allows for easy operation, so you can keep your phone in your pocket.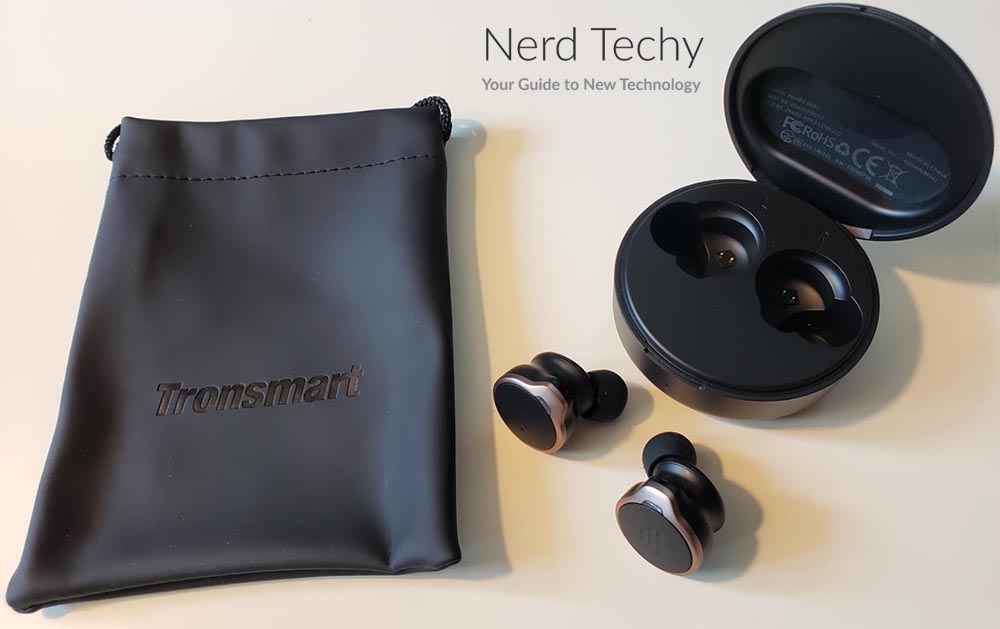 Like most earbuds with this style, the Apollo buds come with three sets of ear tips. The theory here is that a secure fit is essential. You don't want to let in outside noise, and you don't want to lose your buds. Conversely, you don't want tips so tight that they're uncomfortable. Unfortunately, the tips that come with the Apollo buds are similar in size. This means that you get great ergonomics if you have medium ear canals. However, if your ears are on the bigger or smaller size, you're going to run into trouble.
If ergonomics are your main concern, Tronsmart does offer some more comfortable buds. The Tronsmart Onyx Free earbuds have some of the best ergonomics on the market. On the downside, they don't offer ANC, so they're not really comparable.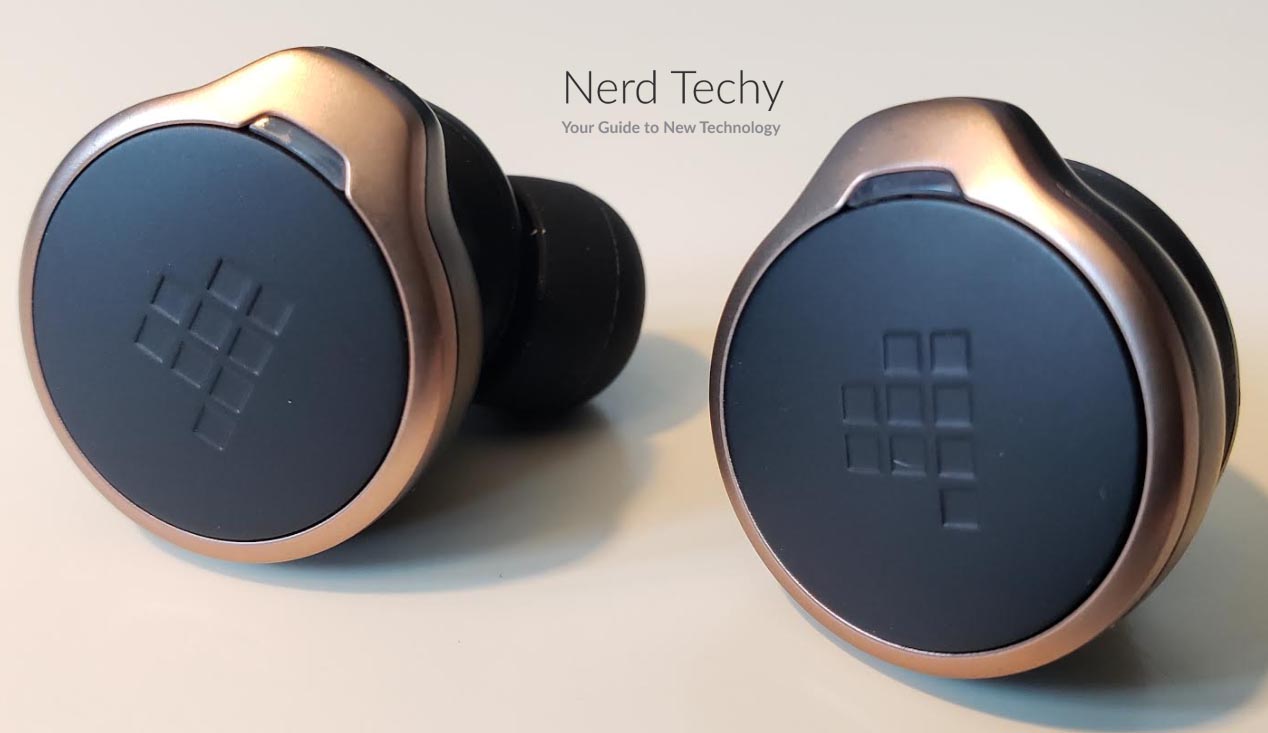 The Tronsmart Apollo earbuds come with a water and dust-resistance rating of IP45. This means that they're moderately dust proof as well as splash proof. You don't want to actually take them into the water or wear them in the shower. But if you're sweating during a workout or running in the rain, they're not going to short out on you.
As with most wireless earbuds, the Tronsmart Apollo buds come with a carrying case that doubles as a charger. This carrying case is pocket sized, barely bigger than a pack of Tic-Tacs. At only 1.9 ounces, it's also as light as a feather. You can carry the case easily in a pocket, and the oval shape won't dig into your thighs. It's also small enough and light enough to carry easily in any bag.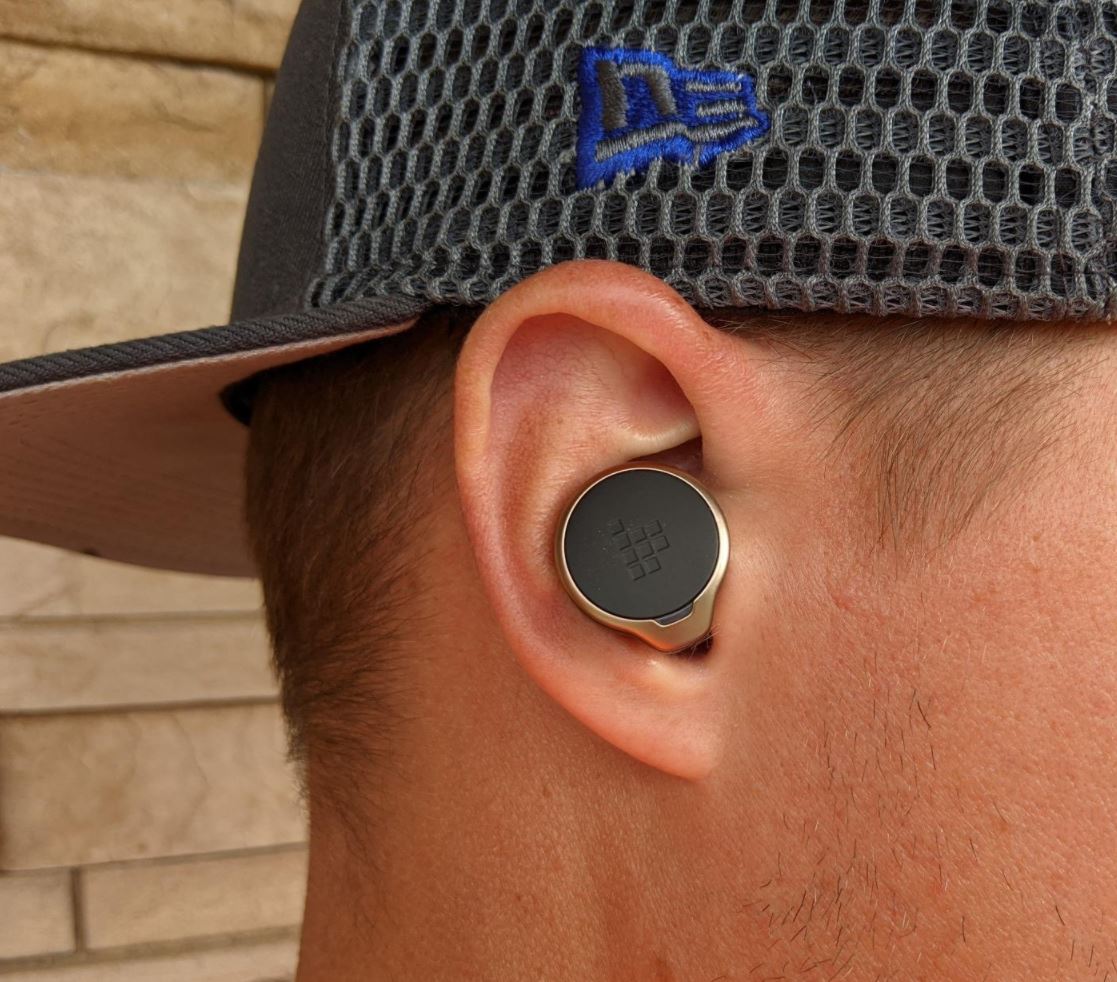 The charging case has a clamshell-style design, with a very slim lid. It pops open and snaps shut easily, with a small cutout under the lid for ease of use. Beneath the cutout, there's a single amber LED. Unlike many charging cases, this isn't a battery indicator. It just lights up whenever the case is plugged in, so you know that it's being charged. The USB Type-C charging port is located in the back, and a cable is included in the kit.
Along with everything else, you get a Tronsmart warranty card. Make sure to fill this out and send it in. The earbuds come with a 12-month warranty, but it will only be honored if you register them. That said, once the card is sent in, you'll be protected from any defects in materials or workmanship.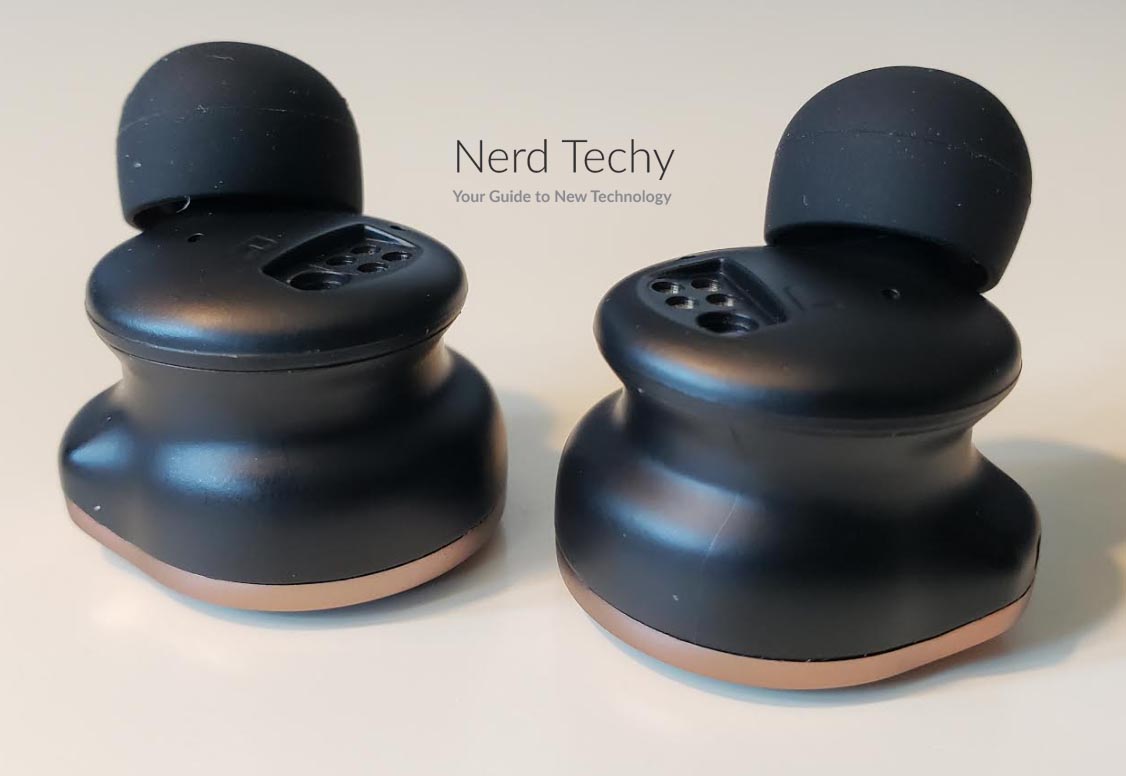 Battery & Connectivity
The Tronsmart Apollo Bold earbuds are rated to operate for 10 hours on a single charge. On its face, this looks fantastic. There are very few wireless earbuds that can operate this long. But when you look closer, it's not as impressive as it sounds. The 10-hour rating is based on manufacturer testing at medium volume. This is standard in the industry, and your mileage may vary based on volume. However, testing was also performed with ANC turned off, which is also industry standard. What this means is that actual performance at full volume with ANC is more like 4-5 hours. This is on the short side, but should still get the job done for most folks.
The charging case provides an additional two full charges for the buds. This extends the rated battery life to 30 hours, or about 12-15 hours at full volume with ANC. That's not a ton, but it will get you through the weekend if you need it to. Better yet, the case supports fast charging. A 10-minute charge gives you a full hour of use, or about 30 minutes with ANC and full volume. Regardless, that's enough for your morning workout at a bare minimum. Charge again during your shower, and you're good to go for the day.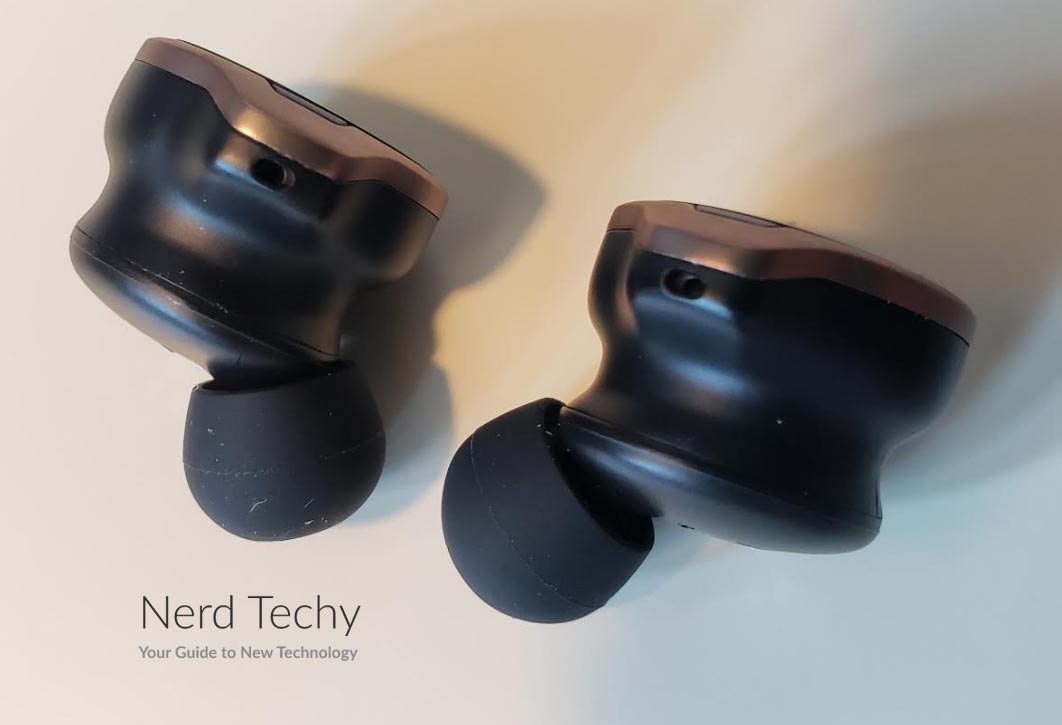 The Apollo Bold earbuds connect to your phone or MP3 player with the latest Bluetooth 5.0 protocol. This protocol is an improvement over previous Bluetooth versions, with three major upgrades. The first is that a Bluetooth 5.0 is more stable than a Bluetooth 4.2 signal. This means fewer dropped calls and no hanging music. The second upgrade is that Bluetooth 5.0 allows for a lower-latency signal. In other words, you can watch videos or play games without the audio being out of sync. Finally, Bluetooth 5.0 allows for higher bitrates, so you can listen to music with more depth and detail.
In addition to all this, the Apollo Bold earbuds use True Wireless Stereo Plus (TWS+) technology. With standard TWS, the signal is first sent to one earbud, and is forwarded to the second earbud. This leads to an ever-so-minimal amount of lag between the two. For most people, it's not even noticeable. But why have any latency at all when it's avoidable? With a TWS+ signal, both earbuds communicate with your phone individually, so they're in perfect sync. Keep in mind that this is a relatively new technology. As a result, only the very newest smartphones will actually support the TWS+ function.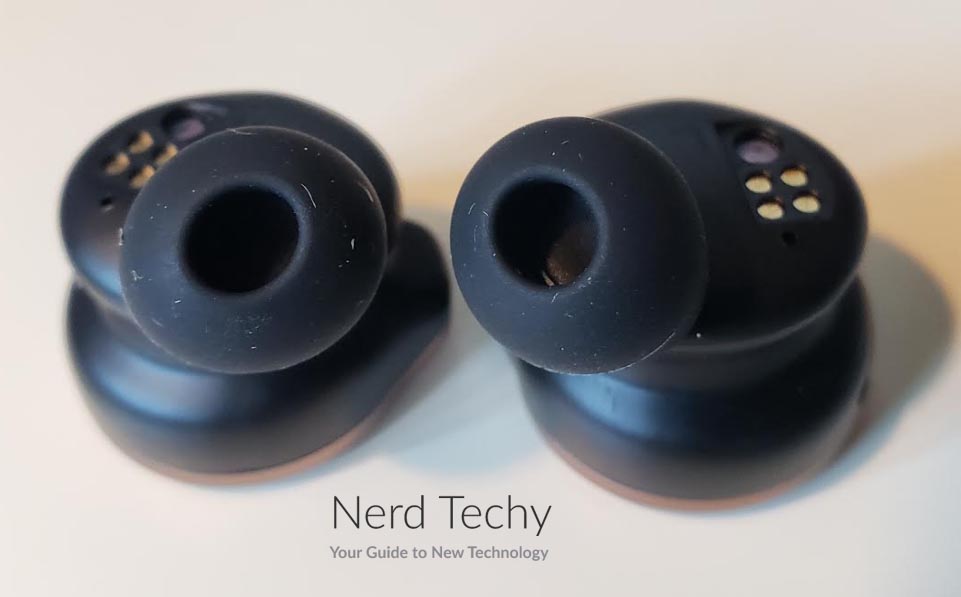 Sound Quality
The Tronsmart Apollo Bold earbuds integrate some of the most powerful technology on the market. To begin with, they use a Qualcomm chip with aptX Low Latency support. This allows for even lower latency than you'll get from ordinary Bluetooth 5.0 earbuds. In addition, you get the benefit of ANC technology. Six microphones monitor external noise and adjust the internal speakers to compensate. In total, the ANC hardware can reduce background noise by 35 decibels. That level of noise cancellation makes a jet engine sound like a lawnmower. Moreover, this ANC function is full frequency, so it handles higher pitches better than most. In terms of quality, you're looking at AirPod levels of noise reduction for a much lower cost.
If you prefer an AirPod-style design instead, take a look at our review of the Tronsmart Onyx Ace. These are AirPod-style earbuds, complete with a near-identical charging case. On the other hand, they don't actually offer noise cancelling, so some background noise will bleed through.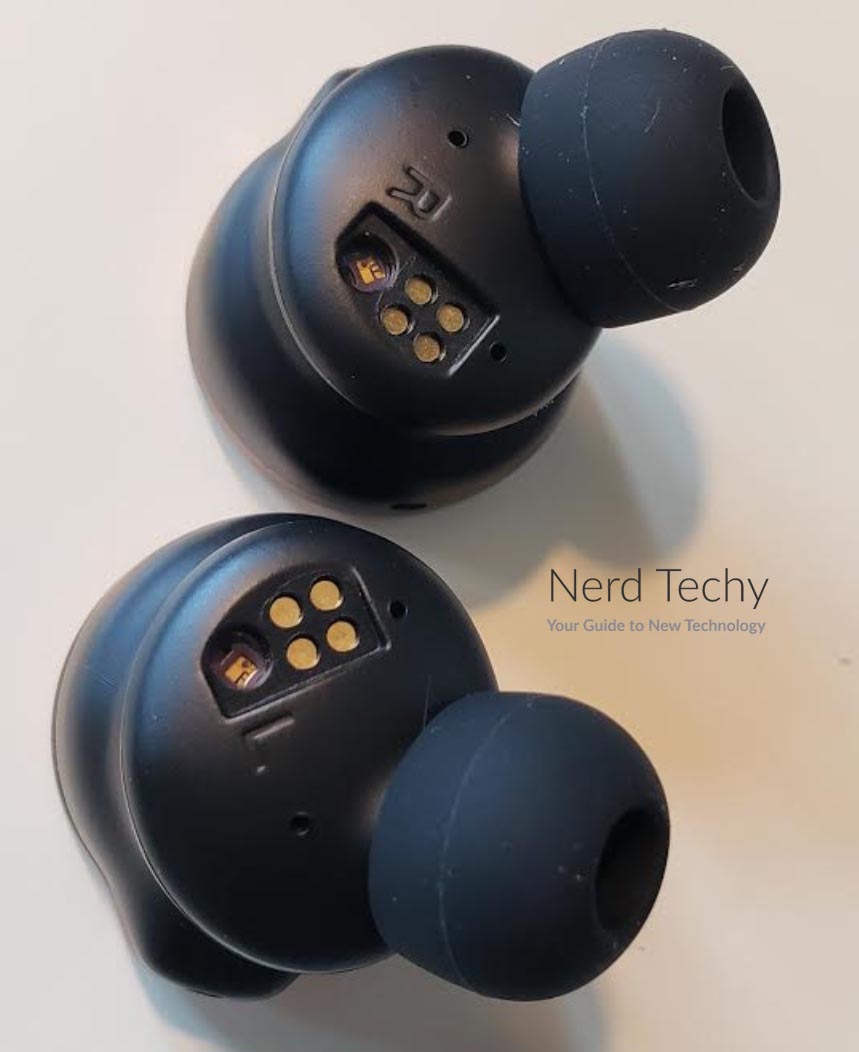 When using the Apollo Bold buds, there are three different modes to choose from. The first is "ANC on," which is the standard mode for filtering out background noise. The second is "ANC off," which doesn't filter background noise, but does improve your battery life. Finally, there's "ambient sound mode." This is similar to the transparency mode found on many other earbuds. Basically, it works as a sort of reverse-ANC, enhancing outside noise. This is best used for short social interactions where you don't want to take your buds out.
When listening to music, sound quality is excellent across the board. From the deepest lows to the highest highs, there's plenty of separation between frequencies. This makes the music feel as if you're listening to it in a physical space. In addition, the low end is punchy and tight. You won't have any issues with bass response here. The EQ is flat, which is generally what you want on earbuds. After all, if you want to make EQ adjustments, you won't have your earbud EQ fighting against you.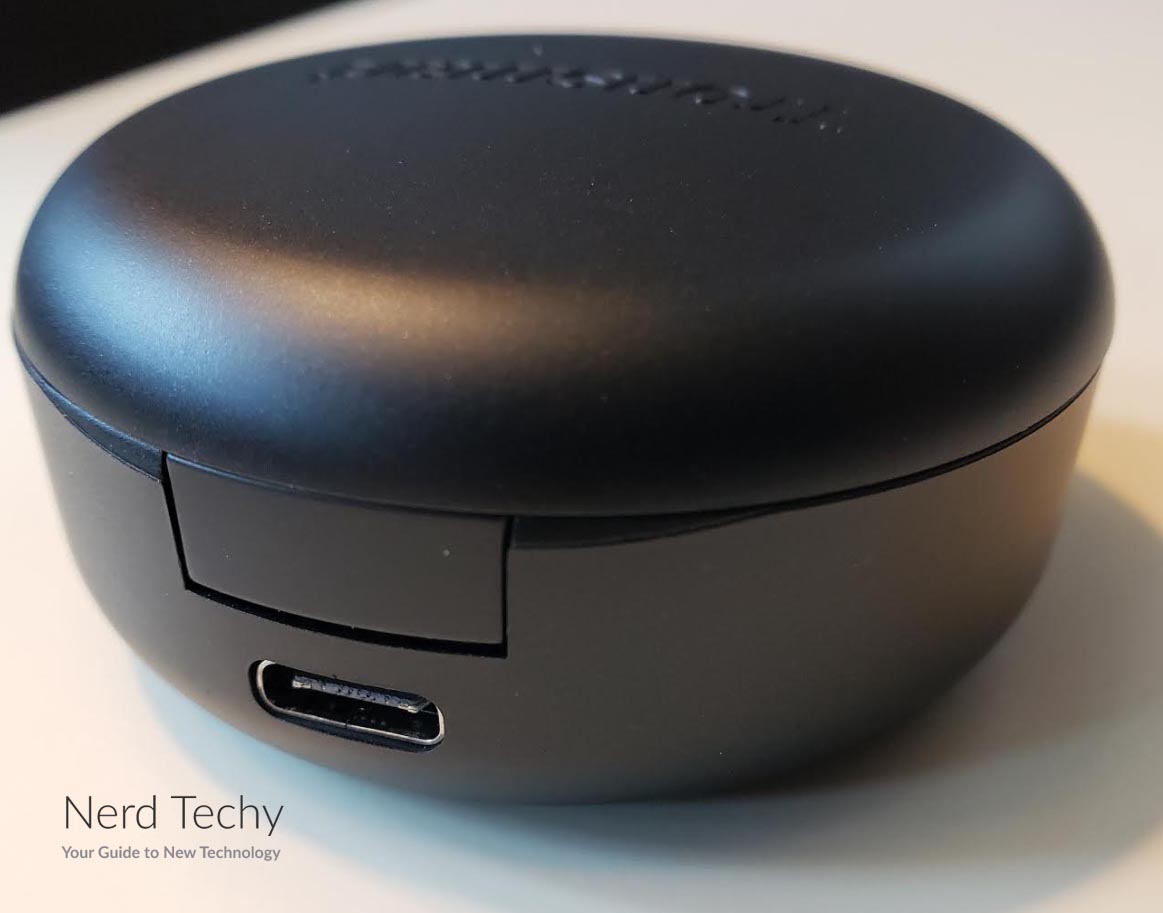 Final Verdict
So, are the Tronsmart Apollo Bold ANC TWS Bluetooth Earbuds a good buy? It depends on what you want. The battery life in particular leaves something to be desired. On a modern pair of buds, we'd like to see at least an extra 60 minutes. On the other hand, not many earbuds offer ANC, and ANC will inevitably shorten your battery life.
Moreover, you get some of the best audio quality in this price range. Everything is clear and in its place, with no crowding or muddiness in the mix. The fit is concerning, but that's a matter of personal preference. Provided you have medium-sized ears, you're looking at a solid set of buds.