In recent years, the wireless earbud market has been flooded with a ton of new products. This isn't just because of some new fad. It's because of fundamental advances in the technology. Just a few years ago, wireless earbuds were anything but good. You couldn't listen in stereo, and you couldn't listen at high bitrates. Effectively, they were a fancy way to enjoy hands-free calling without fewer distractions. But then, True Wireless Stereo was invented. This changed the way people enjoy music on wireless earbuds. For one thing, you can now listen in stereo. For another, you can enjoy the richness of high bitrate audio.
The proliferation of wireless earbuds has come with costs and benefits for consumers. On the one hand, you now get a much wider selection of products. You're not just limited to Apple's high-priced AirPods. On the other hand, it can be tough to figure out what's worth buying and what's not. One reliable way to find a good set of buds is to go with a strong manufacturer. Tronsmart is one of the leaders in the industry. We've reviewed their S2 Plus Earbuds in the past, as well as their T6 Plus wireless speakers.
Today, we're going to review the Tronsmart Onyx Free True Wireless Earbuds. These are compact buds that are designed to push out big sound. So far, so good. But how well do they actually perform? How portable are they, and how long do the batteries last? We'll take a deep dive into all of their benefits and features, and tell you everything you need to know. Let's get started!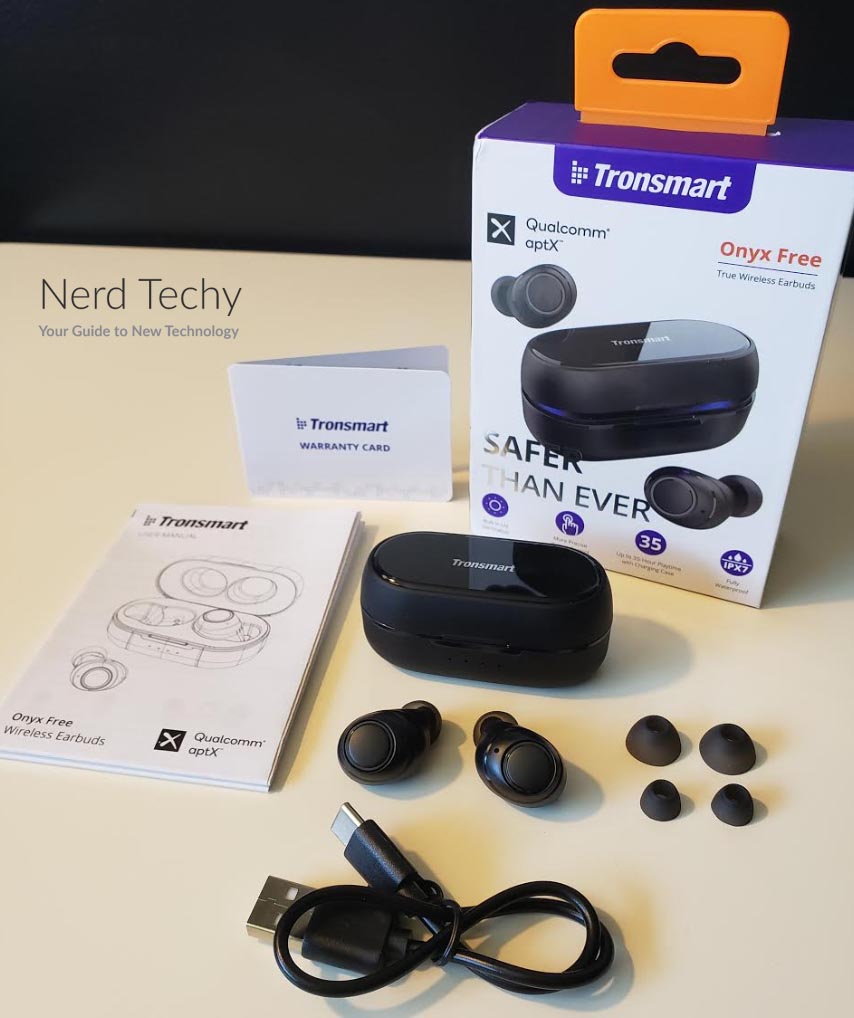 Overall Design
The first thing you'll notice about the Tronsmart Onyx Free True Wireless Earbuds is how compact they are. They have a tiny, "shell"-style design that's built to sit neatly in your ears. There are no over-the-ear hooks or hanging battery rods to mar the sleek design. The downside here is that they rely on your ear canals to keep them firmly in place. If you don't have a secure fit, they're going to fall out. Moreover, a secure fit will also help block out ancillary noise. The first thing to do with any earbuds of this style is to try on different ear tips. There are three different sets included with the kit, so you can choose a larger or smaller set as needed. Take your time, and you'll thank yourself later.
The buds themselves have a satin black shell, which is fairly standard for the industry. They're easy to keep clean, but they tend to show fingerprints after extended use. Of course, this is nothing a damp cloth can't fix. On the back of each earbud, you'll find a soft touch button that operates the audio controls. You can turn the volume up or down, skip tracks, answer or end calls, and pause or play your music. You can even activate your phone's voice assistant for a more full-featured hands-free experience.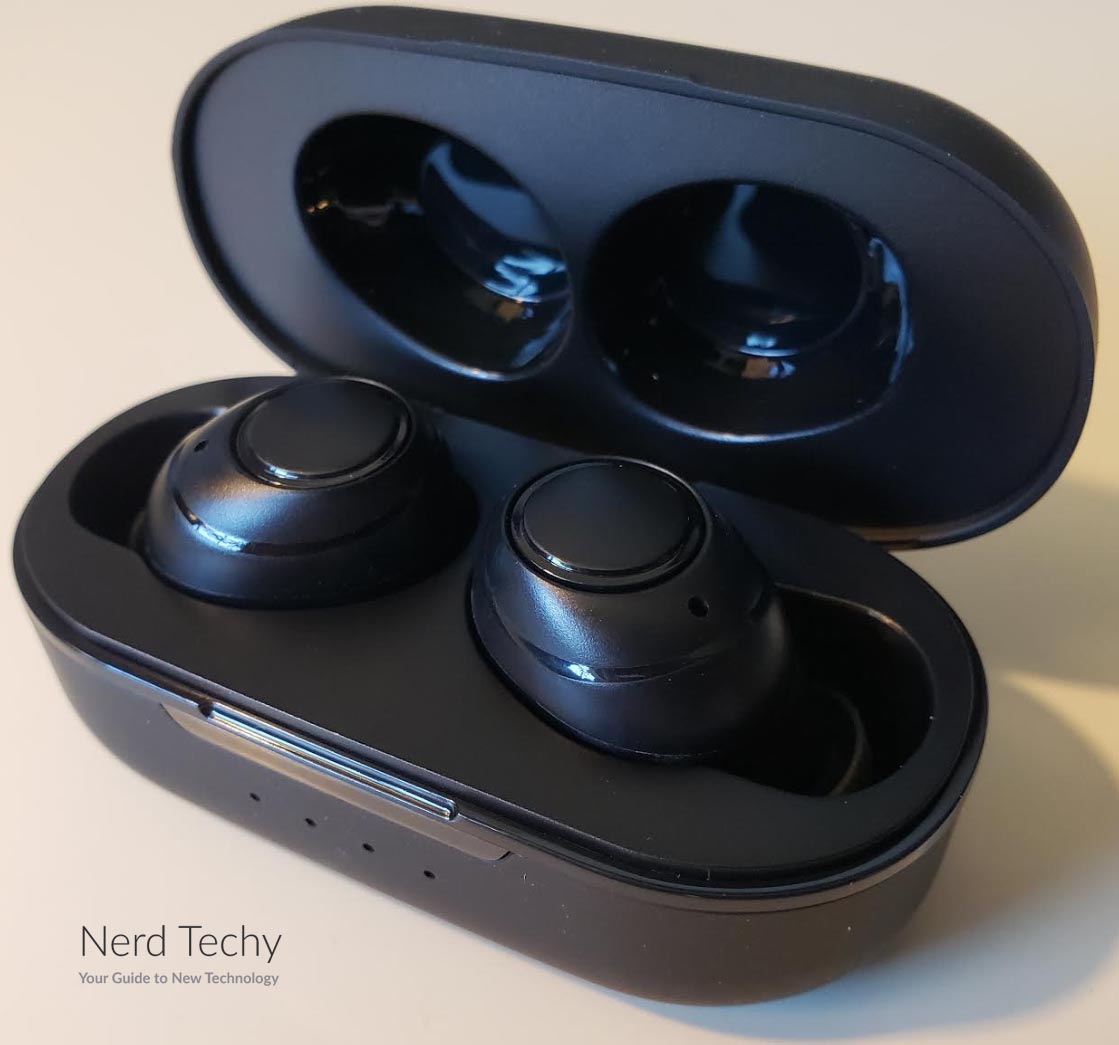 The Onyx Free earbuds are IPX7-rated for water resistance. This is as high as you can go on the IP scale without getting a custom certification. It indicates that they can withstand submersion under a full meter of water for a minimum of 30 minutes. Needless to say, this puts them a cut above your average "sweat-resistant" earbuds. Sure, you can wear them during a workout. But you can also take them in the shower with you afterwards. And if you want to take them swimming, there's nothing stopping you. Unless you're scuba diving, there's nowhere you can go that these buds can't come with you.
The charging case is oval in shape, and has a matching satin black shell to the earbuds. It's relatively compact, measuring 2.6 inches in width, 1.26 inches in depth, and 1.18 inches in thickness. It has a clamshell-style design, and pops open easily when you press your thumb into the slot. The lid is spring loaded, so it won't come open by accident when you don't want it to. Better yet, the overall weight of the charging case and buds is only 1.42 ounces. This is exceptionally light, practically weightless. You can carry it in your pocket, and you won't even realize it's there. Similarly, you won't have any issues carrying it in a backpack, fanny pack, or purse.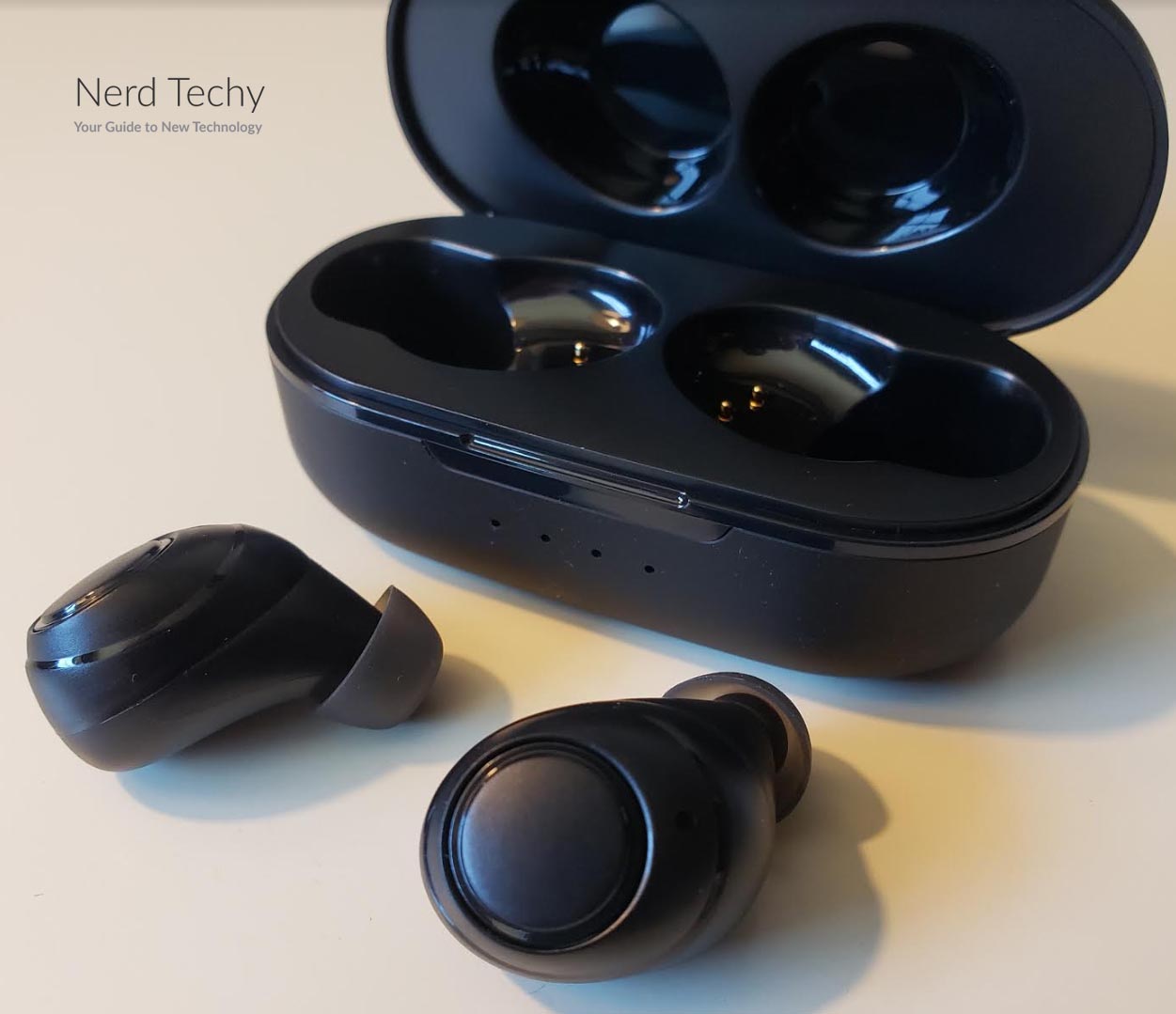 On the front of the case, there's a row of four LED lights. These lights indicate the current status of the internal battery. To save power, they only illuminate when the case is in use. Otherwise, they remain off. Moreover, they blink slowly when the UV sterilizer is active.
Yes, you read that right. The Onyx Free earbud case has an internal UV sterilizer. When you insert the buds into the case and close the lid, the sterilizer will automatically activate. It will run for 30 seconds each time you do this. No need to worry about spreading germs by handling your buds. They'll be as clean as a whistle every time you take them out of the case.
Along with the buds and the case, you get a USB Type-C cable for easy charging. You also get a warranty card. Fill this out and send it in, and you'll get 12 months of coverage. If there are any defects in material or workmanship, you'll be entitled to a full refund or a free replacement.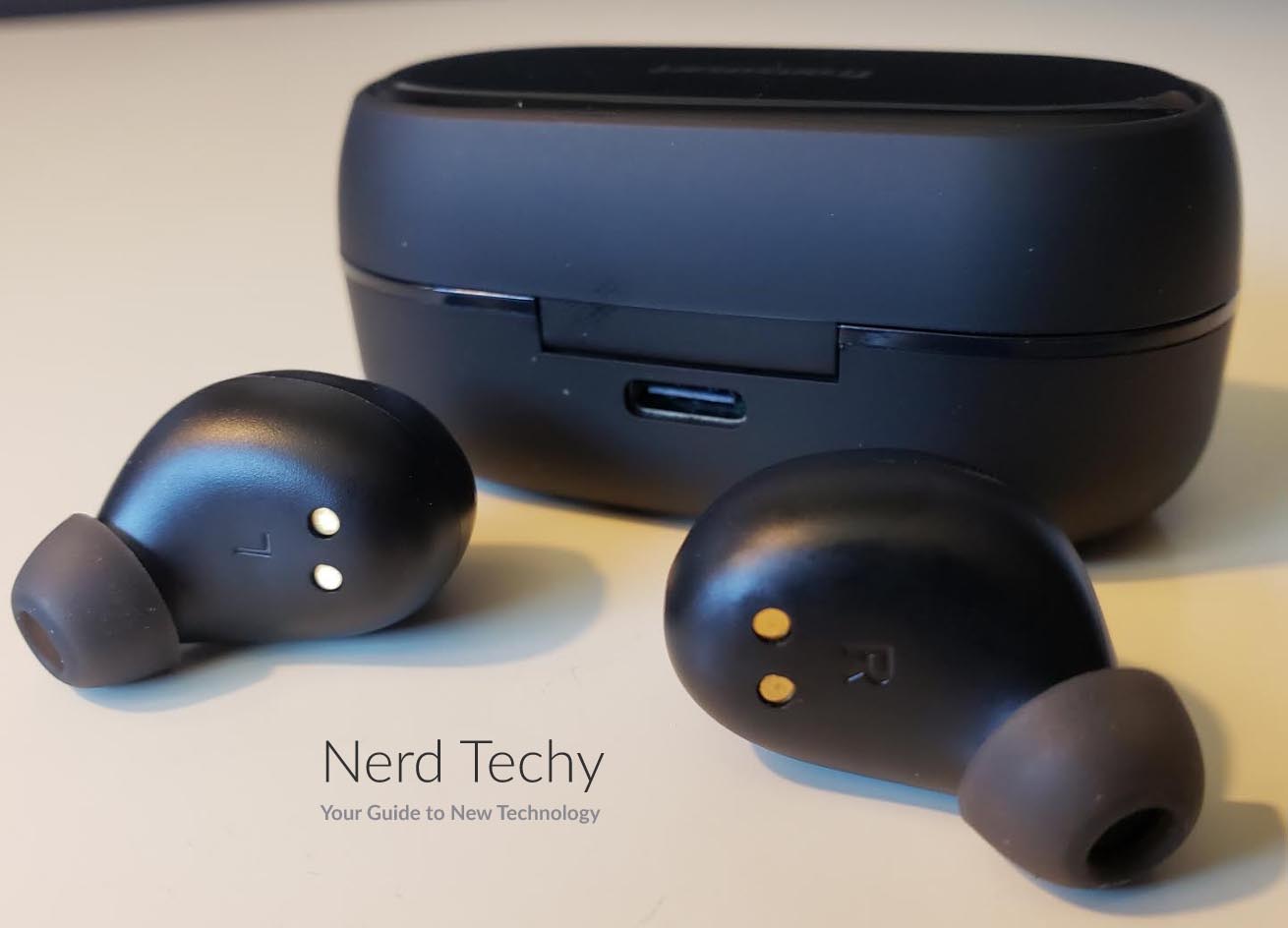 Battery & Connectivity
Okay, so the Tronsmart Onyx Free earbuds are very well constructed. But that doesn't mean much if the battery dies while they're in use. In this regard, they perform very well. One thing we appreciated is that Tronsmart provides two battery ratings. At 50 percent volume, the buds will last for 7 hours. If you crank the volume up to 100 percent, you're looking at about 4 hours of battery life. This is better than most wireless earbuds, if not all. You can extend this with four additional recharges from the charging case. This gives you a maximum of 35 hours of playtime, or about 20 hours at full volume. Again, this is better than most wireless buds on the market.
The Onyx Free earbuds will recharge from dead to full in about an hour via the charging case. If you use them during your workout and commute, just pop them in the case when you get to work. By the time you go for lunch, they'll be ready to rock and roll. In a pinch, you can use the quick charge function to get some emergency juice. After five minutes in the case, you'll get about 1-2 hours of performance, depending on volume. The case itself will fully charge in about 2 ½ hours via the USB Type-C charging cable. Forget about charging your case overnight. You can top it off in the time it takes to watch a Marvel movie.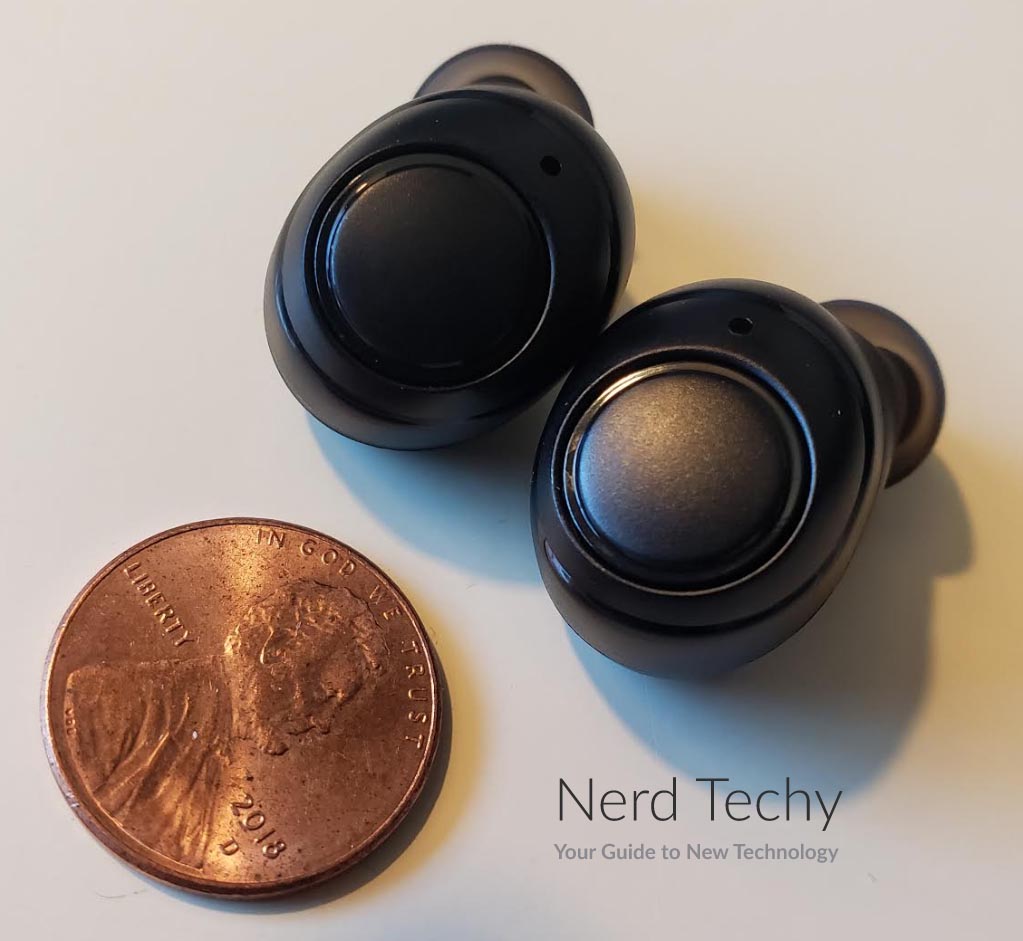 The Tronsmart Onyx Free earbuds utilize the Bluetooth 5.0 wireless protocol. This is the latest and greatest Bluetooth version, and provides some significant benefits. For one thing, you get a more stable connection than you did with Bluetooth 4.2. For another, you get virtually zero latency. This makes them a great choice for watching movies, since the video won't be out of sync with the audio. Finally, you can enjoy high-bitrate audio without the need for downscaling. The total range is 50 feet, so you have some room to roam while you're listening.
There are two additional benefits that the Onyx Free earbuds offer. The first is the ability to connect one earbud all by itself. This isn't a great choice for music. But for hands-free calling, it allows you to call while driving, or while you want to maintain situational awareness. Not only that, but the buds also support dual device connections. You can pair them with two phones, or with a phone and an MP3 player. This can cause the controls to get a bit janky, but it's nice to have the option if you need it.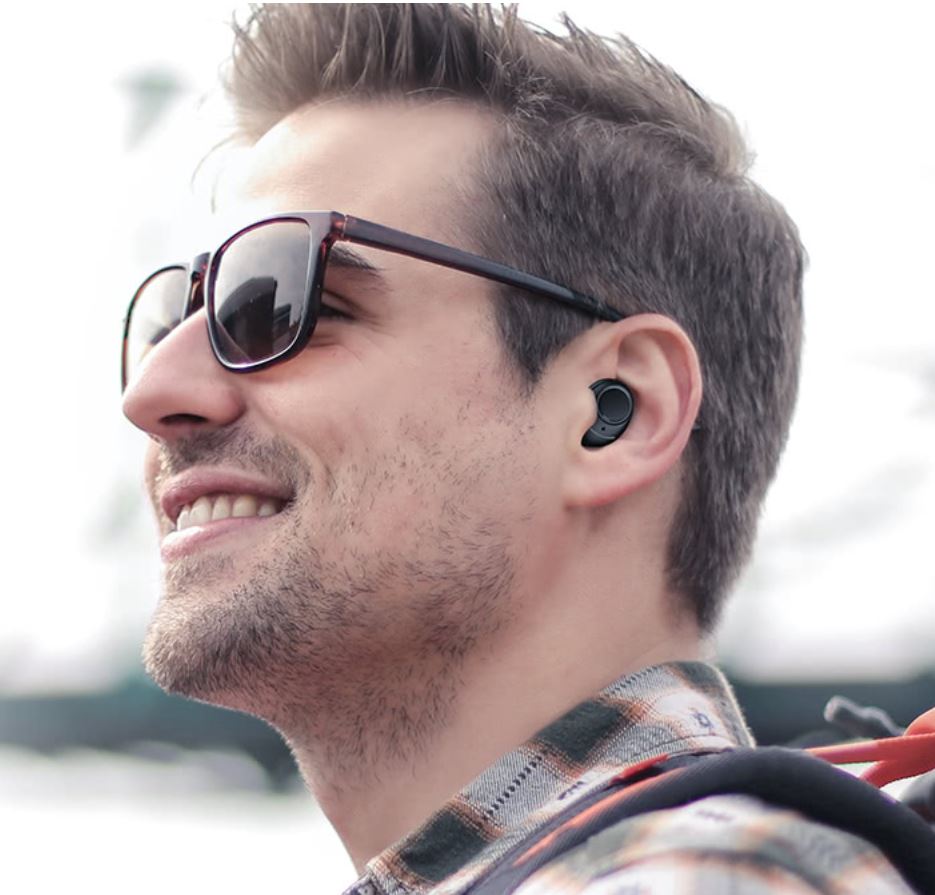 Sound Quality
The Tronsmart Onyx Free True Wireless Earbuds sport 6mm drivers that are about standard for wireless buds. They're not super small, but they're not terribly large, either. They're more than loud enough for most purposes, though. The sound is warm and pleasant, with rich medium and high frequencies. Even at very high volumes, you won't get any fuzz or static.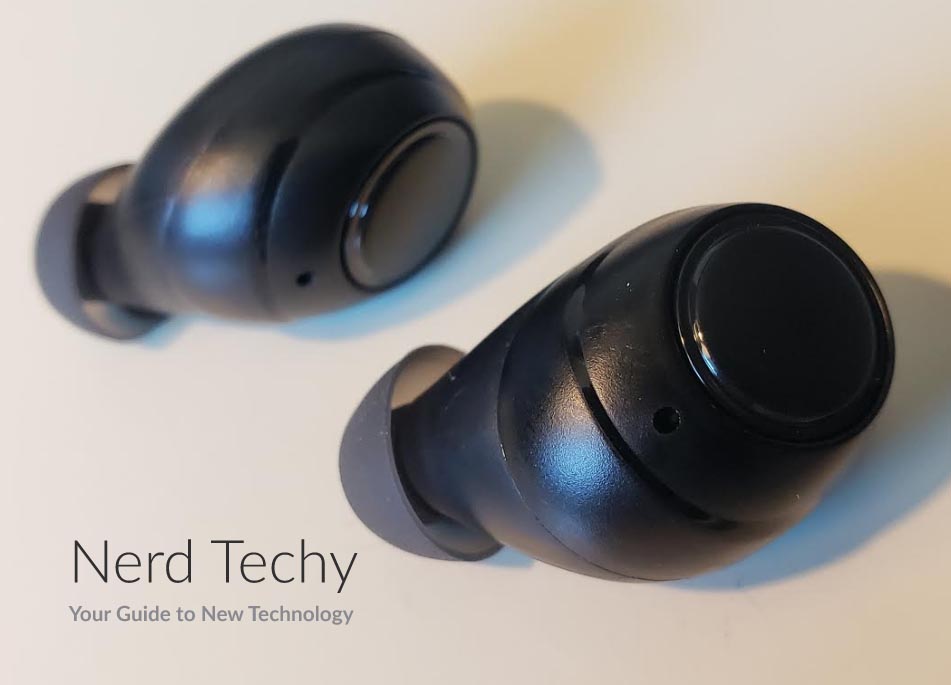 The bass is rich and clear, with plenty of depth. However, the bass volume is limited. You won't get the same "punch" as you would from larger earbuds. This is to be expected with 6mm drivers, but it's still something you should keep in mind. Regardless, the soundstage is nice and wide, so you can hear all instruments individually. So even though the bass is quiet, it's still present.
If you need more powerful bass response, check out the Tronsmart Onyx Ace. These buds sport 13mm drivers that give a little more punch. That said, the controls and other features aren't as rich as the Onyx Free buds.
Another advantage of the Onyx Free earbuds is that they utilize the aptX Low Latency protocol. This protocol further enhances the benefits of Bluetooth 5.0. It allows for much lower latency, even at very high bitrates. This makes for an excellent experience if you're gaming or watching a movie.
When you're on the phone, you can take advantage of CVC 8.0 noise cancellation. This technology filters out background noise and brings your voice to the forefront. The person on the other end will have no trouble hearing you, even in a noisy environment. How well you hear them will depend on the quality of their headset or earbuds.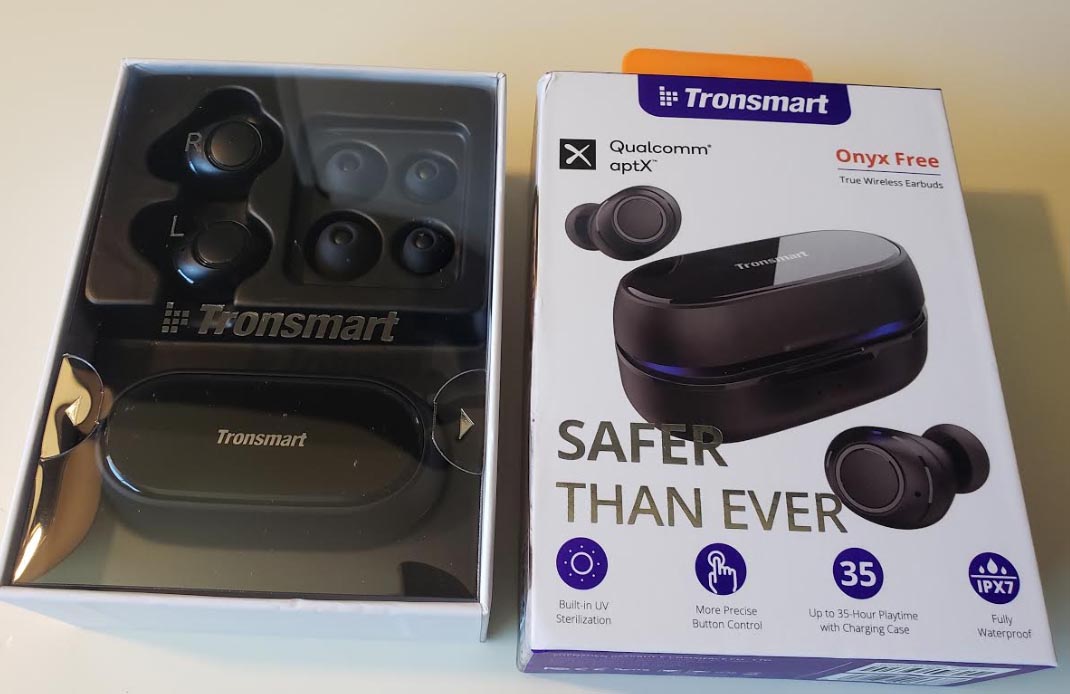 Final Verdict
As you can see, the Tronsmart Onyx Free True Wireless Earbuds bring a lot to the table. Considering the price point, the sound quality is very good. Not only that, but the connection is rock solid, and you can use them individually. CVC 8.0 noise cancellation, IPX7 water resistance, and a reasonable battery life are just icing on the cake.