Vacuuming your floor is one of life's least satisfying and least rewarding tasks. It needs to be done, but nobody else really cares. At least, nobody cares unless it becomes glaringly obvious that you haven't vacuumed in a month. So you do what needs to be done. You put on your grown-up pants, and you vacuum your floor like a responsible adult.
But why go through all the trouble? Why not let a robot handle the problem? No, not the maid from the Jetsons; a real-life robot vacuum. Ever since iRobot first released the Roomba, this has been a reality. Early robot vacuums were relatively dumb. They wandered randomly around the house until the battery got low, and you crossed your fingers. Hopefully, everything would get clean. But technology has come a long way since then. Modern robot vacuums can take intelligent paths through your home, and even map your floor. We now expect much more than we expected as little as a decade ago.
Note: At no extra cost to you, we may earn a commission for purchases using our links. Learn more.
Today, we're going to be looking at the Yeedi K700 Robot Vacuum and Mop Cleaner. It's the latest in their K series of robot vacuums, following up on the K600, which we've already reviewed. The primary advantage of the K700 is that it features a wet mopping mode as well as a vacuum. However, there are plenty of other features to look at. Does it live up to expectations? Or does it fall short of what we've come to expect from Yeedi? Let's dig deeper, and see what it brings to the table!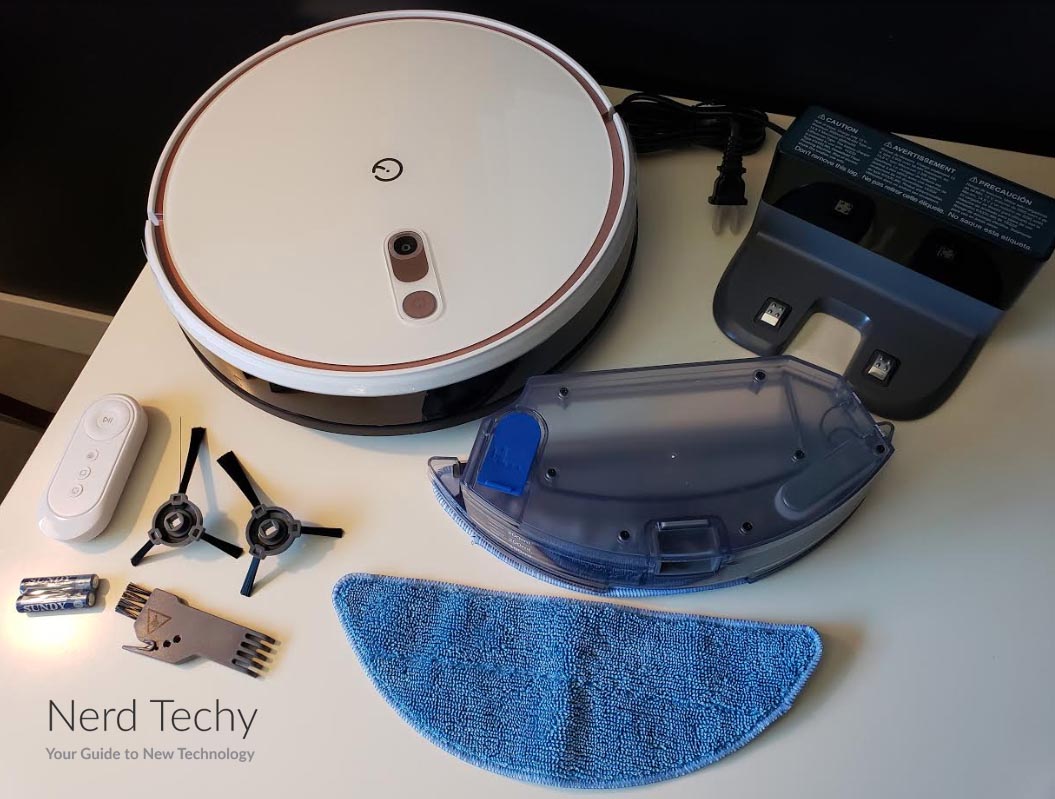 Overall Design
The Yeedi K700 Robot Vacuum and Mop Cleaner is a relatively beefy unit. It's shaped like a disc, which is the industry standard for robot vacuums. At 12.8 inches in diameter, it's slightly larger than average. However, it measures 3.19 inches in thickness, which is pretty large. This means you might have some trouble cleaning under some very low pieces of furniture. That said, this height is essential for accommodating the mop elements. Not only that, but it will still fit under most sofas. The height might be a bit thick, but it's not a major concern. At 6.71 pounds, it's also somewhat heavier than average. But once again, that's a side effect of it being a dual-function unit.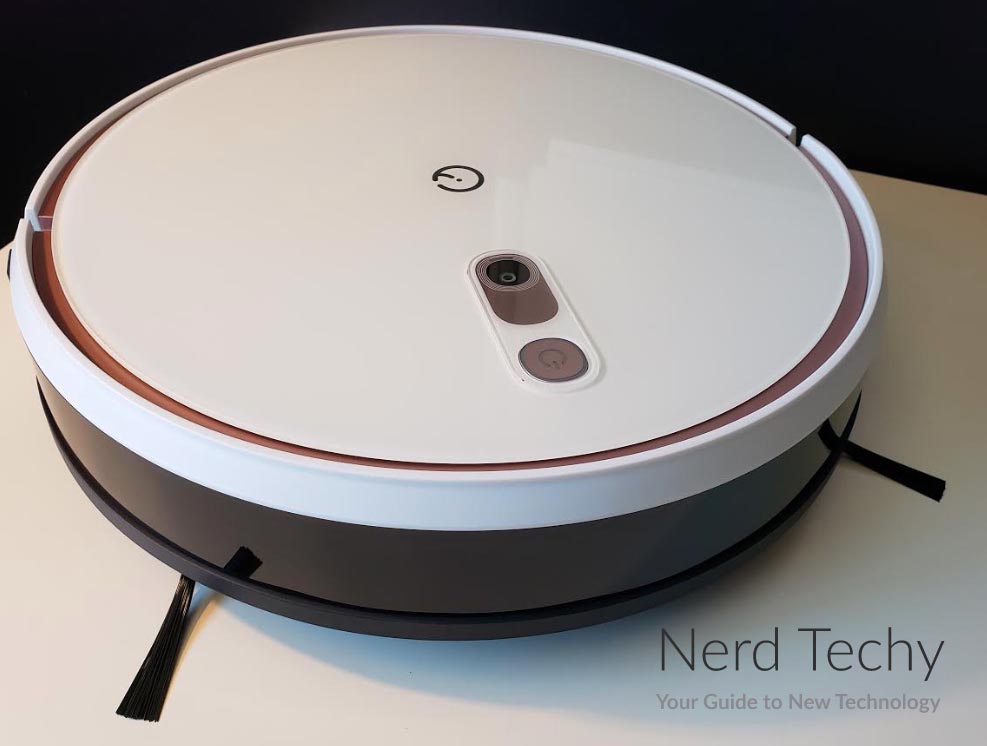 The unit is mostly white, and is constructed from a matte ABS plastic. This makes it easy to keep clean as well as fairly durable. Around the outer edges, there are a pair of transparent windows. The first allows you to monitor the dust bin level, while the other allows you to monitor the water reservoir. Between these windows, an air vent allows for cooling of the motor and other internal components. The top of the unit is covered with tempered glass, which provides a measure of crush resistance. It also adds a pleasant aesthetic touch. Underneath, there's an outer coral ring, as well as coral highlights on the controls. If you want a vacuum that's easy on the eyes, you're looking right at it.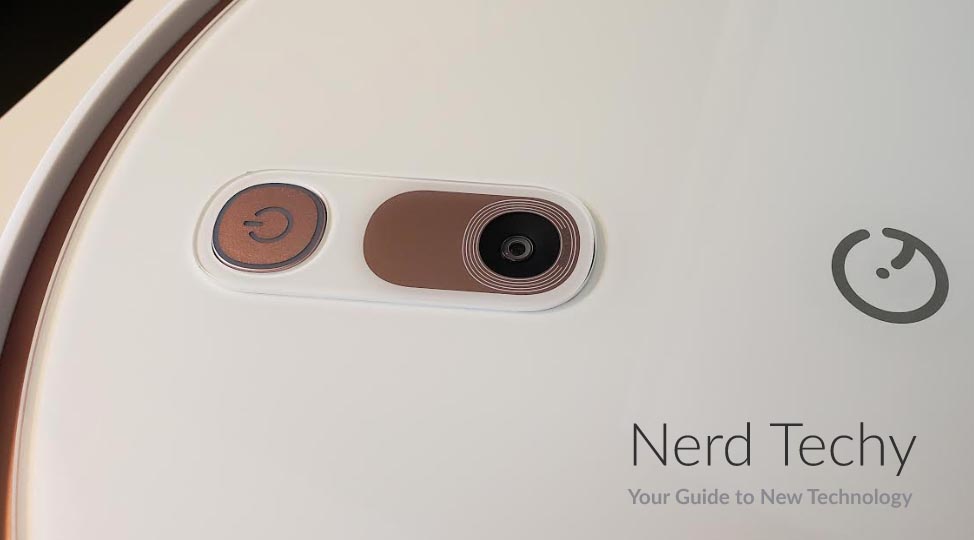 The dust bin has a capacity of 600mL. This is fairly large, a full 20 percent larger than your average 500mL dust bin. You can vacuum for hours without needing to empty it out, and emptying it is easy. Simply flip over the vacuum and push the release tab, and the dust bin pops right out. Dump it out in the nearest trash can, pop it back in, and you're good to keep vacuuming. Obviously, the exact amount of operating time will depend on how dirty your floor is. The more you're vacuuming up, the more often you'll need to empty the bin.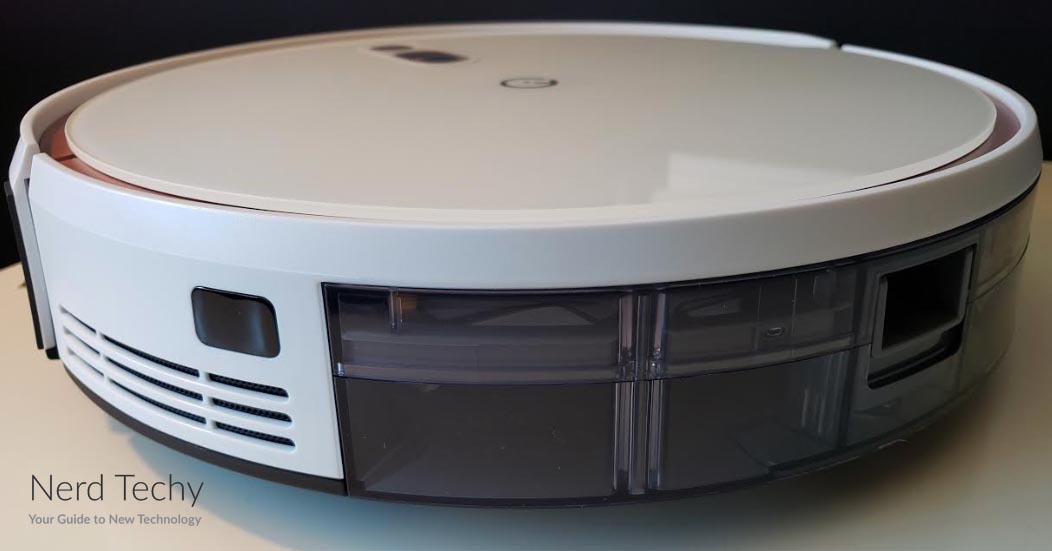 Along with the vacuum itself, you get a few extras. To begin with, there's a handheld remote, which allows for easy control. The remote runs on a pair of AAA batteries, which are also included in the package. In addition, there's a pair of extra washable mop pads, as well as a bonus sponge filter for the water. There's even an extra air filter for the dust bin.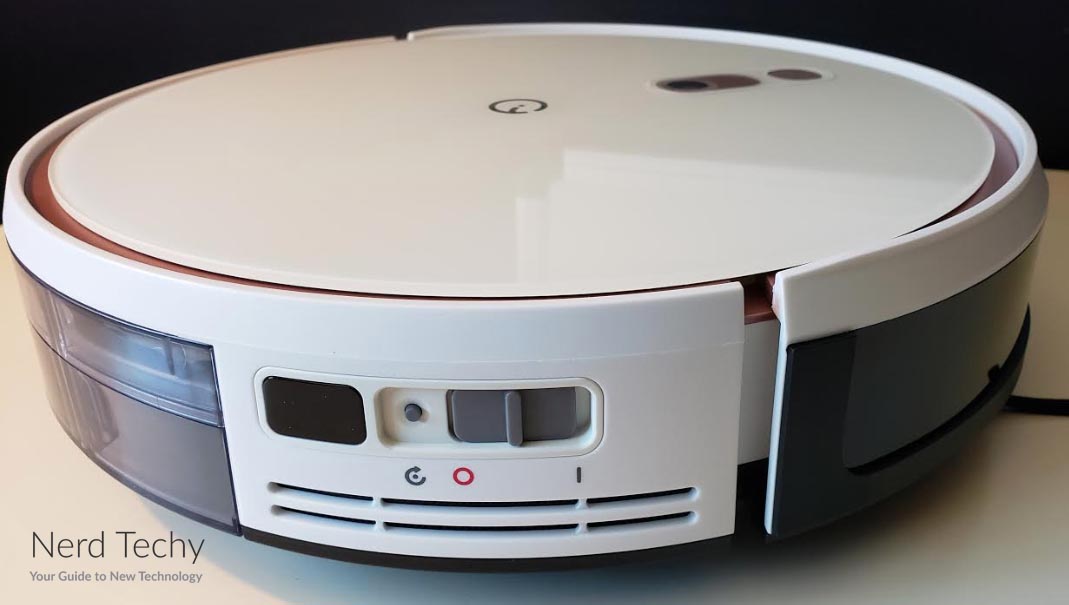 Like most robotic vacuums, the K700 also comes with a charging station. This charging station sits low to the floor and close to the wall to prevent tripping. Still, it's wise to put it in a low-traffic area to avoid it getting kicked. You'll also need to be within six feet of a power outlet so it can be plugged in.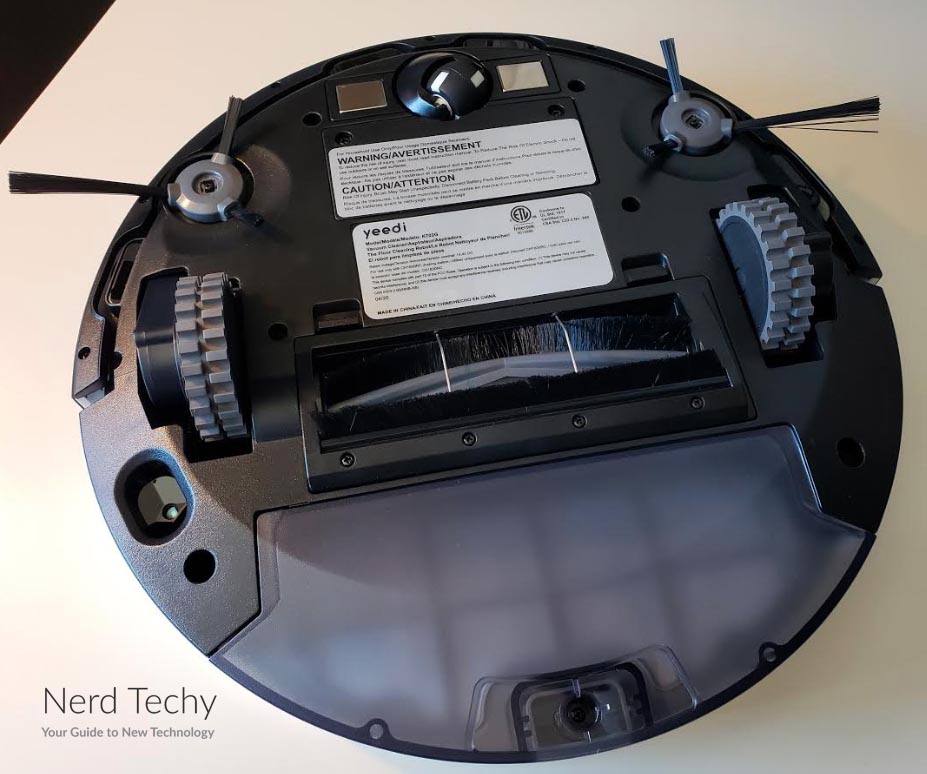 The K700 is covered by Yeedi's 12-month manufacturer's warranty. You're protected from any and all defects in materials or workmanship. Not only that, but you get 24/7 customer support to help you sort out any issues.
Vacuum Performance
The Yeedi K700 will offer different features depending on what mode you're running it in. There are two vacuum modes, as well as a single mopping mode.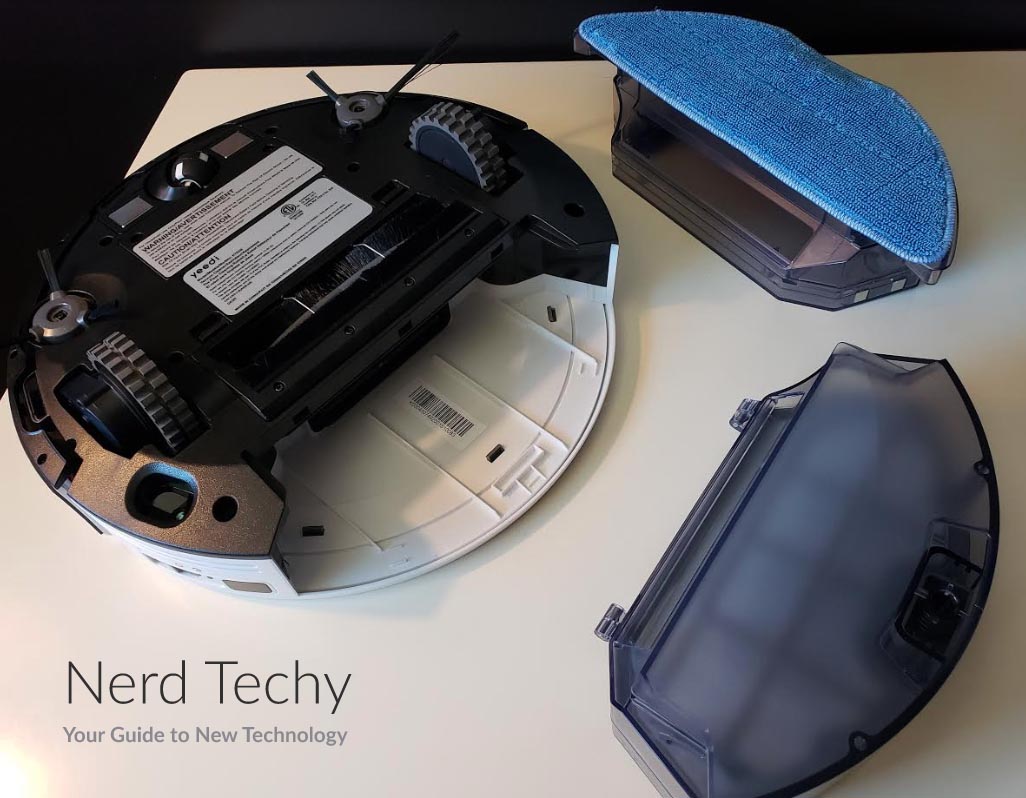 Most people will spend the majority of their time utilizing it in the two vacuuming modes. The basic vacuum mode operates at 1,000 Pascals (Pa) of suction. This is fairly light, and doesn't suffice for deep cleaning. However, it works more than well enough for everyday use. A large roller brush sweeps up debris directly into the suction chamber. Moreover, a pair of horizontal brushes extend out from the unit. They spin in circles, sweeping dirt and debris towards the center so the main roller can collect it. For lightweight messes, this is generally good enough. Moreover, you get 110 minutes of battery life, enough to clean an entire floor of your house.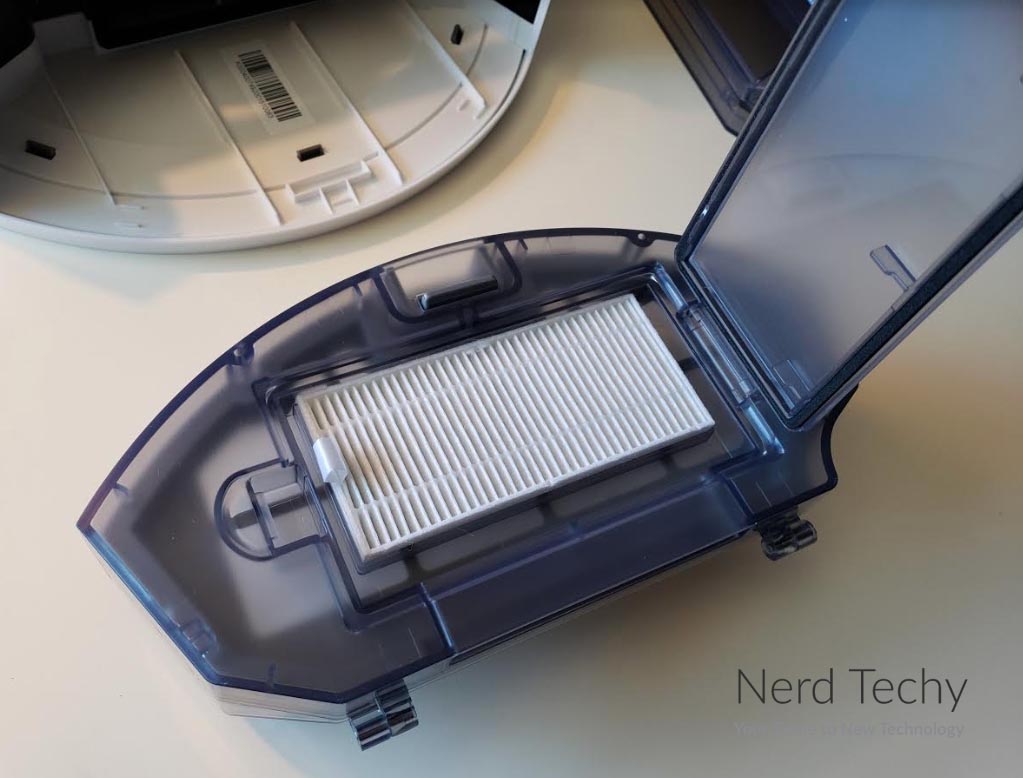 Regardless of what vacuum mode you use, the air will pass through a high-quality air filter. This filter removes 99 percent of airborne contaminants. Is it a HEPA filter? Not quite. But it's pretty effective, much more so than your average chintzy vacuum filter.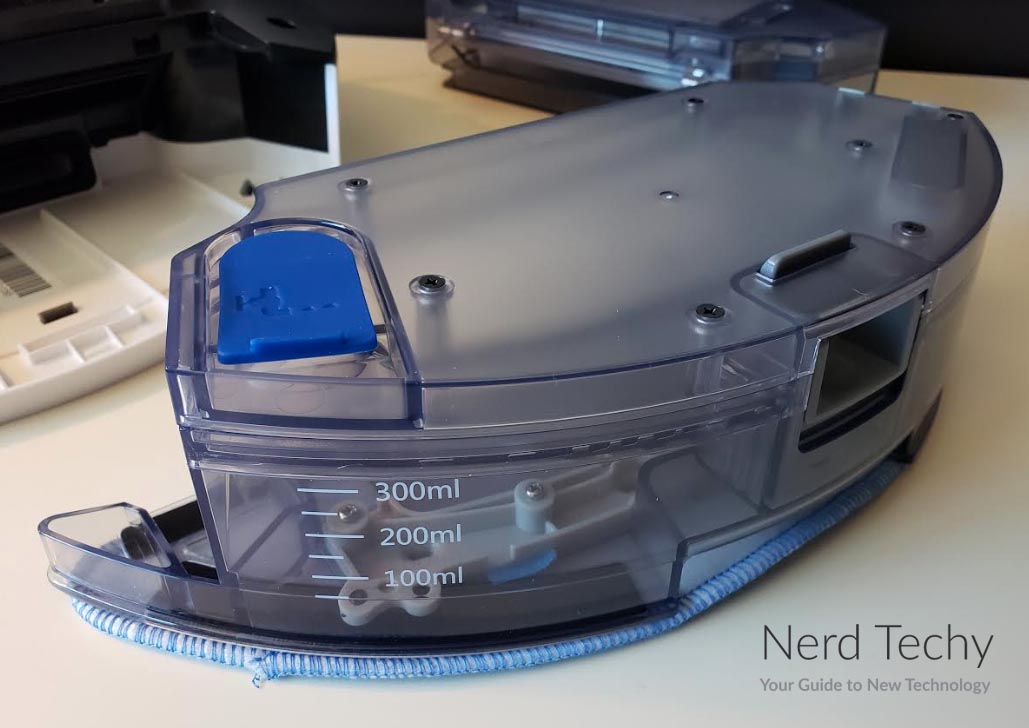 If you're trying to clean a deep pile carpet or a badly soiled one, you might need more power. In that case, you can turn the vacuum up to the high setting. In this mode, it will provide 2,000Pa of suction, enough for almost any mess. You can suck up cat hairs, rock salt, and other intense messes. The downside of this mode is that it will lower your battery life. You're looking at about 45 minutes of performance when running on high. That said, you shouldn't need to use it much if you're vacuuming regularly.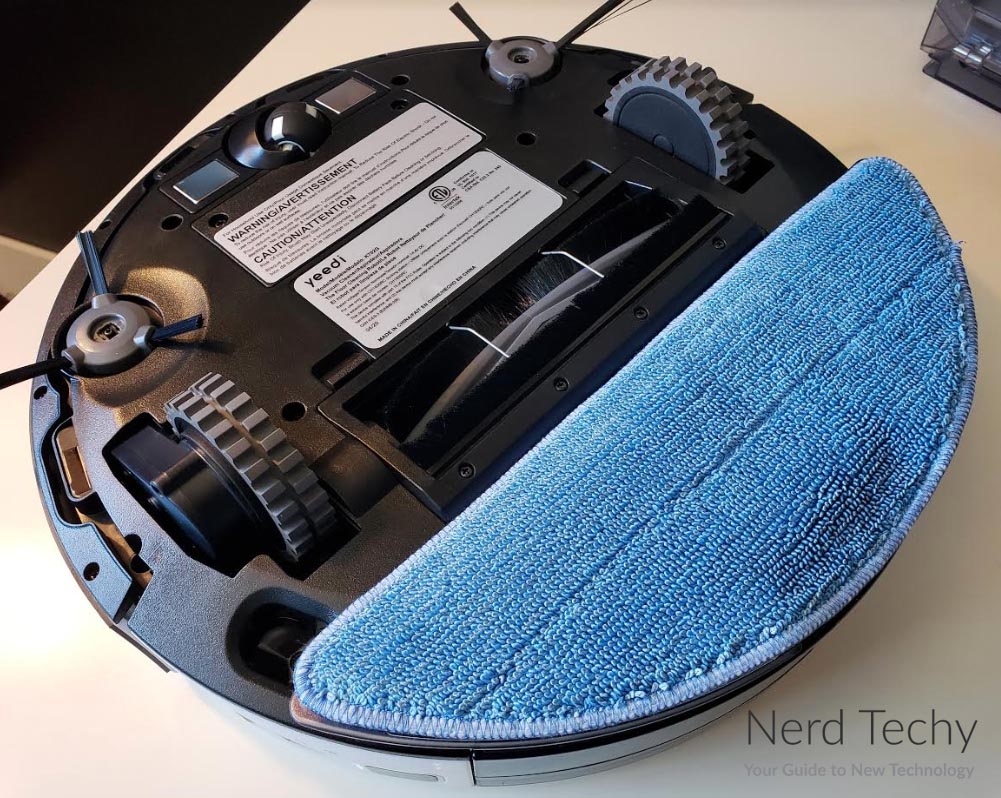 To convert the K700 to mopping mode, you'll need to attach a mopping pad. It attaches via velcro, which makes it very easy to install. When it gets dirty, you can easily detach it and wash it. The pads are made of microfiber, and can be reused dozens of times before they need replacement. In mopping mode, you can expect 250 minutes of continuous operation. That's more than you can ever expect to need. In fact, you're almost certainly going to use up the entire 300mL reservoir before your battery runs dead. For best results, don't limit yourself to water. Add some cleaning solution or even a disinfectant.
Setup and Everyday Use
The Yeedi K700 utilizes an advanced navigation system with two sensors. There's an upper sensor that looks out for furniture, walls, and other vertical obstacles. Meanwhile, a lower sensor looks for stairs and other drop-offs. Between the two of them, they prevent collisions and other damage.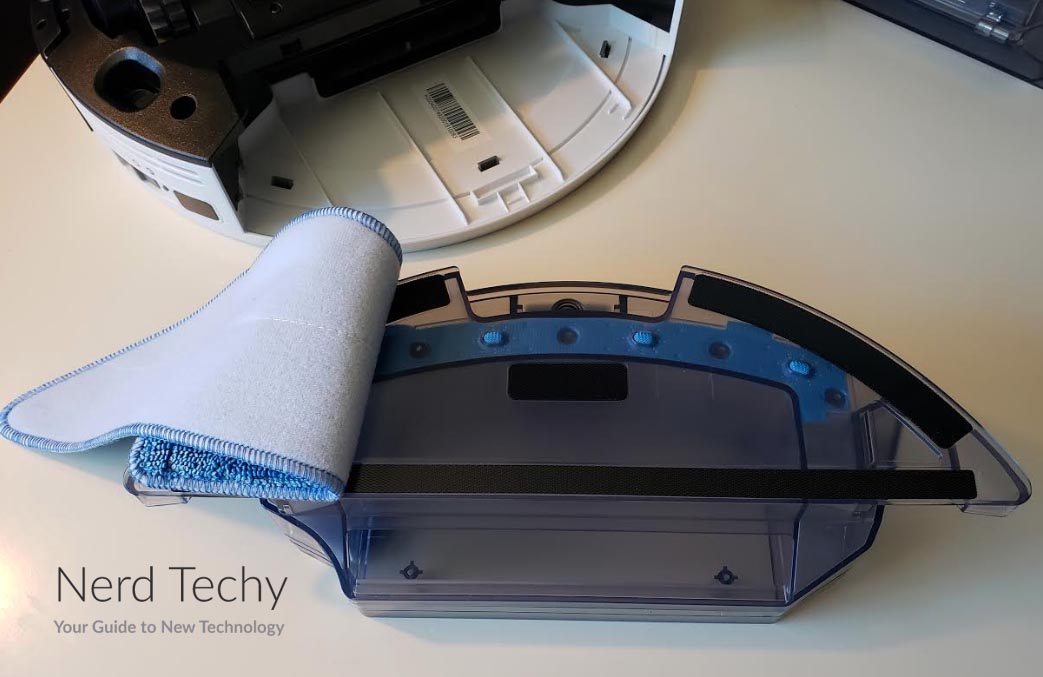 As the vacuum runs, it builds a virtual map of your home. This takes a little bit of time. When the vacuum first starts running, it will appear to work randomly. Don't worry; it's learning its way around your home. After the first use, it will operate much more efficiently. The K700 will automatically plan a zigzag pattern that's as efficient as possible. It will not miss a spot, and it won't waste time running back and forth over the same area. Even if it's running on high, with consummately low battery life, it can cover a wide area in one cycle.
The K700 can navigate obstacles of up to 1.6cm in height. This equates to more than half an inch, so the vacuum can go just about anywhere. It will cross thresholds with ease, and transitions between floor types are a no brainer. You don't have to worry about your vacuum getting trapped in one room just because of a transition strip. Unfortunately, there are no magnetic or laser sensors to limit the vacuum's operation. It can and will go everywhere on a single floor. Depending on what you want, this can be a good thing, or it can be a deal-breaker.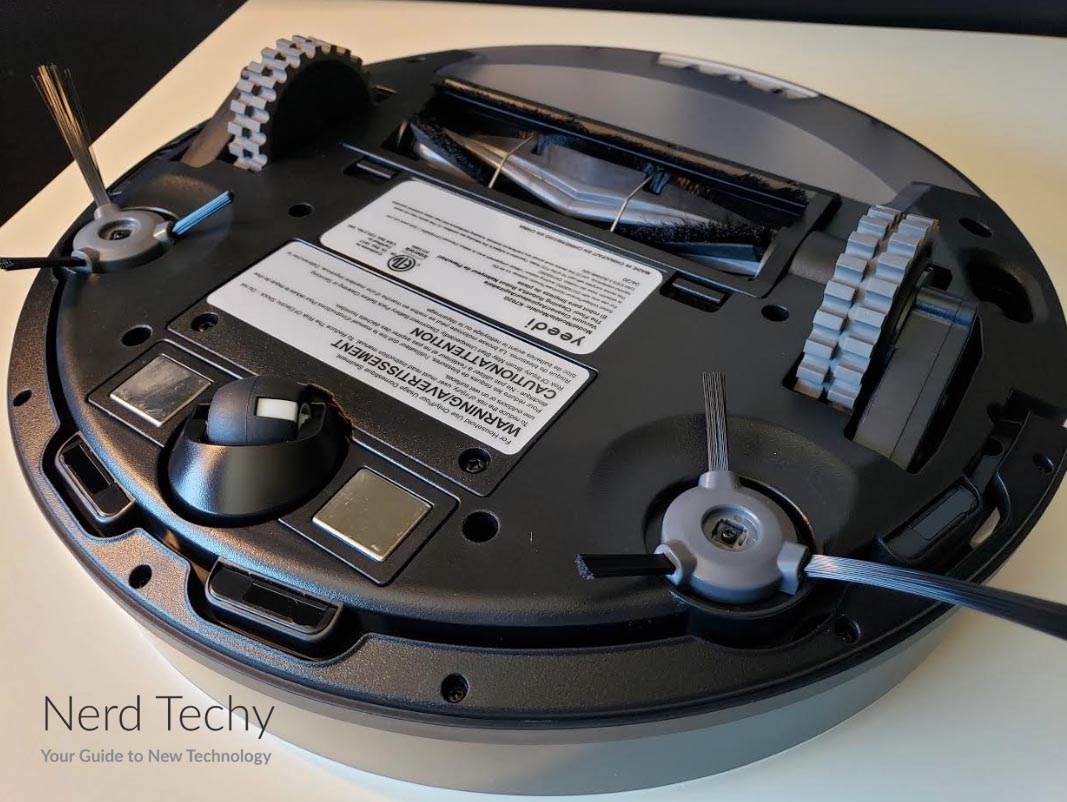 When the battery drops to about 10 percent, the K700 will recognize that it needs to recharge. At this point, it will automatically return to the charging station. As a result, you don't have to worry about your battery running dead while the vacuum is running.
The K700 doesn't come with a smartphone app or any ultra-modern control scheme. For some more tech-oriented folks, this might be disappointing. On the other hand, the remote allows for plenty of options. You can switch between mop and vacuum modes, or double-tap the button to change vacuum strength. Separate home and vacuum buttons are also clearly marked. This makes the K700 very easy to operate for senior citizens, or for anyone who wants a more basic interface.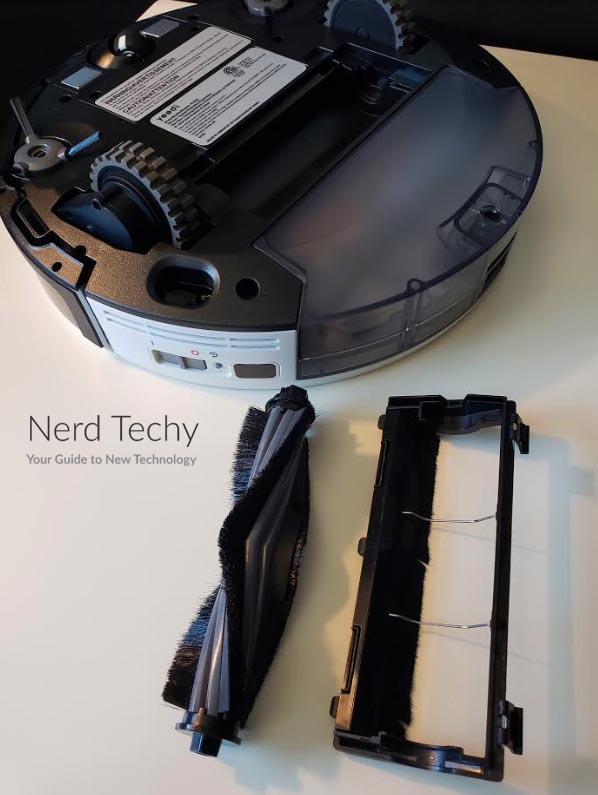 Final Verdict
The Yeedi K700 Robot Vacuum and Mop Cleaner is a unique animal. On the one hand, it's deceptively low-tech. There's no app control, and there are no barrier options. On the other hand, it's surprisingly advanced. You might not be able to see its map of your house, but the map is there, and it's very efficient. Not only that, but the two power options are a great additional bonus.
You can run the vacuum at low power for a longer battery life, or at high power for maximum suction. For hardwood floors and tile, you can switch to mopping mode to easily clean ground-in dirt. And with its sturdy construction, you can use the K700 for years without needing a replacement.
Please consider sharing:
Note: At no extra cost to you, we may earn a commission for purchases using our links. Learn more.