Let's be honest. Shopping for a vacuum isn't exactly as exciting as buying most technology. At the end of the day, it's a simple, utilitarian task. You wouldn't get all excited about buying a new toilet brush or broom. At the same time, having the right – or wrong – vacuum can make a big difference in your weekly routine. The goal here is to vacuum your home as quickly as possible while leaving it as clean as possible. This means you need to look primarily for an efficient motor. A large dust bin doesn't hurt, either, since it means you won't have to stop and empty it as often.
However, there are also other important considerations. With a handheld vacuum in particular, you need to know how long the battery life is. You also need to know whether or not the ergonomics are good. It's tough to keep your home neat and tidy when your hands are cramping up! Another important consideration is finding a good manufacturer. Proscenic is well-regarded, and we've reviewed their M7 Pro LDS Robot Vacuum in the past.
Today, we'll be reviewing the Proscenic P10 Cordless Vacuum Cleaner. This is a handheld vacuum with a simple suction tube attached to a motor. So, how well does it perform? How good are the attachments? How good are the filter and the battery, and is it a good value? We're about to take a close look at all the P10's features, benefits, and functions. Once we've done that, we'll be well equipped to render a final verdict. Let's dig in, and see how it stacks up to the competition!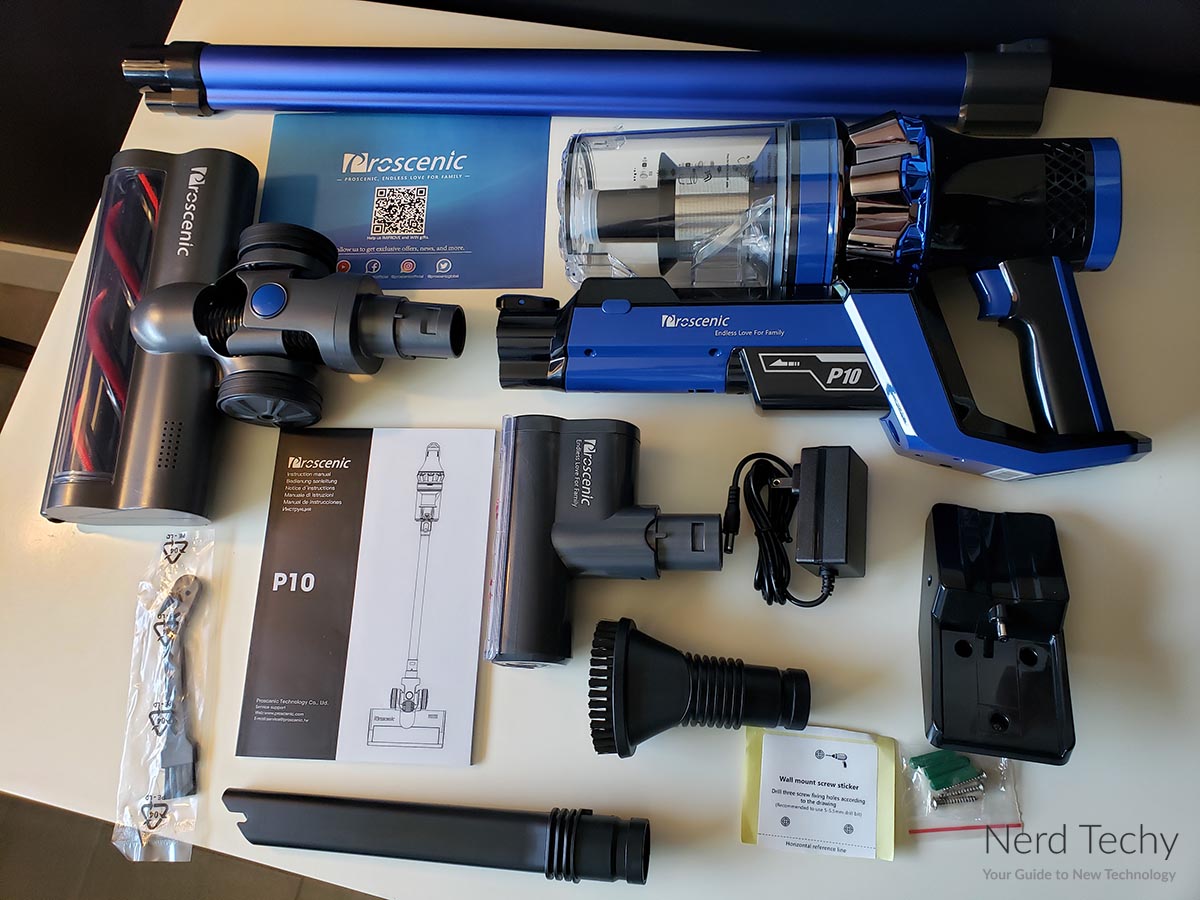 Physical Design
The Proscenic P10 Cordless Vacuum Cleaner is an attractive vacuum with a compact design. It sports a pistol grip, with the motor on the back side and the dust bin towards the front. The rear motor placement provides for some weight balance, while still keeping the front slightly heavier. In total, the vacuum weighs 4.4 pounds, which is about the weight you'd expect from a unit this size. The pistol grip, including the battery and dust bin, measures 10 inches in height and 8.6 inches wide. With the extension tube attached, it measures 47 inches in length. This is ideal for a handheld vacuum. It's enough to comfortably operate while you're standing, while not so long as to add too much weight.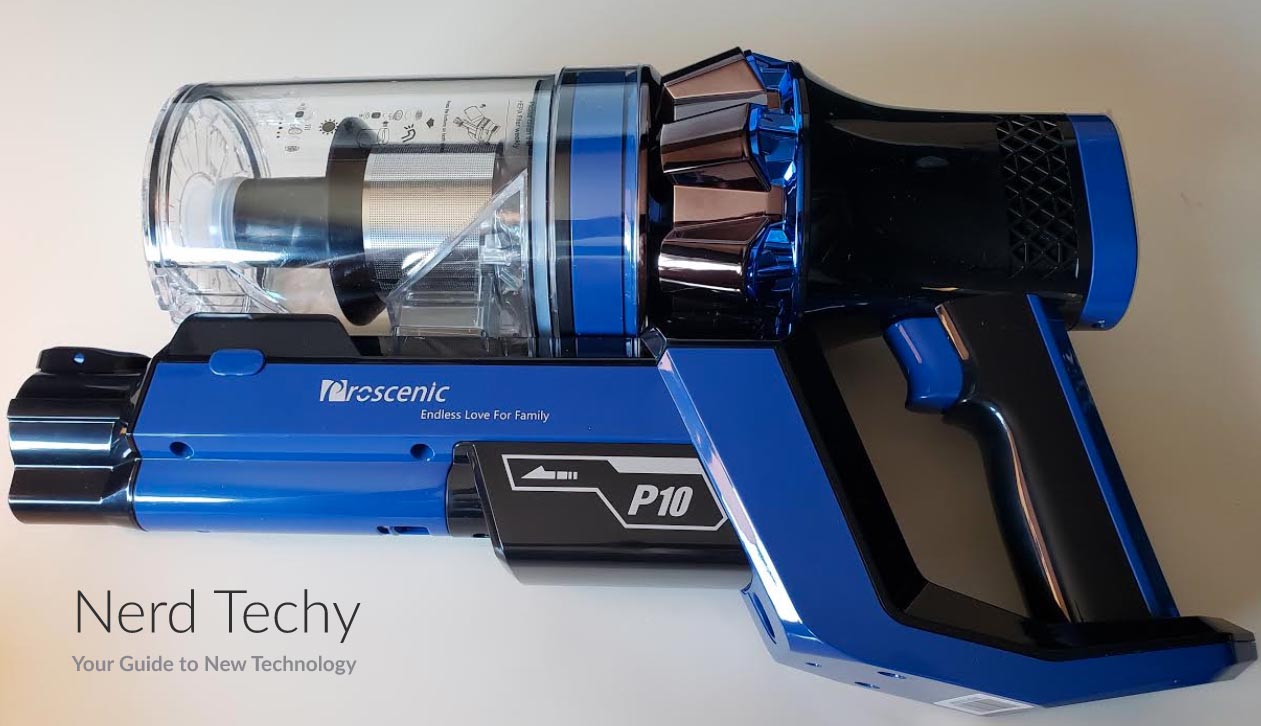 The handle and motor housing are constructed from a glossy black plastic. The back of the motor housing, the dust bin attachment, and the extension tubes are all electric blue. The color scheme really catches the eye, and the outside of the vacuum is easy to keep clean. There are vents on both sides of the motor, which allow for plenty of air flow. And the rechargeable battery pack mounts underneath, just in front of the trigger housing. Once again, this is a good weight placement, keeping the weight lower to the ground and only slightly forward.
The dust bin is cylindrical in shape, and relatively easy to empty. Simply press the release button, pop it off, and dump it out. It's also transparent, which makes it easy to see how much space is left. The extension tube has a similar push-button release. You can use it as needed for upright vacuuming or accessing hard-to-reach places. If you're cleaning upholstery or using the vacuum as a basic dust buster, just pop the tube off. The modular design makes the P10 suitable for a wide variety of cleaning tasks. The tube is mostly round, but has a rectangular bottom half. This provides room for internal wires that deliver power to the brush attachment.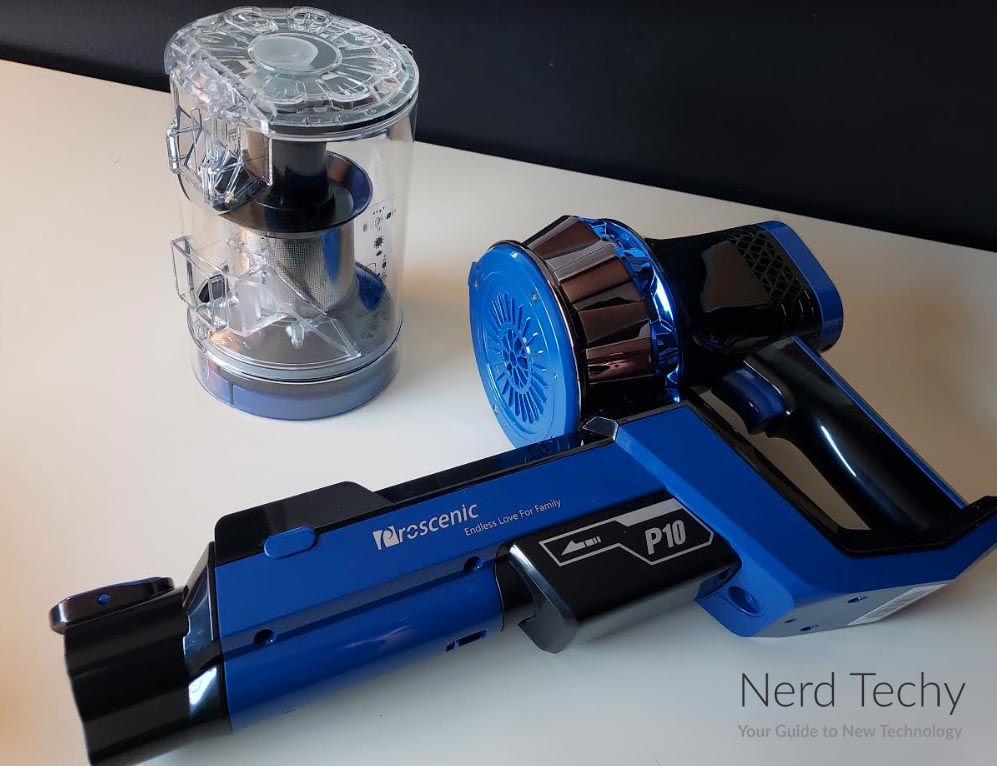 On the back of the pistol grip, you'll find an LCD touchscreen display. The display is relatively minimalist, but still allows for plenty of functionality. At the very top, there's a battery meter. It has a three-bar design in an attractive green color. Beneath that, there are three error code lights. These lights are normally off, but will illuminate in the event of a jam or other malfunction. At the bottom, there are four fan speed lights. Simply tap the light to choose a particular fan speed. You can adjust from a very low 6,500 Pascals (Pa) to a powerful maximum of 22,000Pa. The ability to adjust the motor speed allows you to save batteries when you don't need full power.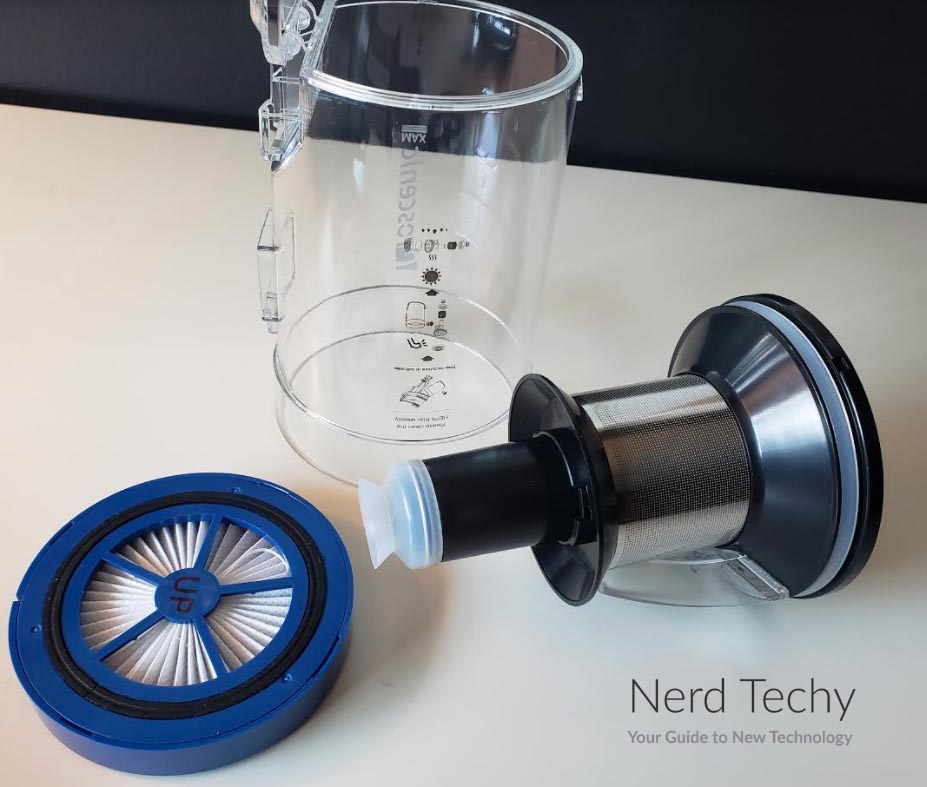 Along with the vacuum, you also get a wall-mounted charger. It installs with two screws, and can keep your battery topped off whenever the vacuum is not in use. That said, it only accommodates the vacuum itself. There are no brackets to support your accessories, so you'll need to find somewhere to put them.
Cleaning & Accessories
The Proscenic P10 Cordless Vacuum utilizes a brushless motor that spins at a maximum of 110,000 RPM. This is exceptionally fast, providing an impressive amount of power. At top speed, it can provide 22,000Pa of power. To put that in perspective, your average upright vacuum provides about 14,000Pa of suction. If you need to clean up the most demanding messes, you're looking at an excellent choice. You can suck dirt up from deep pile carpets without any trouble. Even big clumps of pet hair aren't going to give you any trouble. Moreover, the brushless motor is very reliable, since it has fewer wear and tear parts than a traditional motor.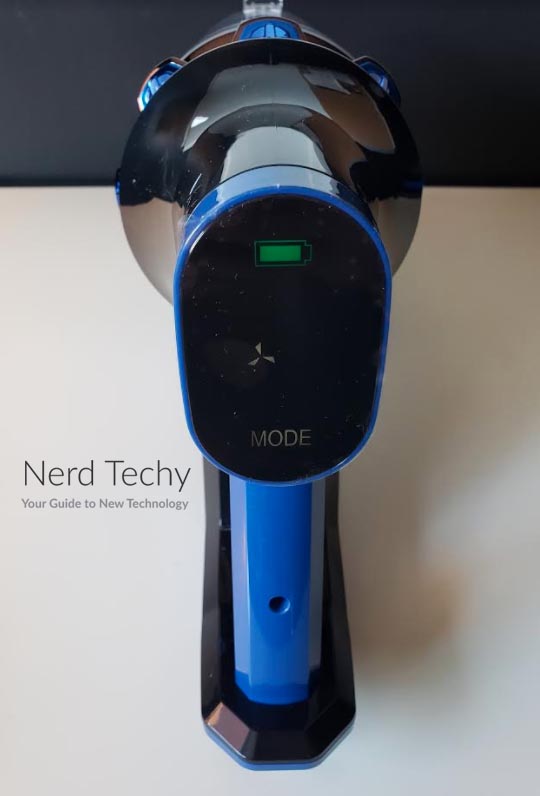 There are four attachments included in the kit. The first is a standard floor roller brush, which can also tackle carpets. The brushes on the drum are arranged in a diagonal pattern, which Proscenic advertises as "tangle free". That's a bit of an overstatement. There's no such thing as a truly "tangle free" vacuum. Long hairs and big clumps will inevitably get tangled. Still, there's less tangling than you'd expect from most vacuum brushes. The brush head itself is mounted on a rotating ball joint. It can swivel 90 degrees forward or backwards, and 180 degrees to either side. This makes it easy to vacuum under sofas and in other hard-to-reach locations.
Along with the primary brush, there's also a smaller motorized brush. This brush is designed primarily for upholstery, where it provides a gentler touch. It's also easier to control than the larger brush, since it doesn't rotate. It can be mounted either on the extension rod or directly on the motor. This versatility makes it easy to clean sofas, beds, and other furniture.
Of course, not every cleaning application requires a rotating brush. Sometimes, you need a gentler touch. In that case, you can take advantage of a simple round brush. The round brush separates the vacuum from delicate surfaces by a few inches, preventing damage. This is ideal for curtains, blinds, bookshelves, and other applications that require a light touch.
The last attachment is a simple angled crevice tool. This is identical to the crevice tools you'll find on most vacuums, and serves a similar purpose. You can easily vacuum down the side of a stuffed chair, or in the gap under your wall molding. You can also reach under refrigerators, or in other hard-to-reach locations.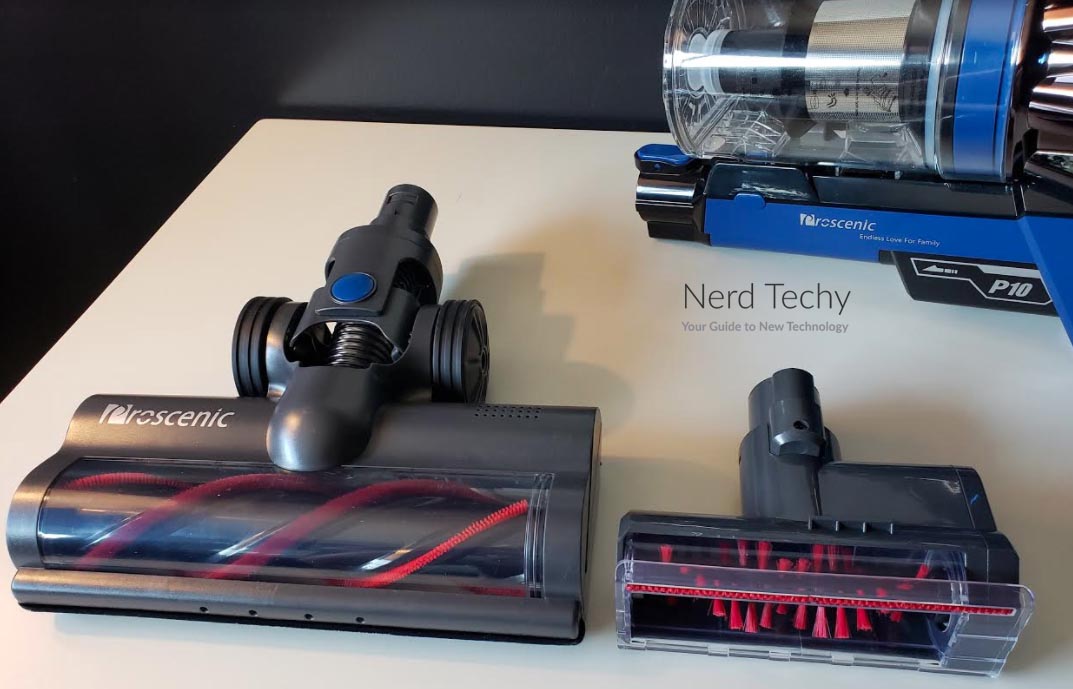 Battery & Filter
With most stick vacuums, the battery life is a relatively straightforward metric. But because the P10 has a variable-speed motor, the battery life can vary widely. When using it at the lowest power setting, you can expect about 45 minutes of use. At the highest setting, you'll burn through the battery in about 10 minutes. Needless to say, you'll want to run on lower power settings whenever possible.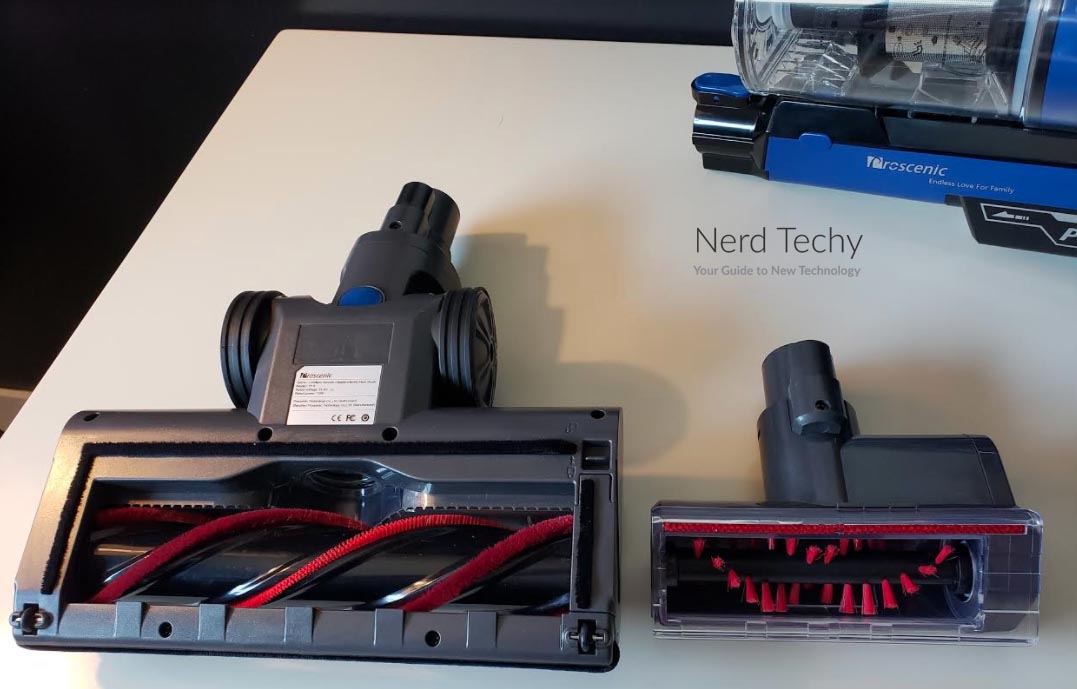 This battery life is a bit disappointing. You generally expect about an hour of life on a stick vac, give or take. That said, Proscenic does offer a replacement battery. It charges on the same charger as the vacuum, so you can easily use two batteries. Just swap them out as needed, and you'll double your battery life.
The P10's filter system combines two elements. First, there's the cyclonic action of the dust bin itself. This will collect the vast majority of airborne particles. After that, the air flows through an accordion-style filter before going back out into your room. This filter will remove 99 percent of airborne contaminants, even larger microbes. Now, we should be clear that this is not a HEPA filter or a medical-grade filter. A True HEPA filter is designed to remove 99.97 percent of contaminants. But 99 percent is more than good enough for most reasonable purposes.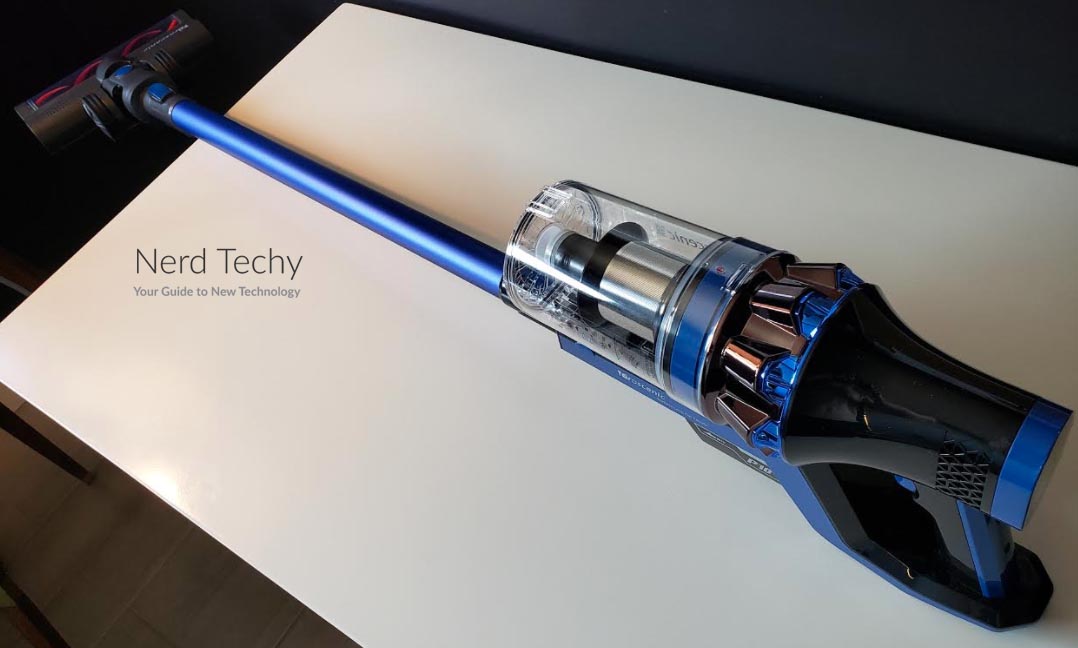 The filter, as well as the dust bin, is easily washable. Simply remove the dust bin and the filter element and wash them with water. In fact, Proscenic recommends that you wash them regularly to get the best performance. When you wash the filter, make sure to run water through from the clean side to the dirty side. This makes cleaning a breeze. Then, let the filter dry for about an hour before you return to using your vacuum.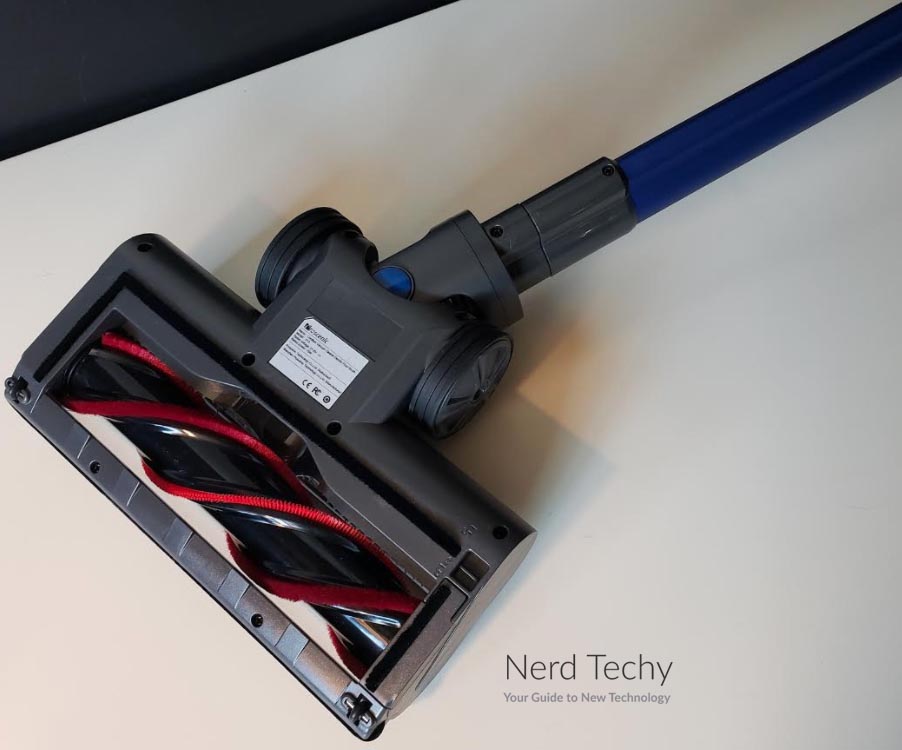 Final Verdict
The Proscenic P10 Cordless Vacuum Cleaner is one of the most powerful stick vacuums that money can buy. The maximum suction of 22,000Pa is exceptionally powerful. In fact, it's more than 50 percent more powerful than your average upright vacuum. If you're looking for a very powerful motor, you're going to be well satisfied. Keep in mind that the battery life is somewhat limited, though. If you're always running at top speed, you're going to be disappointed.
Thankfully, there are four different motor speeds. For everyday use, the first and second settings are generally sufficient. You should only need to crank up the speed in the event of a very stubborn mess. Not only that, but the LCD screen makes changing fan speeds very easy. If you do need more juice, you can always buy a second battery and keep it charged on the side. The dust bin is nice and big, and it's easy to empty. And when it gets dirty, it's easy to clean, as is the filter assembly.