If you're in the market for a new set of wireless earbuds, it can be a confusing time. In the past few years, a huge number of products have flooded the market, and not all are well-engineered. Why this proliferation of earbuds? The answer is that it's a new market. Think about it. A few years back, wireless earbuds were a joke. If you were using them, you were either hands-free calling or a dedicated podcast listener. Nobody who wanted good quality music would get within 10 feet of them. The invention of true wireless stereo blew the market wide open. Suddenly, you could listen to high-bitrate music on a wireless connection. And with the release of the iPhone 7, wireless earbuds became mandatory for many people.
Thankfully, you don't have to navigate the width and depth of the market to find a good pair of buds. We're here to help! We're about to review the UGREEN HiTune Wireless Bluetooth Earbuds. We've reviewed several of their products in the past. They're mostly known for their extension cables, of which there are many different varieties.
The HiTune WS100 Wireless Bluetooth Earbuds represent UGREEN's first foray into the earbud market. They're compact, lightweight, and have a slick, attractive design. They also offer better sound quality than we'd expect from a first-time earbud manufacturer. But how well do they stack up to the competition? How comfortable are they, and how is the battery life? We're about to take a deep dive into all of their features. When that's done, we'll be able to confidently render a final verdict. Let's get started!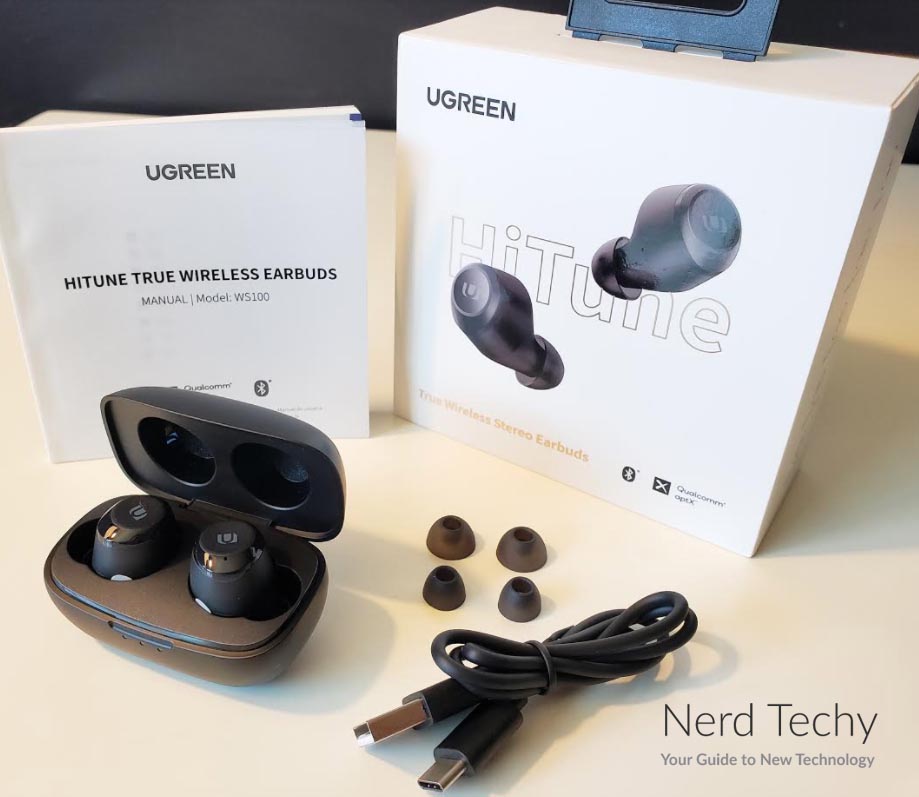 Overall Design
The HiTune WS100 Wireless Bluetooth Earbuds have a compact design that's engineered to fit neatly into your ears. There are no battery extensions, over-the-ear loops, or other fancy features that can clutter the design. That said, this design requires a secure fit in order to remain properly seated. There are three sets of extra different-sized ear tips included in the kit to make this easier. When you first receive your earbuds, make sure that you're wearing a set of tips that's most comfortable and secure. In addition, keep in mind that a secure seal helps with noise isolation. The snugger the fit, the less ancillary noise is going to bleed into your listening experience.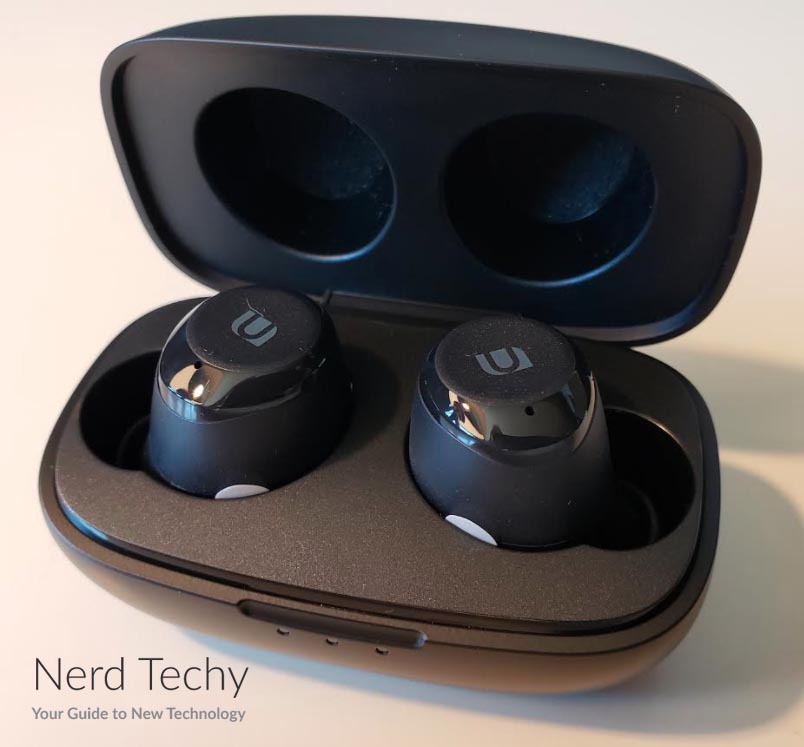 The buds themselves have a glossy ABS plastic finish. They're attractive to look at, but the glossy finish has a couple of issues. To begin with, they show fingerprints easily, which means they'll need frequent cleaning. Not only that, but the finish is somewhat slippery. If you've got sweaty hands, you may have trouble handling them without dropping them.
On the back of each earbud, there's a soft touch control button disguised by a silver UGREEN logo. Simply tap the button or hold it down, and you can activate a variety of functions. You can skip tracks, pause and play your music, and answer or end phone calls. You can even activate your phone's voice assistant if you want a more hands-free experience. Unfortunately, there's no volume control, which is a bit baffling. You'll need to control the volume directly from your phone or MP3 player. On the other hand, the soft touch design makes the buttons comfortable to operate. Even if you have very sensitive ears, you won't wince in pain from pressing the buttons too hard.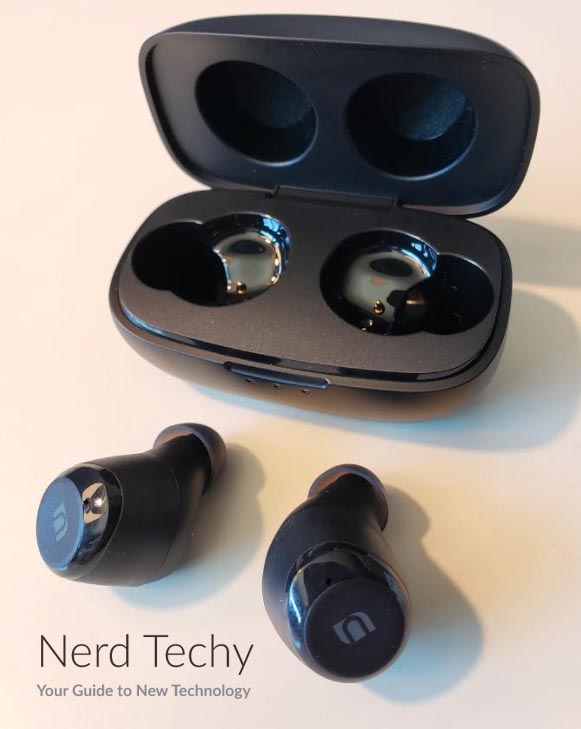 The HiTune earbuds are IPX5-rated for water-resistance. In common parlance, this equates to a rating of "sweat resistant" or "splash resistant". You can't wear these earbuds in the shower, or take them out swimming. That said, that's not really what they're designed for. They're designed for everyday use, including workouts. You can easily wear them during an intense workout session. Even if you're dripping with sweat, your earbuds are going to be safe. Not only that, but a little rain won't cause any issues. You don't have to worry about your HiTune earbuds if you get caught out in the rain.
Like most wireless earbuds, the UGREEN HiTune buds come with a portable charging case. This not only makes them easy to transport, it also provides charging when you're not plugged in. The case is a nice size, measuring 60mm wide, 33mm tall and 35mm front-to-back. It's also quite lightweight, tipping the scale at 46 grams, including the earbuds. You can easily walk around with this charging case in your back pocket.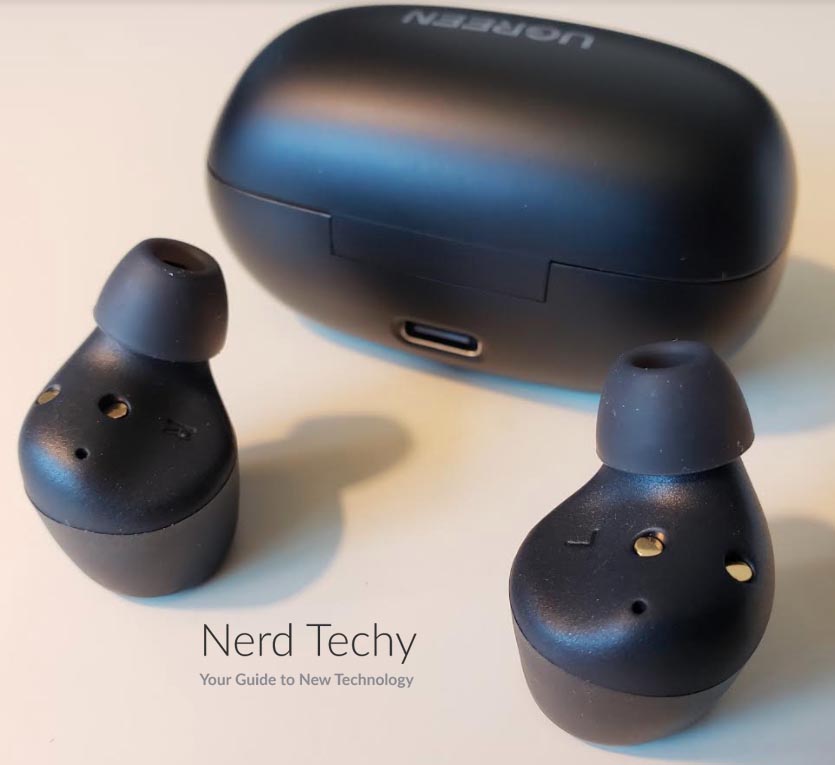 The case has a glossy black finish, which nicely matches the HiTune earbuds themselves. Inside, there are two molded wells where the buds are seated for easy charging. The lid has a clamshell-style design, which is spring-loaded for security. It won't easily pop open by accident when you're toting it around. Underneath the lid, there's a small indent that makes it easy to pop open with one finger. Beneath this, there's a row of three white LED lights that indicate the current battery status. On the back, there's a USB Type-C port for charging. A USB Type-C cable is included in the kit, so you've got everything you need to get started.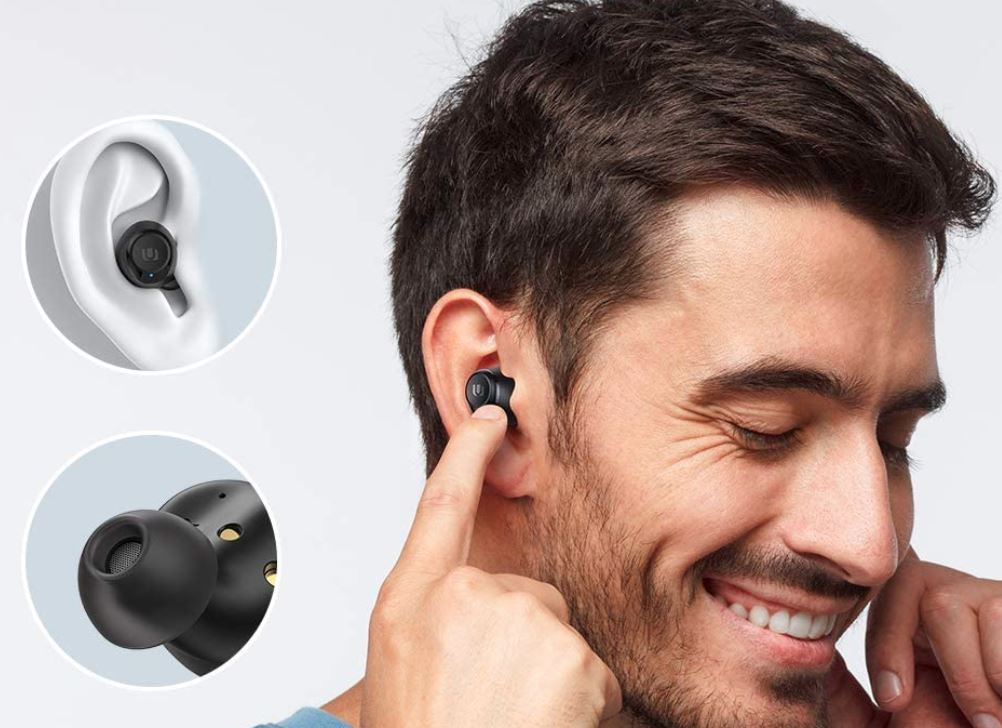 Battery & Connectivity
The UGREEN HiTune Wireless Bluetooth Earbuds will give you nine hours of playtime on a single charge. This is exceptional, and far more than you'd get from most wireless earbuds. To be fair, this playtime and the powerful batteries do contribute to their weight. But you don't get an omelette without breaking a few eggs. This rating is based on manufacturer testing at 50 percent volume. In practice, your performance may vary widely based on volume and bitrate. But even if you're listening at high volumes, you can expect about six hours of playtime. No matter how you cut it, that's still pretty impressive.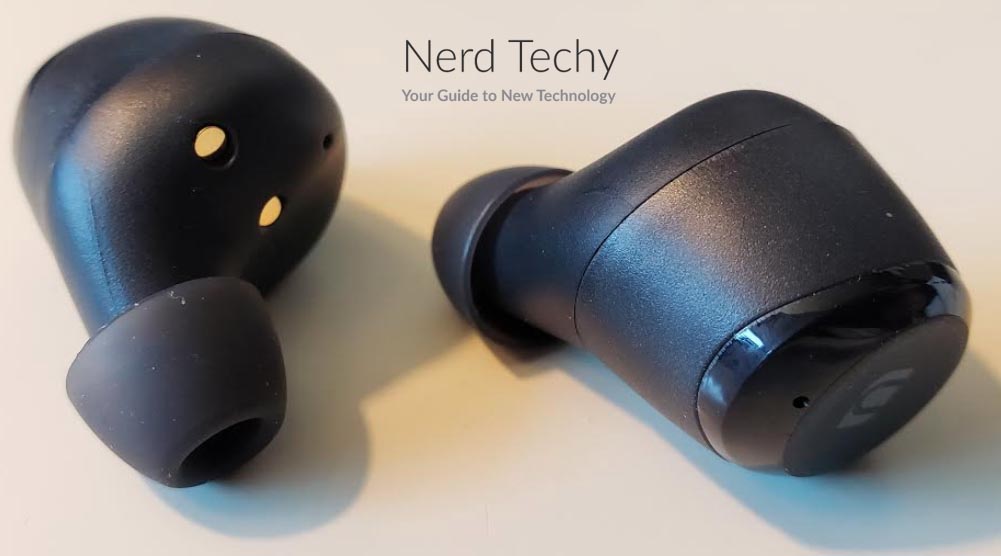 In addition to the built-in batteries, the charging case offers two additional full charges. This adds an additional 18 hours of listening, for a maximum of 27 hours. This is enough to get through a full weekend without needing to plug in. When you do have to plug in the charging case, it will fully charge in about two hours. Your earbuds, similarly, will fully charge in about two hours from a dead state. If you forget to charge them, you don't have to worry about being left out in the cold. A 15-minute quick charge will provide enough juice for two hours of listening at 50 percent volume. Even at full volume, you'll be able to get through a workout after just a short quick charge.
The WS100 earbuds utilize the latest Bluetooth 5.0 protocol to connect to your phone or MP3 player. This protocol is a major upgrade from the earlier Bluetooth 4.2 protocol. For one thing, it allows for higher bitrates than Bluetooth 4.2. You can enjoy better audio quality and enjoy the full richness of your MP3 library. Bluetooth 5.0 also allows for very low latency. This means you can watch movies and play games without any lag between the audio and the video. Finally, the signal is more stable than Bluetooth 4.2. You don't have to worry about choppy music or dropped calls during normal operation.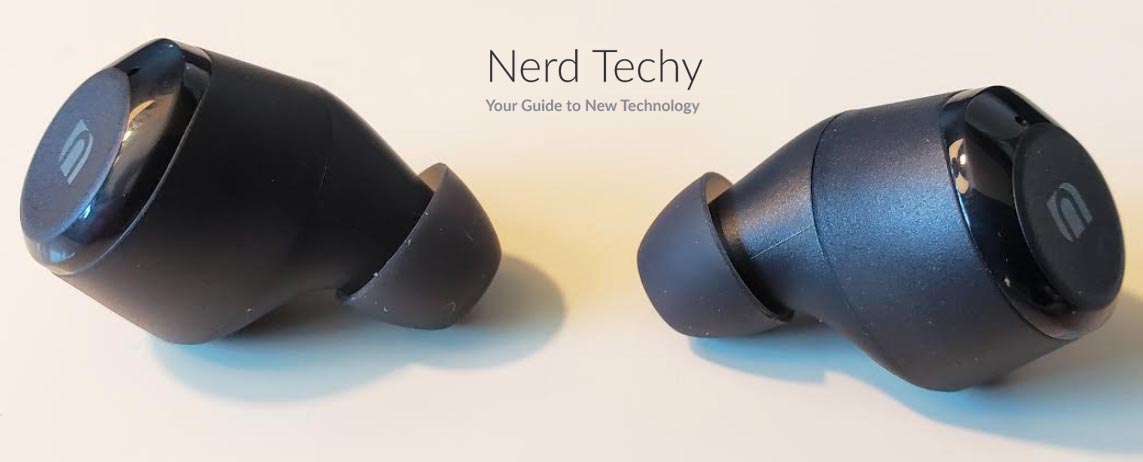 In addition to a Bluetooth 5.0 connection, the HiTune earbuds can be paired in both mono and twin mode. Twin mode is just what it sounds like. You pair both earbuds, and listen to your music in stereo. In mono mode, you can connect a single earbud and leave the other in the case. This isn't ideal for the music, but it does have a couple of distinct advantages. First, it allows you to maintain situational awareness. If you need hands-free calling while driving or walking in a crowded area, this is very helpful. Second, it effectively doubles your battery life. You can use one earbud, then switch to the other as needed.
Sound Quality
The UGREEN HiTune WS100 Earbuds feature a 5.8mm driver. This is slightly on the small side, since most earbuds have a 6 or 7mm driver. As a result, you're looking at limited bass volume. It's got plenty of depth and richness, but not a lot of thump or punch. Depending on what genre of music you prefer, this may or may not be an issue. Other frequencies have more presence, and come more to the forefront. Highs are very rich, with clear strings and plenty of detail to high synths. Vocals and other medium frequencies are similarly clear. Spoken word media also sounds very good, whether you're a podcast fan or an avid audiobook listener.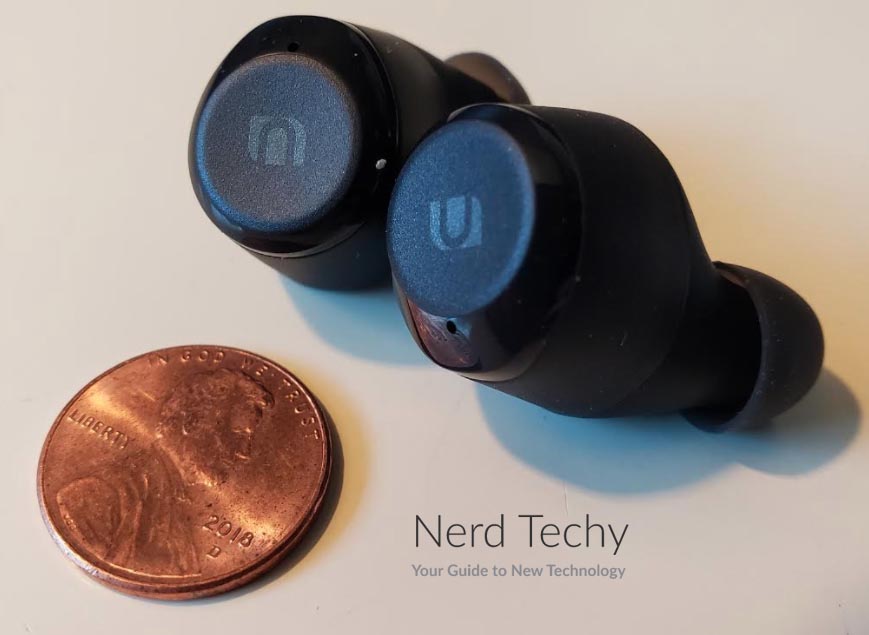 The soundstage is nice and wide here. You don't have to worry about high frequencies causing buzz, or low frequencies causing rumble. Every instrument and frequency is in its own place, with plenty of separation. Not only that, but the Qualcomm QCC3020 chip supports aptX Low Latency along with more common protocols. This allows for very high-bitrate audio with virtually zero latency. When paired with Bluetooth 5.0, the gaming and video performance is top-tier.
The built-in mics on the WS100 buds are very finely tuned. They utilize CVC 8.0 noise cancelling technology to filter out background noise. Even if you're talking in a crowded environment, your voice will come through with total clarity. The quality of the drivers is good enough to hear the other person just fine, as well. Of course, this will depend on their mic and environment.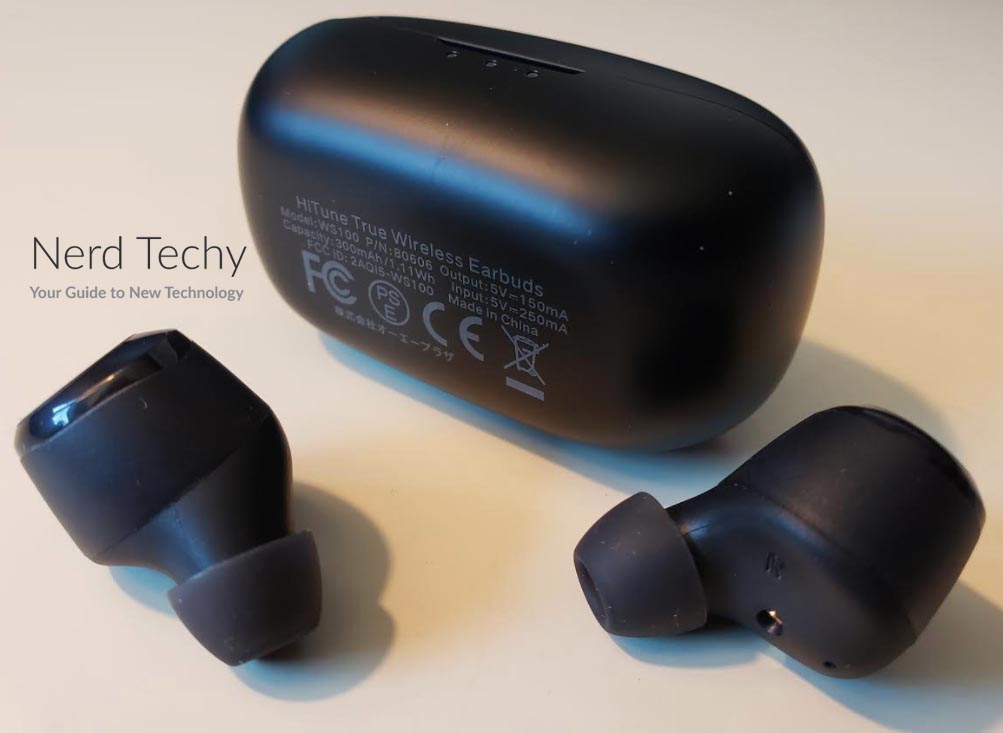 Final Verdict
The UGREEN HiTune WS100 Bluetooth Earbuds are an excellent first effort. They provide great sound quality, especially considering the driver size. They also provide a high-quality connection and excellent battery life. To be fair, there are some design kinks to be worked out. The finish is a bit too smooth, and can be tough to grip with sweaty fingers. The absence of a volume function is also a bit curious. Even most cheap wired earbuds have a volume button, if nothing else. Nonetheless, our overall first impressions were very good. If you're looking for good quality buds at a reasonable price, the HiTune buds are a great choice.
Meet Derek, "TechGuru," a 34-year-old technology enthusiast with a deep passion for tech innovations. With extensive experience, he specializes in gaming hardware and software, and has expertise in gadgets, custom PCs, and audio.
Besides writing about tech and reviewing new products, Derek enjoys traveling, hiking, and photography. Committed to keeping up with the latest industry trends, he aims to guide readers in making informed tech decisions.