Winter is coming, and with it, dry air. No matter where you live in the northern hemisphere, the hydrometer is going to start dropping soon. That means chapped lips, dry noses, and a general sluggish feeling. But a good humidifier can completely change the equation. You can keep your air at a steady, comfortable humidity that's also better for your health.
Of course, not all humidifiers are worth your money. Some will collect mold, which is unhealthy for anyone in the home. Others are just not powerful enough, or don't have a large enough tank. They might work fine for one room, but not for more than that. We're looking for the complete package here.
We're about to look at the TaoTronics 6L Ultrasonic Humidifier (Model TT-AH046). TaoTronics is best known for their audio equipment, such as their wireless headphones. However, they also make a wide variety of home goods. This includes their 6L Ultrasonic Humidifier, which we're reviewing today.
The 6L Ultrasonic Humidifier (Model TT-AH046) is a compact, powerful humidifier for larger areas. So far, so good. But we wanted to take a closer look at it. We're about to go through the design, from the tank to the base. Next, we'll look at how it works and how it's used. Finally, we'll talk about how to keep the 6L Ultrasonic Humidifier clean. Once we've got a good understanding of the complete package, we'll be ready to render are verdict.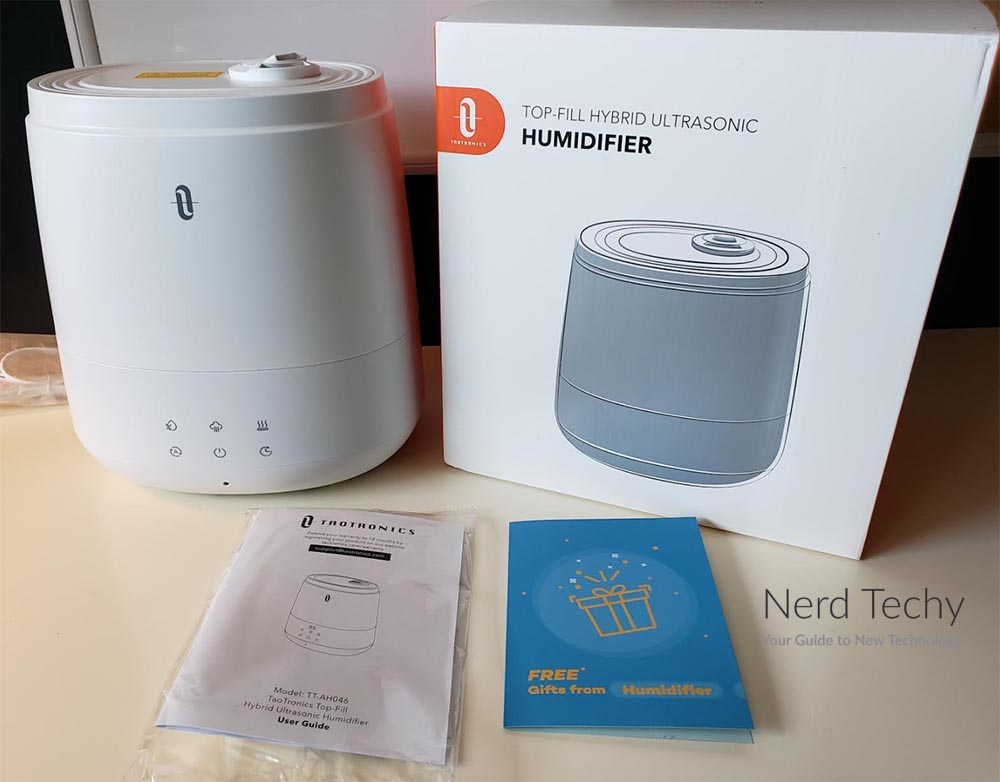 Overall Design
The TaoTronics 6L Ultrasonic Humidifier has an oval profile, with a slightly sloped design. This lends it a friendly appearance, and with its white finish, it should fit in with most décor schemes. The finish is also glossy, which means it attracts some fingerprints, but is also easy to clean. In total, it's 11.71 inches wide, 10.71 inches deep, and 8.66 inches high. It weighs 4.5 pounds empty, so it's easy to move around. Not only that, but even when full, the 1.58-gallon tank will only add about 12 pounds to the weight. If you need to fill it in one room and use it in another, that's not going to be a major obstacle.
The water tank is solid white, which is a bit odd. Normally, a humidifier tank will be clear, so you can look inside and see the water level. Instead, the only way to see the water level on the TT-AH046 is to open the tank and look inside. This is easy enough to do, since the lid lifts off easily. However, it's a baffling decision, since you should really know how much water is left at a glance. That said, the tank has plenty of volume, more so than most small humidifiers. As long as you fill it every day or two, you shouldn't run into any trouble.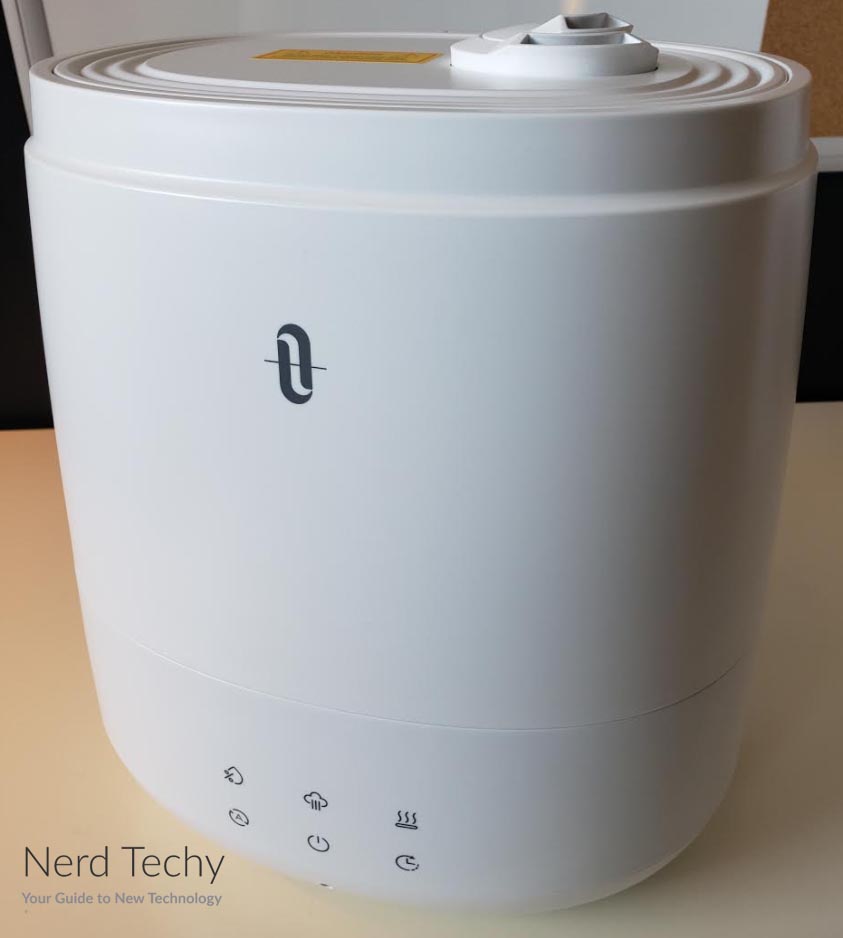 On the front of the base, there's a soft touch control panel with six buttons. These allow you to adjust the humidity percentage, mist level, and more. In total, you can choose three mist levels, three temperatures and anywhere from 55 to 65 percent humidity. You can also run the humidifier on sleep mode, or set it on a timer so it shuts off after a certain time. Above these buttons, there's a white LED indicator that displays the current humidity level. The box includes a small remote, which is white in color to match the humidifier. It performs all the same functions as the buttons on the front of the machine. In other words, you don't need to get out of bed to operate the TT-AH046 humidifier.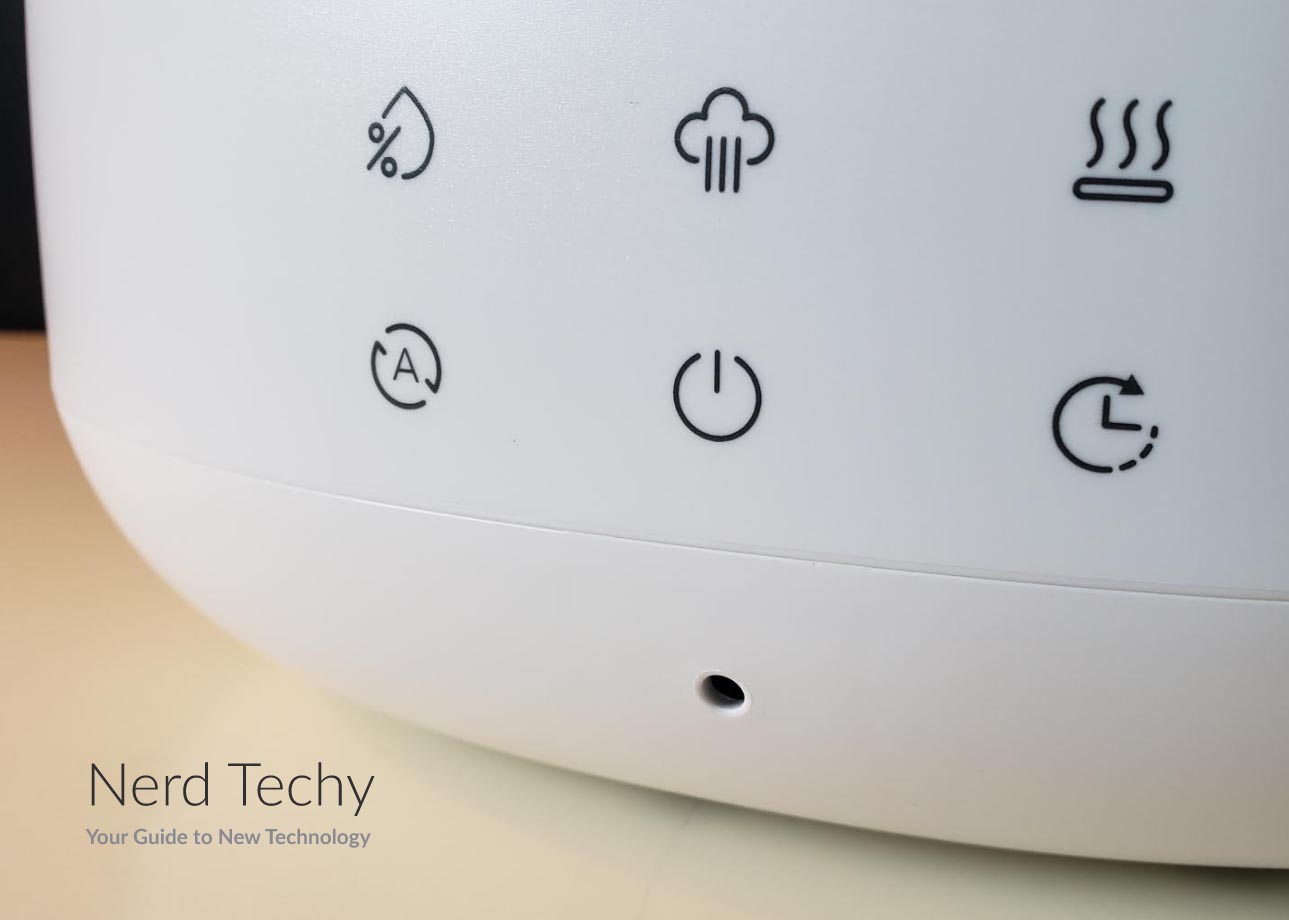 Along with the humidifier and remote, you get everything you need to get started. First, you get a cleaning brush, which is essential to keeping your humidifier from getting dirty or moldy. Next, you get three each of the mineral absorption pads, aroma pads, and dustproof sponges. These are all replaceable parts, and one of each of them is already installed. Finally, you get a 12-month manufacturer's warranty and a 30-day money back guaranteed. Don't like it for any reason in the first 30 days? Just send it back. And if it breaks in the first year, you're still covered.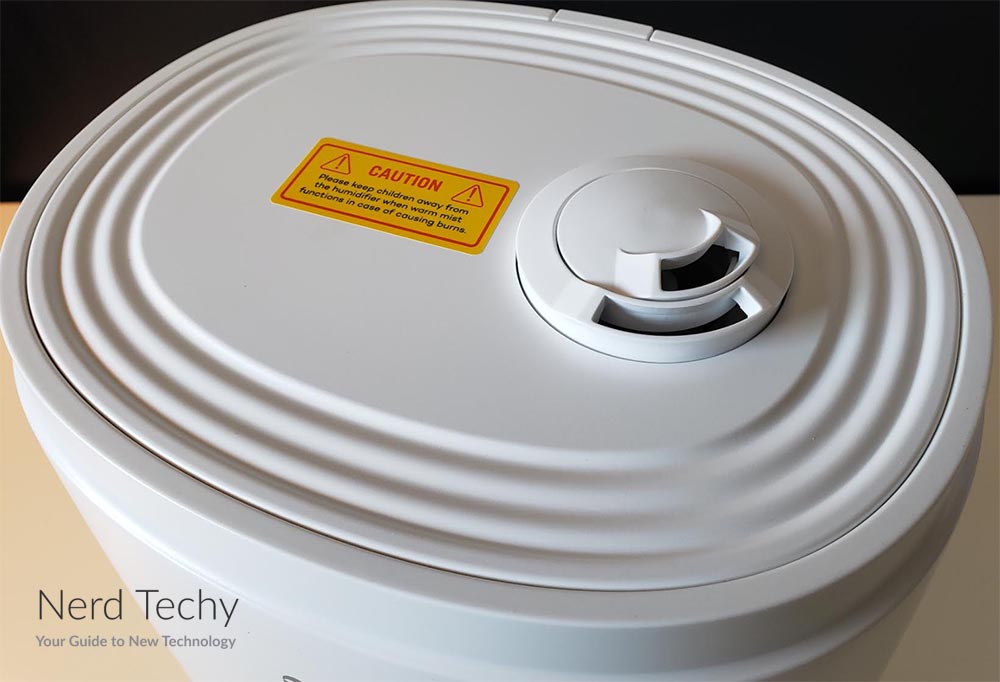 Features & Benefits
The TaoTronics Model TT-AH046 is designed to automatically maintain a consistent humidity level. You set the percentage, and the humidifier turns on or off as needed. The percentage can be set between 55 and 65 percent, which is the range where people feel most comfortable. Keep in mind that the same is not necessarily true for plants. If you're running a greenhouse, you may need a higher or lower humidity level which the TT-AH046 doesn't support. Nonetheless, you're looking at a wide enough range for human comfort. Any lower, and you'll start to feel dried out. Any higher, and you'll feel inordinately warm.
In addition to a customizable range, the TT-AH046 also has three different mist temperatures. A cool mist is longer-lasting, and won't overheat your space. On the other hand, a hot mist will evaporate much faster and provide quick relief. If you're not sure which to choose, a warm mist provides a good balance of the two. Regardless, you can switch through different temperatures with the push of a button.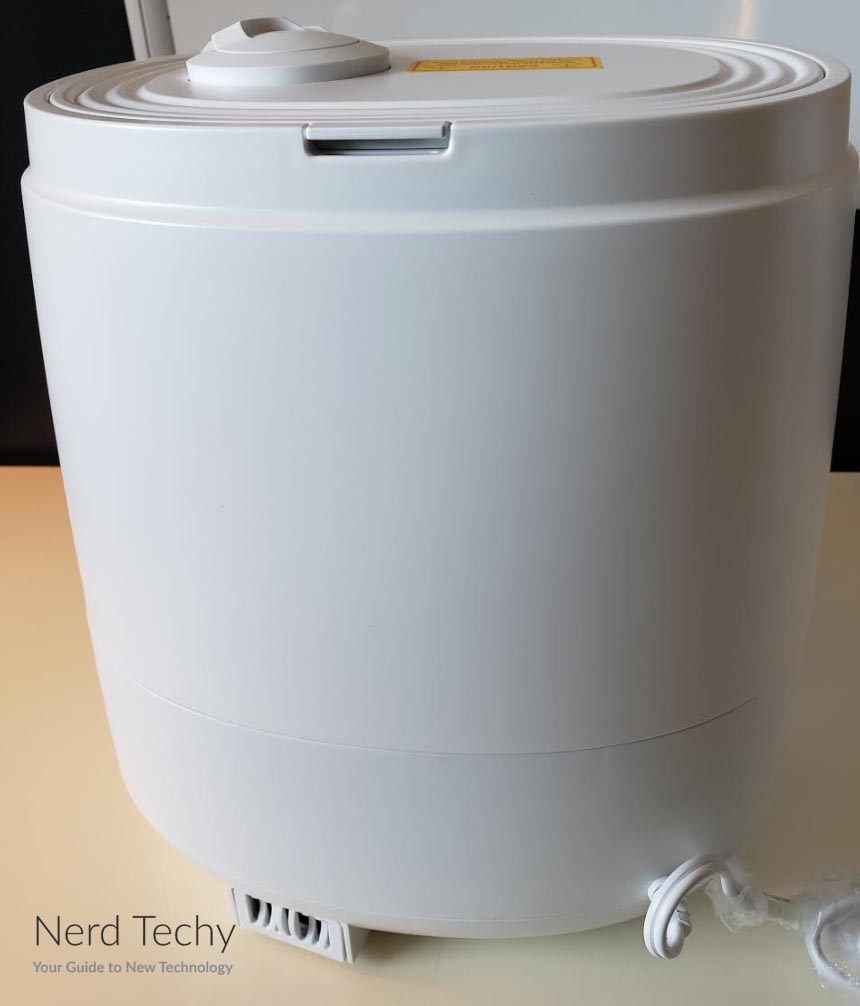 The TT-AH046 is rated to treat an area of up to 753 square feet. This is a ballpark figure, and it really depends on how much humidification you need. No matter how you cut it, it's sufficient to cover several rooms. You can use one upstairs for the bedrooms at night, then take it to the living room during the day. Or you can order two, and cover the entire house. It's certainly not your average lightweight humidifier that only keeps one room comfortable.
That said, if you're going to use the TT-AH046 in a single bedroom, it's more than serviceable. It runs very quietly, so you don't have to worry about a lot of noisy huffing and puffing. You also don't have to worry about any bright LED lights. Simply press the sleep button on the remote or the front panel, and the LEDs will turn off. When you need to operate the humidifier, you can just turn it back on. All of this is paired with a tank that has enough capacity to run for 60 hours. Your actual performance may vary depending on square footage and how dry your air is. Even so, you don't have to worry about constantly refilling your humidifier tank.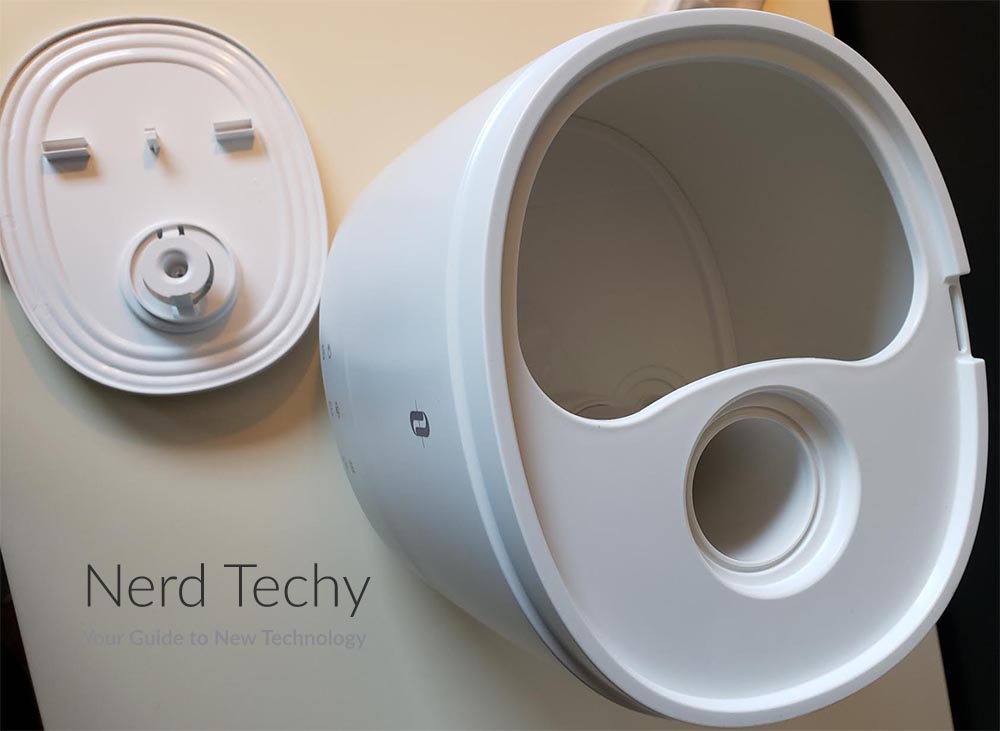 When it does come time to refill the tank, the job is easy. The lid lifts off easily, exposing a large hole in the top of the tank. The tank can also be removed and refilled in another room. Keep in mind, though, that it will inevitably drip when you do this. It's better just to fill your humidifier from a pitcher, and avoid any spilling.
In addition to humidifying, the Model TT-AH046 can also infuse your air with essential oil. There's a removable cartridge in the lid, which has a sponge where you can put a few drops of oil. When the cartridge is replaced in the lid, it acts like an ordinary infuser. Note that the infuser cartridge works better when you're using a warm or hot mist. In addition, make sure you don't add too much oil. If oil gets into the water, it can end up touching the heating element. This leads to fouling, and the kind of smell you don't want in your house. A few drops at a time is plenty.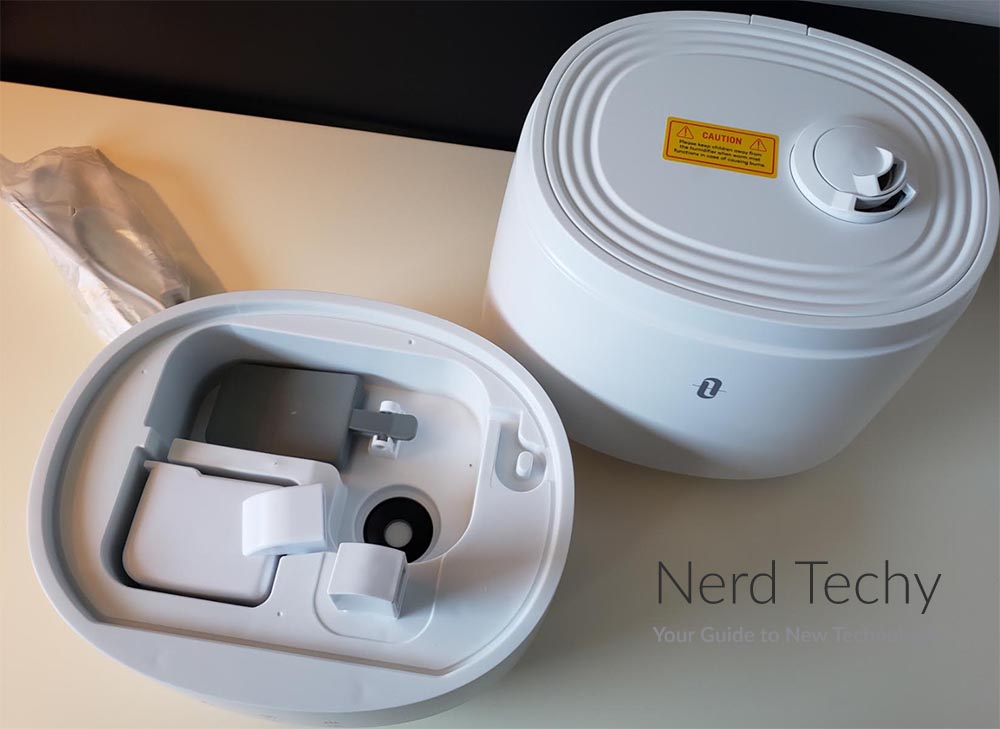 Cleaning & Maintenance
When it comes time to fill your tank, it's easy to do. The wide opening at the top keeps spilling to a minimum. Cleaning the inside of the tank is equally easy. Because of the wide opening, you can wipe the inside out with a rag. Even if you have a fairly large hand, it will still fit through the opening just fine.
In addition, TaoTronics includes the long cleaning brush we previously mentioned. This is a great way to reach otherwise-difficult areas. It's particularly useful for the vertical vapor chute, which is otherwise hard to clean. TaoTronics recommends cleaning the tank with a teaspoon of vinegar. While you're at it, the tank should be removed and the underlying elements washed with a damp cloth. Eventually, the sponge and aroma pad will also need to be replaced, but this is a separate operation.
Of course, a humidifier only gets you partway to top tier indoor air quality. If you want the best possible air quality, you also need to filter out contaminants. This requires a HEPA air purifier, which TaoTronics also offers. Combining the two machines together will truly maximize the quality of your home's air.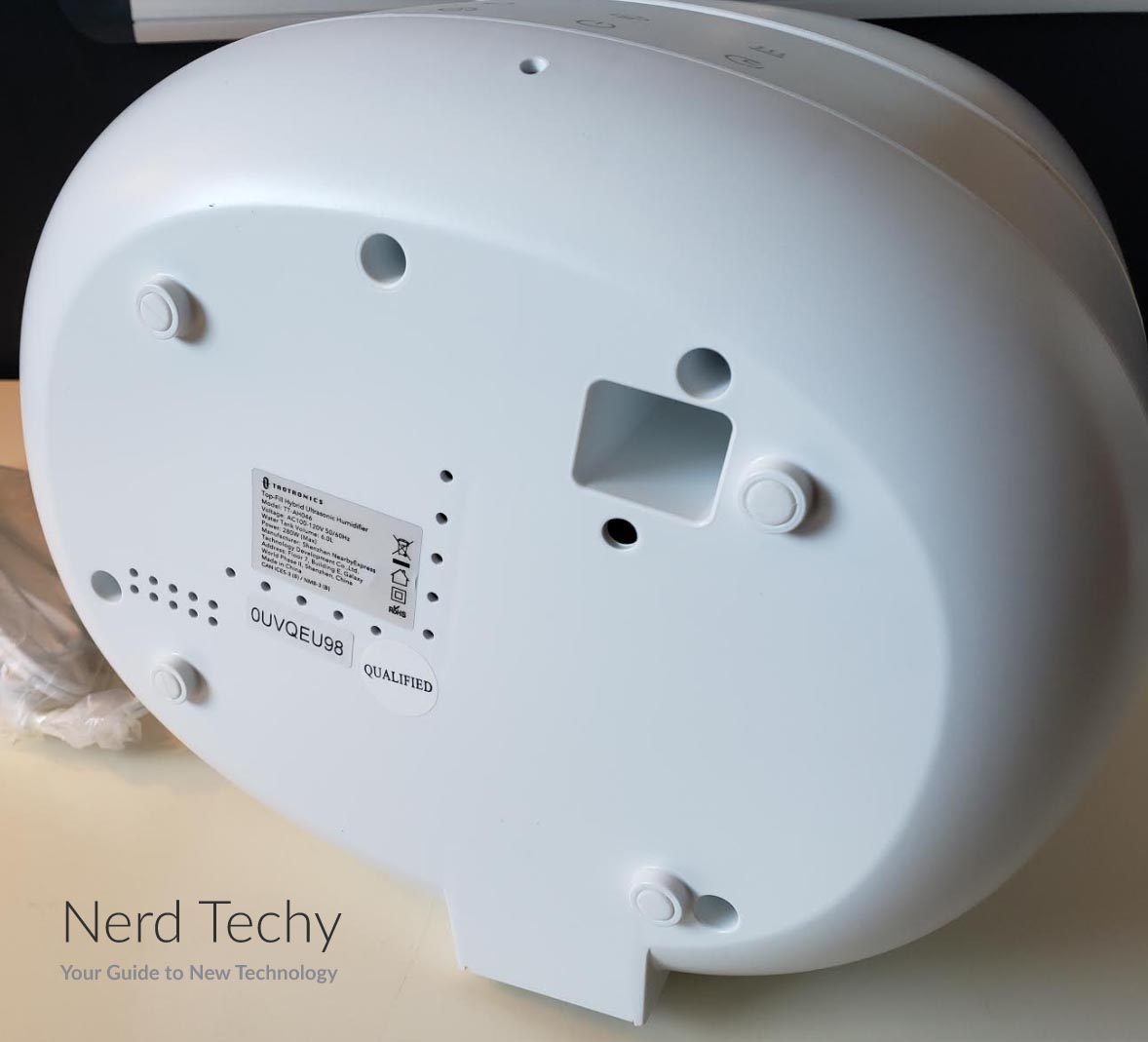 Final Verdict
Clearly, the TaoTronics 6L Ultrasonic Humidifier (Model TT-AH046) has a lot to offer. For one thing, you get a top fill tank. Not only does this make it easy to clean, but it's easy to fill as well. You don't have to worry about spilling half of your pitcher on your table. In addition, the tank is nice and big. With 1.58 gallons of capacity, it can last for 60 hours. If you forget to refill it for a day – or even two – your tank won't run totally dry.
The capability of the humidifier itself is also impressive. It can cover half of a normal suburban house, more than enough for most people's needs. Not only that, but you get the choice between different vapor temperatures. If your house is super dry, turn the temperature to hot for fast humidification. If you just need to maintain humidity, use a cool mist for long-lasting relief. You can also set the humidity to a specific percentage. Admittedly, the 55 to 65 percent range isn't enough for plants, but it's more than enough for residential use. Throw in a convenient remote control, and you're looking at an excellent choice.