Entering your driveway at night, a couple of floodlights can be enormously helpful. What about looking out for wildlife, or even looking for criminals lurking around your neighborhood? Some floodlights were made for specific tasks, while others were made with versatility in mind. Whatever your own needs may be, a good pair of security food lights can make all the difference.
Picking Solar Powered LED Security Flood Lights
When you can run a wire to the grid, flood lights are pretty easy to setup. But what about when you can't do that? Solar powered flood lights rely on a solar panel being paired with a battery, which allows it to store a finite amount of energy for later consumption.
That makes most these lights less suitable for prolonged use. But for people who don't expect their light to run 8-hours on a regular basis, it's not too tricky to find a great pair of solar powered security flood lights.
Luminosity
How bright do you need the light? For a flood light, you probably want at least 1000 lumens.
Don't get more brightness than you actually need. Adding more light means burning through more power, and that means a shorter potential lifespan for the device. Sometimes it's possible to set your lights to be lower than their maximum brightness, in order to conserve energy. But that's usually only possible among the brightest LED security flood lights on the market.
Directionality
Some flood lights have lighting on several separate adjustable fixtures, which allow you to move and adjust your lighting to match the unique circumstances of your installation. Other flood lights are built with the expectation that you know exactly where the light needs to be pointed. Keep that in mind while picking or you can easily end up with something that's bright, but pointed in the wrong direction.
Motion Detection
How far can the motion sensor see? What is the angle of the detection sensor? Can you make any changes to those settings, or are they permanent? In most cases, you're going to find sensors are capable of detecting about 30ft out. But flood lights made specifically for greater distances may be able to accommodate far more than that.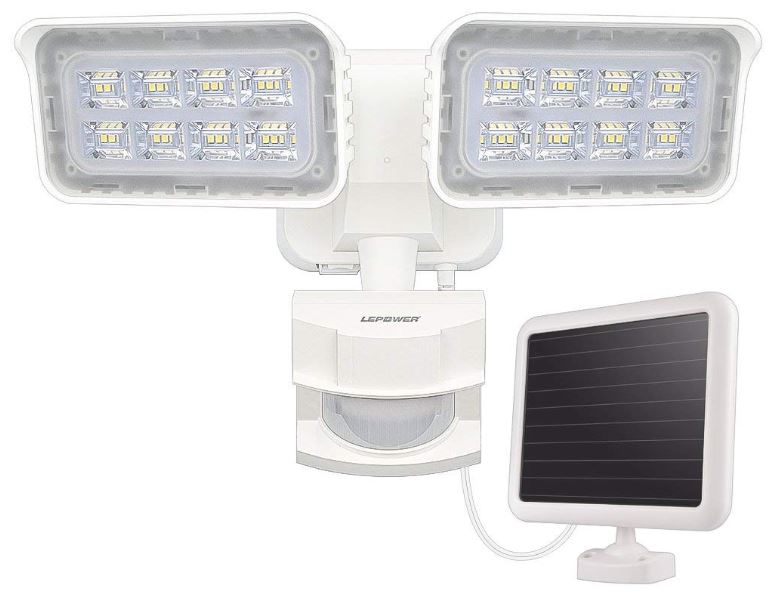 LEPOWER 1500LM Solar LED Motion Sensor Security Light
The LEPOWER 1500LM Solar Lights are composed of two sets of super bright LEDs. Each can produce 1500lm brightness. The kit is designed with a fair amount of heat dissipation, which is essential to the longevity of the LEDs.
The bulbs have a daylight white color temperature of about 6000K, and are capable of churning out roughly 50,000 hours' worth of solid performance. Modern safety standards are also followed, ensuring these lights are good for placement on stairs, yards, entryways, garages, and so forth.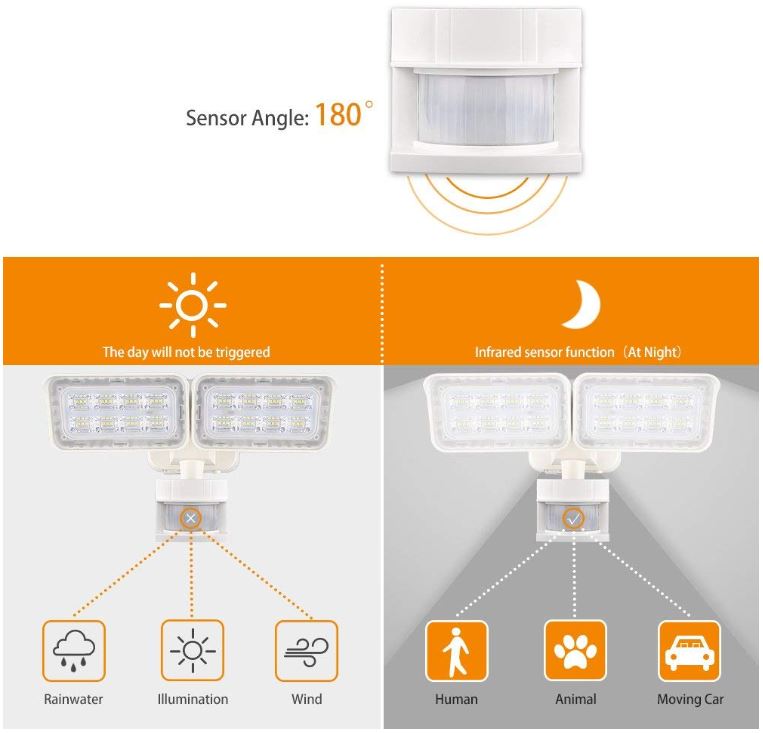 Build & Design
Looking at the lighting fixture, you'll notice it can be adjusted by 90° degrees. On the chassis you'll find a single operation switch, which can be moved between two primary modes of operation. The auto mode works by detecting motion; the normal mode simply turns on the lights. Though their battery will tap out after about an hour of continuous use.
Inside the lighting fixture, there's a built-in 3000mAh lithium-ion battery, which can be recharged with the included solar panel. The solar panel is actually attached to the lighting fixture with a lengthy 15ft cord.
The fact there's a battery is important because if you haven't noticed, there's not always daylight outside. Even when it is daytime, sometimes there are clouds or fog that get in the way of the solar panel, and you might only get a weaker charge for that day. That's when having a good battery can pay off.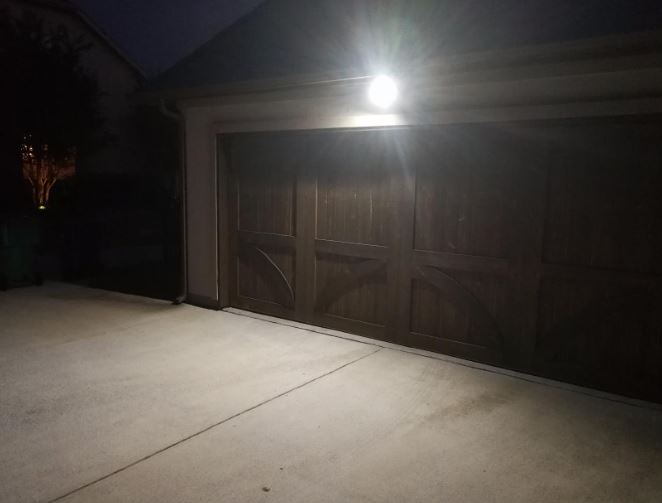 The backside of the unit has a simple mounting plate, which can be accessed without the need for tools. The lighting fixture only weighs about 1.5lbs, so it's not tough to get rooted in place. The fixtures themselves are primarily built from ABS plastic, which is durable, impact resistant, and generally cost effective.
All of this equipment is made to be IP65 waterproof, so these lights won't give out in the snow or rain. But the IP65 waterproof chassis isn't intended to be submerged in water.
Other Considerations
There are three sensitivity settings. The lowest range is between 0ft and 20ft. The medium range spans 20-33ft, and the high range spans 33-50ft. Those setting can be marginally affected by temperature, but are typically unaffected by rain and wind. Naturally, they have no trouble coming on when detecting an animal, car, or human.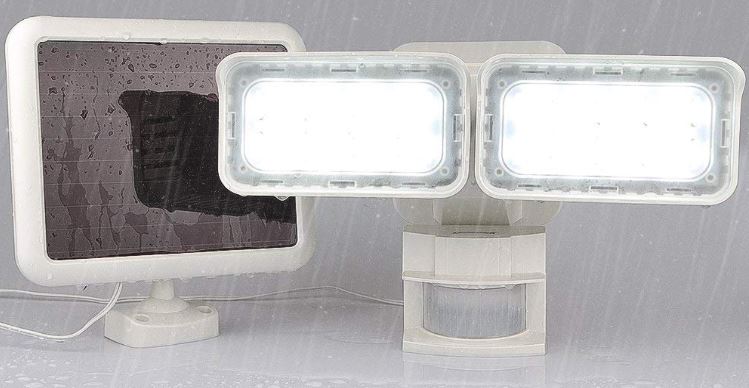 You also have some time interval options to consider. You can move the 1500 lumens between 30 seconds, one minute, or two minutes of display time. After which time, the light will go out until it detects motion again.
Installation is a pretty simple process, though it can get tricky if you're trying to install in a challenging location. The motion detection sensor works in a wide 180° radii with a maximum distance of roughly 50ft. However, it's possible to adjust the motion sensor to look at slightly different angles, as is necessary for unique installation.
This kit includes the LED security light with attached solar paneling, a protective bag filled with mounting accessories, and a user manual. LEPOWER also includes a one-year warranty along with these lights.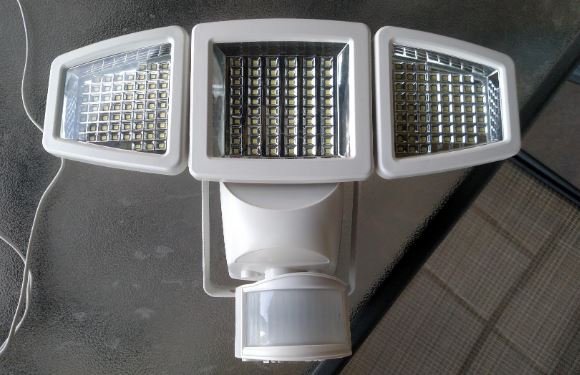 Sunforce 82183 Solar Motion Light
The Sunforce 82183 actually has a total of three lighting heads. Spread across those three heads, you'll find a total of 180 individual LEDs to help brighten everything this light gazes upon. The output reaches a total of 1200 lumens, which is slightly less bright than the LEPOWER 1500LM, but still bright enough for most people looking for a flood light.
Having three separate lamp heads means you're able to get maximum lighting coverage in the areas where you want it most. You can set the lights to illuminate downward, upwards, and horizontally. The motion sensor is capable of detection motion is a wide 180° radii, but its maximum detection distance caps out around 30ft.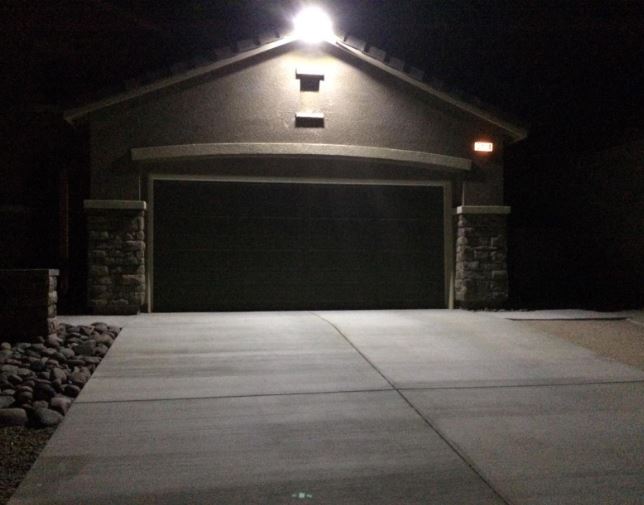 Like you can probably tell from its name, this kit includes its own solar panel, which charges with the help of included batteries, so it can continue to work for you during nighttime operation.
Build & Design
Adjustable side lamps make this light ideal for garages, pathways, entryways, sheds, and similar remote areas. The amorphous design of the solar panel ensures you get some charge off the panel, even when you're dealing with cloudy conditions, you don't necessarily need direct sunlight. The wire connecting the solar panel and the lighting fixture runs a total of 15ft, which should provide enough distance to help connect the unit in a proper location.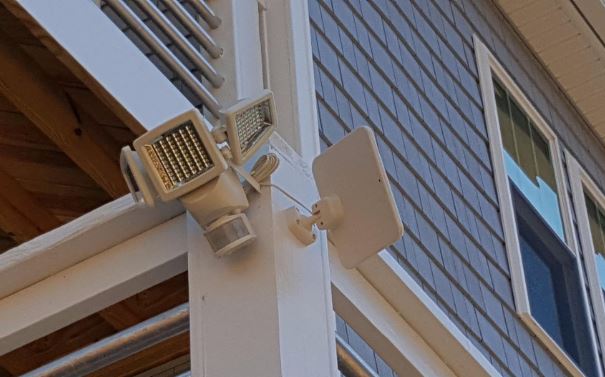 The problem with built-in batteries is that when they go, they take your lighting with them. You have to discard perfectly functional lights. The other problem is that a built-in battery is likely going to be exposed to inhospitable weather conditions, and batteries don't perform well when they're too hot or too cold.
The Sunforce 82183 tries to get around that problem by allowing you to use rechargeable AA batteries, which can be removed and replaced as necessary. For someone who's reliant on solar power, and someone who lives around extreme weather conditions, that can be perfect. The weather resistant design can to ensure those batteries hang in there as long as possible.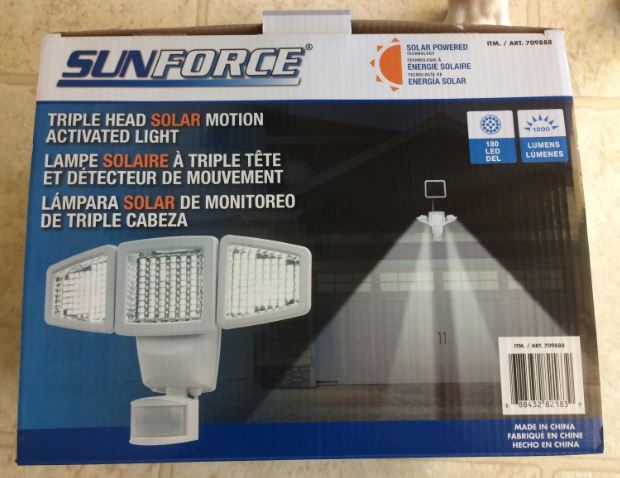 Other Considerations
This kit includes three AA batteries, which can be recharged. It includes the lighting fixture itself, the solar panel, and a small amount of mounting hardware. Just enough to get the fixture and solar panel locked in position.
If you're looking for criticisms, there isn't much in the way of customization when it comes to the sensor's settings. It would've been nice to be able to modulate the duration of the timer, or the distance of the sensor. But if you don't need that kind of customization, this light does what it's supposed to do — it can be blindingly bright.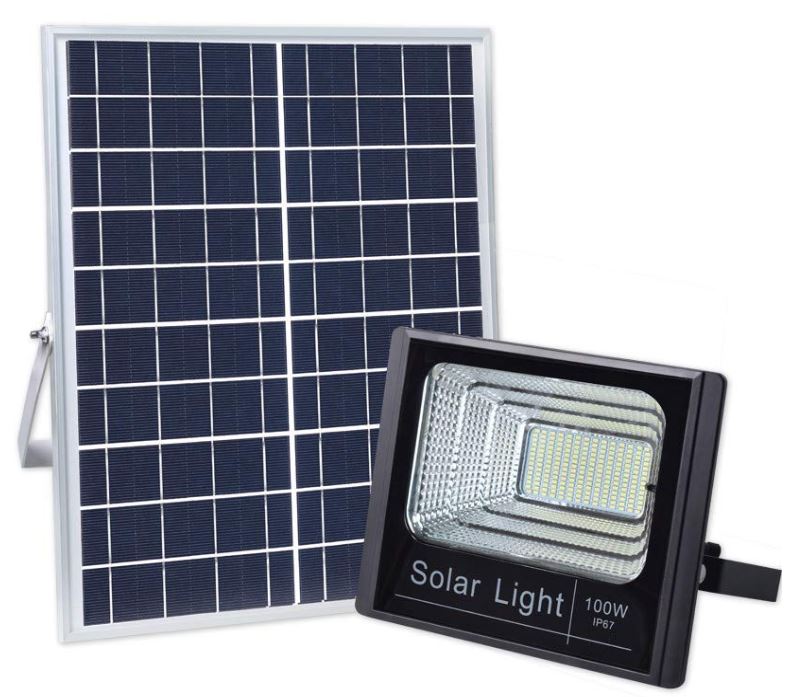 CYBERDAX 100W Solar Powered Flood Light
The CYBERDAX 100W Solar Powered Flood Light is capable of putting out a stunning 5000 lumens. That makes it the brightest light on this list. The color temperature of its LED bulbs is 6500K, a perfect daylight white. It's all the result of a 196-piece LED display, making these bulbs bright enough to light up about half of a football field.
Along with an enormous battery, you can get about 20 hours of continuous lighting while using the half-brightness mode. An included remote control lets you move between the motion sensor mode, and being flicked on various periods of time, but we'll get more into that in a moment.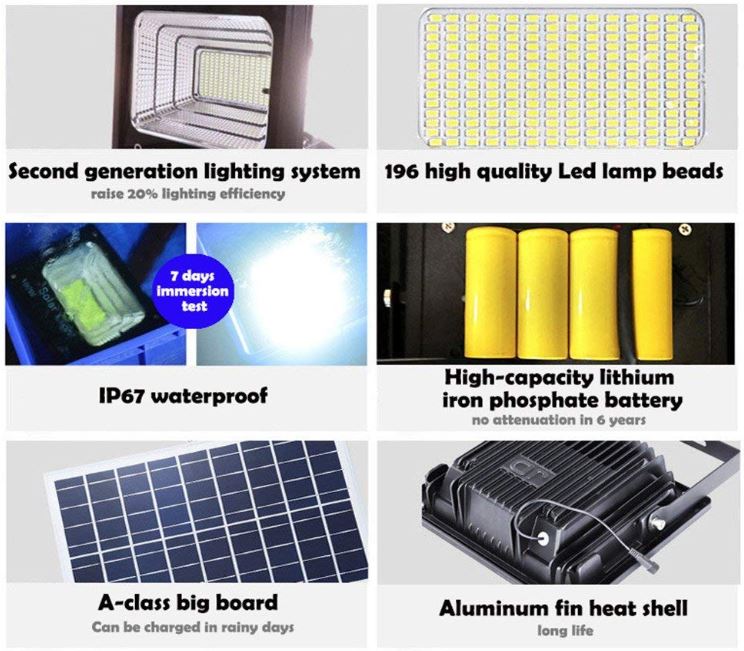 Build & Design
These lights are a mixture of aluminum and ABS plastic, which is mostly selected for their weatherproofing and heat dissipation properties. All the equipment is protected with an IP67 waterproof casing, intended to survive almost anything except prolonged submersion. Rain and snow is not an issue.
The solar panel measures 12.2 x 22.8-inches, and weighs about 4lbs. The flood light fixture measures 10.1 x 13.0-inches, and weighs about 8lbs. And this lighting kit only has a single lighting head, which means it can only be aimed at one location. Bright lights run hot. With this design, the working temperature of this equipment ranges between -25°C and 60°C.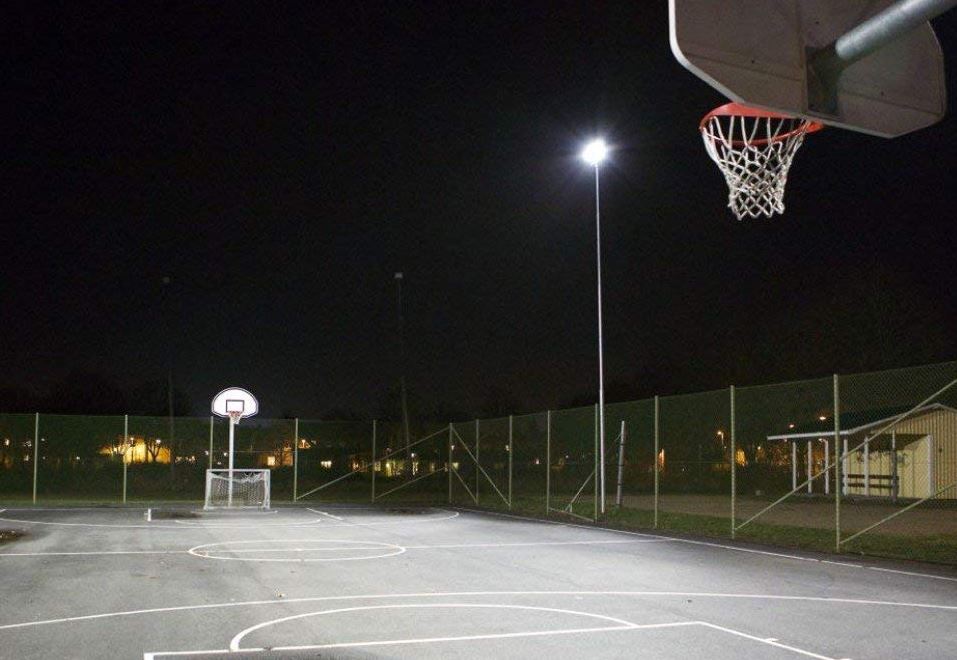 The motion detection angle is slightly directed, reaching out to 120°. It also has a relatively short detection radius, spanning between 16ft and 23ft, depending on the angle of the sensor. The battery is a massive 36000mAh battery, which requires nearly a full day of sunshine to actually full with the solar panel. The fact it can manage a recharge in one day is a testament to the power of these panels, really.
Other Considerations
The remote is pretty simple, and mostly intuitive. It lets you move between half brightness and full brightness, between the 3 hour, 5-hour, and 8-hour timer modes, and between the automatic motion detection mode. The backside has a slip cover for a pair of AAA batteries inside.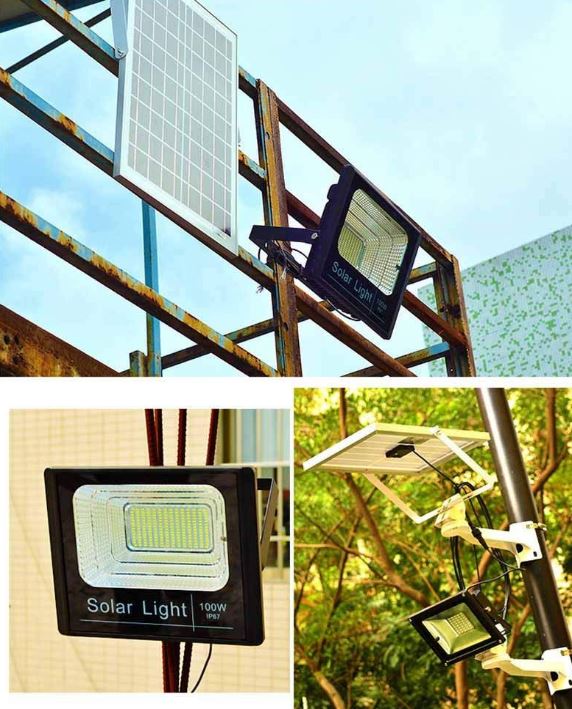 There are two ways to install these lights. The simplest way is by hanging them with the adjustable bracket that's been integrated into the backside of the lamp. A more advanced permanent installation can be done using the included screws, though the user guide for doing a permanent installation is pretty thin.
This kit includes the flood light, solar panel, remote control, mounting kit, and some assemble instructions. It also includes an 18-month warranty from Cyberdax.
Choosing Between the Best Solar Powered LED Security Flood Lights
If you need a pair of separate lighting heads, the LEPOWER 1500LM Solar LED Motion Sensor Security Light provides just that. It's easy to install, and its 1500 lumen brightness still compares favorably with kits that aren't solar powered. Though the solar paneling isn't very large, it's large enough to provide all the power necessary for this kit. Which makes the 1500LM a good choice for people who aren't using their lights in extreme weather conditions.
The Sunforce 82183 Solar Motion Light provides three lighting heads. Directed independently, it's easy to get light exactly where you want it. But it's the use of replaceable AA batteries that really help distinguish this kit. Because having swappable batteries means this lighting setup can't be killed by a cold snap. If you have to replace the batteries, doing so should be easy to do, and it should cost very little.
The CYBERDAX 100W Solar Powered Flood Light doesn't have a bunch of separate lighting heads. It provides a singular focus for its enormous 5000 lumen capacity. If someone is trying to light up an entire basketball court, this is the kind of light you need. It's probably overkill for someone's garage, but if you used the controller to run it at half-power, it could be adapted to smaller settings.