For most people, your car is your most expensive investment other than your house. It stands to reason that you want to protect it. You wouldn't go cheap with your car insurance, and you wouldn't drive recklessly for no reason. But even the best drivers can get T-boned, sideswiped, or rear-ended at an intersection. To make things worse, scammers are everywhere.
In one common scam, a driver cuts you off in traffic and slams on the brakes. When you inevitably rear-end him, he tells the police you were driving recklessly and came out of nowhere. A witness arrives, and corroborates the other driver's story. It's their word against yours, and you end up being at fault. Not only have you been in an accident, but your insurance bill is going up. And that witness? She was working with the scammer the whole time. If only you'd had a dash camera. With video evidence, you could have sued the fraudsters for damages. They might have even faced criminal charges for their actions.
Note: At no extra cost to you, we may earn a commission for purchases using our links. Learn more.
A dash cam is useful for more than just post-accident use, too. Many insurers offer a discount to drivers with dash cams. And many people enjoy using them for recreational purposes. You never know what crazy shenanigans you might catch on film! We're about to review the Aukey DRS1 4K Dash Cam. This is a compact, easy-to-install camera for drivers of all stripes. We'll start by looking at its physical construction, and the contents of the package. Next, we'll move on to installation. Finally, we'll talk about the video quality, and how the camera actually works.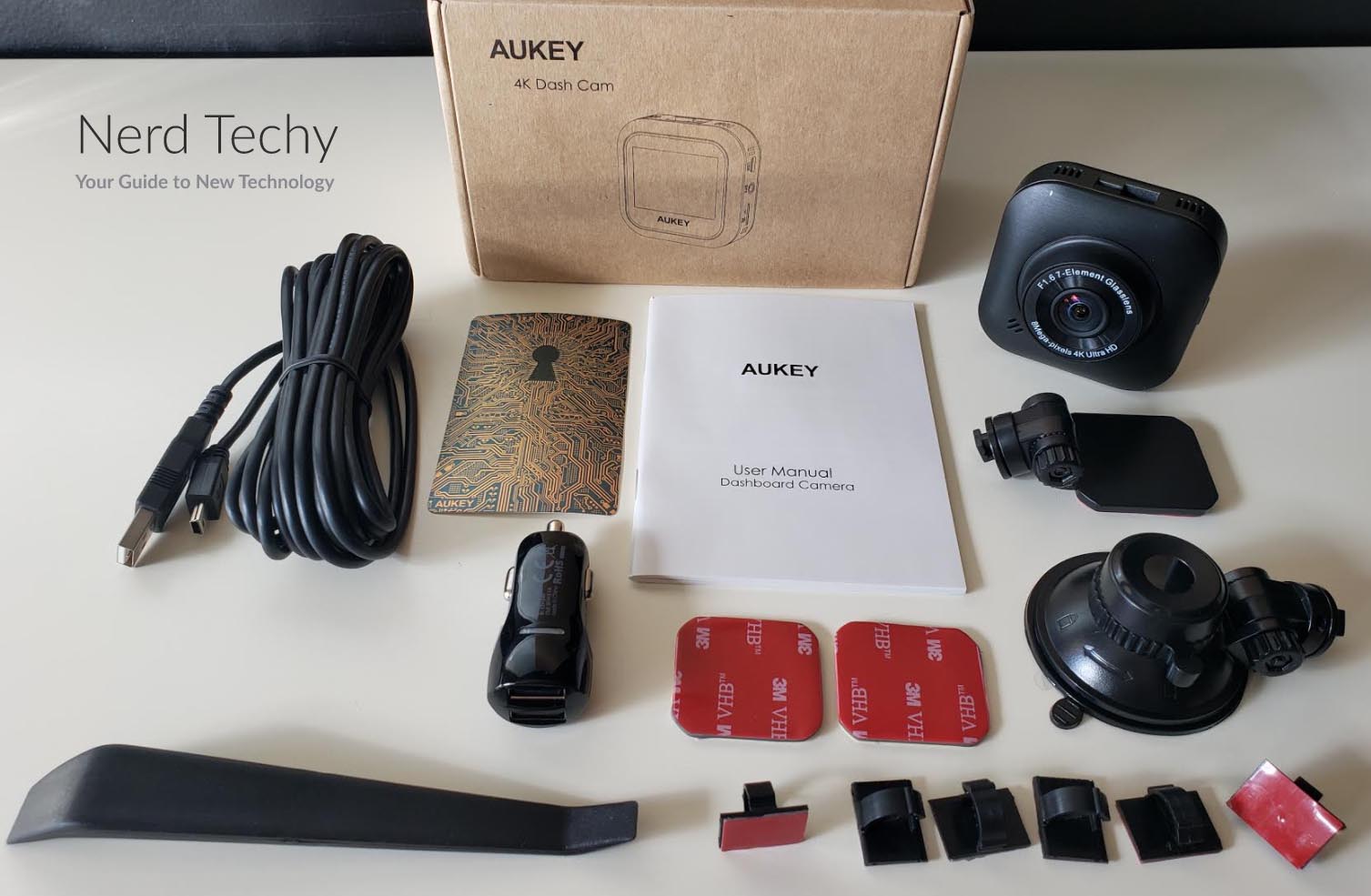 Overall Design
The Aukey DRS1 is a small, square dash camera that's designed to be unobtrusive. At 2 ½ inches to a side and 1.31 inches thick, it won't occupy a lot of space or obscure your view. The housing is constructed from black ABS plastic, with a brushed front plate that's very attractive. The lens protrudes from the front of the housing, and makes up about a third of the unit's total finish. It's fairly plain, with the exception of a blued metal ring around the iris.
The rest of the housing has a satin finish, which doesn't collect fingerprints and is easy to clean. On the top side, you'll find a proprietary slot. This is for attaching to the mount, from which it hangs. There are actually two different mounts in the kit. One is a suction cup mount, which can be easily popped off and moved around. The other is a sticky mount, which attaches with a 3M adhesive strip. There are two strips included, so you can replace the sticky mount once without buying more.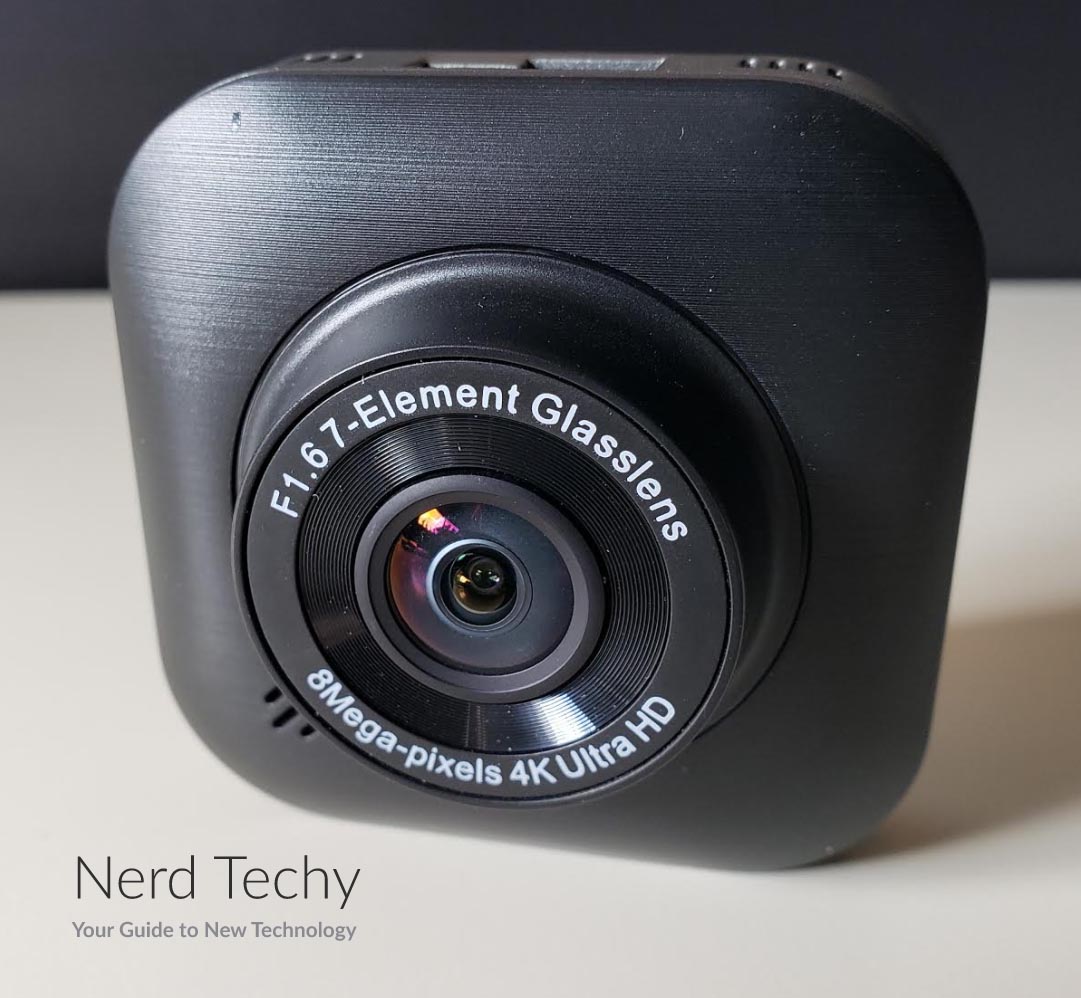 On the left side of the housing, you'll see the power button, which is black and has a good tactile feel. The other buttons are located on the bottom side. There are four of these in total, used for navigating the menu and performing other functions. On the right side, there's a Micro SD slot, and a USB port for supplying power. A 13-foot cable is included, as well as a dual-port charger for your 12-volt DC outlet. There are even six cable clamps for routing the cable, as well as a trim removal tool for easy installation.
In between the USB port and the Micro SD slot, there's a plug for the optional GPS antenna. This antenna is sold separately, and is not required for normal operation. However, it can be used to embed speed and location data in your videos. Depending on why you're buying a dash camera, these can be very useful features.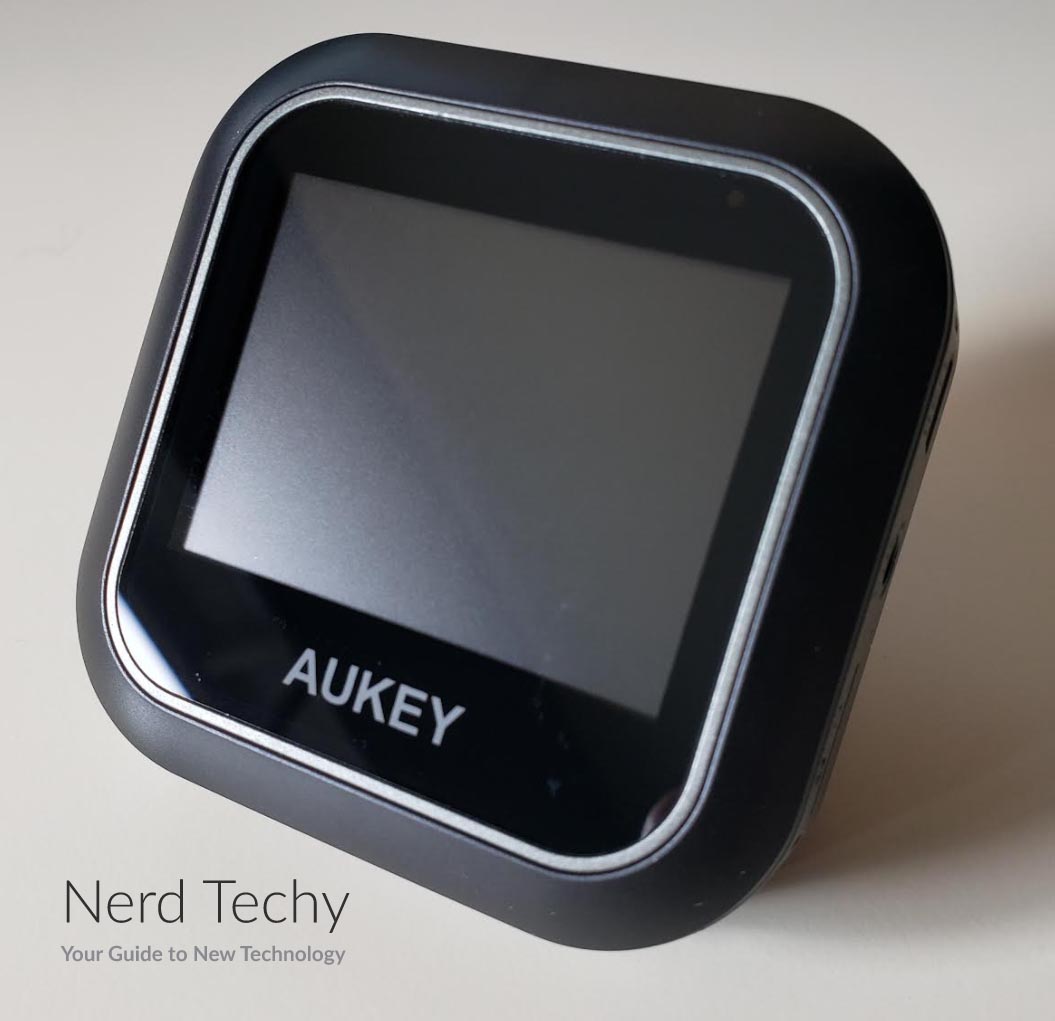 The back of the camera houses a small display. It's 2 inches in size, so it's not made for seeing fine details. It's more for getting a quick preview, or for making sure the camera is pointed in the correct direction. The only major downside of the DRS1's design is that there's no rear camera. This means you'll only be able to see out the front of your vehicle. If you need a rear camera, consider the Jomise D530. This is a dual camera with front and back views and excellent video quality. On the other hand, wiring the rear camera is an involved process.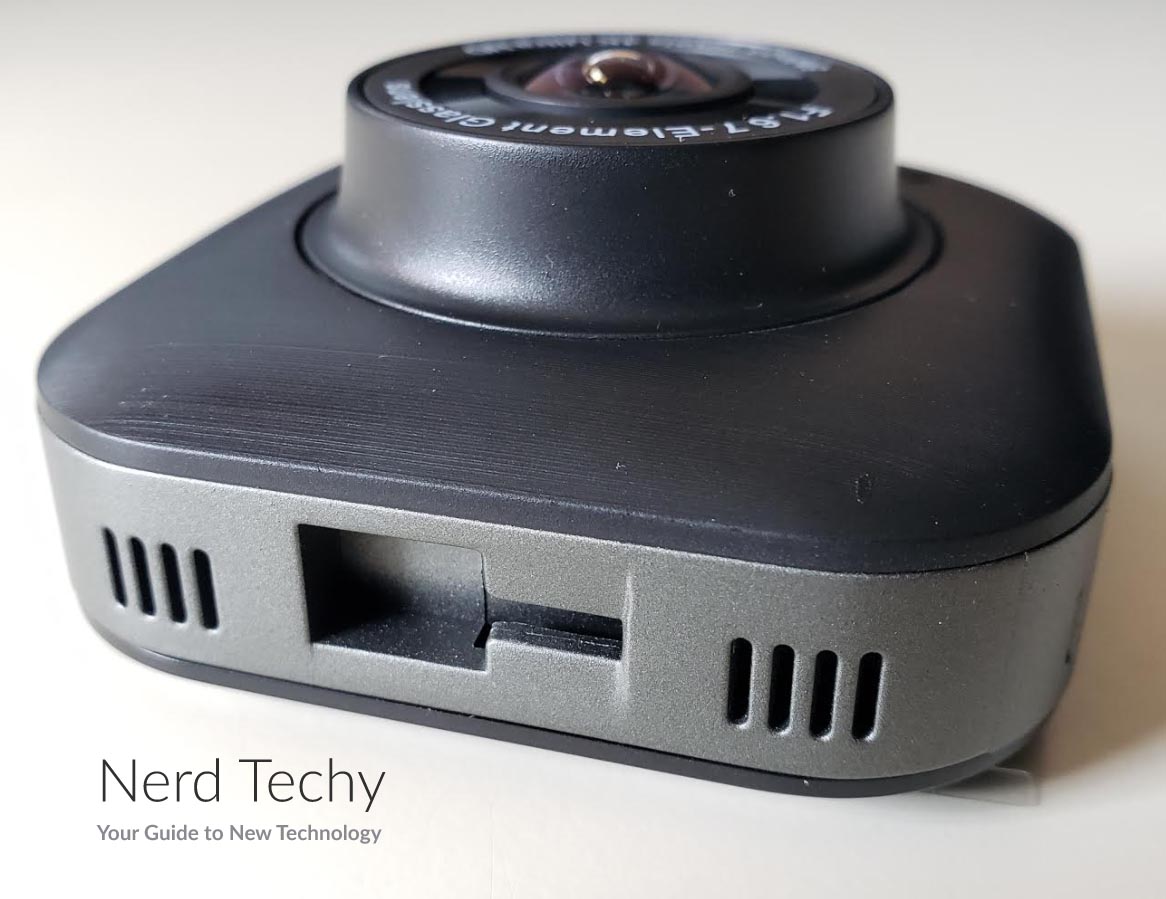 The Aukey DRS1 can withstand extreme temperatures. It will function anywhere from -22 degrees all the way up to 167 degrees Fahrenheit. This is because it uses a supercapacitor instead of a battery, so it's less sensitive to cold and heat. Moreover, Aukey backs this with a 24-month warranty. That's longer than your typical 12-month warranty, and shows they're willing to put their money where their mouth is.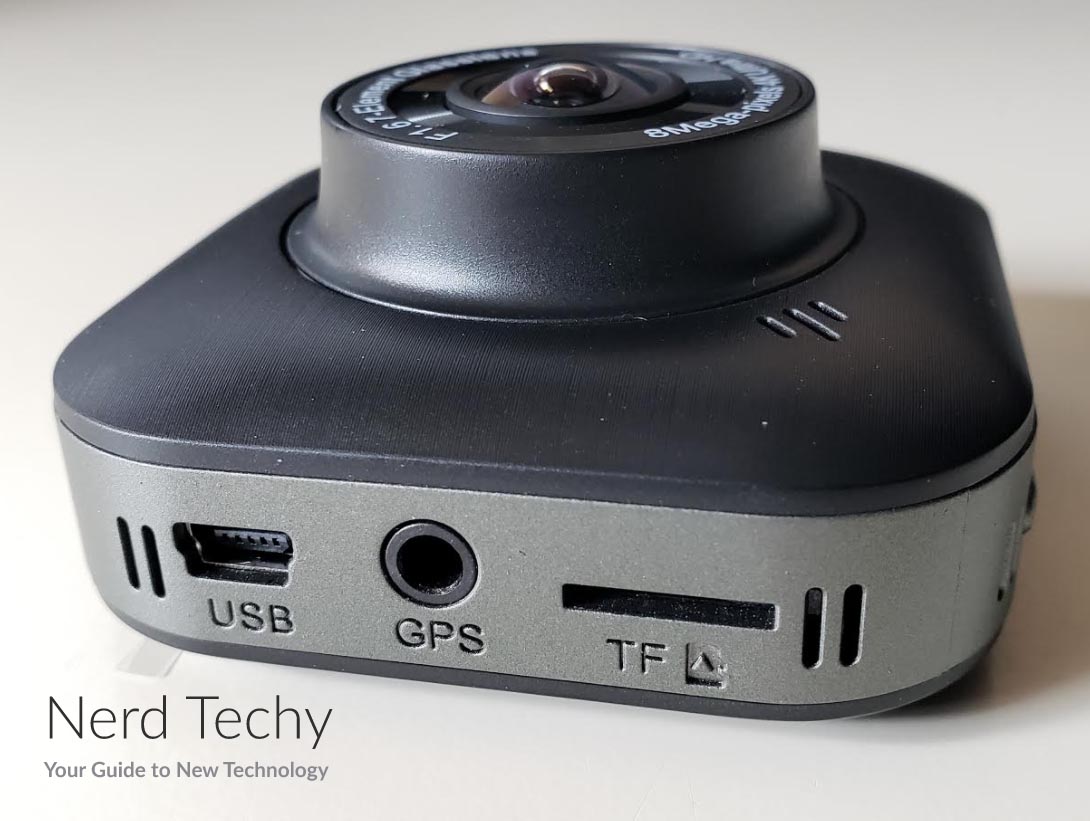 Installation
The DRS1's biggest advantage is that it's easy to install. A lot of dash cams require complex wiring, and you don't have to deal with that here. To install the camera, you simply mount it to your windshield and plug it in. The stickers are better for long-term use, and the suction cup mount is better if you have multiple vehicles. Make sure your windshield is clean before attaching the camera. Also, with the adhesive, make extra sure you're happy with placement. The adhesive can be removed, but it's a pain to do.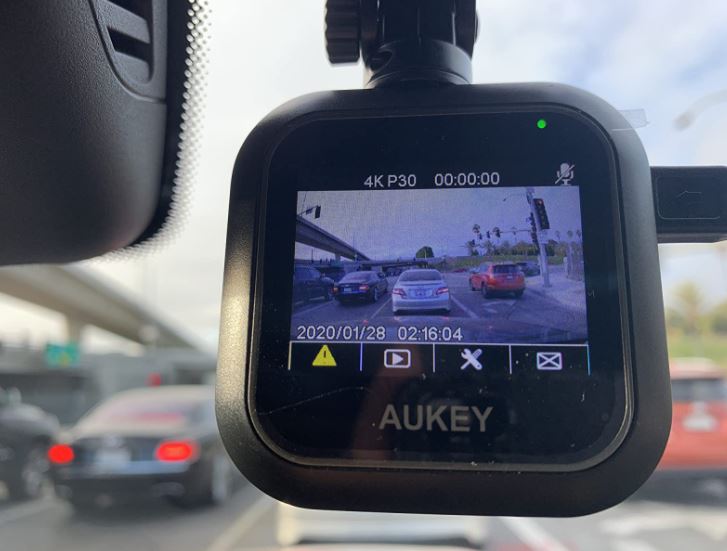 Because the USB cable is so long, it can easily be routed through even a very large vehicle. Tuck it behind the windshield trim, and run it down to your center console. Plug it into the USB charger, and you'll be ready to go. The charger also has a second USB port, so you can still plug in your smartphone or other devices. Our only real complaint is that the camera end of the cable has a Mini-B tip. This is an oddball plug that will be difficult to replace if the cable gets damaged.
With all that being said, the reason the DRS1 is so easy to install is that there's no rear camera. You don't have to run any long wires or drill through the frame of your car. But rear cameras don't have to be difficult to install. For example, the Boscam K7 Pro uses a wireless connection, so installation is very easy. The downside is that it doesn't record, so it's only useful as a backup camera.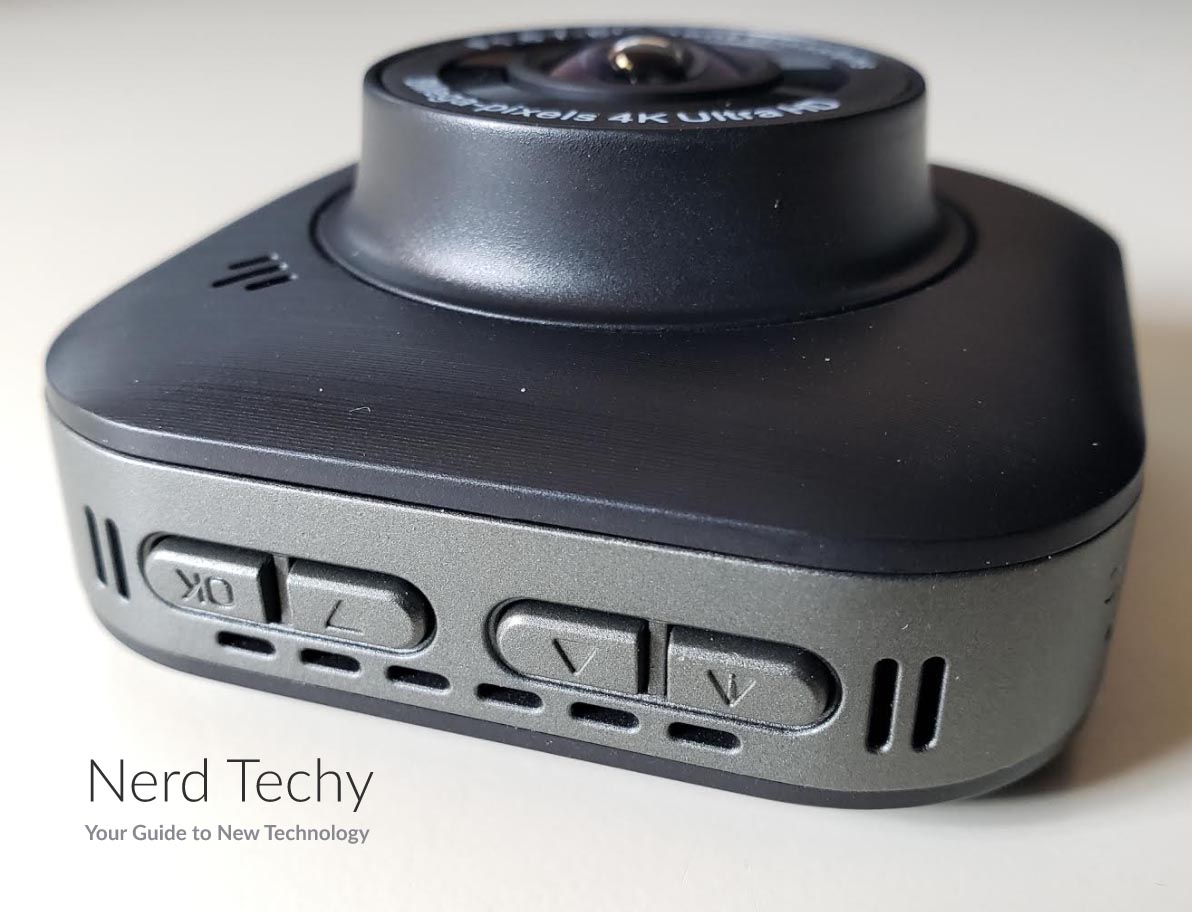 Video Quality and Storage
The Aukey DRS1 records video in full 4K resolution. It uses image sharpening technology to create a very crisp image, for viewing fine details. If you need to read a license plate at 50 yards, you can zoom in and do just that. To further improve visibility, the lens has a wide, 170-degree angle. On US highways, that's enough to cover six lanes simultaneously. You won't quite be able to see the sides of your windshield in the video, but it will be close. Despite this wide angle, there's very little distortion. This is a noticeable improvement from older wide-angle lenses, which warped shapes and sizes.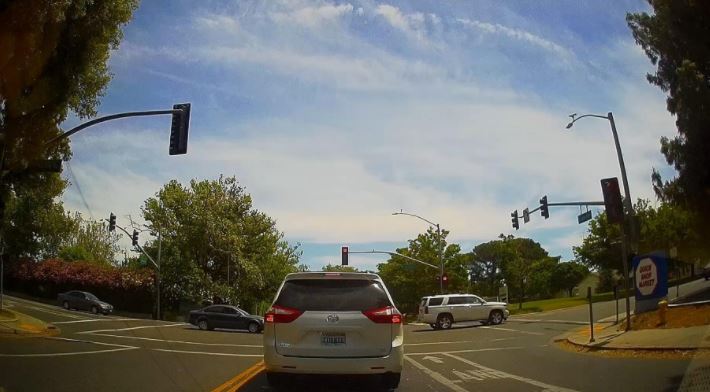 The DRS1 night vision leaves something to be desired. It slightly boosts the brightness, but it doesn't actually seem to do much. This shouldn't be an issue when you're driving, because you'll have your headlights on. But it can be problematic if your vehicle is sitting still. It can also be troublesome if you're trying to spot a distant object, outside your headlights' range. This wouldn't be a big deal, but the image sharpening technology seems to make the video grainy in low light. There are more artifacts than you'll see in most night vision dash cam recordings.
If you want better night vision video, the Aukey DR02 is a solid choice. The night vision is crisp and clean, as we've come to expect from Aukey. It's also easy to install, like the DRS1. On the downside, there's no companion app, so you can't preview videos on your smartphone.
The companion app is actually one of the DRS1's best features. With the Aukey Dash app, you can preview videos on your phone, or save them there for later review. The camera creates its own local WiFi network, so you can connect directly from your phone's WiFi menu. There's no need to mess around with Bluetooth pairing.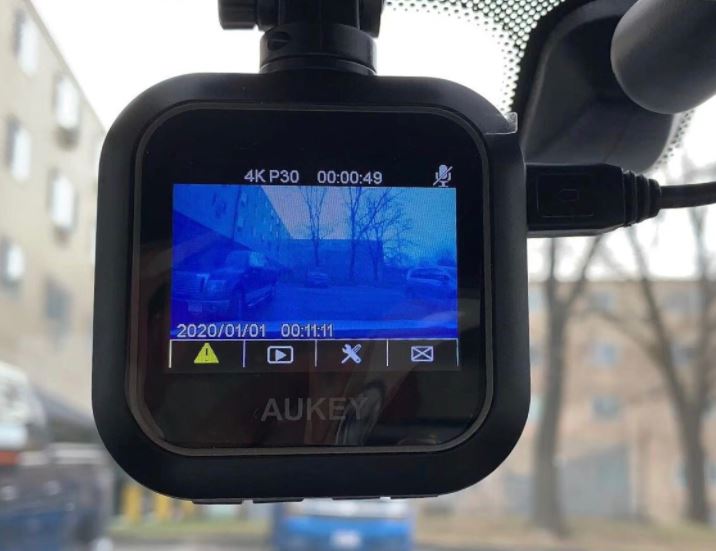 A Micro SD card is required for video storage, and there's none included in the kit. Aukey recommends a 128GB card, which is enough for a few hours of recording. You can use a smaller one if need be, but you'll get proportionally less recording time. It also has to be a Class 10 or better, with sufficient write speed to record in real time. The camera records in a loop, so it continually overwrites the oldest footage. This way, you don't have to manually clear the card. That said, if you want to save a segment, you can lock the video from the camera's menu. This will keep the locked video from being overwritten.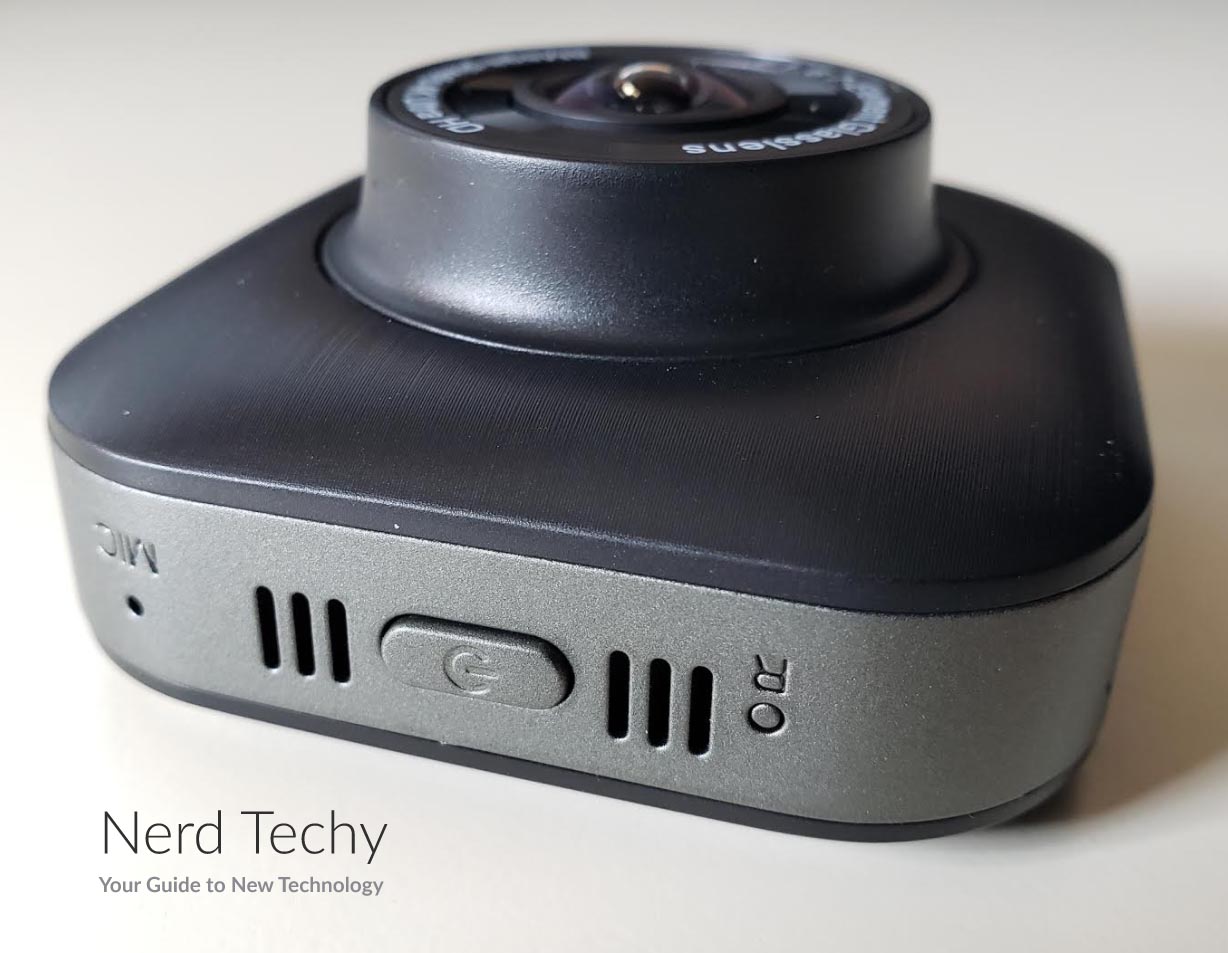 The camera's internal accelerometer will sense when there is an accident. In this case, that portion of the video will automatically be locked immediately. You can also use the DRS1 as a parking camera, so it can record at any time, even when the car is off. However, this will require the use of a hardwire kit. It would also defeat the purpose of owning an easy-to-install dash camera.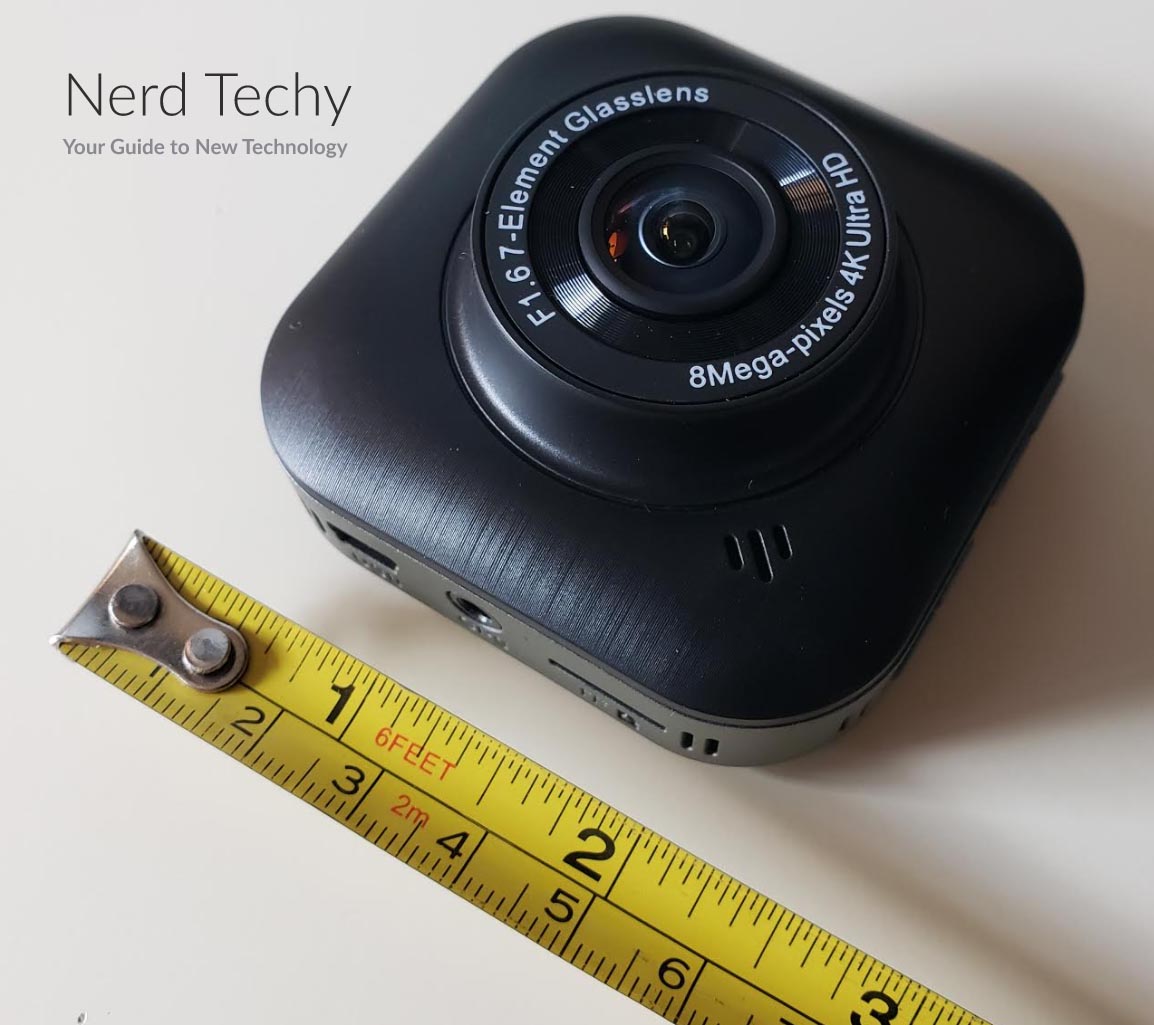 Final Verdict
As you can see, the Aukey DRS1 4K Dash Cam is a solid choice for most people who need a dash camera. There's no rear camera, so it won't cover all possible situations. However, if all you need is a front camera, it's very easy to install. Anyone can get it set up and running in less than 10 minutes. The video quality is surprisingly good, with minimal distortion. We would have liked better night vision, but you can't have everything. Videos are easy to store and review. The smartphone app and WiFi connectivity also make it easy to save any recordings you need.
Please consider sharing:
Note: At no extra cost to you, we may earn a commission for purchases using our links. Learn more.