Dishonest drivers and insurance scammers are nothing new. They're as old as the hills. People have been pulling hit and runs and conning honest people ever since the first cars hit the road. For instance, a scammer may pull in front of you, cut you off, and suddenly slam on their brakes. Meanwhile, an accomplice acts as a "witness." This accomplice tells police how you recklessly ploughed into the back of another driver. The next thing you know, you're at fault for the accident, and your insurance rates shoot through the roof. Not to mention penalties for reckless driving or other potential offenses.
A dash cam can also be useful for other purposes. For instance, many of them can be used as parking cameras for general security. Some can even be used to monitor the inside of your vehicle. Regardless of what you're looking for, it's critical to find a dash cam that lives up to your expectations. The easiest way to do this is to look at established manufacturers, such as Aukey. Aukey is primarily known for entertainment products, such as wireless earbuds. But much of the same technology is required for an effective dash cam.
Of course, even coming from a good manufacturer isn't a guarantee of good quality. To make sure you're getting what you need, you've got to look deeper. That's why we're going to review the Aukey DR02 Dash Cam as thoroughly as possible. We'll look at the overall design, how it's installed, and how it's used. We'll also look at how good the video is, and what storage options you have. We'll finish up by looking at any extra features. As we go, we'll point out any benefits or drawbacks you should be aware of. After that, we'll be able to render our final verdict.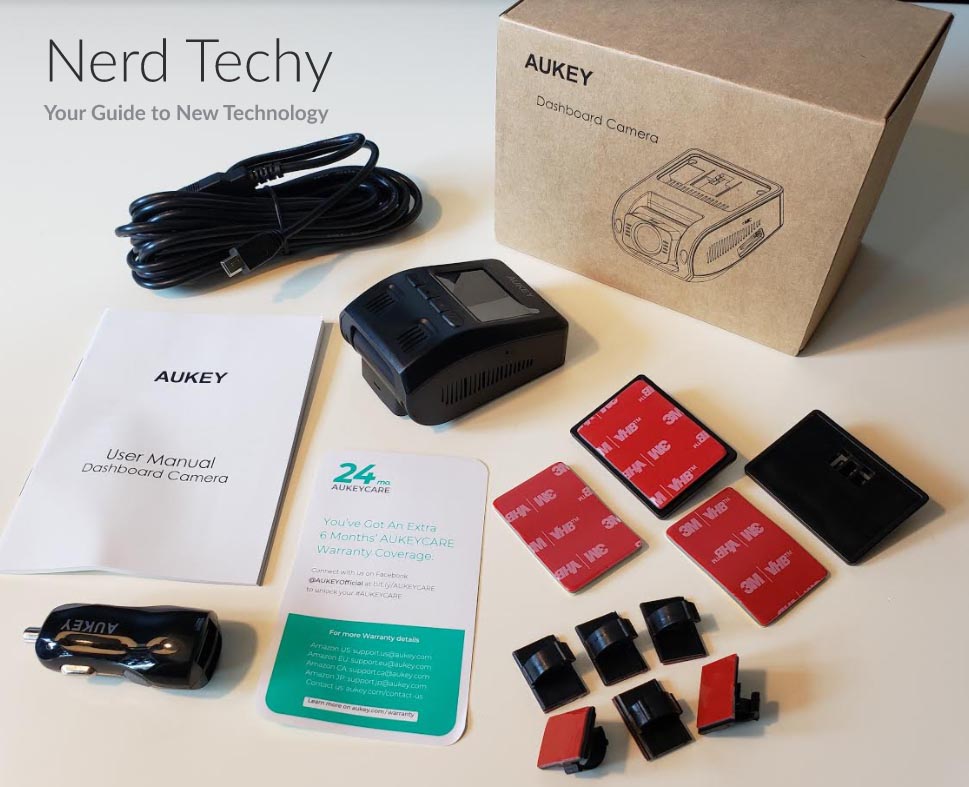 Overall Design
The Aukey DR02 Dash Cam is a compact, low-profile dash camera that's designed to conceal behind your rearview mirror. Of course, you can just as easily position it wherever you like on your windshield. But if it's behind the rearview mirror, it's not going to obstruct your view. On the other hand, if the camera is hidden, you won't be able to see the display. Not only that, but the controls will be awkward to reach. What we're saying is that you have choices, and choices are never a bad thing.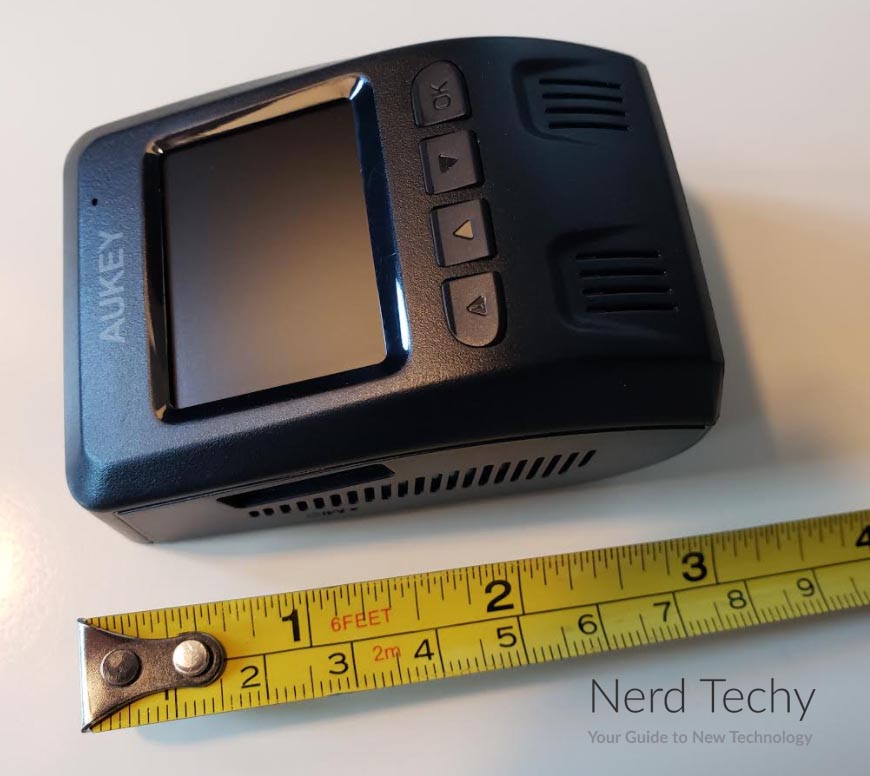 The camera itself has a two-tone housing, with black on the front portion and a dark charcoal grey on the back. The lens itself is positioned so that when the camera is mounted, it will already be pointing out the front. Depending on placement, you can adjust the screen angle for your own needs. It can be angled up or down as needed depending on positioning.
The screen itself is nothing fancy. It's a small display that gives you a thumbnail-sized view of what you're looking at. The main purpose isn't for monitoring; if you want to see details, you need an external device. It's mostly just to make sure your camera is facing the right way and working properly. It also serves as your main interface, since there are no app controls or other remote options. That said, the black, rubbery buttons make it easy to do pretty much anything you want.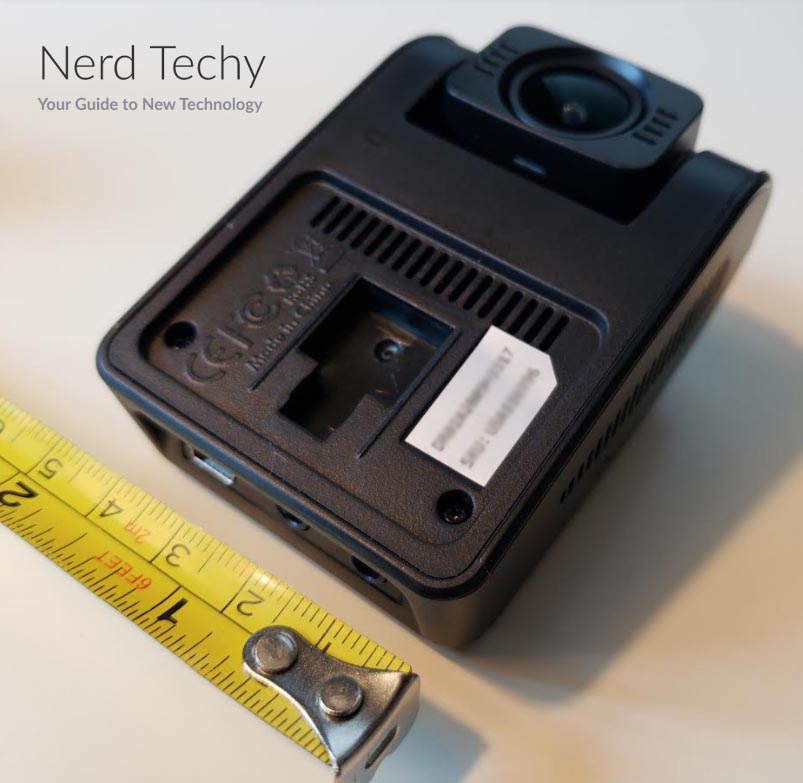 If you prefer a larger display, one option is just to replace your rearview mirror altogether. The SkyView B2 has an exceptionally large and easy-to-see display. On the downside, it's not very discreet, which is one of the DR02's main advantages.
The AukeyDR02 Dash Cam comes with everything you need for operation. There's a USB cable for supplying power, along with a car charger for plugging into. The car charger has a dual-port design, so you can still charge your phone and other devices. Not only that, but you get a set of six cable clips. This makes it easy to route the cable around the edge of the windshield without interfering with your view.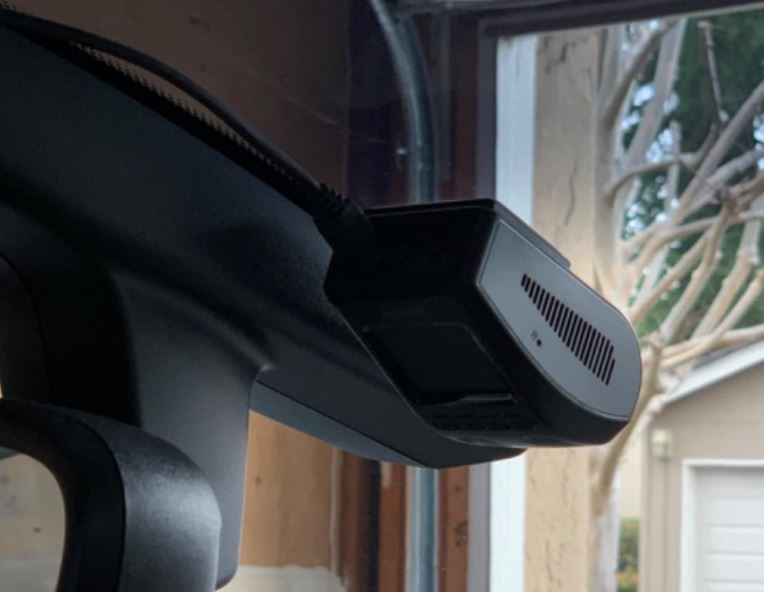 Installation
One thing we really liked about the Aukey DR02 Dash Cam is just how easy it is to mount. It comes with a mounting bracket with a flat bottom. That bracket can be attached to your windshield with double-sided 3M adhesive pads. These pads are included in the kit for your convenience. Make sure to properly prep the windshield with alcohol, and installation is easy in just a few minutes. With this design, removing your camera is also easy. Simply unplug it and detach it from the mount. If you're worried about your dash cam getting stolen, this is a great way to keep it safe.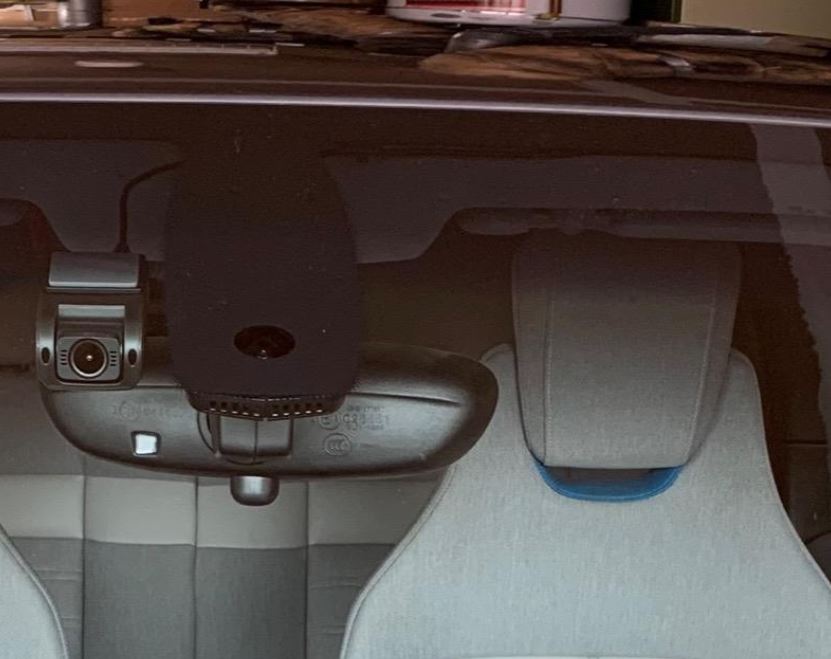 Powering the DR02 is a simple matter. It comes with a dual-port car charger that plugs right into a standard automotive cigarette lighter socket. The camera itself has an internal supercapacitor that stores a small amount of juice. If power is suddenly interrupted, it will still have enough power to safely shut down automatically. It will also turn on automatically when power is restored. This makes the DR02 very easy to use, since you can just leave it plugged in. It will power on when you turn your car on, and power down when you turn off your ignition. This makes it more or less automatic.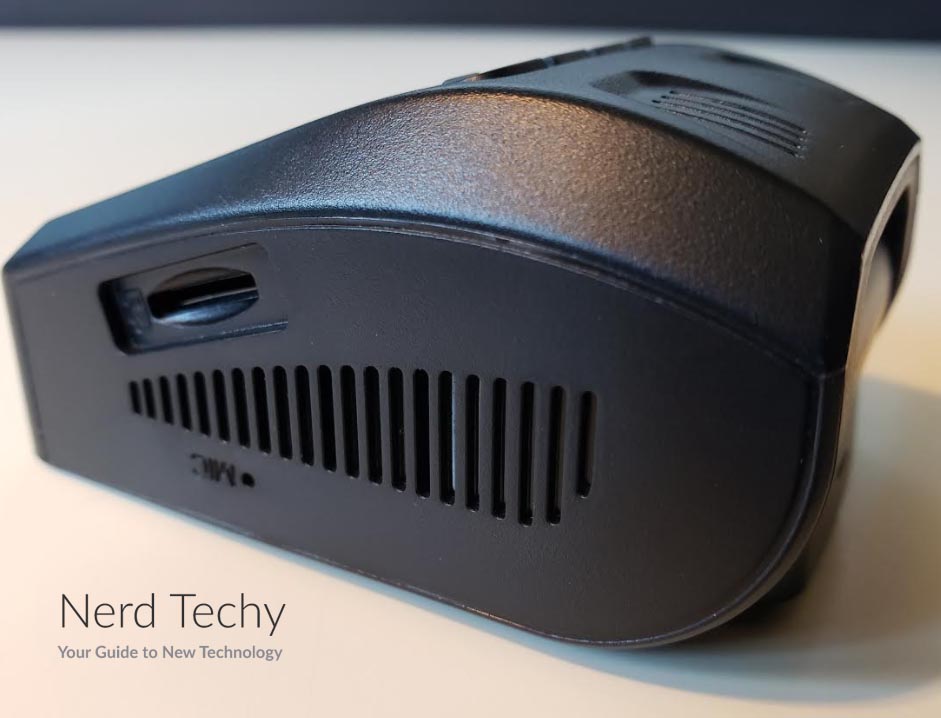 The supercapacitor performs better than a standard battery, since it withstands heat and cold better. As a result, it will last virtually indefinitely, unlike a battery, which will eventually need to be replaced. Keep in mind, though, that it only provides enough juice to safely power down the camera. It doesn't actually power the camera while your car is turned off. For that, you need a hardwiring harness or an OBD adapter.
Video Quality and Storage
The DR02 camera sports a Sony Exmor sensor, which records your video in full 1080p. This is more than clear enough to capture all the details you could reasonably need. The 170-degree field of view lets you see more than just what's in front of you. It also lets you see of the front corners of your car, so you have the complete picture. To be fair, this wide angle somewhat reduces the amount of detail you can see. Still, unless you're trying to read license plates at 100 yards, it should be more than enough.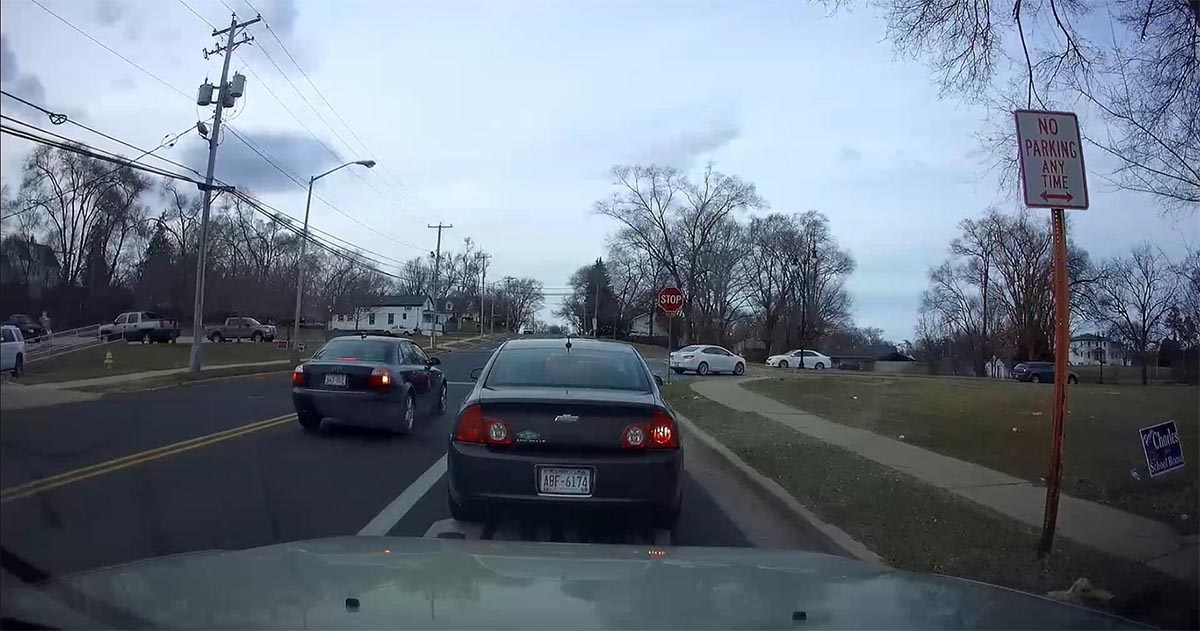 The night vision performance is good, but not spectacular. It records in black and white, which is better than old-school green night vision. Nonetheless, there's still a noticeable loss in detail. This shouldn't be an issue for most people, but it all depends on your application. If you need extreme levels of detail, even at night, consider the Lanmodo Vast Pro. This camera replaces your rearview mirror and offers superior night vision. On the other hand, it also costs three times as much as the Aukey DR02.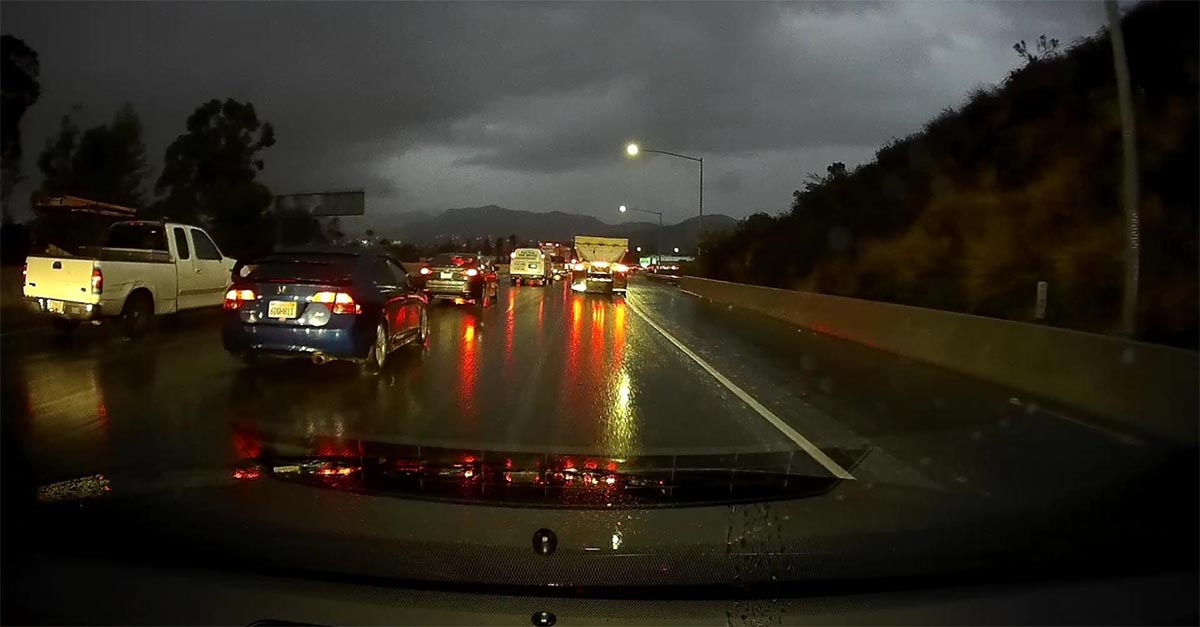 In addition to video, the camera will also record in-car audio, both by day and by night. This option can be turned off if you so desire. The DR02 can also be used to snap still photos. Regardless of what you're recording and what mode you're using, you'll want to save that video. For that, you'll need to install an SD card, which is not included in the kit. The Aukey DR02 supports up to a 128GB card, enough for over a week of recording. As video is recorded, older footage will automatically be overwritten first, ensuring that your latest videos are always available. There is no cloud storage option with the DR02. All video is stored locally.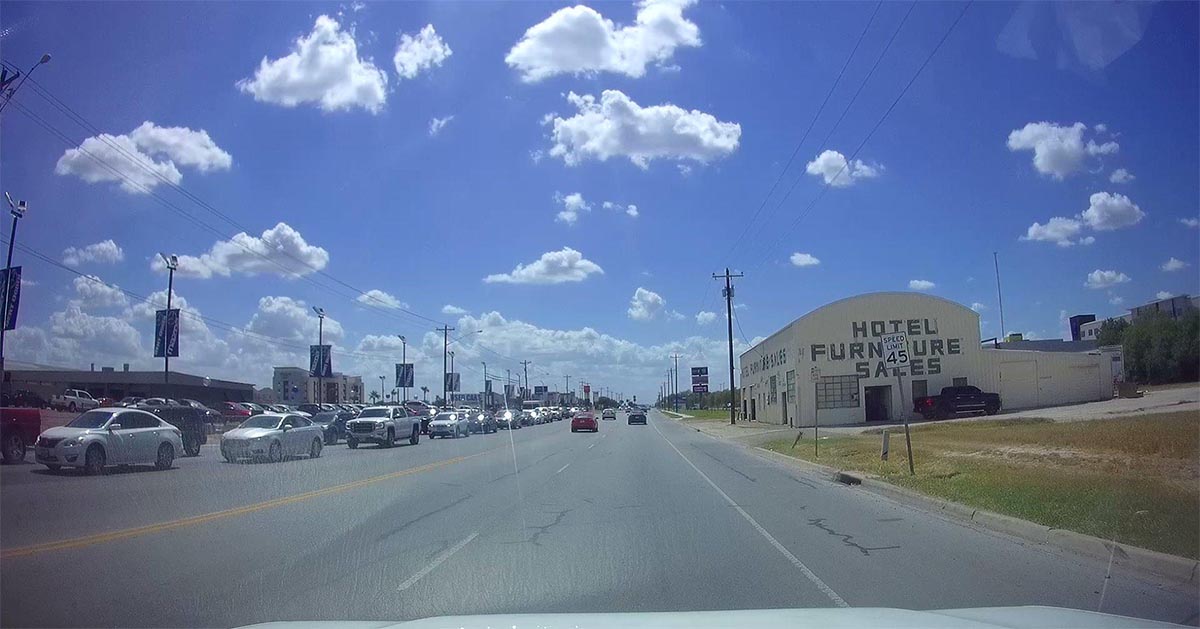 There are two optional recording modes that can be activated when your car is off. Keep in mind that these modes will require a hardwiring harness or an OBD adapter. Both of those are outside the scope of this article. The first of these modes is emergency recording mode. In this mode, a built-in gravity sensor will automatically activate the camera if the car is impacted. This is great for parking situations where you're worried about a hit and run. Moreover, there's a motion detection option. This is better-suited for use when you're parked at home, since you'll get too many false positives in a public area. That said, it's an effective way to see if anyone's been prowling around your car.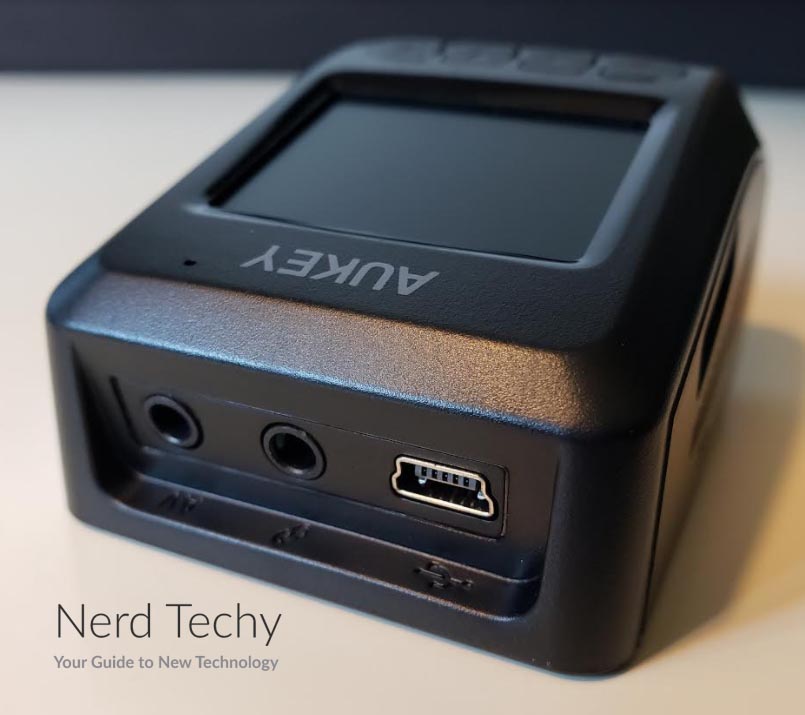 Extras
In addition to all of the above functions, the Aukey DR02 has a couple extra tricks up its sleeve. For one thing, you can enable time lapse recording to film an entire journey. Does this serve any practical purpose? None whatsoever. However, it's a fun way to share your travels with friends and family. And even with time lapse recording enabled, you won't have to sacrifice any of the ordinary functions. It's just an added bonus.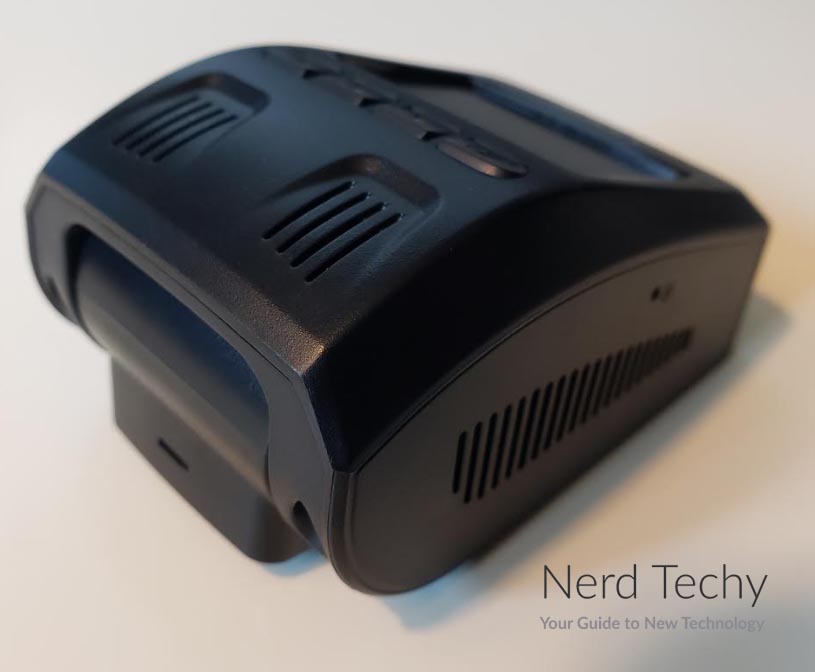 In addition, there's an optional add-on: the AUKEY GM-32 GPS Antenna, which is sold separately. When installed, you can use the antenna to log your exact location and speed on every video. Admittedly, it's rare that this will help you in any police investigation. But it's a great way to geotag videos for sharing on social media. And if you don't need it, don't worry about it. It's totally optional.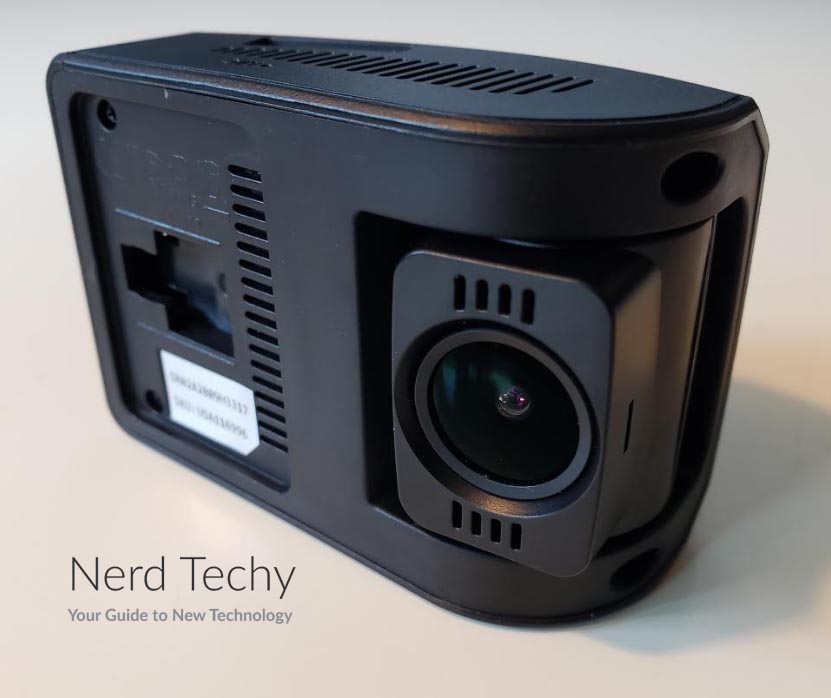 Final Verdict
For most people's purposes, the Aukey DR02 Dash Cam will do quite nicely. Let's start with the two negatives. First, there's no rear camera. Admittedly, this can be a concern if you've been rear-ended. But rear-end accident scams are rare, and rear cameras can be a pain to install. Secondly, there's no app, WiFi access, or cloud storage. This is a bigger downside. However, most cameras with WiFi access require a subscription. This can get expensive, quickly defeating the purpose of buying the camera.
In every other respect, the Aukey DR02 offers a lot of value. The video quality is very good, with plenty of clarity. Quality drops somewhat at night, but you can still read any license plate you're close enough to collide with. Not only that, but there are plenty of additional camera modes available. If you're looking for an effective, versatile dash cam, this is it.
Meet Derek, "TechGuru," a 34-year-old technology enthusiast with a deep passion for tech innovations. With extensive experience, he specializes in gaming hardware and software, and has expertise in gadgets, custom PCs, and audio.
Besides writing about tech and reviewing new products, Derek enjoys traveling, hiking, and photography. Committed to keeping up with the latest industry trends, he aims to guide readers in making informed tech decisions.