These days, there are more wireless earbuds on the market than you can shake a stick at. This isn't just because some celebrity started wearing them, or even because Apple went wireless-only. It's because of the development of true wireless stereo technology. Before TWS, wireless audio was limited to mono and was also very low bitrate. Suddenly, with TWS, you could get top-quality audio without the need for a wire. This has led to an explosion of products on the market, giving consumers plenty of options. The downside of all this choice is obvious. With so many options, it's tough to tell what's good and what's not.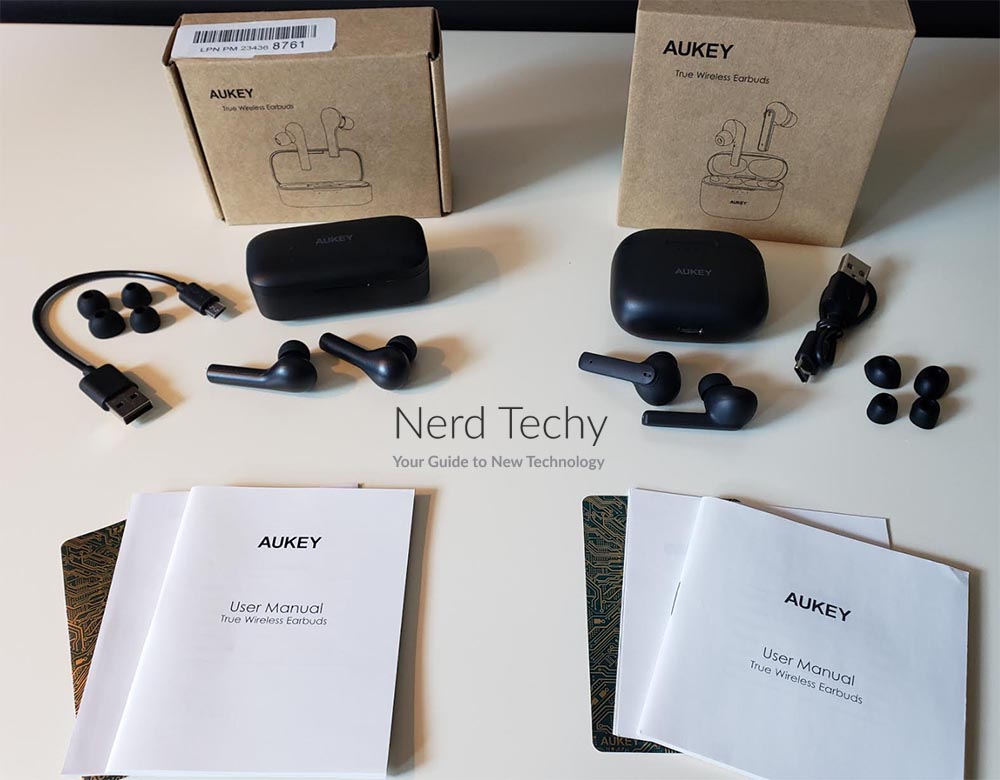 One way to make a safe choice is to stick with an established brand, like Aukey. Aukey is known for producing all kinds of electronics, from headphones to power banks. Because they make so many well-reviewed electronics, we're always excited to see what they're offering. Today, we'll be looking at two sets of wireless earbuds. First, we'll look at the Aukey EP-N5 earbuds. These are slim, powerful earbuds that provide active noise cancellation. Next, we'll check out the Aukey EP-T21 earbuds. These buds have a flatter case, along with larger drivers. But which pair is the best choice for you? Let's compare the two, and see how they stack up.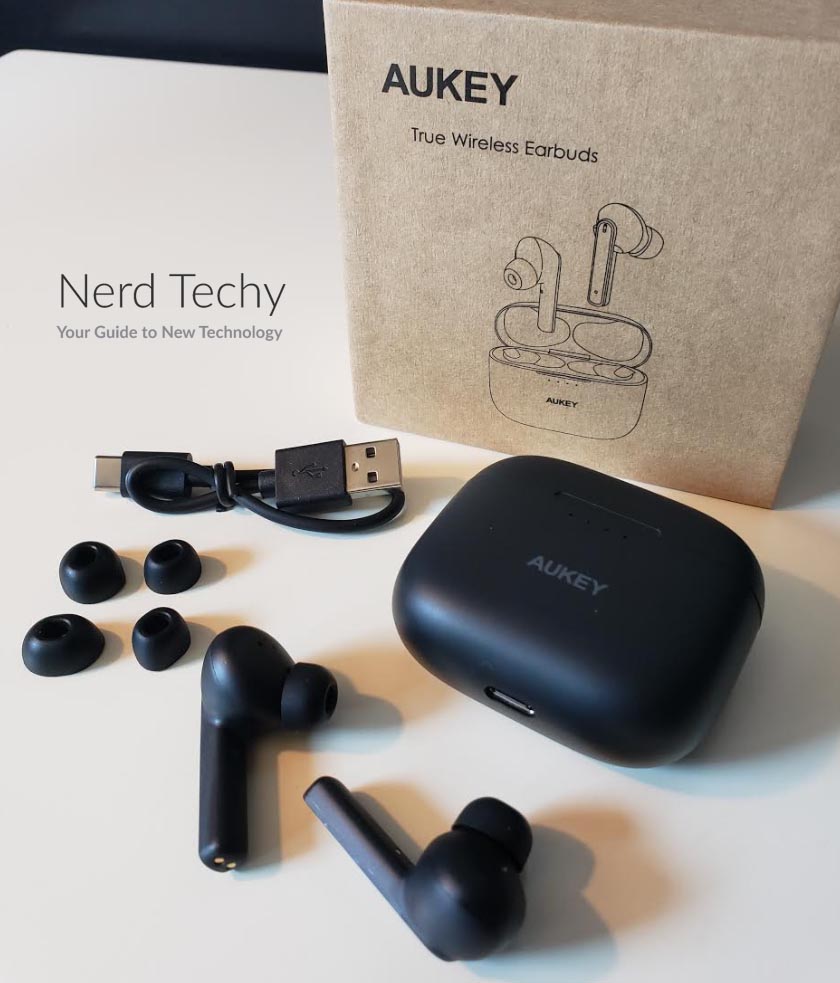 Aukey EP-N5
The Aukey EP-N5 earbuds have an AirPod-style design, with vertical studs that contain the batteries. The studs are oval, though, while the AirPod's studs are round. In addition, the earbud shells themselves are ovular, which makes for a comfortable fit in most outer ears. To keep them secure as well as provide noise isolation, a set of silicone ear tips secures the buds in your ears. Don't forget that there are larger and smaller ear tips in the box. If your tips are too tight or too lose, try swapping out for a different size. Oftentimes, that's good enough to completely resolve any discomfort.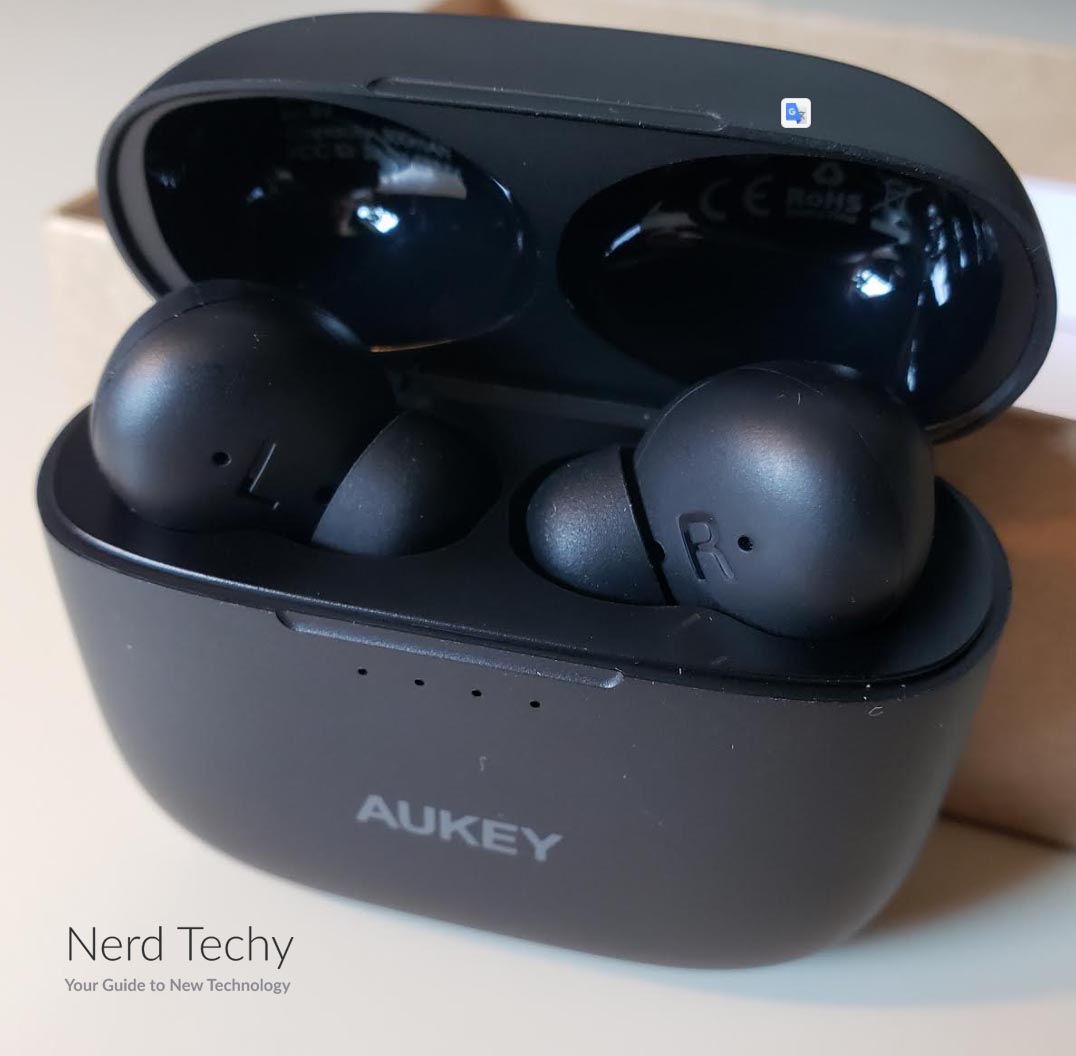 The back of each earbud functions as a soft touch control button. Because the buttons have a soft touch, they're easy to operate without any discomfort. You can skip tracks, adjust the volume, or even take phone calls without taking your phone out of your pocket. In addition to that, the earbuds have a water-resistance rating of IPX5. This roughly equates to "splash-resistant", so it's good enough for sweaty workouts or running in the rain.
The charging case has a compact, clamshell-style design. It's less than half the size of a smartphone, and your earbuds drop in from the top. This is similar to the design of the AirPods, once again calling back to Apple's design. The top of the lid is spring-loaded, so it doesn't snap open by accident. There's a small tab at the bottom for opening it with your thumb. Underneath that, you'll see a row of four LEDs, which keep you notified of the current battery life. Both the case and earbuds have a matching, satin black design that's attractive and easy to clean.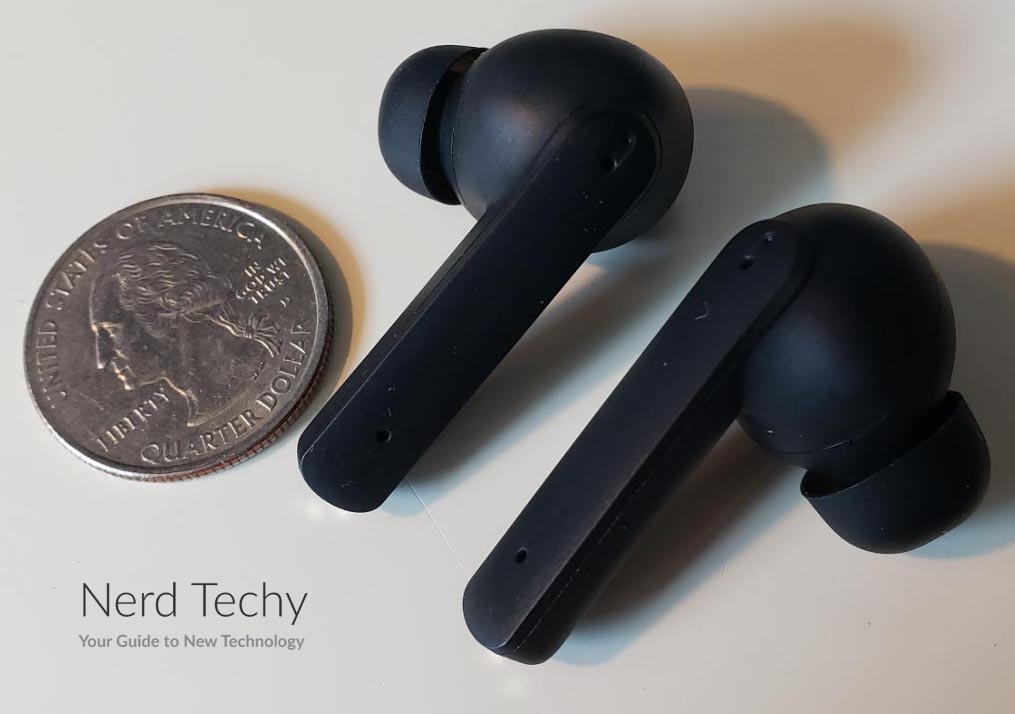 If you prefer a smaller set of earbuds, check out our review of the Aukey T10 earbuds. These buds have a slimmer profile, but their charging case's battery is correspondingly smaller.
Along with the Aukey EP-N5 earbuds, you get a USB Type-C cable for charging. You also get a 24-month warranty, as long as a 45-day money-back guarantee. If you try the buds and decide you don't like them, you can send them back for a full refund.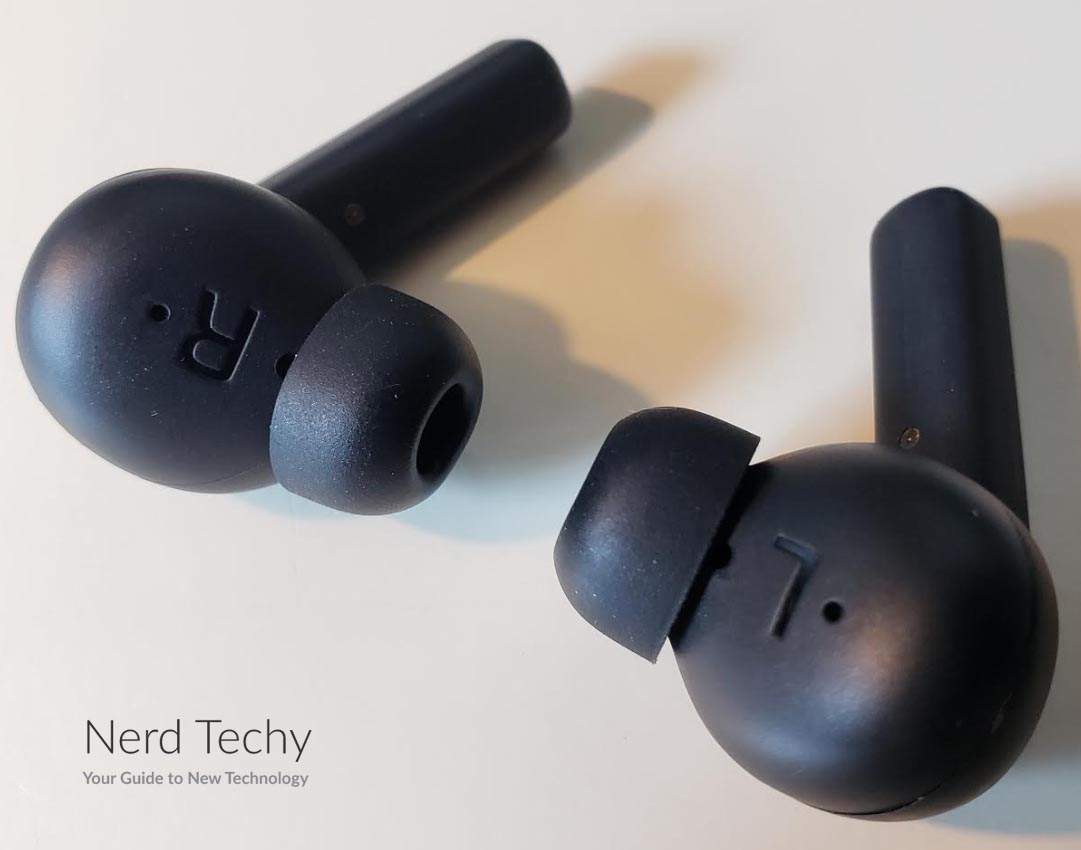 Battery & Connectivity
The Aukey EP-N5 earbuds offer up to seven hours of playtime on a single charge. This is quite impressive, even if it is a manufacturer's rating. Keep in mind, though, that your expected performance will drop to about 4 ½ hours with noise cancellation active. Even so, that's not bad for a pair of ANC earbuds. Moreover, the charging case will recharge the earbuds four times without needing to plug in. This gives you a total of 35 hours of playtime, or about 22 ½ hours if you're using ANC. When you do need to plug in, the USB Type-C charger makes quick work of recharging the case. On a standard AC charger, you'll be fully charged in about two hours.
The Aukey EP-N5 earbuds use the latest Bluetooth 5.0 wireless protocol. Bluetooth 5.0 is a significant improvement from version 4.2, and offers three major advantages. To begin with, it allows for higher audio bitrates, so you can get richer sound. Second, it provides a more stable connection, both for listening to music and for phone calls. Finally, it reduces the lag in the signal to nearly zero. This means the audio won't be out of sync during movies or video games.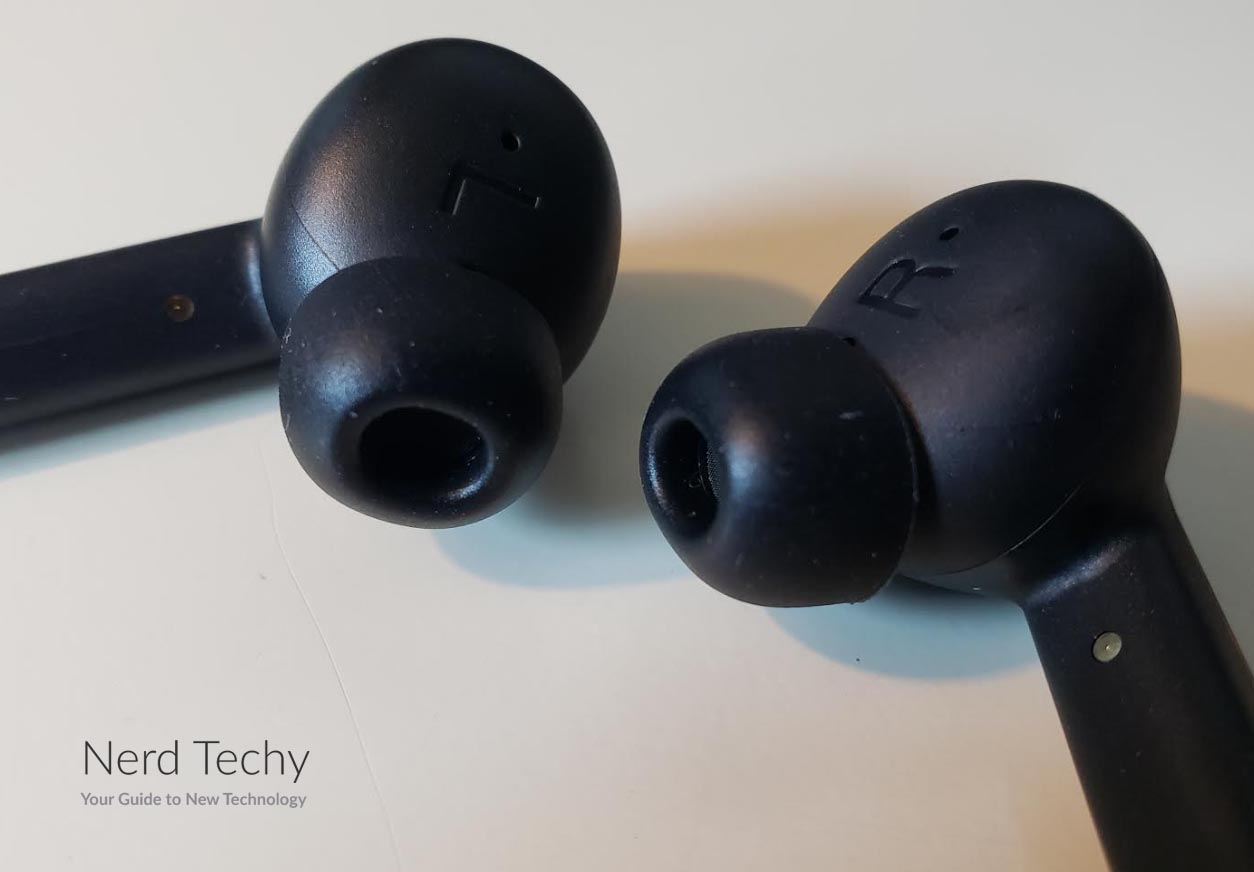 The EP-N5 buds can also be paired both in stereo mode and in mono mode. Stereo mode is the standard, and it's just what it sounds like: both earbuds are connected. This is what you'll probably end up using most of the time. Mono mode won't give you that delicious stereo sound, but it will provide situational awareness. It's particularly useful for hands-free calling while you're driving. Not only that, but by using a single earbud, your battery life is doubled.
Sound Quality
The EP-N5 earbuds sport 10mm drivers. This is about half again as large as typical earbud drivers, so you get plenty of sound. We were particularly impressed with the bass, which is very powerful for earbuds of this price. Everything sounds good across the spectrum, from the highs to the lows. However, the mids seem to be in the back of the mix. This makes vocals sound a bit hollow, which can be disappointing for many listeners.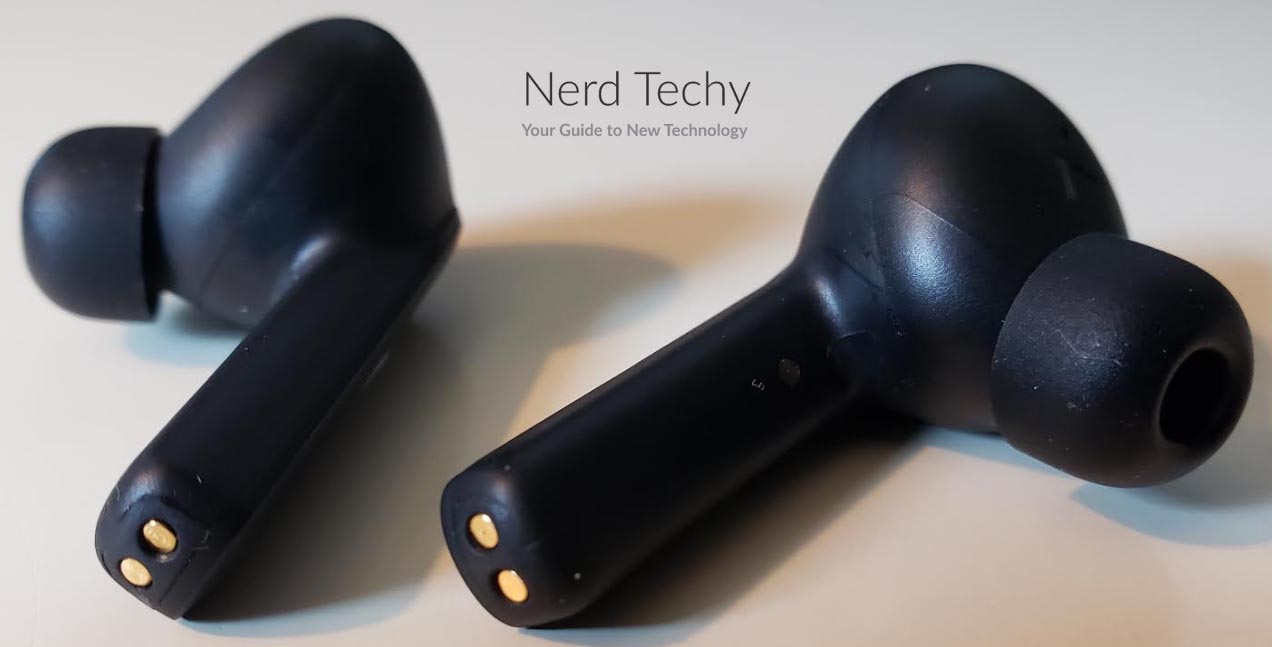 That said, the EP-N5 buds' ANC function is very powerful. It will filter up to 28dB of ambient noise. This means it will reduce the roar of a jet engine to the hum of a power drill. You can enjoy your music under virtually any circumstances, even in a loud environment. ANC works best with steady noise, though. For instance, it's very effective at eliminating engine noise, but won't do much for a sudden horn honking.
Each EP-N5 earbud has a pair of internal microphones. This four-mic setup is designed to focus on your voice and reduce background noise. The net result is that the person on the end of the phone can hear you clearly. In mono mode, background noise becomes more noticeable, but it's still not bad.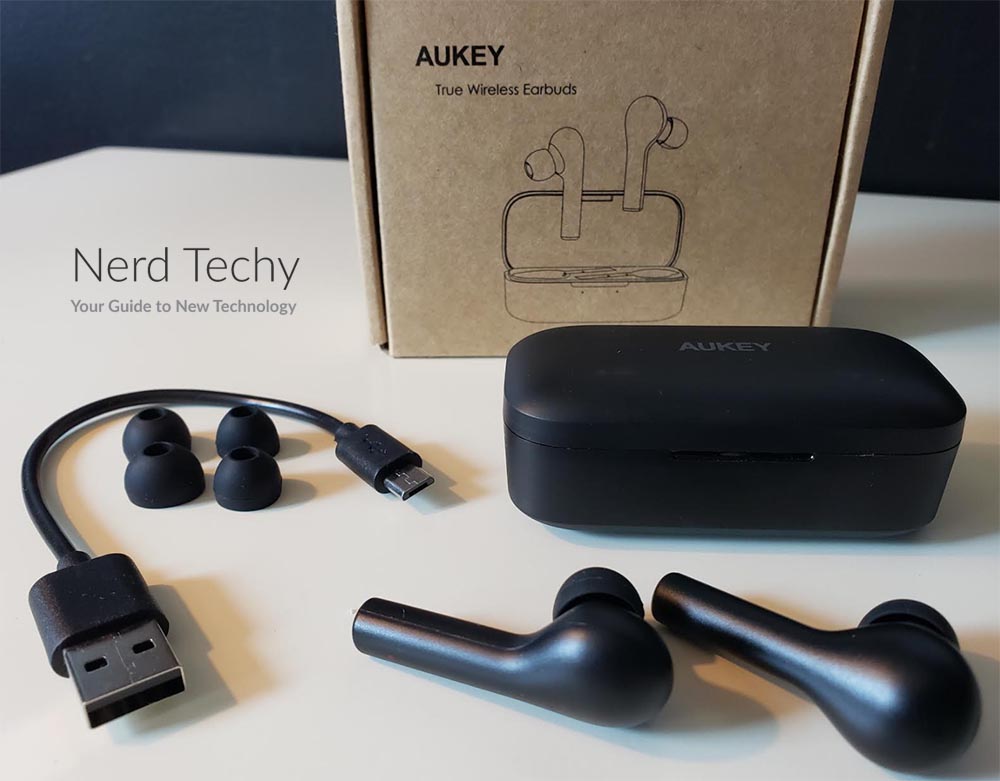 Aukey EP-T21
The Aukey EP-T21 earbuds have a similar, AirPod-style design to the EP-N5 buds. This includes the downward-facing studs, as well as three sets of ear tips and soft touch controls. You'll notice, though, that the EP-T21 buds have a more rounded design, with a smaller head. This is mostly a cosmetic choice, since it doesn't really affect the fit. But it's something to keep an eye on if you're picky about cosmetics. On a more substantive level, the water-resistance level is IPX4 instead of IPX5. This is still roughly equivalent to "splash-resistant", though. Feel free to wear your buds while you're sweating through a workout, but take them off for your shower.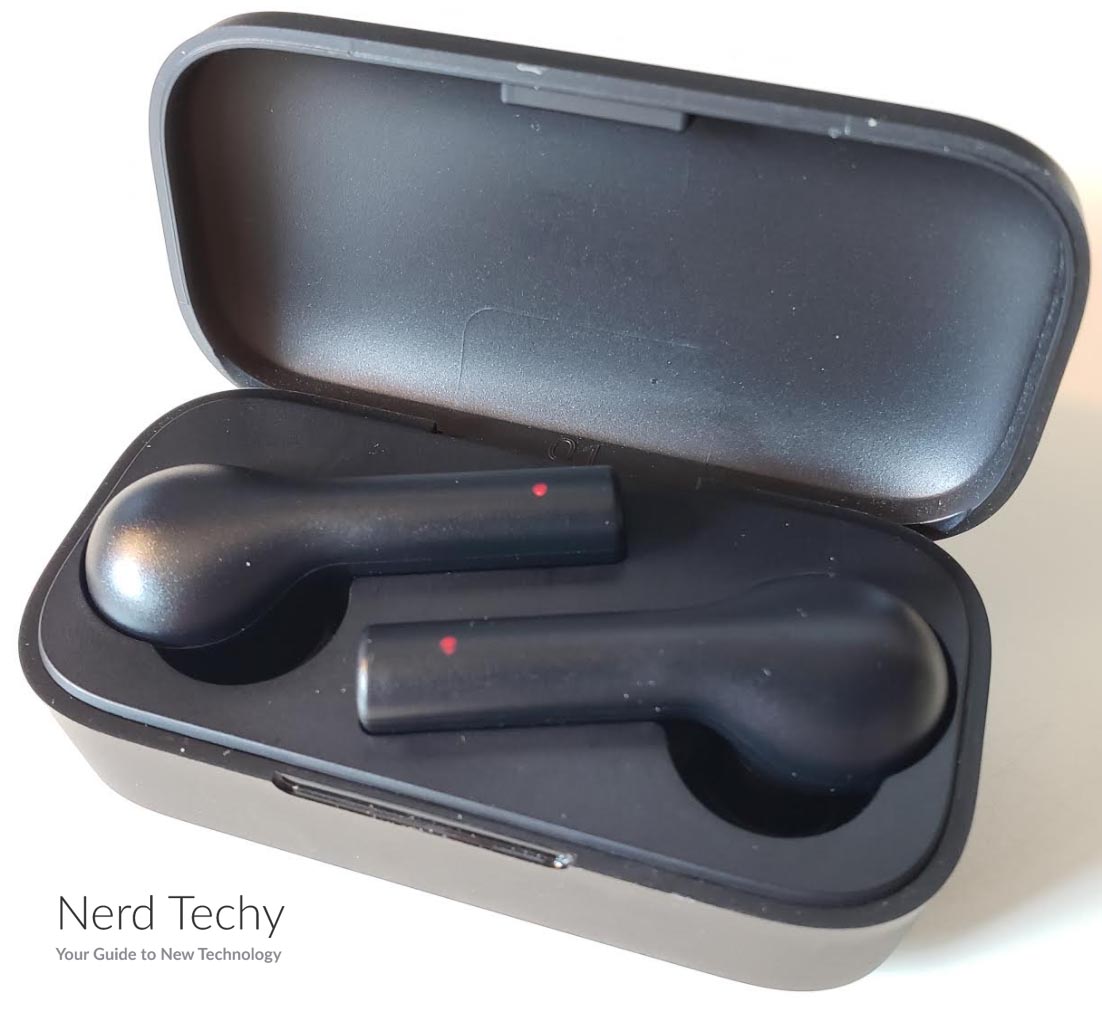 The charging case is a bit of a departure from the AirPod-style design. Rather than drop the buds in vertically, they lay in the charging wells horizontally. When you're carrying the buds in your pocket, this makes no difference. The overall charging case profile is still the same. But when the charging case is sitting on your desk, it's a bit more stable. In addition, the earbuds snap into the case magnetically. This ensures that they're properly inserted and that the contacts are, well, making contact. The kit also includes a Micro USB cable for charging your buds.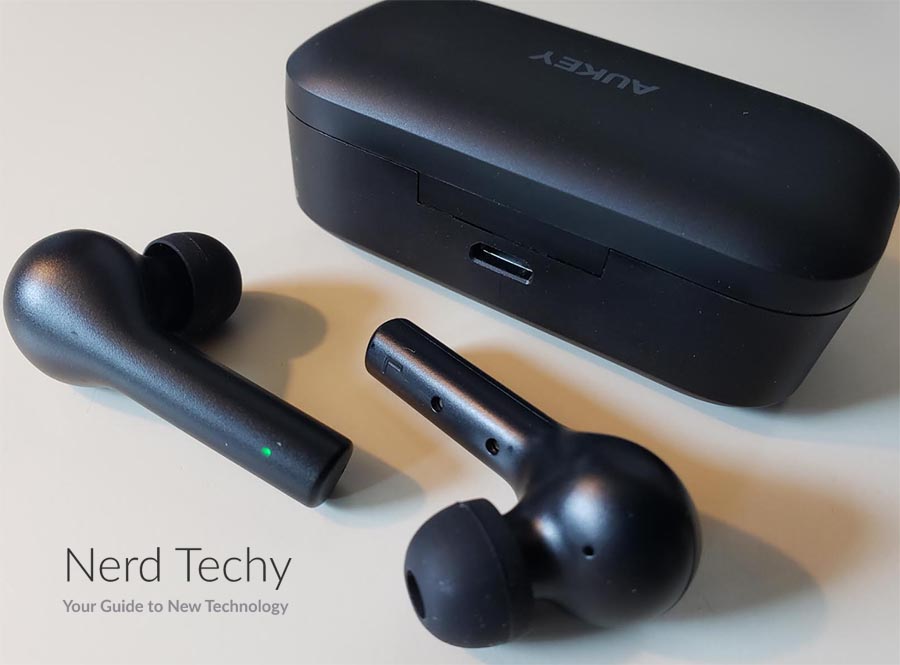 If you're looking for a totally different design, consider the Aukey Key Series EP-B80 earbuds. These buds have a neck band that connects them together, which makes them harder to lose. They don't have a charging case, though, so you'll need to plug in more frequently.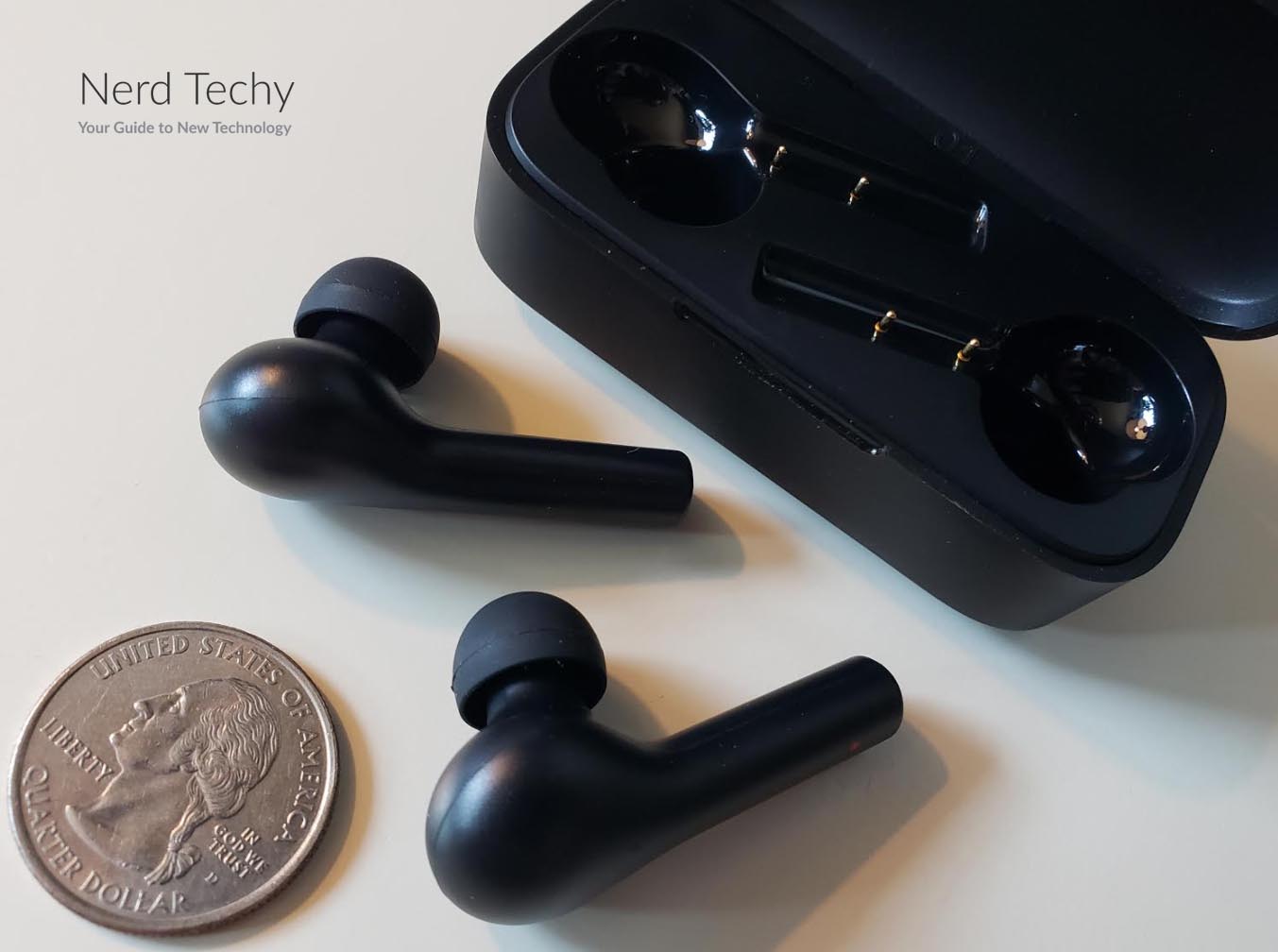 Battery & Connectivity
On a single charge, the EP-T21 earbuds will provide up to five hours of playback. This might sound disappointing at first, but keep in mind that these are ANC earbuds. Taking that into consideration, they actually give longer-lasting ANC playback than the EP-N5. Then again, you can always turn off ANC on the EP-N5, which isn't an option here. Regardless, the EP-T21's charging case provides six additional charges, so your total playtime is about 35 hours.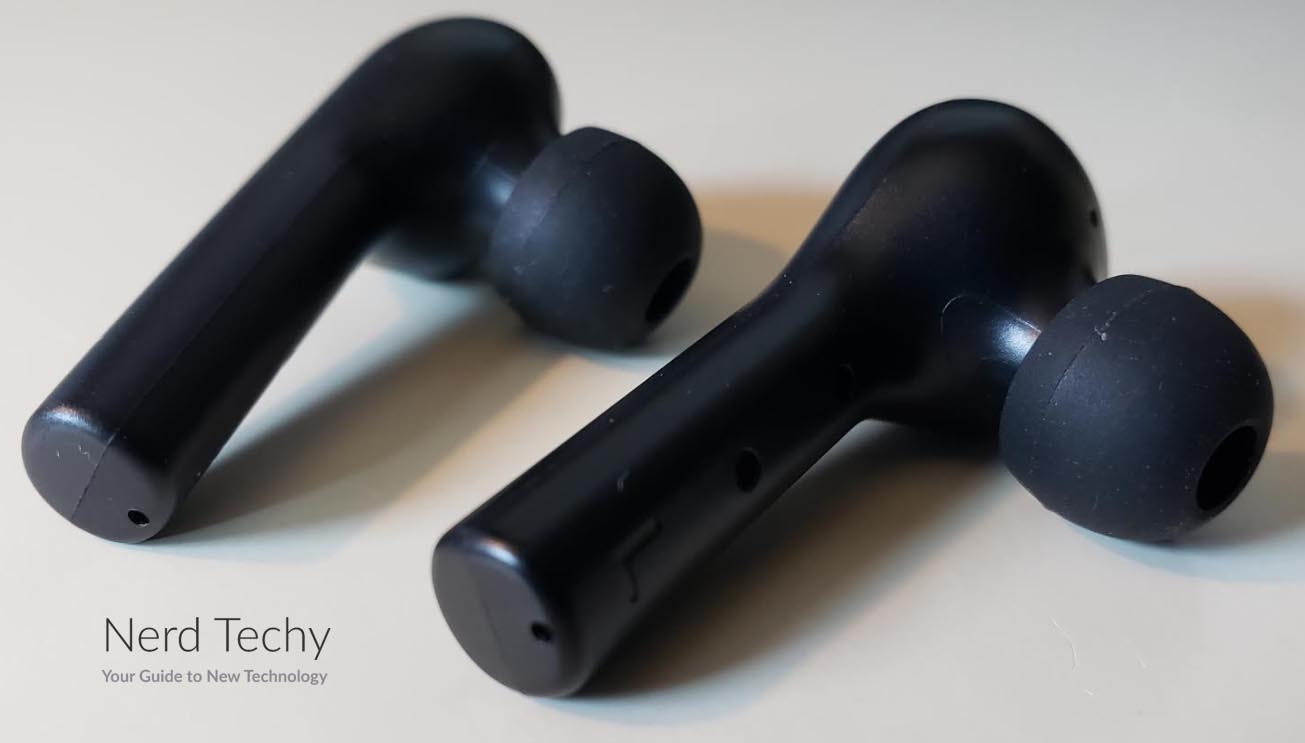 The connectivity with the EP-T21 is the same as the EP-N5. These buds use the same Bluetooth 5.0 connection, with all the attendant benefits. They can also be paired in stereo or mono mode, providing more versatility.
Sound Quality
The EP-T21 earbuds provide excellent sound quality across the spectrum. The EQ is flat, so you can hear all frequencies equally. There's also a nice, wide soundstage for a sense of space, with powerful bass that doesn't lag behind the mix. The only downside here is that the ANC is slightly less effective than the EP-N5's. You'll notice that some background noise bleeds through. Even so, it's nice to get any amount of noise reduction at this price point.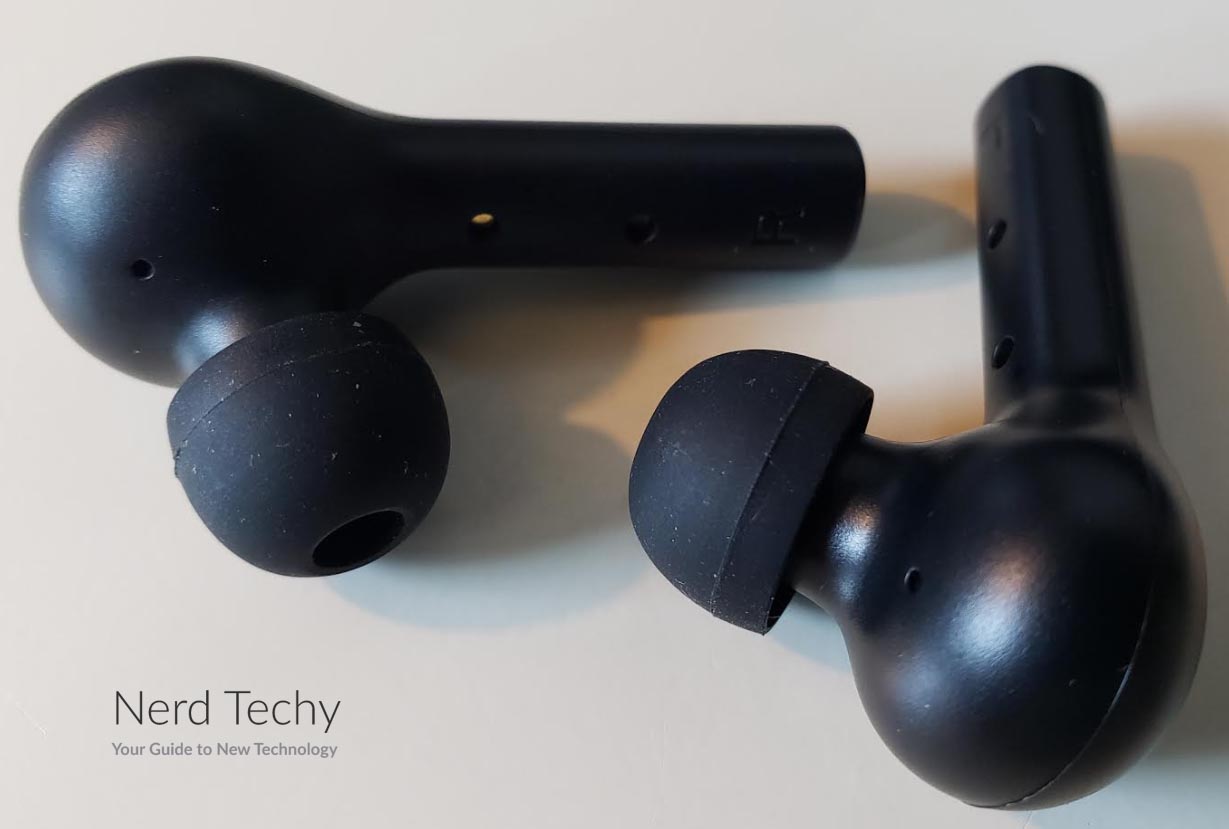 The call quality is similar to the EP-N5. There's no dedicated CVC protocol, but dual mics still provide plenty of clarity. As before, though, your performance will suffer slightly in mono mode.
Final Verdict
So, which one of these earbuds is the best choice for you? Let's start with the Aukey EP-N5. These buds offer long battery life and excellent noise cancellation. They also have a comfortable, ergonomic design. That said, the mids are a bit hollow, and we would have liked a more well-rounded EQ. Nonetheless, for the price, it's a great pair of ANC buds.
The Aukey EP-T21 earbuds offer significantly better sound quality. Even at full volume, there's good balance, and the bass is nice and punchy. On the downside, the ANC isn't quite as effective, and the battery life is shorter. Even so, you'd typically expect to pay three times this much for ANC earbuds. Considering what you're paying, either choice is an excellent option.