Nowadays, there are more options than ever for people who want a good pair of wireless earbuds. This explosion of options isn't just some fad. It's the result of recent technological advances that have made wireless buds popular to begin with. In fact, just a few years ago, nobody wanted wireless buds. They couldn't play music in stereo, and the audio was tinny. They were fine for hands-free calling, but that was about it. But then, True Wireless Stereo technology was released. This technology allows for higher quality audio over a wireless connection.
Manufacturers have been off to the races ever since, which is why you see so many options these days. Of course, not all earbuds are equally worth buying. Some are worth their weight in gold, while others should go straight in the trash. One way to find a good pair is to choose a reliable manufacturer.
We're about to review the TaoTronics SoundLiberty 92 Wireless Earbuds. TaoTronics is a respected manufacturer that produces everything from speakers to HEPA air purifiers. As a result, we were excited to see how their SoundLiberty 92 buds perform. Do they live up to TaoTronics' respected standard? Or do they fall flat? We'll look at all their features, from the audio quality to the ergonomics. Once we've gone over everything, we'll be able to render a final verdict. Let's take a deeper dive!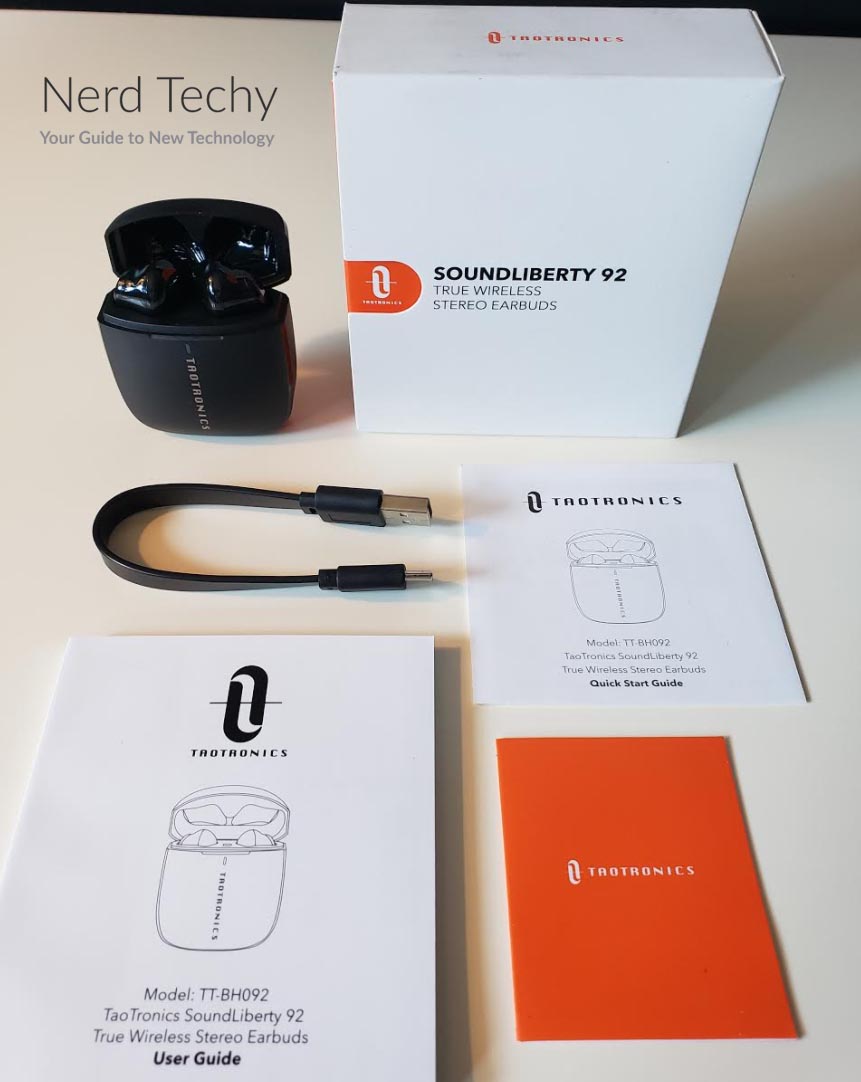 Overall Design
The SoundLiberty 92 earbuds have a similar design to the Apple AirPods, where they likely drew their inspiration. They have an extended design, with batteries located in vertical rods that stick down from the main shells. The shells themselves have a comfortable shape, with an oval profile that sits easily inside your ear. Both earbuds are entirely glossy black, so they might become fingerprint magnets.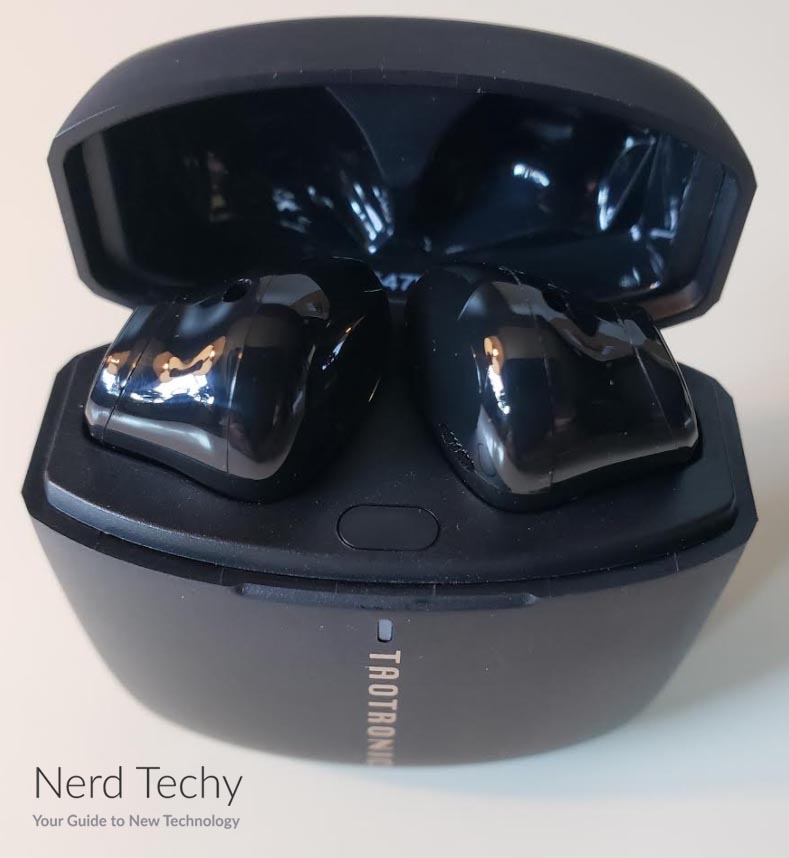 These buds have a "half-in" design, which means they don't form a seal inside your ear. Instead, they sit relatively loosely. This design serves two purposes. First off, it's very comfortable for people with sensitive ear canals. Since there's nothing actually sticking into your ear canal, there's nothing to cause discomfort. Second, it allows for better situational awareness than other designs, since there's no noise isolation. Obviously, this is undesirable if you want to cocoon yourself in your own little world of music. But it's a good feature if you're walking or running and want to maintain situational awareness.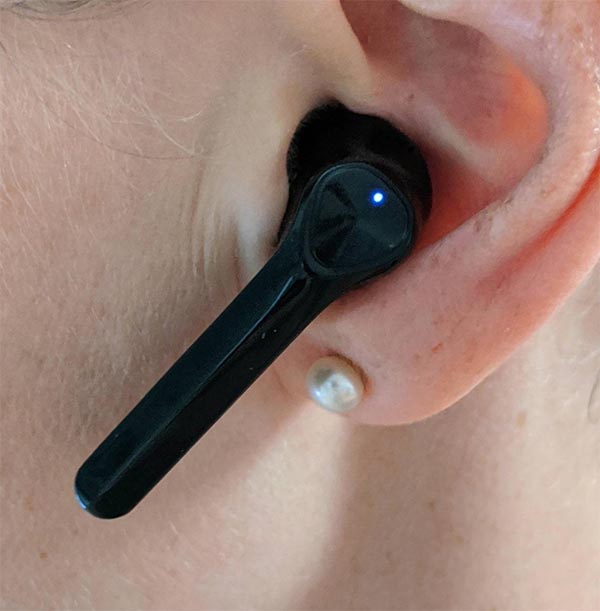 If you want to sit in your own personal sound bubble, consider a full-fledged pair of headphones. The TaoTronics SoundSurge 90 headphones provide gorgeous audio and active noise cancellation for the best audio quality possible. On the other hand, the bulky design fits over your ears, so it's not very useful for workouts.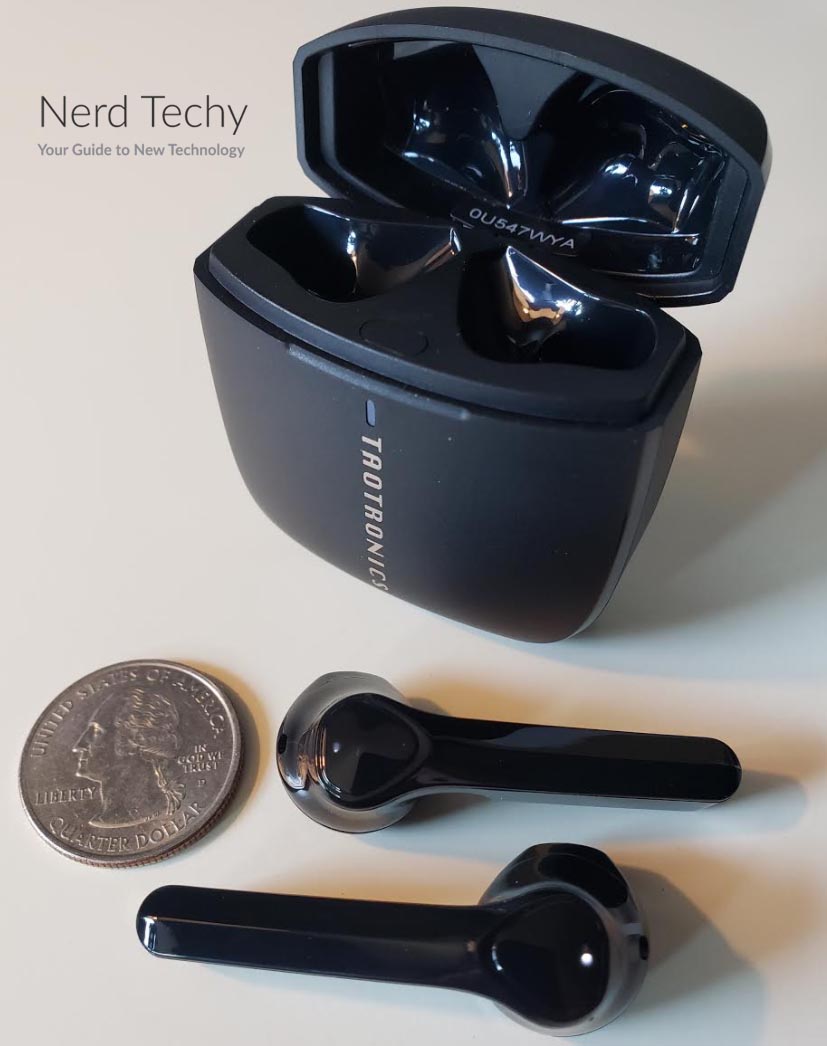 On the back of each earbud, there's a flat panel that functions as a soft touch control. The controls are smooth and responsive, and allow you to control all of your phone's functions. You can skip tracks, adjust the volume, answer and end calls, and even talk to Siri or Google Assistant. The buds are also IPX8-rated for water-resistance. This is the highest water-resistance rating available, and requires custom testing. Because there's no one "set" standard for IPX8, it's tough to say how waterproof the SoundLiberty 92 buds are. What we can say for sure is that they exceed IPX7 performance, which means they can be submerged for 30 minutes.
The SoundLiberty 92 earbuds come with a charging case that's also designed for easy carrying. It's designed for the buds to drop in with the studs facing down, so they stay securely in place. This design also makes it impossible to accidentally put the earbuds in the wrong sides of the charger. The case measures 2.2 inches high, 1.97 inches wide, and 0.98 inches thick. In other words, it's only slightly larger than a box of Tic-Tacs, so it's easy to carry in your pocket. And with a total weight of just 1.6 ounces, it's about the same weight as Tic-Tacs, too.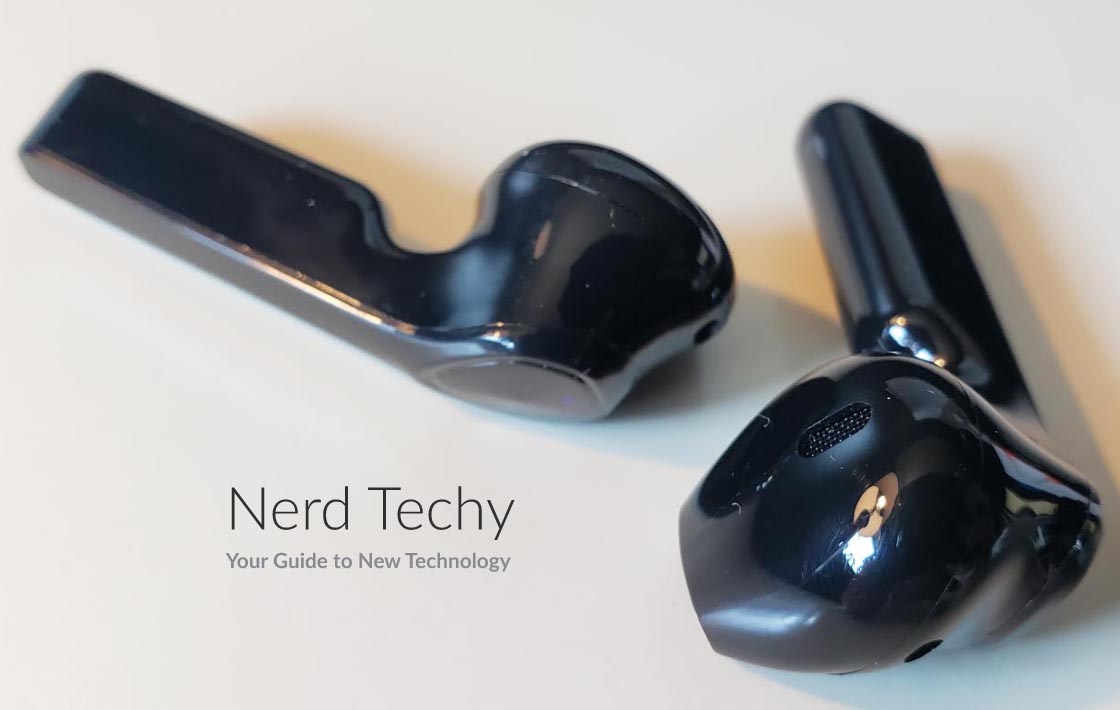 The case is constructed from a similar black ABS plastic to the earbuds. This creates a unified, matching look that ties the entire kit together. The corners are rounded and the edges are beveled, so it won't jab you while you're carrying it. Underneath the lid, there's a single LED light that will illuminate when your buds are charging. There's also a white TaoTronics logo, which is the only decoration on the otherwise-bare case. The kit is rounded out with a USB Type-C charging cable. It connects to a port in the back of the charging case, just under the hinge for the lid.
Battery & Connectivity
The TaoTronics SoundLiberty 92 batteries will provide about five hours of playtime when fully charged. As is usually the case with earbuds, this is a manufacturer's rating, and it assumes you're listening at half volume. At full volume, you can realistically expect about four hours. That's not terribly impressive, but it's also not terrible. You can get through a morning workout and both commutes without recharging.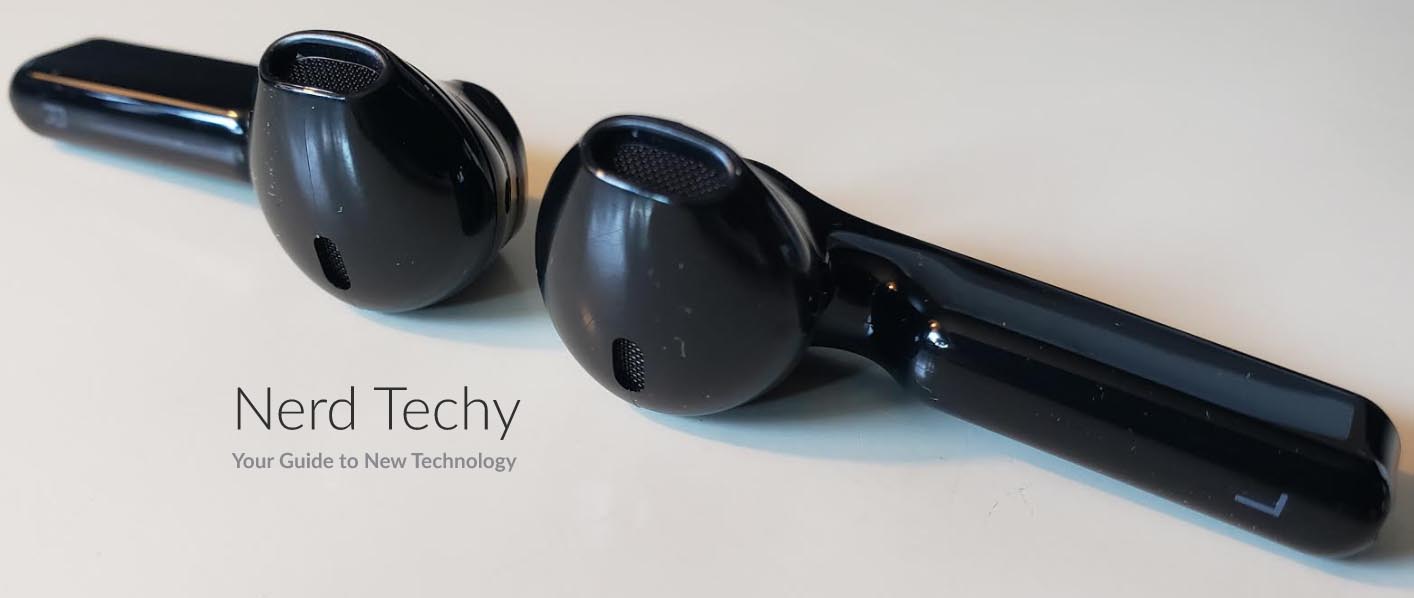 And if you do need to recharge before you can plug in, the charging case proves its worth. It carries enough charge to refill your earbud batteries five full times. This gives you a total battery life of about 24 to 30 hours, depending on volume. If you're in a jam, you can even quick charge your buds for five minutes to get about an hour of playtime. When you do need to recharge your charging case, it's easy to do. Plug it in via USB Type-C, and it will fully charge in about 90 minutes.
The SoundLiberty 92 earbuds connect to your phone with the Bluetooth 5.0 protocol. This latest version of Bluetooth is a significant upgrade from the older Bluetooth 4.2 protocol. First, it allows for higher-bitrate audio, so you can enjoy the full richness of your iTunes library. Next, it provides a more stable connection, so you won't randomly drop calls or lose your songs. Finally, it offers near-zero latency. This means that Bluetooth 5.0 earbuds are suitable for gaming and watching videos, while Bluetooth 4.2 buds aren't. The signal has a range of 50 feet, so you've got plenty of room to roam while you're listening.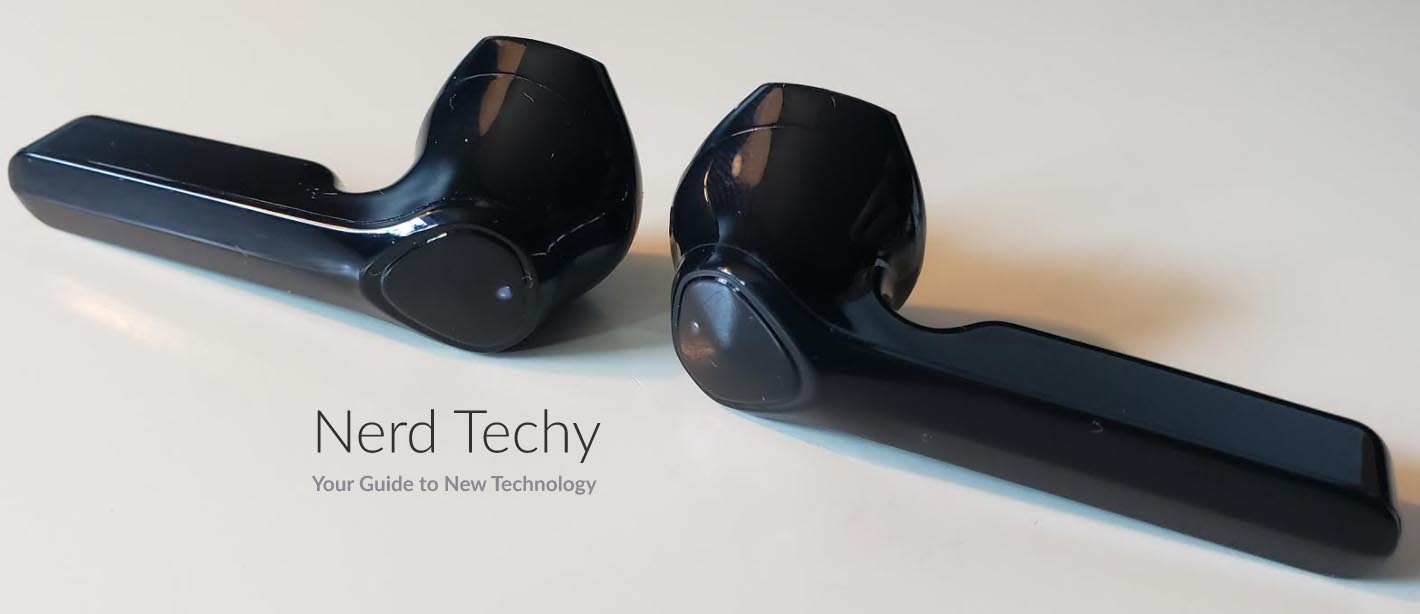 The SoundLiberty 92 buds can also be paired either in mono or stereo mode. Typically, you'll probably prefer stereo, since it's better for listening to music. But in mono mode, you only use one earbud at once. This is great for situations where you need an ear free, such as when you're driving. As a side benefit, in mono mode, you're only using one battery at once. So it effectively doubles your battery life.
Sound Quality
The SoundLiberty 92 earbuds sport 13mm drivers that are almost twice as big as your typical earbud drivers. This allows them to push big sound that most earbuds couldn't even dream of. To be fair, this is a necessity. Remember, these buds are designed specifically to let some outside noise in. So the only way to block out background noise is to turn up the volume.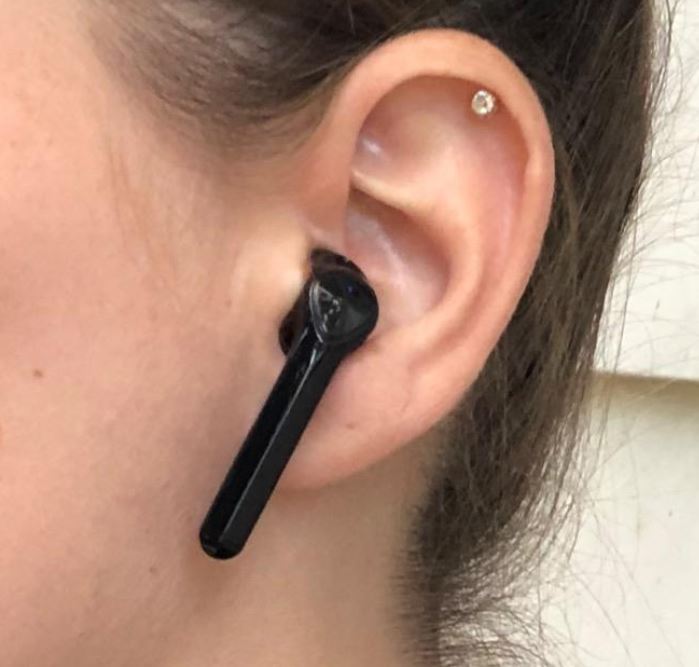 That said, the sound quality is excellent. We really didn't have any complaints across the spectrum, from the highest highs to the deepest bass. The treble is shimmery and clear, and sounds like you'd expect from a much pricier set of buds. The mids are all present, and vocals really come to the forefront. If you're a fan of vocal-heavy genres like country or hip hop, you'll love the profile. The bass was particularly surprising, since it's often lacking on earbuds. There's plenty of bass here! Not as much as you'd expect from a set of studio-quality cans. But significantly better than you'd expect from half-in earbuds at this price point.
Regardless of frequency, the earbuds provide a wide, spacious soundstage. This means that there's a virtual "space" where each instrument lives in the mix. On a good set of earbuds, you'll feel like you're inside the studio. On a poor set, the audio will sound "squished", as if all the musicians were right on top of each other. The SoundLiberty 92 earbuds' soundstage is more than generous enough to provide the former experience.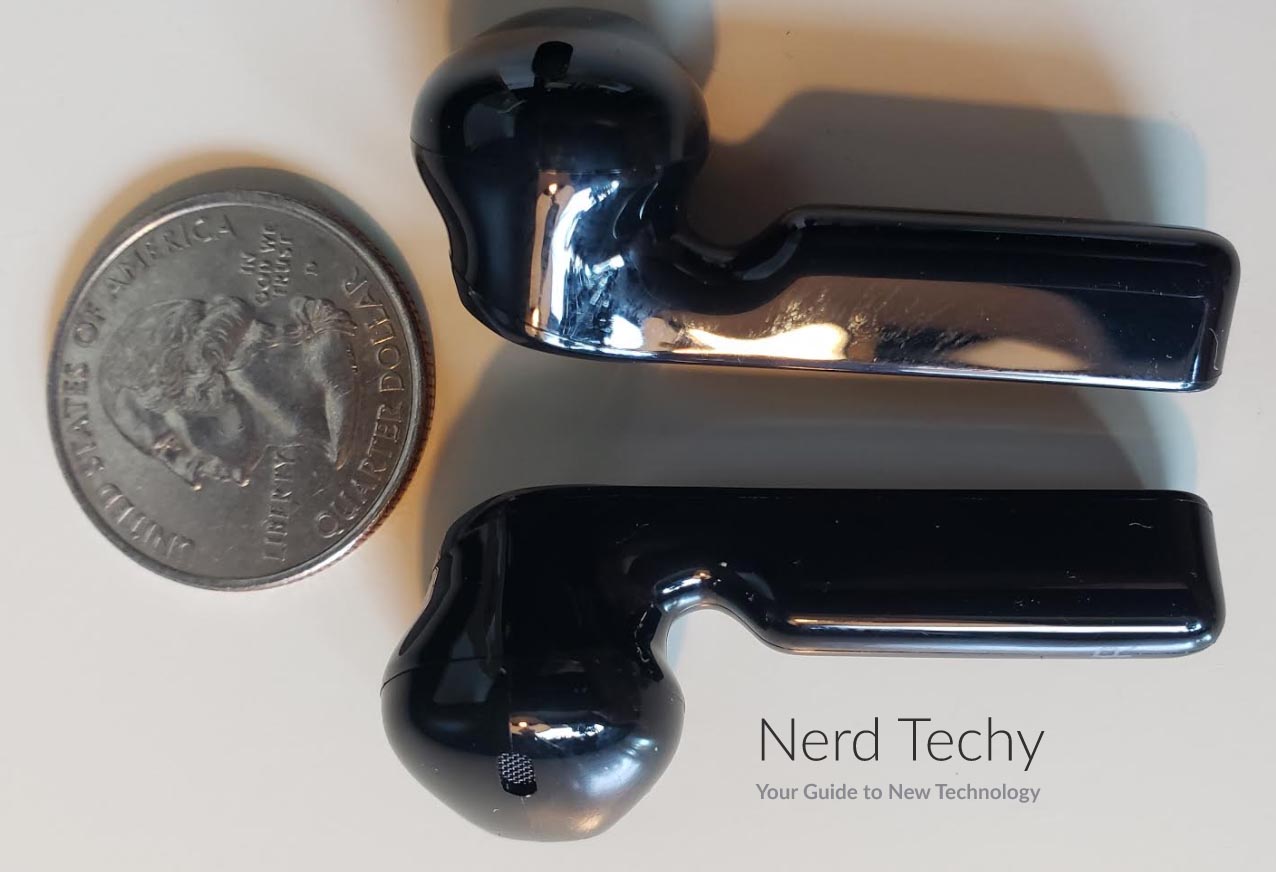 If you prefer a set of earbuds with better noise isolation, check out the TaoTronics SoundLiberty 79. This is a more traditional set of earbuds with silicone tips. Obviously, you'll have less situational awareness, but you'll get better noise isolation and longer-lasting batteries.
When it comes to call quality, the SoundLiberty 92 buds are about what you'd expect for the price. There's no CVC noise cancellation, but the dual mics do a decent job of honing in on your voice. Unless you're in a very noisy area, the other person won't have any trouble hearing you.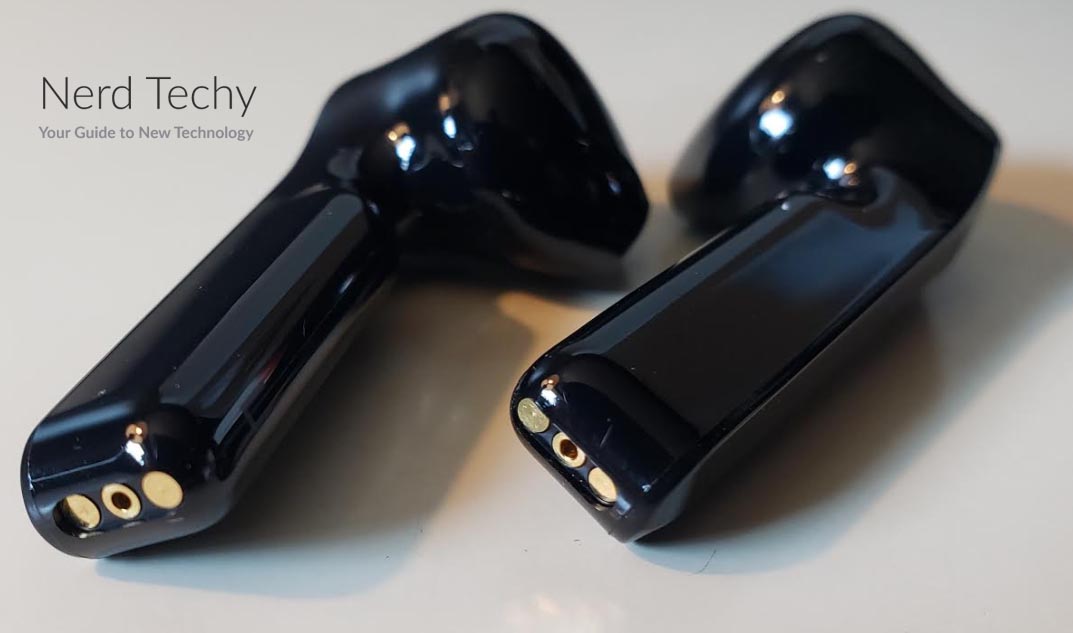 Final Verdict
If you're looking for a set of running or walking earbuds, the SoundLiberty 92 Wireless Earbuds are a solid choice. They're specifically designed to allow outside noise past the ear tips, so you can keep track of your environment. Admittedly, this has a downside; without noise isolation, it can be tough to listen in loud environments. Which feature is more important is going to depend on how you use your buds.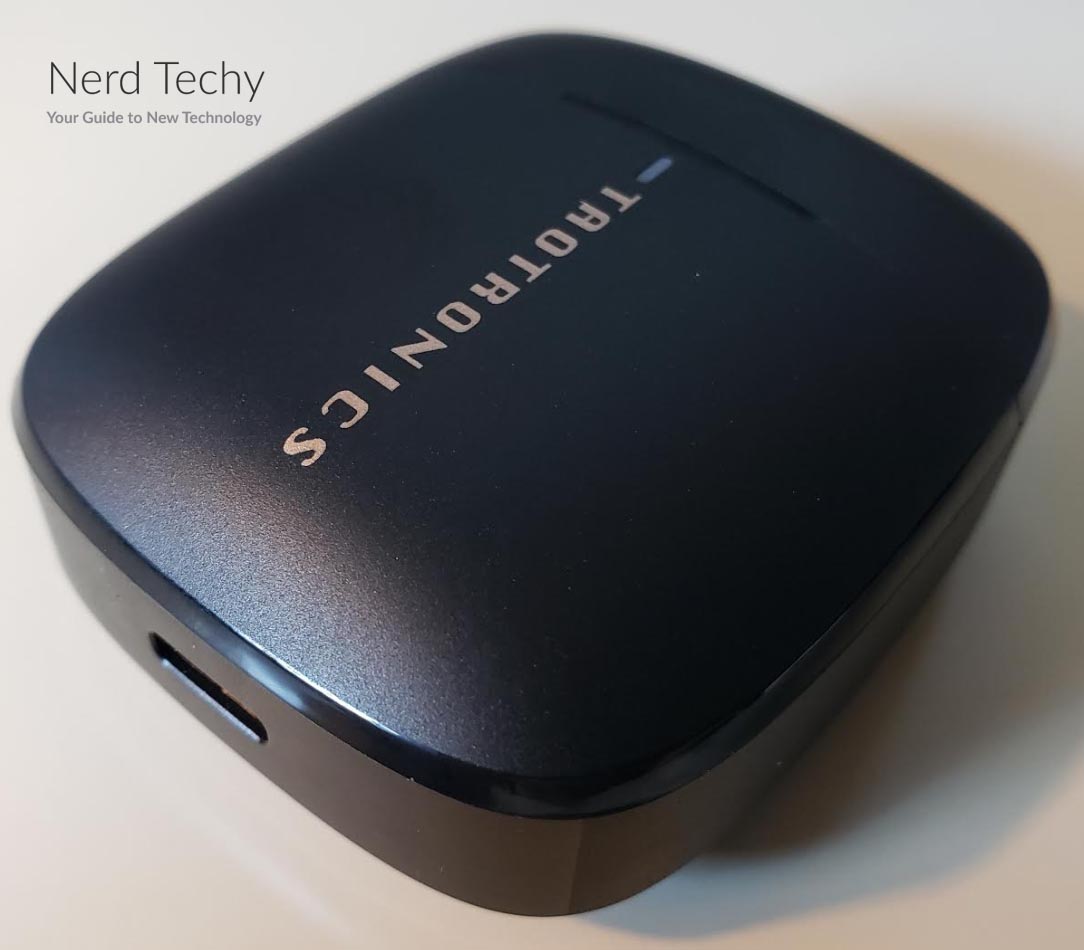 Regardless, the sound quality is excellent for the price. The 13mm drivers pump out massive amounts of sound, with plenty of texture across the spectrum. Unless you're in the aforementioned loud environment, you'll appreciate plenty of quality music. The battery life was somewhat less impressive. At four to five hours to a charge, it's not terrible. But these days, we'd like to see at least six hours from any major manufacturer.
That said, the charging case is well-designed and extremely compact. Not only can it charge your buds five times, but it's the size of a Tic-Tac box. We've reviewed charging cases three times the size with half the battery capacity. Finally, you get IPX8 water-resistance, so your buds will stand up to any amount of sweat, rain, or even showering.