Quick Analysis
Pros
Rugged construction.
Supports solar charging.
Suitable for delicate electronics and medical devices.
Easy to carry and transport.
Cons
Not as powerful as some similarly-sized power stations.
Not TSA-approved for air travel.
Electronics have massively improved our quality of life in recent years. We've got smartphones for entertainment and communication, and we've got laptops for work. We've also got medical devices like CPAP machines that allow us to stay alive. While our personal electronics can improve our quality of life and connect us to others, medical devices are more essential. For this reason, people with CPAPs and other similar devices will always want to have a backup power supply.
But power supplies can be useful for just about anybody. For example, suppose you want to spend the weekend at a local campground. That's short enough that you don't need a true generator, but long enough that you'll want power. In this case, a good portable power station can keep your phone and other electronics charged.
Today, we'll review the SnugMax Vickers 200 Portable Power Station. This is a mid-sized power station that's designed equally well for home backup power and weekend outings. It's also designed for solar charging, which means it's as carbon neutral as you want it to be. But how powerful is it? And is it safe enough to trust your electronics, or even your medical devices?
We're going to take a look at all of its features and benefits. We'll start by going over the quality of the construction. Next, we'll talk about the battery capacity, and what you can potentially power with it. Finally, we'll talk about the Vickers 200's safety features. Once we've looked at everything, we'll know what we need to know in order to render a final verdict.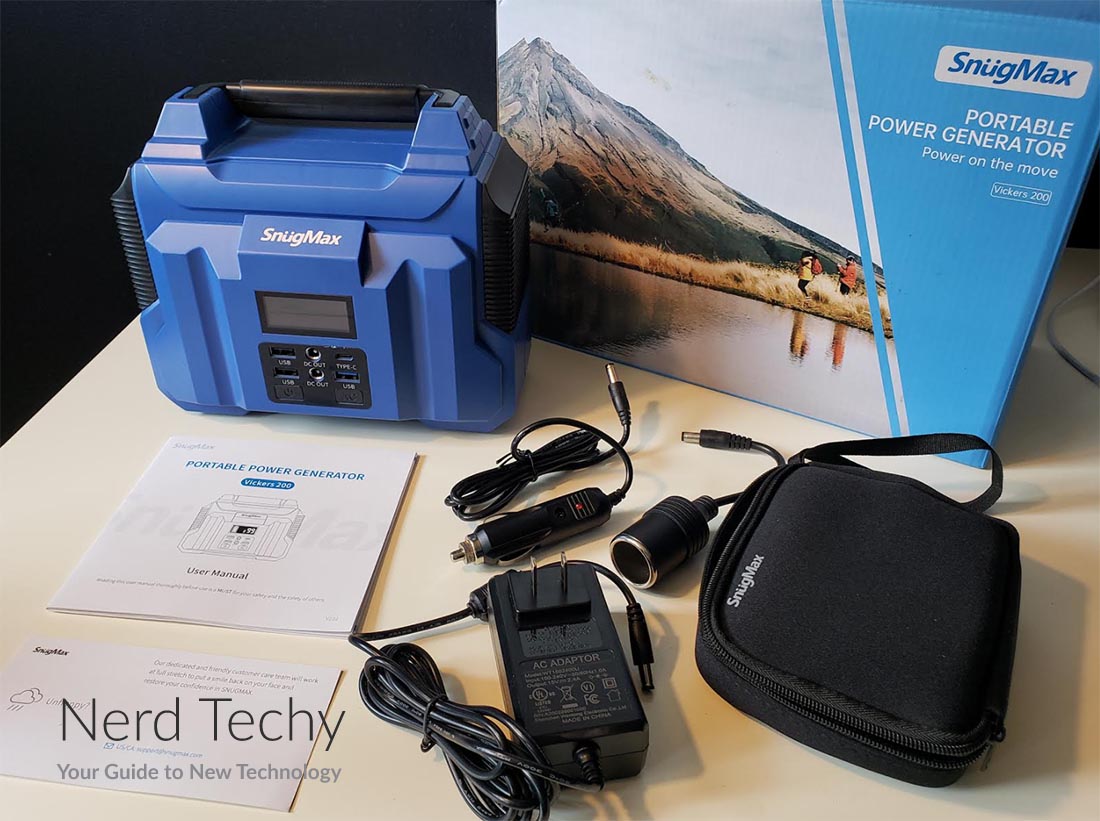 Overall Design
The SnugMax Vickers 200 Portable Power Station is a mid-sized power station that's surprisingly rugged. It has a width of 12 inches, and stands 8.9 inches high with a thickness of 6.2 inches. It tips the scales at 6.29 pounds, or a little bit more than a standard clay brick. The bulk of the case is constructed from durable blue polymer, with a crush-resistant inner frame. This makes it safe to carry wherever and whenever you like. Even if you drop it, it's not likely to sustain any serious damage. There's a wide, comfortable handle built into the frame for easy transport. As a result, you aren't liable to drop it in the first place. The handle is also collapsible, which shaves about an inch off the height when it's closed up.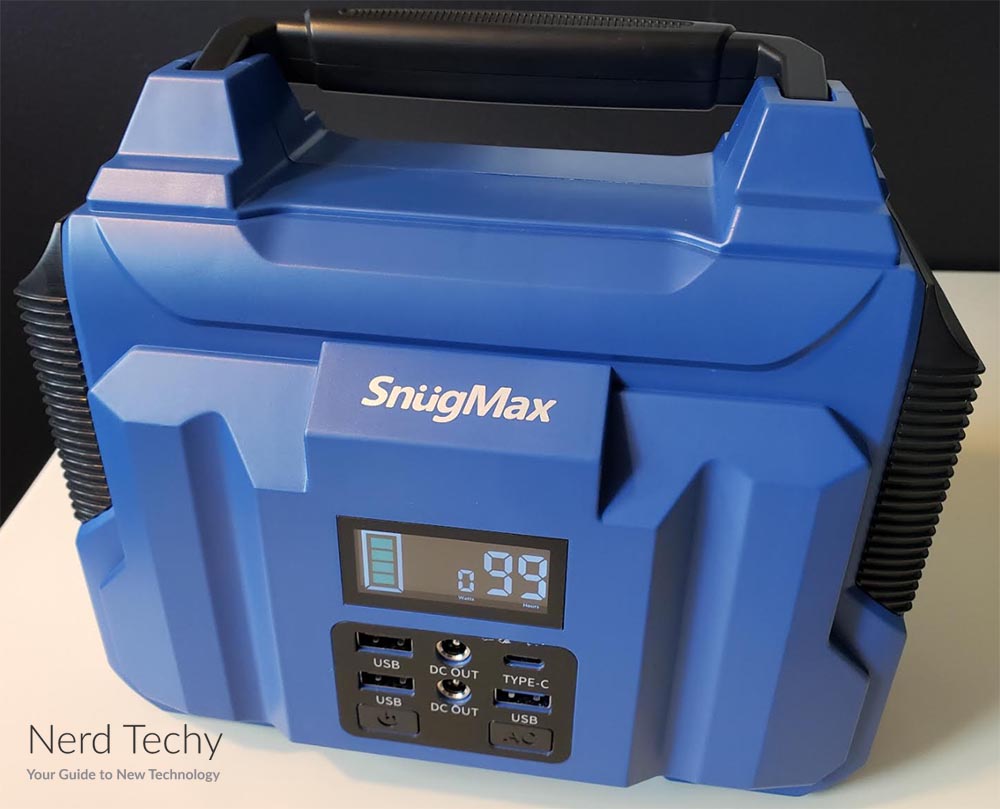 On the front of the case, you'll find an attractive LCD display. This shows you everything you need to know at a glance. On the left, there's a readout of the battery level, with a simple blue icon with four bars. In the middle, there's a digital readout that displays output wattage. To the right, a second digital readout displays input wattage, if any. This part of the display can also display estimated hours of charge remaining. You can tap the screen to bring up your information, and it will automatically remain on during charging. When you're not charging anything, the display will shut off after 20 seconds of inactivity.
Under the LCD display, you'll see most of the Vickers 200's output ports. There are two USB Type-A ports on the left, with a QC charge port and USB Type-C port on the right. A pair of DC outputs are located in the middle, with power and AC toggle buttons underneath. The two AC ports are built into the left side of the case, in a black extension of this housing. On the right of the case, there's a similar housing extension that encloses the cooling fan. The fan generally runs quietly, and we didn't have any issues with excess noise.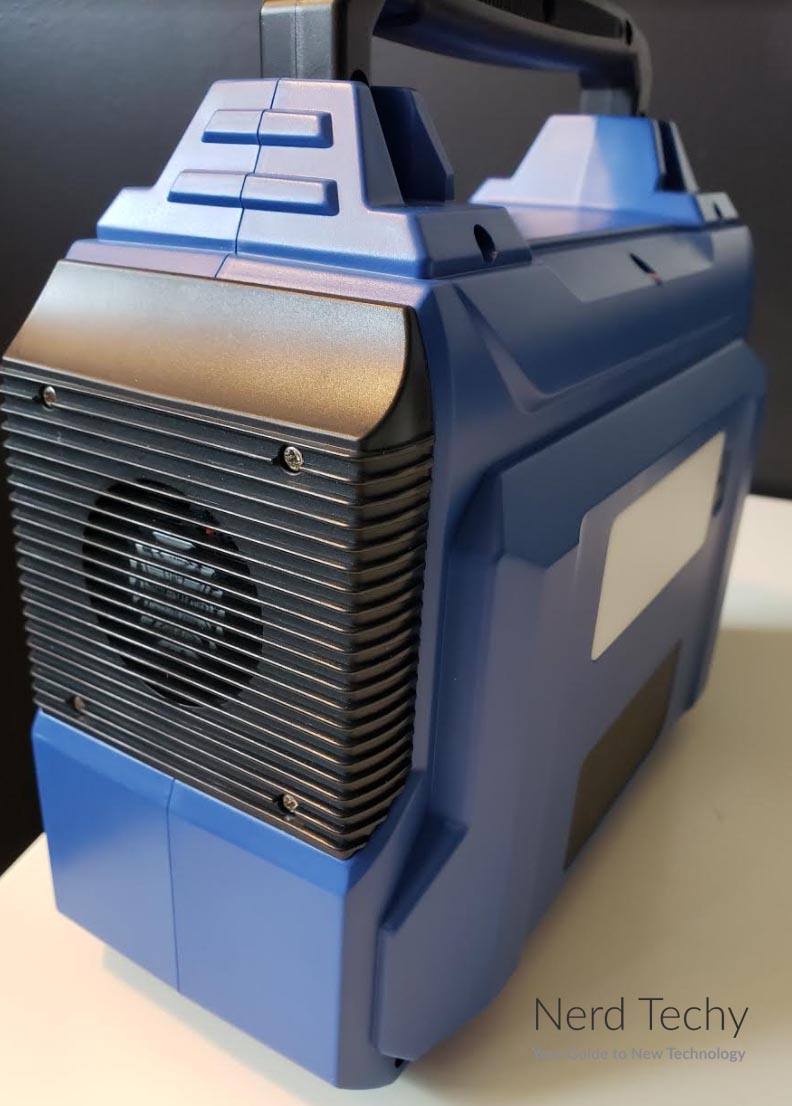 On the back of the case, there's a panel that looks like the LCD panel at first glance. It's a near mirror image, but it isn't an LCD display. It's an LED flashlight with three different modes. The dim mode is what you'll probably use most often, since it functions well as a night light. That said, the bright mode is great for illuminating larger areas, and the SOS function can be used to signal distress. You're probably not looking primarily for a flashlight today. But if your power is out, it's nice to get a little extra illumination wherever you can.
The Vickers 2000 ships with all the accessories you need to get it started. It includes an AC adapter for using your home's power outlets, as well as a 12-volt DC plug. There's even a solar adapter, although you'll need to provide your own solar panel.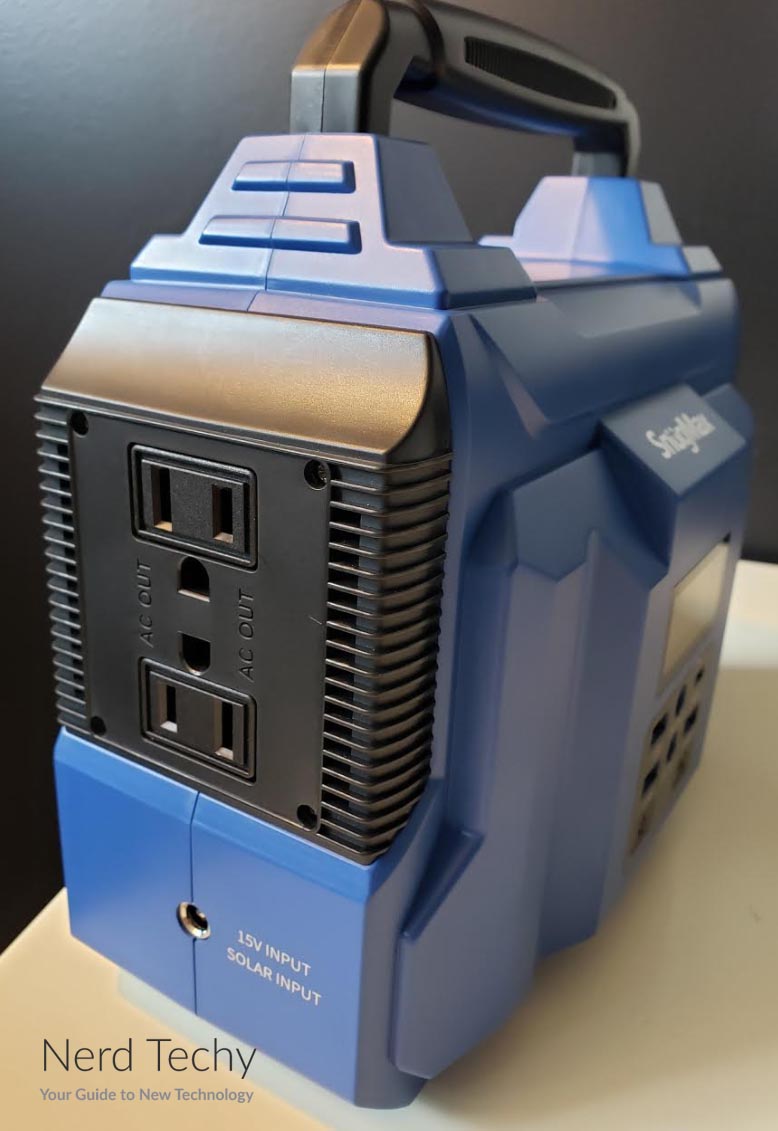 Charging Performance and Battery Capacity
The Vickers 200 has six charging ports in total, which can provide a total of up to 200 watts. Keep in mind that this is significantly less than you get from an actual wall outlet. In other words, the two AC outlets aren't designed for powerful devices. You can't run a space heater, a toaster oven, or a window air conditioner. You can run lower wattage devices, though, such as a CPAP machine or laptop. Regardless of what you're running, the LCD panel makes it easy to see where you stand. If you do exceed 200 watts of power, the power station will automatically shut off to prevent damage.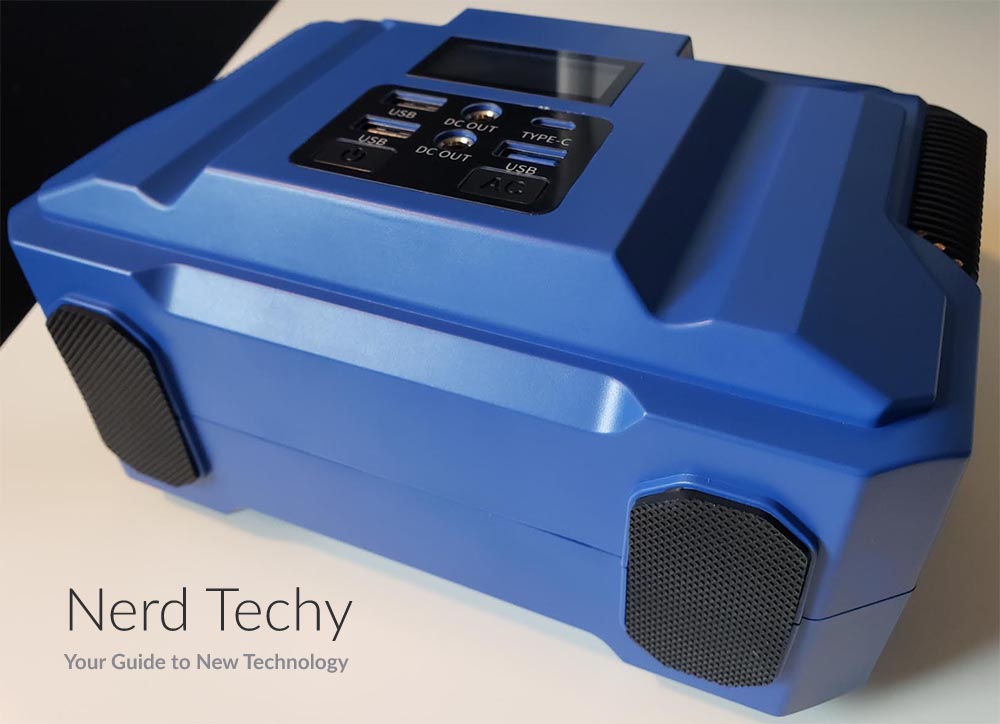 The two USB ports on the left side of the panel are standard 5-volt, 3.1-amp ports. The one on the right with the blue tab is a QC 3.0 port that delivers 18 watts. The USB Type-C PD port provides up to 45 watts. This means it can be used to charge a laptop, but it won't charge modern laptops while they're in use. For that, you'll need to use one of the three-prong AC outlets on the side of the machine.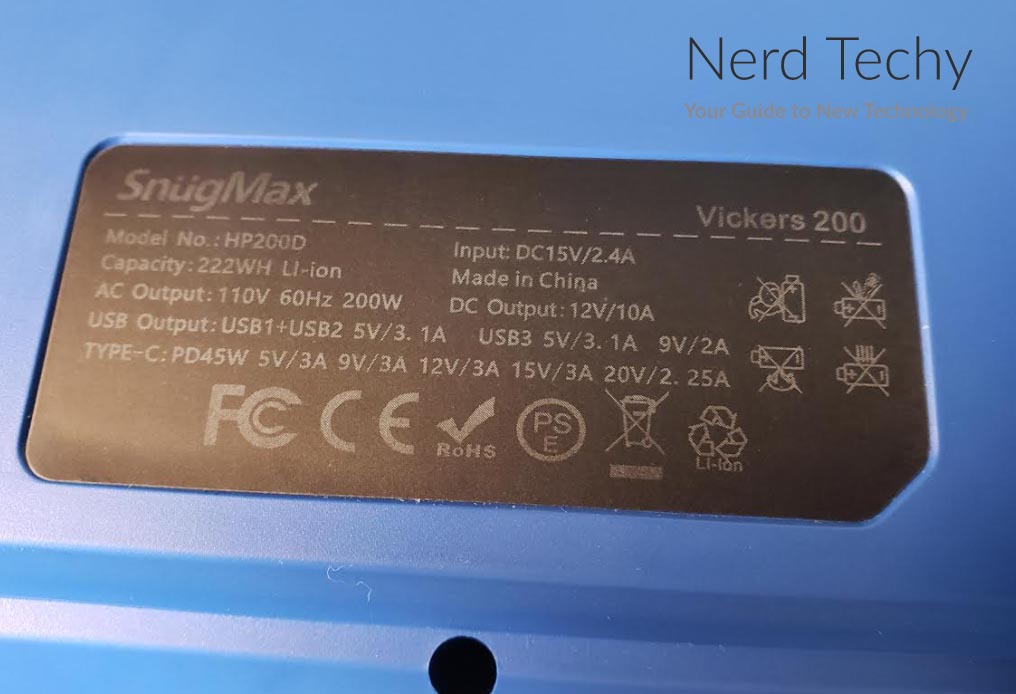 The USB ports are all plug and play, just as you'd expect. However, some people have been confused by the AC outlets. By default, they're un-powered for safety, and to prevent them from drawing a trickle charge. To activate them, simply press and hold the power button to turn on the Vickers 200. Next, hold down the AC button. Since there's no visual indicator of when the AC outlets are active, it helps if your device is already plugged in. That way, you'll know when to let go of the AC button.
The SnugMax Vickers 200 has a battery capacity of 60,000mAh. That's sufficient to recharge most modern smartphones about 16 times. It's also sufficient to run most CPAP machines for about five hours. This makes it an excellent backup power supply for home use, as well as for taking on trips. If you're traveling, keep in mind that the 222 Watt-hour battery is too big for air travel. You'll need a TSA waiver, and unless you have a very good reason, you're not going to get one. But unless you have to fly, you're good to go.
The internal battery is fairly easy to keep charged. It will charge on AC power in about 7 to 8 hours. If you're on the road, it will charge in a similar period of time in your 12-volt power outlet. So whether you're at home or on the road, you've got an easy way to charge.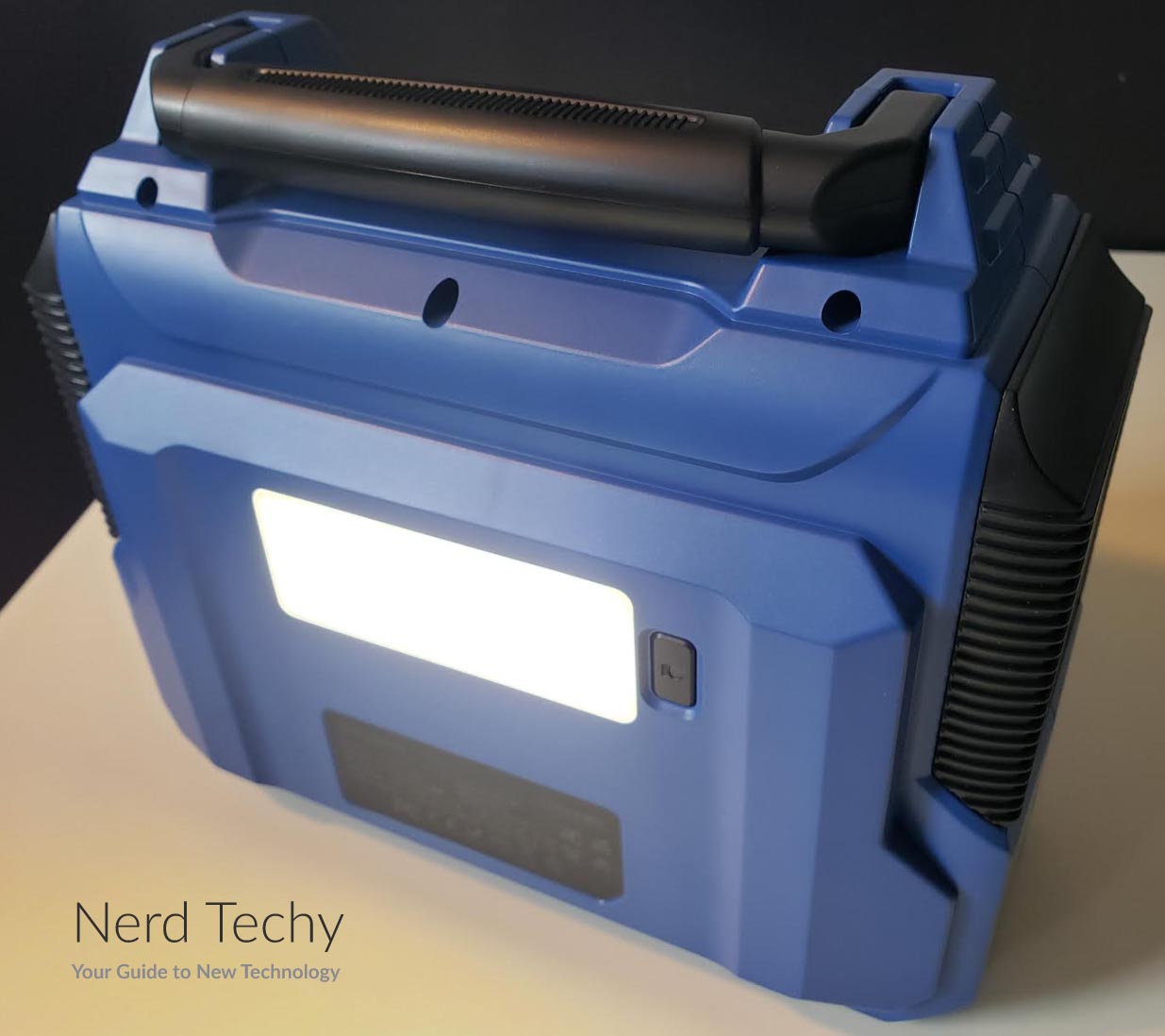 Of course, if your power is out for more than a day, you'll need some way to charge your battery. In this case, you can connect a solar panel. The Vickers 200 can support up to a 60-watt set of panels. Provided you're meeting that maximum, you can fully charge the battery in about 9 to 10 hours. Keep in mind that this can vary widely depending on how much sunlight you're getting.
If you need a backup with even more capacity, take a look at the Maxoak Bluetti AC200. It has five times the capacity of the Vickers 200, so it can keep you powered for days. That capacity comes with significant size and weight, though, so it's not as portable as the Vickers.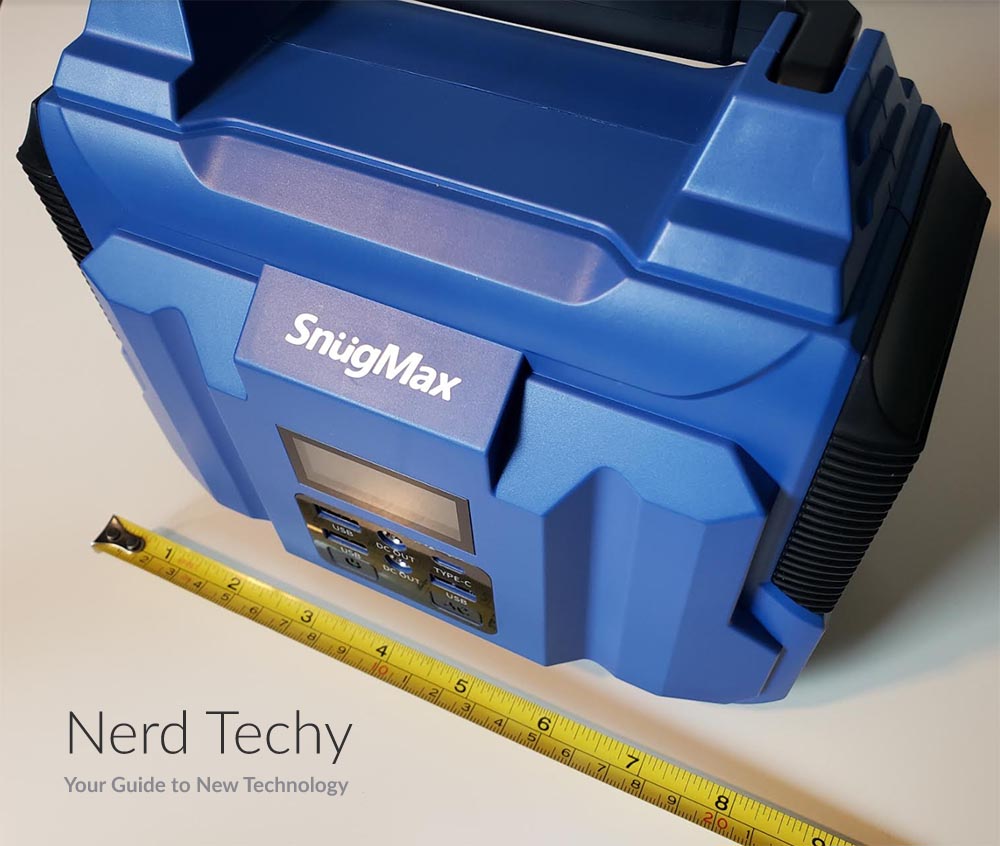 Safety and Compatibility
The Vickers 200 Portable Power Station outputs power in pure sine AC, at least on the AC outlets. This is suitable for devices with delicate internal electronics. As a result, the Vickers 200 is much safer for small electronics than a standard gas-powered generator. This makes it suitable for a wider variety of machines, from smartphones to CPAP. In addition to this, it also has the other safety features you expect from a modern power station. It boasts over-heat, overcurrent, overcharge, high voltage, low voltage, and overload protection. Combined with short-circuit protection, these features protect both your devices and your power station.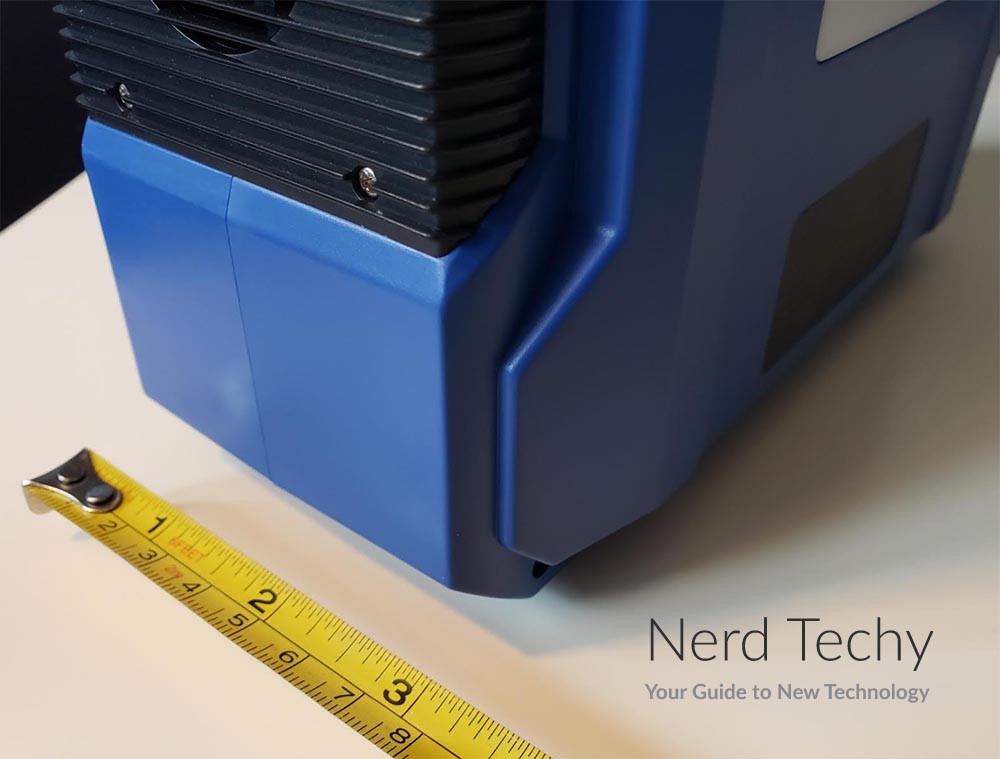 The one major feature we didn't see on the Vickers 200 was a dedicated 12-volt charging port, only an adapter that you must use. To be fair, it's mostly designed for essential home electronics. But it would have been nice to be able to power a car vacuum or similar small device without the use of an adapter dongle. If you need to run a 12-volt device, consider the Paxcess Rockman 200. It's not as rugged as the Vickers 200, but it does have a pair of 12-volt DC ports built into the unit.
Final Verdict
So, is the SnugMax Vickers 200 a winner? In most respects, yes. To begin with, it's built like a brick, with a crush-resistant design that can handle abuse. It's also exceptionally safe. Pure sine AC power delivery is suitable for even the most sensitive electronic devices. And with a full suite of other protections, you don't have to worry about your equipment getting damaged.
The Vickers 200 is not without its issues. While it's far more powerful than an ordinary power bank, it's fairly low-powered for a full-sized power station. With 60,000mAh, you'll have to pick and choose what devices you use it for. That said, it's easy to charge and keep charged. It's also easy to carry and transport, even though you can't fly with it. If you're looking for a one or two-day power supply for fun or emergencies, it's a solid choice.
Meet Derek, "TechGuru," a 34-year-old technology enthusiast with a deep passion for tech innovations. With extensive experience, he specializes in gaming hardware and software, and has expertise in gadgets, custom PCs, and audio.
Besides writing about tech and reviewing new products, Derek enjoys traveling, hiking, and photography. Committed to keeping up with the latest industry trends, he aims to guide readers in making informed tech decisions.