When you think about electronics, it's tough to get your head around how much has changed so quickly. A century ago, only wealthy people in major cities had electricity, and it was mostly just for lighting. As late as the 1930s, only about two thirds of Americans had electricity in the home. This might sound like forever ago, but there are still people alive today who remember those times. Now, few people can even imagine a world without a bunch of electronic gadgets. From smartphones to laptops, we depend on electronics for everything from entertainment to banking.
This huge advance in technology has its own downside, though. You've got to keep all that stuff charged! At home, this isn't generally a problem. Just plug in your gear, and you're good to go. But when you're on the road, things can quickly get hairy. Run out of juice for your cell phone, and it's easy to go into full on panic mode. But there's no reason to get caught in such a bind. With a good portable power bank, you can plug in anytime, anywhere.
Of course, this begs the question: how do you find a good power bank. One of the easiest ways is to stick with a manufacturer you know and trust. In that regard, Aukey stands out. From their PA-B3, PA-B4, and PA-D5 wall chargers to their PB-Y24 power bank, their chargers all perform very well. Today, we'll be reviewing the Aukey Basix Pro PB-WL02 Power Bank. This is a full-featured power bank that supports wireless charging and doubles as a phone stand. But does it live up to Aukey's sterling reputation? Let's take a closer look, and see how it stacks up!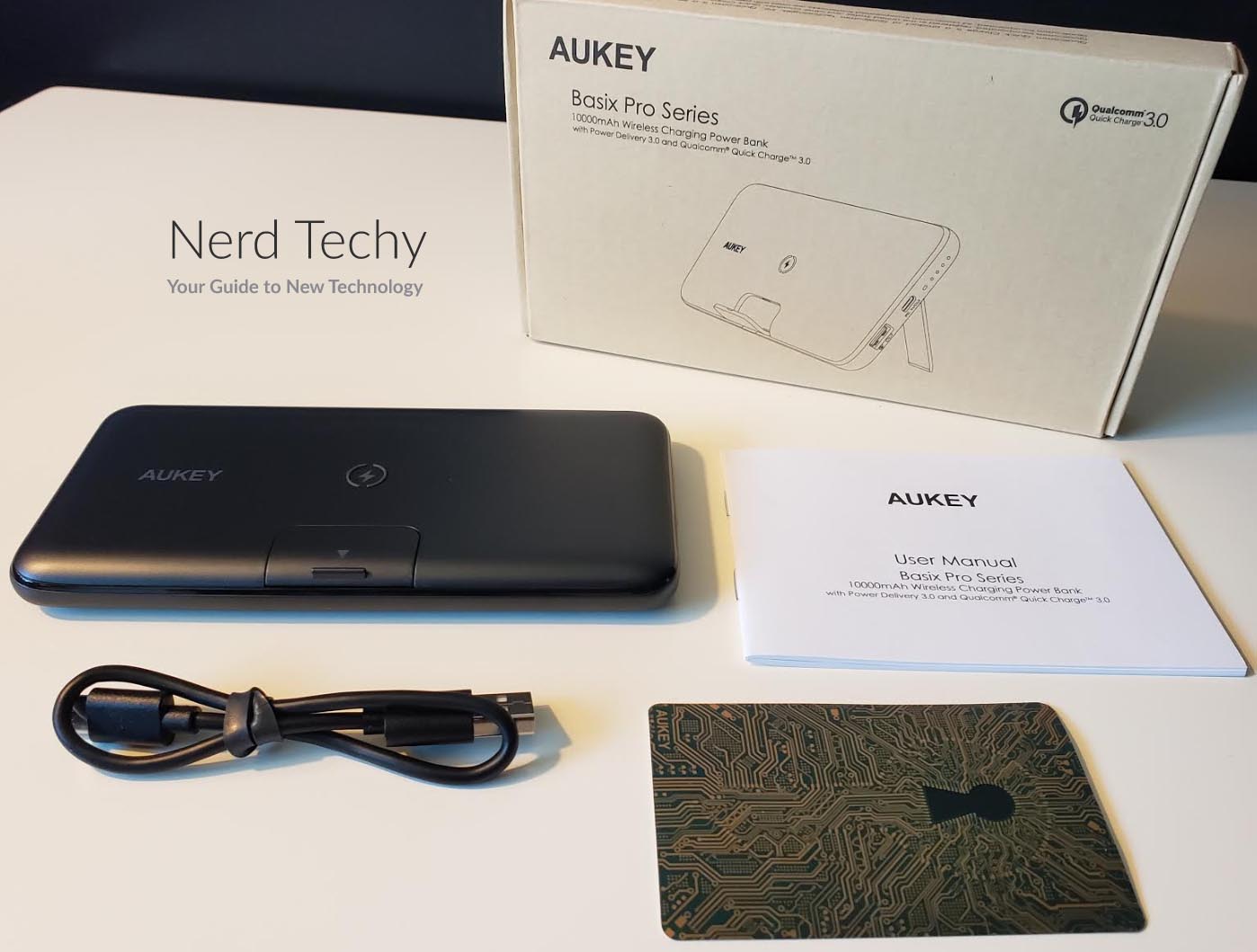 Overall Design
At first glance, the Aukey Basix Pro PB-WL02 Power Bank looks like a standard handheld power bank. It's about the size of an average smartphone, with a satin black finish. This finish is both attractive and easy to keep clean. It's surprisingly sturdy, with reinforced edges that sport a glossy trim. The trim isn't just a reinforcement; it's also an attractive accent. Even along the trim, the edges are all rounded, which makes the case easy to carry. When you slip it into your pocket, it won't jab at your thigh. On the front of the case, there's a light grey Aukey logo, along with a Qi wireless symbol. On the back, you'll see all the specs written out for easy reference.
Perhaps the PB-WL02's most unique feature is the fact that it doubles as a phone stand. On the back, there's a lightweight kickstand that's similar to the stand on the Nintendo Switch. This stand needs to be slid partially out of its slot to extend, so it's relatively secure. As long as it's tucked away, it won't pop out by accident and get damaged. On the front of the charger, there's a small, flip-down phone support with thin foam padding on it. This padding keeps your phone safe from scratching while you're using the stand. With this design, you can watch your favorite show or listen to your favorite songs, even while you're charging.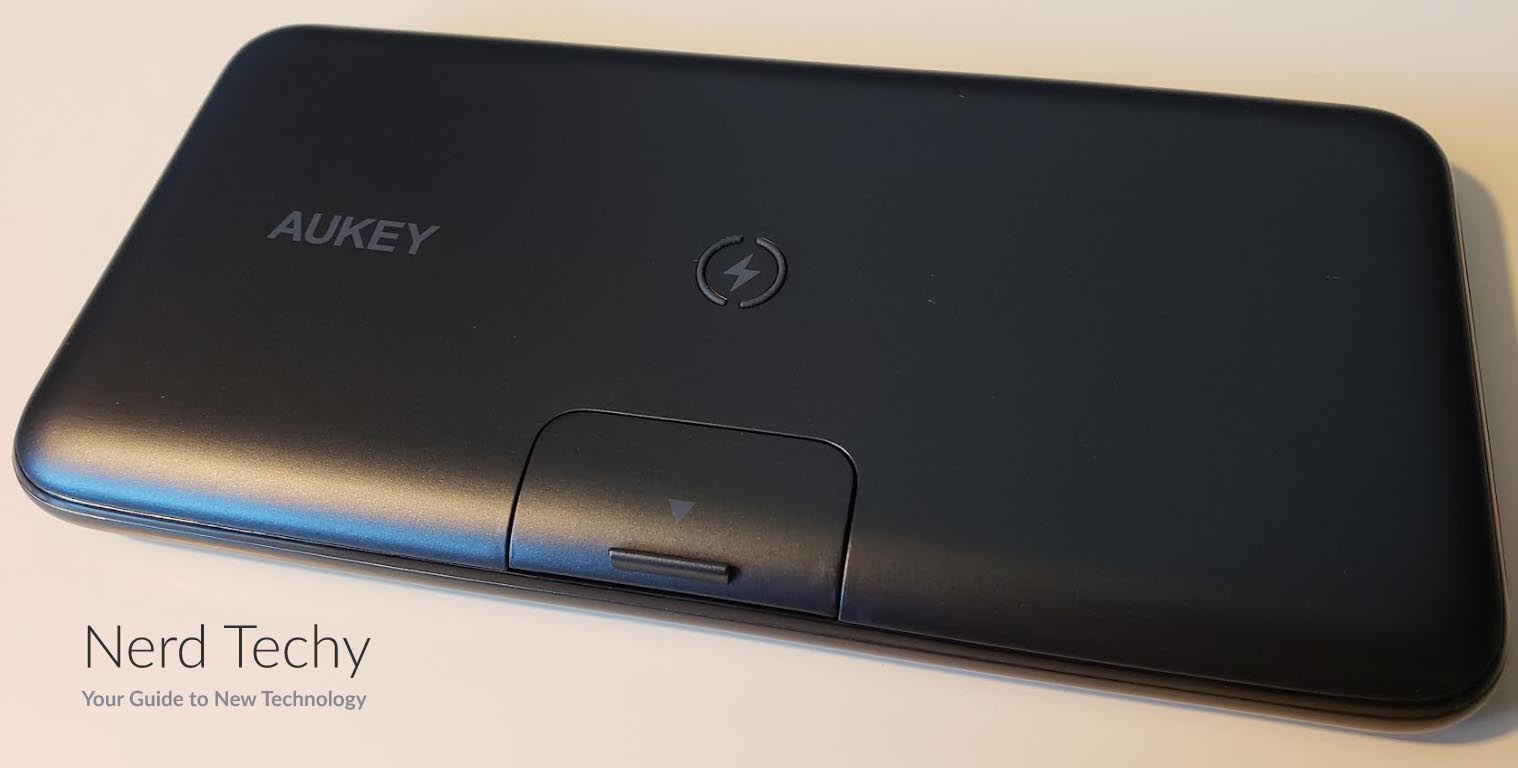 On the top of the charger, there's a small power button that's used to activate the unit. Many power banks are "always on", and don't have a power button. The problem is that this design can lead to a shorter standby time due to drawing phantom power. When the PB-WL02 is turned off, it draws zero phantom power. As a result, it will last for months before the battery totally loses its charge. The power button also activates the LED battery level indicator. Four small LED lights will indicate your battery's current charge, as long as the power bank is turned on. Next to those lights, there's an additional light that will let you know when you're actually charging a phone. It will turn green when wired charging is active, or orange when wireless charging is active.
Next to the charging lights, there's a pair of USB charging ports. The top port is a simple USB Type-C, while the bottom is USB Type-A. The neat thing about the Type-A port is that it has an orange internal tab. This makes it high-visibility, even in low lighting. It also makes it easy to keep track of which way the USB plug needs to be oriented. As a result, you won't have to keep flipping your plug around to figure out how to insert it.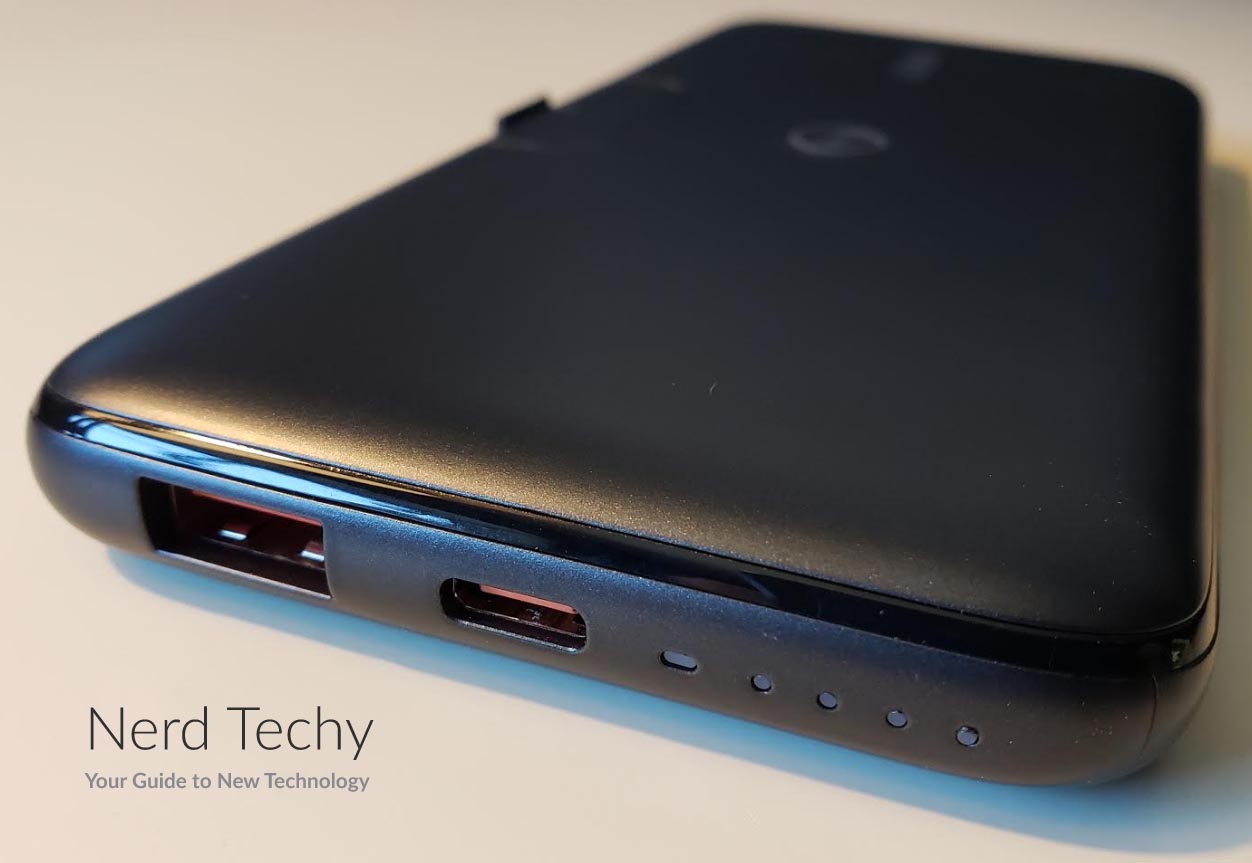 Along with the Basix Pro itself, you also get a USB Type-A to Type-C cable. This can be used both for charging your power bank and for charging your phone. The box also includes a replacement warranty card. Make sure to send this card in, since it's the only way to take advantage of your 24-month manufacturer's warranty. Moreover, the power bank is protected by a 45-day money back guarantee. If you don't like the power bank for any reason, just send it back for a full refund.
Charging Power
So, what does the Aukey Basix Pro offer in terms of charging? To begin with, the internal battery has a total capacity of 10,000mAh. This is about average for a handheld power bank. It's sufficient to charge an iPhone X just over 2.5 times, or a Samsung Galaxy Note 10 almost 2 times. You can even charge an iPad Air almost a full time. As a result, it's well-suited for charging just about any smartphone or small tablet on the market. That said, most laptops have batteries with 25,000 to 30,000mAh of capacity. So you're looking at a great charger for smartphones and smaller devices, but not for laptops.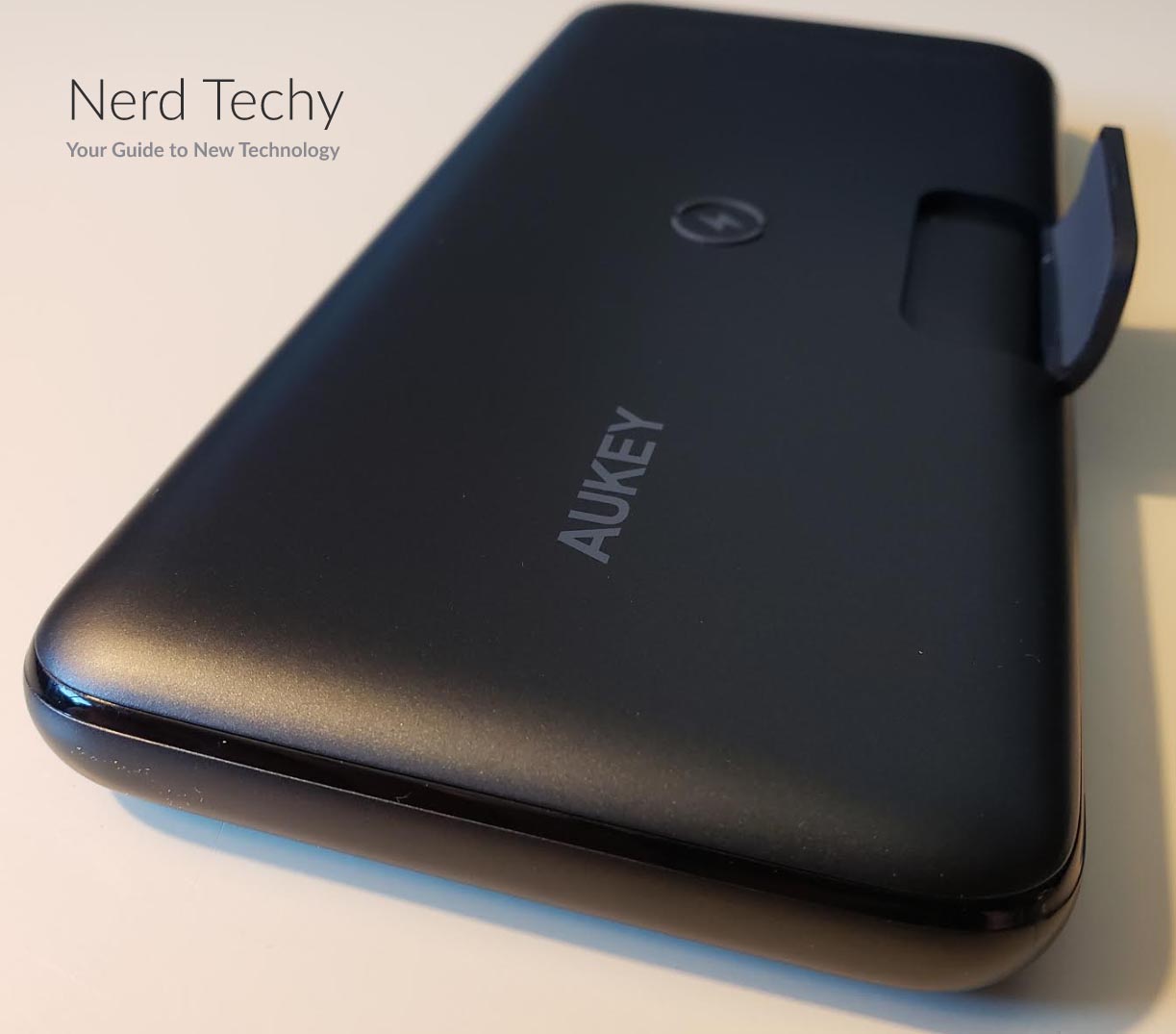 In terms of charging speed, you've got a couple different options. First off, the USB Type-A port features Quick Charge 3.0 technology. This port can output up to 18 total watts, which is sufficient for very fast charging. You can charge an iPhone 11 Pro in only an hour using this port. The same goes for the Type-C port, which features PD technology. You can charge two devices simultaneously if you so desire.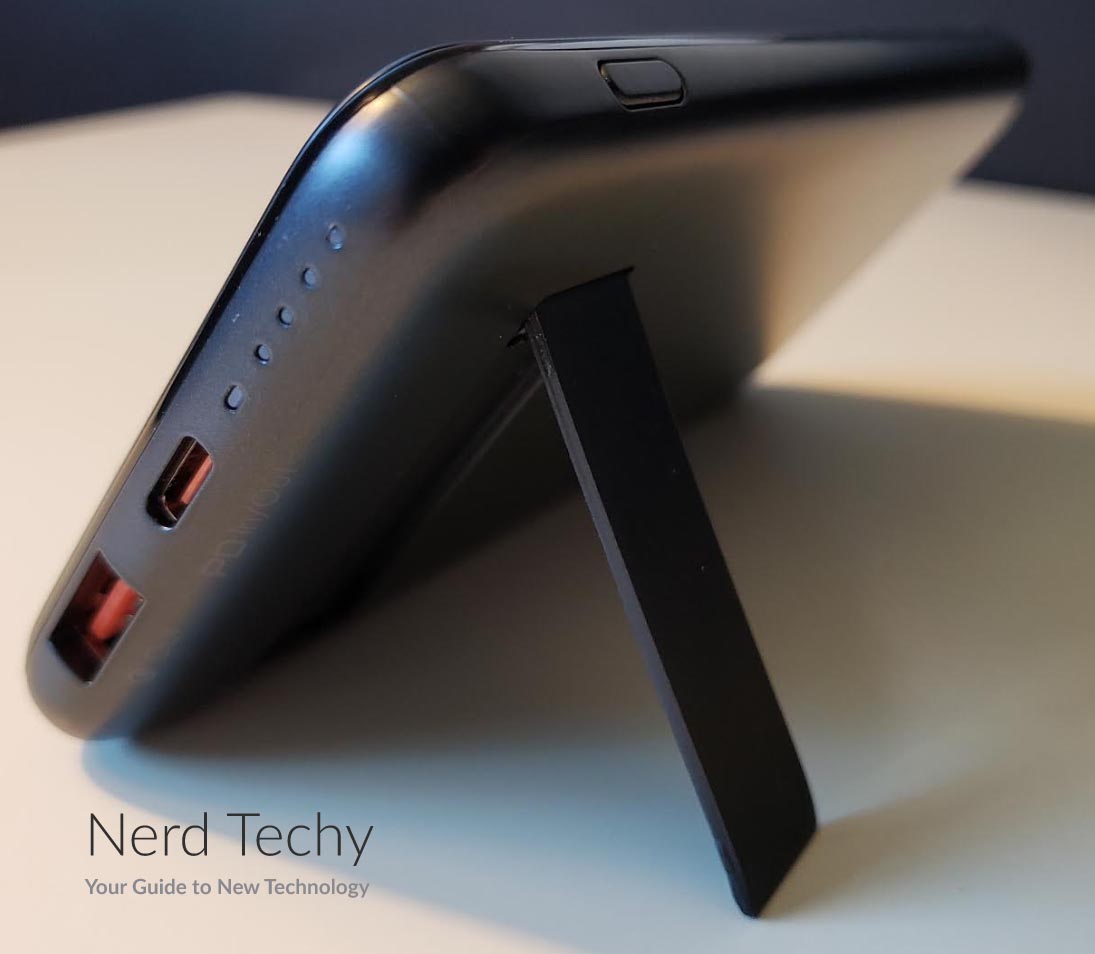 However, if you do, you won't be able to take advantage of one of the Basix Pro's other features. It supports pass-through charging. When you're charging via the USB Type-A port, you can simultaneously charge the power bank via the USB Type-C port. Assuming the power bank is not in use, it will fully charge in only 3.5 hours. When it's in use, your rate of charge will depend on how much power you're drawing. You can also charge your PB-WL02 while you're using the Qi charger. Either way, when your device is done charging, the power bank will automatically power off when the battery is full. This saves both electricity and your power bank's battery.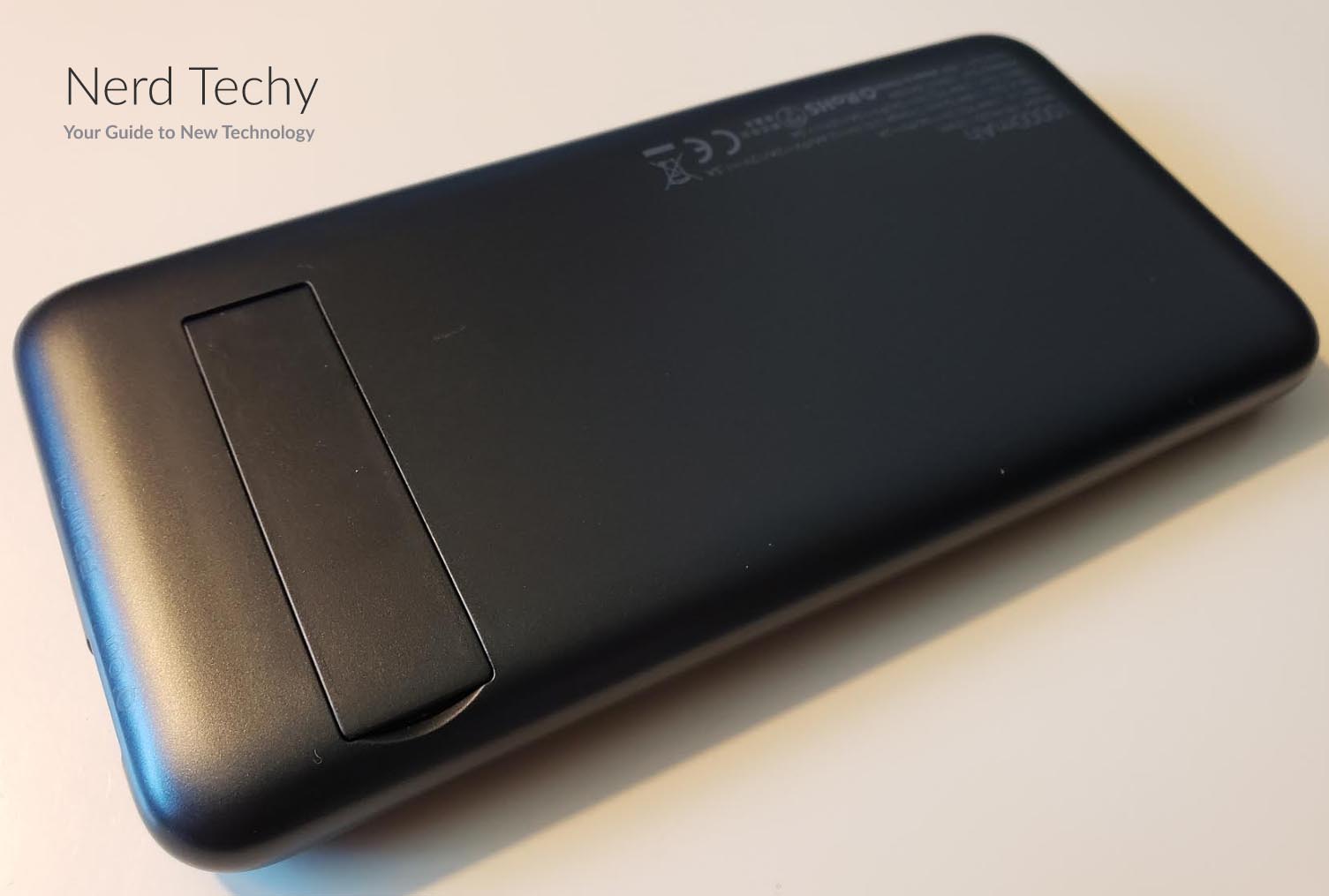 As we've already mentioned, the PB-WL02 supplies Qi wireless charging to compatible devices. This is a very useful feature if you don't want to juggle cables. Just set your phone in the stand, power on the charger, and you can charge while you're watching or listening. The maximum power delivery of the Qi charger is 10 watts. This is more than most smartphones will ever draw during operation. Obviously, this will depend on your exact phone and what you're doing. In addition, the Qi power supply can operate at 7.5 watts or 5 watts for smaller devices like wireless earbuds. The charger will automatically adjust the wattage appropriately for what your device needs.
Travel & Safety
The Aukey PB-WL02 Power Bank is well-suited for travel. It's 6.1 inches long, 3 inches wide, and 0.6 inches thick. This makes it compact enough to carry easily in your pocket. At 8.54 ounces, it's a bit hefty for the size. But regardless, it's still lightweight enough for easy carrying. Throw it in your backpack or laptop bag, and you'll barely even know it's there. You can also take the PB-WL02 on an airplane without any issues. With a total charge of 50 watt-hours, it's only halfway to the TSA's 100 watt-hour limit. You'll sail right through airport security with no hassle whatsoever.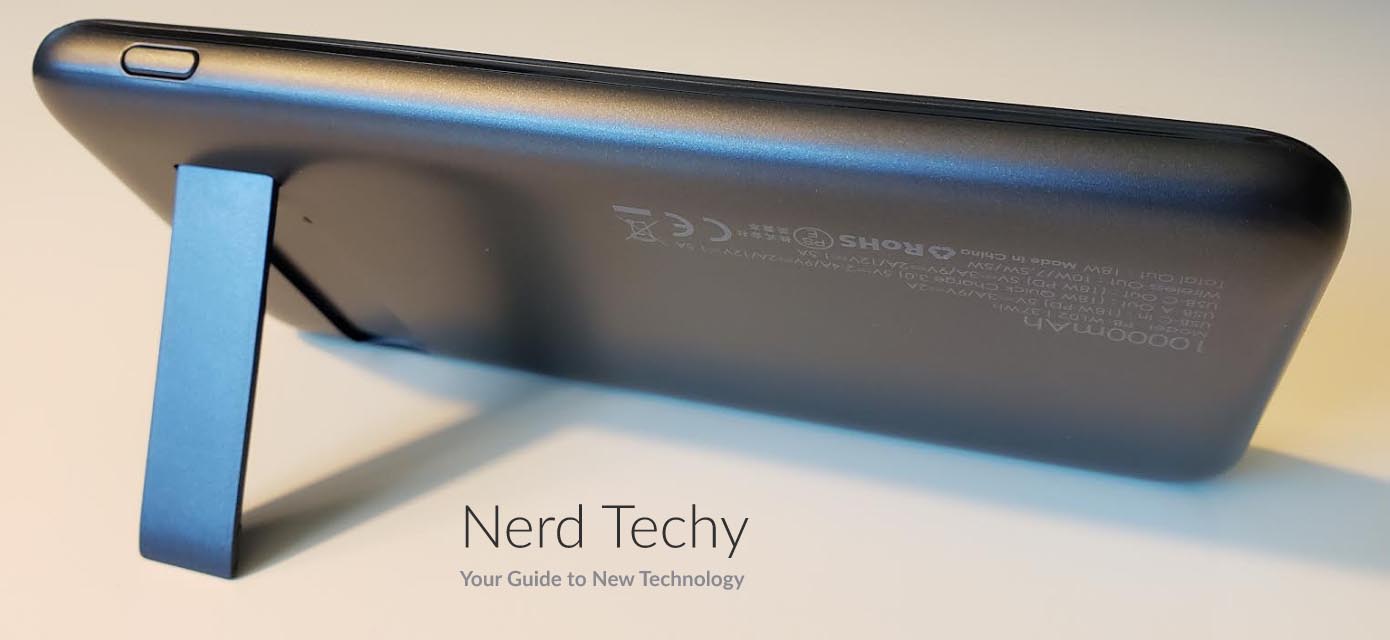 In addition, the PB-WL02 is very safe to use. It features overcurrent protection, which means it will match the level of current to the level required by your device. As a result, your phone or other device won't get damaged by excessive amounts of electricity. Moreover, it offers overcharging protection. This feature means that it will automatically shut off when your device is fully charged. It's not so much a safety feature as a battery-saving feature to conserve juice. Finally, you get overheating protection. Internal sensors will activate when the PB-WL02 gets too hot. When this happens, it will automatically shut off to prevent any damage or fire.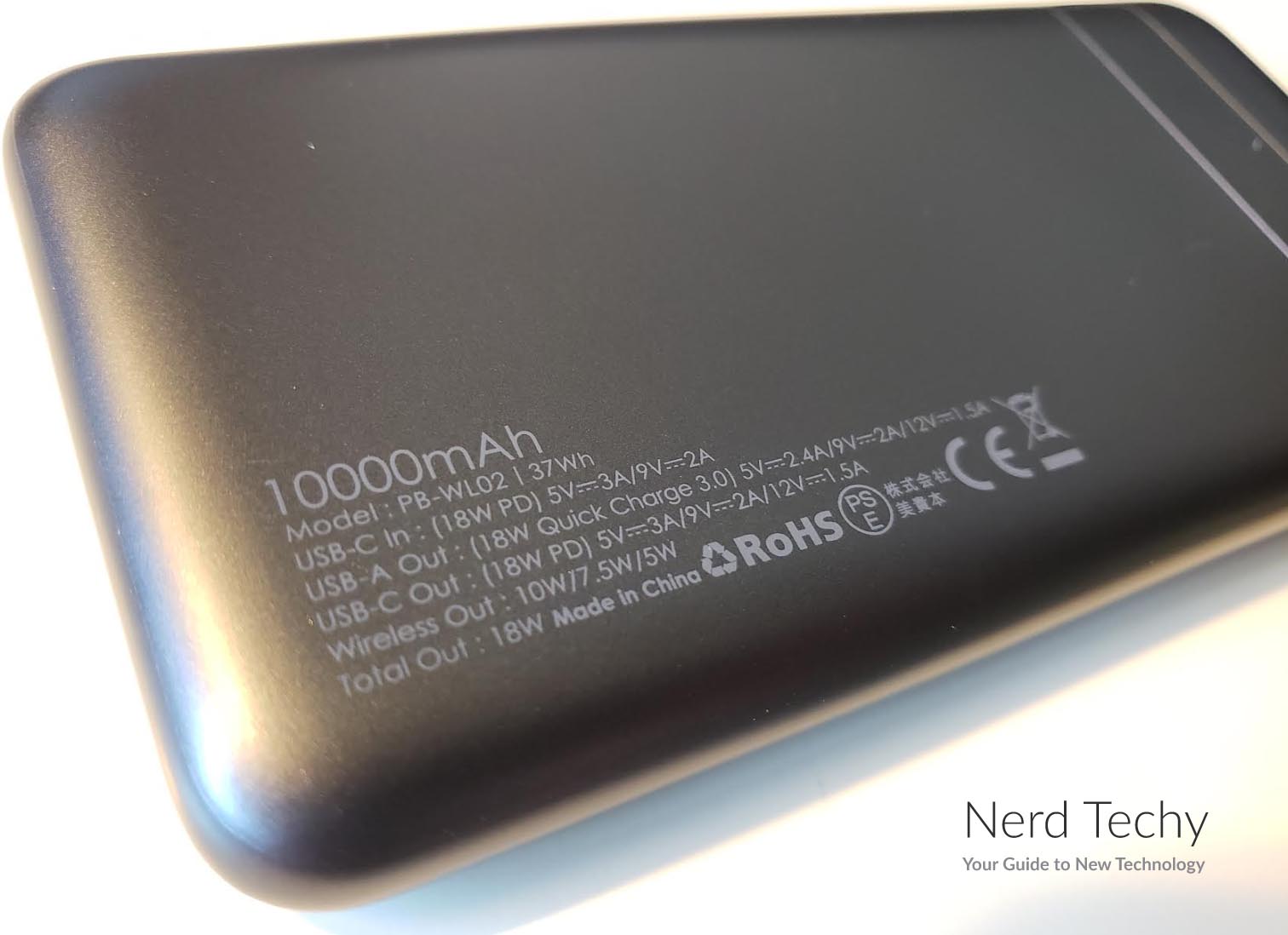 Final Verdict
So, is the Aukey Basix Pro PB-WL02 a good investment? For most purposes, it absolutely is. Let's be upfront, though. It doesn't have enough juice or deliver a fast enough charge to power a laptop. That said, for just about any other device, it's an excellent choice. The 10,000mAh capacity is sufficient for charging any smartphone and most small to mid-sized tablets. Even better, it can also be used to charge low-voltage devices like wireless earbuds. The smart circuitry means it will never overcharge your device or damage it due to excessive voltage.
Of course, the PB-WL02's best feature is its innovative design. If you want to charge while you're still using your phone, no worries. It works as a stand, fully supporting your phone for watching videos, listening to music, or more. There's also plenty of support for multiple devices. To begin with, you can take advantage of Quick Charge 3.0 technology via USB Type-A. You can also use the USB Type-C PD port, even simultaneously. Finally, you can enjoy easy wireless charging via the Qi pad. No matter what type of device you have, or even if you have more than one, your needs are covered.