Quick Analysis
Pros
Stores enough to charge most smartphones several times.
Low-current charging for less energy-intensive devices.
Rapid charge fills phone, gaming, and laptop batteries faster. .
More powerful than average portable phone chargers.
Cons
The casing is a bit cheap feeling
Not scratch-resistant.
Your personal electronics work to make your life easier and significantly more connected. Think about how much time you spend on your phone and other personal devices every single day. The people you contact, the information you have at your fingertips, and the versatility of the tool as a means of connection. But all that connection and productivity comes at the cost of battery power, and there's only so much you can squeeze out of one phone battery.
Portable chargers add to that valuable resource, giving you more phone access on the go. These portable chargers are designed for fans of the outdoors, people who like to camp and hike where a charger might not be readily available, as well as anyone who travels on business or goes long stretches without chargers available.
The AUKEY PB-Y24 USB-C Power Bank is designed to provide a relatively universal power source on the go. It has both C and USB charging ports and is compatible with most major phone brands. Fans of Animal Crossing will also appreciate that it can power a Switch for up to 12 additional hours. But no power bank can be rated on its versatility alone. We've looked at each of the most important features and will discuss each of them so that you can determine whether this is the right portable charger for you.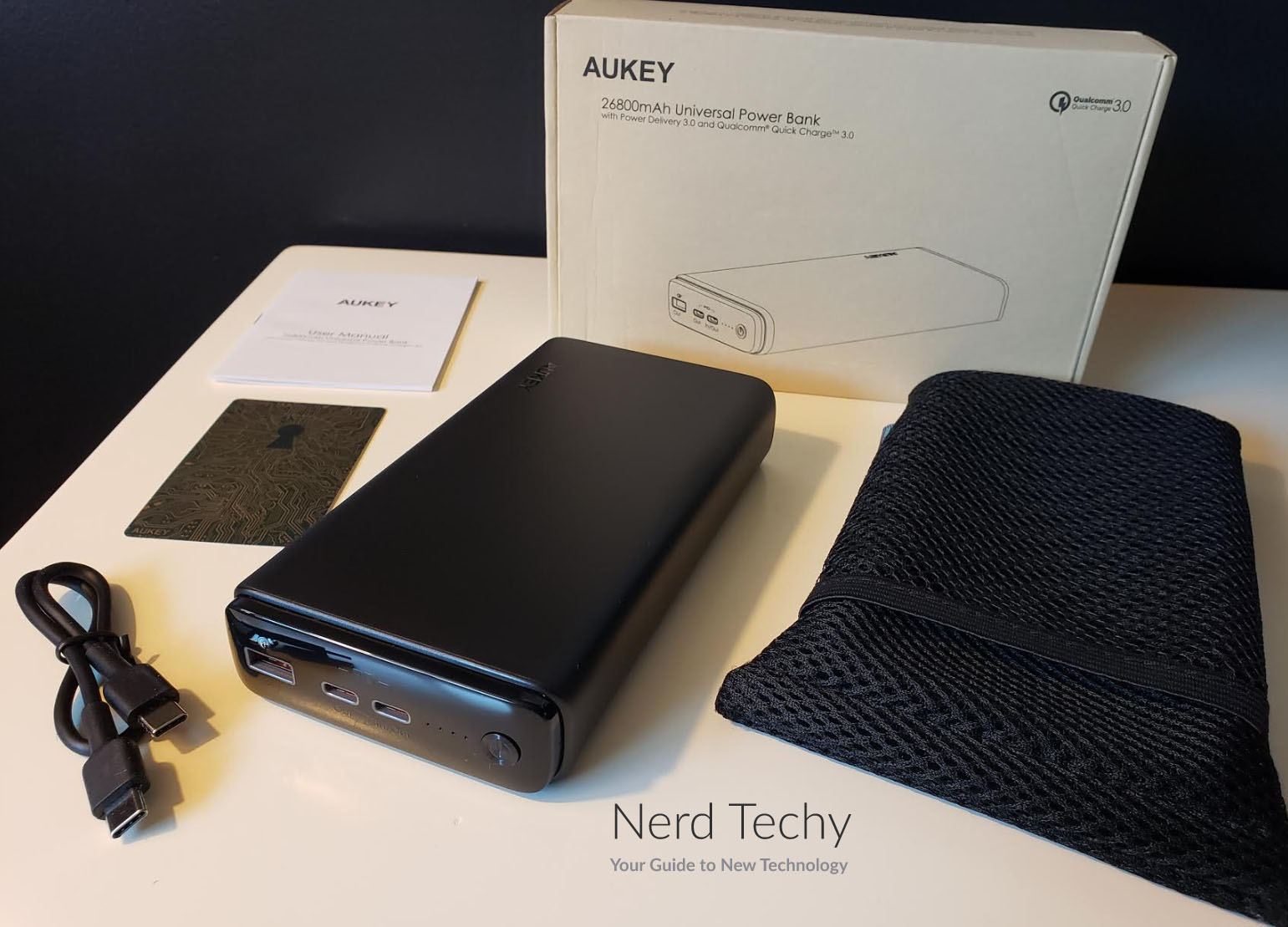 Overall Design
The AUKEY PB-Y24 is reasonably sized, roughly half a foot long on its longest edge, and half that in width. Only an inch wide, it's easy to fit the power bank into a pocket of your backpack or the phone pocket in a purse or travel bag. It requires a USB-C charging cord to charge up, but there is plenty of space for another USB-C charging port as well as a regular USB out port. That means that, unlike many branded power banks, this system is compatible with almost all USB-based universal charging systems.
The internal power storage system consists of a lithium polymer battery. Lithium not only allows large amounts of power storage but also resists building a memory and reducing the capacity of the charger over time. That means that your portable charging system will last longer, without becoming less effective with repeated use. Battery strength is increasingly important these days as phones and other portable devices come equipped with increasingly larger and more powerful batteries themselves.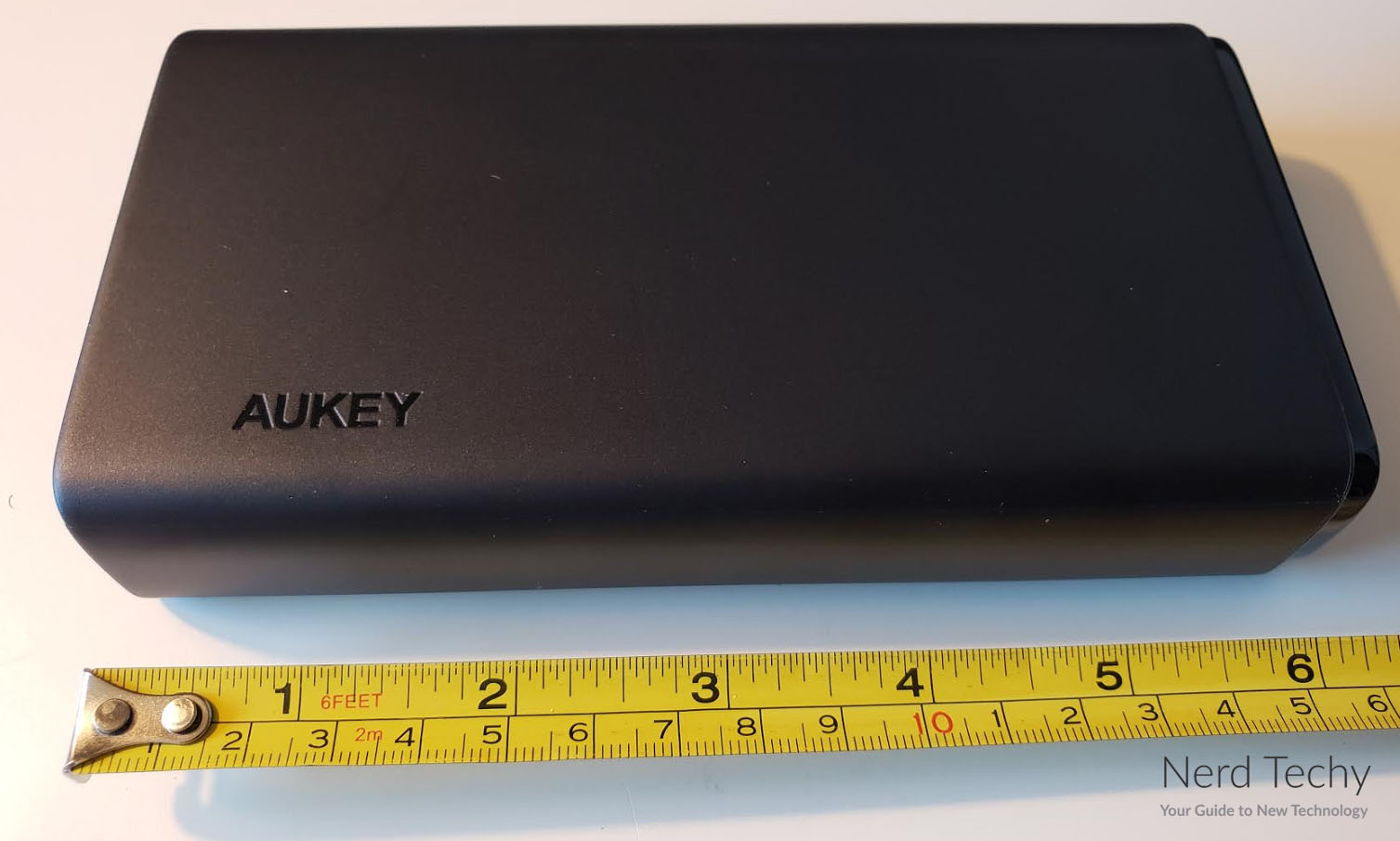 This battery has a maximum power storage capacity of 26800mAh. We'll talk more about the specifics of the charging power and capacity later though, for the moment, it's just worth knowing that that total is enough to fully charge most modern smartphones several times over. It's also compatible with a wide range of other personal devices from gaming systems like the Nintendo Switch through to portable headphones. The added utility of a low-current charging setting makes it simple to keep even your pickiest devices fully charged.
The PB-Y24 also comes with several levels of built-in safety features. If you've ever had a device fried by using the wrong charging cord or a battery pack that wasn't quite rated for the power requirements of the device, you know how important it is to match your charging system to the needs of the device. The internal checks on the power bank prevent issues with excessive charging power, protecting your devices. Not only does this system prevent internal damage from excessive power, but it can also help protect against the more subtle forms of damage like memory loss and corruption.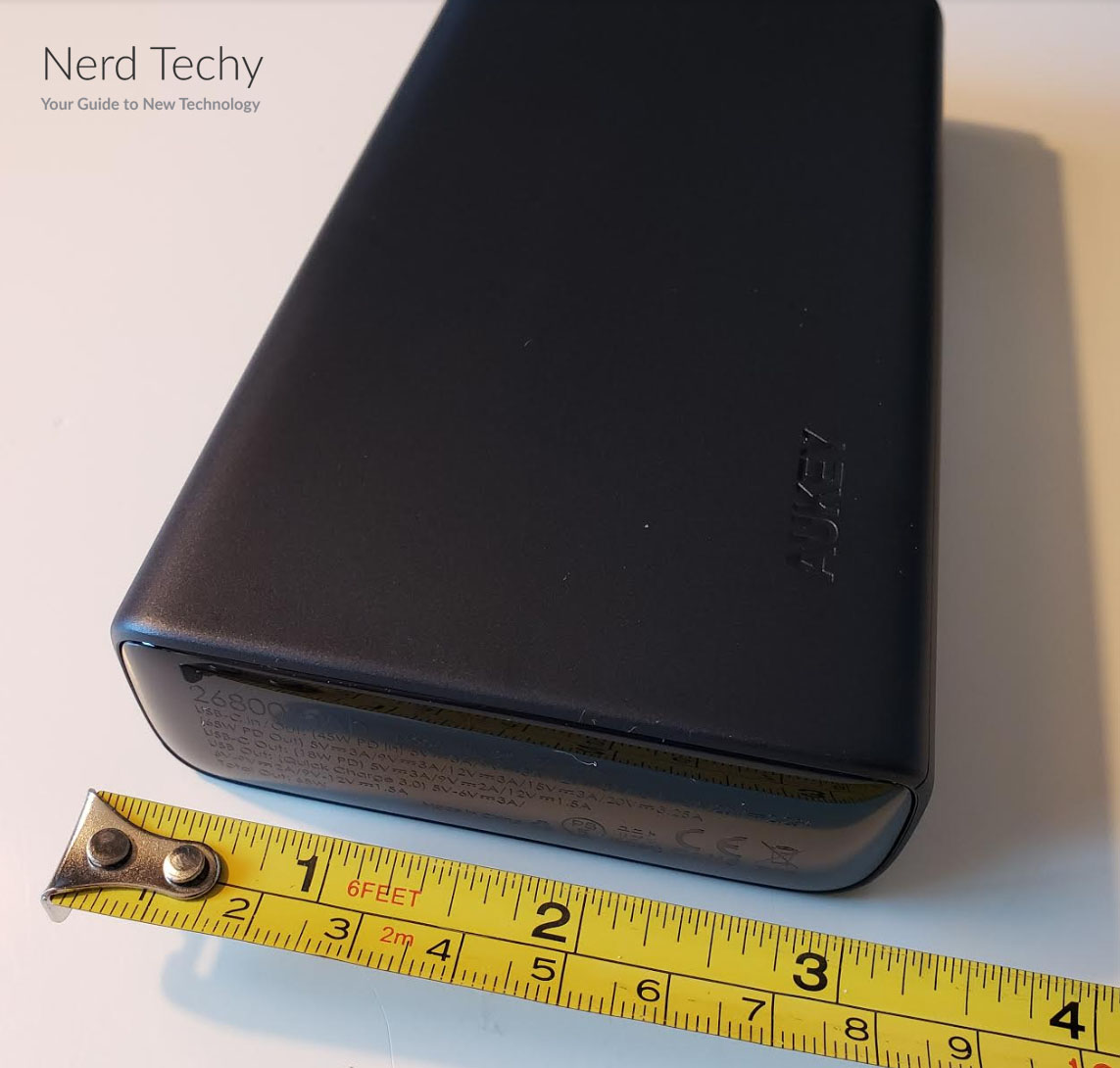 The internal safeguards also protect you directly from overheating and other common problems. That makes it easier to set up your devices to charge without having to keep an eye on the temperature of both devices. While it doesn't stay so cool that you're likely to want to leave the power bank in your pants pocket, neither device will overheat or be damaged by excess heat.
It's also worth noting that this power bank comes with a comprehensive user manual, as well as a customer service card that lets you bring customer service information with you wherever you go. The charger comes with a 24-month promise, so you're covered in the case that you happen to get a lemon device. As with any technology, lemons happen, and the added protection should give you greater peace of mind.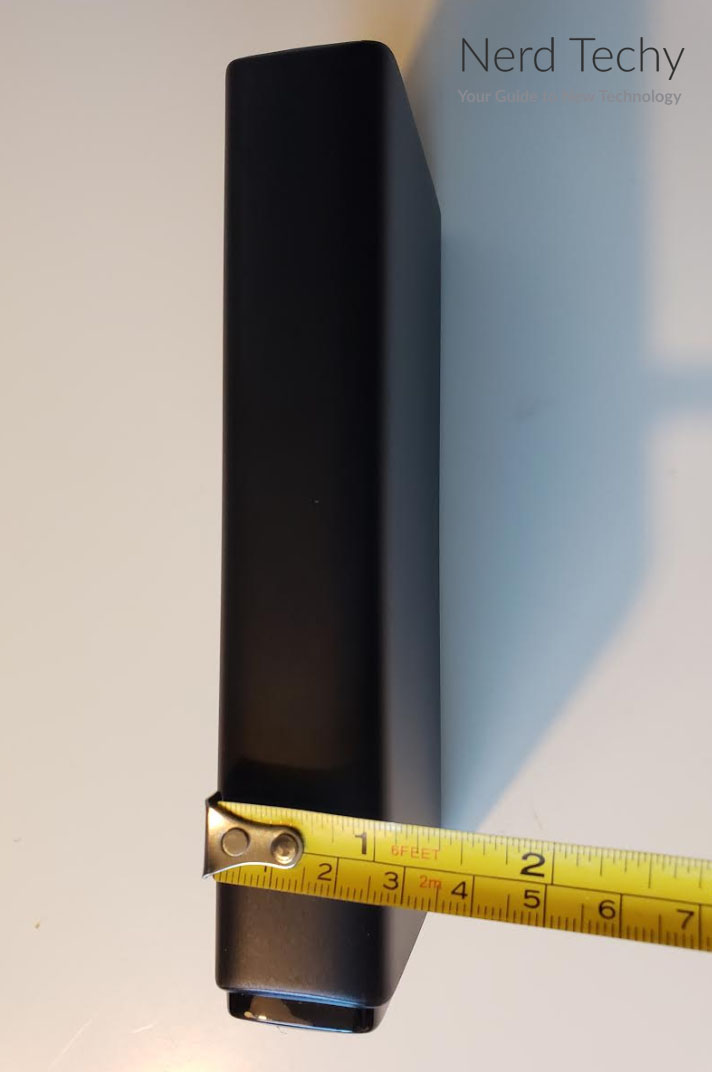 It doesn't, however, come with a range of different cords. You'll only receive the standard USB-C and USB to C cords. If you need another style of charging cord for any of your portable devices (including laptops), you'll need to provide your own or purchase them separately.
Charging Power
Charging power is probably the most important single aspect of a portable charger. The majority of these devices are designed to provide 1-3 charges to a typical smartphone. Even with universal compatibility, a lot of charging banks can't actually work with many of your devices because they provide too much or too little current.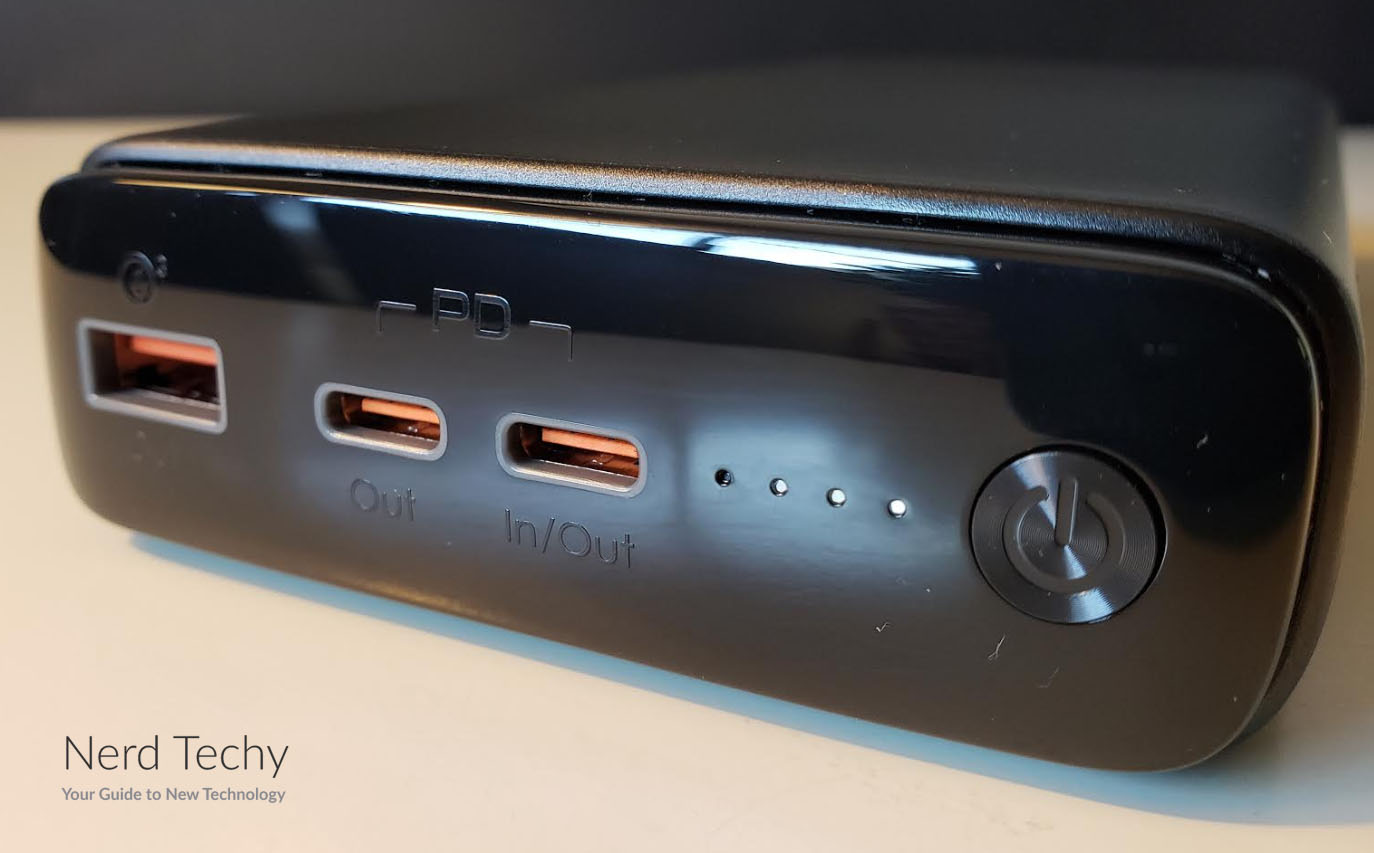 This next generation of power banks is a little different. The AUKEY PB-Y24 USB-C Power Bank has internal safeguards that help you match the power output to the specific needs of the device that's being charged.
The high-speed charging system delivers 65W, sufficient to meet the needs of small laptops like the MacBook and Google Pixelbook lines. That's great news for professionals who need to take their laptops on the go with them. This makes it possible to charge without having to rely on local power sources.
It's also got a low-current option, mentioned above, that's best suited to portable fitness trackers, headphones, and other less power-intensive devices. This is also a particularly useful feature since many power banks are more likely to fry those devices than charge them, and most will also cause heating issues over time.
The option to charge portable gaming systems also makes this a better power system for children and anyone who prefers to have a portable source of entertainment camping and during road trips.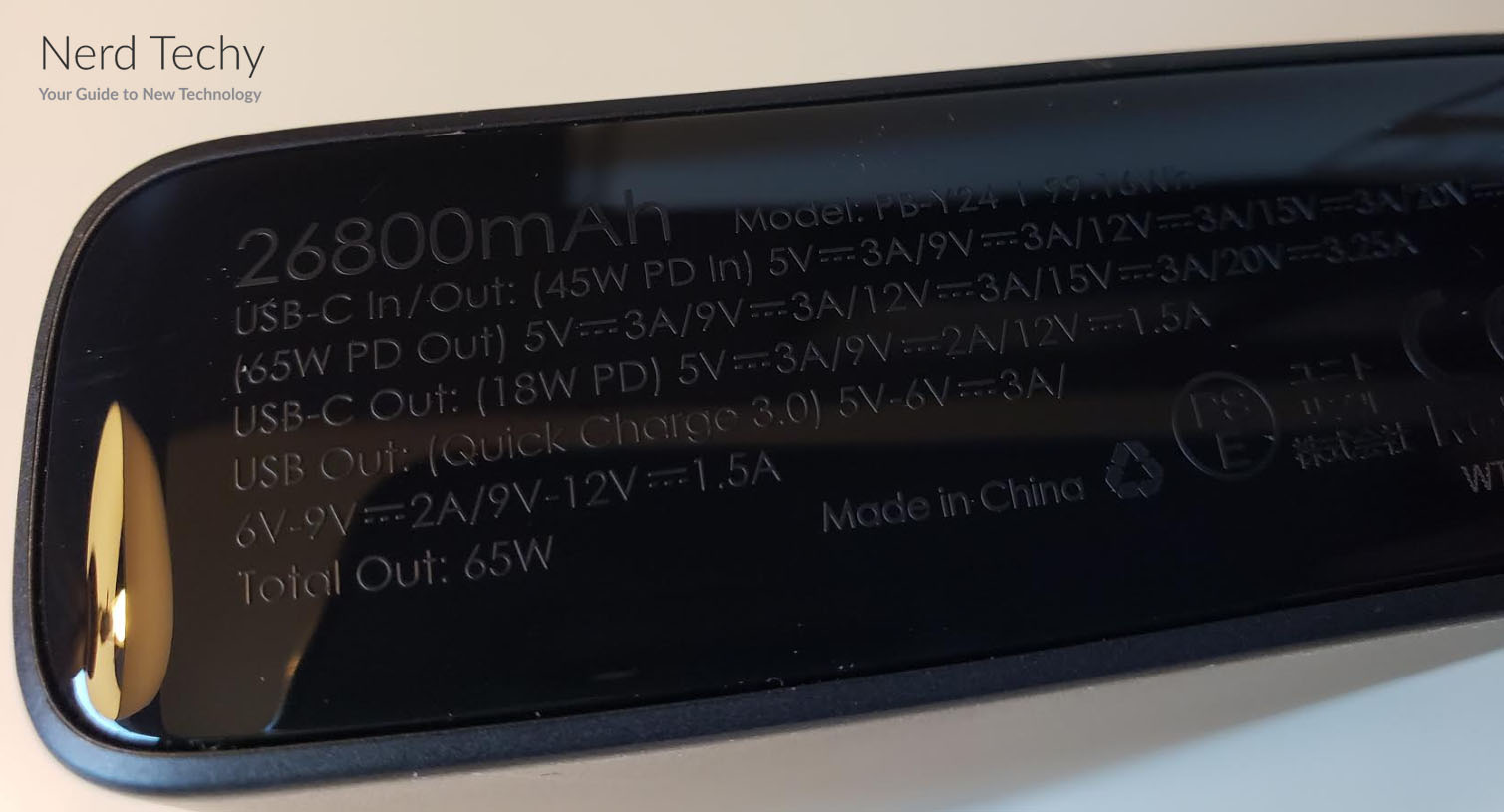 Travel
When it comes to travel there are a few different features you have to consider. How large is the power bank, how easy is it to charge the power bank itself, and how durable is the machine itself? The good news is that the PB-Y24 ranks highly in most of these categories, though it certainly isn't perfect.
The power bank's outer casing is one of the bigger weaknesses of this system. It's durable enough to protect the internal battery system from most things. It's also resistant to overheat, making it a better choice if you need to leave the power bank in a pocket or backpack while charging an item. However, the outer casing is also relatively easy to scratch and dent. In your hand, it feels slightly cheap. The texture isn't important for overall performance, but it might make a difference in your perception of the AUKEY PB-Y24, or even change how often you think to bring it with you.
It only comes with USB-C cords, so you also need to think about getting additional cords for travel if you have devices that use any other charging system.
However, the PB-Y24 bank does well when it comes to general portability. Its compact design is large enough for a good internal battery but small enough to fit into most luggage and backpacks without taking up too much internal space. It weighs about 1.5 lbs., light enough that it won't take up too much space in plane luggage. You can even slip the power bank into your carry on if you're running short of weight in your main luggage.
Though the power bank is slightly on the longer side, just over 6 inches, the width, only slightly more than an inch, is perfect for most pockets and even small clutch purses.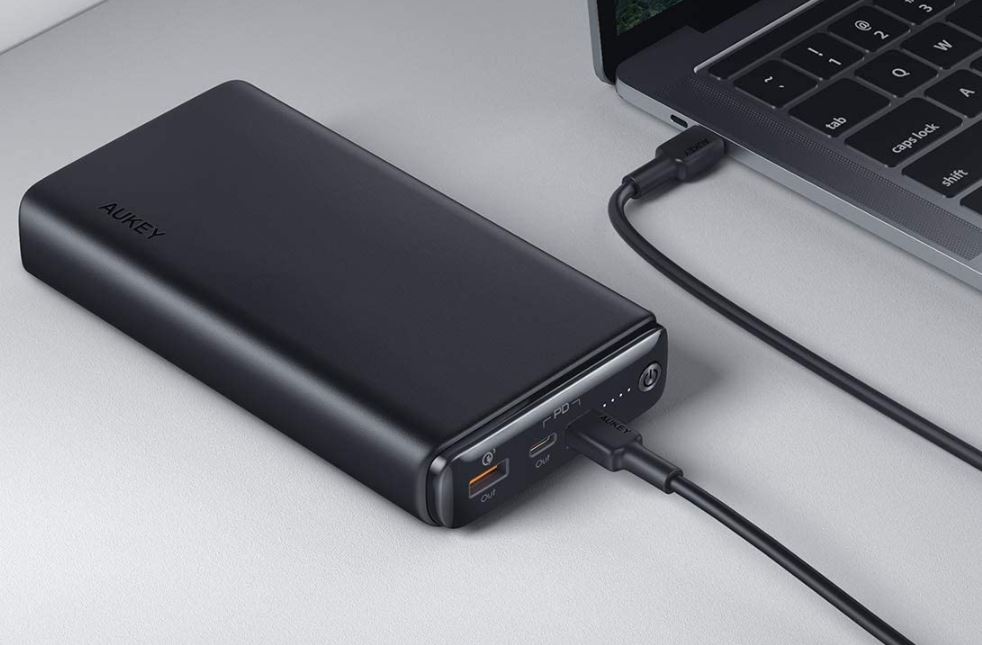 Compatibility
This power bank advertises itself as a universal charging bank. The good news is that that is true. The USB port on the power bank makes it compatible with virtually every personal device, assuming you have the appropriate cord for that device. It also holds enough power to work with even high-power devices like portable gaming systems and some personal laptops. It definitely won't charge a gaming computer, but most less demanding devices are compatible.
In today's world of wide variety and many charging systems and power supply options, this system performs admirably well.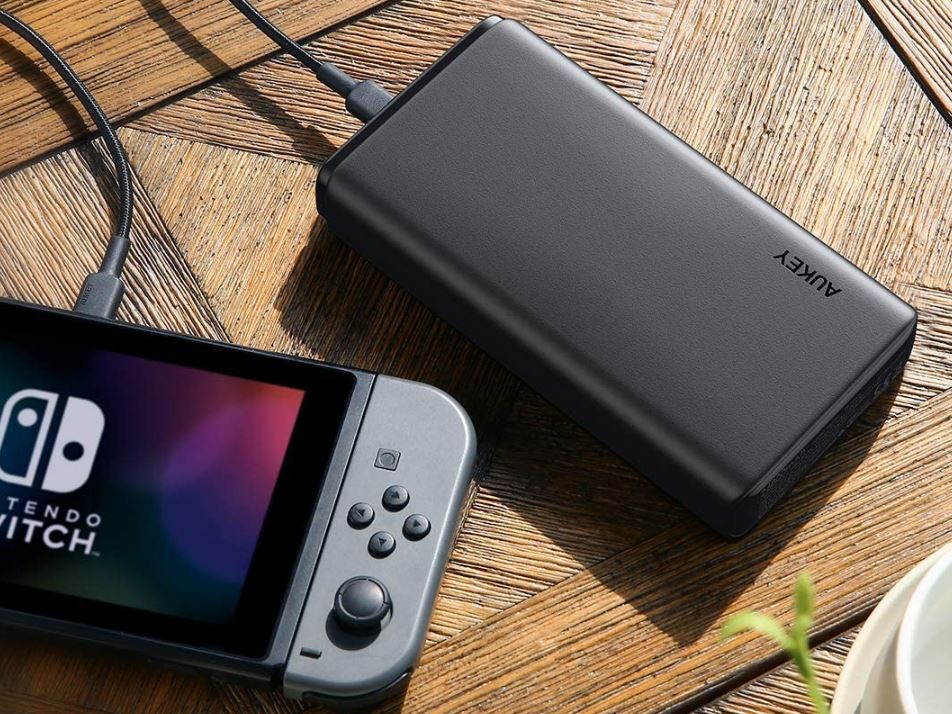 However, it only comes with one charging system. You'll need to purchase additional charging cords if you want to charge a wider variety of devices. That adds to the overall cost of the system since charging cords often come with a relatively high price tag.
The good news is that there are cord keychains available that provide a wider variety of options, but again, purchasing these tools adds to the overall cost.
So, while this is a good universal charging system in general, you shouldn't count on it providing everything you need for your devices without additional investment.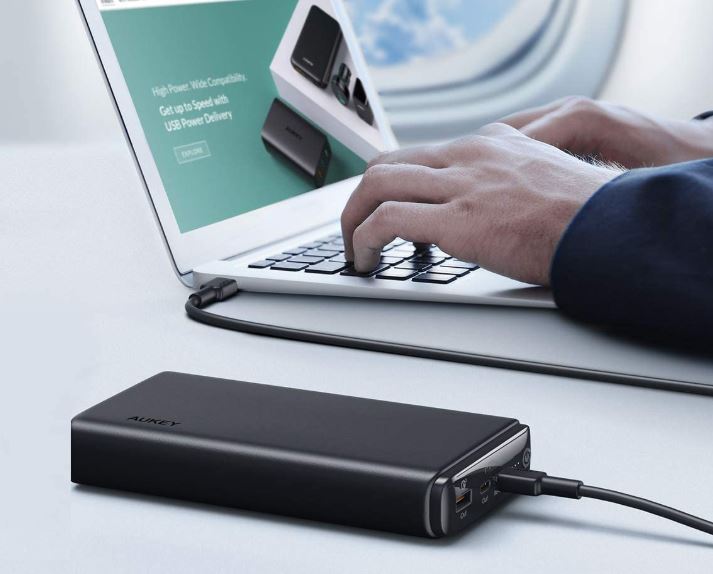 Final Verdict
The AUKEY PB-Y24 USB-C Power Bank deserves its place in the latest wave of new charging devices, but it certainly isn't the right option for all users. The battery holds an impressive charge and loses relatively little of that charge over time. It's reasonable to charge your power bank up a day or two before you need it. It's also easy to check on the status of an old charge with the press of a button.
But more importantly, this is a charger that is really designed with a larger pool of compatible devices in mind. The increased power and current options allow you to charge larger and more powerful devices, while also providing a low flow option for items that can't support higher current.
However, both the price and the utility of the PB-Y24 bank are overkill if you're just looking for a second battery for your phone. Ultimately, unless you have a reason to use the full potential of this power bank, like a laptop, gaming system, or several smaller and less demanding devices, you might be better served by a smaller system.
That said, for people who are looking for a little more oomph from their portable charger, this is a good solution.