Nothing says "summer" quite like a barbecue on your backyard patio. You can relax with friends, enjoy some delicious meat. Exactly what kind of meat qualifies as barbecue will depend on where you live. And we're not even going to begin to wade into that kind of controversy.
One thing is not controversial: nobody likes to sit out and roast in the hot sun. What begins as a fun afternoon with your neighbors can quickly turn into a hot, sweaty mess. There are several measures, such as umbrellas, that can be used to mitigate this. But once the mercury rises north of 90 degrees, it starts to get uncomfortable. And if the temperature in your area gets higher than 100, it gets downright oppressive. Thankfully, there's an easy solution: a misting fan.
A misting fan is exactly what it sounds like: a fan that blows a water mist throughout the area. It works on the principle of evaporative cooling; as the water evaporates, it lowers the temperature. This is the same principle that makes a swamp cooler work. It's worth pointing out that evaporative cooling only works if the air is dry enough to absorb the water. So these fans are better suited for Arizona or Texas than they are for Florida or South Carolina.
Today, we'll be reviewing three of the best patio misting fans available. First, we'll look at the NewAir AF-520B. This is a large oscillating fan that's designed for cooling larger patios. Next, we'll review the Geek Aire Battery Operated Outdoor Misting Fan. This is a smaller unit, but the battery actually doubles as a portable power bank. Finally, we'll review the Ventamatic CDMP 1420BLU 14″ Premium Misting Fan. This is a different style fan, that uses its own water tank, so you can blow extra-cool ice water. Once we've finished the reviews, we'll summarize what we've learned, and render a final verdict. Let's get started!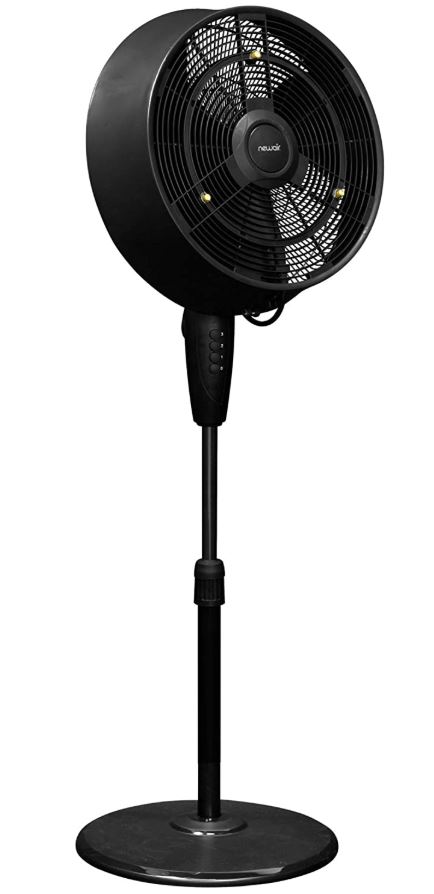 NewAir AF-520B
The NewAir AF-520B is a robust oscillating fan that's fairly large. It's advertised as an 18-inch fan, but the actual diameter is 17 inches. Regardless of this small discrepancy, it still pushes a lot of air. It's capable of moving 2,400 cubic feet per minute (CFM), which is sufficient to cool 500 square feet. Even if you've got a fairly large patio, you're going to get plenty of cooling power. The fan housing itself is constructed from matte black ABS plastic that's easy to keep clean. The three fan blades have a wide, propeller-like design that speaks to their power. And on the front vent, you'll see three nozzles that release the water mist.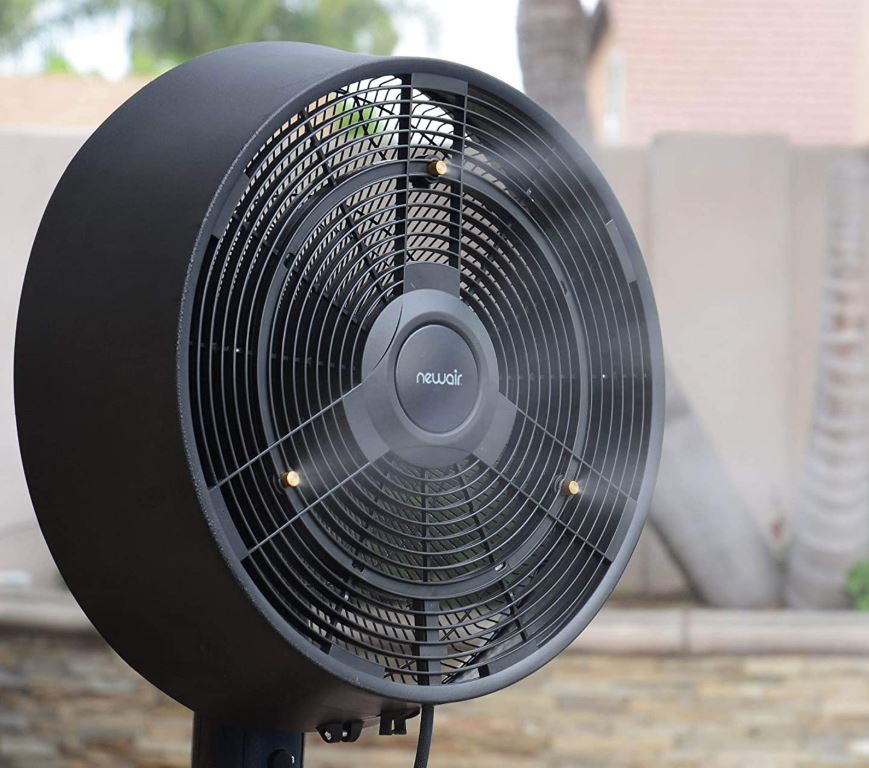 The fan rests on an adjustable pole, which rises from a round, 17-inch diameter base. The base is constructed from durable black steel, rather than plastic. As a result, it will last for many years when used properly. The height can be adjusted up to 50 inches, which is more than enough to ensure good moisture dispersion. The total weight is 16 pounds, which is a bit bulky. But if you're looking for good quality, you've got to expect a product to be correspondingly heavier. In addition to being able to adjust the height, you can also adjust the angle of the fan. Blow straight out, or angle the fan upwards for slightly better dispersion.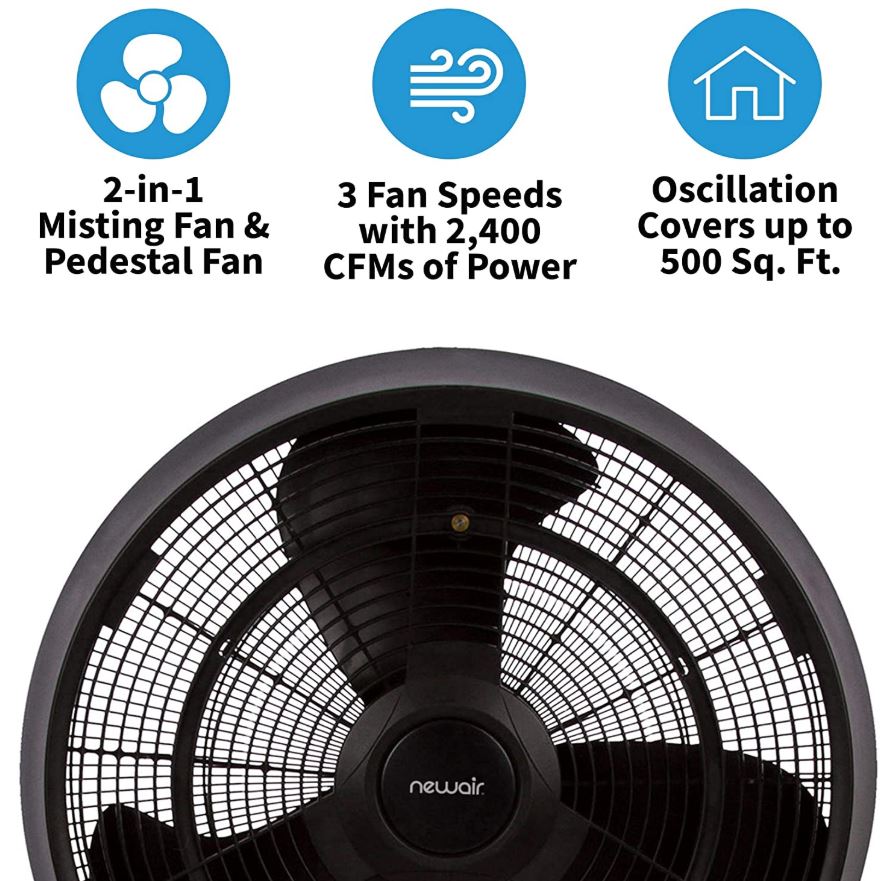 On the collar below the fan housing, there's a set of buttons to adjust the fan speed. There are a total of three options, so if you want a lighter breeze, you can get one. There's also a pull tab on the back of the housing that can switch between oscillating and non-oscillating. Mist your entire patio, or direct the breeze right at you while you're grilling. The oscillating feature also makes the AF-520B a good choice for indoor use. It won't be useful as a mister indoors, but it will still move plenty of air.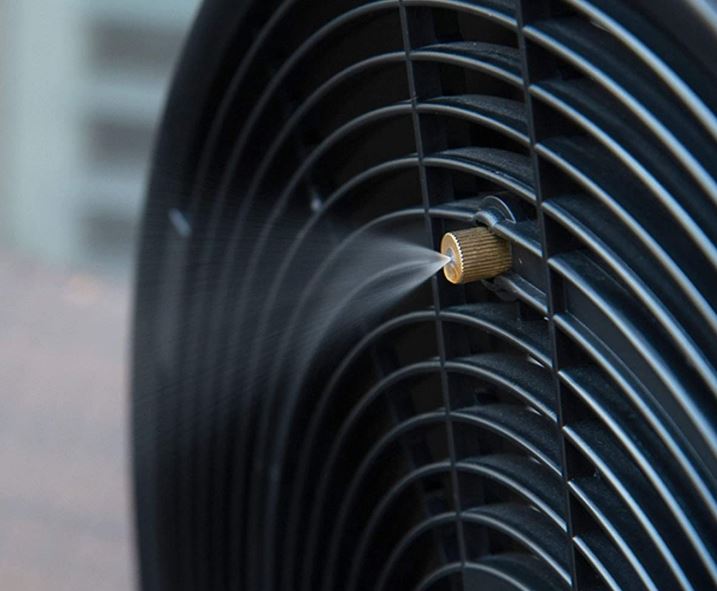 Water Supply and Other Features
The NewAir AF-520B gets it water supply directly from a standard ¾-inch water hose. A small tube extends down from the fan housing, with an adapter that threads right onto your hose end. That said, there's one common complaint about the AF-520B; the mist is too strong. Instead of evaporating, it can end up soaking your patio. There are a couple of effective solutions to this problem. First off, you can only turn your hose on partway. This will limit the amount of water coming through the nozzles. Alternatively, you can switch out the mister nozzles for ones with a smaller aperture. The Orbit 10106H Misting Nozzle is a popular, compatible choice.
Whenever you're mixing water with electronics, safety is a concern. Thankfully, the AF-AF-520B is exceptionally safe to use. It has a leakage protection device inside the fan housing itself. If the device gets wet, it will automatically shut the fans off. In addition, the plug has a proper GFCI device built in to protect you from any short circuits. And if anything does go wrong, you're protected by NewAir's manufacturer's warranty.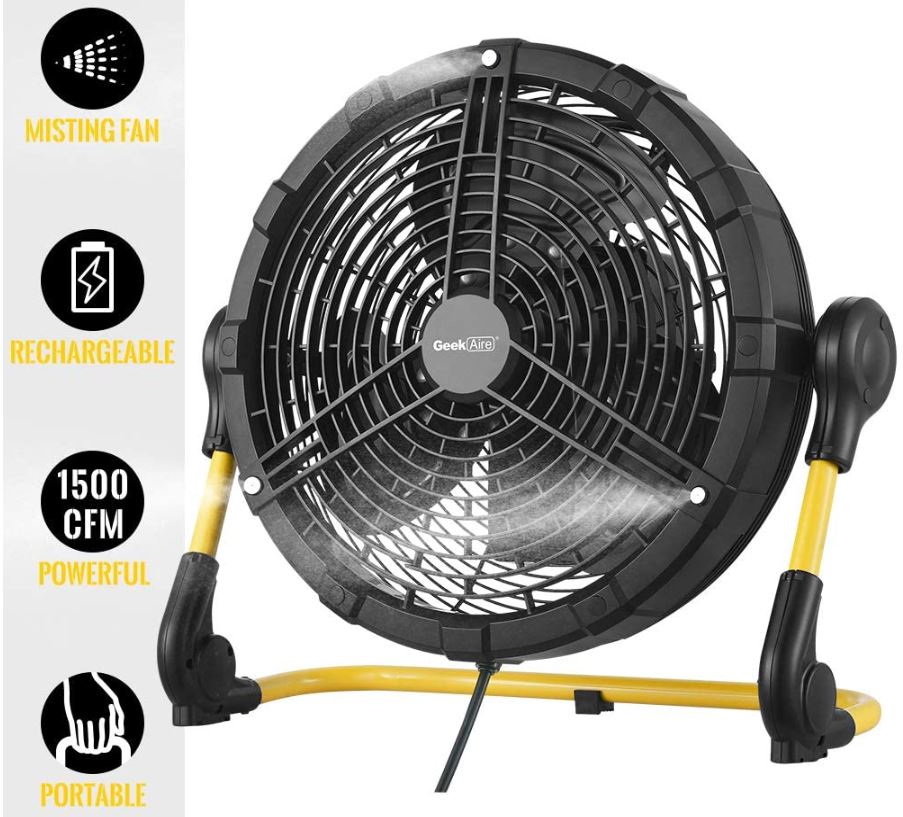 Geek Aire Battery Operated Outdoor Misting Fan
The Geek Aire Battery Operated Outdoor Misting Fan is a bit more lightweight than the NewAir fan. Instead of a tall, oscillating design, you're looking at a smaller 7.1-pound floor unit. At 16 inches in diameter, it can still move a lot of air, or 1,500 CFM at the highest setting. That said, the small size makes it easy to transport. Throw it in your trunk, and take it to your friend's barbecue or pool party without any issues.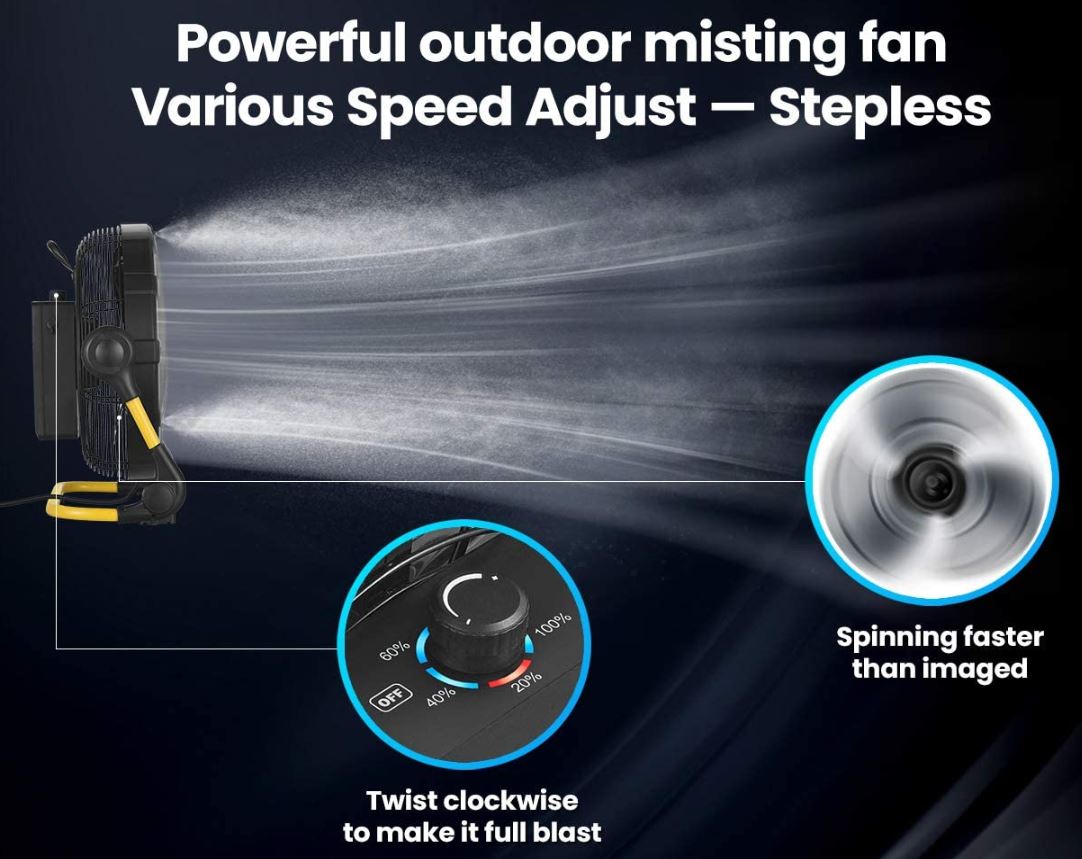 The fan housing is constructed from ABS plastic, with three nozzles positioned around the outside of the front grill. In addition, there's a spare nozzle included in the package in case something goes wrong. The ABS plastic has a thick, sturdy construction, as well as a UV-resistant coating to prevent it from fading. It's supported on both sides by a steel frame that has an attractive yellow finish. The stand sports little rubber feet, which keep concrete, stone, or brick from nicking the paint. The mounting system allows you to adjust the fan's angle, so you can blow cool air wherever it's needed.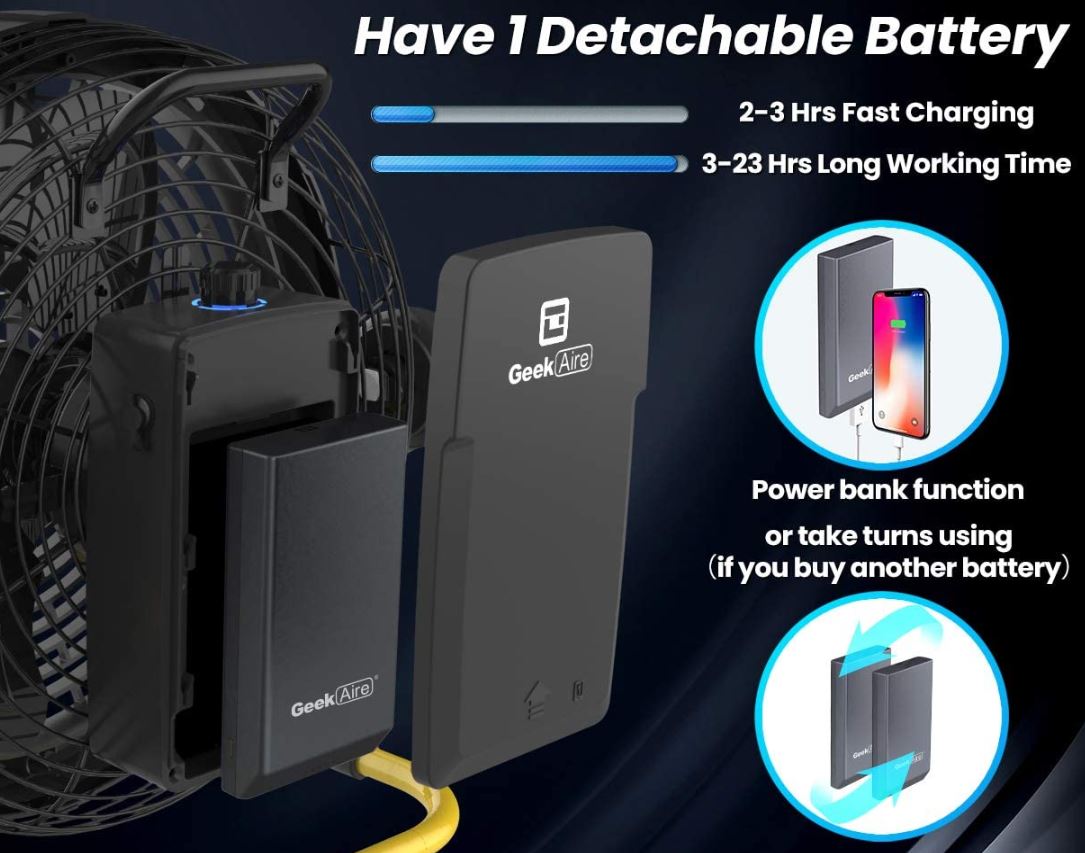 The controls for the Geek Aire fan are located on the back. A simple dial allows you to adjust the fan's power from 0 to 100 percent. This variable control is a nice touch, since you're not limited to a handful of pre-set settings. You can get the exact amount of power you want, without any limitations. At its highest setting, the total range of the fan is just under 12 feet. This is enough for a small patio, and more than enough to cover the area around the grill.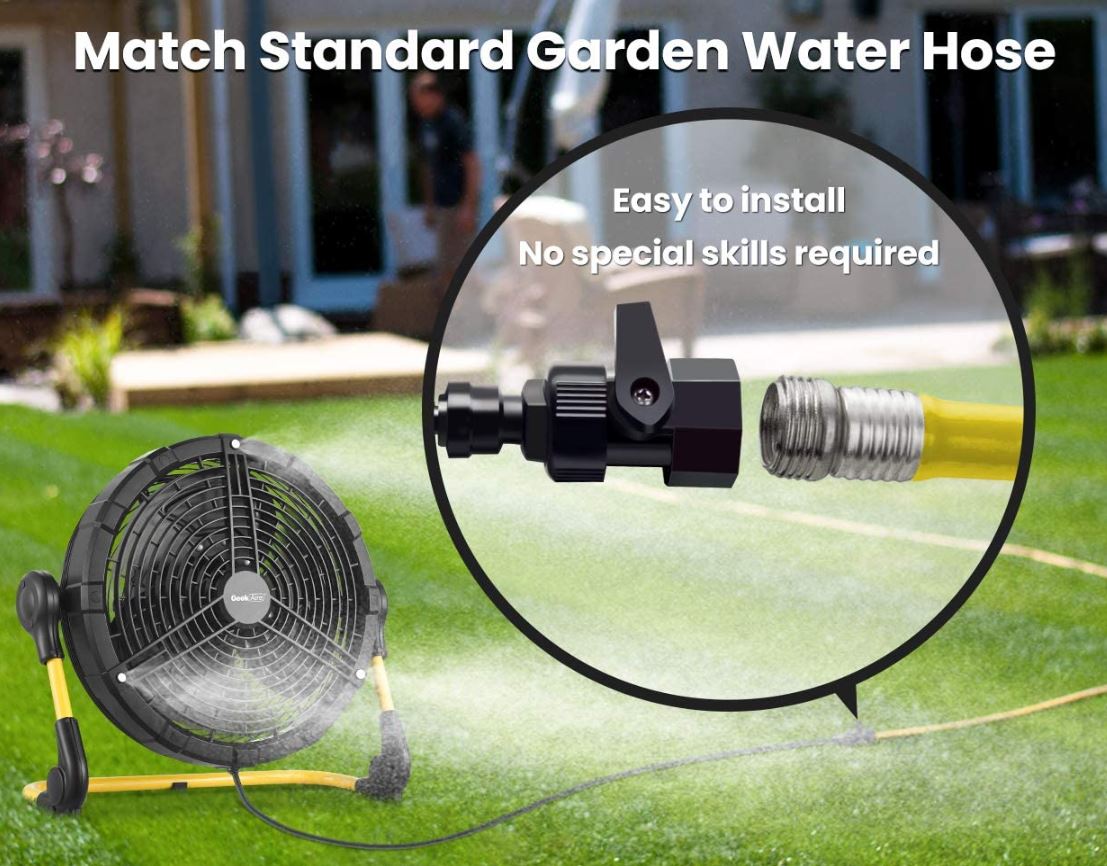 Water Supply and Other Features
Like the NewAir fan, the Geek Aire Battery Operated Outdoor Misting Fan gets its water from your hose. It has a long water inlet tube that screws onto your hose's existing threads. The adapter also sports a valve, so you can open or close the water supply at will. The tube is also removable from the fan itself. A blue tension ring holds it in place, and can easily be released for cleaning. This is a great feature if you accidentally left the tube with water in it. You can run some cleaner through to eliminate any mold or mildew. Just make sure to rinse it thoroughly after washing, so you don't blow cleaner all over your patio.
Perhaps the Geek Aire fan's best feature is that it's battery-operated. The battery carries an impressive charge of 15,000mAh, which provides up to 24 hours of power. That said, at the maximum setting, you're looking at 3 hours of performance. In addition, Geek Aire sells extra battery packs so you can extend your fan's life. The battery pack even sports a USB plug, so it can double as a power bank! Obviously, this is not ideal, since you'll shorten your fan's life, although it's still a good backup. Still, if you need to charge your phone, it's better to use a dedicated power bank like the Aukey PB-Y24.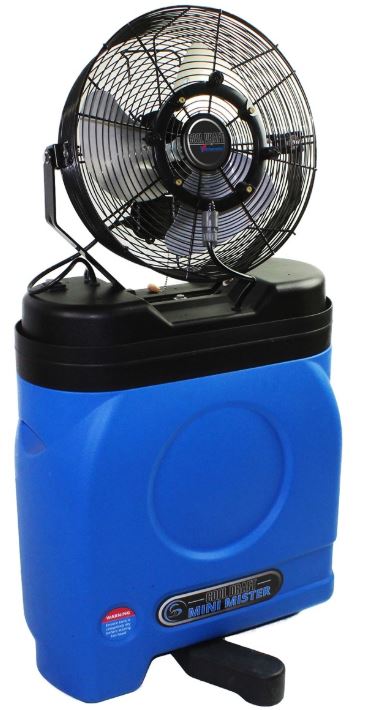 Ventamatic CDMP 1420BLU 14″ Premium Misting Fan
The Ventamatic CDMP 1420BLU 14" Premium Misting Fan is a bit different from our last two choices. Instead of getting its water supply from your hose, it has its own supply tank. This offers a few benefits, which we'll talk about in a second. But one of the best features is that the tank doubles as a storage case for the fan itself. The fan mounts on the top of the lid, which snaps onto the tank with a quick connect system. For storage, simply disconnect it and turn it upside down. Then, just snap down the lid and you're ready to throw the fan in your trunk.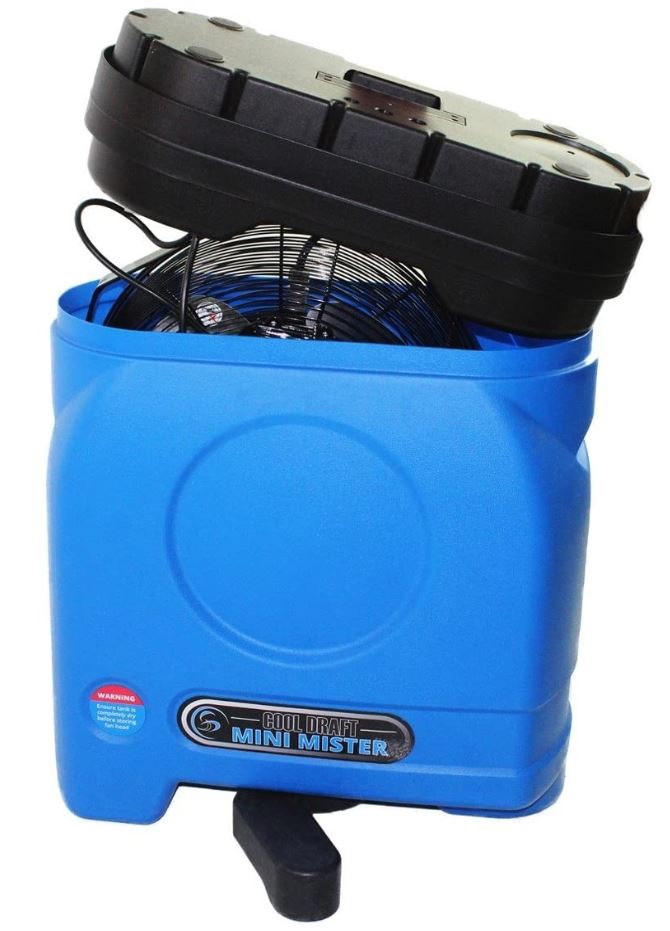 When the unit is fully assembled, it stands 45 inches high, tall enough for excellent air dispersion. Ventamatic does not provide an actual CFM rating, but the fan is reasonably powerful. It sports wide blades that do an excellent job of moving air. Not only that, but the grill is constructed from black metal instead of plastic. This makes it very durable, more than you'd expect from a portable fan. The fan casing measures 22 inches wide, and is mounted in a metal bracket. This allows for angle adjustment, so you can customize the airflow.
The base/tank itself measures just over 24 feet wide, and has a 12-inch rubber foot for added stability. The controls are located on the back of the fan, with a simple three-speed dial. All in all, the quality of construction is excellent, and the fan is made in Texas. Ventamatic will sell any part of the unit, so if anything does break, you can replace an individual part.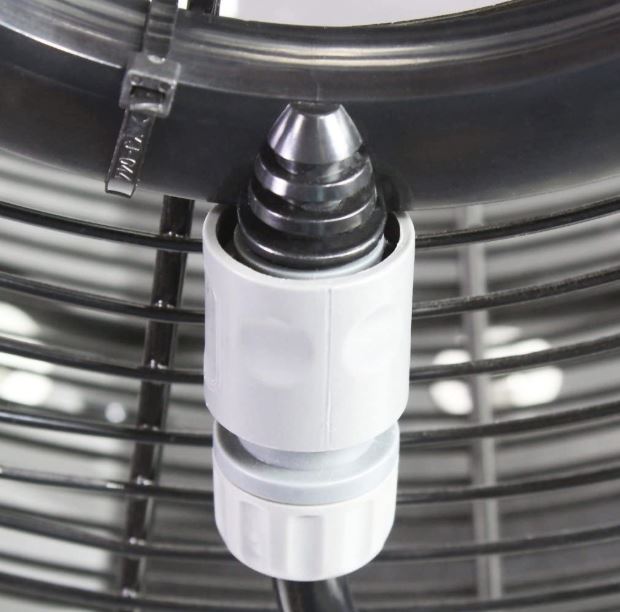 Water Supply and Other Features
The Ventamatic fan's tank has a capacity of 20 gallons. This provides for 6 to 8 hours of misting time, depending on the fan speed. The pumps themselves are rated at 80 PSI, which provides more than enough power for misting. Here's the great thing about a fan with a tank: you aren't limited to room-temperature water. You can actually fill the tank with ice water for an even cooler mist. That said, if the ice doesn't melt fast enough, you'll have to refill the tank sooner than you otherwise would.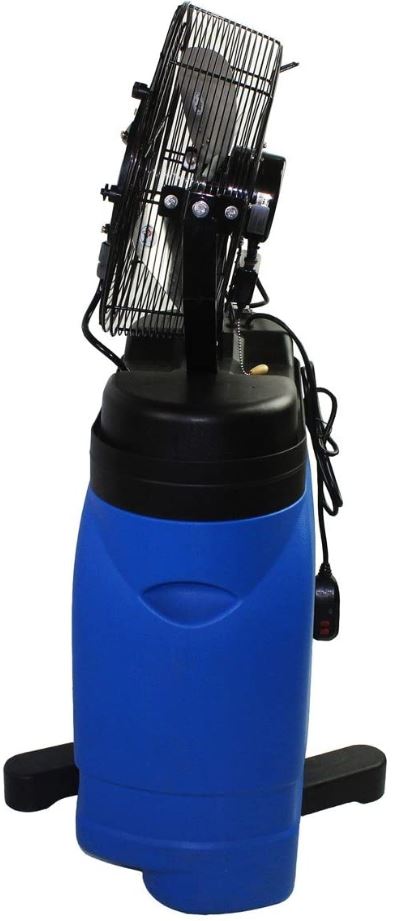 As with any well-engineered misting fan, the Ventamatic fan sports a GFCI on the power cord. This ensures that the power will automatically be cut off in the event of a short circuit. The cord itself is 6 feet long, which is on the short side. That said, you can safely use an extension cord. Keep in mind, though, that you'll need a three-prong cord to do this. Never, under any circumstances, plug a GFCI plug into a two-prong cord or remove the grounding lug. This will render the GFCI ineffective, creating a serious safety hazard. Also, keep in mind that the Ventamatic fan draws a 120-volt current. Users outside of North America will need a 240-volt adapter.
Final Verdict
Now that we've looked at the fans, let's sum up what we've learned. To begin with, we looked at the NewAir AF-520B. This is a big, beefy unit that's ideal for cooling the largest patios. The oscillating design makes it easy to disperse the mist where you need it. That said, if you want a lighter mist, you're going to want to replace the nozzles.
The Geek Aire Battery Operated Outdoor Misting Fan is almost as robust as the AF-520B, but much more compact. It's capable of pushing 1,500 CFM, which is impressive given the size. Not only that, but the battery-operated design is very convenient. And the ability to use your battery as a power bank is a nice bonus feature.
The Ventamatic CDMP 1420BLU 14″ Premium Misting Fan isn't quite as powerful as the last two fans. That said, it's the most portable, with a tank that doubles as a carrying case. It's also the most rugged. Not only that, but you can mist with ice water, which somewhat makes up for the weaker fan.