Nowadays, Sega is known primarily as a game developer. But for gamers of a certain age, it's also a key part of classic gaming history. Starting with their Master System in the 1980s, Sega produced a long line of quality consoles. It was the Sega Master System that gave us the first game in the Phantasy Star series. And with the Sega Genesis, Sega really stepped up their game. While Nintendo was still making chintzy controllers that felt like toys, Genesis controllers were thick, beefy, and ergonomic.
The Genesis gave us such classics as the first Mortal Kombat games and the early Sonic the Hedgehog games. Then, Sega upped the ante with their 32X expansion system for the Genesis. The 32X was the first 32-bit gaming system, bridging the gap between 16-bit and 64-bit. It was the first home gaming system that provided true 3D graphics. Sega followed up with the Sega CD, the first game console to use a disc instead of an old school cartridge. Then they released the Saturn, and everything went south.
The Sega Saturn was, in all technical respects, far superior to other consoles of its generation. It offered almost twice the processing power of the original PlayStation or the Nintendo 64. Unfortunately, the price point was also nearly twice as high. Sales were disappointing, and Sega stopped producing the Saturn after a little more than a year. As a result, Sega Saturn supplies can be hard to come by. If you need a new video cable, they're tough to come by, and you'll still need an RCA adapter.
We've reviewed several console video converters in the past few months. These include converters for the PlayStation 1 and 2, the Nintendo 64 and GameCube, and the original Xbox. So, we thought we'd round things out by giving Sega the credit they're due.
Sega systems used similar cables throughout the years. We'll be focusing on the Genesis and the Saturn, the two Sega consoles that are most popular today. However, these converters will also be useful for other Sega systems. That comes with a caveat, however. The Sega Master System and first-generation Sega Genesis used an 8-pin cable with a round pin pattern. Later Genesis consoles, the Sega CD, and the Sega Saturn used a 9-pin cable with a rectangular pin pattern. As a result, most Genesis and Saturn converters come with an 8-pin adapter to support the older consoles.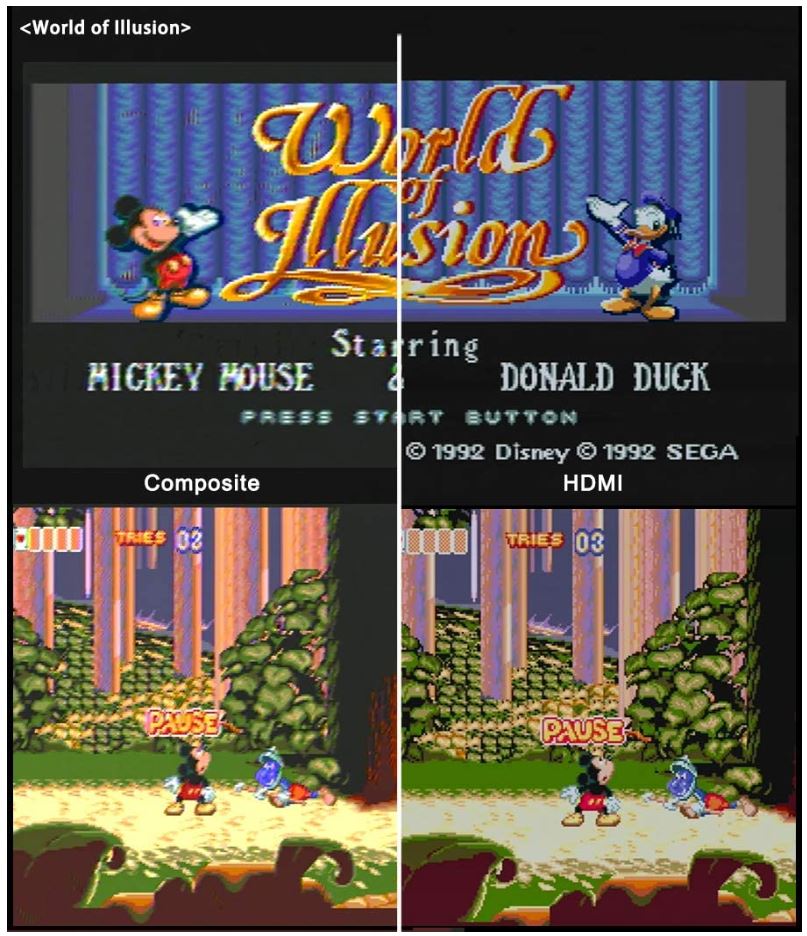 In addition, screen resolution varied between these systems. The Genesis offered different resolutions for different games, 320 x 224, 256 x 224, or 320 x 240 on some PAL games. The Saturn's native resolution was either 320 x 224 or 704 x 224 depending on aspect ratio. As a result, a good converter needs to be able to handle a variety of aspect ratios without any trouble.
First up, we're going to review the POUND HDMI HD Link Cable for Sega Genesis. This converter upscales the video to 720p, and preserves the original 4:3 aspect ratio. Next, we'll check out the Hyperkin HDTV Cable for Saturn. The Hyperkin cable supports any aspect ratio, but only the 9-pin version of Sega's video cable. Last, we'll review the LevelHike HDMI Cable for Sega. This is the most full-featured converter of all, supporting all Sega systems and both aspect ratios. Once we've reviewed all three, we'll sum up our findings, and render a final verdict. Let's get started!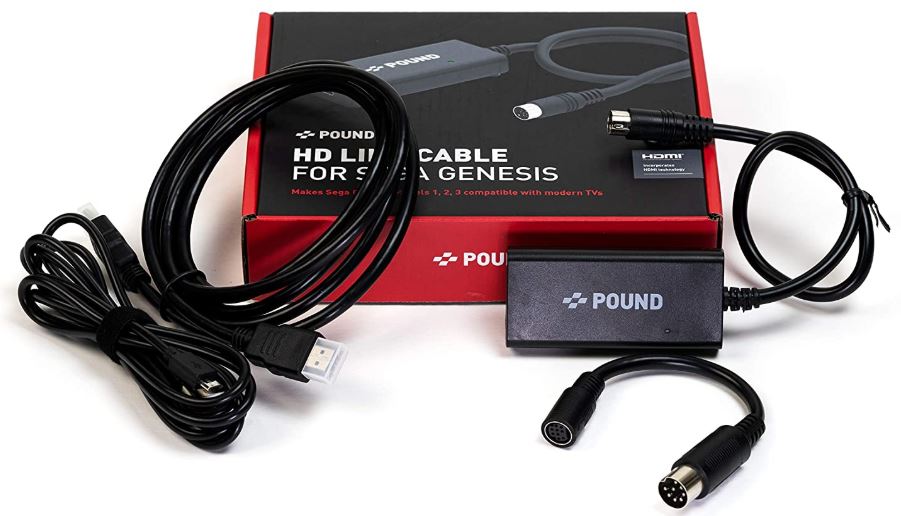 POUND HDMI HD Link Cable for Sega Genesis
The POUND HDMI HD Link Cable for Sega Genesis is a compact converter that's easy to hook up and use. To begin with, it has a built-in video cable for the later versions of the Genesis. The cable is 12 inches long, which makes it easy to position the converter itself to the side of your console. Alternatively, you can just let it hang. It's relatively lightweight, so it's not going to tug on your video port. If you want to hook up a first-gen Genesis or a Master System, it's easy. POUND has included a 3-inch 9-pin to 8-pin adapter in the kit.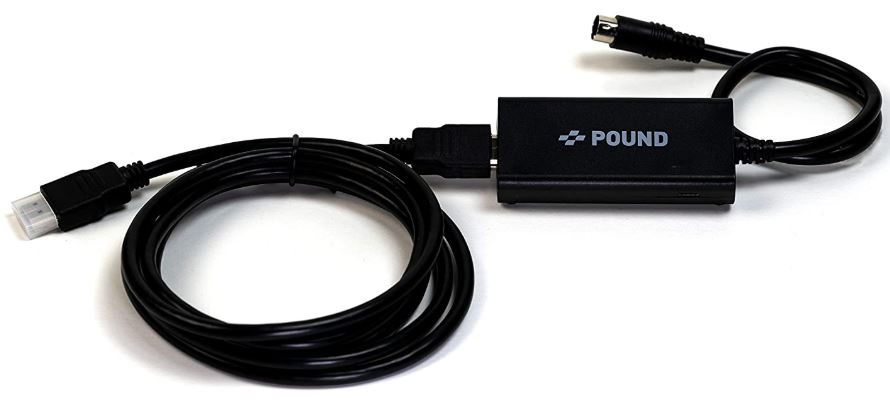 The unit itself has a white POUND logo on the top, along with a power indicator LED. The power is supplied via 5-volt USB through a port in the side. The cable is six feet long, so you'll have plenty of range. That said, since the Genesis and Saturn don't have USB ports, you'll need an alternate supply. Plug it into one of your other consoles, or buy a cheap, 5-volt AC adapter for your wall outlet. On the opposite side from the Sega video cable, the controller sports an HDMI port. And with a 6-foot HDMI cable included in the kit, you're ready to go from day one.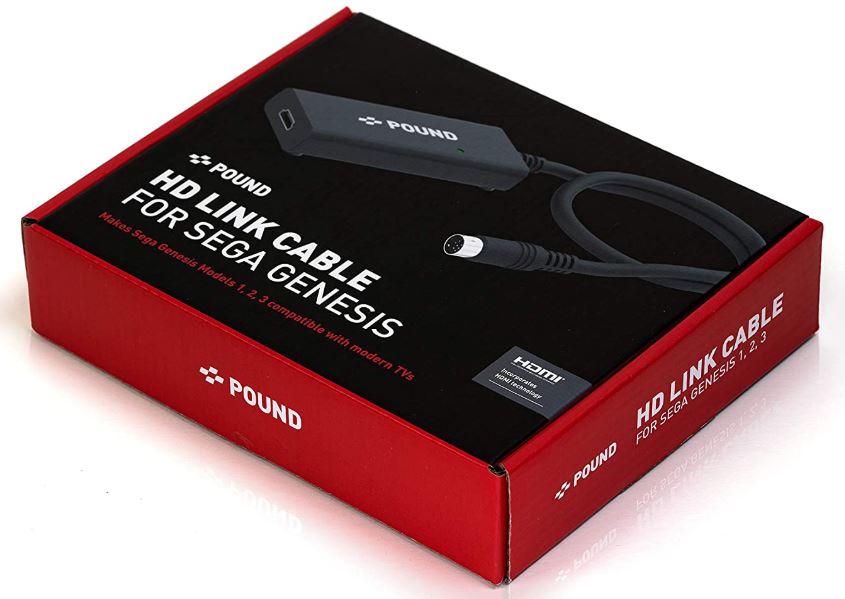 Image Quality and TV Compatibility
The POUND converter upscales all video to 720p. This means the signal will be compatible with any modern HD television. You don't have to worry about the grainy, blocky look you'll see from some low-res inputs. In addition, the converter actually improves on the original graphics. It's not just a straight-up upscaler. It smooths out the graphics, eliminating some of the blur you'd expect from Sega Genesis games. This is particularly useful in role-playing games and other games that rely on a lot of text. If you want your games to actually look better than they used to, you've found a solid choice.
The POUND converter also preserves the original 4:3 aspect ratio of Sega's games. For most games, this is going to be a great feature. However, certain Saturn games are in 16:9, and can get squished. If your TV has a "stretch to fit" display option, this won't be a problem. But if you need a Saturn adapter, make sure to check your TV's settings before you click "buy". You'll also want to make sure that a 4:3 input doesn't automatically get stretched on your TV. Otherwise, you'll see distortion on most games. On most modern TVs, this shouldn't be an issue.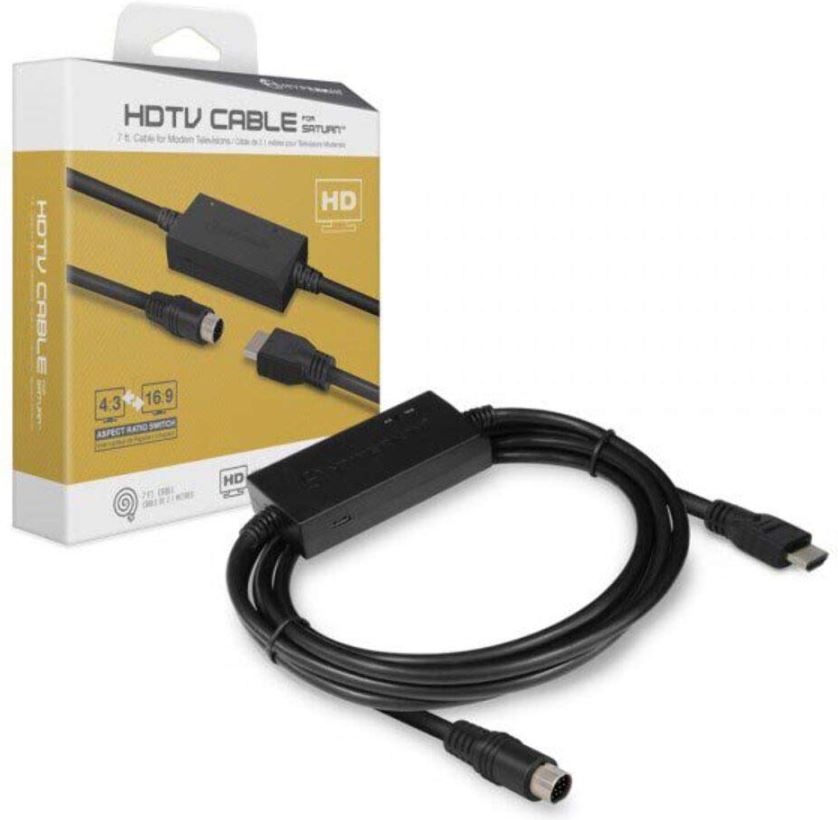 Hyperkin HDTV Cable for Saturn
The Hyperkin HDTV Cable for Saturn is a bit different from the last unit. Instead of a simple converter, it's a full-on cable, with the converter in the middle. It's seven feet long, so distance shouldn't be an issue. That said, if you want to use your own fancy HDMI cable with gold contacts, you'll be out of luck. In addition, there's no adapter for the Sega video plug. It has a 9-pin configuration only. This is fine for the Saturn, Sega CD, and Gen 2 and 3 Sega Genesis consoles. But with early Genesis consoled or the Sega Master System, you're not going to be able to connect.
On the face of the unit, you'll see a small aspect ratio selector switch. You'll also see a small LED, which indicates the current power status. The kit includes a six-foot Micro USB cable for connecting to a power supply. Connect it to a modern console, your TV, or an AC adapter, and you'll be ready to go.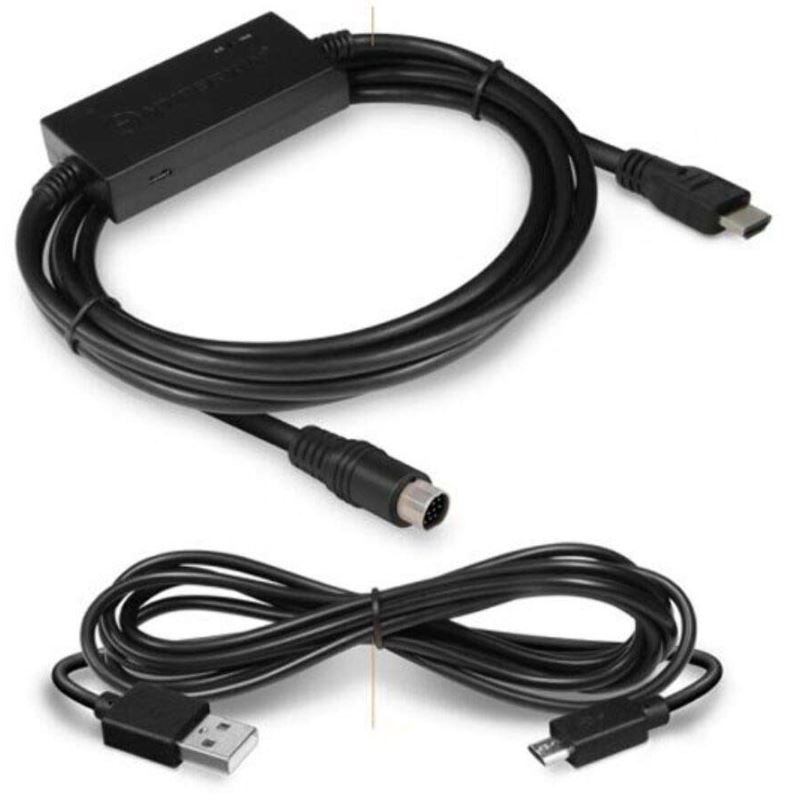 Image Quality and TV Compatibility
As is obvious from its nine-pin cable, the Hyperkin HDTV cable is primarily designed for the Saturn. Because of this, it's specialized for Saturn games. Not only does it upscale to 720p, it also smooths out the graphics. The Saturn was an impressive system at launch, and the games will look even better now. The sound transfer is also very good. There's no fuzz or static, thanks to the cable's excellent shielding. This is especially noticeable in survival horror games, where sound and atmosphere are key. If you want to play Deep Fear again, you're going to be very pleased with the sound quality.
The Hyperkin HDTV Cable also features the ability to switch between 4:3 and 16:9 aspect ratios. This is an excellent feature for the Saturn, since the aspect ratio varies between games. But it's also a good feature for the Sega Genesis. Why? The reason is that not all HD televisions handle the 4:3 aspect ratio well. They can stretch it out to fit the screen, distorting the image. And on some TVs, if you set the image to 4:3, it will cut off the edges. If the image is distorted and the edges are cut off, you're not even seeing the whole screen. By switching between 16:9 and 4:3, your system will work well with just about any HD television.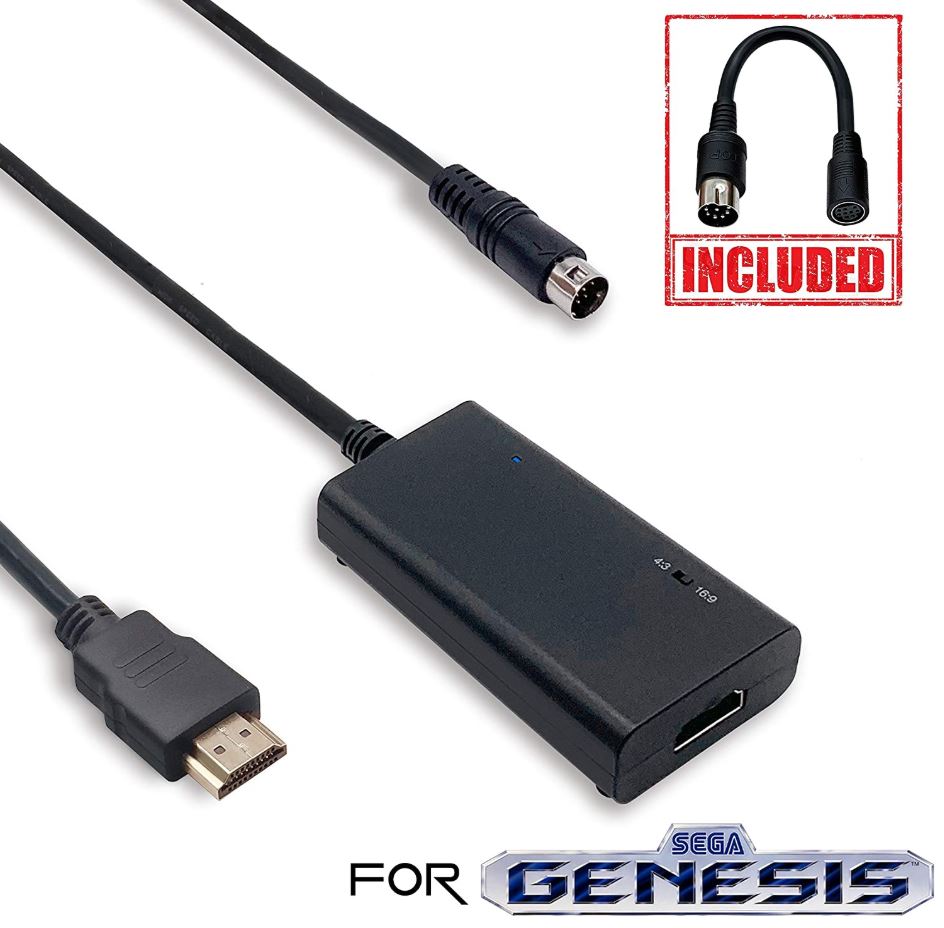 LevelHike HDMI Cable for Sega
The LevelHike HDMI Cable for Sega provides plenty of functionality in a slick design. The converter has a built-in Sega video cable with a 9-pin tip. The cable is one foot long, so placement behind your console should not be an issue. If you're using an older Sega system, you can take advantage of a one-foot 8-pin adapter cable. So you can use this converter with any Sega system ever manufactured. On the top of the unit, there's a small switch to select the aspect ratio. There's also a small blue LED light that lights up when the unit is powered.
The LevelHike converter ships with a six-foot HDMI cable that connects to the open end of the unit. It provides plenty of reach to connect to your TV. That said, the separate design allows you to use your own high-end cable if you so desire. You also get a six-foot Micro USB cable for supplying power. This should be enough to reach a USB port or AC adapter.
In addition, the LevelHike converter comes with a one-year warranty. If you have any issues within that time, LevelHike will provide a free replacement. Alternatively, you can simply return your broken converter for a full refund.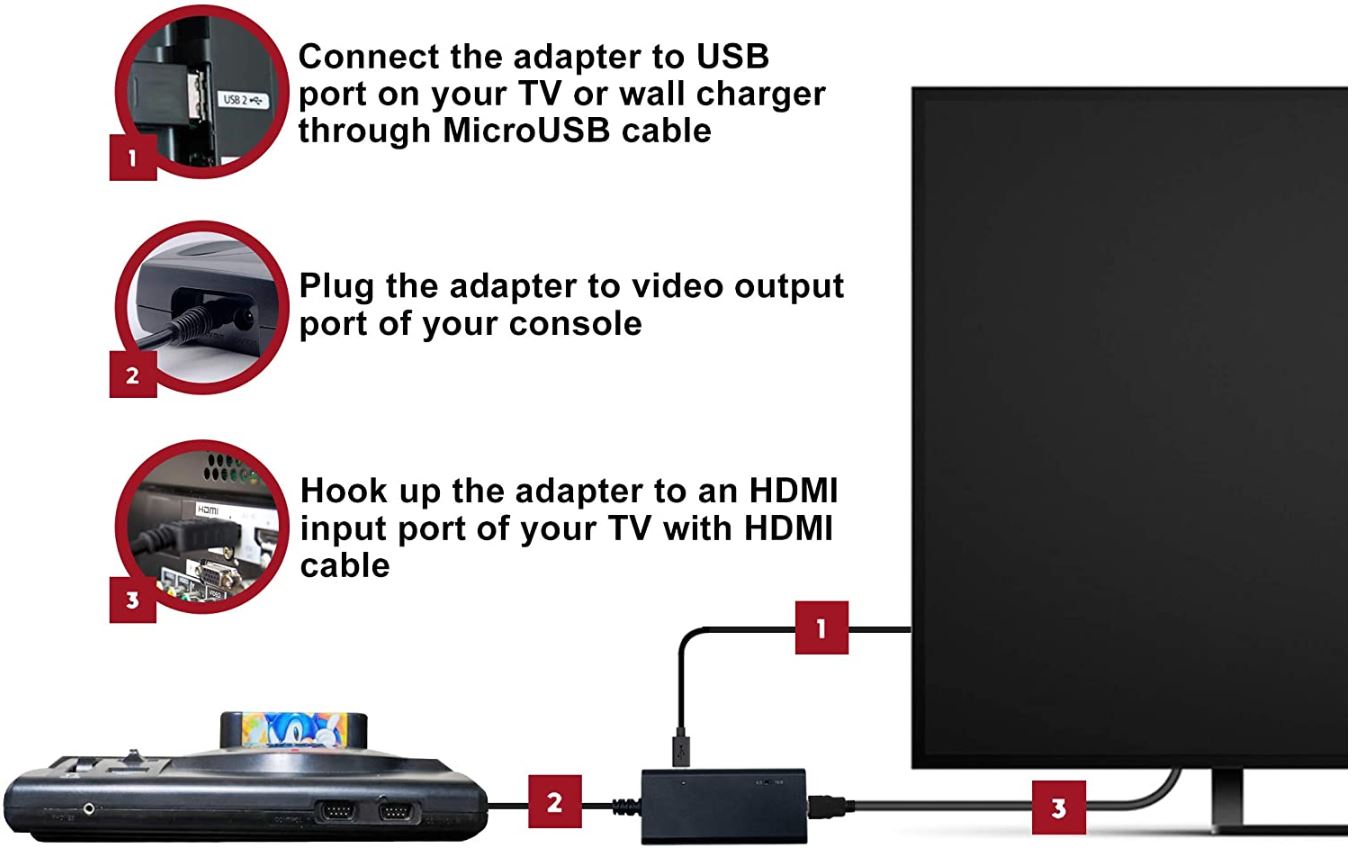 Image Quality and TV Compatibility
Like the last two converters we looked at, the LevelHike HDMI Cable upscales video to full 720p. This makes it compatible with any modern TV or monitor. The quality of the upscaling is excellent, providing an even better image quality than the original. Textures will look smoother, and jagged edges are all rounded or straightened out as appropriate. Colors are also true to the original. Sonic will maintain his electric blue hue that we all know and love.
There's also virtually zero lag in the signal. With some converters, lag can be an issue, particularly for games that require precise timing. With the LevelHike converter, this is not going to be a problem. You can time jumps perfectly, without worrying about losing that last life due to equipment issues.
Like the Hyperkin converter, the LevelHike unit provides you with a selector switch for aspect ratio. You can play any Sega game, on any system, on any HD television. This versatility is much appreciated, especially if you own multiple classic Sega consoles.
Final Verdict
So, which one of these Sega Genesis and Saturn to HDMI converters is best for you? First off, it depends what type of Sega system you're using. If you have both a Saturn and an older Genesis, the Hyperkin HDTV Cable for Saturn won't work for you. It's only suitable for newer Genesis consoles, the Saturn, and the Sega CD. That said, it provides the best sound quality, along with some pretty sweet visuals.
If you're playing an older Sega system, the POUND HDMI HD Link Cable for Sega Genesis is a solid choice. It's very well designed for games with a 4:3 aspect ratio, and it significantly upgrades the graphics. It will also work with the Sega Saturn and newer Genesis models. Keep in mind, though, that you might have issues if your Saturn game has a 16:9 aspect ratio.
Finally, the LevelHike HDMI Cable for Sega is the most versatile option of the bunch. It supports both the 16:9 and 4:3 aspect ratios, so Saturn games will run just fine. And with its 8-pin adapter, it will also work well with the Master System or early Genesis models. Throw in smoother graphics and low latency, and you're looking at an excellent Sega converter.
Meet Derek, "TechGuru," a 34-year-old technology enthusiast with a deep passion for tech innovations. With extensive experience, he specializes in gaming hardware and software, and has expertise in gadgets, custom PCs, and audio.
Besides writing about tech and reviewing new products, Derek enjoys traveling, hiking, and photography. Committed to keeping up with the latest industry trends, he aims to guide readers in making informed tech decisions.