Classic games are having a resurgence. People are pulling out their old Nintendo 64, GameCube, and even their behemoth original Xbox. Even large tech companies, understanding the power of nostalgic gaming, have taken to purchasing old school arcade machines for their employee break rooms. This wave of enthusiasm for all thing's retro is represented perfectly in the now-classic book "Ready Player One." Not only did this book base a huge element of its story around the appreciate for classic culture and games, but it also helped inspire others to look into the games of past ages that weren't around to enjoy them.  
An issue that arises when you decide to bring older tech out is the utilization of older connection methods. Older game systems were primarily utilizing RCA connectors that had the classic red, yellow, and white ends. The Yellow connection was for composite video, the red for the right audio channel, and the white or even sometimes black connector was for the left audio channel. Though there are still many televisions that will have these older connectors, they are becoming increasingly obsolete and irrelevant. Even if you happen to have a TV with the right connections, you're not going to get the pristine video and audio quality that newer technology offers.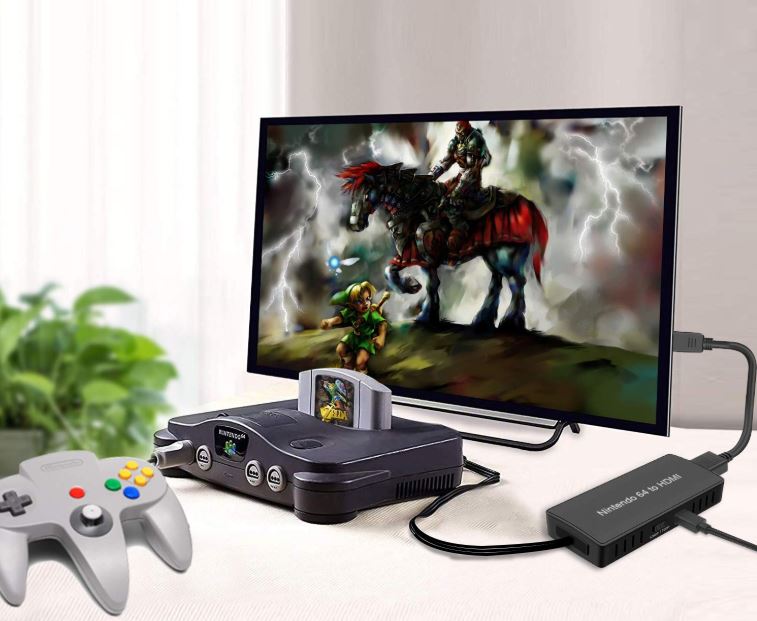 The ability to convert your older system to HDMI solves these problems and enhances your classic gaming experience. When considering which adapter to buy, there are a variety of factors that need to be considered, and the search for good quality products requires some due diligence with the many knock-off brands available online. Buying a poor quality adapter can not only lead to a lower quality experience but can also result in a waste of time and money if the adapter, made of 2nd rate materials, breaks after only a small amount of usage.
So what qualities should you look for in your cabling to get the best experience and the highest quality cabling? Upgrading from analog to digital signals is a simple process, but one that pays dividends to the smart consumer that does a bit of upfront research.
Why Upgrade from RCA to HDMI?
RCA is an analog technology utilizing composite video transmission. It carries a standard definition video stream, which is usually between 480i to 576i resolution. The video information gets encoded and carried on a single channel, which is one source of its limitations. Though some adapters were released that allowed for S-Video adapters to plug into your older systems bumping you up to a two-channel video stream, they still do not reach the quality of modern HDMI or Display port technology.
To understand the primary differences between RCA and HDMI, you have to realize that RCA is essentially a connection style, whereas HDMI is a complete transmission standard. On RCA cabling, the connector is used to send a variety of analogy video and audio to a receiver. The HDMI standard includes specifications for digital video and audio transmission, connector manufacturing requirements, and digital data transmission. An HDMI cable can carry all of this data and their varying data types, at the same time. Even though HDMI primarily utilized for digital video and audio signals, it can also carry Ethernet data.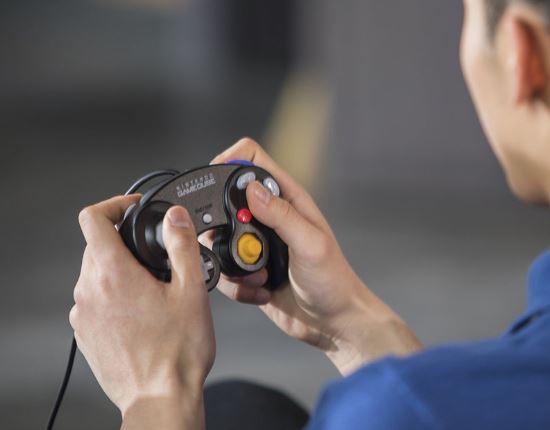 The data transmission speed is also much higher on HDMI than on RCA. An RCA connection has a max speed of around 10-20 MHz, whereas the HDMI standard can achieve speeds well into the GHz range. Because HDMI is designed for high-speed data transmissions, there are noise reduction features built-in that RCA connections do not have.
All in all, when you upgrade from RCA to HDMI, you get a plethora of features and performance enhancements that bring your classic games into the modern world so you can get higher frame rates, faster reaction times, and all-around more enjoyable experience.
There are surely many of you that plan to hook up your N64 or GameCube to a computer monitor instead of a television, and the majority of monitors simply will not come with RCA connectors. When you plug into your gaming monitor, you will not only get a premium image quality, but you also get the high-performance refresh rates that only monitors will have. The standard refresh rate for a television is 60Hz, which just translates into 60 times per second. With a high-performance gaming monitor, you can achieve a refresh rate as high as 240Hz.
The refresh rate simply translates to a faster response time for you as the player. If your screen is lagging behind (even slightly) the action you input into the controller, or loading the enemy on screen, you will not be able to react as quickly, and it's as simple as that. So with all of that out of the way, let's dive into the top three HDMI converters available for the N64 and GameCube.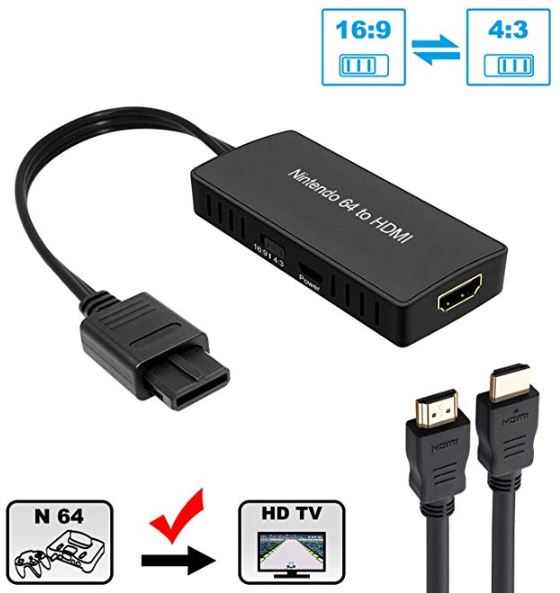 Oneme N64, Gamecube, SNES HDMI Adapter with 1080P/720P Support
To start off strong, we have the Oneme HDMI adapter. This cable is fully capable of 720p and 1080p resolution support for both the GameCube and N64. Though the screen ratio will remain 16 by 9 and can be adjusted to 4 by 3 if needed. The advanced signal processing that this adapter integrates results in greater precision, more robust coloring, and a more vibrant display for these classic systems and their respective games.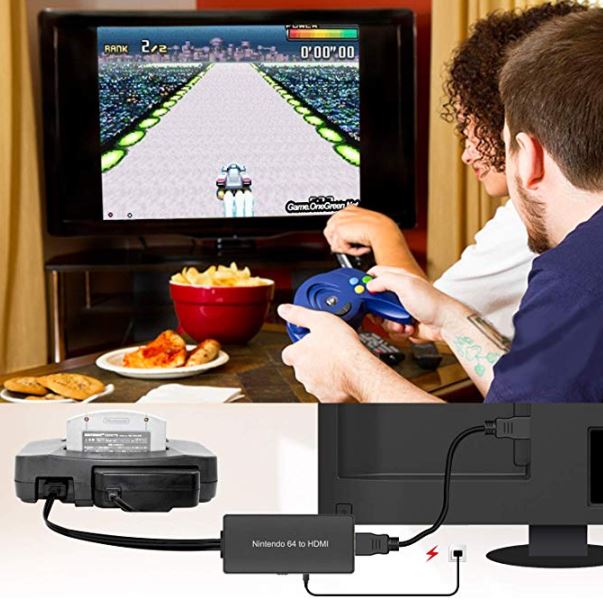 I bonus for the adapters we are covering today is that they actually support the Super NES system as well. So for you collectors out there, you can pull out the dusty SNES and load up "A Link to the Past" or even "Super Mario: Legend of the Seven Stars," (two personal favorites).
Though the downsides are minor, it's worth mentioning. This adapter does not support 4k video. This means anyone that was hoping to see Pac Man in a glorious 4k resolution might need to look elsewhere.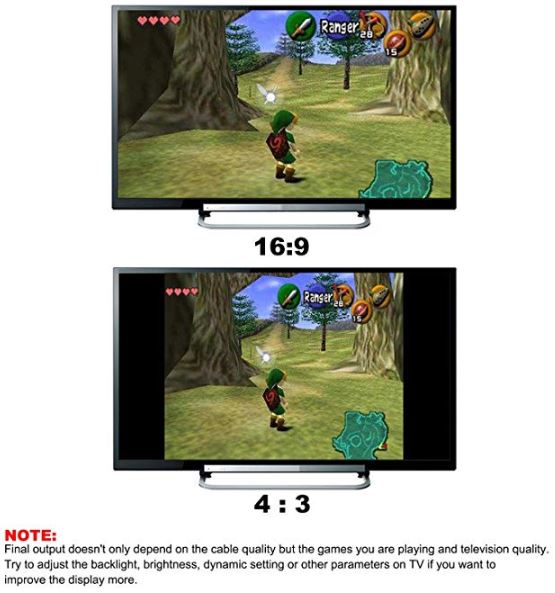 Important Details to Consider
This is an adapter that is meant to be easy to use and get you plugged in and playing as quickly as possible. It was not designed to have any crazy bells and whistles, it's simple and reliable, doing exactly what you expect it to do. One feature that added to the ease of use is the side switch that lets you quickly change between 1080p and 720p.
The video signal transfer doesn't actually improve the video quality built-in. It simply allows the originally designed vibrancy of the colors to display properly instead of being held back by the original RCA connectors. Though you will definitely see an improvement in the clarity on screen, some games simply were not designed with vibrant visuals in mind, so in those cases, you might not see a huge difference.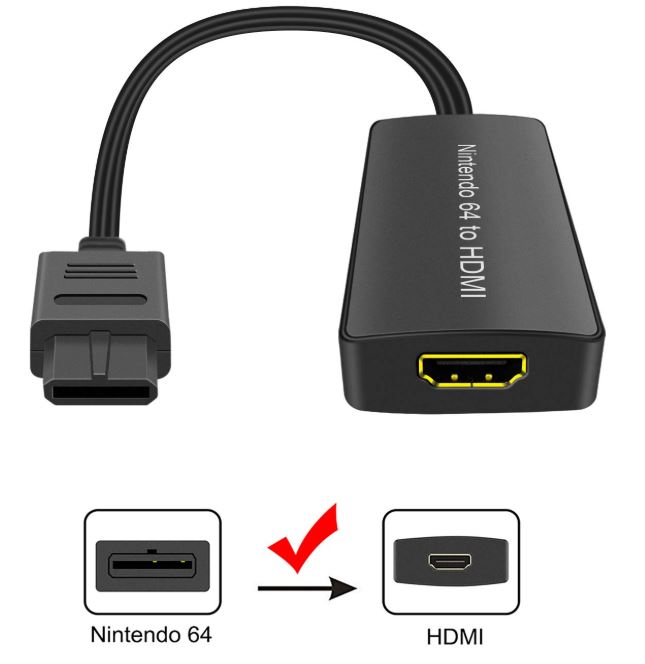 Laboen Nintendo64 To HDMI Converter
Next up is the Laboen HDMI converter. This is an adapter that is almost point for point on par with the Oneme adapter. It even has the switch on the side that lets you quickly change from 720p to 1080p and back. Both adapters have the HDMI slot in the front so that you can easily swap out your HDMI cable, instead of opting for a hard-wired HDMI output into the adapter. That simply means you can change your HDMI cable length and quality to whatever best suits your needs.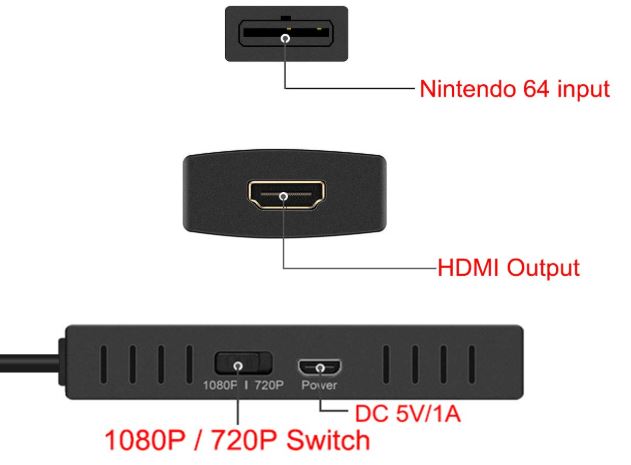 Of course, this adapter does come with a short HDMI cable, USB cable, power adapter, and the converter itself, so even if you don't have your own HDMI cable, you will have everything you need to get started. Neither adapter needs to install drivers either, so its just a matter of plugging it in and powering on your system. The adapter won't actually upscale the resolution of the game, though, and it will simply convert the resolution for boosted clarity.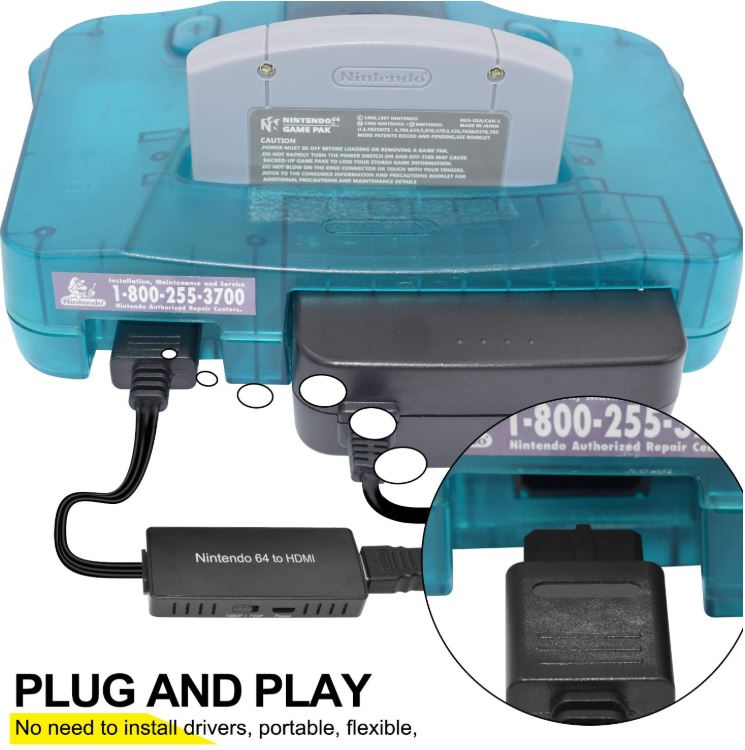 Important Details to Consider
While testing various screen sizes, it was noted that when you get to anything larger than a 50-inch television, with 720p being set, the visuals will begin to remind you that you're playing a classic game. We personally recommend using 1080p at all times if you can.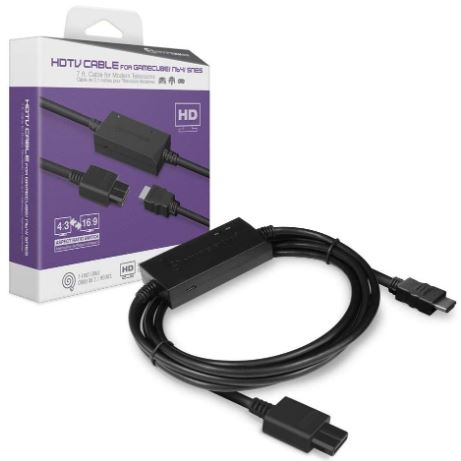 Hyperkin 3-In-1 HDTV Cable for GameCube/ N64/ Super NES 
Last up, we have the Hyperkin HDTV adapter. This adapter is a slight change from the designs of the previous two. Unlike the Laboen and the Oneme adapters, the Hyperkin opted to create a single unit from the console output to your television input. What that means is that you're unable to unplug the HDMI cable and replace it if you wanted to decrease excess cable or increase cable length. The adapter and cable are a single 7 feet unit, so if you have a layout that requires more than 7ft of cable, you will need an HDMI extender on top of this adapter.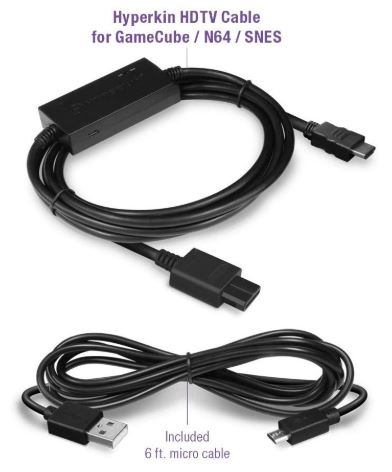 Another difference present in the Hyperkin adapter is the fact that it only supports 720p resolution, though it still has options for both 16 by 9 and 4 by 3 aspect rations. Similar to the switch on the other adapters that let you change between the top resolution options, this adapter comes with a switch that lets you change between the two aspect ratios. Though we would have liked to see the aspect ratio switch included on the previous adapters, the limitation of 720p resolution on this adapter is a large downside.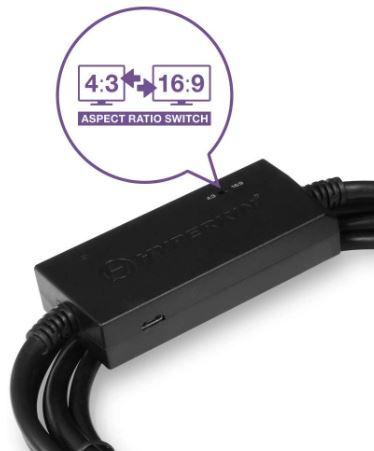 Important Details to Consider
All three of the adapters mentioned are powered utilizing USB cabling. This is a feature that is easy to take for granted. Most power adapters in the age that these gaming systems come from tend to have a unique power standard and port standard for every individual device. If you lost your power cable for one system, you could not use it for another one. In those days you would have to dig through boxes of tangled cabling, hoping to find the right adapter or in the worst-case scenario, head down to your local RadioShack or BestBuy to purchase a replacement. With USB power being a nearly universal standard in the modern world, and all three of these adapters opting to utilize that standard, it's much more convenient to replace a lost power cord.
Choosing Between 3 Great Adapters
If your gaming consoles are within 7ft of your television and you don't have a TV capable of 1080p (truly embracing the past), then the Hyperkin is a rugged and reliable adapter that will match your needs. The bonus of the aspect ratio switch is incredibly convenient, and the cabling on the adapter is very thick and durable.
That being said, if you actually want to have 1080p compatibility, then the Hyperkin is one you shouldn't bother with. The Laboen and the Oneme both have 1080p compatibility, and both have the easy access resolution switch on the side (essentially in the exact same location). Both of these adapters are about the same size (the Oneme is 12 inches long, which has one inch over the Loboen), and the cabling appears to be the same quality.
The primary differences in the Laboen and Oneme tend to be not in the technology or design but in the customer service. The Laboen seems to be kept in stock much more than the Oneme though we cannot determine if that is because of an imbalance of demand or better stocking practices. Laboen also seems to have a higher response rate to their customer comments and customer service requests. So in these categories, it would seem that the Laboen adapter has a slight edge over Oneme.
Either way, if you choose one or the other, you're going to get an adapter that does exactly what you want it to do. Each of the cables is designed well and seems to be made with high quality in mind. Admittedly the best part about this review was having a reason to pull out the old N64 and load up The Legend of Zelda: Ocarina of time for research purposes, of course.