Quick Analysis
Pros
Excellent image quality.
Intuitive design with a brush-like feel.
Compatible with most computers.
Durable construction.
Cons
Proprietary adapter cable requires both USB Type-A and Type-C ports to function.
Limited stand adjustment options.
If you're a digital artist, you know how frustrating it can be to get just the right tool. Sure, you could use a mouse to navigate your favorite program. But a mouse lacks the natural feel of a pen, brush, or stylus. After all, mice weren't designed by artists, they were designed by computer programmers. The next logical option is to simply use a stylus. This gives you the more natural feel of painting or drawing with a physical tool. But most touchscreens aren't up to the task. They're either too sensitive or not sensitive enough. And they lack the ability to respond to fine variations in pressure and angle.
The XP-PEN Artist 15.6 Pro Drawing Display is designed as a solution to all of these problems. It's a dedicated display that's designed specifically for artists. It's made to respond to your stylus just as it would respond to a pen or a brush. This ensures that you'll have a much easier time creating your digital art. Keep in mind that this is not a standalone device; it needs to be connected to a computer to work. We'll talk about the overall design, the connectivity, and the quality of the screen. We'll also talk about how it can be used. Let's take a closer look, so you can decide whether or not the Artist 15.6 Pro is right for you!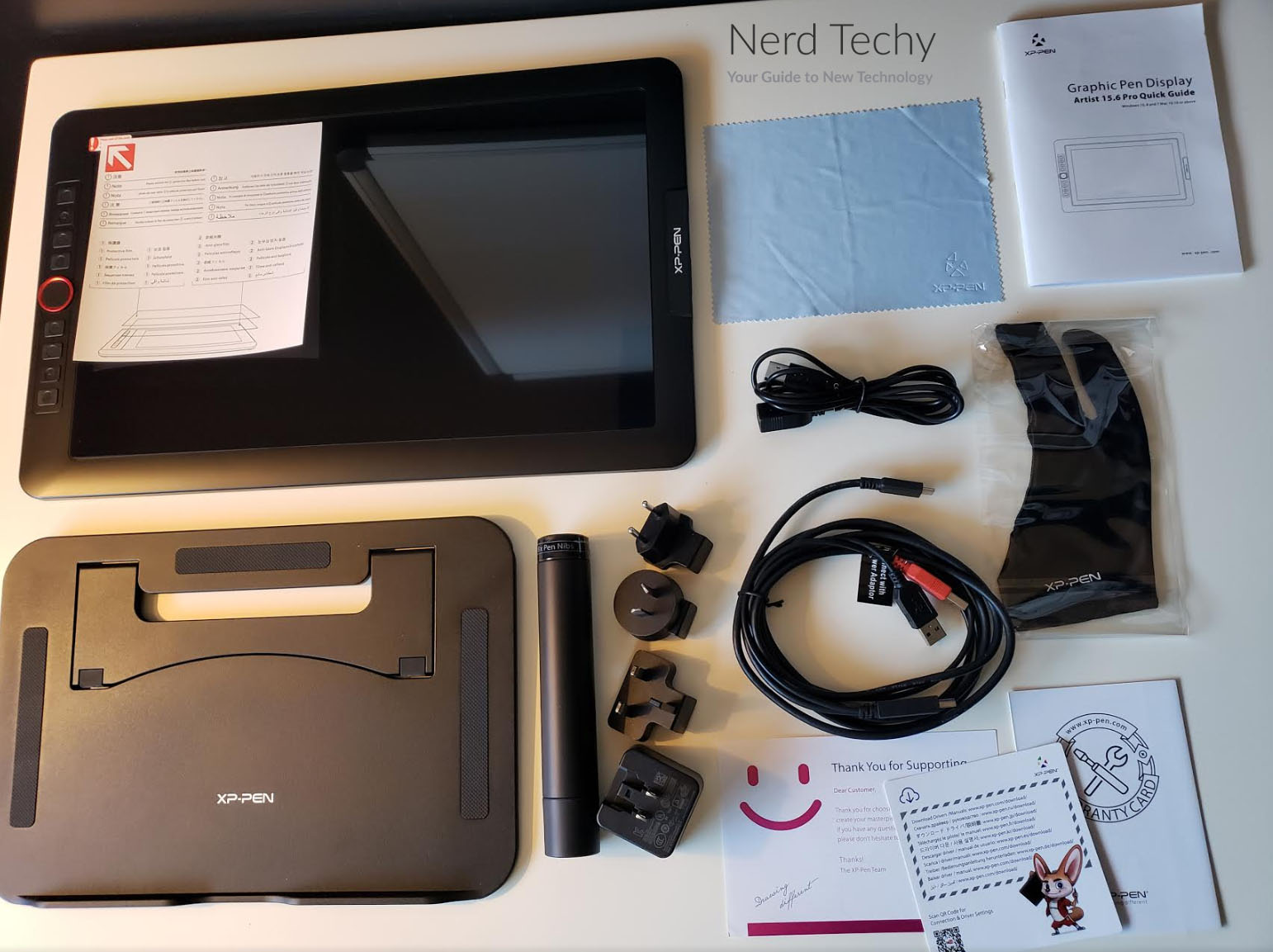 Overall Design
The XP-PEN Artist 15.6 Pro Drawing Display might not be a standalone device, but it's built like a tablet. The screen measures 15.6 inches on the diagonal, large enough for most purposes. It's relatively slim, at just 11mm in thickness, or less than half an inch. And it weighs just 3.3 pounds, which makes it easy to transport in a laptop bag. The case itself is constructed from sturdy hardened plastic, with an easy-to-clean gloss finish. And the outer frame is beveled, which eliminates any sharp edges.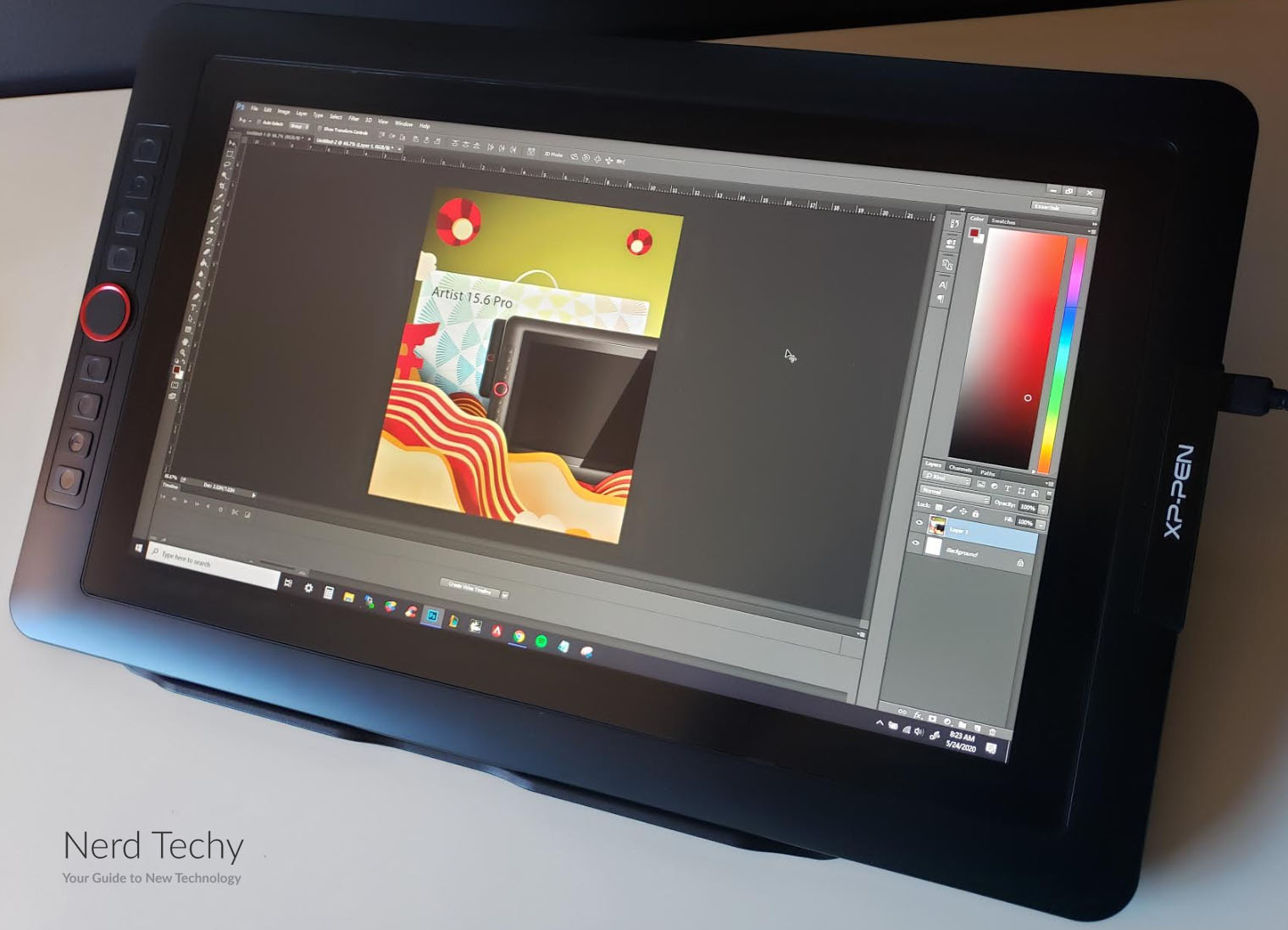 Along the left side of the screen, you'll see a row of 8 rubberized buttons. There's also a red dial. Between the buttons and the dial, you'll be able to interface with just about any digital art software. On the bottom, there are two additional buttons. These adjust the XP-PEN's brightness, so you can get the optimal brightness for your current environment. The proprietary connection port is located on the right side of the case for easy access.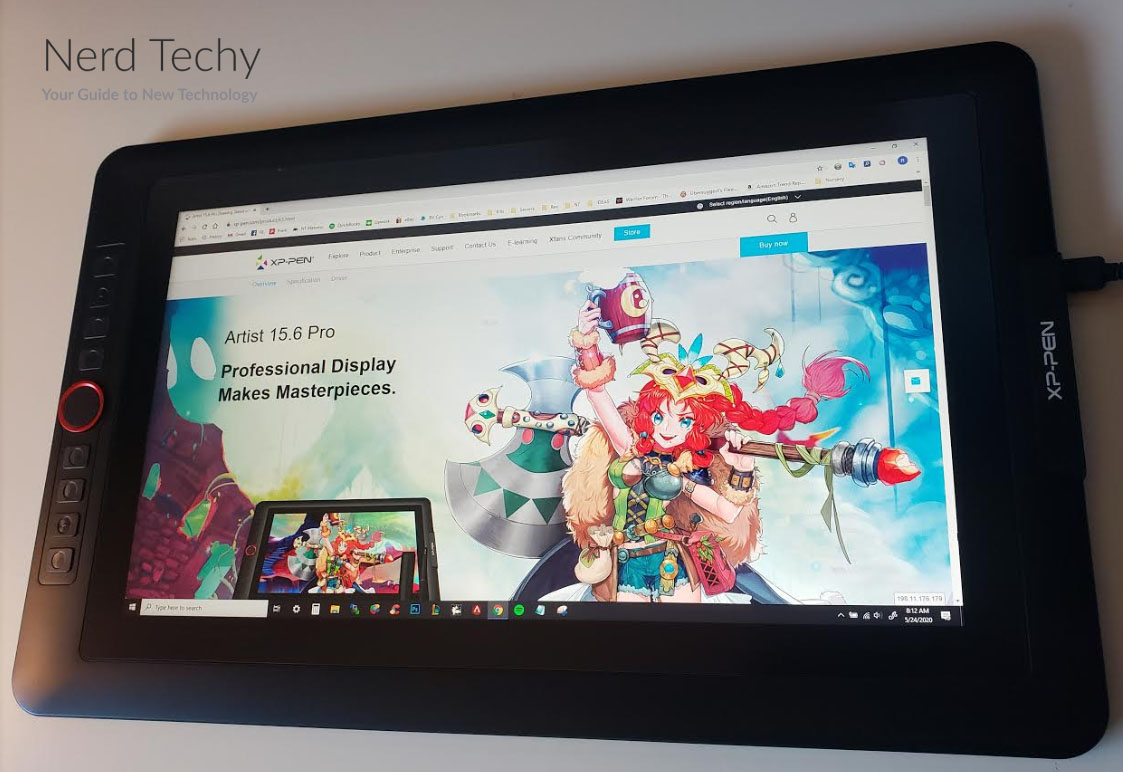 Along with the XP-PEN unit itself, you'll also get a stand. The stand itself is essentially a black plastic frame with a little adjustment foot. It measures 8.78 inches tall, and 13 inches wide, just slightly larger than the XP-PEN. In all, the stand can be used in three possible configurations. First off, it can be used flat, simply elevating it slightly off of your desk. Secondly, the adjustment foot can be kicked out to prop the Artist 15.6 Pro up at a 20-degree angle. For most people, this is the ideal angle to alleviate hand and eye fatigue. If you prefer a 90-degree angle, the bottom of the frame can be extended out to hold it vertically. It would have been nice to see a few more options, but this is more than you get from most tablets.
In addition to the XP-PEN and the stand, there's a custom cable included in the kit. This cable is proprietary to the XP-PEN, and we'll talk about it more in a minute. Finally, you get a 12-month warranty on parts and labor, as well as lifetime technical support.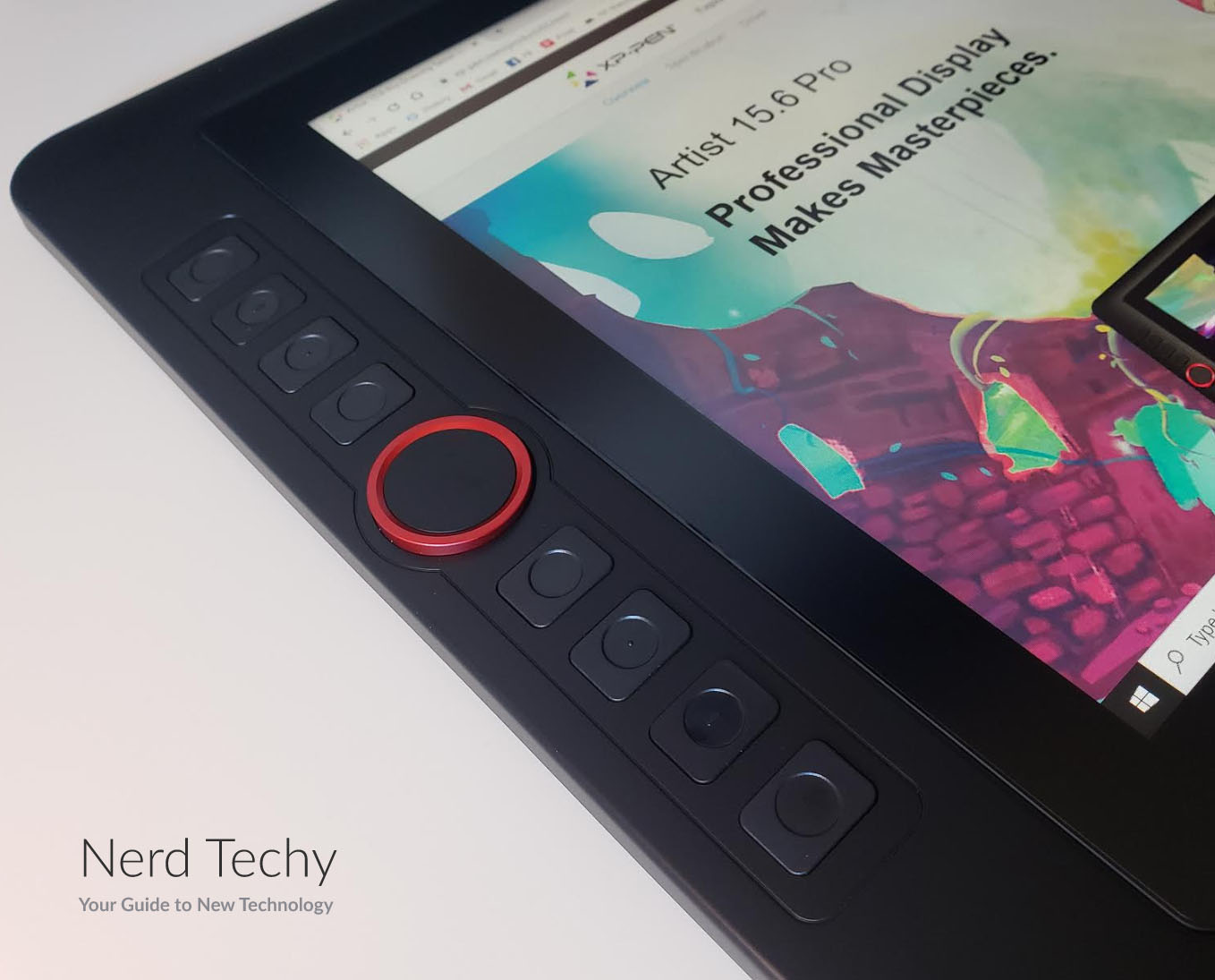 Connectivity & Ease of Use
The Artist 15.6 Pro is compatible with most modern operating systems. It can be used with versions 10.10 or later of Mac OS X, as well as Windows 7 and later. Similarly, it's compatible with almost any digital art suite. Photoshop, Illustrator, Painter, and Clip Studio just scratch the surface of what it can work with.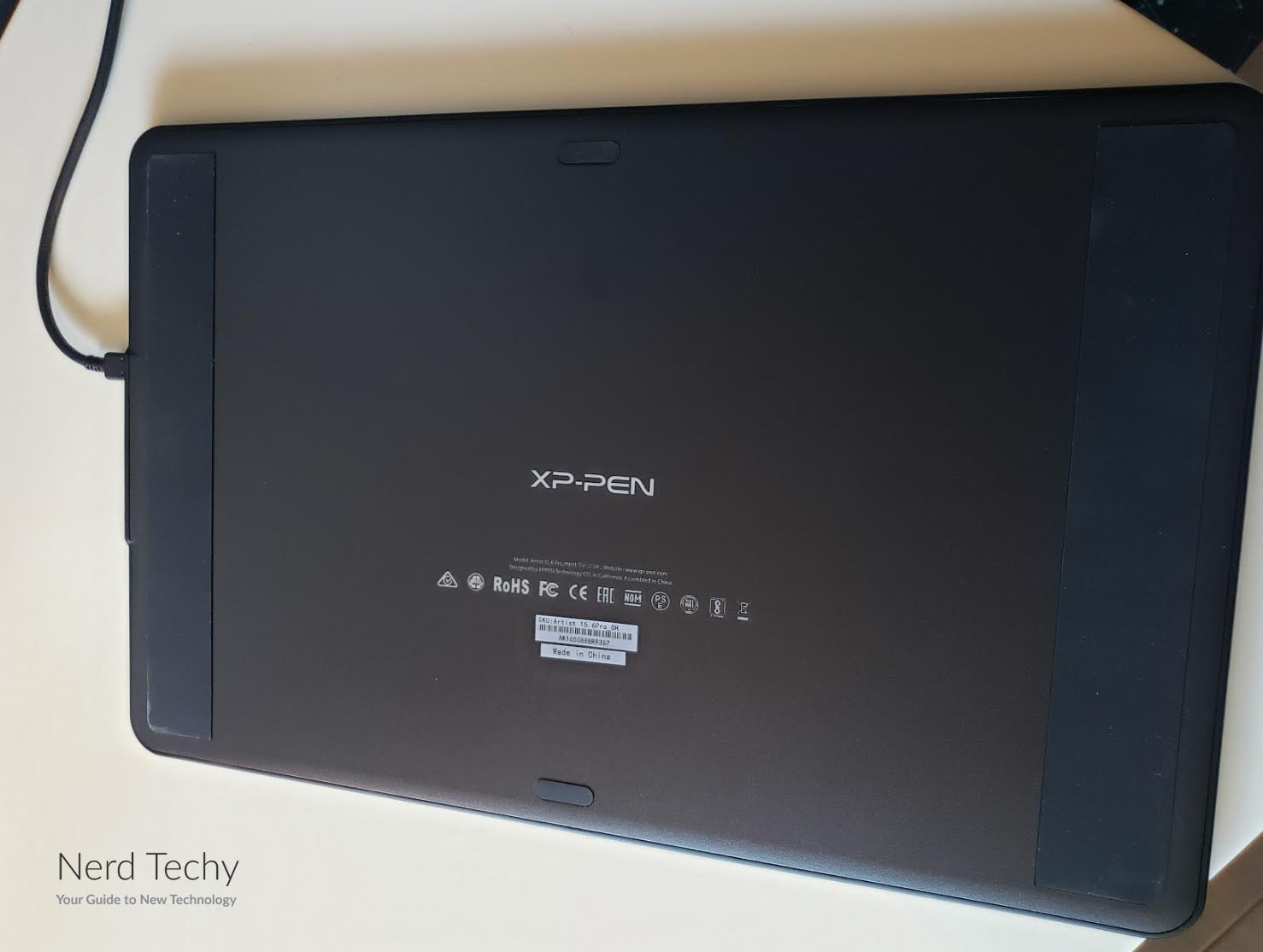 Unfortunately, the XP-PEN falls short when it comes to ease of connectivity. Instead of standard cables, it uses an octopus cable that connects to the proprietary port on the right side. The three ends of the cable are HDMI and two USB-Type-A's (one red and one black). As a result, you need to have all three of those ports available on your machine for operation. Furthermore, if one of the cables or tips because damaged, the entire octopus cable will need to be replaced. It's readily available, and not terribly expensive, but this is still a bit frustrating.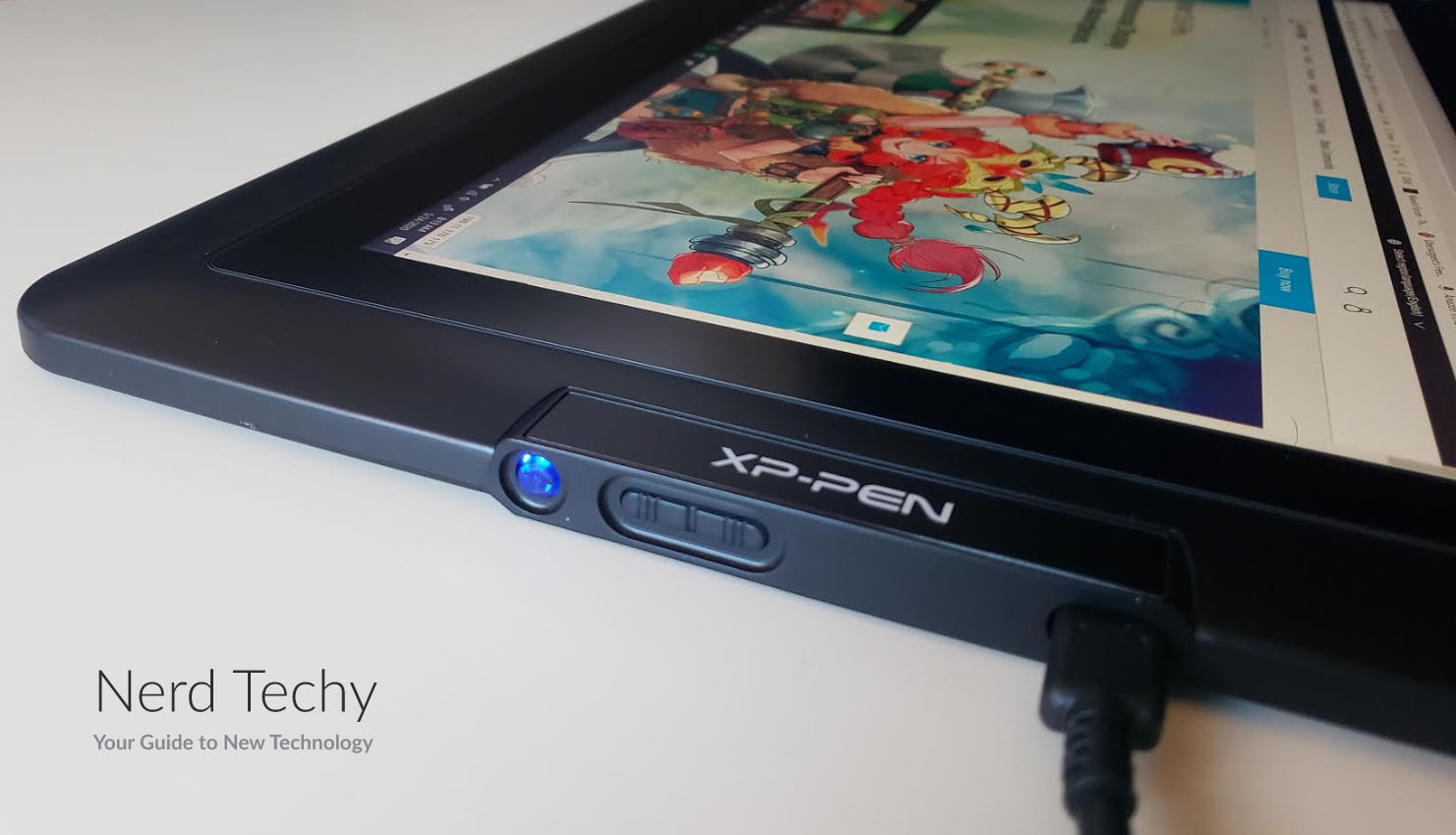 Once you've connected the Artist 15.6 Pro to your PC, the next step is to download the drivers. The unit itself will take about 30 seconds to a minute to power on the first time it's plugged in. However, your computer won't have the latest drivers. To get the full functionality, you'll need to go to XP-PEN's official website and download the latest version. It's also a good idea to check back periodically to check for further improvements. Driver installation is easy, and takes just a few minutes.
The control interface is exceptionally well designed. Remember those rubberized buttons to the left of the screen? They're all completely programmable. Use them to operate any function you want in any compatible digital art software suite. Use them to change stylus types, switch between canvas layers, or just about anything you want. The red dial, meanwhile, provides an additional layer of functionality. It allows you to zoom in and out on your canvas, so you can seamlessly work on fine details. By pairing it with other shortcut buttons, you can also use it to scroll up and down or side to side. Essentially, you can forget about even touching your mouse or keyboard for most everyday functions. Everything you need is right there on the Artist 15.6 Pro itself.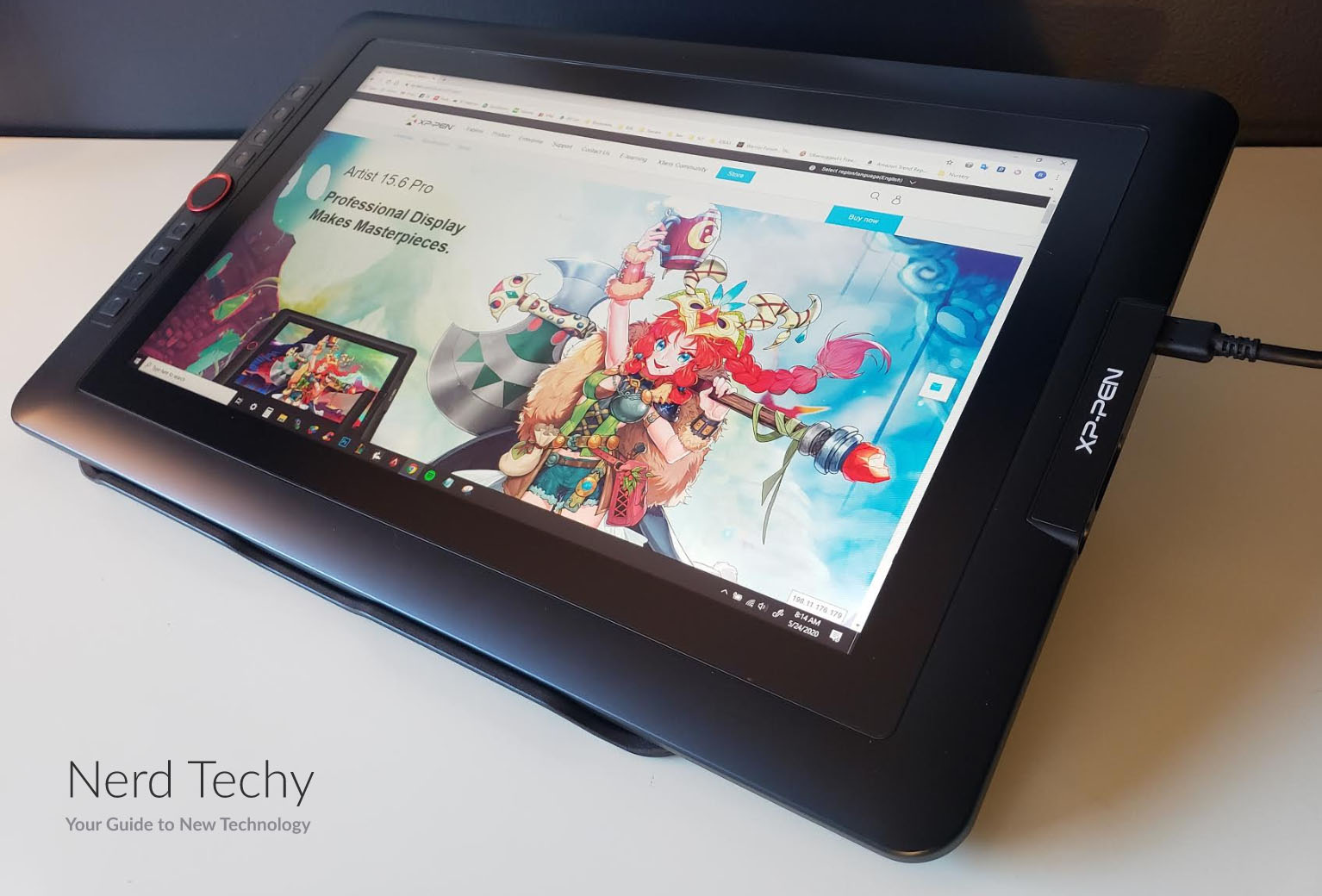 Perhaps the most attractive feature of the XP-PEN is the sensitivity of the screen itself. It supports 60 degrees of tilt along any axis. This allows you to angle the stylus for a wider brush, just as you would with a pencil or paintbrush. In this fashion, you can use it much as you'd use a physical canvas. No need for any clunky interface or constantly switching brush types. Just draw naturally, and you'll get the results you want. The stylus is battery-free, and is more than good enough for most purposes. But everybody has their own preferences.
In addition to tilt sensitivity, the Artist 15.6 Pro also allows for 8192 levels of pressure sensitivity. This is as close to an organic, analog feel as you'll ever get from a digital device. You'll have precision control over all your operations, with natural, fluid movements. Once again, you won't need to fiddle around with brush sizes like you would with a mouse or traditional tablet. Just draw the way you would on a canvas or paper, and get on with creating your art.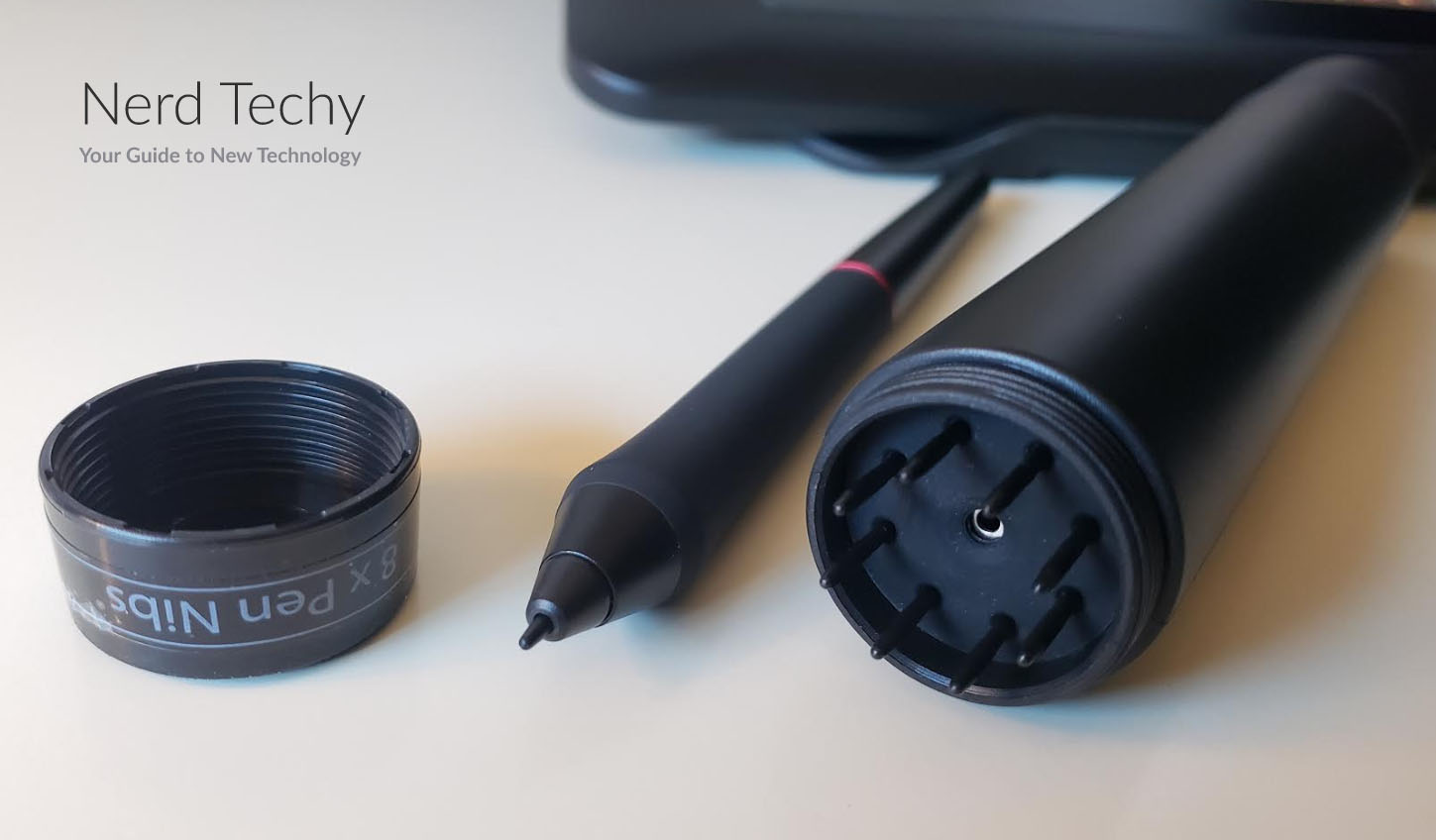 Screen Technology
One disadvantage of working on a digital screen is that you need to be concerned about color accuracy. With a low-quality screen, the art you see may not be what others see. With the XP-PEN, this is not a concern. It offers 120 percent of the sRGB color gamut, which works out to 88 percent of the NTSC color gamut. This is more than sufficient for just about any purpose. In addition, the Artist 15.6 Pro provides 178 degrees of angle for visibility. This is great for collaborative projects. If multiple people are crowding your desk, they'll all be able to see the same thing. And with 1080p resolution, you've got more than enough pixel density for a screen of this size.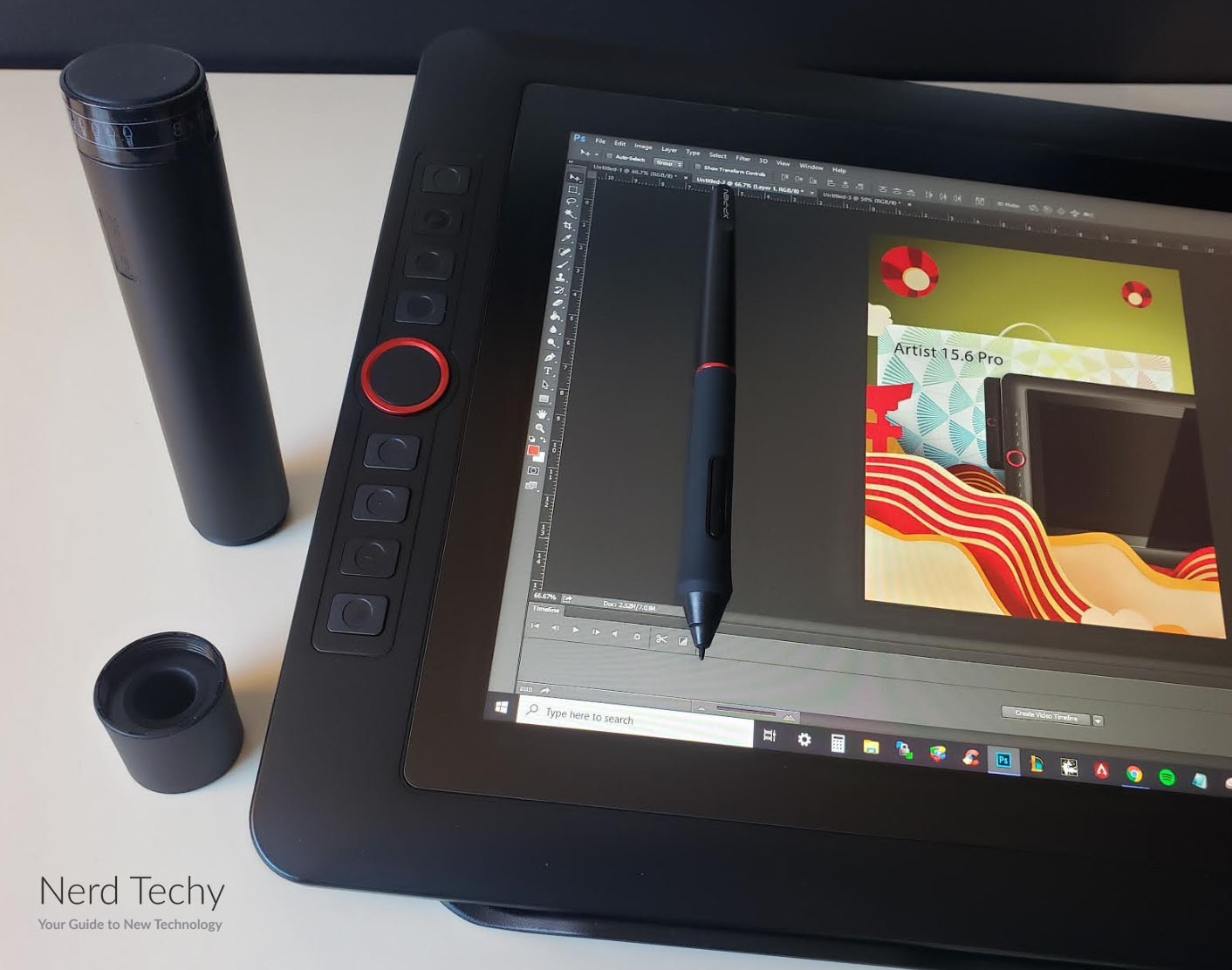 In addition to all of these features, the Artist 15.6 Pro also has a fully laminated tempered glass screen. What does this mean? With most touchscreens, there's a small air gap between the glass and the underlying substrate. This is why on cell phones, for example, your click can sometimes register inaccurately. By putting the glass directly against the touch sensors, the XP-PEN achieves maximum sensitivity. When you draw on the screen, colors appear exactly where the stylus is touching. This also eliminates any tiny amount of distortion that may occur as the result of an air gap.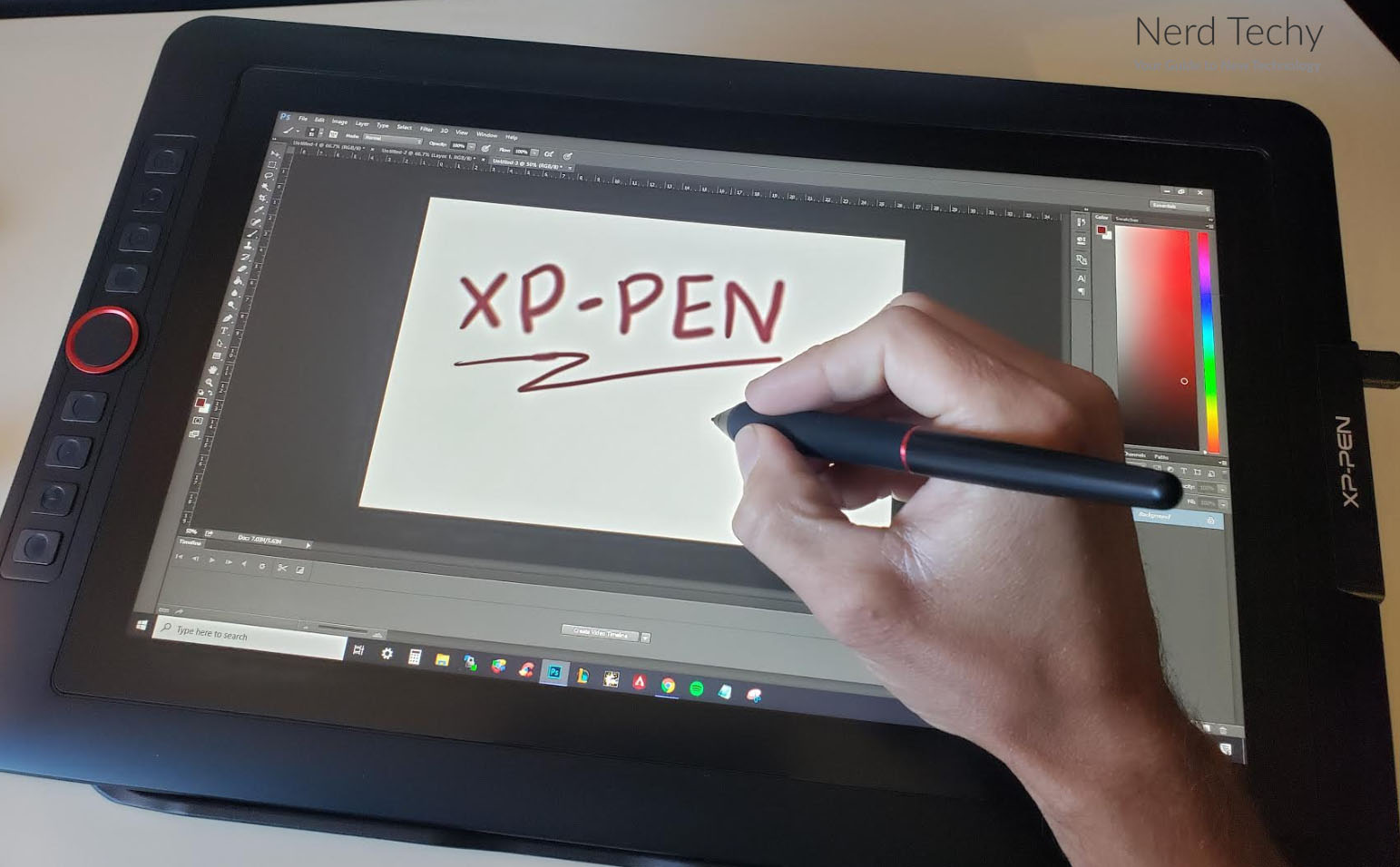 Finally, the screen has an anti-reflective coating that's very effective. This reduces glare, and keeps your image from getting obscured by background light. If you work in a shared workspace with fluorescent lights, this can be a useful feature. It also protects your eyes. Considering how much your eyes are already strained from using a digital screen, this is another helpful benefit. You can enjoy long work sessions without worrying about your eyes hurting as much.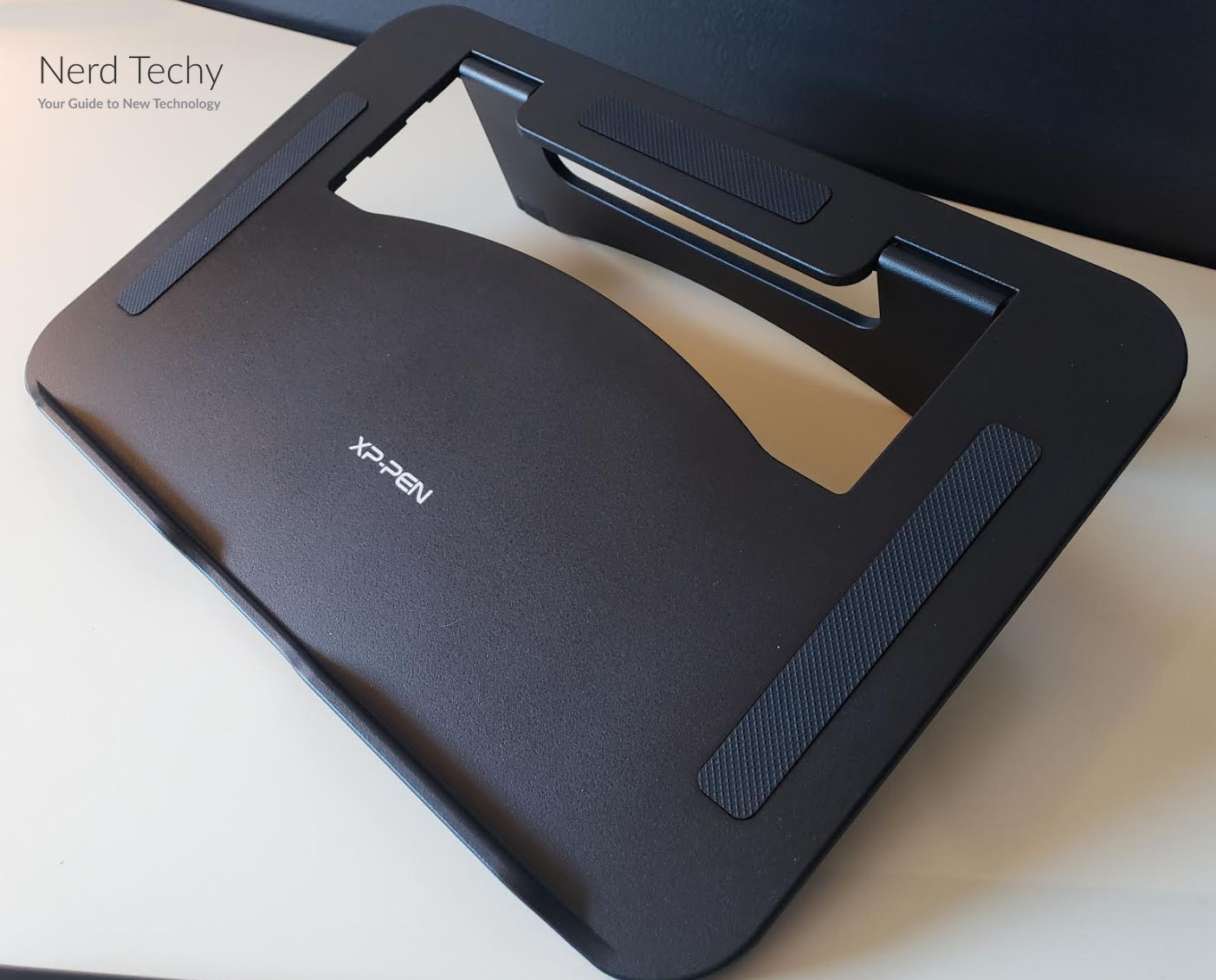 Final Verdict
So, how well does the XP-PEN Artist 15.6 Pro Drawing Display stack up to the competition? By most metrics, it's the best drawing display you'll find on today's market. To begin with, it's exceptionally sensitive. You can angle your stylus freely and adjust the pressure, and the on-screen brush will automatically adjust. It feels like you're drawing with a pen or a paintbrush, not a digital stylus. In addition, the color accuracy is exceptional. It's comparable to most high-end professional monitors, so you won't see any drop-off in quality. And the 178-degree viewing angle is a significant added benefit.
The one disappointment about the Artist 15.6 Pro is the connection interface. It's understandable that it needs a lot of power, hence the dual-USB connections. But the inability to choose between USB Type-A and Type-C is irritating. And the single octopus cable is also problematic if there's any damage. That said, everything else about the physical design is top notch. The multiple programmable buttons go a long way to improving the overall experience. You can essentially work without a mouse for most everyday purposes. And the zoom/scroll dial is a great touch, further freeing you from the mouse. All in all, you're looking at a very well-designed tool for creative professionals.