Nowadays, it's easier than ever to enjoy high quality video in the comfort of your own home. You can get your hands on an ultra high definition TV for a ridiculously low price. You can even stream your favorite Netflix shows on your smartphone. But if you want a fun, retro experience, a projector is a great way to go. Projectors used to be the province of film buffs who were willing to spend a small fortune on the best gear. But with improvements in technology, anyone can get their hands on a home projector system.
To find the best technology, one easy route is to simply look for a manufacturer with a good track record. GooDee is one such manufacturer. In fact, we've reviewed several of their projectors in the past – the YG500, BL98 and G500. Today, we'll be looking at two of their newer offerings: the YG620 and the BL68. The YG620 aims to bring true HD video to your projection experience. It's an ideal choice if you're looking for an outdoor projector for truly massive images. The BL68, meanwhile, is designed for optimal indoor use. With its insanely bright bulb, it's a great choice for rooms with bright fluorescent lighting. Let's dig in, and see what each of them brings to the table!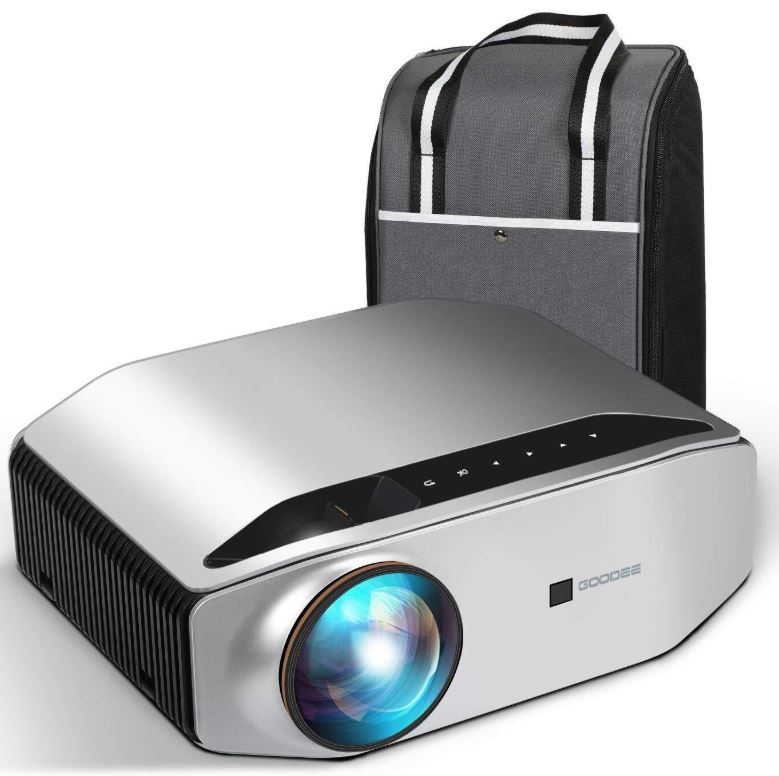 GooDee YG620
The GooDee YG620 has one of the sleekest, most modern looks you'll find in a home projector. It's constructed primarily from a shiny silver plastic, which looks really sharp. The edges are tapered, so it looks more like a spaceship than a home appliance. The sides of the unit are black and vented. This allows for easy ventilation. Instead of a single fan, there are three fans inside, which allow for slower fan speed and quieter cooling. Even with the brightness cranked up all the way, you won't have to worry about loud fans ruining the experience.
Use code "Nerd620" for $90 off at GooDee's Website
The lens on the front has a recessed housing, so it doesn't bulge out like most projector lenses. This recessed design makes it look almost like a robot eye, which further enhances the unit's sci-fi appearance. Just above the lens, you'll find a pair of dials which are used to adjust the focus and the keystone. Next to those, there's a row of controls that allow you to navigate the menu and control your video. All of the input ports are located on the back of the projector. This keeps wires out of sight and out of mind, which is ideal for permanent installation.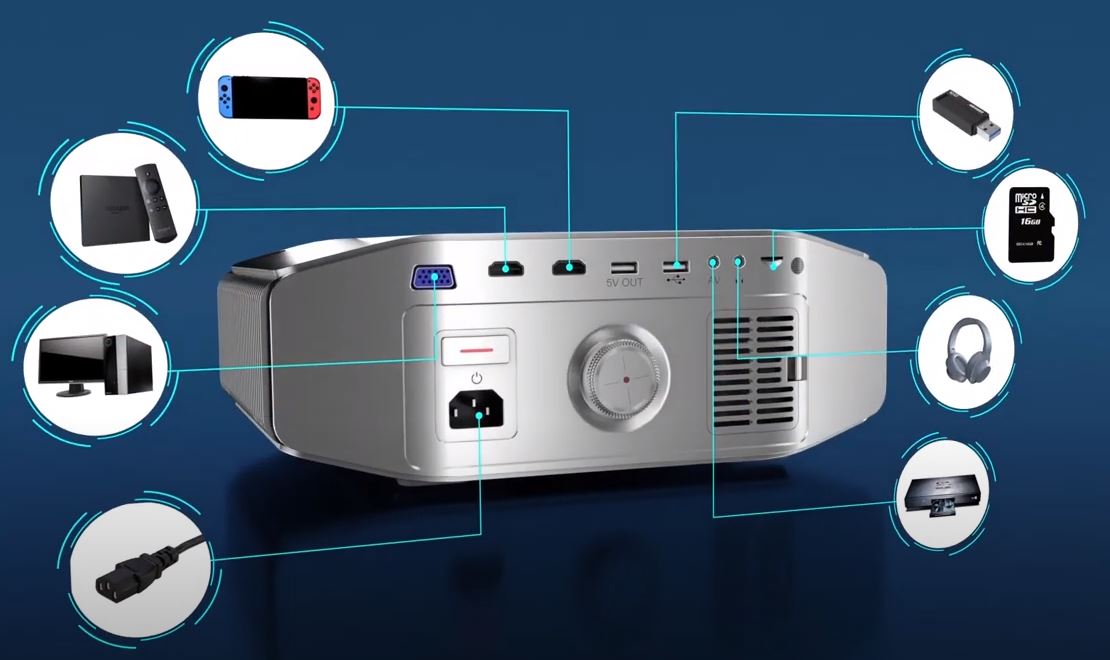 The keystone adjustment can adjust the image by up to 15 degrees vertically. This makes off-center placement easy. If you want to take your projector on the go, transport is also easy. GooDee includes a nylon carrying case in the package. The case is semi-rigid and very well padded, so you don't have to worry about it getting damaged easily.
The YG620's bulb is rated for a 100,000-hour lifespan. That's enough for 4,166 days of use, or almost 11 ½ years. In other words, even if you watch movies 24 hours a day, you're going to get plenty of use. If for some reason you do experience a premature failure, no worries. GooDee offers an impressive 5-year warranty and 24/7 technical support. They also offer a 5-month return window. If you don't like your projector during this time, simply send it back for a full refund.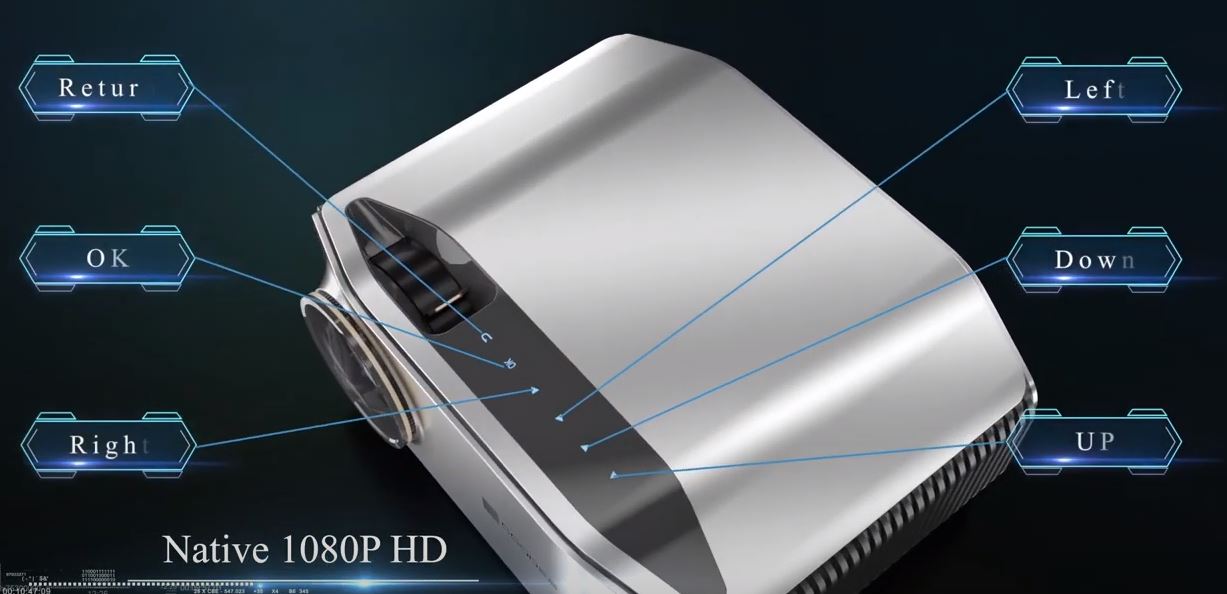 Video Quality
If you're looking for the best possible video quality, look no further. The YG620 has a native resolution of 1080p, which is right in line with the best projectors on the market. Keep in mind that most projectors only offer 720p images, so you're looking at a top performer. Moreover, the YG620 supports downscaling for 4K video. So if you want to play your fancy new Blu-Ray disc, you can still use your projector.
The image is exceptionally bright, useful for daytime or nighttime use. It also has a very high contrast ratio, which defines the difference between the brightest and darkest colors. At 7000:1, it's more than good enough. In fact, the human eye can only distinguish a contrast ratio of 3000:1. So you're actually getting more than twice as much contrast as you can possibly see. With the ultra-bright bulb, you can position the YG620 anywhere from 5.6 to 30.2 feet from your screen or wall. This will result in an image size of anywhere from 46 inches to a whopping 300 inches. If you want to project a movie on the back of your house and watch it in your backyard, you're golden.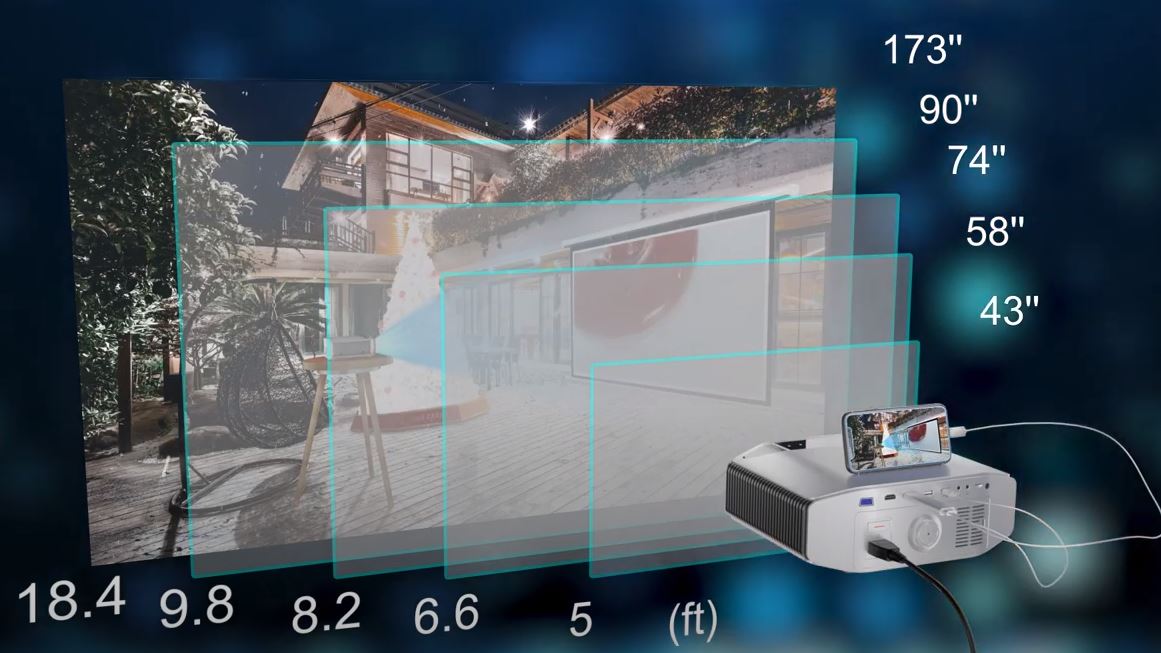 Along with a quality image, the YG620 offers quality audio. A pair of 5-watt Dolby speakers provide excellent quality. You'll get full response across all parts of the sound spectrum. That said, they're only 5-watt speakers. If you want louder, more immersive sound, you're going to want a set of larger external speakers.
Compatibility
The GooDee YG620 features enough input ports to connect just about any device. To begin with, there are two HDMI ports. Connect a Blu-Ray player and a game console at the same time, and switch freely between the two. You also get a pair of USB inputs. These are useful for laptops that support USB video output. They're also useful for a Roku stick, Chromecast, external hard drive, or flash drive. Finally, there's a VGA port for older PCs. If your PC doesn't have an HDMI output, you can still enjoy top quality video.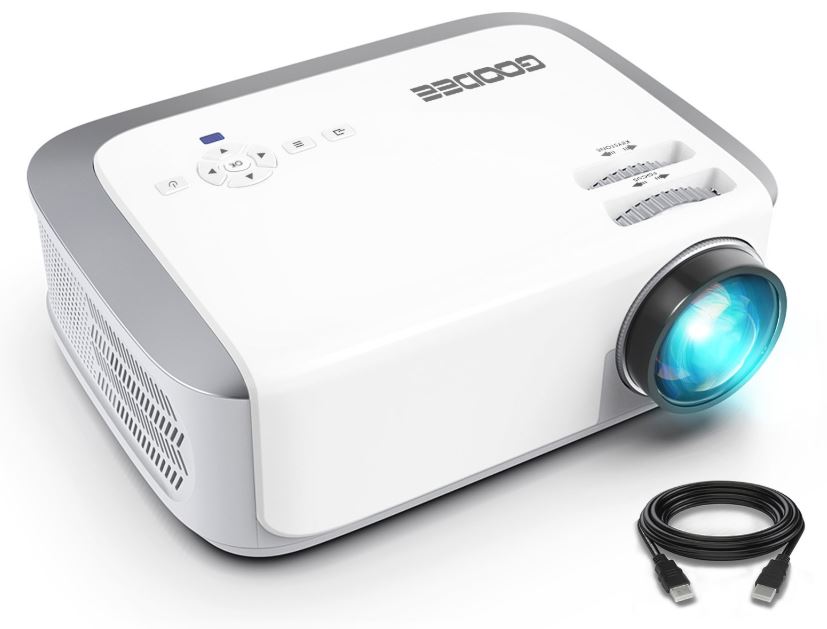 GooDee BL68
The GooDee BL68 has a more traditional design than the YG620. It has a standard protruding lens, with a sturdy black housing that still lends it a contemporary look. The top and front of the unit are a white ABS plastic panel, with an easy-to-clean glossy finish. The sides and black are a sharp silver-grey, which acts as an attractive accent. Both of the sides are vented, which allows for plenty of air flow. The BL68 utilizes the same upgraded cooling system as the YG620. With three low-speed fans, it provides plenty of cooling power without an excessive amount of noise.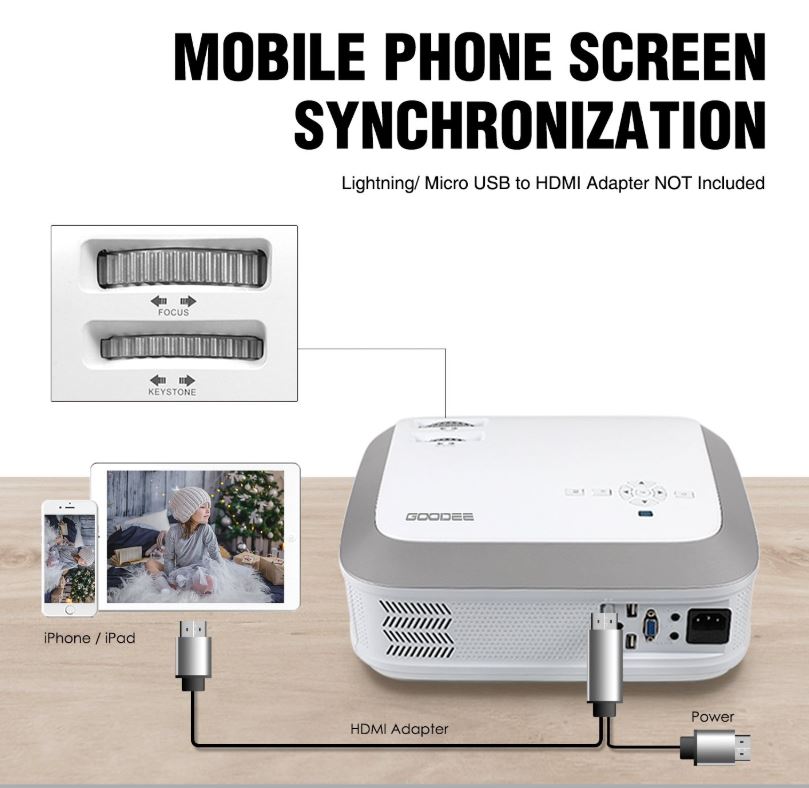 On top of the projector, you'll see two grey dials located directly behind the lens. One of these adjusts the focus, while the other adjusts the keystone by up to 15 percent in any direction. As a result, projector placement is not a problem. You can position it above or below your screen, or even off to the side, without any issues. Towards the back of the top, you'll see a black GooDee logo, along with a set of control buttons. These allow you to easily navigate the menu, which has an intuitive, easy-to-use design.
Like the YG620, the bulb on the GooDee BL68 is rated for up to 100,000 hours of use. This will last you for the rest of your life at any reasonable level of use. Moreover, you get the same 5-year warranty that GooDee offers on all of their newer projectors. You also get the same 5-month, no-questions-asked return window.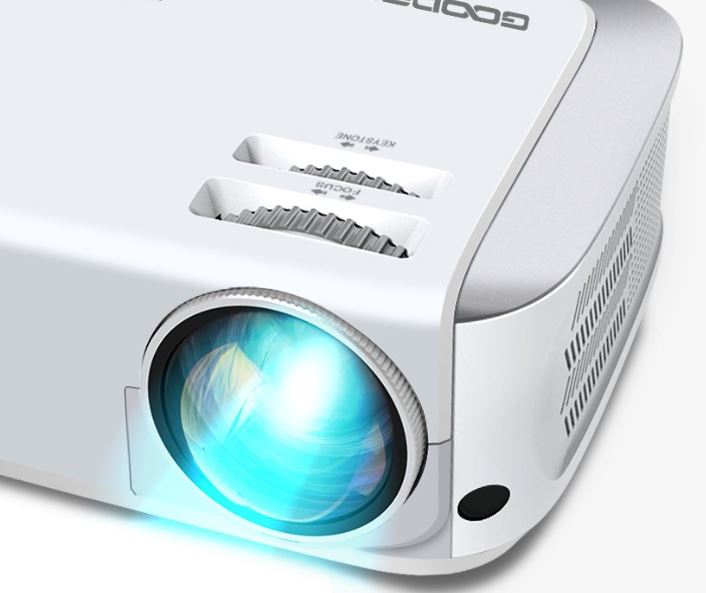 Video Quality
The GooDee BL68 has a native resolution of 1280 x 768 pixels. This isn't as impressive as the YG620's 1080p resolution. However, it's still better than your average 480p or 720p projector resolution. You can enjoy a movie on just about any screen, whether large or small. The contrast ratio is not mentioned in GooDee's documentation. That said, it's very good. Even in dark scenes, you won't have any trouble distinguishing different shades of black. Depending on projector placement, the image size can range from 32 to 250 inches. Position it as close to the screen as 4.9 feet, or as far away as 20.6 feet. This makes it ideal for use in small, intimate settings as well as larger settings.
Use code "NERD12%OFF" for 12% off at GooDee's Website
The main attraction of the BL68 is its exceptional brightness. With a 6,000-lux bulb, it can be used under just about any lighting conditions. Not only is this a great feature for home use, it's also useful for business. If you want to use a projector in fluorescent-lit conference room, your image will still be bright and vivid. Moreover, the brightness is adjustable. You can watch a movie with your family in a brightly-lit living room. Then you can move the projector to your bedroom and keep on watching in the dark. In other words, you're looking at an exceptionally versatile projector suitable for many purposes.
A pair of internal speakers provide high-quality sound that has a balanced EQ. You don't have to worry about any loss of quality or muddy bass, even at high volumes. That said, as with most projectors, "high volumes" are still relatively low. If you're hosting a movie night in your backyard, you're going to want some external speakers.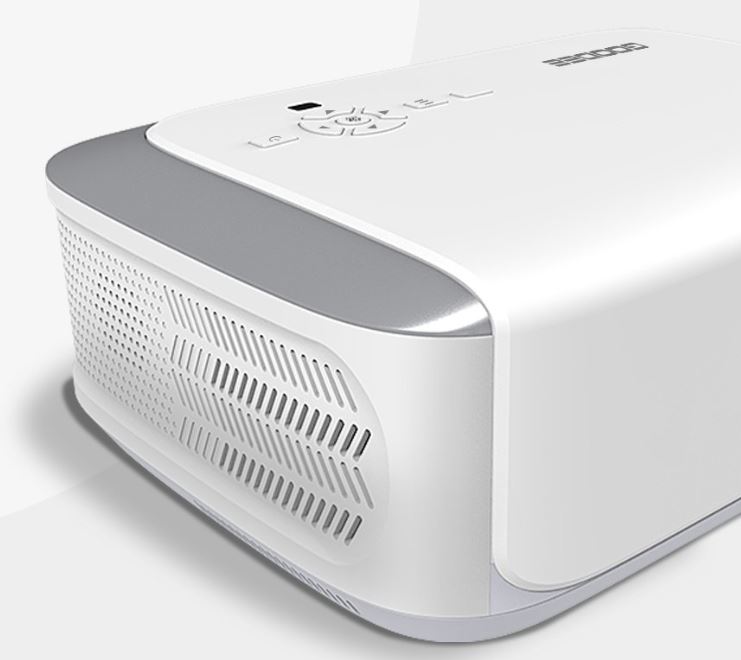 Compatibility
The GooDee BL68 is compatible with most types of inputs. You get a pair of HDMI ports, so you can connect two HDMI devices simultaneously and switch between them. You also get a pair of USB ports for connecting your Chromecast, Roku stick, hard drive, or flash drive. A VGA port provides support for older PCs and laptops without an HDMI output. And for old-school devices like VCRs, you even get RCA ports for backward compatibility.
Final Verdict
As you can see, both of these projectors provide a lot of value. To begin with, the GooDee YG620 (Use code Nerd620 for $90 Discount) is an excellent choice if you value the best video quality. There aren't many 1080p projectors on the market, so it was nice to see. Moreover, the exceptional contrast ratio provides plenty of clarity and visibility under any circumstances. The futuristic design is easy on the eyes, although aesthetics are obviously a secondary concern. Throw in a soft but durable carrying case, and you're looking at a solid kit.
The GooDee BL68, meanwhile, is better designed for indoor use in bright environments. With its ultra-bright bulb, you won't have any issues even with very bright ambient lighting. The resolution isn't as good as the YG620's, but it's still better than your average home projector. Not only that, but it's compatible with older devices that use an RCA output. The 5-year warranty and 5-month return window are just icing on the cake.