If you want the best possible audio quality from a pair of earbuds, Bluetooth wireless is the way to go. It didn't used to be that way. Before the invention of True Wireless Stereo (TWS), wireless earbud quality was downright awful. But with newer technology, you can enjoy your music at high bitrates and in full stereo. With the right device, the clarity of the signal is even better than you'll get from an old-school wired connection. Best of all, you don't have to worry about getting tangled in a wire during your workout.
Of course, you might want more for a workout than just a decent soundtrack. For instance, you might want a smart watch to keep track of your metrics. We've reviewed several earbuds, and even the odd smart watch, in the past. But today, we're going to look at a single unit that combines both of these devices in one neat package.
We're about to review the Airpower Wearbuds W20 Wireless Earbuds (Fitness Watch). This is one of the most unique, innovative gadgets we've looked at recently. It's a fitness watch that doubles as an earbud charging station. Because of that, we've got a lot of ground to cover. We'll look at the quality of construction, the sound quality, and the battery life. And, of course, we'll talk about all the smart watch functions. Let's take a closer look, and see how the Airpower buds stack up to the competition!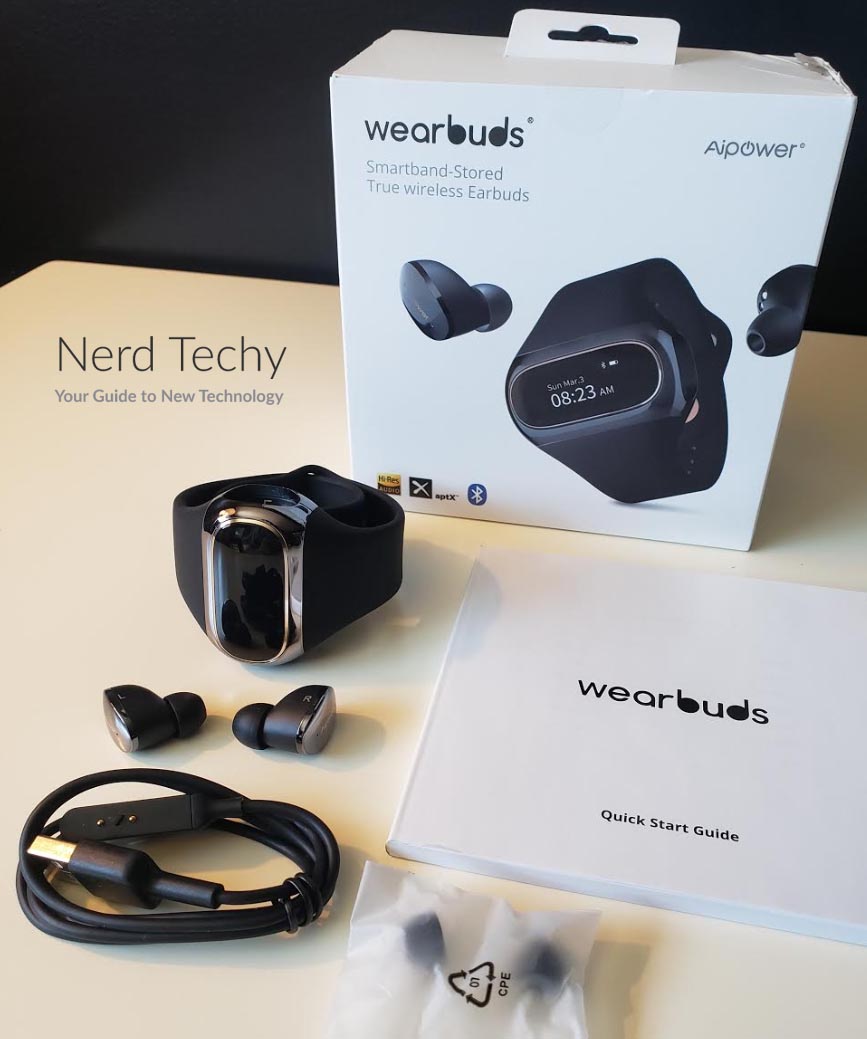 Overall Design
The Airpower Wearbuds W20 Wireless Earbuds look like an extra-wide fitness watch at first glance. The watch face is wide to begin with, with an oval LCD display that's easy to read in any light. The watch crystal has a domed design, so it looks slightly distorted from the sides. When you're looking more or less straight at it, though, it's easy to read. Under normal circumstances, it displays the day, date, time, and remaining battery level. It can also display fitness metrics, which we'll discuss more in a minute.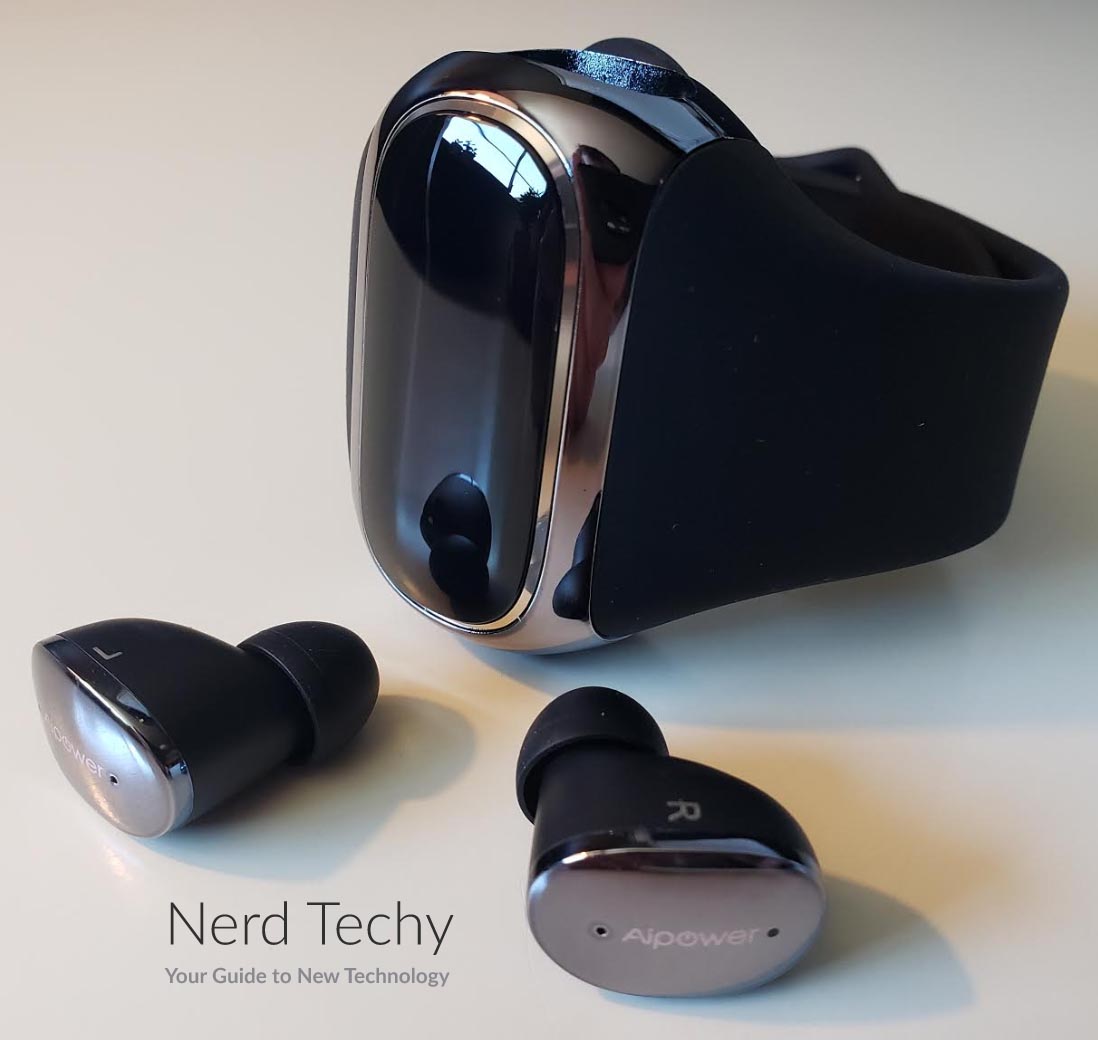 The watch and earbuds are available in black or white, so they can match any sense of style. The band meshes seamlessly with the top and bottom of the watch, for a sleek, smooth look. The watch itself is constructed from an injected polymer, with silver accents on the edges. The band is a soft, comfortable silicone that conforms effortlessly to your wrist. It has plenty of flex, so it won't accidentally come loose even during an intense workout. At 15.2 ounces, the entire unit is a bit heavy. Then again, when you're working out, that's not necessarily a bad thing.
The Airpower Wearbuds mount directly in the sides of the watch. This makes them easy to carry when they're not in your ears. You can snap them loose with a quick push and a tug, so they're simple to use as needed. The buds themselves have a compact design, and are meant to sit deep in your ear canals. Take your time finding which set of ear tips provides the best fit. Not only will your fit be more secure, you'll also get better passive noise cancelling to block unwanted sounds.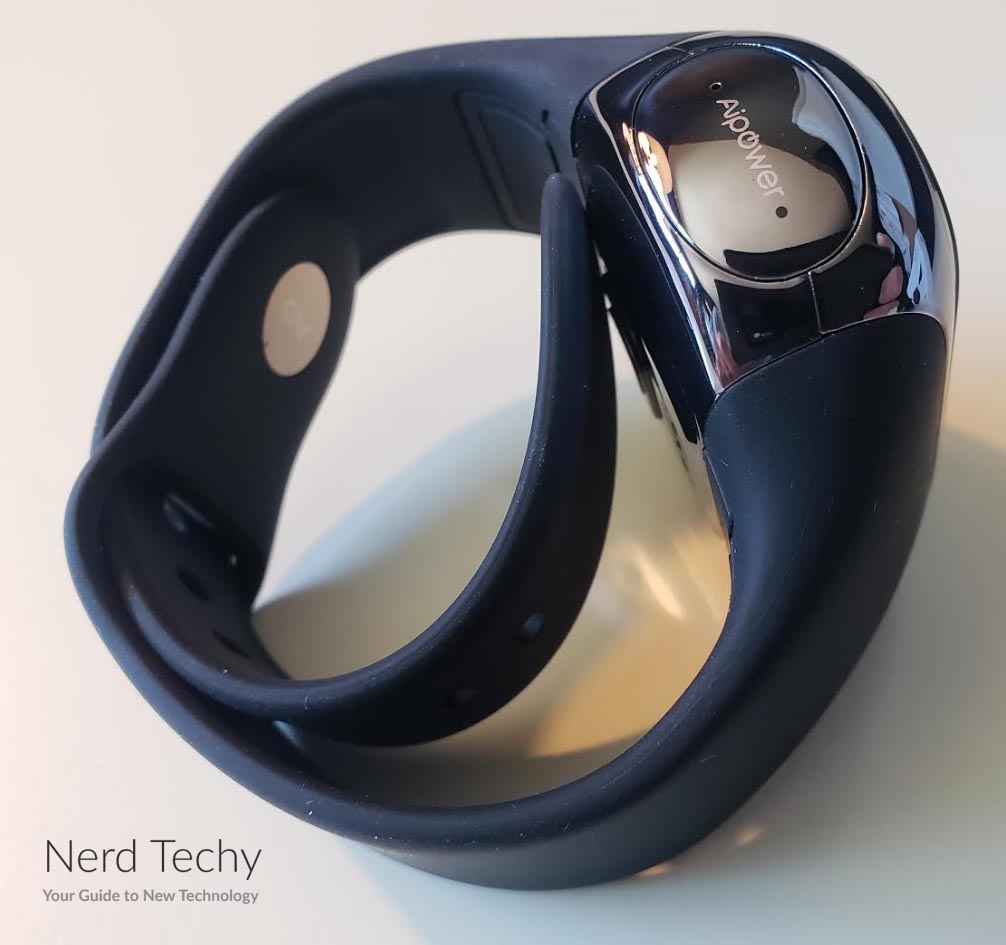 The sides of both earbuds feature soft touch controls. Because little pressure is required to actuate them, you won't experience any discomfort during operation. You can use the buttons to skip tracks, play or pause music, adjust the volume, and answer or end calls. You can even activate your phone's voice assistant for hands-free operation.
The earbuds are IPX6 water-resistant. This means they're well-suited for working out in rainy conditions, and also for intense sweating. The band and watch are only IPX5 water-resistant. This basically means they're sweat and splash resistant. Before you get in the shower or the pool, take off your Airpower watch.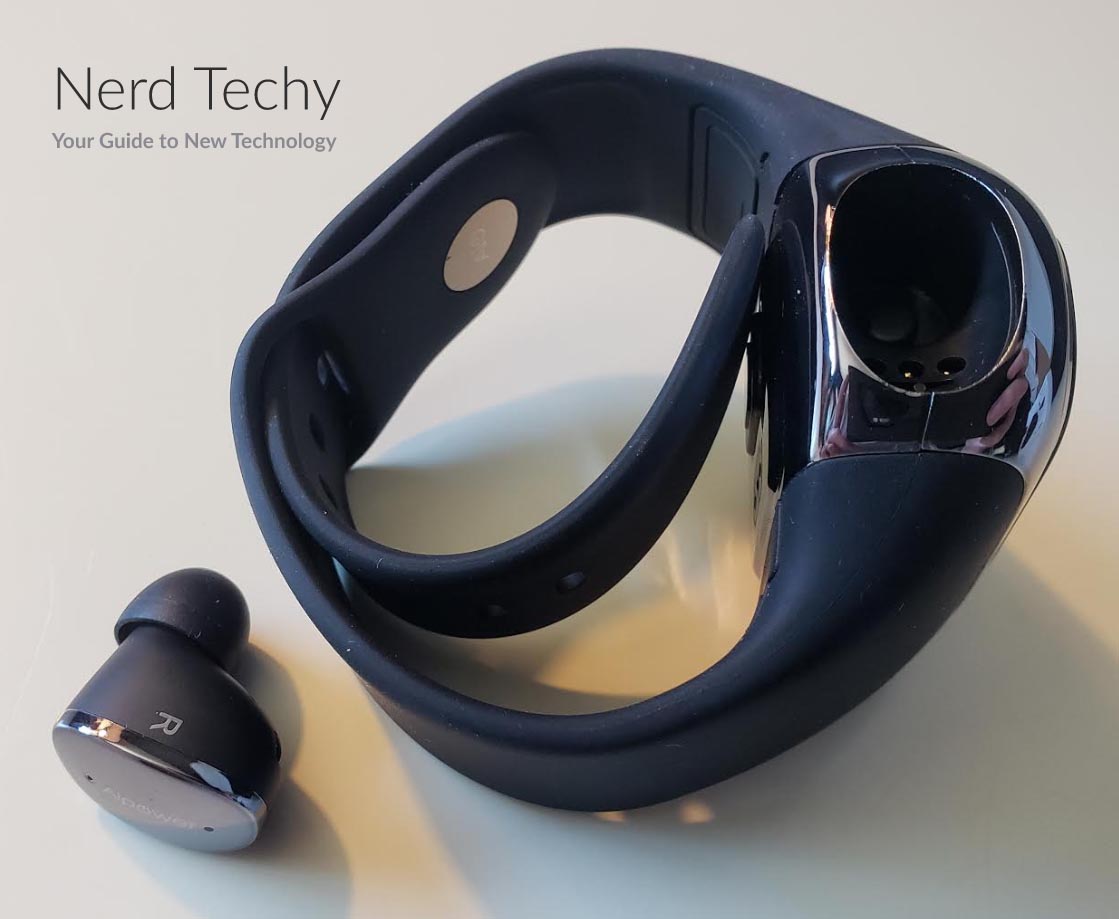 Battery & Connectivity
The Airpower Wearbuds each have a 35mAh internal battery. These batteries provide enough juice to operate for about 5 ½ hours. This is a rough approximation, since it depends on your volume, music bitrate, and other factors. Regardless, it's enough time to get you through a couple of morning workouts without any issues. You can even wear these buds on the train, bus, or subway and have plenty of battery for your commute.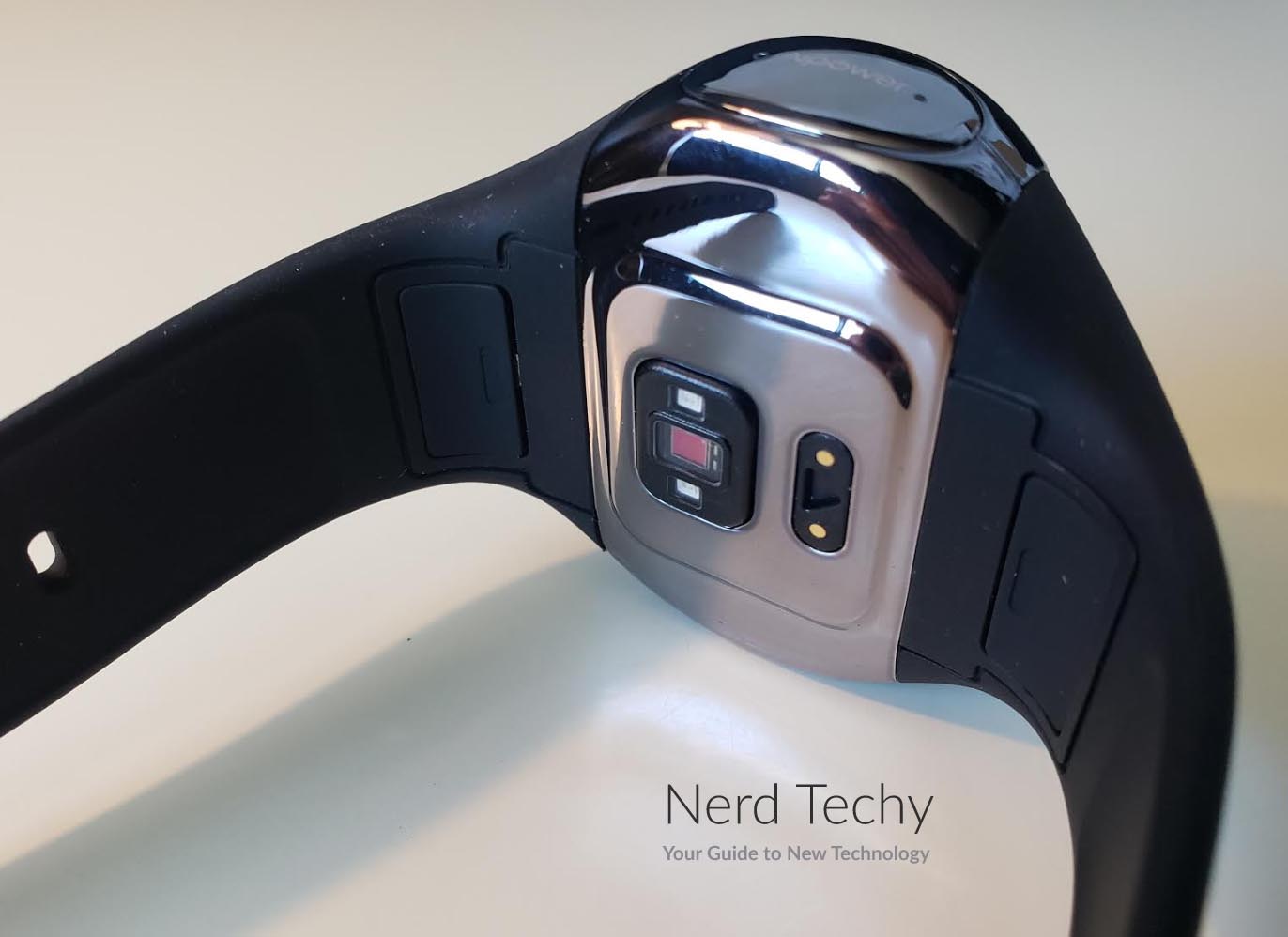 The watch unit has a 160mAh battery, which is enough for 7 days of use. Again, this is an approximation. If you use your watch's fitness features more often that not, 3 or 4 days is more realistic. Either way, your watch doubles as a charging bank for your earbuds. When they're inserted, your earbuds will automatically charge until they're full. In total, you can charge both your earbuds 1 ½ times, for a total play time of over 13 hours. The downside of this charging method should be obvious. As you charge your earbuds, the battery on the watch will drain. For most purposes, you'll want to plug in the Wearbuds overnight if you don't want to deal with battery issues.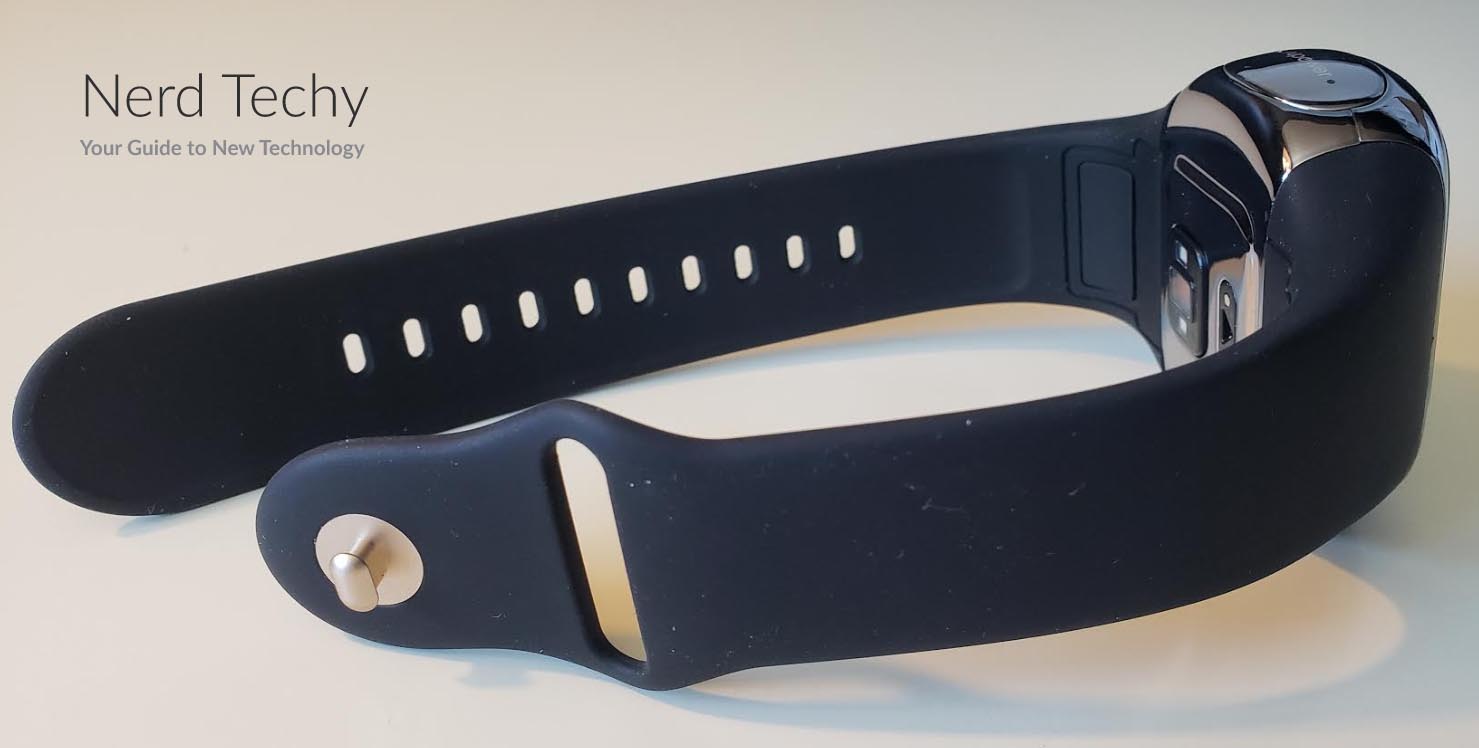 The Airpower Wearbuds connect to your phone via the Bluetooth 5.0 protocol. This latest version of Bluetooth provides a stable, secure connection that won't randomly disconnect. It also offers support for higher bitrates, as well as low-latency audio. Because of the low latency, watching movies or videos is an easy, pain-free experience. You won't have to worry about dialogue being out of sync. Moreover, you can connect with one bud individually. This isn't ideal for jamming out while you work out. But it's a great feature for hands-free calling. Not only will you maintain situational awareness, but you can also effectively double your buds' battery life.
Smart Watch Functions
To get the most out of your W20 fitness watch, you're going to need to install the Airpower app. The app is available for free on iOS and Android. Simply download it, install it, and follow the prompts to pair your phone with your watch. Once that's done, you're ready to go.
Even without the app, the W20 watch can perform a variety of functions. It functions as a pedometer, step counter, and calorie counter. This alone makes it worth using. But with the app, you get access to much more. For instance, you get a 24-hour heart rate monitor. Without the app, this is only useful for keeping track of your heart rate during workouts. But with the app, you can monitor your heart rate 24/7. This is a great way to get a sense for your resting heart rate. You can even track your heartbeat while you sleep.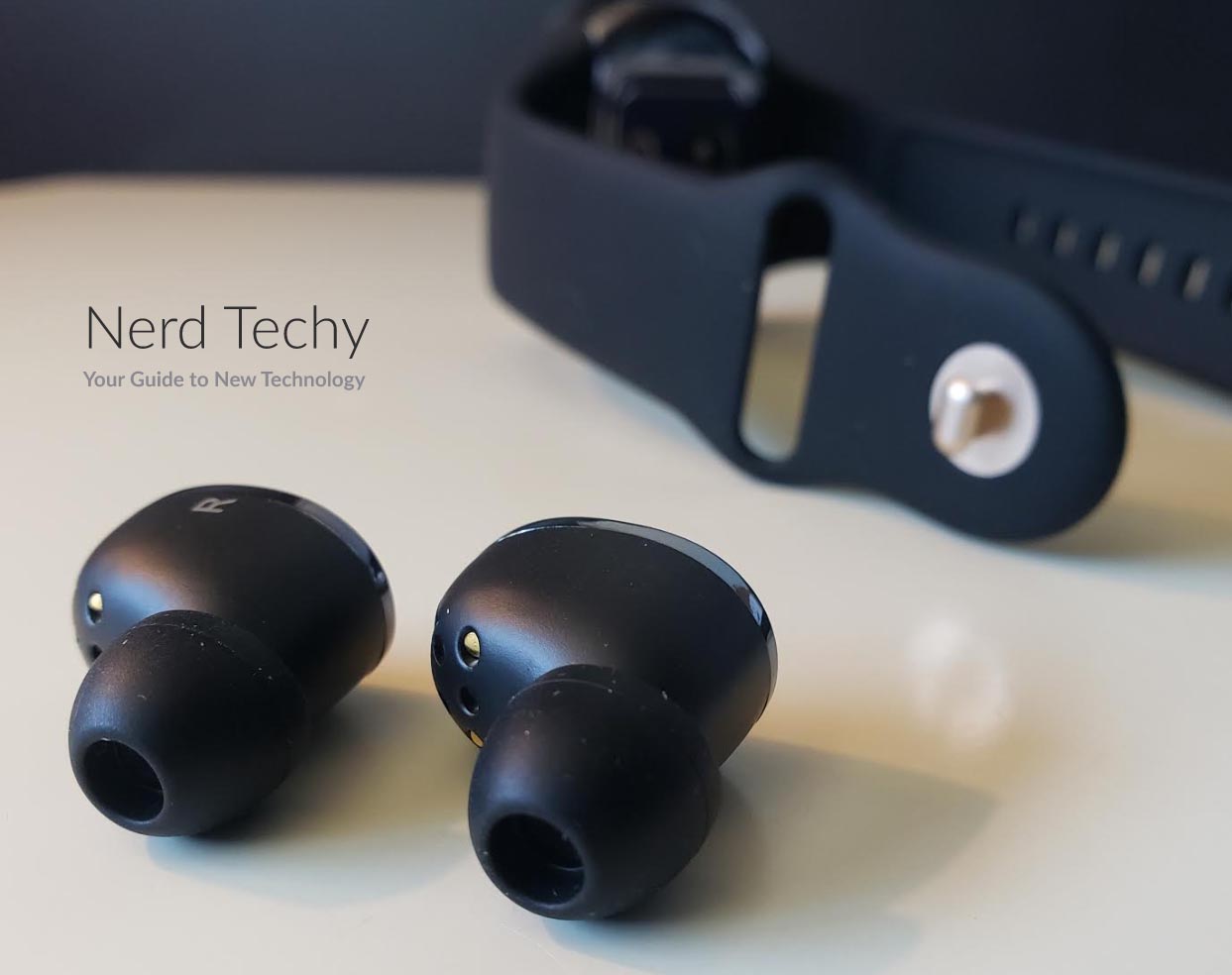 Speaking of sleep, the W20 watch also has a built-in sleep monitor. This isn't just a way to track how many hours you're sleeping every night. It also helps you keep track of the quality of your sleep. For instance, it will let you know if you're waking up frequently and not aware of it. All of this information will sync with your Airpower app. The app will generate an ongoing fitness report, so you know what parts of your life to focus most on.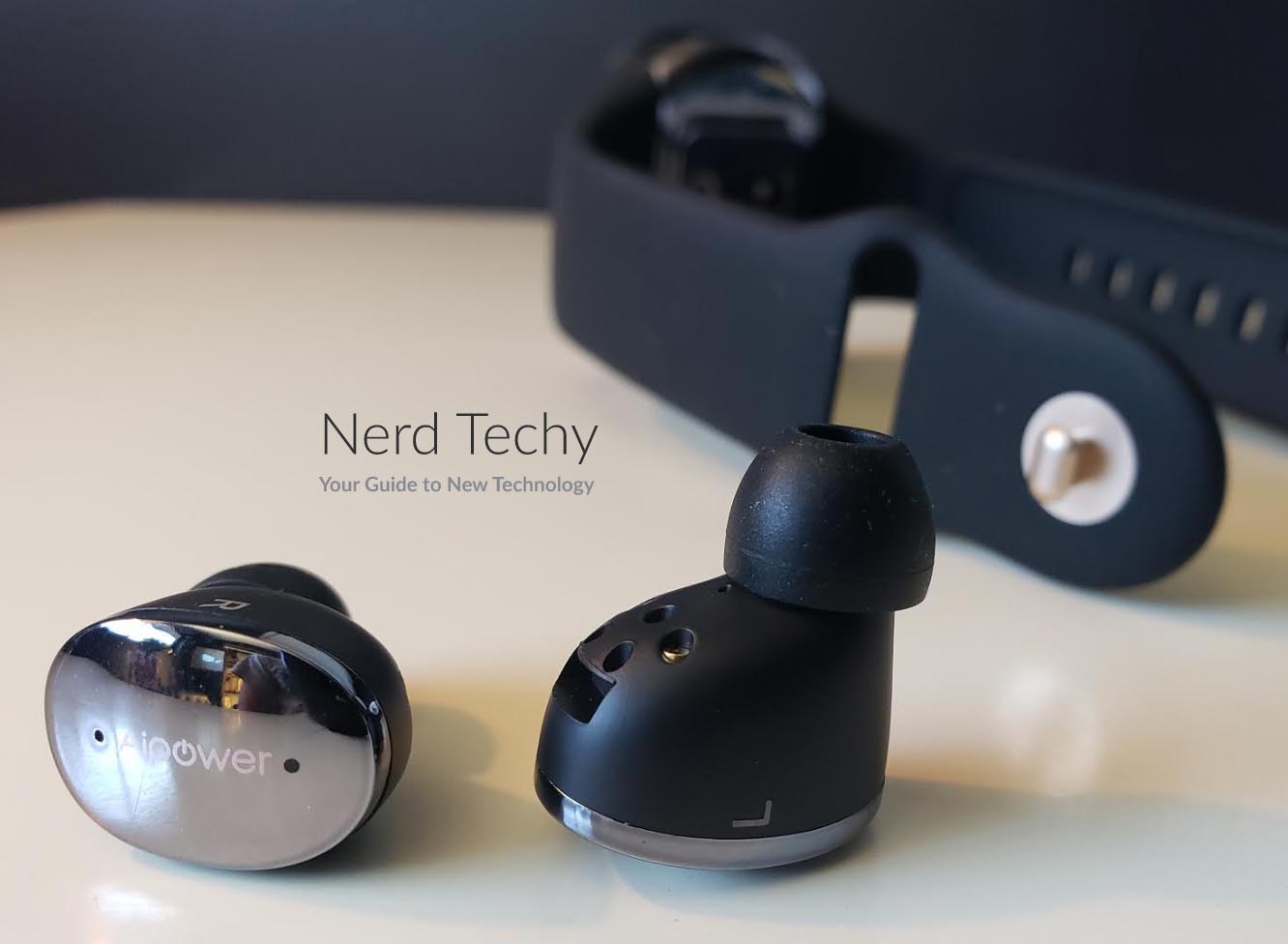 The W20 watch works both ways. Not only does it send fitness information to your phone, but it also works as a standard smart watch. You get real-time alerts on your watch from all your other smartphone apps. You'll get updates for text messages, social media apps, and even incoming calls. You can read these alerts simply by tapping the backlit touchscreen display. To respond, simply use your phone, or use the earbuds for easy voice-to-text messaging.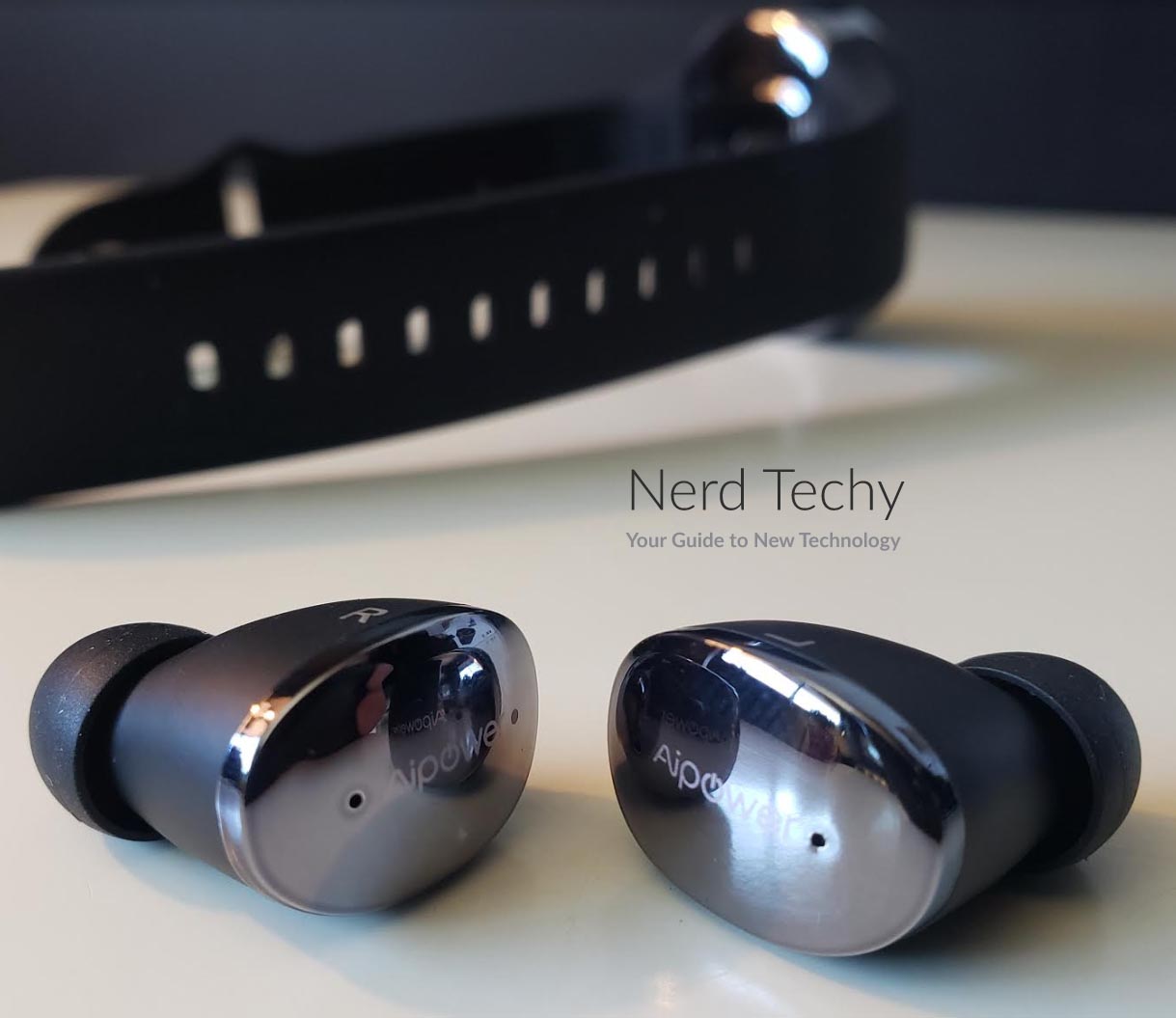 Sound Quality
The Airpower Wearbuds perform very well for their size. The graphene drivers offer surprisingly good quality across the entire sound spectrum. Now, keep in mind that we're comparing apples to apples here. Obviously, you'll get better sound from a set of over-the-ear headphones. But even so, you're looking at some well-engineered buds. Perhaps the best feature is the powerful bass response. Again, it's not what you'd get from studio headphones. But if you like to work out to a bass-heavy jam, you're looking at some excellent buds. Middle and high frequencies also sound good. Strings, synths, and vocals are all very clear, regardless of what you're listening to.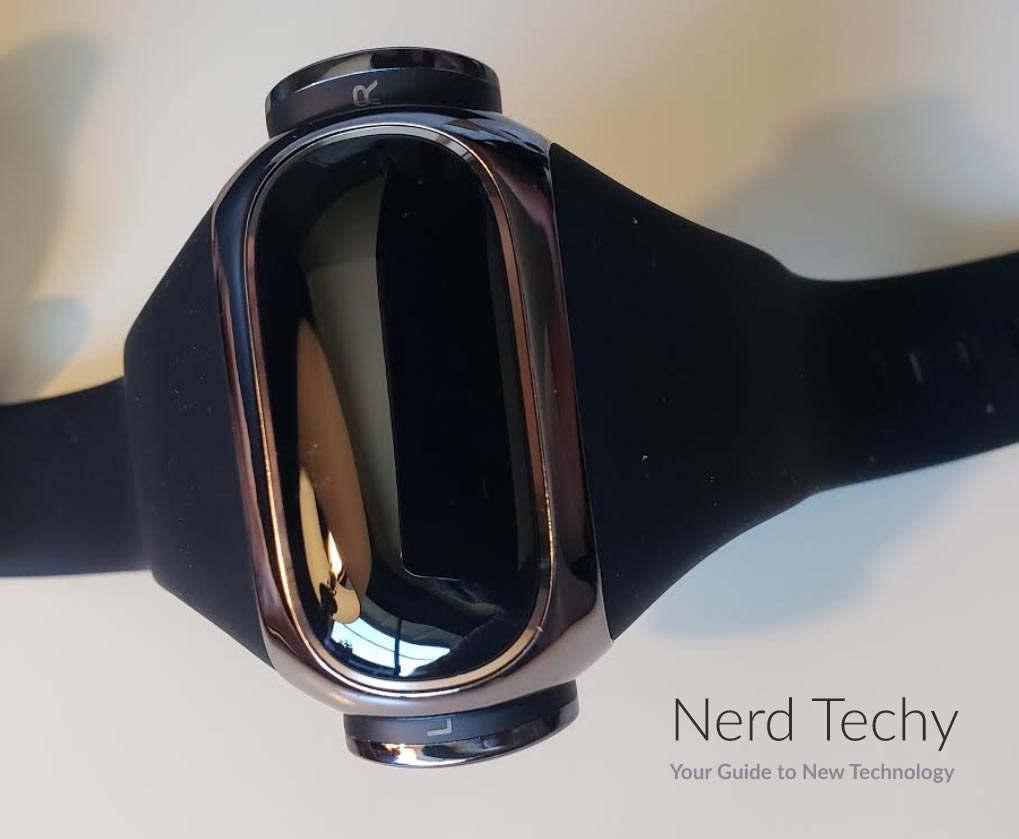 In addition to good response across the sound spectrum, you also get a nice, wide soundstage. This means there's plenty of separation between the instruments. You won't have to worry about vocals getting drowned out by muddy bass or hiss from the high end. There's a place for everything, and everything is in its place. Even better, the Airpower Wearbuds support the aptX low latency protocol. This is the latest and greatest audio protocol, ideal for high-bitrate tunes as well as videos. You won't have to worry about your music sounding flat, tinny, or out of sync. Even if you listen to 256k MP3 files, you're going to get the full benefit of your high-bitrate library.
Call quality on the Wearbuds is also good. You'll be able to hear the other person just fine, provided they have good mics. Your own voice quality will be markedly better if you're using both earbuds with both mics. But even if you're just wearing a single earbud, background noise isn't too much of a concern.
Final Verdict
So, how do the Airpower Wearbuds W20 Wireless Earbuds (Fitness Watch) stack up? All in all, you're looking at the full package for fitness applications. To begin with the earbuds themselves are well-engineered. They're sweat-resistant and splash-resistant, so moisture isn't a concern. They also fit securely enough for high-intensity workouts. The smart watch has a similarly secure design. The silicone band is comfortable and flexible, with great ergonomics.
The battery life leaves a bit to be desired, particularly if you do a lot of listening. Even so, if you charge overnight, you won't have any issues. The smart features are well designed, with plenty of fitness functions as well as compatibility with normal smartphone apps. And considering the small size, the sound quality is also quite good. All in all, you're looking at an excellent fitness accessory.
Meet Derek, "TechGuru," a 34-year-old technology enthusiast with a deep passion for tech innovations. With extensive experience, he specializes in gaming hardware and software, and has expertise in gadgets, custom PCs, and audio.
Besides writing about tech and reviewing new products, Derek enjoys traveling, hiking, and photography. Committed to keeping up with the latest industry trends, he aims to guide readers in making informed tech decisions.