If you own a modern smartphone, you might not be getting the best performance from your old wall charger. With an older charger, you'll be limited to the same charging speeds as old smartphones. The result? Slower charging. For many of us, this is simply unacceptable. These days, we rely on our phones and laptops more than ever. It seems like there's an app for everything. Want to check your bank balance? Use your phone. Watch videos? Use your phone. Browse social media? Use your phone. And there are still the "old school" functions of calling and texting, which are essential for work and pleasure.
To spend as little time charging as possible, you need a powerful, modern phone charger. And to get the best charger, you want to stick with a reliable manufacturer. Today, we'll be looking at two options, the Aukey PA-B3, and the Aukey PA-B4. Aukey is well-known for producing a wide variety of quality electronics, from earbuds to portable power banks. And the PA-B3 and PA-B4 are some of the newer offerings in their product line. Let's take a closer look, and see what both of these wall chargers have to offer!
What is PD Charging?
Before we go any further, let's explore how power technology has changed in recent years. The first USB cables were actually not designed for power at all. They were strictly designed for data transfer. The goal was to create a universal standard for data cables. In fact, USB actually stands for "Universal Serial Bus". They only supported a very small amount of power delivery.
With the release of USB 2.0 in the year 2000, power capacity increased to 2.5 watts. With USB 3.1, it increased again to 15 watts. This was sufficient to charge any cell phone, and even to use your phone while charging. But the speed was still relatively limited. You couldn't, for example, expect to use a laptop while charging via USB 3.1. USB Type-C offers even higher rates of power delivery. However, standard USB Type-C cables and ports still aren't powerful enough to run a laptop. For that, you need power delivery (PD) technology.
USB PD is a specification for cables and ports that are specifically designed for power. To be fair, they can still be used for data transfer. But when they're used for power, they really shine. Depending on the technology, a PD cable is capable of delivering up to 100 watts of power. This is overkill for smartphones. But for laptops, it means you can charge while you're using your device. Best of all, the PD power specification allows chargers to automatically adjust voltage. This means your device will get exactly the amount of current it needs, without going over voltage and getting damaged. Now, let's take a look at these two Aukey chargers!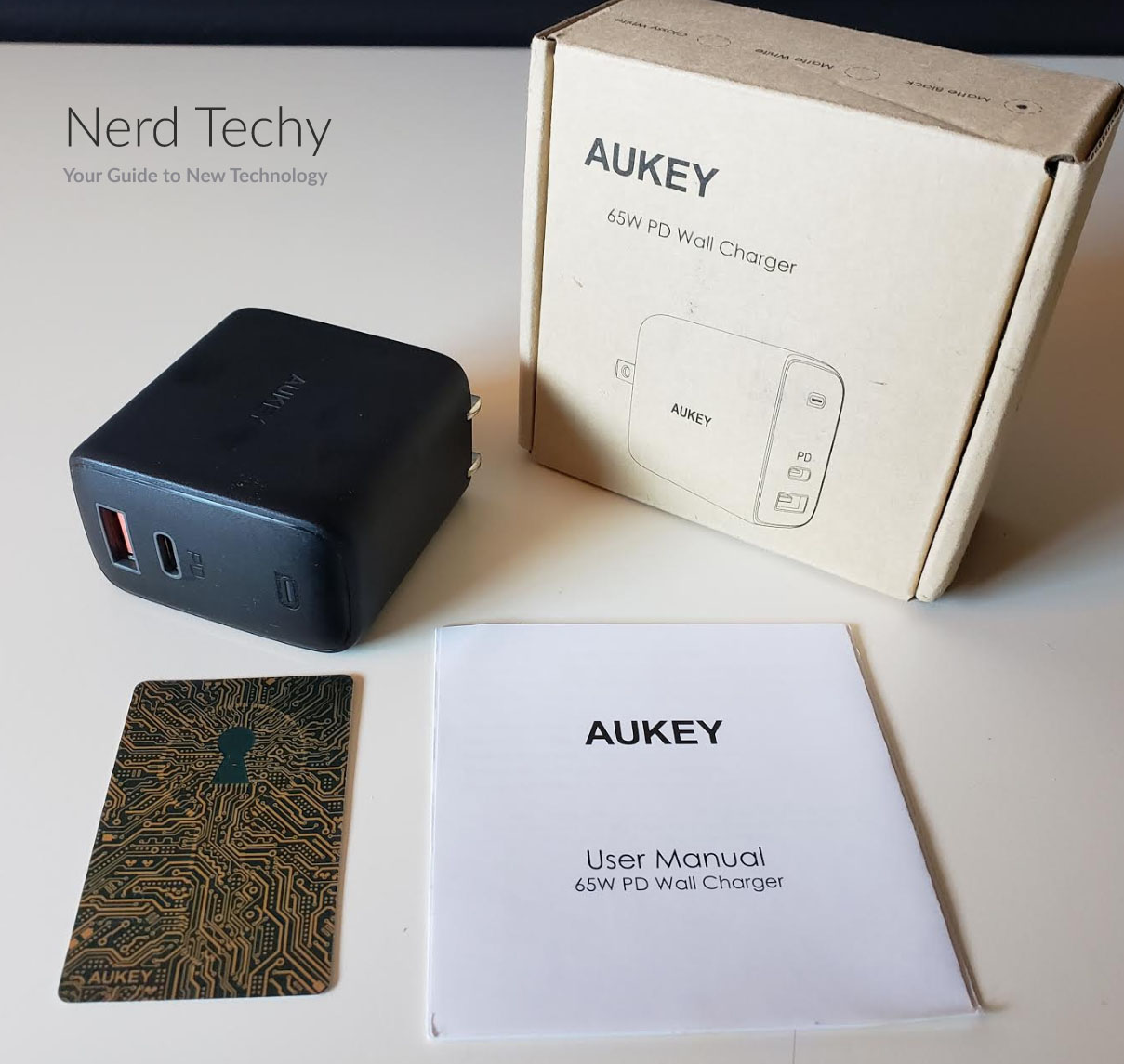 Aukey PA-B3
The Aukey PA-B3 is a compact wall charger that's designed for easy travel. It measures 2.05 inches tall, 1.18 inches wide, and 2.05 inches thick. It's designed for easy transport, with a light weight of only 3.6 ounces. It also has collapsible prongs, which won't tear your pocket or get bent in your suitcase. The case is constructed from a black ABS plastic, and has curved edges. This makes it even more pocket-worthy and travel-worthy, since it won't gouge anything. On the sides, you'll see glossy Aukey logos that don't stand out or mar the overall appearance.
Both USB ports are located on the front of the charger. The top port is the USB Type-C PD port, and the bottom one is a USB Type-A port. Both ports have a high-visibility orange tab inside. On the Type-C port, this is purely cosmetic. But on the Type-A port, it serves a useful function. It makes it easy to know which way to orient your USB plug. Above the power ports, there's a small LED that illuminates when the PA-B3 is actively charging a device.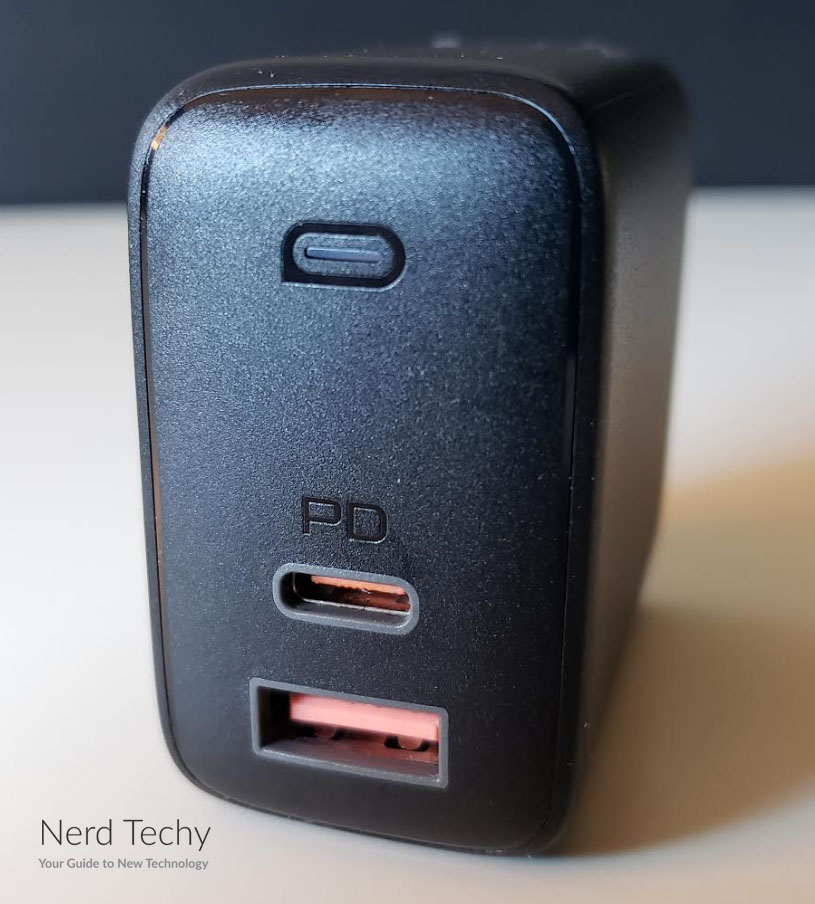 The PA-B3 uses Aukey's Advanced Omnia GaN Power Technology. GaN is short for Gallium Nitride, a new type of semiconductor technology. It functions 100 times faster than traditional silicon semiconductors. This allows the PA-B3 to deliver power at 3 times the rate of silicon chargers, at only half the size. The PA-B3 also uses dynamic detect technology. When a single device is plugged into the charger, it gets the maximum amount of wattage. When a second device is plugged in, dynamic detect will automatically redistribute the power. It does this intelligently, ensuring that no power is wasted and both devices receive the maximum possible power.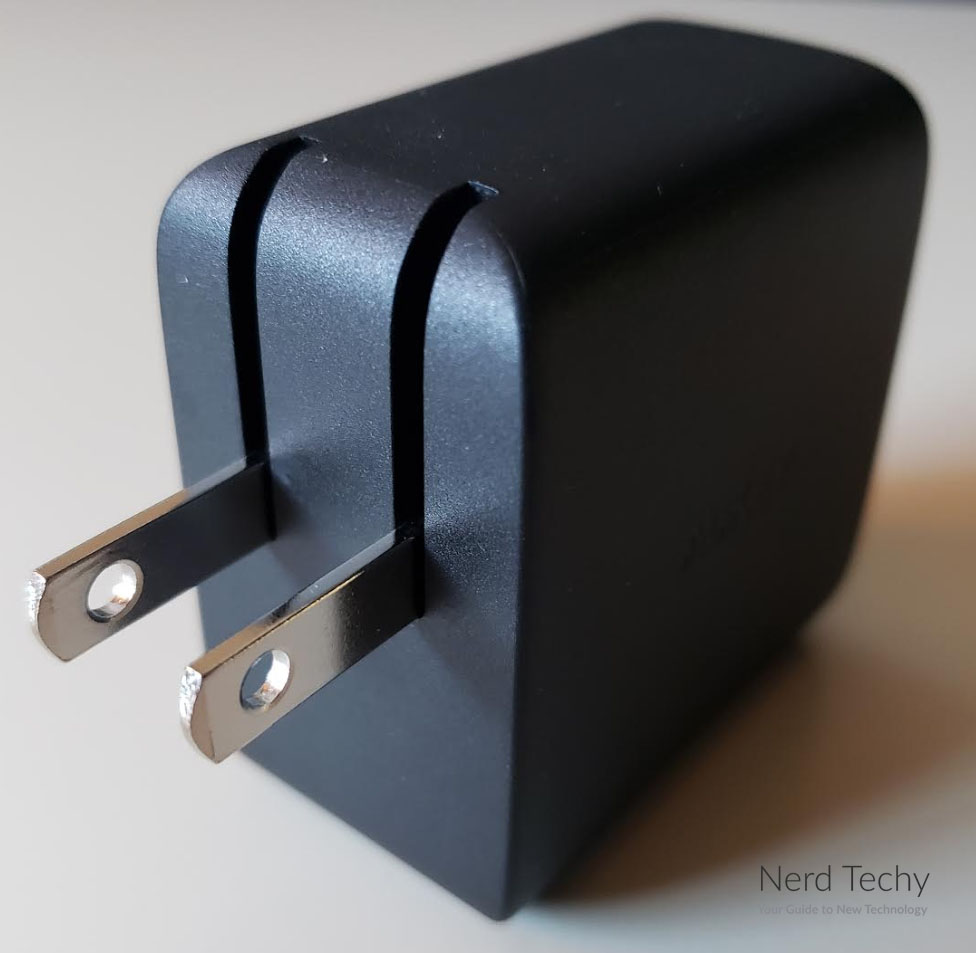 Finally, the PA-B3 has a number of built-in safeguards to protect your devices. It features over-current protection, which is standard for PD technology. It also uses overcharging protection. This will automatically stop delivering power to your device when it's been fully charged. As a result, your battery will last longer and will not get damaged by the charger. In addition, the PA-B3 has a built-in temperature sensor. If the charger starts to get too hot, it will automatically shut down.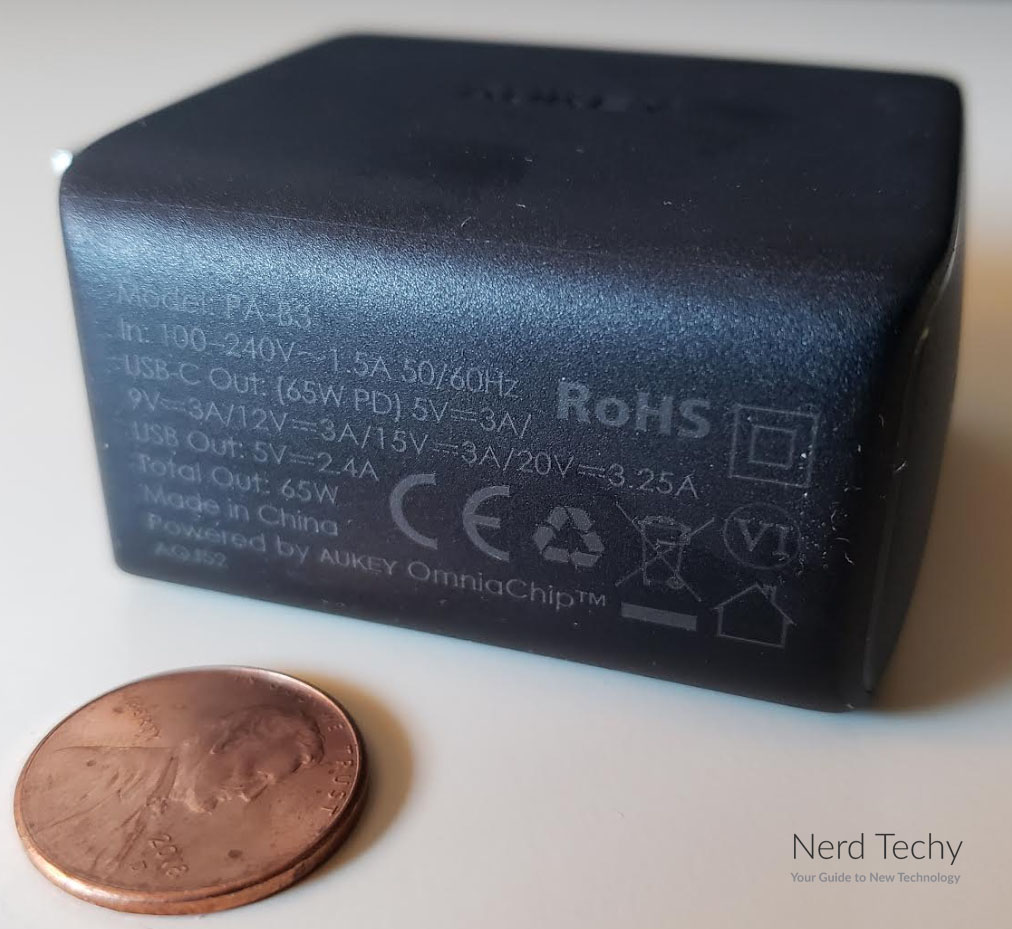 Compatibility
The PA-B3 can accept a power input of 100 to 240 volts. As a result, it's compatible with electrical systems worldwide. Depending on where you go, you might need an adapter for the prongs. But you won't need a voltage adapter. The USB Type-C port is capable of delivering up to 65 watts of total power. It can also deliver as little as 15 watts. So you can charge pretty much any device that takes a USB Type-C charger. The USB Type-A port delivers a standard 12 watts (5V, 2.4A). It does not offer quick charge technology or any other features. The maximum total power delivery is 65 watts. So if you plug a device into the USB Type-A port, the Type-C port will drop to a maximum of 53 watts.
For most purposes, you're obviously going to prefer the faster USB Type-C port. It will charge most modern smartphones in less than an hour. And if your phone isn't compatible with USB Type-C, you'll still get the maximum possible USB Type-A power. You can also charge your phone and your laptop at the same time. Keep in mind, though, that this will drop the wattage on the Type-C port. When using the Type-C port alone, you can charge any MacBook under 15 inches while using it. On larger laptops, the charger will only mitigate battery loss. You'll have to shut the laptop off to actually charge it all the way.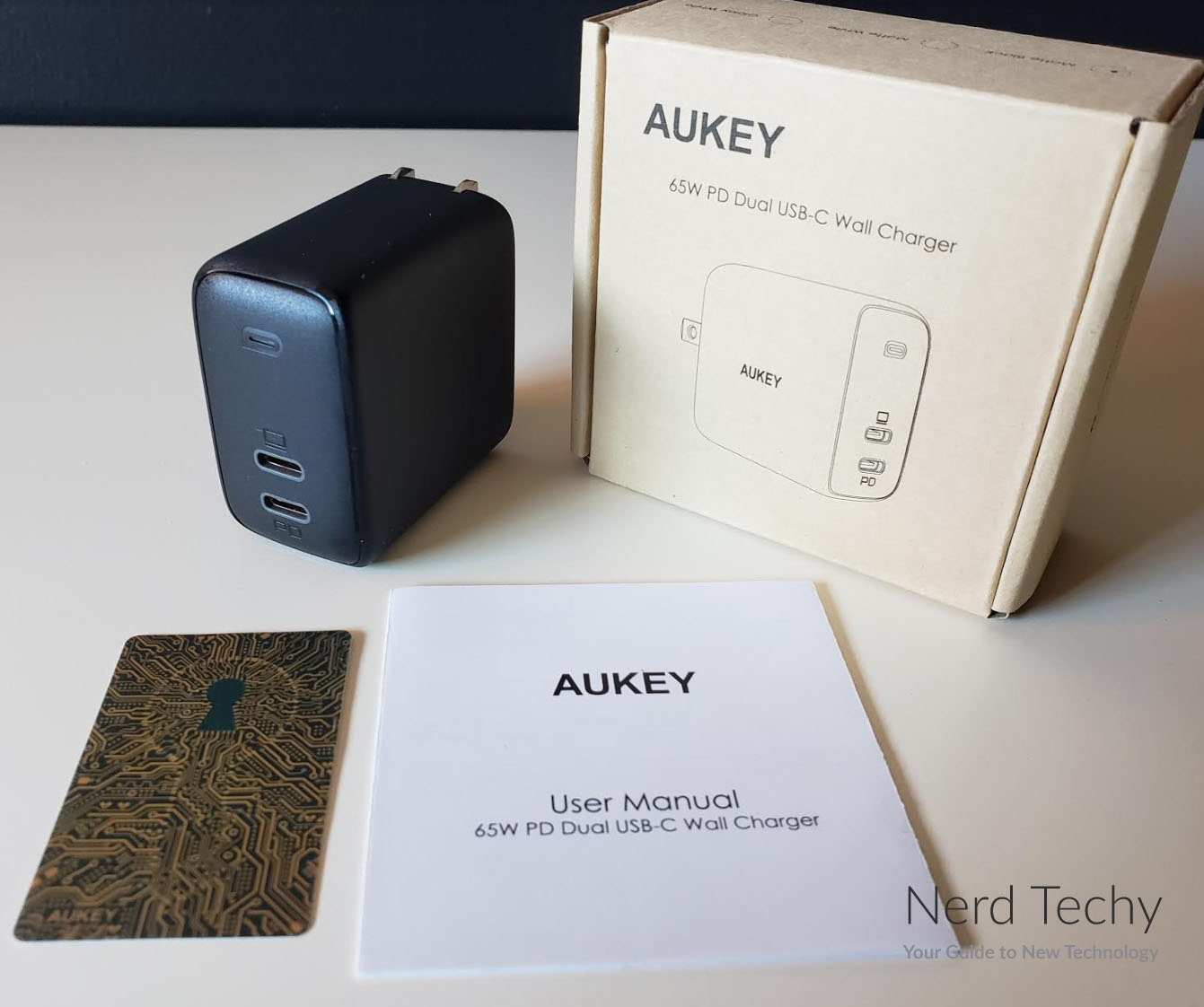 Aukey PA-B4
At first glance, the Aukey PA-B4 looks very similar to the PA-B3. However, there's one important difference. While the PA-B3 has a USB Type-C and Type-A port, the PA-B4 features dual USB Type-C ports. In this regard, it's similar to the Aukey PA-D5, which we have previously reviewed. It has the exact same dimensions as the PA-B3, 2.05 inches high, 1.18 inches wide, and 2.05 inches deep. However, it's ever so slightly heavier, tipping the scales at 3.65 ounces. In practice, the difference is so miniscule that you won't be able to notice the difference.
In terms of construction, the PA-B4's case is basically the same as the PA-B3. It has a black ABS plastic case, with rounded edges and glossy Aukey logos. On the front, there are a pair of USB Type-C ports. The top is a basic Type-C, while the bottom is a PD port. It's easy to keep track, because both have glossy black labels. There's also an indicator light to let you know when the charger is in use. On the back, there are collapsible prongs, which are safe for your pocket and for travel.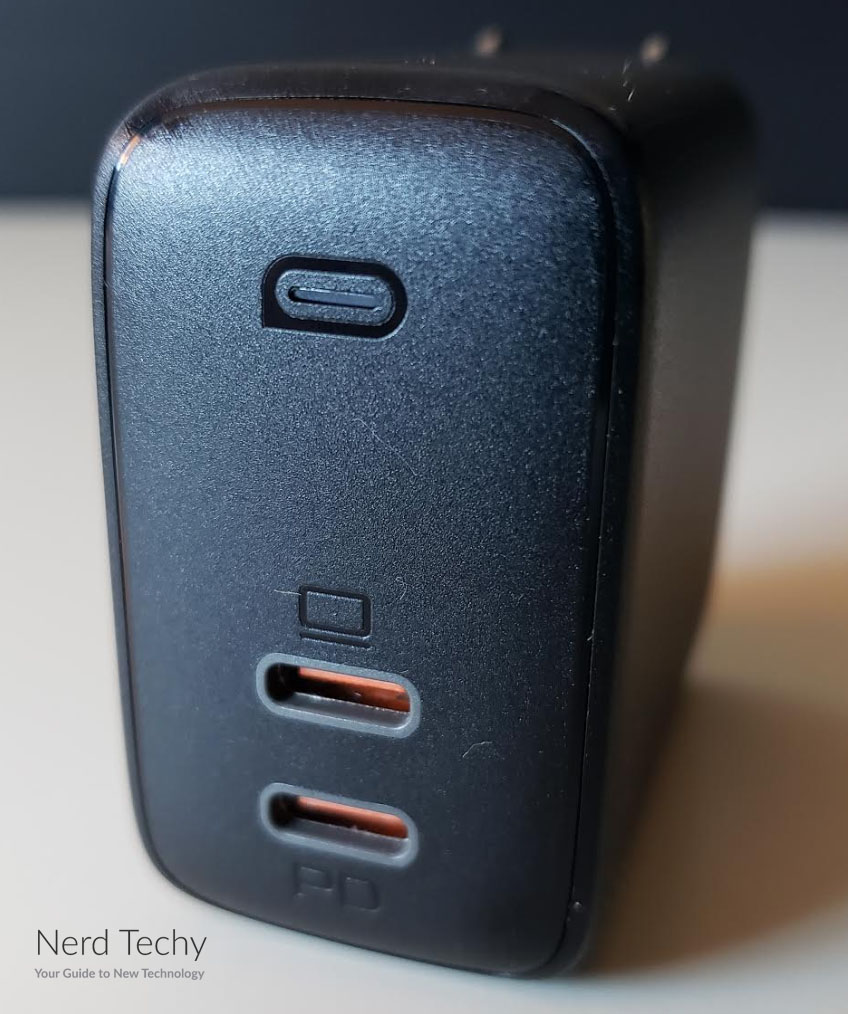 The PA-B4 has all of the same internal features as the PA-B3. It utilizes the Omnia GaN chip, which delivers blazing fast power delivery. It also uses the dynamic detect technology. This will ensure that both ports receive the maximum about of power when they're in use. Finally, you get all the safety features you'd expect from a quality charger. You get over-current and overcharging protection to keep your devices safe from damage. And you get overheating protection to keep the charger itself safe.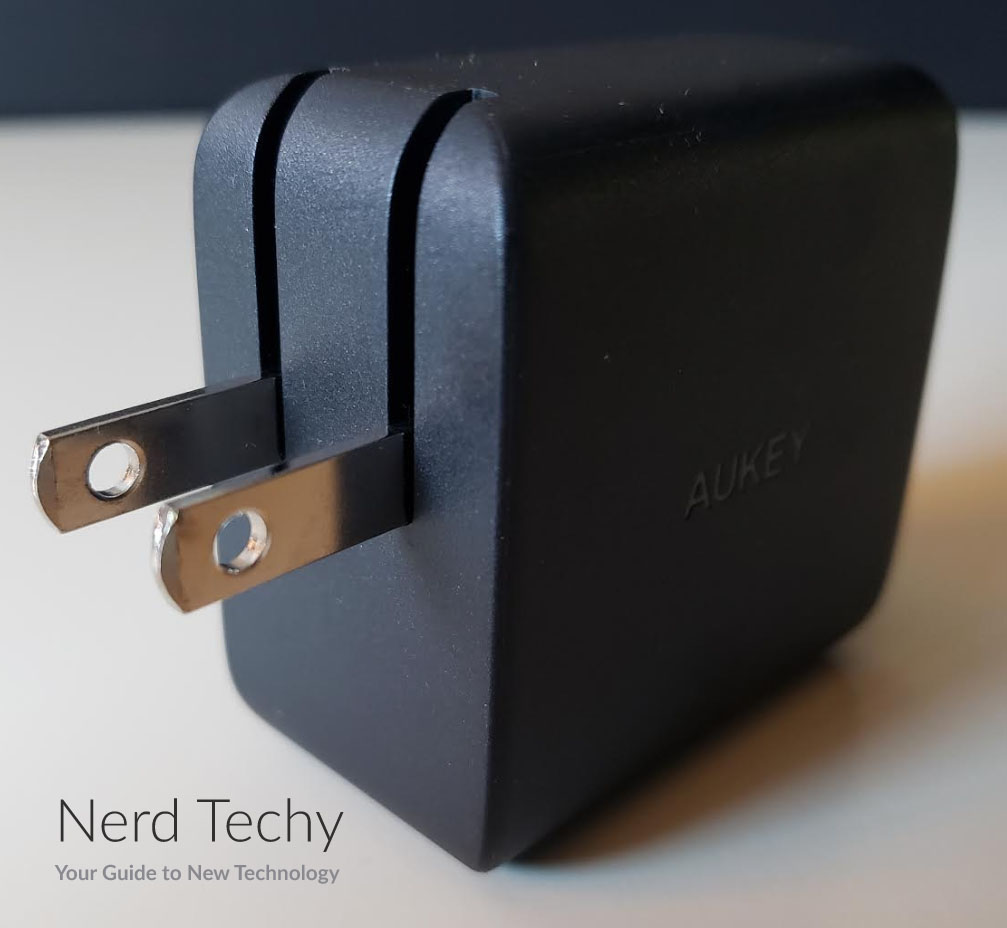 Compatibility
The Aukey PA-B4 is capable of accepting anywhere from 100 to 240 volts. Much like the PA-B3, this means it can be used anywhere in the world with a simple prong adapter. It has a maximum power output of 65 watts. The PD port is capable of delivering this full amount. The top USB Type-C port has a maximum wattage of 18 watts, the standard for basic USB Type-C. When a device is plugged into the PD port alone, you'll get the full 65 watts. When devices are plugged into both ports, the wattage on the PD port will drop to 45 watts.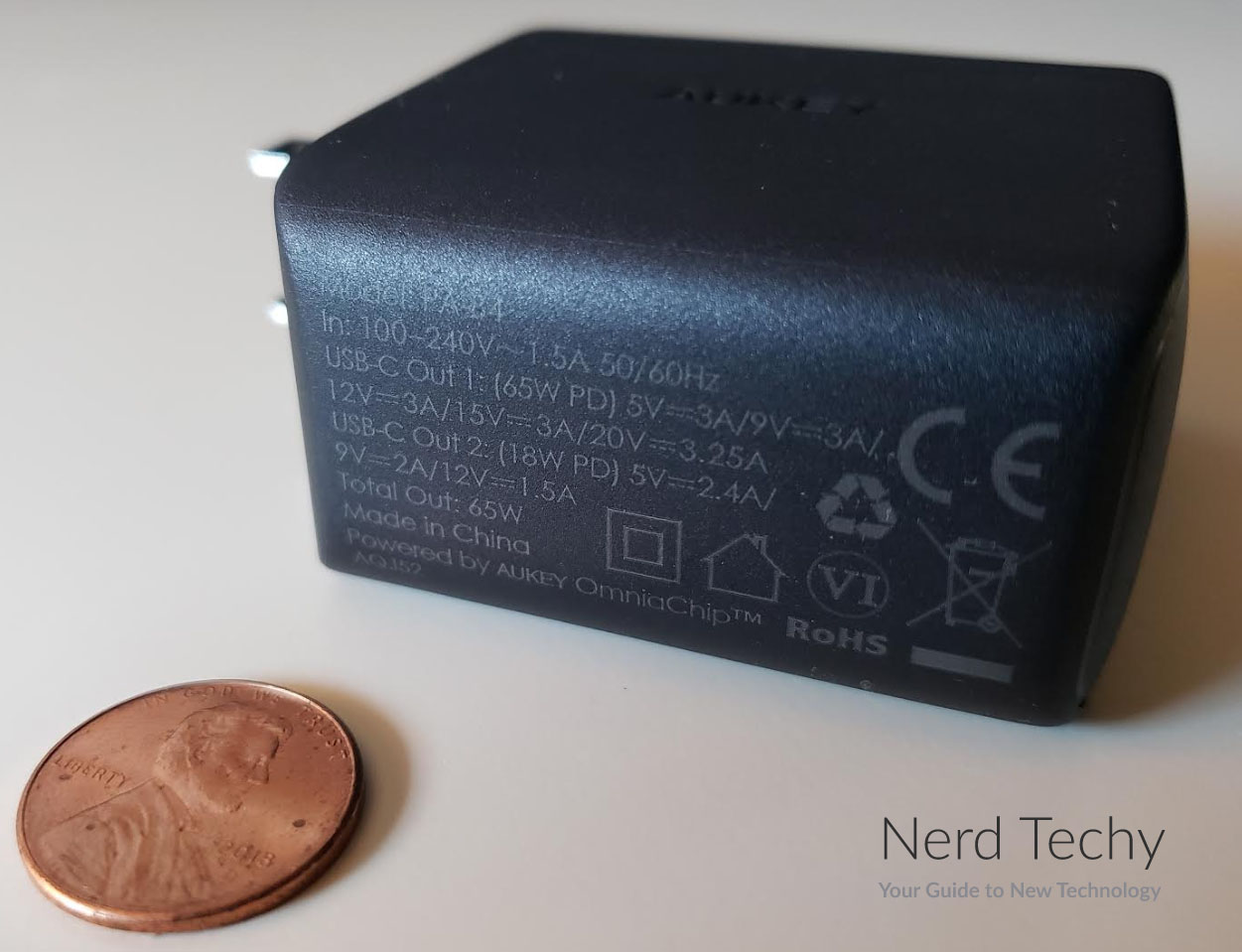 The PA-B4 will charge virtually any device that accepts USB Type-C. The PD port will charge an iPhone X in less than an hour. And even the standard Type-C port will still charge your phone in less than two hours. But the real advantage of the PD port is for laptop charging. Smaller laptops, such as MacBook Pros smaller than 15 inches, can be used while you're charging them. And even with larger laptops, you'll be able to charge the battery very quickly while they're powered off.
Final Verdict
So, which one of these chargers is your best choice? As you can see, in most regards, the Aukey PA-B3 and Aukey PA-B4 are virtually identical. They're the same size, basically the same weight, and they're both very well designed for travel. They even have the same maximum wattage, at 65 watts maximum power delivery.
The only significant difference is the type of secondary port. The PA-B3 has a USB Type-A port, which is useful for charging older cell phones. The PA-B4, on the other hand, has a Type-C port, useful for most modern smartphones. Either way, you get a powerful USB Type-C PD port for charging your laptop. As a result, it really comes down to what kind of smartphone you have. If your phone charges via USB Type-A, choose the PA-B3. If it charges via USB Type-C, choose the PA-B4. That's about it!