Quick Analysis
Pros
Takes only seconds to install and configure.
Nice video quality - both day and night.
Compact design doesn't take up much space.
Integrated WiFi
Great for high theft areas.
Cons
No rear camera.
Storage limited to 64GB.
No option to hard-wire to car battery.
There are any number of reasons you might want to own a dash cam. Perhaps the most common is that you want to be protected in the event of an accident. There are insurance scammers everywhere, who work in teams to rip people off. If the person who's scamming you has a "witness" who's actually their accomplice, it's your word against theirs. A camera can provide vital evidence to tip the scales in your favor. In the best case scenario, it could save you a lot of money in increased insurance costs.
Of course, a camera isn't just useful for avoiding complex criminal schemes. It's also useful for more mundane purposes. For instance, suppose you stop to get groceries. When you get out of the store, someone has backed into your headlight, and they didn't leave a note. In most cases, you'll be out of luck. At best, you might be able to file an uninsured/underinsured motorist claim. But with a camera, you can capture their license plate. In most states, that kind of video evidence will be good enough to file an insurance claim.
But not every dash cam is equally well designed. Today, we're going to take a close look at the SkyView B2 Dash Cam, to see how it performs. We'll take a look at all of its features, from the design to the video quality to the storage. Once we've gotten a complete picture, we'll be ready to render our verdict. Let's begin!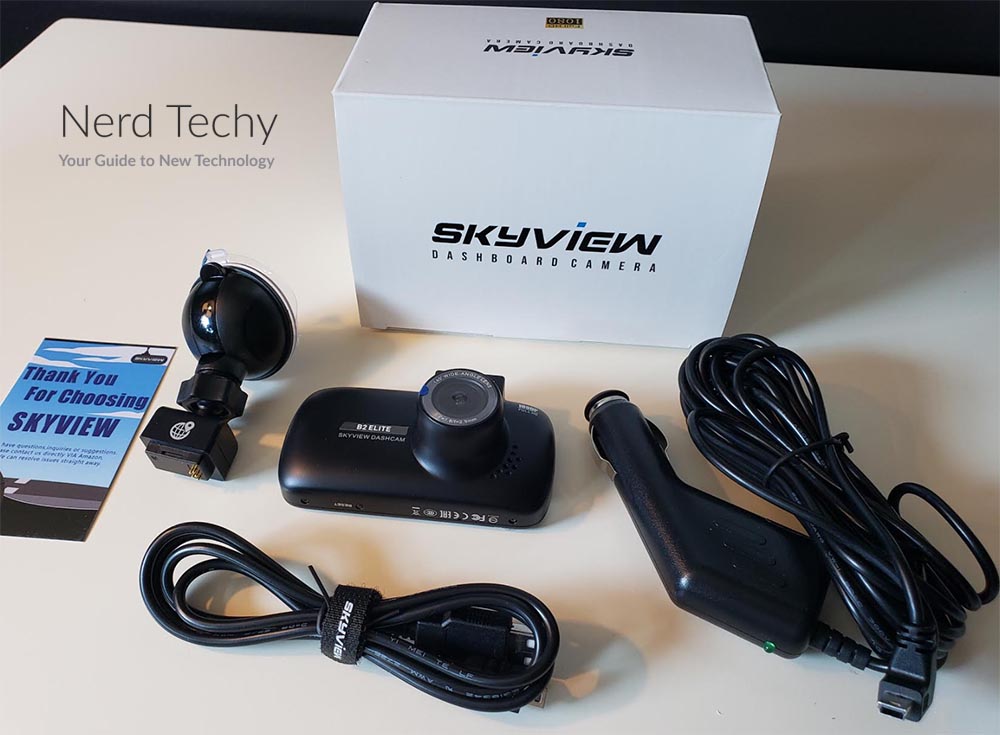 Overall Design
The SkyView B2 Dash Cam is one of the more unique dash cams you'll see on today's market. For the most part, modern dash cams are usually adhered to the windshield. Alternatively, many are designed to replace your rearview mirror. The SkyView B2 Dash Cam takes a more old-school approach, with a suction cup mount. This is designed for easy removal as well as easy installation, but it won't come off by accident. From what we could tell, it stays mounted even on bumpy, potholed roads.
The back side of the suction cup has a pivoting design that makes it easy to adjust. Instead of a mechanical clamp, it attaches to the camera with a magnetic linkage. This has a couple of advantages. For one thing, it allows for easy removal and insertion of the camera. If you're concerned about leaving a camera in your car, it takes just seconds to remove. The second advantage is that you don't have to plug or unplug a cord when you do this. The magnetic linkage has contacts built-in, which snap easily into place.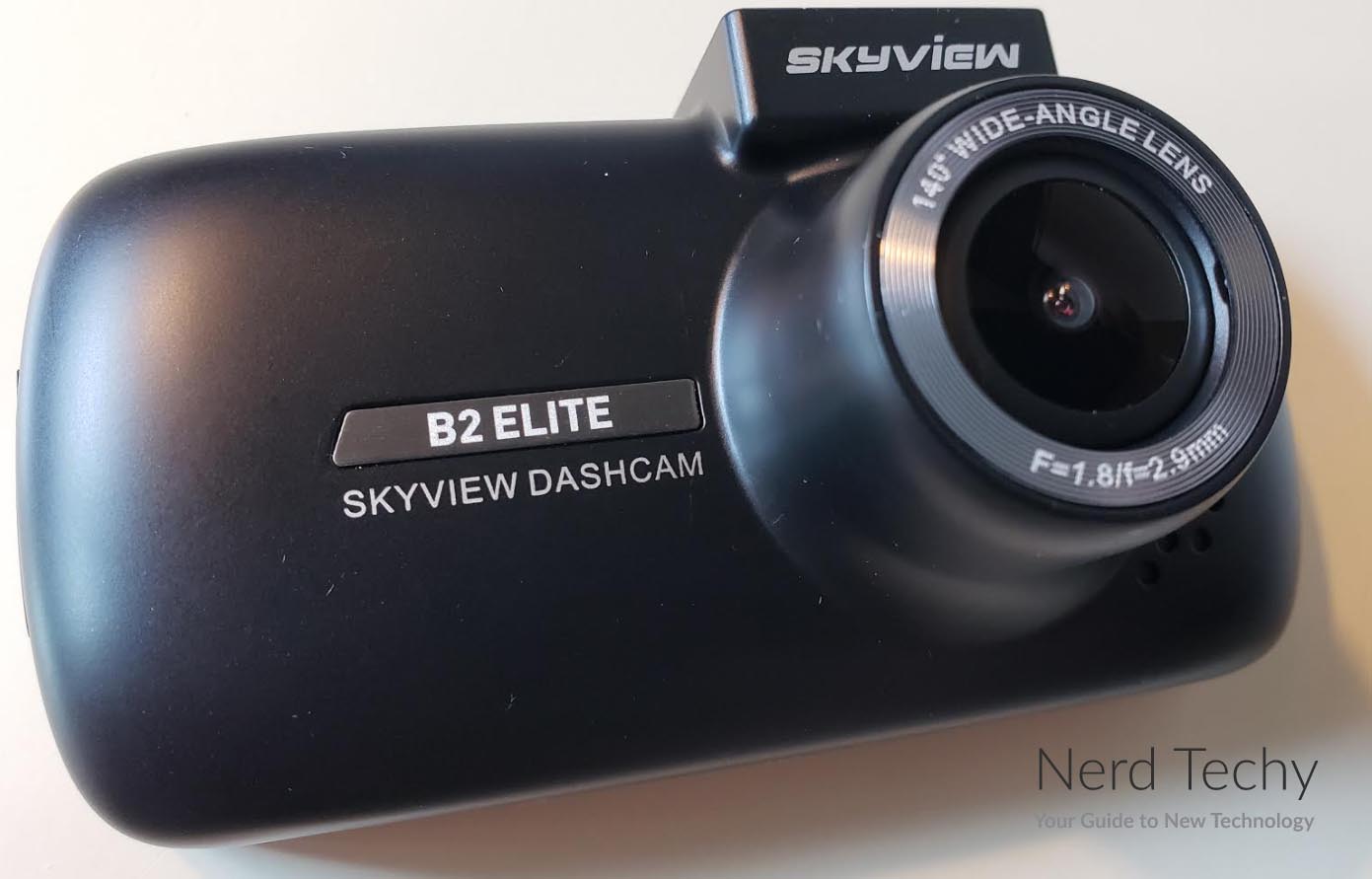 The camera itself is constructed from black ABS plastic, with a fingerprint-resistant satin finish. It has a rectangular design, with rounded corners and edges. The front is similarly rounded, with a lens housing that slightly protrudes from the main case. The back side of the camera features a 2.7-inch touchscreen display. It will give you a constant display of whatever is on the camera, and you can also adjust some menu options.
Along with the camera and the mount, you get the cords you need for installation. There's a 12-foot USB power cable, as well as a shorter 2 ½-foot cable for data transfer. Without a rear camera, that's everything you're going to need to get started.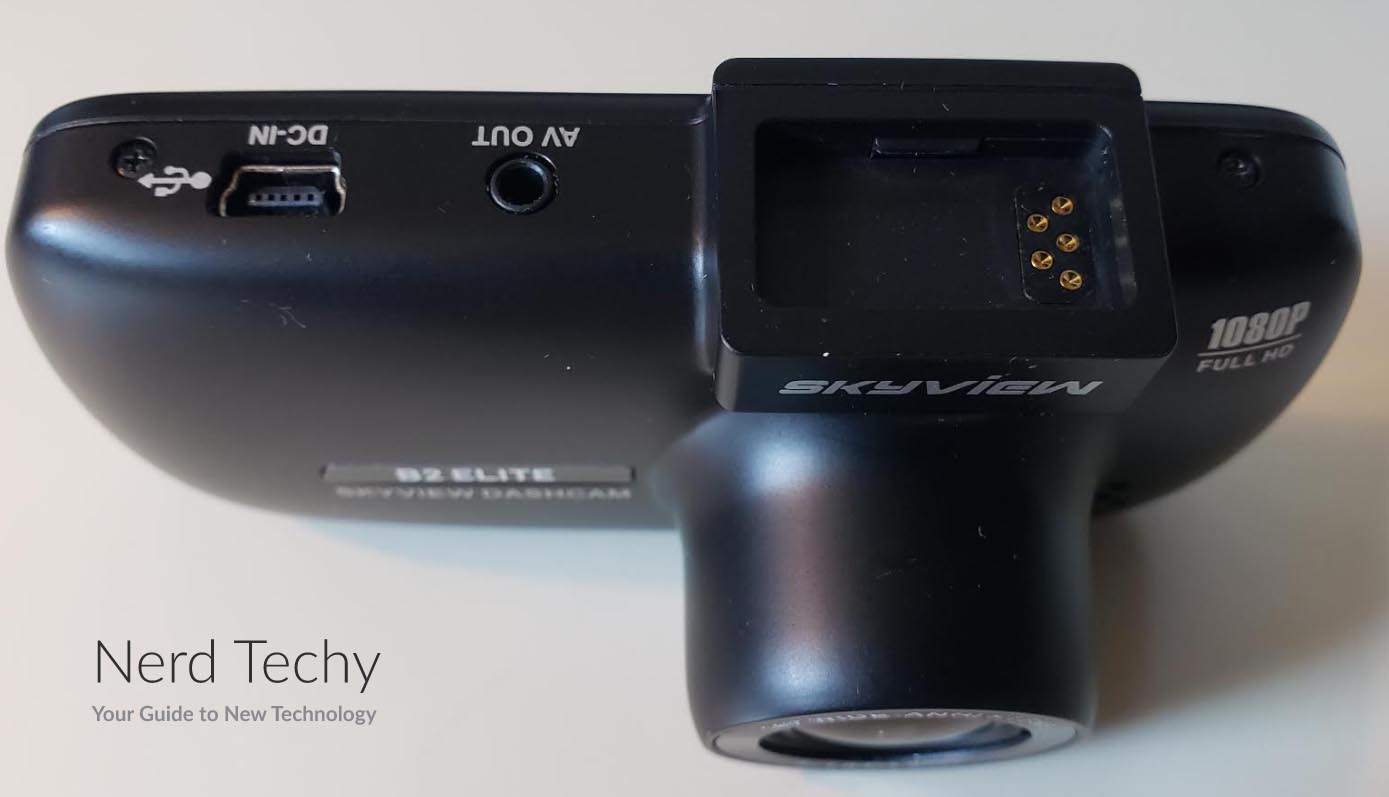 Installation
Perhaps the best feature of the SkyView B2 Dash Cam is how easy it is to install. As we mentioned, it's an old-school suction cup mount, so it mounts in mere seconds. Once that's done, all you need to do is run your USB cord to the nearest outlet. You can either plug into a standard USB port, or a USB cigarette adapter.
That's all you really need to do. That said, there can be a few benefits to using a hardwiring kit. We'll talk about these more in the next section. There's no hardwiring kit included in the package, but there are plenty available online. The only real downside is that they can be a pain to install. This negates many of the SkyView B2's biggest advantages. On the other hand, considering the magnetic mount, it also gives you a hardwired camera that's easy to remove. Regardless of which option you choose, you don't have to worry about drilling any holes. You also don't have to run wires the full length of your car, since there's no rear camera.
As we mentioned, perhaps the main reason to buy the SkyView B2 is the magnetic mount. This is ideal for high-crime areas. That said, it might not be ideal for all drivers. If you want a different hard-to-steal camera, check out the Auto-Vox V5 Pro. Because it completely replaces your rear view mirror, odds are that no-one will even notice it. On the downside, this type of camera can be a bit harder to install than many others.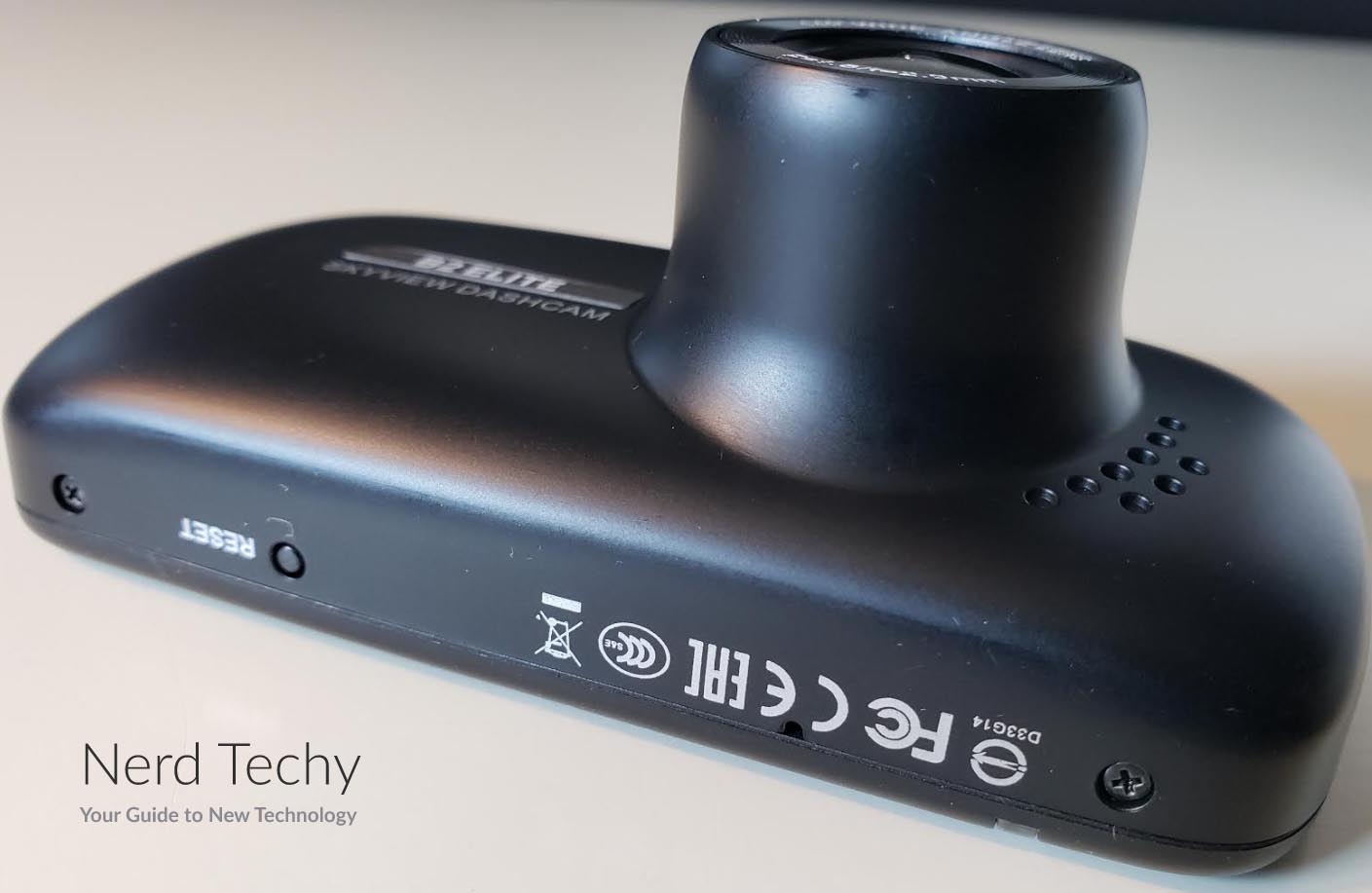 Video Quality and Storage
The SkyView B2 Dash Cam records video in full 1080p. This is more than good enough for most purposes. You'll be able to read a license plate at any reasonable distance, which should be all you need. Perhaps more importantly, it records at a rate of 60 frames per second. This means it's less susceptible to motion blur, so you can get better detail at high speed. Even at night, the B2 lens works very well. It comes with Sony Exmor image sensors, with a six-lens array that gathers infrared. This multi-lens setup allows it to gather more infrared than most night vision setups. You'll see fine, distortion-free detail even in near-total darkness.
In addition to good resolution, the B2 Dash Cam also has a reasonably wide field of view. At 140 degrees, it can pick up everything in front of you, as well as what's off both of your front corners. The obvious downside is that the B2 Dash Cam is only a front camera. You won't get any rear coverage at all, which might not be enough for many people. If you need better coverage and higher resolution, consider the Viofo A129 Pro. This kit has a 4K front camera, 1080p rear camera, and hardwiring compatibility. That said, it's also a pain in the neck to install, and almost as hard to remove.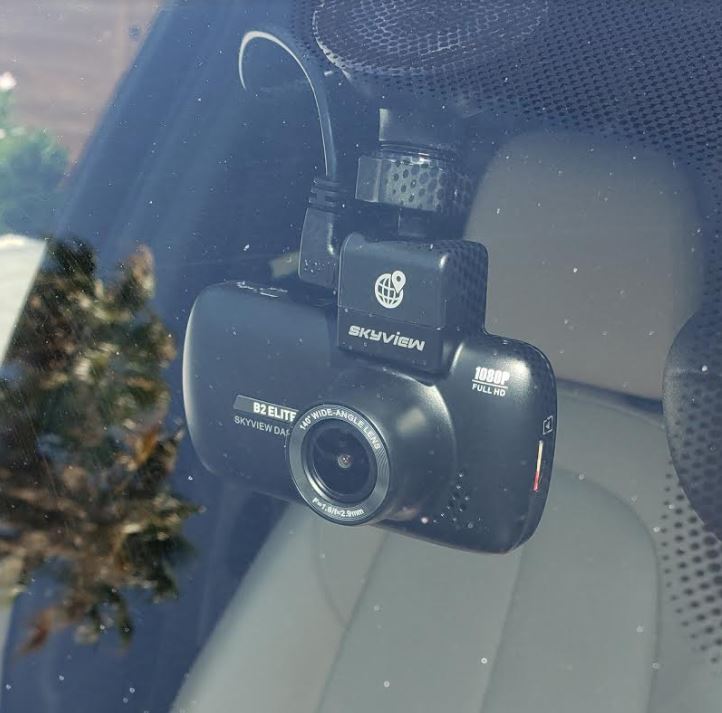 The B2 Dash Cam provides local storage, with support for up to a 64GB SD card. We have seen reports of some people finding compatible 128GB cards. In most cases, though, people end up with data errors on larger cards. SkyView only guarantees support for 64GB, so it's best to stick with that. This should still be enough for pretty much anyone. 64GB is enough for 8 hours of video, so you'll have plenty of time to save any footage you need. There's no online storage option at this time.
In addition to continuous recording, the B2 Dash Cam can also be used in impact mode. In this mode, it will only record when there's an impact, such as from an accident or break in. When this happens, it will record for 10 seconds. Remember how we said you could get some added benefit from a hardwiring kit? If you use one, the B2 Dash Cam can function as a parking camera. It will record impacts and break-ins even if your car is turned off. Make sure to follow the instructions to the letter if you're going to do this. If you install a hardwiring harness incorrectly, it can potentially drain your battery all the way.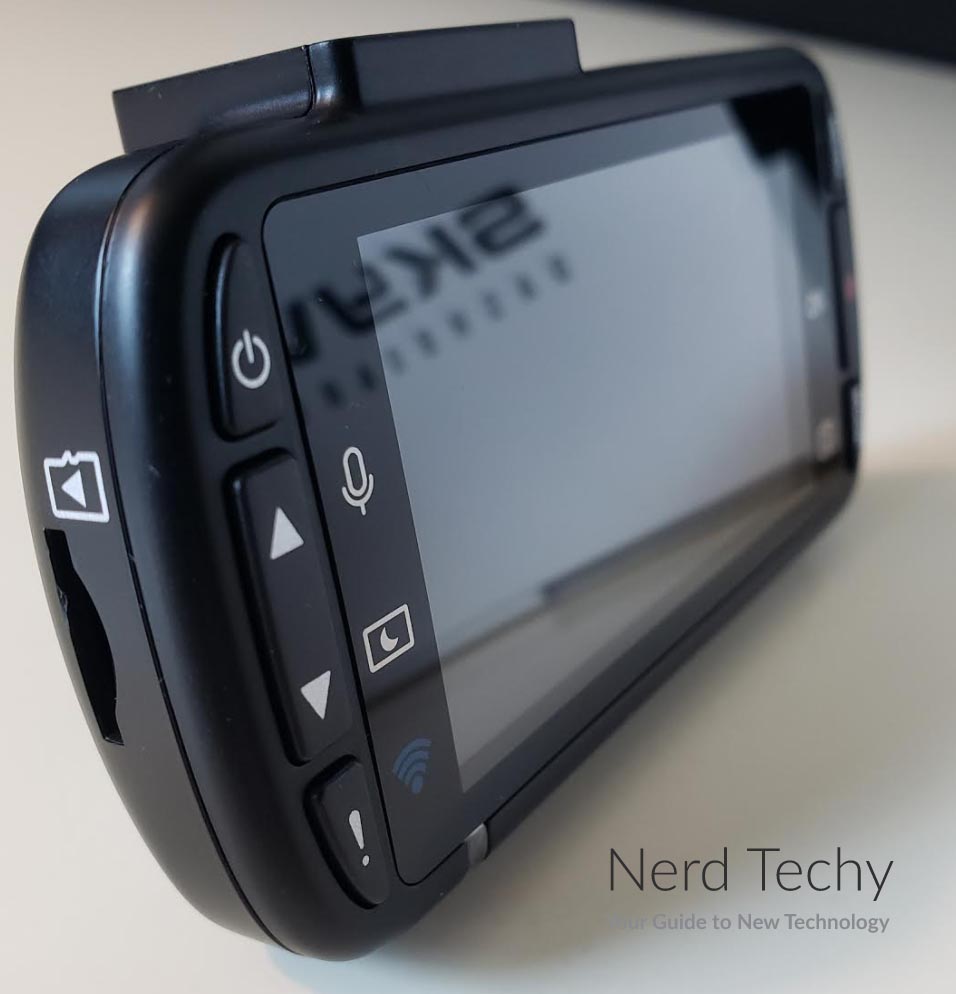 Extras
There are three ways of getting recorded video off of the B2 Dash Cam. The first is to remove the SD card and insert it in your phone or laptop. This is unnecessarily complex. Instead, it's usually just easier to use the USB data cable. You can do this while the camera is in your car, or when you've taken it out.
Alternatively, you could use the SkyView app on Android or iOS. With the app, you'll be able to connect to the B2 Dash Cam's built-in local WiFi hotspot. This allows you to wirelessly manage your videos. You can even download clips to your phone, share them on social media, or save them for your records.
The B2 Dash Cam also has a built-in GPS receiver that tracks your speed and location. Through the app, you can use this tracking to create a real-time record of your trip. You can also imprint date, time, speed, and location information on the video.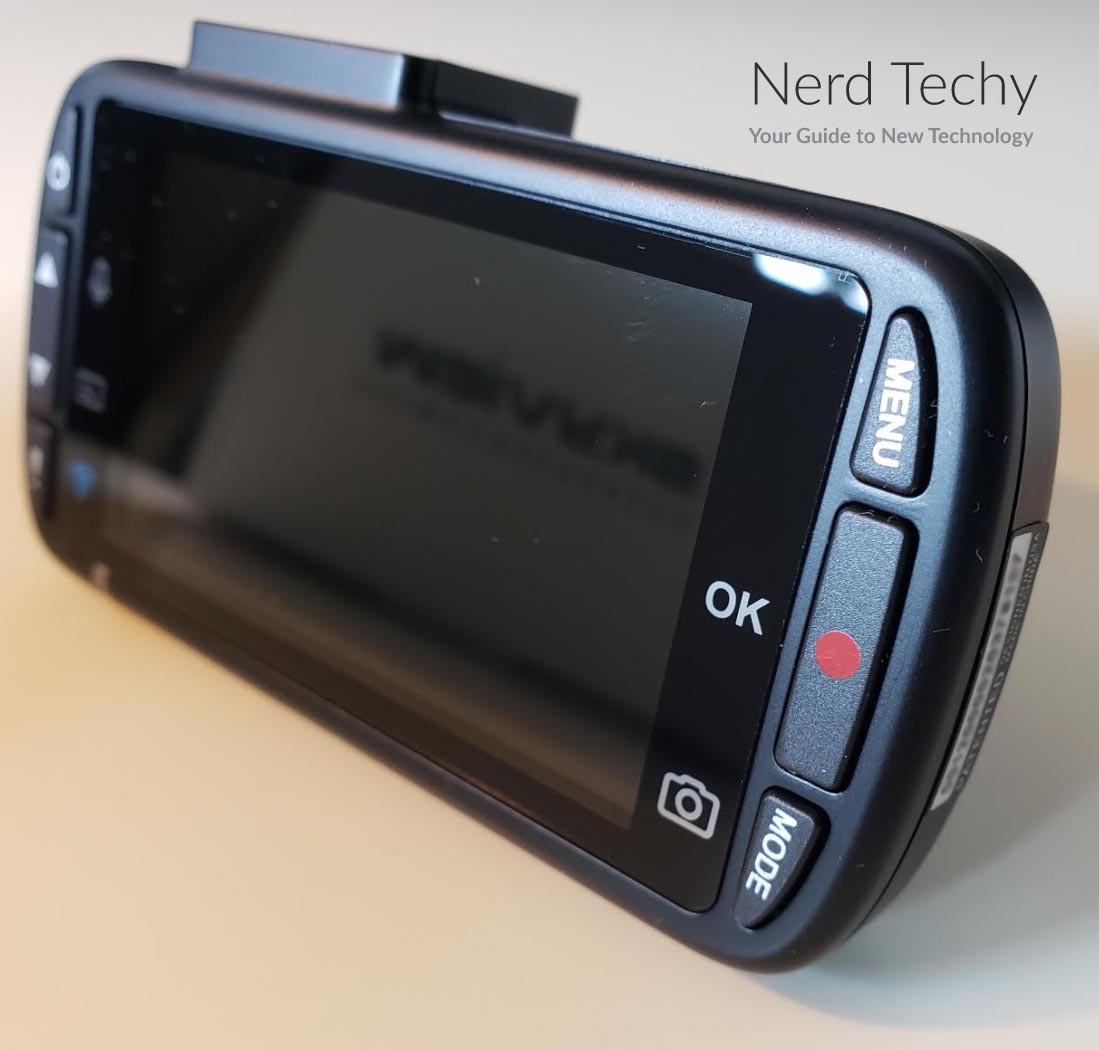 Final Verdict
The SkyView B2 Dash Cam is a bit of a mixed bag. For some people, it's going to be an excellent choice. But that's highly conditional on what you need. The main limitation is that there's only a front camera, not a rear camera. In other words, if you get rear-ended, it's not going to do anything to help you. On the other hand, if you're mostly concerned about looking forward, there's a lot to like here.
For one thing, there's the innovative magnetic mount. It's tough to overstate just how neat and useful this mounting system is. It keeps the electrical contacts together, and snaps easily into – and out of – place. Even so, it's secure enough to stay mounted during a bumpy ride. Because it's so easy to remove, it's ideal for people who are concerned about theft. Just take it with you ever time you leave your car, and you don't have to worry.
Connectivity options are pretty good. The built-in WiFi is a particularly nice touch, since it allows for wireless use. Admittedly, given the WiFi connectivity, we would have liked to see cloud storage. But on the other hand, this would not be workable for anyone without unlimited data.
As you can see, the SkyView B2 is a good choice if you want a removable camera for the front view only. On the other hand, it's a poor choice if you need a 360-degree view of your vehicle. It all depends on what you need.