Your car is one of your most important investments. It's what gets you to work, to the grocery store, and everywhere else you need to know. So it makes sense that you'd want to protect it. One way of protecting your car is to use a dash cam. You'll have a visual record of everything that happens on the road, keeping you safe from insurance fraud. Instead of it being your word against a scammer's, it will be their word against your video. But why limit your protection to just when you're driving? Many dash cams can double as parking cameras. If someone backs into you in a parking lot and drives away, you'll have a video of their license plate.
Choosing the right dash cam means shopping around and finding the one that has the features you need. It also means finding a reliable manufacturer you can trust. Auto-Vox is one such manufacturer. In the past, we've reviewed their Auto-Vox Aurora and Auto-Vox T1400 dash cam systems. Today, we'll be reviewing their V5 Pro.
The V5 Pro is a specialized variant of the Auto-Vox V5. The V5 is already an excellent dash cam. It mounts on your rearview mirror and features both front and back cameras. The V5 Pro has been modified to plug directly into your car's fuse box. It also ships with mounts so it can completely replace your existing rearview mirror. But how well is it designed? And does it work as well as the original V5? Let's find out!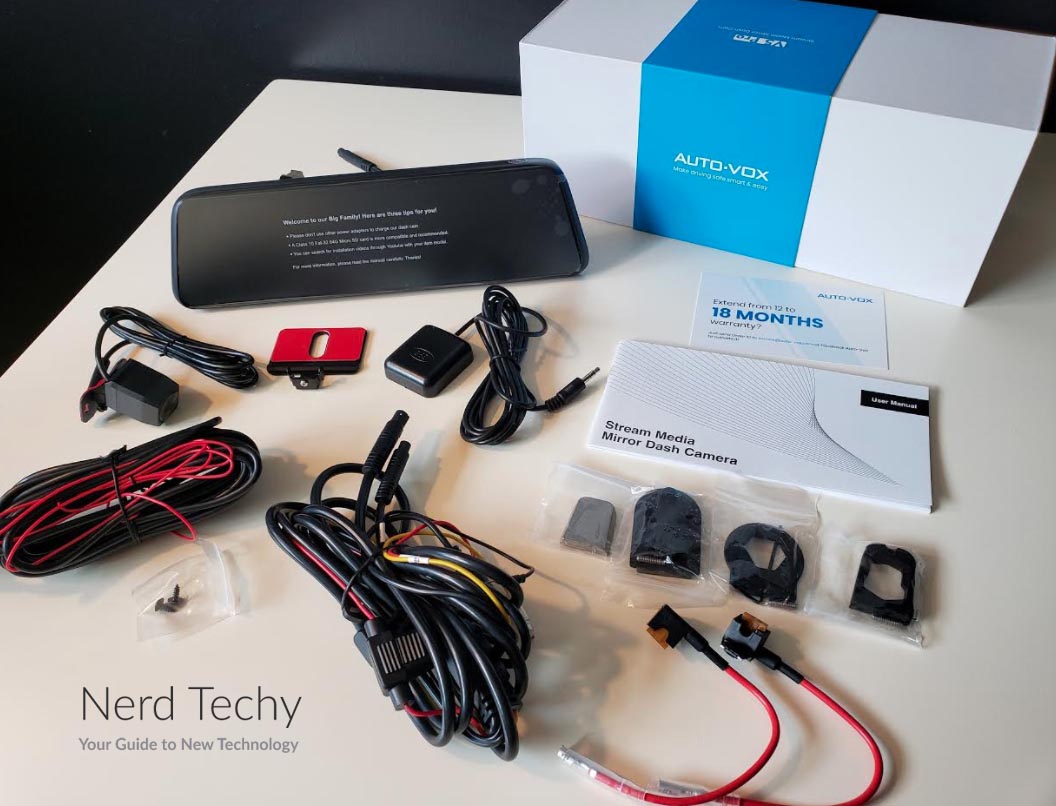 Overall Design
The Auto-Vox V5 Pro ships in three different parts: a front camera, a rear camera, and a GPS antenna. Let's take a look at each of them in turn.
If you're already familiar with the original Auto-Vox V5, the first thing you'll notice is the V5 Pro's front camera. Rather than strapping on your existing rearview mirror, it's a complete replacement. This makes for a more streamlined design, with less clutter in your windshield. The plastic housing is a matte black, which will mesh seamlessly with most automotive interiors.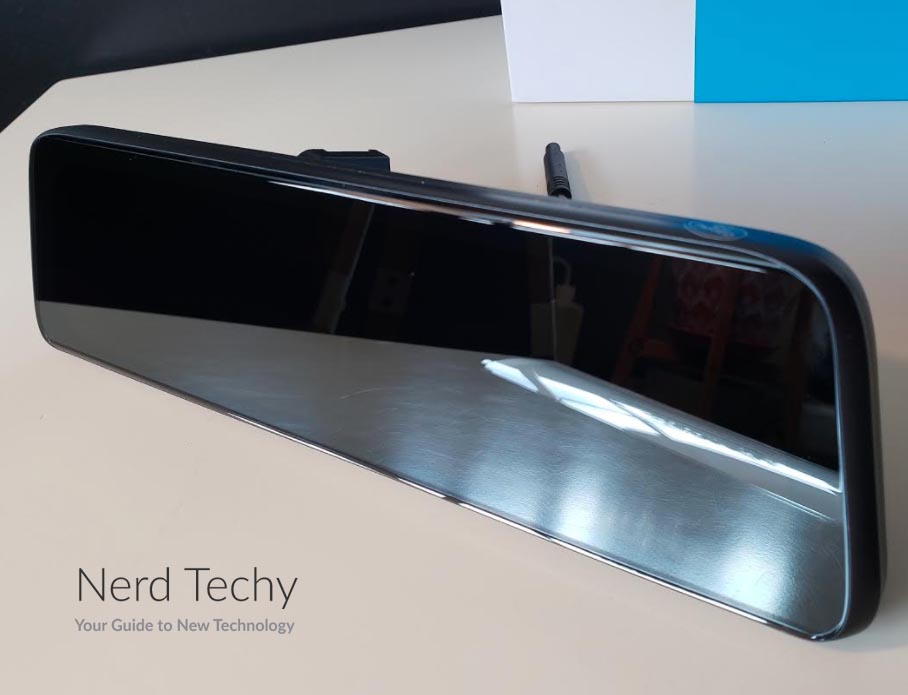 It's 10 inches wide at the bottom, and tapers towards a 9-inch top, with rounded corners for cosmetic purposes. Instead of an actual mirror, the front is a touchscreen display. By default, it will show you the view from the front camera, but you can manually switch back and forth. If you want to replay footage from either camera, you can do that with a few simple taps. A lens protruding from the front is the only cosmetic difference between this and a normal rearview mirror.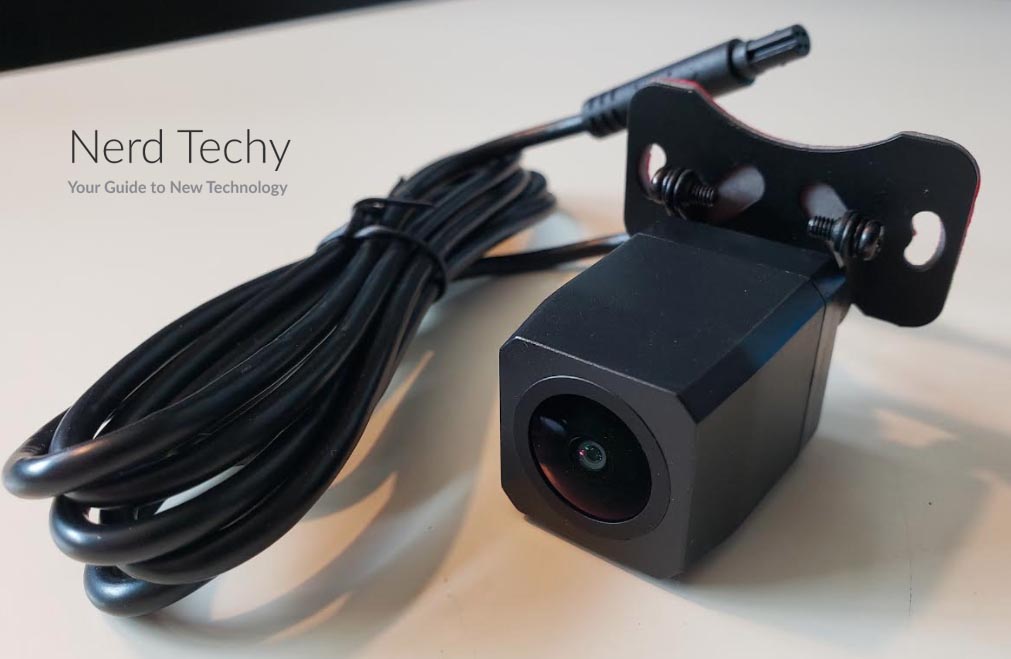 The rear camera is identical to the original V5 rear camera. It's a small cube, measuring one inch on each side. Although it can be mounted inside your vehicle, it's designed to be mounted outside. An IP68 water and dust resistance rating makes it suitable for virtually any conditions.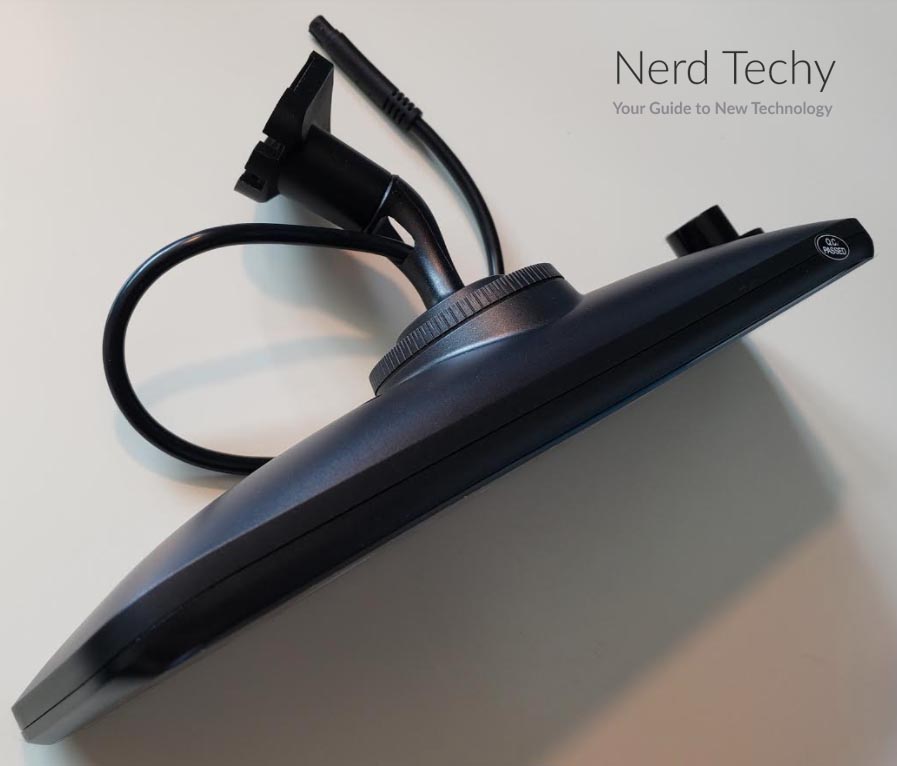 Whether you're a Sunday driver or a dedicated off-roader, you won't have any issues with weatherproofing.
The last part of the V5 Pro is the GPS antenna, and it's purely optional. The cameras will work just fine without it. That said, the GPS unit will automatically geotag all your videos, which can be useful. The GPS antenna is very compact, and comes with 3M mounting tape. The easiest way to mount it is at the top corner of your windshield. Keep in mind, though, that many vehicles have a reflective coating in this area. If that's the case in your vehicle, Auto-Vox recommends locating the antenna on your dashboard. Tuck it in the corner at the bottom of your windshield, and you'll barely know it's there.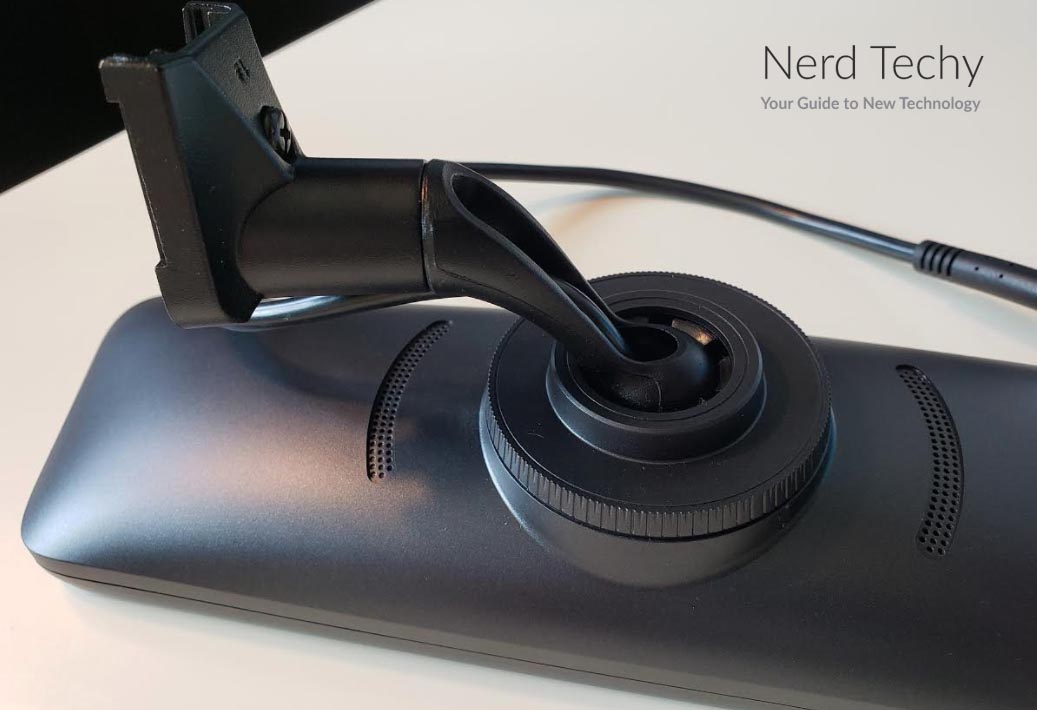 Installation and Storage
The first thing you'll want to install is the front camera. This is surprisingly easy. Simply unmount your existing rearview mirror, leaving the mounting base in place. The V5 Pro kit includes a set of four adapters, which can fit almost every model of vehicle. If not, Auto-Vox customer support can provide you with a custom adapter for your vehicle. This service comes at no extra charge.
Once you've mounted the camera, it's time to plug it in. The V5 Pro is designed to plug directly into your fuse box, providing a constant source of power. This is a major upgrade over the original V5, which could only receive power while your vehicle was running. Make sure to follow the instructions exactly, and connect the "ACC" plug to an "ACC" fuse. This will allow it to keep running when your car is off, and will shut off power if your battery gets low. Other fuses will either not work while the car is off, or can drain your battery. Once the camera is connected in this fashion, it will automatically make a 30-second recording if it senses an impact. The rear camera will also record. This provides excellent protection when your vehicle is parked.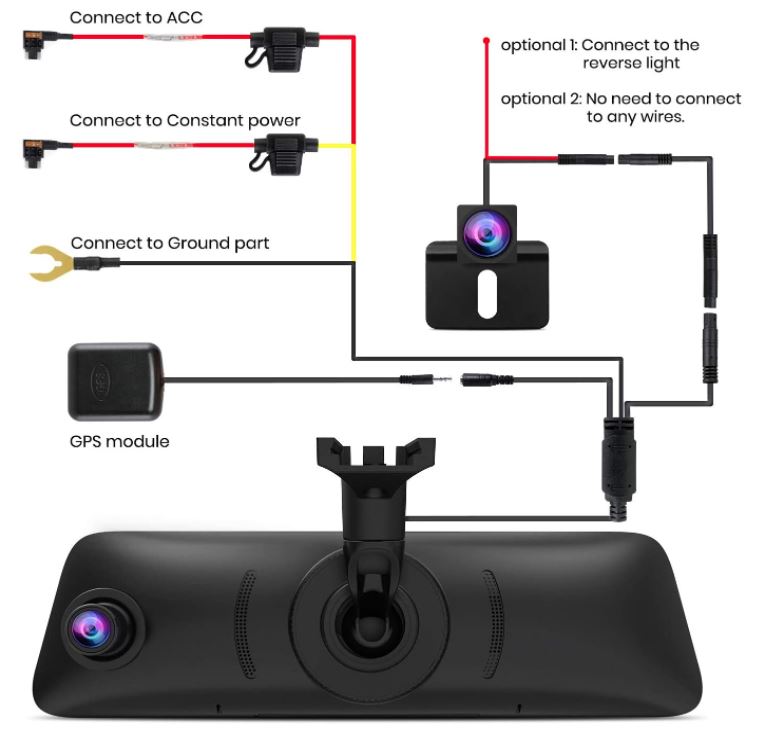 The rearview camera is easier to install than most. It comes attached to a built-in bracket that's sized for standard license plate screws. Simply remove the screw, run it through the bracket, and reattach the screw. The bracket also sports a swivel mount, so you can adjust the camera angle exactly as needed. Of course, running a wire outside your car can be challenging. Some people might prefer a simpler option. In that case, Auto-Vox includes mounting tape to attach the camera inside your rear window. Keep in mind, though, that this requires a clear field of view. In a pickup or a hatchback, the license plate mount is going to be your best option.
In addition to two mounting methods, you also get two wiring methods. The first is to use a single wire to connect the rear and front cameras. This will work just fine for most purposes. You just have to swipe back and forth on the display to switch cameras. That said, with this connection method, you'll miss out on some of the V5 Pro's best features. If you look at the rear camera's connection cable, you'll see a red cable branching off. This connection is designed to be wired into the connection for your reverse light. If you do this, the display will automatically switch to your rear camera when your vehicle is in reverse. This means your rearview camera will function as a reverse camera, such as the stock cameras on many cars. Just make sure to check your manual so you know which circuit to connect to.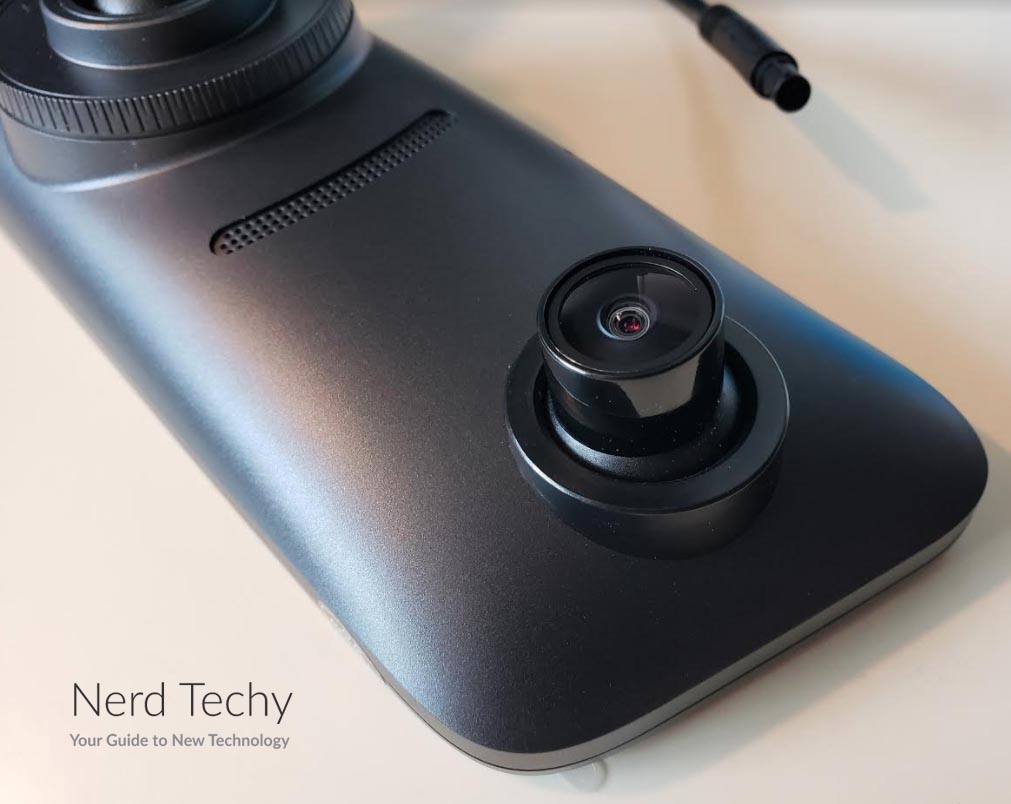 The V5 Pro utilizes SD card storage, which is fairly standard for a modern dash cam. However, there's no SD card included in the kit. To record video, you'll need to buy your own. The V5 Pro supports SD cards as large as 64GB, enough for 72 hours of video recording. When your car is moving, video will continually record. Once the SD card is full, new footage will automatically overwrite the older footage. On the downside, there's no cloud storage option. If your dash cam gets stolen, you'll lose all of your recordings. That said, you also won't have to deal with the potential privacy issues of cloud storage.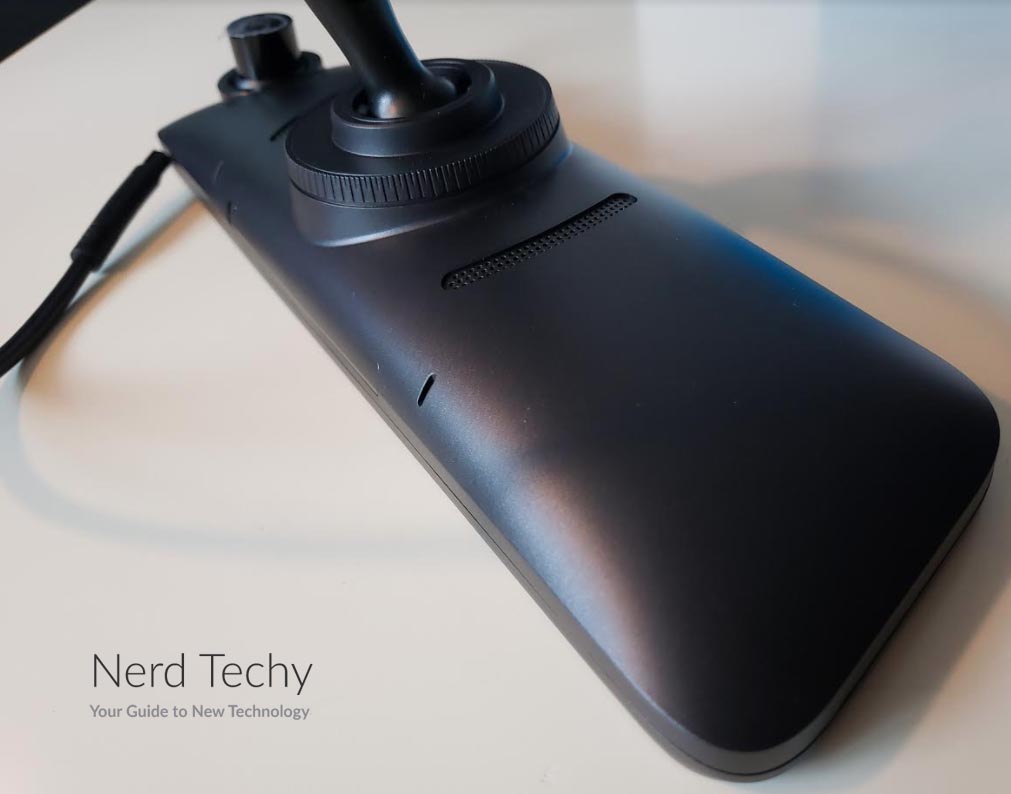 Video Quality and Extras
The V5 Pro's front and rear cameras both record video in 1080p. This is good enough for almost any purpose, including reading license plates in an accident. The image quality is excellent, and doesn't blur easily or pick up a bunch of glare. You also get to take advantage of night vision mode. The night vision is passive infrared, not active, which means you'll need some amount of ambient light. That said, this shouldn't be a problem under most circumstances. Your reverse lights provide more than enough illumination for the night vision mode to work effectively. Even under these conditions, the image is still crisp and clear. You don't have to worry about the fuzz you see on some night vision cameras.
The rear camera comes with a sweet bonus feature. It sports blue light resistant glass, as well as a top-quality Sony sensor. Under daytime conditions, you won't really notice a difference. However, if the person behind you is using bright blue halogen headlights or high beams, you'll still see just fine. Even if you get rear-ended at night, you'll be able to read the other person's license plate.
The display screen is easy to read under any conditions. It has a glare-resistant finish that prevents your image from being obscured by sun glare or someone's headlights. In addition, the finish is also laminated. This means that there's no air gap between the touchscreen glass and the substrate. With an air gap, the spot you touch isn't always the spot that registers. Moreover, an air gap can also cause additional glare. With a laminated screen, you avoid both of these issues.
The touchscreen itself provides a variety of useful functions. To begin with, as we mentioned, you can switch between the front and rear displays. You can also adjust the brightness. Turn it up for daytime driving, and turn it down at night to keep distractions to a minimum. Finally, you can manually adjust the parking lines. They're drag and drop, which means that adjustment simply requires a slide of your finger. As a result, you can adjust the parking lines as needed for any vehicle on the market.
Final Verdict
As you can see, the Auto-Vox V5 Pro brings a lot of value to the table. Because it totally replaces your rearview mirror, it allows for a neat, clutter-free windshield. The rear camera is relatively easy to install, and both cameras run on power from your fuse box. Not only is it effective as a dash cam, but it's a great parking camera. The lack of cloud storage might be a downside for some people. But as long as you don't mind dropping a few extra dollars on an SD card, local storage is easy. All in all, the V5 Pro is a solid choice for most people.