Hitron CODA
Pros
Blazing fast speeds up to 10 Gbps.
Plug-and-play installation with most internet service providers.
Can support many smart home devices.
Two Ethernet ports instead of one.
Cons
Does not work with voice-bundled internet services.
Modem only - no built-in WiFi
The internet has been around for less than 30 years, but in that time, it's completely transformed our world. What first began as a way for universities and militaries to share data soon became a part of everyday life. But early on, the internet was all about communication and information. It wasn't until later, with the development of high-speed internet, that we were able to do more. Nowadays, much of our media is delivered via the web. Streaming services let us access the latest shows right in our living rooms. Modern game consoles rely on digital downloads, and games routinely receive online updates after release.
But as technology continues to advance, this same connectivity is coming to all our devices. The Internet of Things (IoT) brings with it all kinds of smart devices, which could be just about anything. From smart thermostats to refrigerators that automatically order groceries, our lives are becoming more automated. This is all well and good in terms of convenience. But for many people, the need to connect all these devices could put a strain on your bandwidth. Even if you have a good internet plan, you also need a modem and a router that are up to the task. Nowadays, this doesn't just mean plenty of bandwidth – it also means the ability to connect many devices.
Today, we'll be reviewing the Hitron DOCSIS 3.1 CODA Cable Modem. Hitron is well-known for their high-quality networking equipment, such as their MoCa 2.5 network adapter. So we wanted to see if the CODA modem is up to the same standard of the rest of their devices. It's extremely fast, with support for up to 10Gbps of traffic. It's easy to set up, and works with most internet service providers. Most importantly, it has the technology to support dozens of devices at once. As a result, it could easily appeal to anyone who's preparing for the Internet of Things. But is it the best cable modem to meet your needs? To answer that question, we'll have to take a thorough look at its design and features. Only then will we truly know how well it performs. Let's get started!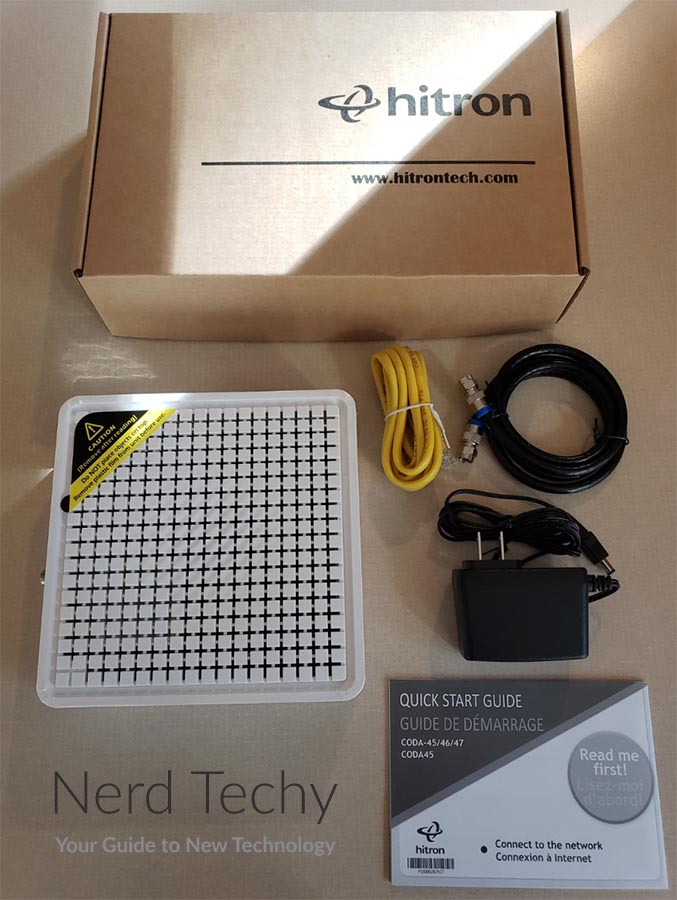 Overall Design
The Hitron DOCSIS 3.1 CODA Cable Modem is a compact cable modem with a modest footprint. It has a square profile, and measures 6.73 inches wide, 7.28 inches deep, and 2.04 inches high. The corners are slightly rounded, so there are no sharp edges on the construction. That said, the profile is flat, not vertical. There's no stand, nor is the modem constructed to stand stably on edge. So while the footprint is very small, it's still not quite as small as it could have been.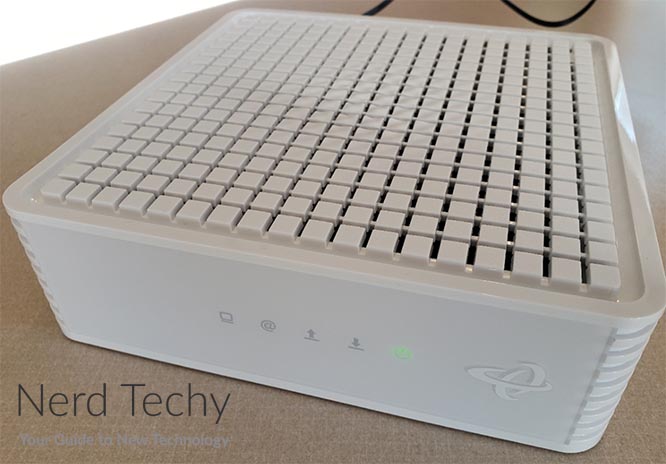 The housing is constructed from molded white plastic, which has an easy-to-clean matte finish. The aesthetic is very understated, and there's no color anywhere on the unit. The only concession to cosmetics is a small Hitron logo embossed in the front of the housing. The entire top and sides of the unit are covered by venting. The plastic here is molded into squares, with narrow slits between them all. As a result, there's plenty of natural air flow, which keeps the modem nice and cool. Just make sure not to block the top or sides, or you might cause your brand new modem to overheat.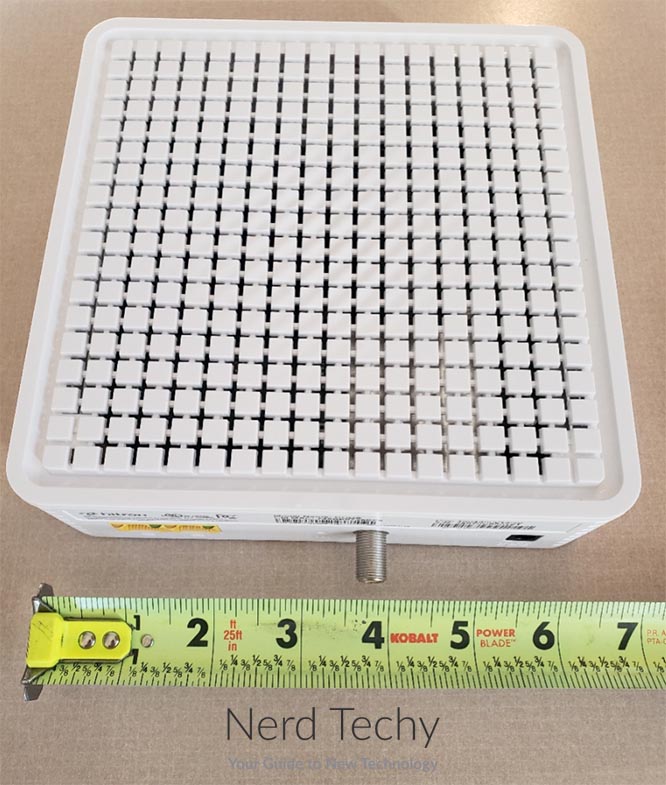 On the front face of the housing, you'll see a row of green LED lights. These are similar to the standard indicator lights used on most home routers. The one to the far right is a simple power light, which indicates that the modem is plugged in. The second, downward-facing arrow indicates that the modem is able to download from the internet. The first, upward-facing arrow indicates that you're able to upload successfully. The second light from the left, the "@" symbol, indicates that you're fully connected and online. The one all the way to the left, with the computer symbol, says you're connected to your LAN. These lights can help you figure out what the problem is if you're having connection issues.
On the back of the housing, you'll find all of your various connections. This being a modem and not a router, there's not all that much going on here. To the right, there's a jack for the barrel-shaped DC power plug. An blocky AC/DC adapter is included in the package. In the middle, there's a coaxial cable jack, where you'll connect the cable coming into your house. On the right, there are a pair of Gigabit Ethernet ports. This is a neat feature, since it allows you to split your signal. If you want to set up two separate routers for two home networks, you can do it very easily.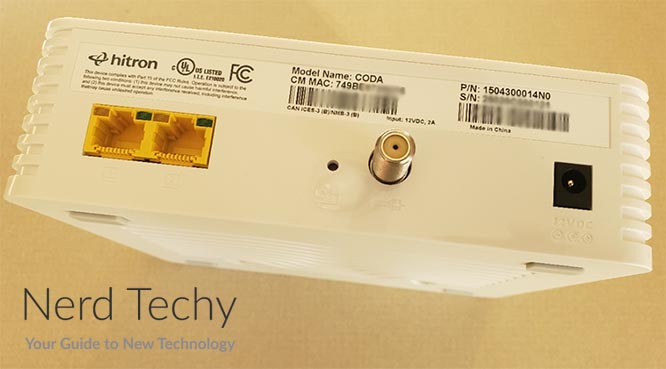 Speed & Coverage
The main feature of the Hitron DOCSIS 3.1 modem is in the name: DOCSIS 3.1. DOCSIS is short for Data Over Cable Service Interface Specification. This is an international cable data standard that's used for both television and internet. The purpose of having a shared standard is that modems and cable providers are all inter-compatible. DOCSIS 3.1 is the latest standard, upgraded from the previous DOCSIS 3.0 standard.
The purpose of DOCSIS 3.1 is to allow cable providers to keep up with the demand for more and more bandwidth. This is mostly a response to fiber, which until recently has been the fastest residential internet available. But with DOCSIS 3.1, home internet now has a theoretical top speed of 10Gbps. That's 10 times as fast as Gigabit, and it's enough for dozens of connected devices. If you have lots of IoT devices or stream on multiple screens, you'll notice a major improvement.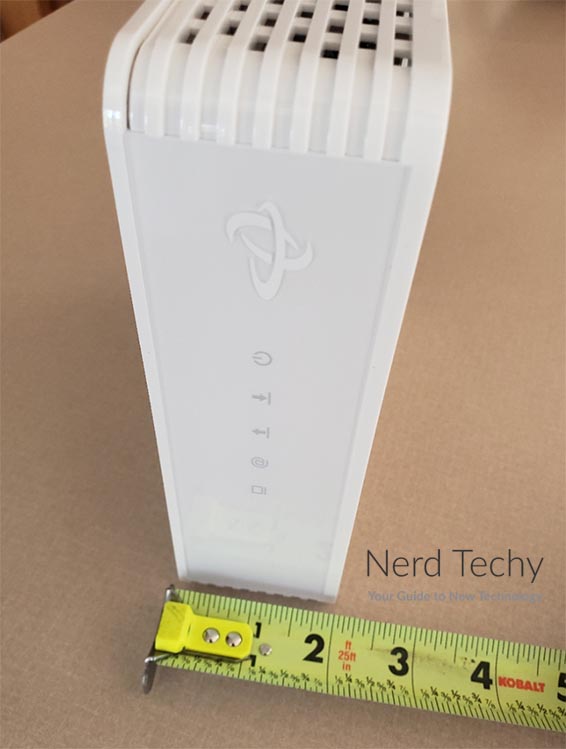 Keep in mind that a DOCSIS 3.1 modem alone is not enough to guarantee these kinds of speeds. If your home internet provider is only providing 1Gbps of speed, you're not magically going to get 10Gbps. That said, all DOCSIS 3.1 equipment is backwards-compatible with DOCSIS 3.0. So if you upgrade today, you'll be able to take advantage of higher speeds in the future.
As a matter of fact, we should point out that the Hitron router itself isn't even capable of 10Gbps. Currently, the maximum speed is 6Gbps, but Hitron says that's a software issue, not a hardware issue. They intend to increase the speed to 10Gbps via a firmware upgrade, although none has yet been scheduled. Even so, you're looking at a potential 6x speed increase over your current modem. And once the upgrade does hit, you'll potentially be even faster than fiber.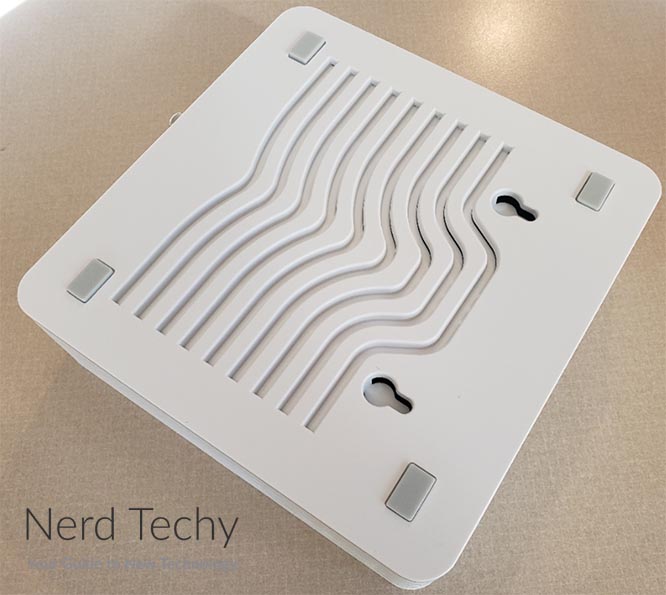 Normally, this is where we'd talk about the range of the WiFi signal, but there is none. This is a modem only, not a router. To use WiFi, you just connect it to your router with an Ethernet cable and follow the router's setup instructions. That said, there are some devices that do both. We've reviewed several cable modem/WiFi router combos that save you space and money. That said, remember the saying "Jack of all trades, master of none." You'll get reasonably fast speeds and reasonably long range, but not the absolute best of either.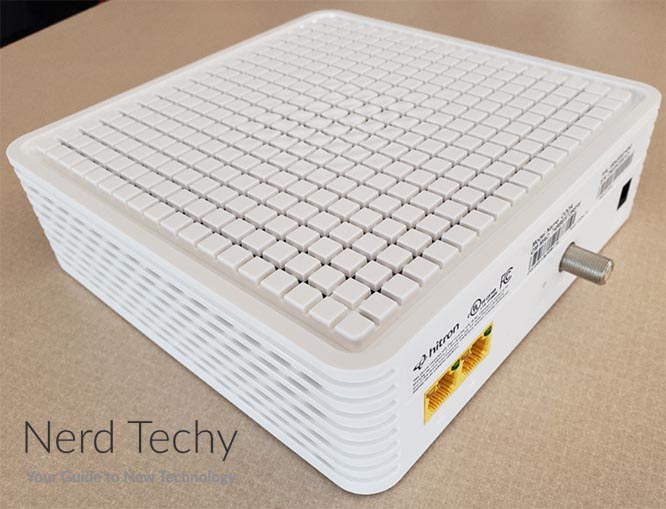 Security & Extra Features
When you're setting up your home network, you typically want a number of security features. However, those features are not normally found on a standalone modem. The reason for this is simple. You're either connecting to a router, or connecting to a single machine. If you're connecting directly to a single PC, you're probably tech-savvy enough to set up your own firewall. And if you're doing what most people do and setting up a router, you'll have plenty of safety features there.
The Netgear Nighthawk CAX80 is one of the safest routers around. It comes with parental controls, so you can keep your kids safe online. It allows you to create a guest network, so you don't have to share your password. And it pairs well with the Hitron modem. This is both because of its blazing-fast speeds, and because it can connect up to 30 different devices.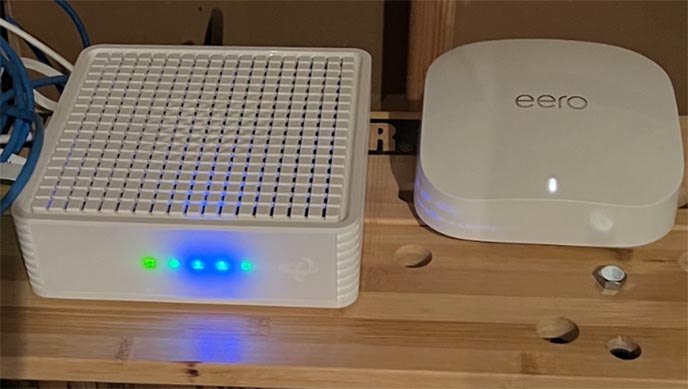 When connected to a DOCSIS 3.1 network, you can get up to two downstream and two upstream channels. This is great for maximizing your bandwidth. However, the modem is also capable of supporting up to 32 downstream and 8 upstream DOCSIS 3.0 channels. These channels aren't optimal if you're trying to get the fastest speeds. However, they're great if you have a ton of smart home devices. You won't have to worry about bottlenecks or delays because too many devices are receiving data.
The main reason many people choose to buy their own modem is to save money. Many ISPs charge a monthly fee for the privilege of renting one of their modems. This can add up over time, ultimately costing more than just buying a modem. That said, the Hitron CODA is not compatible with all ISPs. It's designed specifically for Comcast Xfinity and Charter/Spectrum. It will not work with Verizon, DISH, AT&T, DirecTV, or CenturyLink. It also won't work with DSL internet. Basically, if your plan includes any kind of phone/VOIP technology, this router won't support it. But if you're just getting good, clean cable internet, it should work just fine.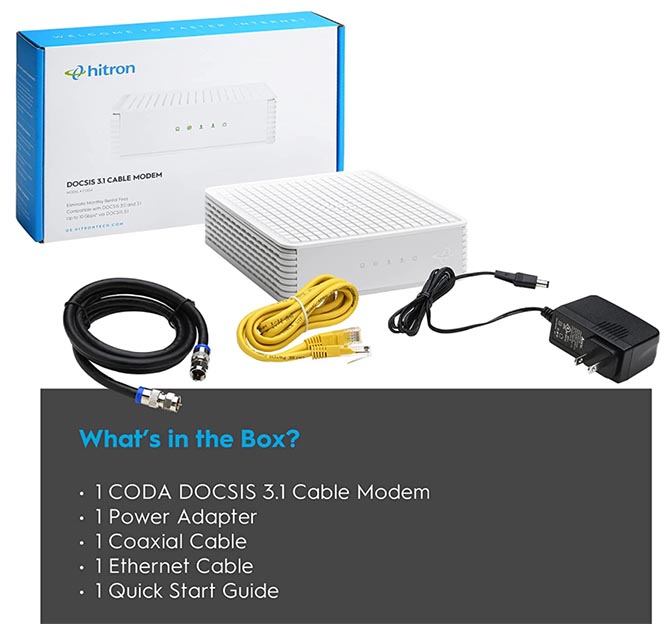 Final Verdict
The Hitron DOCSIS 3.1 CODA Cable Modem is the fastest home modem we've ever seen. The most disappointing thing about it is the lack of compatibility with many popular providers. On the other hand, it relies on DOCSIS 3.1 technology to get its speed, which is inherently limiting for now. That said, if your internet provider is compatible, this is a fantastic modem both for streaming and smart home devices. For streaming, you get speeds that far exceed anything but fiber. And for smart home devices, you get support for a whopping 32 simultaneous downstream connections. If your 15 smart smoke detectors all get a firmware update at once, it won't lock down your whole network.
Meet Derek, "TechGuru," a 34-year-old technology enthusiast with a deep passion for tech innovations. With extensive experience, he specializes in gaming hardware and software, and has expertise in gadgets, custom PCs, and audio.
Besides writing about tech and reviewing new products, Derek enjoys traveling, hiking, and photography. Committed to keeping up with the latest industry trends, he aims to guide readers in making informed tech decisions.