Jackery Explorer 1000
Pros
Large battery capacity.
Can charge up to 8 devices simultaneously.
Capable of ultra-fast solar charging.
Compact, portable design.
Integrated handle makes it easy to move.
Cons
Maximum wattage is disappointing for the price.
Fan is a little bit loud when activated.
Nowadays, our electronic devices do a ton of heavy lifting in our everyday lives. To take the most obvious example, consider your smartphone. With your phone, you have a GPS, a communications device, and an entertainment center all in one. You probably use it for all kinds of tasks, from texting to online banking to social media. The phrase "there's an app for that" has become a joke, but it's funny because it's true. But that's just one device. Look around your house and think of everything that's plugged in. Without electricity, you don't have a refrigerator, a television, or a laptop. And if you rely on a device like a CPAP machine, you might even be in danger.
All of these factors present a challenge when you're going camping. To be fair, getting away from it all is one of the distractions of going out in the wilderness. But at the same time, you might still need electronics. For example, you might want to store some cold cuts in a mini fridge, or run an outdoor projector. On a more mundane note, you might need to keep your phone on all the time for work reasons. But whatever you need power for, it's tough to get when you're off the grid. That's why a portable power station is such a valuable commodity in today's world.
Today, we're going to review the Jackery Explorer 1000 Portable Power Station. This is a bigger, more powerful upgrade to the smaller Jackery Explorer 500, which we've reviewed in the past. But just because it's more powerful doesn't mean it's the right choice for you. To pick the right portable power station, you need to take a closer look at all of its features. You need to consider how many and what type of devices it can power. You have to think about how you're going to charge it, and whether it's portable enough for you. You also need to look for a power station with the right safety features. We'll go over the Explorer 1000 from top to bottom. After that, we'll be ready to render our verdict. Let's get started!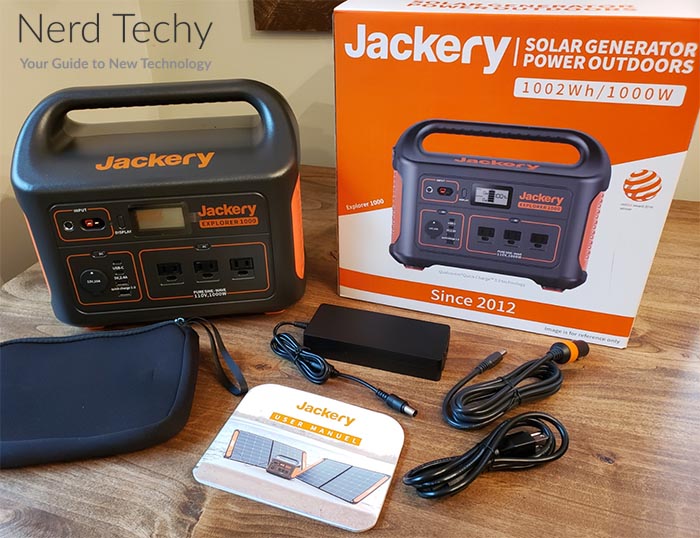 Overall Design
The Jackery Explorer 1000 is a mid-sized power station with a large capacity. It's constructed from a durable black polymer, with orange vented sides and orange highlights. The shape is rectangular, although the corners are rounded to prevent there from being any sharp edges. The overall size is 13.1 inches wide, 11.1 inches deep, and 9.2 inches high. It weighs 22 pounds, so it's hefty, but not overly so for the size. Not only that, but there's a large molded handle built into the top. This makes it very easy to transport, at least for short distances. Then again, it would have been nice to have a flatter top and a collapsible handle. As is, you can't really set anything on top of this power bank.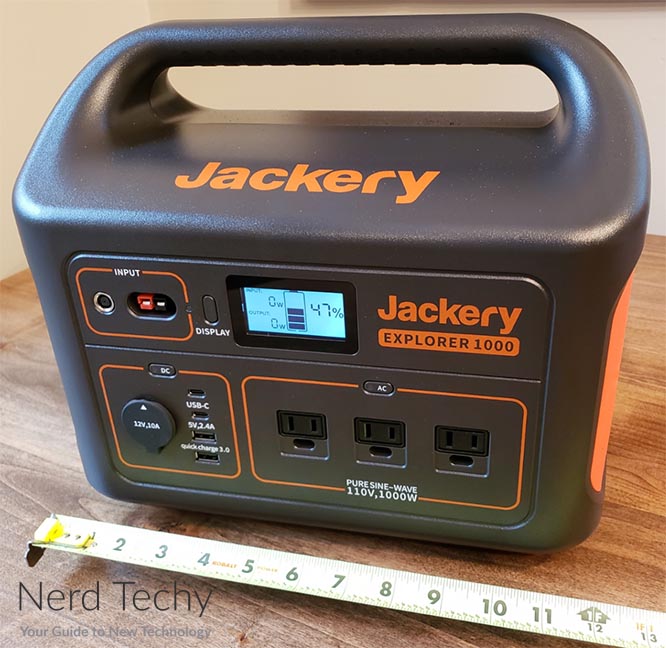 On the front face of the Explorer 1000, right in the top center, there's an LCD display. This shows you the current charger status, with both a visual and a percentage readout of the battery level. You can also measure how much wattage is coming into and out of the power bank. If the incoming wattage is higher, the battery will be charging. If the outgoing wattage is higher, the battery will be draining. This display is backlit, so you can easily read it at night. However, the backlight automatically turns off after 15 seconds. To check the status in the dark, just press the button next to the display.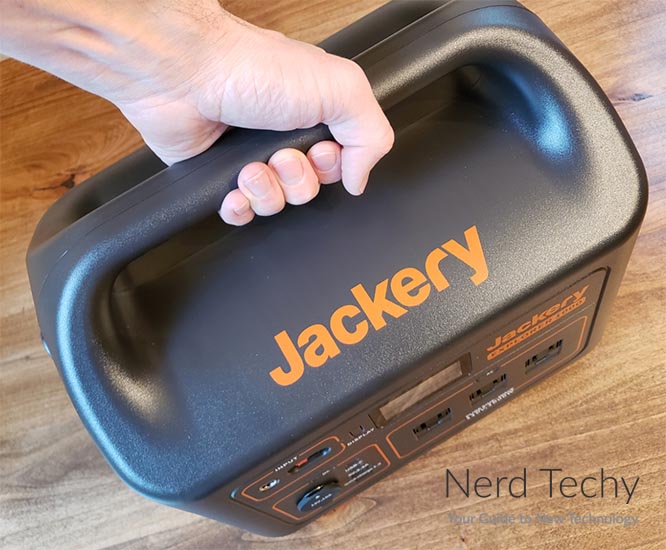 To the left of the display, you'll find a pair of inputs, which are used to charge the power bank. The one on the left is for the AC charger and DC car cable, both of which are included. The one on the right is for solar power, and there's a connecting cable in the package. This makes it easy to charge your battery from a variety of sources. There's also a bright orange Jackery imprint to the right of the display.
Below the LCD display, you'll find all of your power outputs. The DC ports, including the USB ports, are all grouped to the left. The AC outlets are grouped to the right, in their own separate area. Each group has its own separate on/off buttons, to prevent wasting any vampire power. The buttons also have little LEDs in them so you can know which outlets are active. If you plug in a device and you're not getting power, this is the first thing you'll want to check.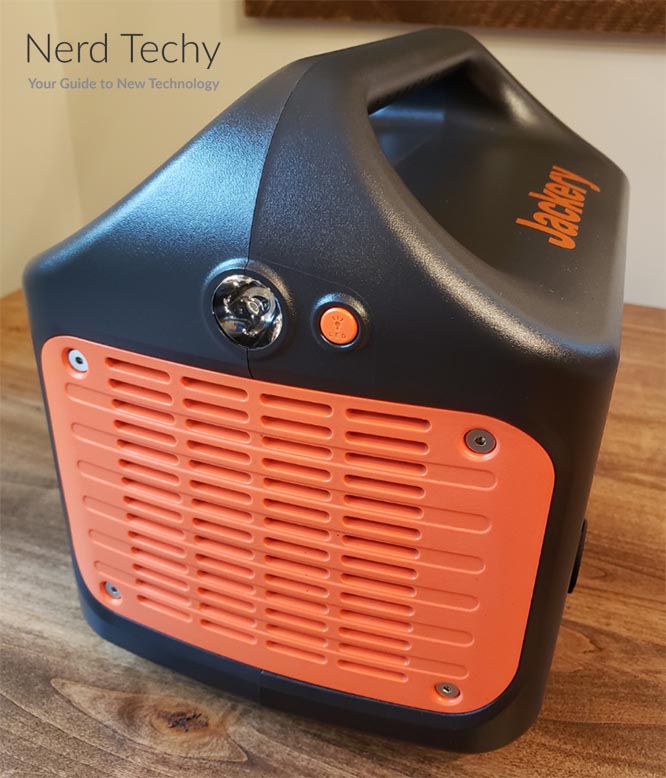 Based on the huge vents in the sides, we'd guessed that the cooling system was pretty effective. It is, and we didn't have any issues with the housing so much as getting too warm. That said, while the fan doesn't run constantly, it's also not variable. It kicks in when the unit starts to warm up, and shuts off afterwards. And when it's running, it's loud enough to be clearly audible. This can get annoying if you prefer total silence. And it's something Jackery could have avoided by using a variable-speed fan.
The last physical feature to note is the built-in spotlight. This is located on the left of the housing, with an orange control button next to it. Considering the size of the housing, it's not very useful as a simple flashlight. It would simply be a pain to aim with one hand. That said, it's great for lighting up a moderately-sized area. For example, you can turn the light on, then use the glow to set up your tent.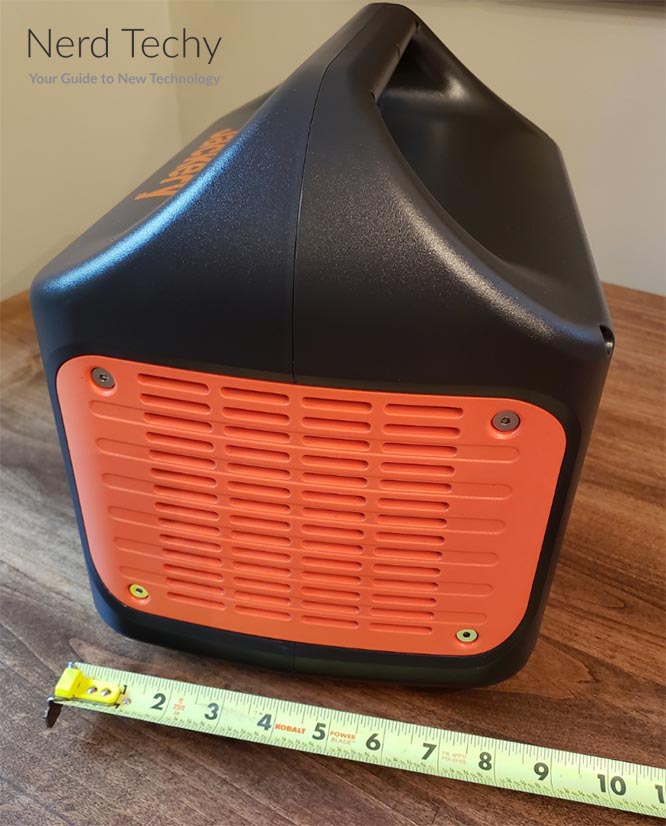 Battery Performance and Capacity
The Explorer 1000 is capable of delivering 1,000 watts of power, which is where it gets its name. By comparison, a standard household outlet on a 15-amp circuit delivers around 1,500 watts. Considering that this is a portable solution, that's not half bad! You can't run a space heater or an air conditioner, but you can run just about anything else. That said, keep in mind that this 1,000 watts is shared between all the outlets on the power station. If you're using a lot of devices at once, you'll have to lower your expectations for any given device.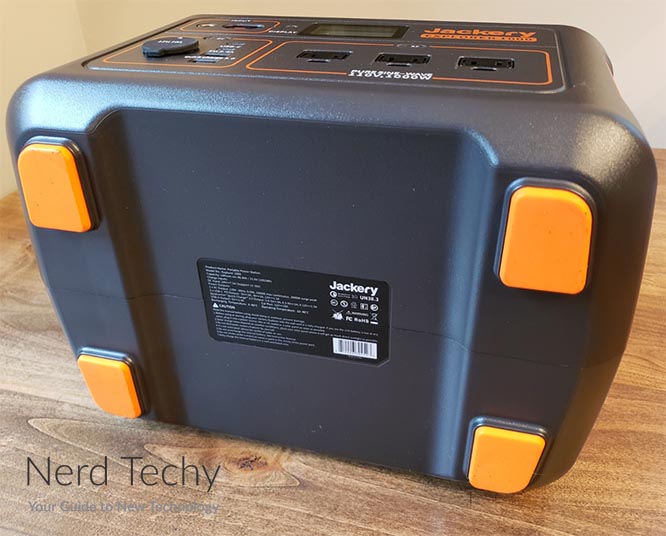 The total overall charge is 1,002 Watt-hours (Wh). 1,002Wh can be anywhere from 9,101mAh to 200,400mAh. The difference depends on your voltage. So you'll get the maximum with the 5V USB ports, and the minimum with the 110V AC ports. What does all this mean in practice? If you're charging a smartphone, you can expect 75 to 100 charges, depending on the model. For a laptop, 6 to 8 charges is reasonable, again depending on the model. With a small camera drone, you could get around 15 charges. And if you're running a mini fridge, you'll get about 15 hours of operation.
In theory, you could run the Explorer 1000 indefinitely, depending on what you have plugged into it. This is because it supports pass-through charging. You can plug it into any power source, and keep on using it. Of course, whether or not this is viable depends on your situation. For example, if you have access to AC power, it makes more sense just to plug your devices into that. But if you're on the road, you can use your car's DC power port to turn the Explorer into an inverter. You can also use solar panels for more long-term off-grid use.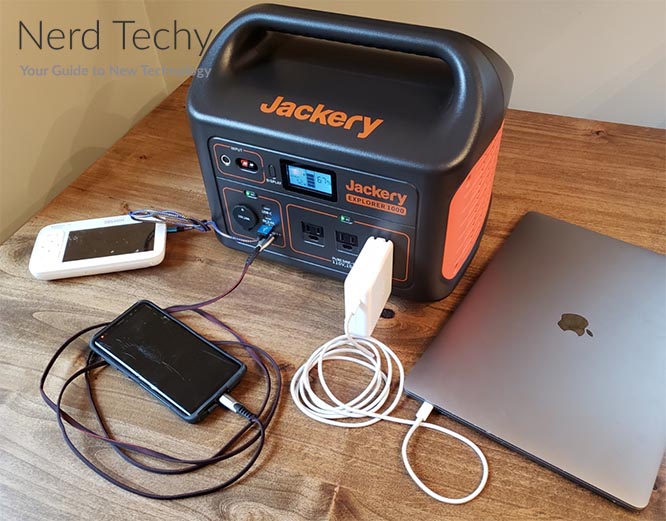 How long it takes to charge the battery pack depends on your charging method. When charging via AC power, it takes about 5 ½ hours. When plugged into a 12V automotive jack, it will take around 11 ½ hours. With solar power, performance is more variable. Jackery says 6 ½ hours is the minimum, but keep in mind that that's only under ideal circumstances. As with any other solar-charged device, your mileage may vary.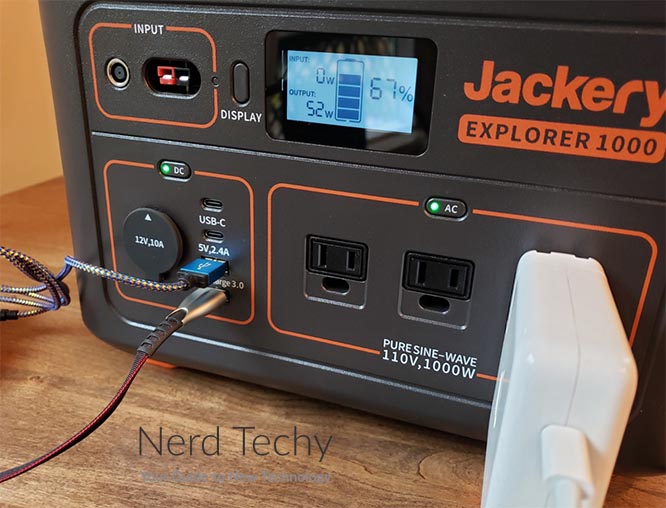 Compatibility and Safety
So, what can you actually power with the Explorer 1000? To begin with, the three AC outlets are capable of 1,000 watts of power delivery. Of course, this assumes you're only using one outlet. If you need to run several high-powered devices, you'll need a more capable charger. The Bluetti AC200 Max and AC300 are the most powerful on the market. They provide up to 2,000 or 3,000 watts respectively, as well as wireless charging. That said, they're also very expensive.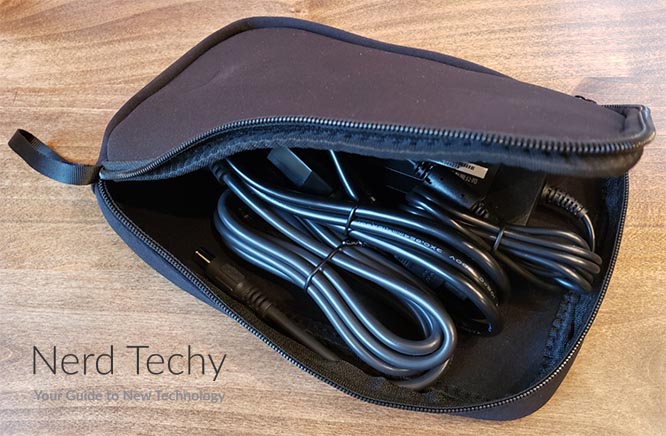 The USB ports on the Explorer 1000 come in a few different flavors. To begin with, there's a pair of USB Type-C ports. These can provide up to 15 watts of power, which is not blazing fast, but it's fast enough. Beneath these, there's a standard 5V, 2.4A USB port which delivers 12 watts of power. The bottom USB Type-A port is a QC 3.0 port, capable of delivering 18 watts. This is better for larger smartphones, which tend to support faster charging. To the left of these, there's a simple automotive-style 12V DC port.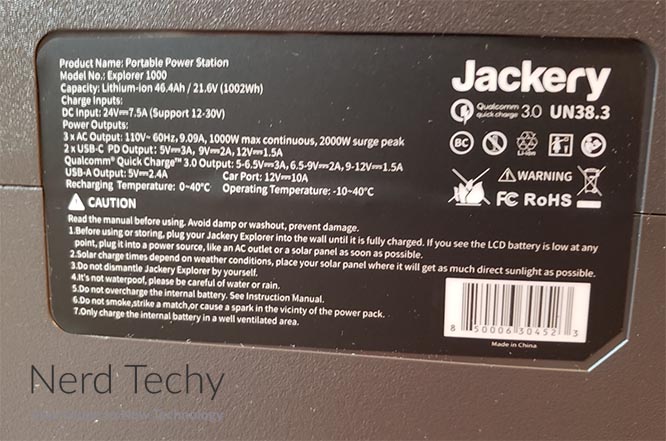 This power station performs very well when it comes to safety. The AC power is a pure sine wave, which is ideal for sensitive electronics. All forms of power have over-current, short-circuit, and over-charge protection. Over-voltage and low-current protection keep your batteries safe. And thermal protection will shut down the whole thing if it starts to overheat.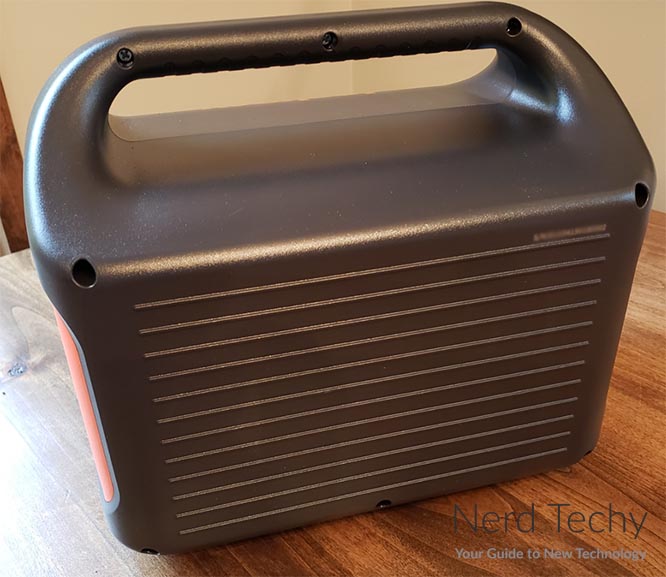 Final Verdict
The Jackery Explorer 1000 Portable Power Station is one of the more robust power stations on the market. With support for up to 8 devices simultaneously, it can keep the whole family's phones charged. It can also power a mini fridge, or other larger devices for camping. All in all, we're very happy with how well it performs.