Choosing a good set of earbuds can be a challenge. When you run a simple internet search, you get thousands of results. This can quickly become overwhelming, especially if you're new to the technology. Suddenly you have to choose between different types of Bluetooth, different designs, and different chargers. Not only that, but there are no guarantees of quality. There are plenty of good earbuds out there, but there's also a lot of junk. If you make the wrong choice, you might end up having to buy yet another set of earbuds. So how do you find the best pair for your unique lifestyle?
There are a few things you should always be looking for. Battery life is always a consideration, regardless of whatever features you're considering. Another thing you want to be sure of is a good fit, without which any pair of earbuds is useless. Other factors, like water-resistance, are more situational. Depending on your lifestyle, a water-resistant earbud may or may not be a necessity. The same goes for wireless charging, or active noise cancellation. These features are essential for some people, but completely irrelevant to others. The point is, you have to do your research, and you have to know what you're buying.
With that in mind, we're going to review the Raycon (E45) The Fitness Earbuds. These are compact, in-ear buds with fitted fins that make them very comfortable and secure. They also have absurdly long-lasting batteries, so you can go for days without recharging. But those are just a couple of aspects of a much larger package. To find out how good these earbuds actually are, we need to look at everything about them. This includes the physical construction, the Bluetooth chip, and the case. And of course, we need to get a listen to the sound quality. Once we've done all those things, we'll fully understand what we're dealing with.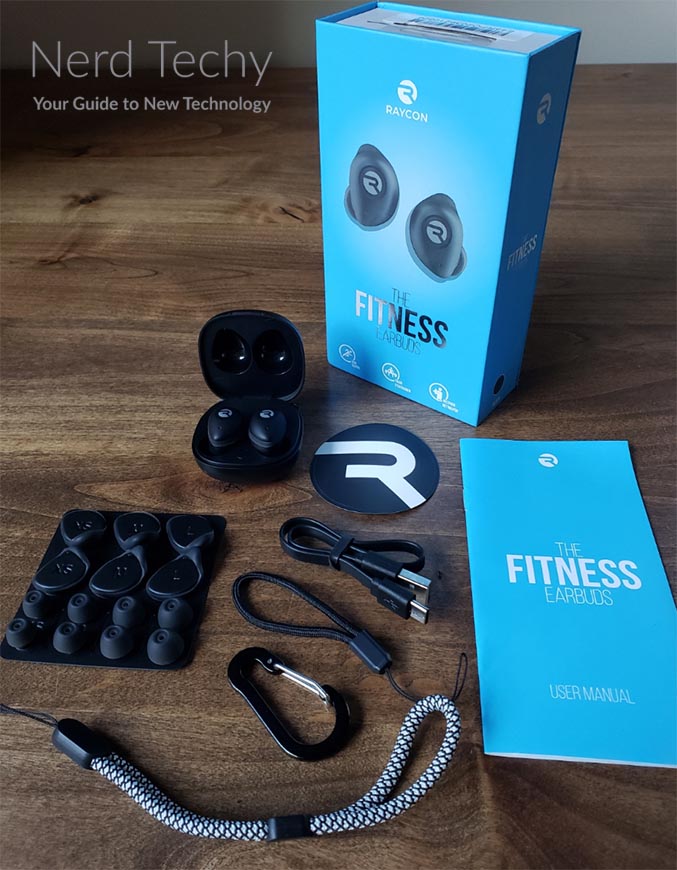 Overall Design
The Raycon "The Fitness" Earbuds are designed first and foremost for ergonomics. When you open the box, you'll notice that there are more accessories than most wireless earbuds. You typically expect to receive three sets of tips with new buds, but this package includes five. They're all different sizes, and they're made from soft, rubbery silicone. If the original tips are too tight or too loose, it's well worth experimenting to find a pair that fits better. Not only will the earbuds be more comfortable, but you'll also get better noise isolation.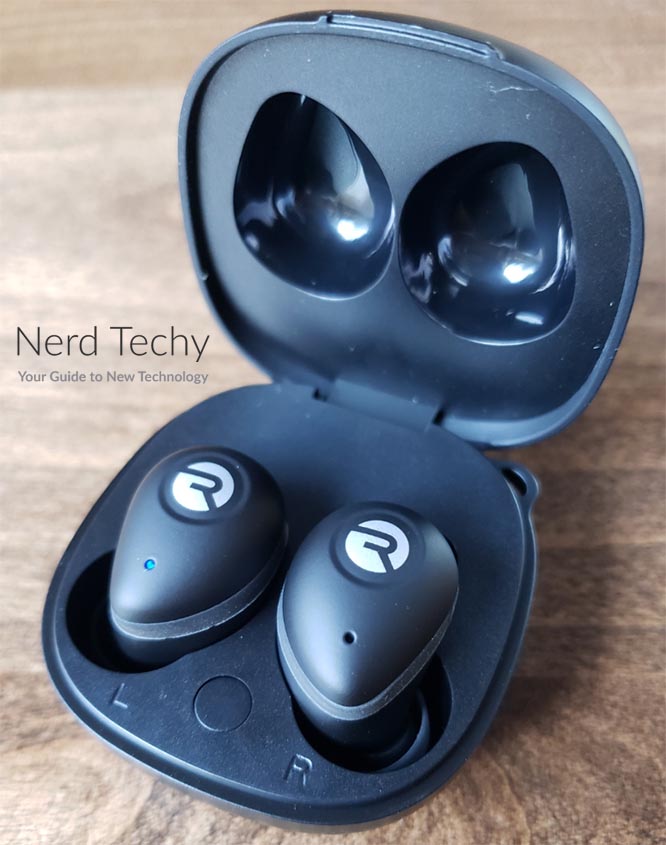 In addition to the ear tips, there are also four different sets of little fins. These fit onto the front of the earbuds, and are meant to be molded for your outer ear. Again, finding the right fit might take a little experimentation. But with the correct set of fins, the earbuds will feel more secure. You won't constantly have to be readjusting them while they're in use.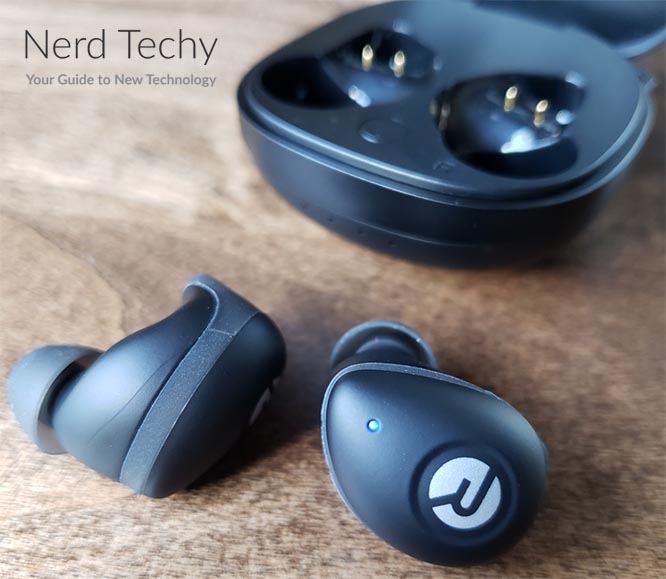 Another comfortable, ergonomic alternative is to use a pair of earbuds with gel tips. The Raycon E50 buds use these exceptionally soft tips, although they do wear out faster. The E50 is also more affordable than The Fitness, although the battery life is significantly shorter.
The Fitness shells are made from a smooth matte plastic, which is easy to keep clean. They have a curved profile, with no sharp angles or flat surfaces. They're also very fashionable. In addition to black, they're available in red, white, blue, and rose gold, so there are plenty of options. This is refreshing in the age of plain, black or white earbuds.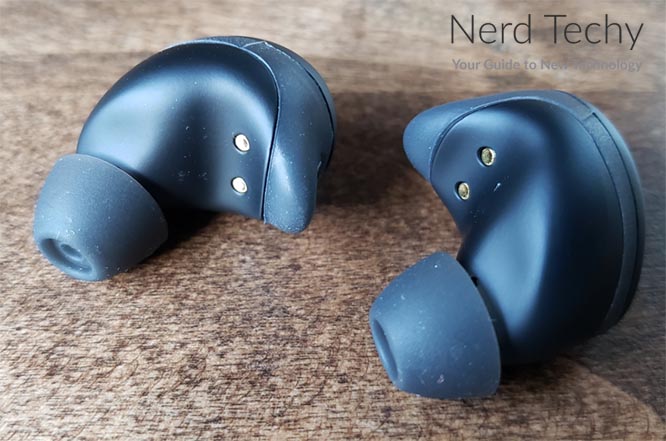 On the back of each earbud, there's a grey Raycon logo, with a little circle around it. This marks the earbuds soft touch controls, which are easy to operate. You can play and pause your music, skip tracks, and answer or end calls without having to pick up your phone. You can also access your voice assistant, to utilize more of your phone's features.
These earbuds come with a water-resistance rating of IPX7. This means they're submersion-resistant, not just splash- or sweat-resistant. They can be held underwater at a depth of one meter for a minimum of 30 minutes. As a result, you can take them pretty much anywhere you want to listen to music. You can even wear them in the shower, or while relaxing in a hot tub. Just don't take them swimming, and you won't ever have to be concerned about water damage. Needless to say, sweaty workouts and rain are no issue whatsoever.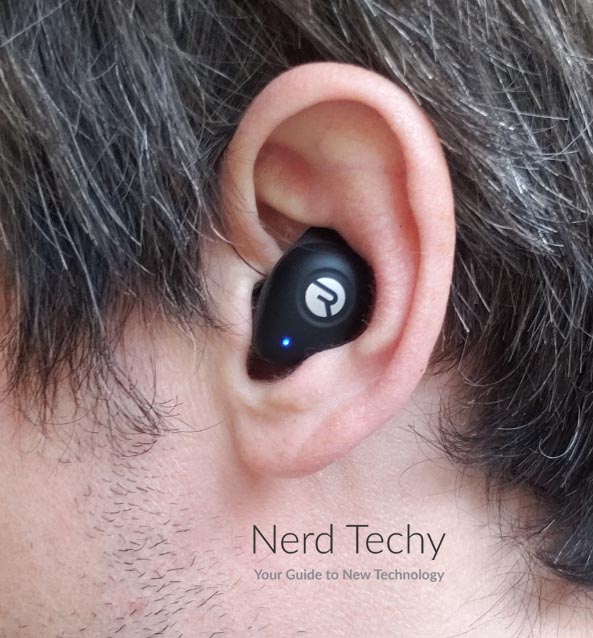 Like most wireless buds, the Fitness come with their own charging case. This is a flat, roughly oblong case that's made from the same plastic as the actual earbuds. It even comes in the same color, so all of your stuff will match. The inside of the case is molded, with two little wells where your earbuds sit to charge. It works well enough, but there's no good way to make a well for all possible ear fin sizes. When you're using the smallest fins, you might find that the buds rattle around a bit. This isn't an issue when the case is sitting still. On the other hand, if you're trying to charge on the go, it might become a problem.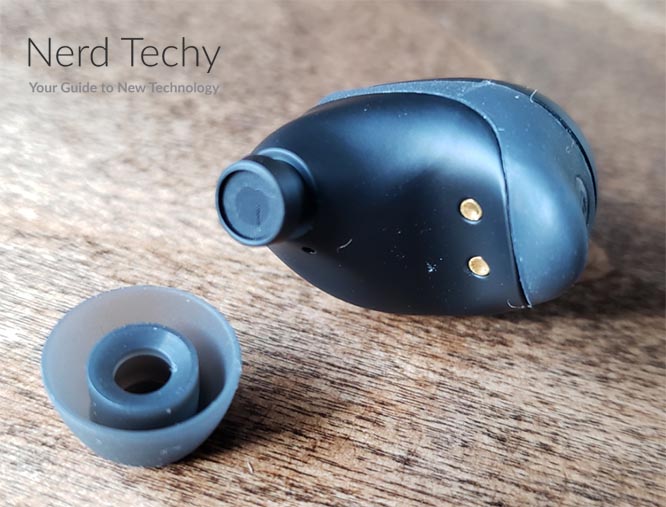 The case has a clamshell-style lid, which is spring-loaded for security. As a result, it won't pop open by accident in your pocket. There's a cutout on the bottom of the front, which makes the lid easier to open. Beneath this cutout, there's a row of four LEDs. These indicate the battery's current status, so you know when your case is full or empty.
The package includes a USB Type-C cable, which can be used for charging the case. There's also a lanyard, which can connect the two earbuds together. This is useful if you're worried about losing them, since they'll at least be held together. All of this is covered by a 12-month manufacturer's warranty. If there are any issues with materials or labor, you'll be covered.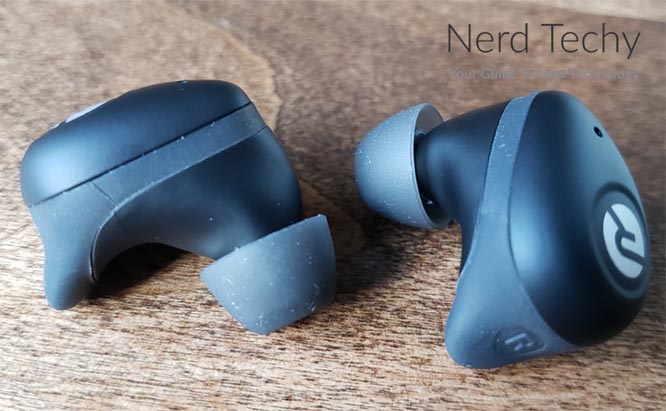 Battery & Connectivity
Perhaps the most impressive feature of the Raycon "The Fitness" earbuds is their battery life. On a full charge, you'll get nine hours of listening time. Now, to be fair, this is a manufacturer's rating, so it assumes you're listening at half volume. At full volume, 7-8 hours is more realistic. Even so, that's not half bad, especially considering the power of the charging case. It has enough battery to fully charge your earbuds five additional times. That's 54 hours of playback each time you plug the case in. No matter how you cut it, this is a ton of battery life, and we were very impressed by its performance.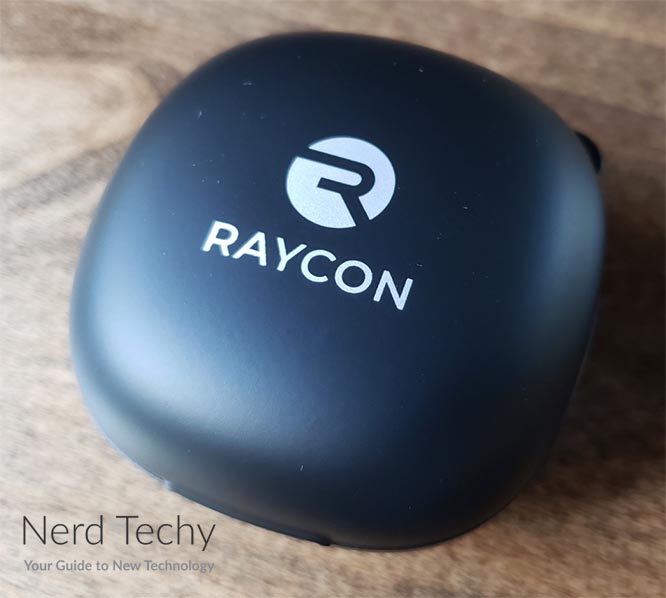 Charging the earbuds takes less than 90 minutes, which is impressive for such powerful buds. The same is true for the charging case, provided you're using USB Type-C charging. Then again, you also have the option for wireless charging, using a Qi charging pad. With a wireless charger, the process is going to take a bit longer. However, many people find it more convenient, since there are no wires involved in it.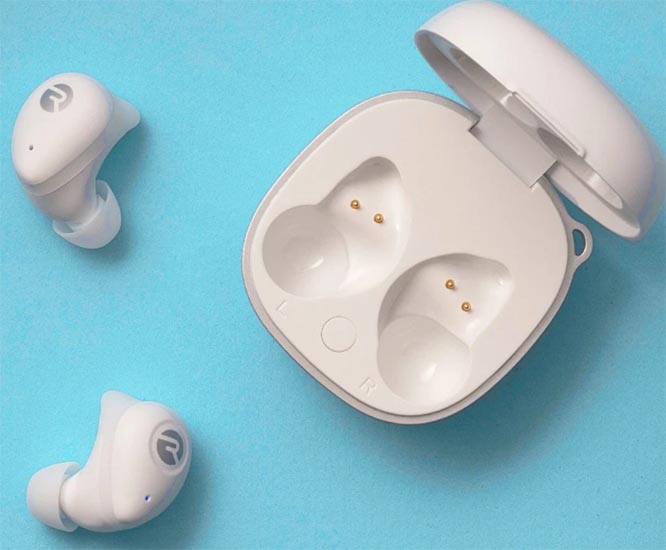 The Fitness earbuds connect to your phone or other device using the Bluetooth 5.0 protocol. This is the current Bluetooth standard, which is used by most modern devices. It's an upgrade from the earlier Bluetooth 4.2 protocol in several respects. To begin with, the latency is lower, which means less delay between video and audio. When you're watching a movie or playing a game, the sound won't be out of sync. Moreover, the signal is more stable. This reduces the odds of dropped calls, or of your music randomly cutting out. Finally, there's a higher bandwidth. This means you can listen to HD audio, which wasn't possible on Bluetooth 4.2 earbuds.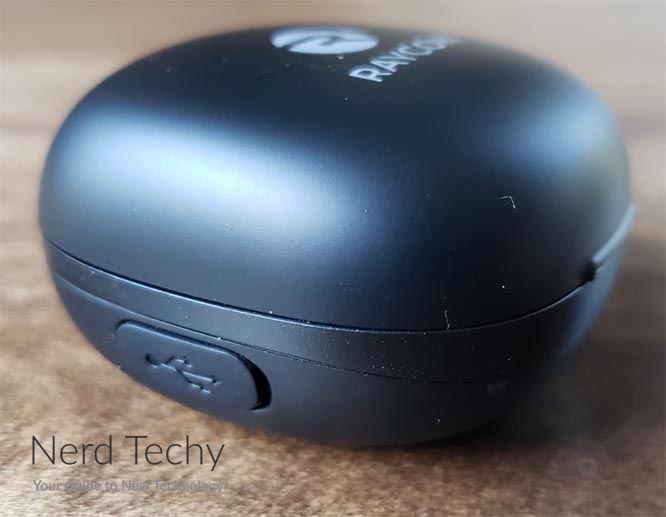 Audio Quality
The audio quality on the Raycon Fitness is about what you'd expect from a pair of workout earbuds. All the frequencies are present, and there's a reasonable amount of depth. The highs sound shimmery, the lows sound nice and punchy, and the mids are clear and present. When you're listening to something with vocals, they're going to be easy to hear. Not only that, but there's a nice, wide soundstage. This means you can hear separation between the instruments, as if you're in a real space. We're not talking about AirPod-level audio, but it's reasonably good.
In addition to all that, the E45 comes with three different sound profiles. These are built-in EQ settings that give you some control over your audio profile. So you can change between bass-heavy and more balanced profiles at will. With that being said, the drivers on these earbuds aren't as powerful as they could be. The volume doesn't sound as loud as we'd hoped, even on the maximum setting.
If you're craving more volume, the Raycon E25 Pro might be a better choice. In addition to being louder, it also has richer audio. That said, it doesn't have as much bass, and the battery life isn't as long.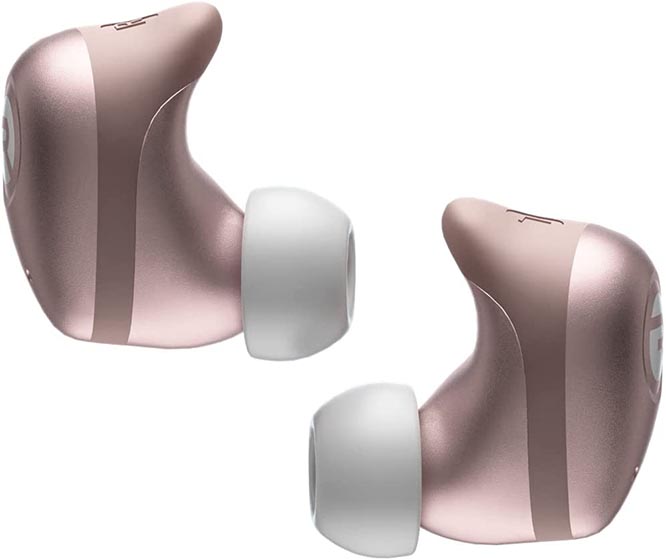 The Fitness has an optional awareness mode, which is designed to boost the volume in your environment. Think of it as the opposite of active noise cancellation (ANC). Instead of drowning out background noise, you're letting more in to increase your awareness. That said, there's no actual ANC function. If you need ANC, consider the Raycon H50 or H100. These are beefy, over-the-ear headphones that block out everything in your vicinity.
When it comes to hands-free calling, the Fitness earbuds perform surprisingly well. Utilizing Raycon's Vivid Voice Technology, they focus in on your voice and cut the background noise. This allows the person on the other end of the phone to hear you more clearly.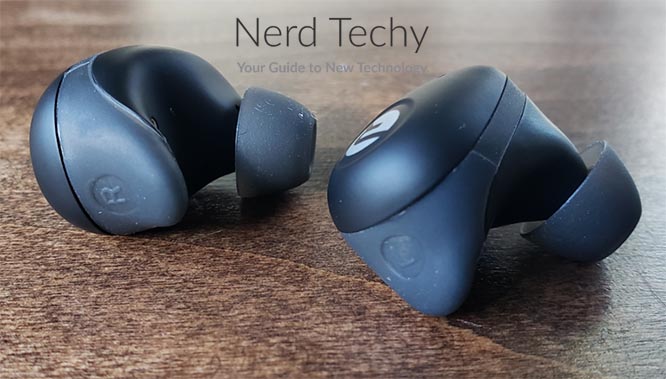 Final Verdict
The Raycon (E45) "The Fitness" Earbuds are all you'll ever want in a pair of workout buds. With powerful bass and days of battery life, you can push yourself to your limit. And with IPX7 water resistance, they can weather any environment you can. All in all, we were very pleased with these wireless earbuds.