In November, 2017, popular rapper and actor Ray J launched his own line of transportation products. Originally intended to produce electric scooters, they now focus on the "everyday needs of the urban technophile," including quality ear phones and ear buds. This should come as no surprise, since Ray J would know a thing or two about creating well-mixed audio. Upon release, their line of E25, E55, and E100 earbuds were a hit with both critics and customers. And now they've reduced a pair of headphones to fill out the set.
Today, we'll be looking at both varieties of headphone that Raycon produces: their basic H50, and its big brother, the H100. Both of these headsets are popular, and both are well-regarded for their own particular uses. But how do we determine which one is worth buying? We'll be looking primarily at the quality of the material and engineering, battery life and the quality of the Bluetooth connection, and overall sound quality. Now, let's take a closer look at what Ray J's headphones have to offer.
Design & Construction
The frame on the Raycon H50 is constructed primarily from ABS plastic. The head strap is round, and while it's not particularly thick, it's padded with a tan, faux leather foam pad that's encased at either end with a shiny aluminum end cap. The ear cap brackets extend from the center of the bracket, and while they're only ABS plastic, they still have a smooth, faux-metallic finish that's easy on the eyes. The ear cups do not pivot, but they swivel 90 degrees, which is more than enough to be a good fit for 90 percent of people.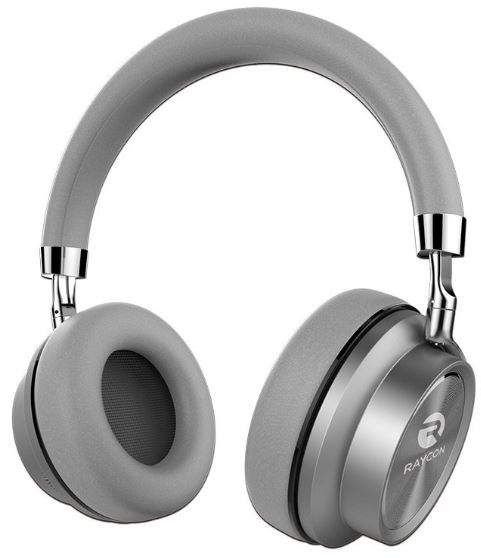 The ear pads themselves are relatively small, but they're very soft, with a pleather finish that doesn't press down too hard, and is very forgiving. On the right ear cup, you'll find the Micro USB charging port, as well as an led light that indicates when your headphones are plugged in. On the left hand side, there are several buttons for controlling the volume, skipping tracks, playing, pausing, and a button for answering and ending phone calls. There's also a built-in microphone for phone calls, as well as a 3.5mm aux jack for plugging into devices that require a corded connection.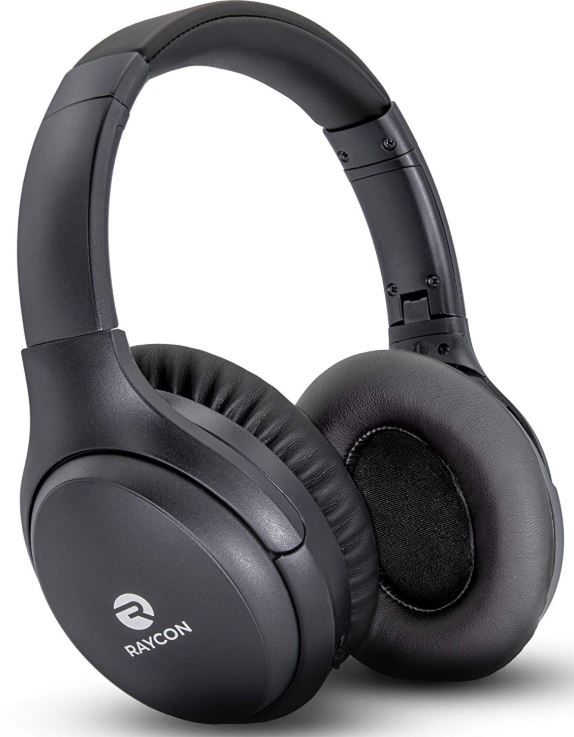 When you pick up the Raycon H100, the first thing you'll notice is that the frame is significantly beefier than the H50. It has a wider, flatter profile, although the leather padding is noticeably thicker and cushier. Moving down the frame, the top part of the H100's head band ends higher up, with a built in hinge for collapsing the ear cups for travel. In addition to swiveling, the ear cups also pivot, so virtually everyone will be comfortable wearing a pair.
The actual ear pads on the H100 are about the same thickness, but they're much wider, so they look flatter when they're on your head. This wider profile makes them more suitable for a larger variety of faces, and is very forgiving if you've got larger ears. The faux leather on the ear pads is lightweight, and forms a secure seal around your face even when the active noise cancelling is turned off. The H100 is also available in two different colors: black or silver. It has a somewhat different control scheme, with an on/off button, a pair of volume buttons that double as skip buttons and phone controls, and a button that controls the active noise cancelling and the Bluetooth. There's also an EQ slider we'll discuss later on.
If you were looking for a pair of wireless headphones you can wear in the rain, or during serious, intense workouts, the Bowers & Wilkins PX5 might be more your speed. These headphones are IPX5-rated for water resistance, so they're more than tough enough to handle rain. The mids are a bit sloppy, though.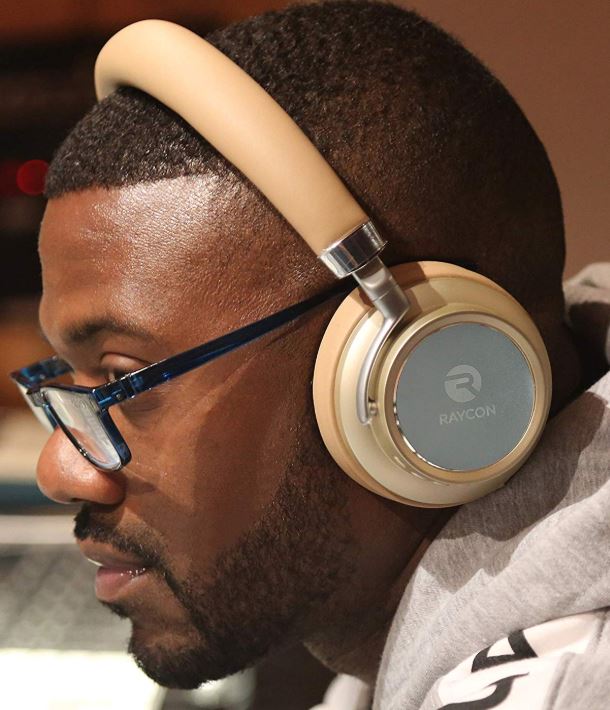 Battery & Connectivity
The Raycon H50 comes with a powerful, 300mAh lithium polymer battery that allows for a long life. It provides up to 10 hours of listening time on a single charge, which is much longer than you'll need for any everyday purpose. It also offers 300 hours of standby time, so if you leave it home for a week-long vacation, you won't have to worry about coming home to a dead battery. The charge time is also surprisingly short, only 2 hours. That might not sound like much, but keep in mind that we're talking about a Micro USB charger, not USB-C, so 2 hours is actually on the fast side.
Pairing the H50 is a piece of cake. The Bluetooth is always on. This makes it easy to sync. Just open the Bluetooth menu on your smartphone or MP3 player, and select the Raycon H50. If for some reason you're having connection issues, just power the headphones off, wait 5 seconds, and start them up again. You should be able to re-pair them with no issues after that. If you prefer a more old-school connection, you can use the Raycon with a simple Aux cable to save batteries, or just to connect to an older device that doesn't support Bluetooth. That said, there's no way to turn the Bluetooth off, which would have been a nice battery-saving option to have available.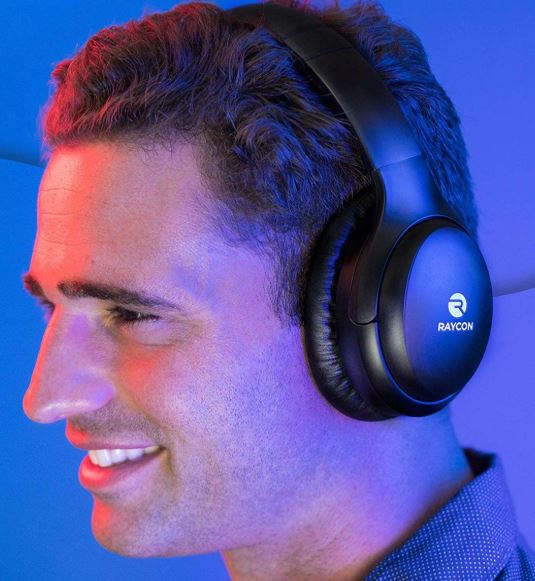 The H100 sports a beefier, 450mAh battery, although this does contribute to its slightly heavier, 1.5-pound weight. That said, the battery offers a significantly longer supply of juice. You get up to 30 hours if you have the noise cancelling feature turned off, and a still-impressive 15 hours of battery life with the noise cancelling turned off. The charge time is about 2 hours, just as good as the H50 even with a larger battery on a Micro USB charger.
If you've been paying attention, you'll have noticed the H100's only glaring flaw: the same button controls both the Bluetooth and the active noise canceling. So if you want to listen wirelessly, the active noise canceling will automatically need to be on. Conversely, if you're using a wired connection to save battery life, turning on the noise cancelling will also activate the Bluetooth, defeating the purpose.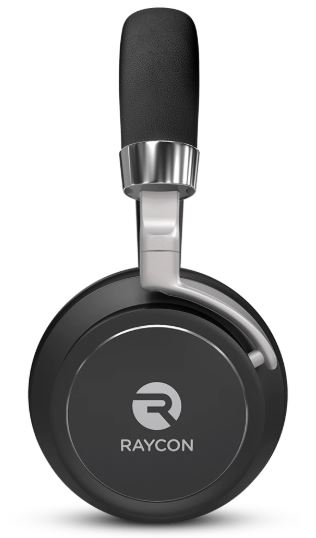 One significant advantage of the H100 is that it utilizes Bluetooth 5.0, instead of the H50's older Bluetooth 4.1 protocol. While you won't notice any significant difference in sound quality while you're listening to music, you'll experience a noticeable improvement for phone calls and movies. The reason for this is that Bluetooth 5.0 is far less prone to lag than 4.1. So when something happens on screen during a Netflix movie, you'll hear it at the same time. And you won't experience any significant cross-talk during phone conversations, which is always a plus. Both protocols are good out to a range of 33 feet, which is more than enough to get off your couch and grab a cup of coffee.
If you want a lightweight pair of earbuds, but with a long battery life similar to a heavy pair of headphones, consider the Iqua Yuppy. This pair of earbuds is lightweight and water-resistant, and has a unique, low-profile power pack that you drape over your shoulders, providing 7 to 10 hours of battery life.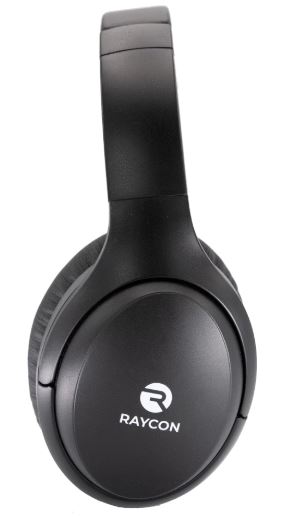 Sound Quality
When the H50 arrives at your door, the sound has a clean, even balance that's well-suited for any genre of music, but not overwhelming in the bass department. If we start by looking at the highs, the quality is clear and shimmery. No problem here. Fans of classical and country music will love these earphones, and you'll understand once you hear the highs.
The mids are similarly well-rounded, with plenty of separation from the highs and the bass. What this means in practical terms is that the mids won't get crowded out of the mix when there's sound playing across the entire spectrum. This makes for great vocals, which are clean, clear, and won't get lost in a heavy beat or blistering guitar lick.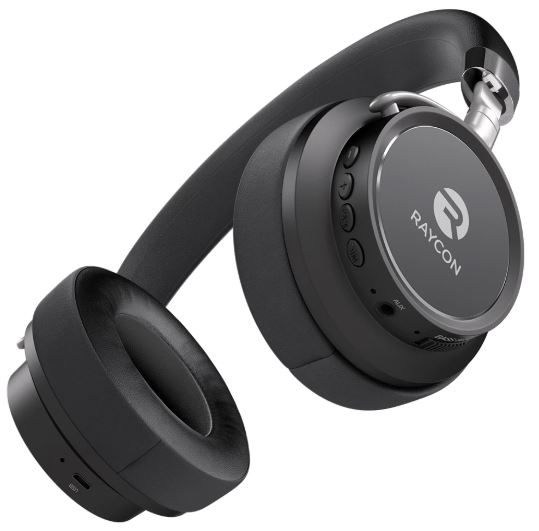 Unfortunately, the flat EQ leaves a little bit of bass to be desired. Raycon has compensated for this by building a bass boost switch into the back of the left ear cup. Flip this switch, and you'll experience a noticeable increase in bass. It's not quite as rich a sound as we would have liked, but it's impressive considering the price and the overall quality of the H50's build.
The H100 performs similarly to the H50 across the mids and highs. And honestly, that was fine with us. The H50 was just fine in that part of the spectrum. Where Raycon made their most significant improvement in the bass, which gives as close to a professional response as you could expect from a pair of true wireless headphones. With the H100, Raycon has also thrown an EQ slider into the mix. At the lowest setting, the bass is slightly less present than the H50, so you can lean into those highs if you want to. At the highest setting, the bass will sound almost as if you were in the middle of a dance club, surrounded by subwoofers.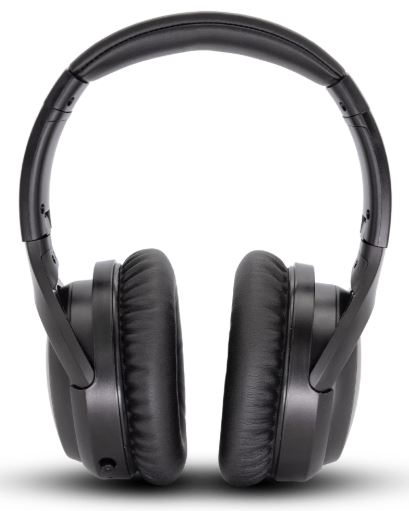 One other extra feature that's offered by the H100 is the active noise cancelling. The H50 relies on passive noise cancelling, which essentially means that the seal between the ear cup and the side of your head is what prevents outside noise from getting in. With some types of earbuds, this can be a viable option. However, with a set of over the ear earphones, especially a cushioned set like this, there's not a true seal. The H100's active noise cancelling is far more reliable if you're going to be using your headphones in a crowded environment. Whether it's a busy airport terminal, a city bus, a subway, or even just a windy day outdoors, outside noise won't interfere with your listening experience unless you want it to.
If the idea of a noise cancelling headphone appeals to you, but you're not looking for something quite as pricey as the H100, read our review of the Skullcandy Crusher. These headphones offer active noise cancelling, as well as a built-in EQ slider, although the bass still isn't quite as impressive as the bass on the H100.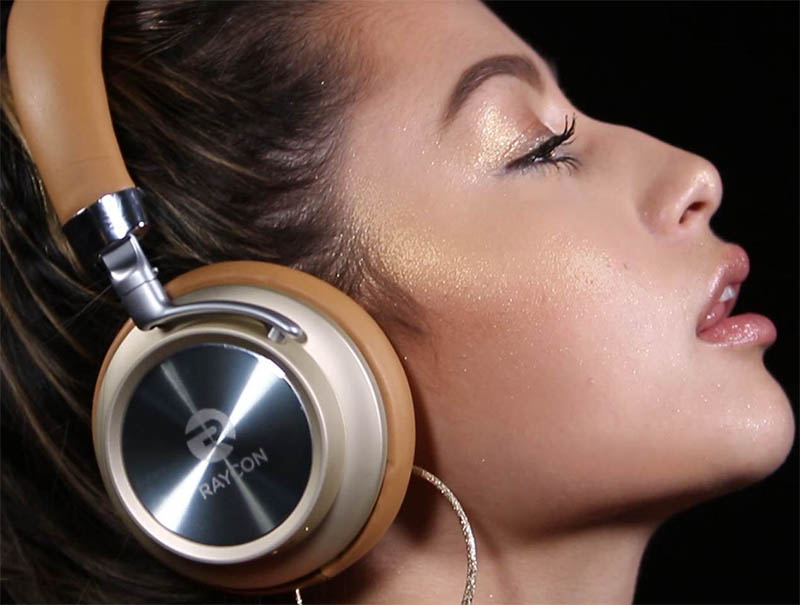 Extras
When it comes to extra accessories and features, the H50 and H100 are both more or less equal. Both sets include an owner's manual, as well as a warranty card and a 6-foot 3.5mm aux cable. This isn't a huge deal, but it's nice to see that Raycon has considered that some users still prefer a set of wired headphones. Make sure to fill out the warranty card and mail it in; that's the only way you'll be able to take advantage of Raycon's 12-month manufacturer's warranty.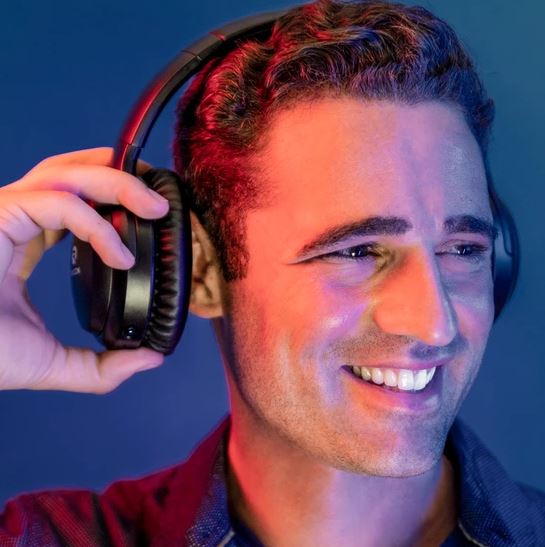 Final Verdict
So, which one of these headphones is the most worth buying? As is often the case, it depends on what exactly you're willing to pay for.
The Raycon H100, while a bit pricier, offers exceptional sound quality. We really liked the bass slider, and the fact that it didn't wreck the mids, even when it was cranked all the way up, appealed to us in a big way. A lot of headphones can't put out quality bass without turning the mids into alphabet soup, so it was nice to get our hands on a pair that could keep up with the deepest bass drops on the planet. Throw in the active noise canceling feature, and there's not even any competition.
That said, the Raycon H50 is much more affordable. And the sound quality is excellent, albeit not quite in line with the H100's market-leading performance. In terms of frame quality, it's more or less a matter of preference. The H100 is undeniably a bit sturdier, but the H50 has a slim, lightweight feel that's worth considering if you favor a more Spartan frame.
Still, if we had to choose just one, it would be the H100. The sound quality is just that good, and the frame is just icing on the cake.