The Ofusho and Lasuney Bluetooth 5.0 wireless earbuds appear to be quite similar at a first glance. But deciding between the two buds can be tricky, especially if you haven't tried them for yourself.
That's where this guide comes in. We'll explain what distinguishes these two pairs of earbuds from one another and what makes them each worth your time and money. You'll be able to decide for yourself which set of features or design choices best attracts you and which set of earbuds will go with your lifestyle or needs.
Design of the Ofusho Earbuds
First up is the design for the Ofusho buds. These buds feature a wireless ergonomic design. The overall shape of the buds is designed to fit the main sound-emitting portion of each bud deep into your ear and leave the chip and other elements outside for easy removal. The earbud tips are made with a soft rubber material that will mold to the shape of your inner ear, making them more comfortable the longer you wear them.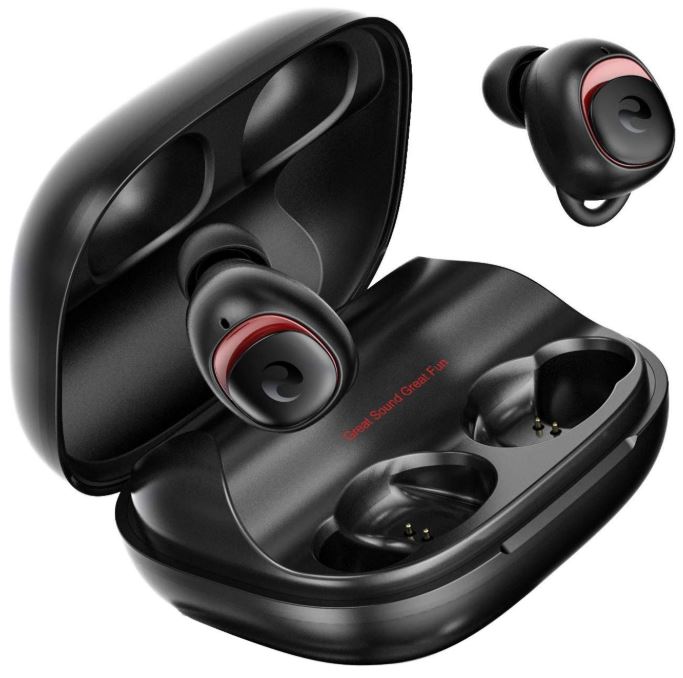 In fact, the buds were tested with 100 human ear shapes to ensure that the rubber tips would be comfortable for most users. The purchase also comes with three pairs of ear caps that you can switch between at your leisure. You can choose the one that fits into your ear most snugly to ensure that it doesn't fall out when you run or exercise.
The Ofusho buds are also IPX-7 waterproof, so you can safely wear them in the rain or in humid weather without worrying. Human sweat is a non-issue, as well. You can easily take these on your jogging route, although be aware that the noise-reduction technology integrated with the buds can make running a little more hazardous if you aren't paying attention to your environment.
Design of the Lasuney Earbuds
Now let's look at the Lasuney buds' design. These buds have a much bolder shape; the bud tips fit snugly into your ear but a long neck extends out of each bud's head. When placed properly, the necks of the earbuds should point toward your chin or the lower portion of your jaw.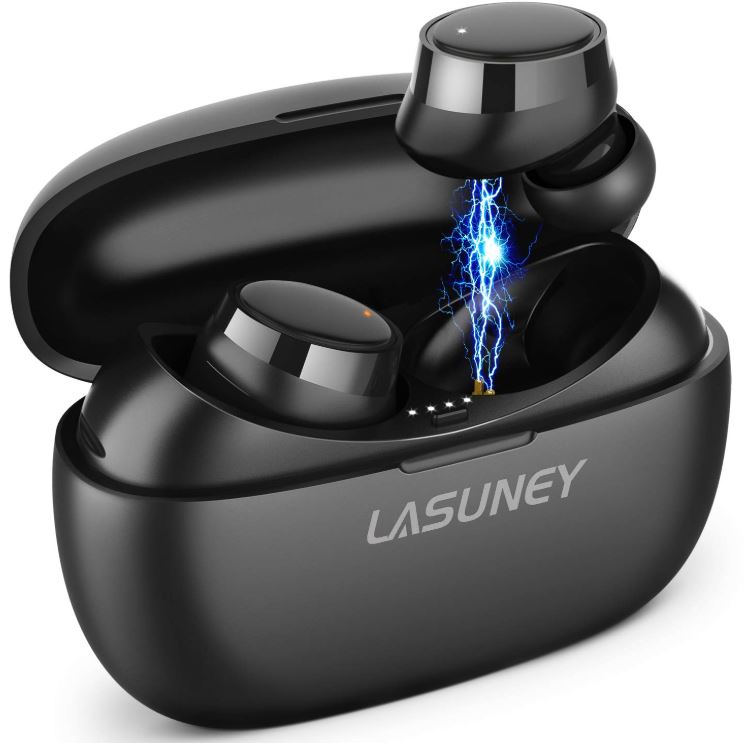 One advantage that the Lasuney buds have over the competition is the LED lights that run along the middle of the charging case and along the necks of both earbuds. These lights can let you know the relative charging status of each piece and provide helpful signage when they are connected or seeking a connection.
This light design is much clearer to the user than simply guessing. Their charging case is also a little more elevated in shape, though this difference is mostly just an aesthetic choice.
The Lasuney buds come with small, medium, and large-sized rubber ear tips. You can swap these out without trouble to determine which will be ideal for your ear shape. Once inserted and directed properly, you shouldn't feel the long neck of either earbud since it extends slightly out from your cheek. In fact, the necks just make them a little easier to remove when you are finished listening.
We'd rate the designs of both buds as about equal. The Ofusho buds are waterproof and sweat-resistant, but the Lasuneys have LED lights along their sides. It's up to you which you'll prefer more.
Features of the Ofusho Earbuds
The Ofusho earbuds feature integrated Bluetooth connectivity and touch controls to allow for easy operation while on the go. To switch tracks or change your playback routine, all you have to do is tap the earbuds with your finger in preset sequences or directions.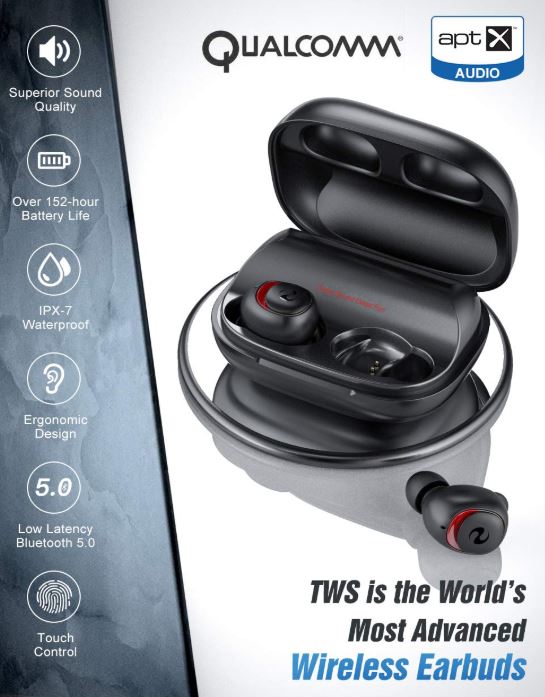 For instance, you can skip a track by tapping the earbuds with the tip of your finger. Or you can rewind a track by swiping backward. The touch controls allow you to enjoy the earbuds without having to take a remote control or rely on a wired control pad that lies along the middle of a wire.
Features of the Lasuney Earbuds
The Lasuney buds utilize this touch control design, as well. Touching the earbuds gently allows you to access their various features. While you can always control the earbuds from your phone, like with the Ofusho buds, you can handle practically any operation available to the Lasuney buds with a few taps or swipes along the buds' length.
Critically, you can also accept or reject phone calls received by your phone by simply tapping the earbuds. This is very convenient when you're working out and don't want to move your hands around too much.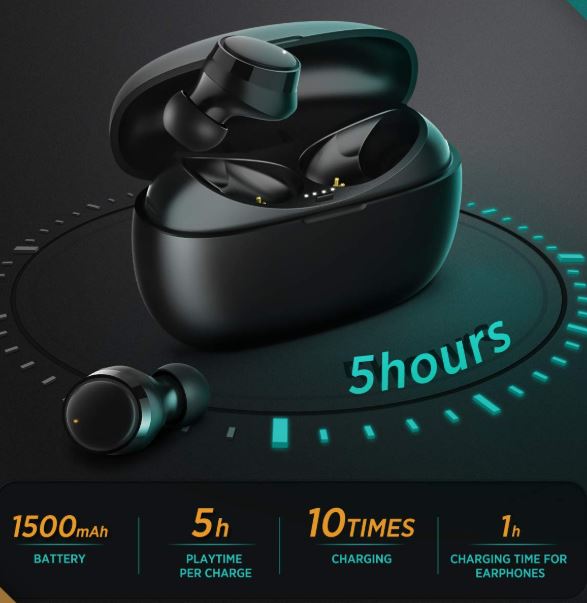 The Lasuney buds also feature twin built-in microphones for either earbud. This resulting functionality allows you to connect to phone calls sent to the device that the earbuds are connected via Bluetooth to. The microphone sound quality is superb and delivers your voice with accurate sound to whatever listener you are connected with. This versatility is a great extra feature, especially since you don't need a cord like most other microphoned earbuds.
The noise-reduction technology that the buds primarily used to improve your listening experience also works for the microphones. They'll work to reduce the ambient noise around your voice so that your conversational partner gets a clear discussion with you. Of course, you'll hear them clearly as well thanks to the same noise-reducing tech.
Finally, the Lasuney buds don't have a master-slave design between the buds; there's no single bud that is the "primary" one. Instead, the buds automatically switch to a single ear playback mode if they detect that one of the earbuds has been removed. They'll automatically switch back to playing through both buds once you replace the removed one. This is great for when you need to take a bud out for safety or conversation but want to continue listening to your music in the meantime.
All in all, the Lasuney buds' features are a little superior in versatility and value in our eyes.
Sound Quality of the Ofusho Earbuds
Ofusho uses a series of high-quality Qualcomm QCC3020 chips, which are among the most advanced earphone chips you can get in earbuds. The chips allow the buds to project 3-D stereo sound relatively consistently, in part due to the CVC audio tech integrated with the earbuds' designs.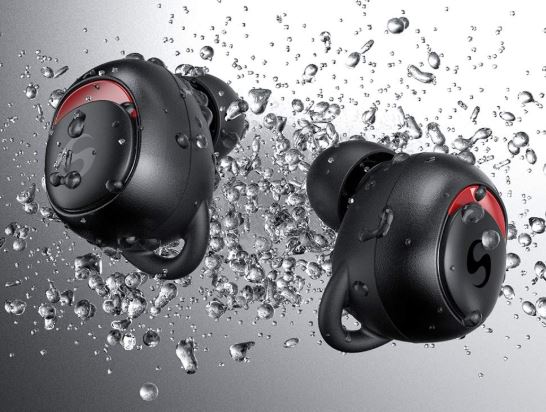 The CVC 8.0 noise-reduction tech isn't truly noise-canceling compared to many headphones you can find on the market. But it does lessen the impact that ambient noise can have on your appreciation of your favorite tracks. While you still need to pay a little extra attention to your environment while you jog, the fact that the earbuds are not fully noise-canceling means that you won't actually be deaf to your environment. It's a win/win design choice.
The resulting sound protected by the earbuds is rich and authentic across the entire sound spectrum. Mids and highs are brought to your ear with real pep and spice, while bass tones are particularly robust and sound absolutely incredible. In fact, these earbuds are especially great for tracks that make good use of bass sound above all else.
Sound Quality of the Lasuney Earbuds
The Lasuney buds' sound quality is also quite excellent. It delivers stereo sound and uses a set of Qualcomm chips for its own purposes. It supports sound across a dynamic range of frequencies and file types, and these buds also utilize CVC noise-reduction technology to lessen the effect of ambient background noise.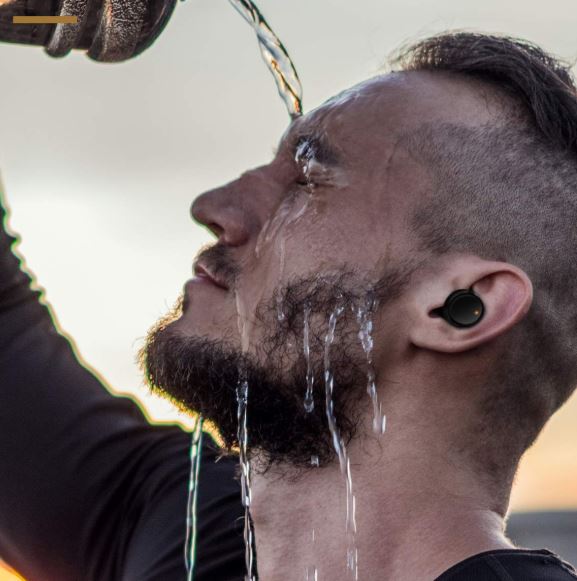 All in all, the sound quality between the two earbuds is fairly similar. The edge slightly goes to the Ofusho buds, but it's very close. Both buds' noise-reducing efforts are about the same.
Playing Time of the Ofusho Earbuds
The Ofusho earbuds utilize an advanced series of chips called Qualcomm chips. These consume less power than many competing chips, so they are able to project high-quality sound for up to eight hours if the batteries are fully charged.
Charging the buds is made simple thanks to the convenient carrying case. The case doubles as a charging port with a built-in battery; all you have to do is place the earbuds into their sockets in the case and they'll begin to draw power from the charger.
When the case itself runs out of power, you can plug the case into a nearby USB 2.0 port and charge that with the cable that comes with your purchase. All in all, the Ofusho buds' charging and playback capabilities are incredibly impressive.
Playing Time of the Lasuney Earbuds
The Lasuney earbuds have batteries capable of seven hours of continual run time so long as they are fully charged. They also feature a distinct charging case. This case can fully recharge the batteries of the earbuds in as little as two hours. Its integrated battery will recharge your earbuds seven times before needing to be recharged itself.
When the time comes to charge your earbud case, you can use the USB cord included with your purchase.
All in all, the two earbuds' charging methods and cases are relatively similar. But the Ofusho earbuds have slightly longer playback time on a full battery thanks in large part to the lower power draw that the earbuds demand.
Connectivity of the Ofusho Earbuds
Ofusho's connection begins as soon as you take the earbuds out of their charging case. The earbuds will immediately start to search for devices that they compare with, and they automatically connect with one another in a matter of seconds.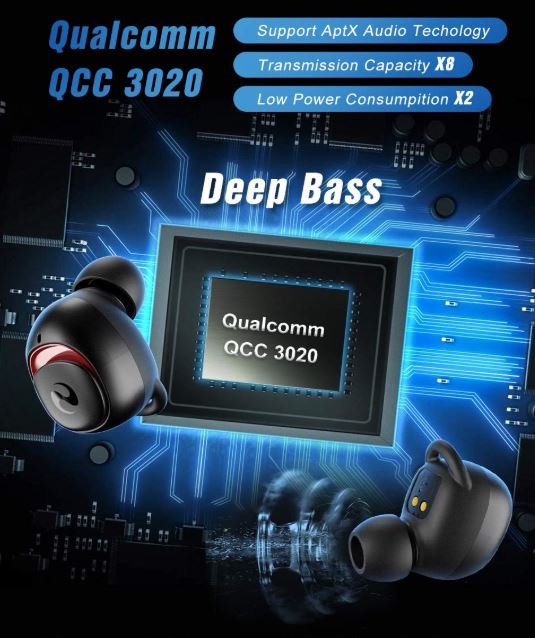 This feature becomes even more useful once you pair the earbuds with your phone or music player. They can remember the device that you pair them with previously and automatically begin the syncing process. Pop them out, pop them into your ears: it's that simple.
It feels great to be able to pop the earbuds out of your case and begin listening to music. There's no need for software downloads or manual reading.
Connectivity of the Lasuney Earbuds
Lasuney's earbuds also use Bluetooth 5.0 connections to immediately pair with one another and a Bluetooth capable device. They will also automatically pick up on devices they have paired with before to allow for easy music startup.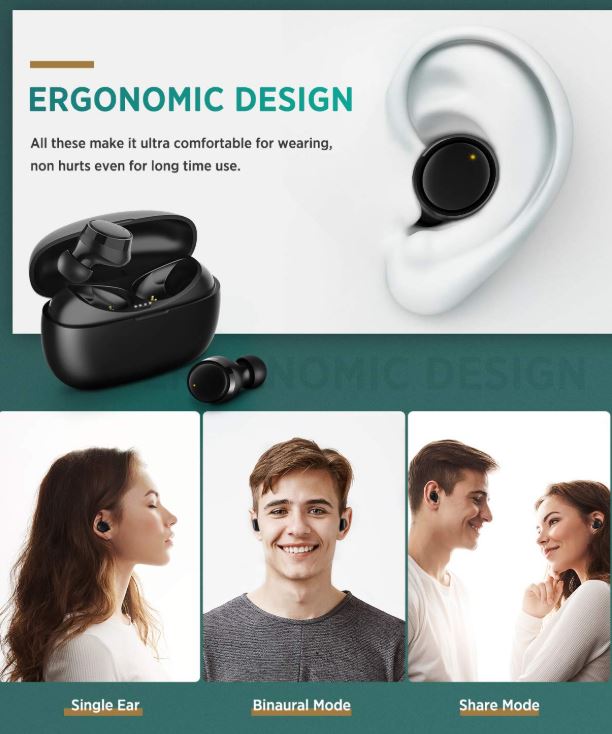 These buds have a maximum stable connection range of about 33 feet, which is quite generous considering that most Bluetooth devices will be easily within this range even during a workout. It gives you plenty of space to move around in your home or gym without having your music cut in and out.
The Lasuney earbuds have better connectivity overall thanks to their excellent range.
Accessories
The earbuds accessories and included components are relatively similar. Both the Ofusho and Lasuney earbuds come with three rubberized tips that you can swap between depending on which size is best for your ear shape. They also come with a charging case with preset molds that fit the earbuds perfectly.
The charging cases are designed to use an included USB 2.0 cord that comes with each purchase. These cords are relatively short, however. If you have an additional USB 2.0 cord from another device that offers a more lenient length, you can use that cord if it is more workable for your charging situation.
Conclusion
All in all, both earbuds have a lot to offer. They both perform really well when it comes to wireless connectivity and both produce high-quality and authentic sound across the full spectrum. In addition, both earbuds are pretty comfortable and are great choices to use when working out or on the go. The fact that they both integrate noise-reducing technology is just icing on the cake.
We'd recommend the Ofusho earbuds for serious joggers due to their waterproof design and slightly longer playback time on a full battery. You'll be able to spend more time away from the charging case with these earbuds than the Lasuneys.
On the other hand, the Lasuney Earbuds are an excellent pick if you spend most of your exercise time at the gym. Their generous maximum connectivity range will let you wander away from your device without losing your music. Their ability to accept phone calls and deliver smooth sound both ways in the conversation is another plus. It allows you to multitask while you get your daily reps in.
Whichever you decide to go with, we hope you'll enjoy your new earbuds. Thanks for reading!
Meet Derek, "TechGuru," a 34-year-old technology enthusiast with a deep passion for tech innovations. With extensive experience, he specializes in gaming hardware and software, and has expertise in gadgets, custom PCs, and audio.
Besides writing about tech and reviewing new products, Derek enjoys traveling, hiking, and photography. Committed to keeping up with the latest industry trends, he aims to guide readers in making informed tech decisions.