Simshine Baby Pro
Pros
Crystal clear 2K resolution and night vision
Multiple AI monitoring functions.
Can be shared between up to five users.
Includes an easy-to-use crib stand.
Fun, colorful design available in pink or yellow.
Cons
No battery – must be plugged into USB to work.
Not ideal for metered internet connections.
Your baby is the most important thing in your life, bar none. So it makes sense that you'd do just about anything to keep them safe. You take them to the doctor, you feed them and change their diaper, and you soothe them when they cry. And of course, you do your best never to let them out of your sight. But even the most vigilant of parents can't literally watch their baby 24/7. At some point, between all the nighttime feedings, you need to get some sleep of your own. And when your baby is asleep, it might be your only opportunity to get household chores done. This might be a necessity, but you still might be anxious about your baby's safety.
So what do you do when you need to do some dishes or take out the trash? Use a baby monitor to make sure your child stays safe! A good baby monitor allows you to check in on your child whenever you want. It also allows you to know when they're crying, or when they're awake and need to get out of their crib. Baby monitors have been around for a long time, but a lot has changed. Old-school baby monitors were simply one-way radios. You'd set up a transmitter near the baby, then carry a receiver with you around the house. But modern monitors offer video, smartphone apps, and intelligent AI functions.
A good example is the Simshine Baby Pro (SimCam) Smart Baby Monitor that we're about to review. This monitor looks like a modified webcam, and it's easy to set up and configure. There's no separate receiver, though. Instead, you can keep tabs on your baby right from your smartphone. As a result, this is much more than a simple monitor. It also makes a great nanny cam for when you're out of the house. It even tracks how much your baby sleeps! But is this monitor truly worth your while? To get a better picture, we'll need to take a closer look at all aspects of the Simshine monitor. We'll look at the design, the video quality, and the smartphone app, as well as all the other features. After that, we'll have a full understanding of what we're dealing with. Let's take a closer look!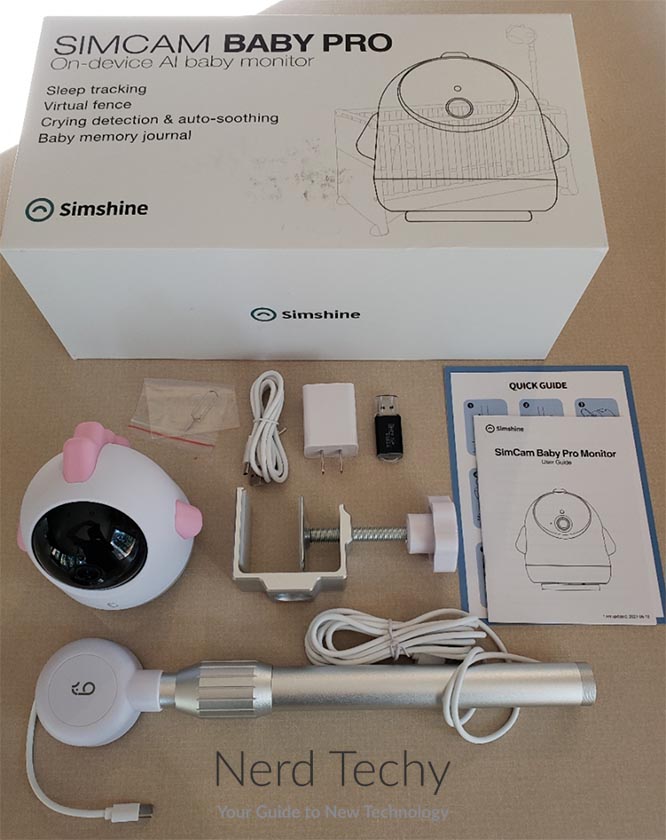 Overall Design
The Simshine Baby Pro Smart Baby Monitor has a fun, playful design. The housing is a domed cylinder, with a flat base for easy placement on a dresser or nightstand. The bulk of the material is matte white ABS with an environmentally friendly oil coating, with a light grey base and a small logo on the front. However, it's decorated by a small pair of rubber flaps that look like wings. There's also a rubber comb at the back of the top, further enhancing the dinosaur-like appearance. You can order it with either pink or yellow highlights, to suit your nursery's décor scheme.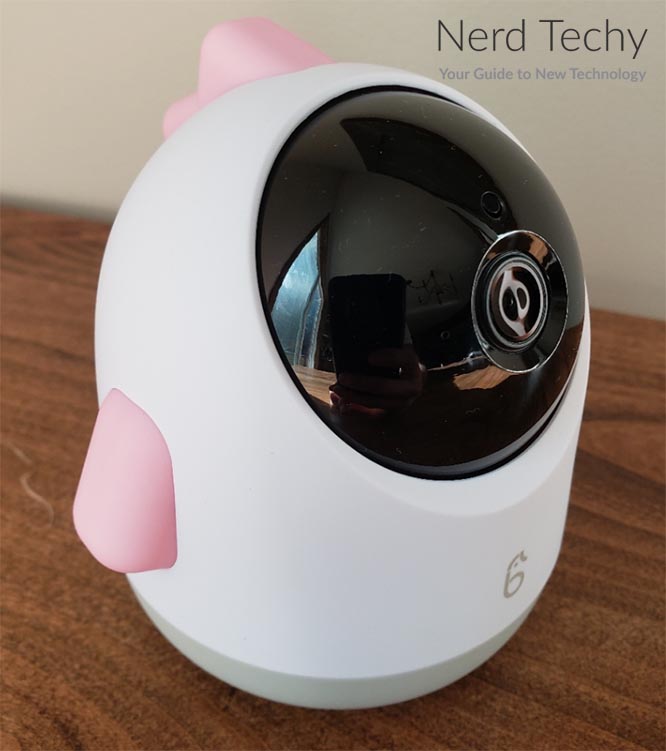 The diameter of the monitor is just over five inches, and it's only about eight inches high at its peak. And with a total weight of only eight ounces, it's easy to throw in a diaper bag when you're going on the road. The lens housing is located in the top portion of the main housing. It's all black, which forms a sharp contrast to the rest of the unit, and it's round in shape. You can actually see the camera unit inside, along with a small circular lens. There's also a small light sensor visible, although only when you look at the monitor from the right angle.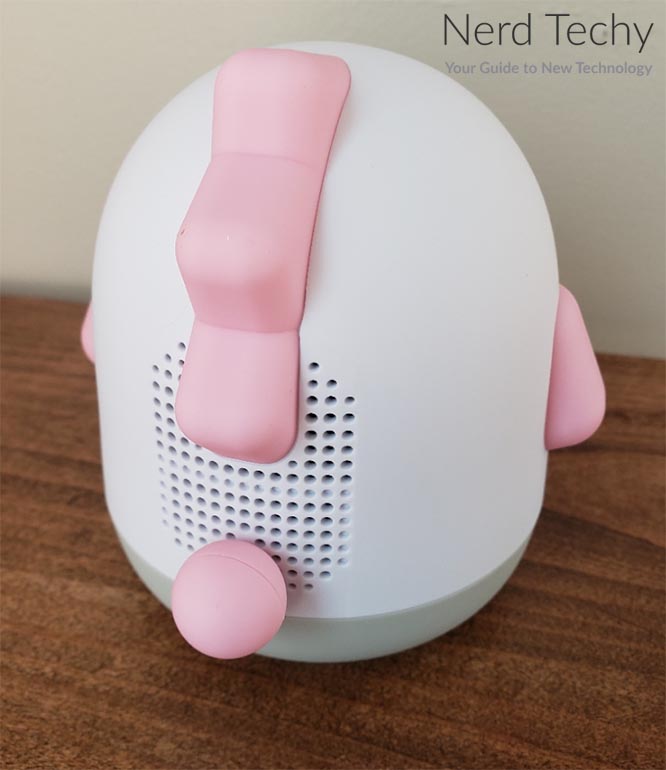 Along with the monitor itself, the kit also includes a crib stand. This is a simple, telescoping rod that attaches to your top crib rail with a clamp. At the end, there's a standard threaded rod like you'd see on a tripod stand. This screws into a threaded hole on the bottom of the monitor. When it's attached, the camera will face down towards your baby. If the baby moves around in the crib, the camera can easily rotate to follow them.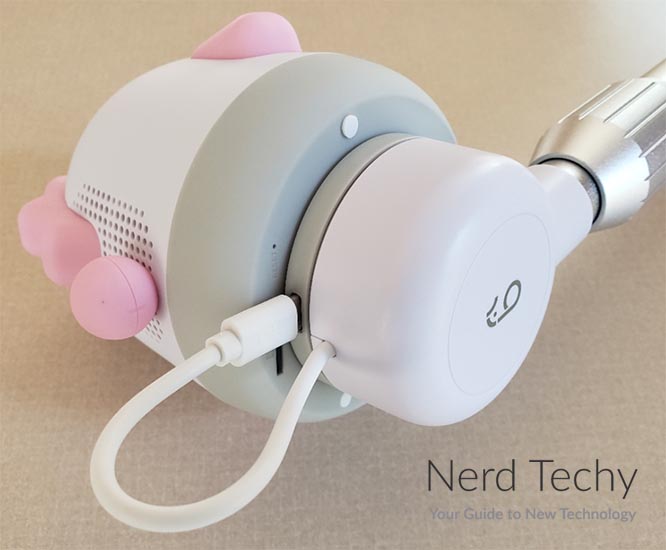 The stand has a built-in USB cable, so you can keep the camera plugged in. However, the Simshine monitor doesn't actually have any batteries. In other words, it always has to be plugged in any time you're using it. So if it's sitting on a table, for instance, you'll still need to plug in a USB cable. This won't be a big deal under ordinary circumstances. But when the power goes out, so will your baby monitor. It's a minor disappointment, but it's something you should be aware of.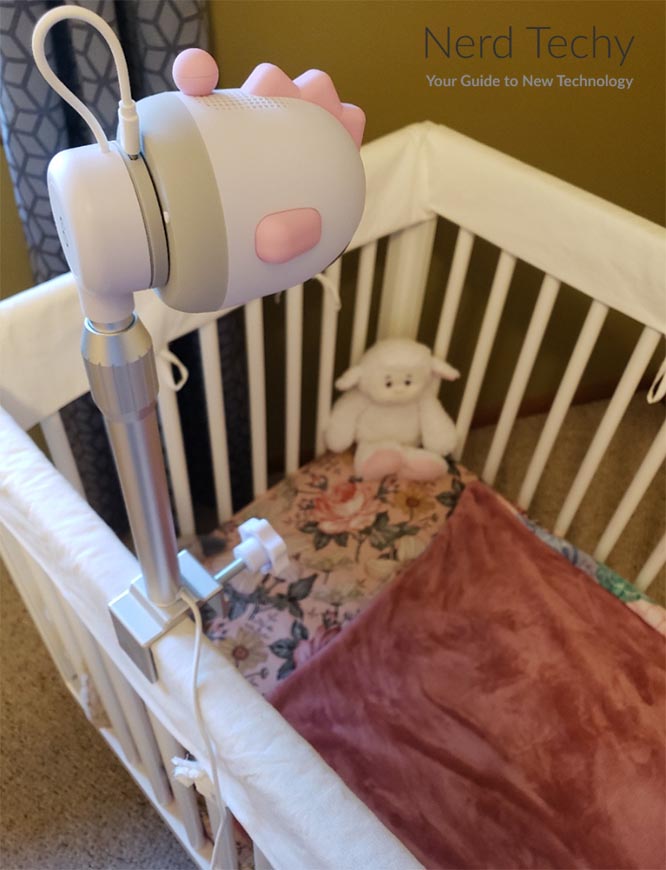 With all of this being said, suppose you want a more traditional baby monitor? In that case, the HOMIEE Video Baby Monitor is a great choice. This is an old-school monitor, with a camera and a separate monitoring display. On the downside, there's no app, so you won't be able to review your videos remotely.
Monitoring Features
The Simshine monitor's camera has a resolution of 2K, which is 1440p. That's significantly crisper than 1080p, and it gives you a detailed view of your child's environment. Of course, when the camera is directly over the crib, you shouldn't need that high a resolution. But suppose you're using the camera in a free-standing configuration in a larger room? In that case, you'll be able to see more details at a distance. You'll also be able to see well in sub-par lighting conditions. The night vision mode works beautifully by day and by night. As an added bonus, there's no LED or other visible light that could keep your baby awake at night.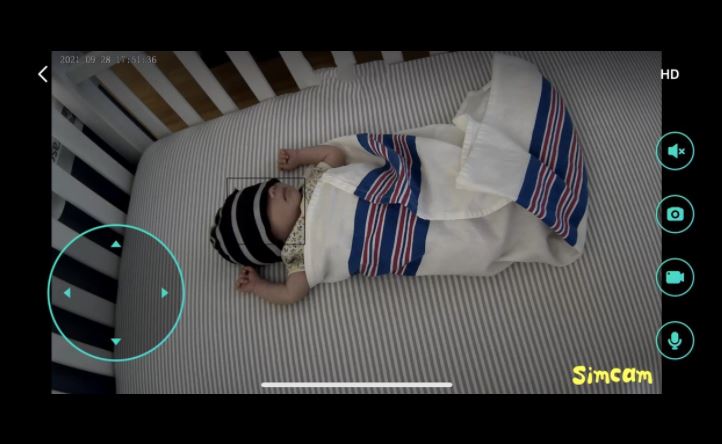 This baby monitor can pan and tilt 360 degrees, which makes it easy to focus on any part of your room. It rotates where the main housing meets the base, and it's fully motorized. As a result, you can use the app to rotate the camera remotely, or even allow it to move automatically. We'll talk about that more in a second.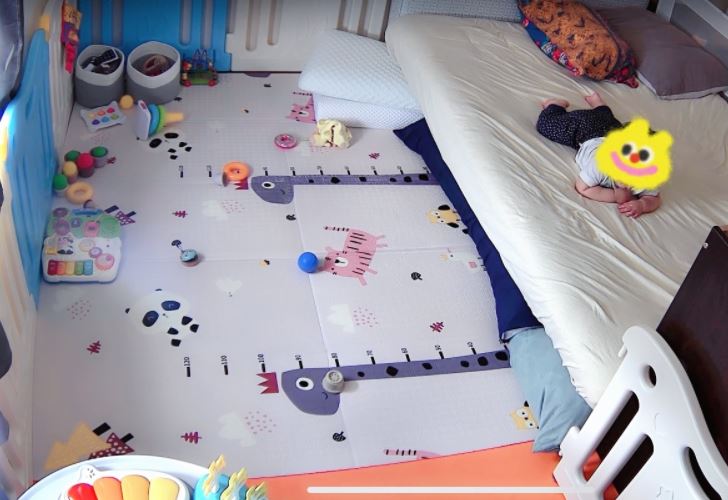 For video storage, the SimCam monitor uses a local SD card, with a capacity of up to 128GB. The basic package is equipped with a 32G memory card, but you can opt to purchase it with a 64GB or 128GB card. The nice thing about local storage is that it will keep recording even when your home's internet connection is out. Not only that, but you don't have to pay any extra fees, like you would for a cloud storage solution. When you review your footage, you can either view the live feed, or view specific recorded clips.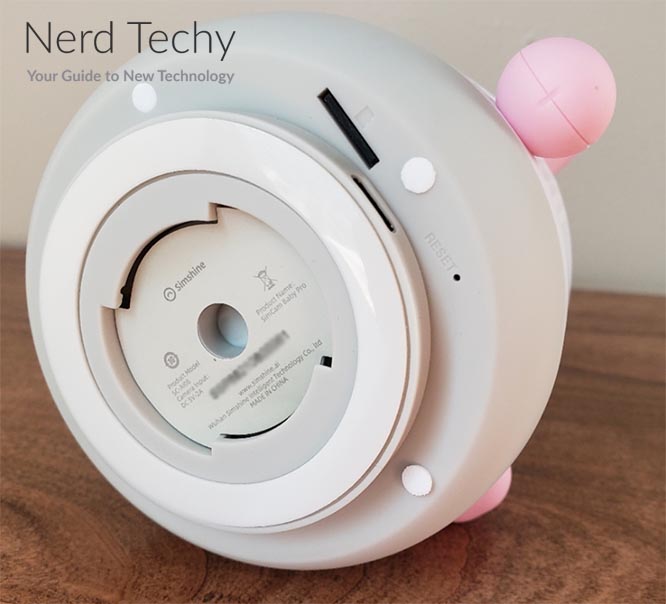 Connectivity & Extras
When you first open the SimCam package, you won't actually have a functioning monitor. To get things working, you'll first need to pair the camera unit with your smartphone. First off, you'll have to download the Simshine mobile app. The app is free, and it's easy to download for Apple and Android devices alike. Install it, and follow the prompts. You'll be asked to scan a QR code, which you'll find on the camera itself. Once this is done, the pairing process will commence, and you can set the camera up on your home's 2.4 GHz or 5 GHz WiFi network. From then on, it will connect automatically. You won't have to mess with the network settings unless you take it on vacation or get a new router.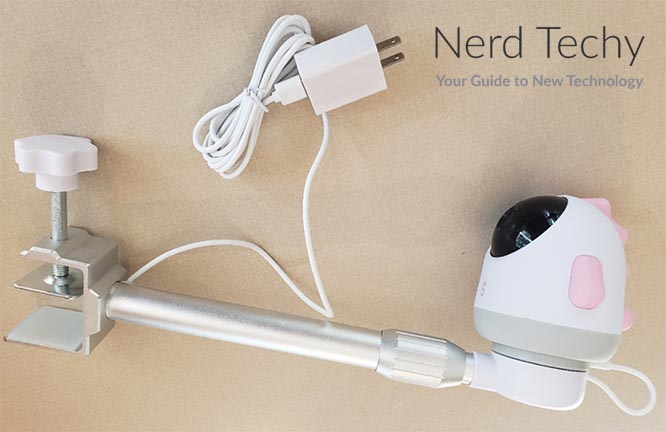 Once the monitor has been set up, you'll be able to access your live video from anywhere in the world. Of course, your partner or other relatives might also need access to the monitor. For that purpose, you can link up to five smartphones with the same camera. That said, you can't do this remotely. For security reasons, setting up a new phone requires you to physically scan the camera's QR code with that phone. This only needs to be done a single time, and it keeps strangers from hacking your baby monitor.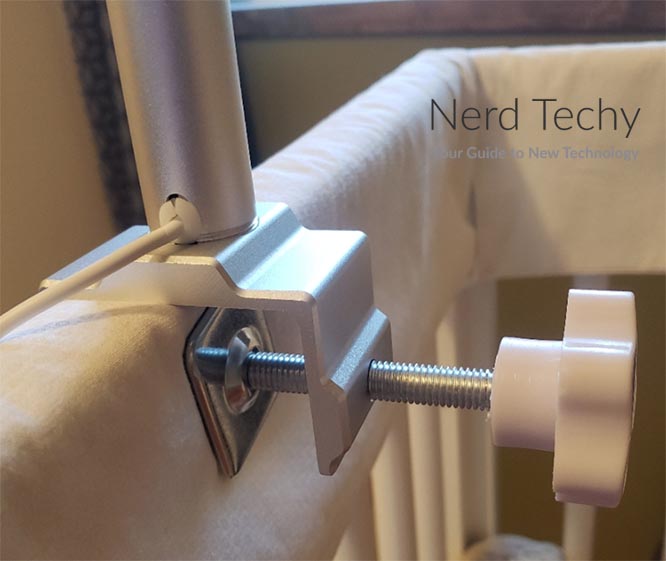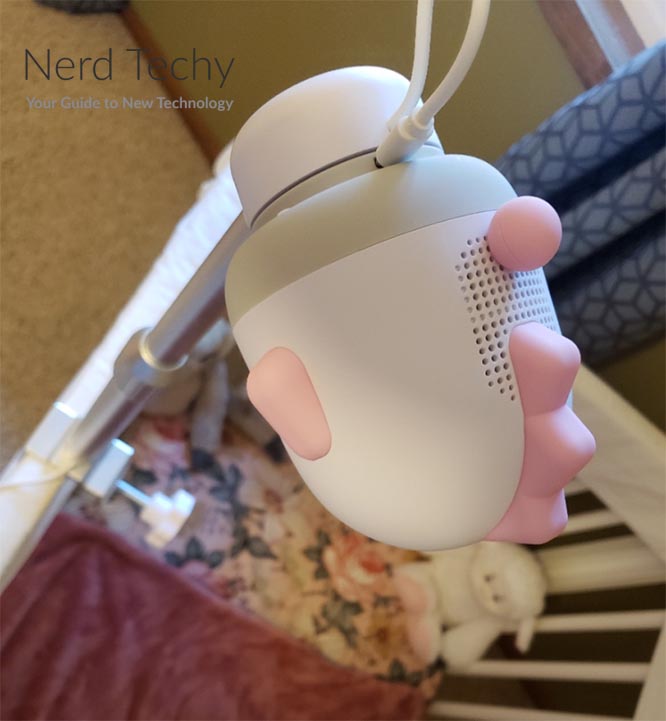 In addition to regular monitoring, the Simshine (SimCam) smart monitor offers several other functions. For one thing, it automatically pans and tracks your baby. For larger cribs and more active kids, this is a must-have feature. It automatically detects when the baby is crying, and plays lullabies to help sooth them. Finally, there's a virtual fence function. The camera recognizes the edges of the crib, and sends an alert if your baby is escaping. You'll appreciate this feature if your little one is a climber.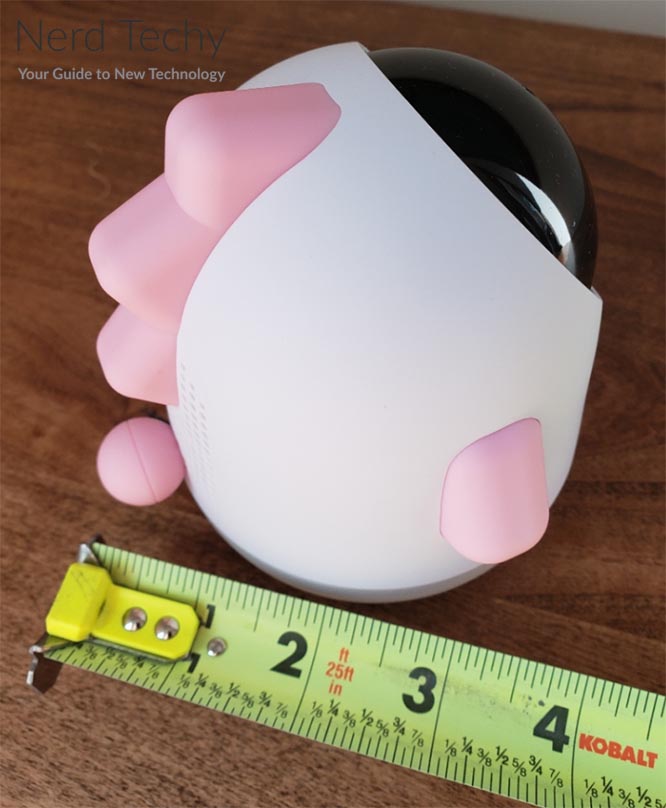 Final Verdict
The Simshine Baby Pro Smart Baby Monitor is one of the most comprehensive monitors there is. It's well-constructed, offers high resolution, and provides beautiful night vision footage. It's easy to set up, with a smartphone app that offers a ton of smart features. And with the included crib mount, you can have it up and running in no time. All in all, we were very pleased.