The Nintendo Switch is one of the most versatile consoles ever produced. With the ability to play on your TV or in handheld mode, you can play the same games wherever you go. And on October 8th, 2021, Nintendo released an upgraded variant, the Switch OLED. As its name implies, this new and improved Nintendo Switch features an upgraded OLED display. It also has some other improvements, which we'll discuss momentarily. However, just as there are benefits to upgrading your Switch, there's also a disadvantage. Simply put, many of the original Switch accessories won't work with your Switch OLED.
This applies to one of the most important pieces of equipment, your grip case. A grip case is inconsequential if you're only ever playing your Switch in docked mode. But if you're taking your Switch with you, you probably want to invest in some protection. After all, Switches aren't free, and it would be a shame to damage one in a drop or a bump. A good grip case will keep your Switch safe, as well as providing a more comfortable grip. It should also be reasonably easy to remove, so you can dock your console when you need to. As you might imagine, some grip cases meet these criteria better than others.
Now, we'll be reviewing three of the web's most popular grip cases for the Nintendo Switch OLED Model. We'll begin with the Trepcrow Protective Grip Case. This heavy-duty protective case sports beefy grips, so your Switch is very easy to hold on to. Next, we'll examine the ZJRUI Grip Case. This is an adjustable grip case that fits the Switch OLED, the Switch Lite, and the original Switch. Finally, we'll look at the GTApalm Protective Case. This case has an exceptionally rugged design, combined with rubbery TPU grips. But this just scratches the surface of what each of these grip cases has to offer. We're going to have to get into more detail to understand what we're looking at. Let's dig deeper, and see what we uncover!
What's the Difference Between the OLED Version and the Original Switch?
Since the Switch OLED is brand new technology, not everybody is familiar with it. So before we talk about any cases, let's start with the basics. Why would you want a Switch OLED instead of the original Nintendo Switch or the Switch Lite?
The main benefit is the one we've already mentioned: the high-quality OLED display. The original Switch's LCD screen performs well in most respects. However, it's not as bright as it could be, so it gets washed out in bright sunlight. In addition, LCD color isn't as vibrant as LED color. The new display isn't just better quality, either; it's also larger, with a 7-inch diagonal measurement.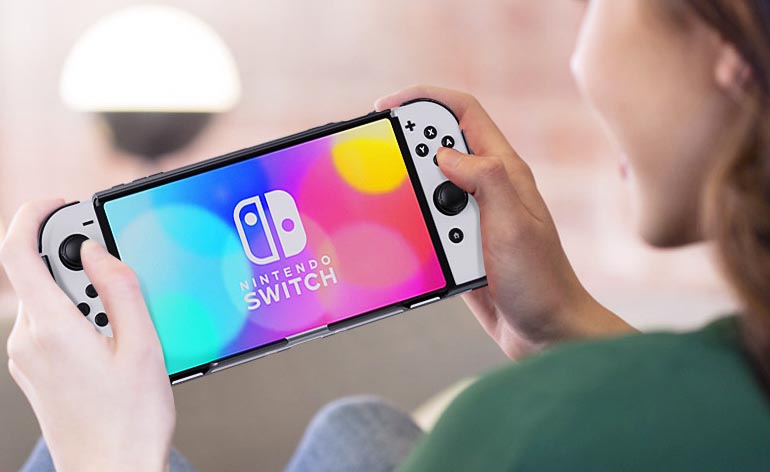 Despite its screen being 0.8 inches larger than the original, the Switch LED actually isn't much bigger. In fact, it's 4.0 inches high and 0.55 inches thick, just like the original. And at 9.5 inches wide instead of 9.4, it's only marginally wider. This is pretty impressive, considering how much bigger the screen is. But it still means that the Switch OLED will be too big for ordinary Switch cases. On the other hand, some Switch OLED cases will work for the original Switch. It all depends on the nature and type of the cutouts. That said, if you have a Switch Lite, you'll only be able to use a dedicated Switch Lite grip case.
Besides the screen, there are a few other improvements built into the Switch OLED. Most notably, the storage space has been doubled, from 32GB to 64GB. As a result, you can store more games on your console. If you avoid using SD cards like the plague, you're going to like this feature. Another big improvement is the kickstand. Instead of the original's thin, flimsy stand, the Switch OLED has a wider, sturdier kickstand. Not only that, but a LAN port has been added to the docking station. This allows you to use lower-latency wired internet when you're gaming online.
Other than that, the Switch OLED is pretty much identical to the original. The resolution is 720p, which has not changed despite the improvements in brightness and color quality. The battery life is still highly variable, with anywhere from 4.5 to nine hours of playtime per charge. And all Switch models use the same processor, so they can all play the same games. The only other differences are cosmetic; the power and volume buttons have been redesigned.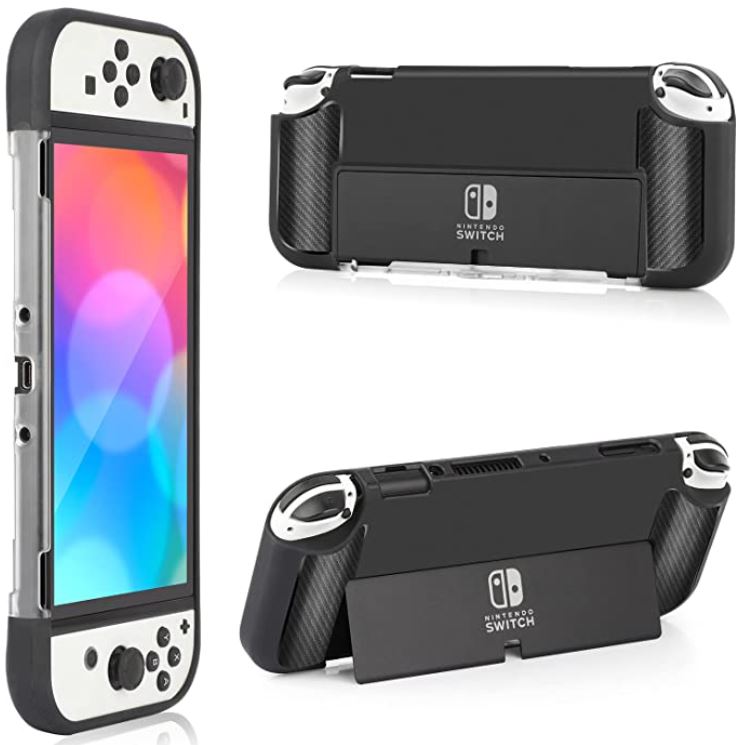 Trepcrow Protective Grip Case
The Trepcrow Protective Grip Case is a mixed-material grip case that has a single-piece design. The case has a snap-on design, and completely encloses the back and sides of your Switch. It wraps slightly over the front edge of your Switch and Joy-Cons, creating a narrow black bezel. The main frame is constructed from PC plastic, which is scratch and shock-resistant. This does most of the protective work, while the bezel protects your screen when it's dropped flat on its face. There's also a cutout across the back, so you can easily open and close the kickstand.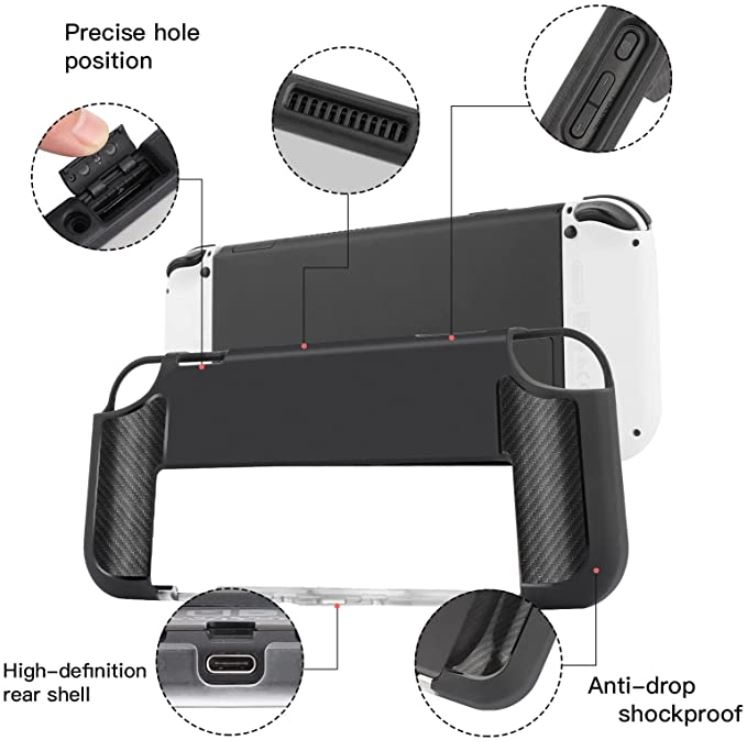 The bottoms of the grips are fashioned from TPU rather than PC plastic. TPU is a rubbery material, which provides a better, more comfortable grip. The TPU rubber is shaped to conform to your hand, with a bulge on the bottom of each Joy-Con. Moreover, the TPU adds a little bit of extra padding if the Switch is dropped on that area.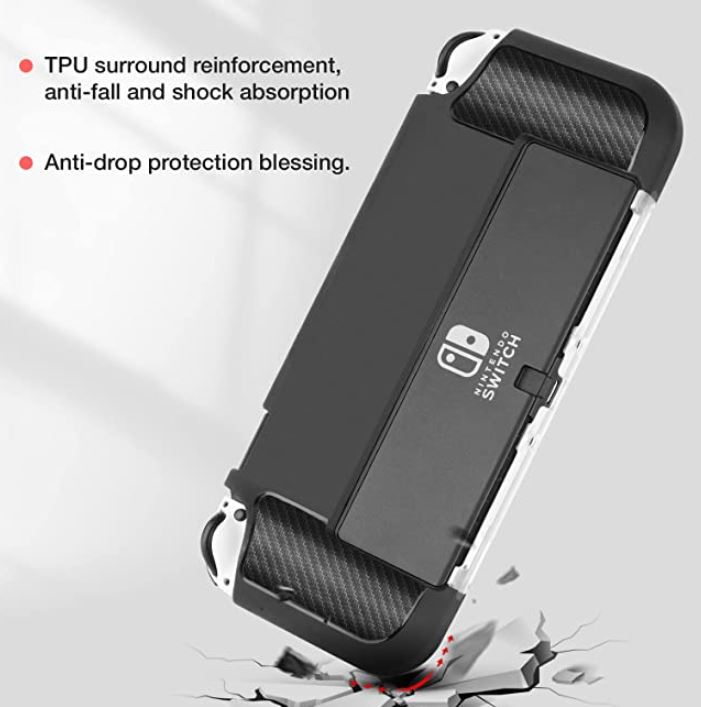 The overall design is very precisely cut, with cutouts for all your ports and buttons. It's possible to play, charge, and do just about anything else with the case still on. That said, this level of precision design has its downsides. This case will not fit an original Switch or a Switch Lite. Moreover, because of its beefy design, it's not dockable. So you have to take the case off whenever you want to play in docked mode or remove the Joy-Cons. This can be a little bit of a pain. On the other hand, the one-piece design is more durable than a comparable 2-piece model.
If you need cases for the original Switch, there are plenty available. In fact, we've reviewed a series of dockable Switch cases, so you can leave them on all the time. Just keep in mind that all of those cases will be too small for the new Switch OLED. However, recently we also reviewed the best Switch OLED dockable cases.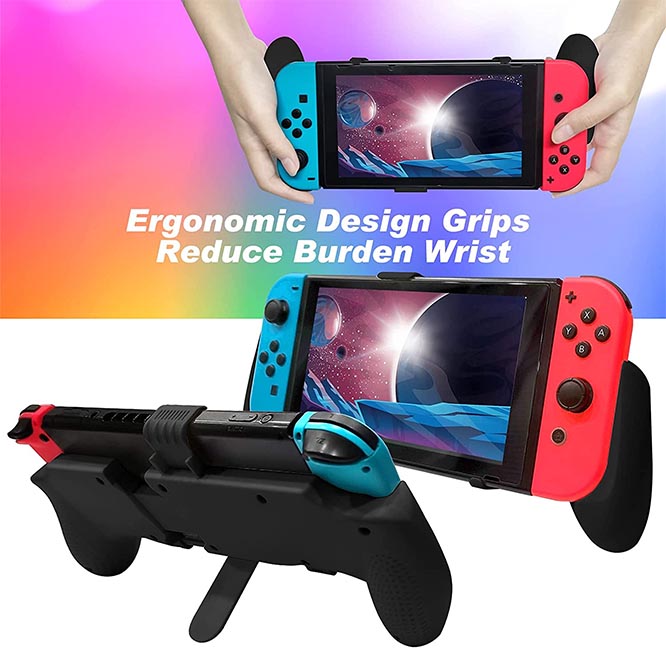 ZJRUI Grip Case
The ZJRUI Grip Case is one of the more unusual cases on the market. So depending on what you need, it could easily be the best or the worst choice on our lift. The bulk of the case is constructed from matte black ABS plastic, which is easy to clean and grip. Moreover, the bottoms of the hand grips themselves have a dimpled texture. If you want a good grip without any rubber on it, this one will easily meet your needs.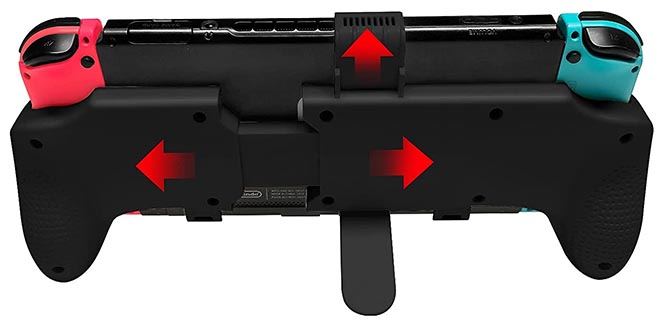 Like the Trepcrow case, the ZJRUI case has a single-piece design. However, it doesn't fully enclose your Switch. Instead, there's a bracket around the top and bottom that hold it in place. The reason for this is that the case is adjustable. The back panel has a slide in it, and is spring-loaded to apply tension to anything inside. As a result, it can fit different widths of device. You can use this case for the original Switch, the Switch Lite, or the Switch OLED. The top of the bracket is also adjustable, although it's made with elastic so it will always grab tight.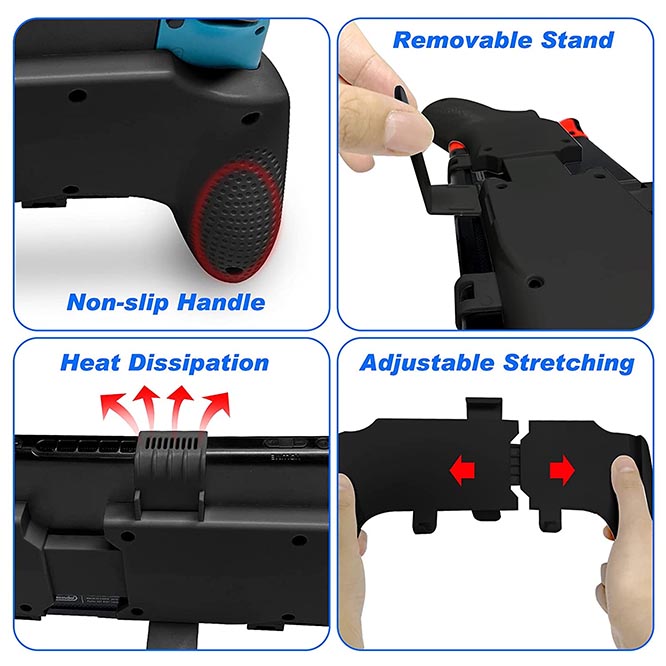 On the back of the bracket, you'll find a slot for the detachable kickstand. During normal operation, you can leave the stand in place, and it's not going to stick out. Then, when you want to set up your Switch for desktop use, you just slide it out and pop it in the other way. Presto! You've got yourself a kickstand. This more than makes up for the fact that the case covers your Switch OLED's built-in kickstand.
The adjustable design makes the ZJRUI case more than capable of fitting over a thin protective shell. That way, you can have at least some protection even without the case attached. On the other hand, the case isn't dockable. But considering how easy it is to take on and off, that shouldn't be a problem.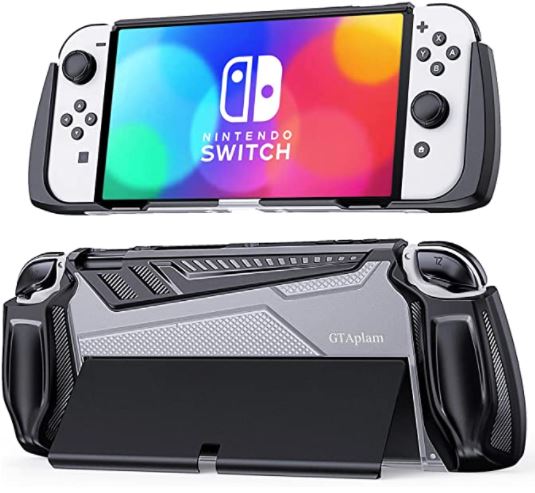 GTApalm Protective Case
The GTApalm Protective Case is another one-piece Switch case that's constructed from two materials. The main back panel is polycarbonate, with a cutout for your built-in kickstand. This material extends around the edges as well, providing excellent corner protection. All in all, your Switch will be exceptionally safe inside this case.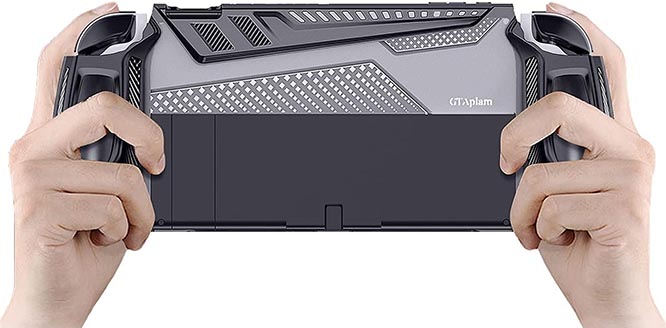 The parts of the case around the hand grips are made from a softer, rubberier TPU material. This gives it a gentler feel, which is easy on your hands during long play sessions. That said, we weren't as happy with the general shape. Instead of being rounded off, they have flat bottoms. This was an odd choice, and it was a bit disappointing. Like the others, this case is not dockable. But it's relatively easy to take on and off.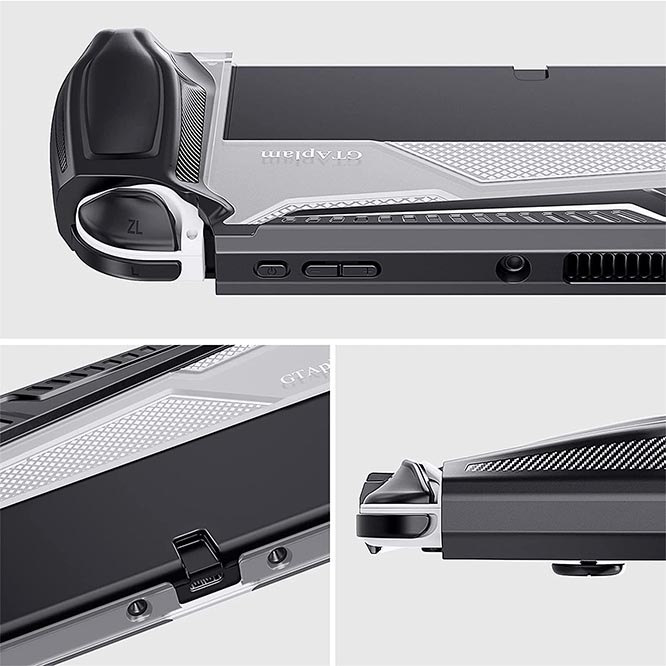 Final Verdict
So, which one of these Nintendo Switch OLED grip cases is the right choice for you? Let's go back to the first one we looked at, the Trepcrow Protective Grip Case. This case is very protective, as well as ergonomic and comfortable to handle. Its precision design also gave us a lot of confidence about its overall quality. Then again, the single-piece design makes removing the Joy-Cons a headache.
The ZJRUI Grip Case is more of a removable grip than an actual case. On the one hand, it doesn't provide much protection. On the other hand, it's ergonomic, and it fits any type of Switch. It's also easy to take on and off, so the fact that it's not dockable isn't a big deal.
The GTApalm Protective Case is the sturdiest and toughest of the bunch. It's not dockable, just like the others, but it's bigger and beefier. If you value protection above all else, this is the choice for you. That said, it's not as ergonomic as the others.