When it was released in 2017, the Nintendo Switch was a breath of fresh air in the gaming industry. It combined the benefits of a traditional console with the portability of a handheld game system. This made it hugely popular, and it's sold over 50 million units to date. For many people, this was just fine. It's good to have a versatile game system!
Of course, as with any hybrid design, Nintendo had to make some compromises with the Switch. Specifically, there was only so small they could make it and still support 1080p video in docked mode. As a result, it's a bit larger than you might like for a portable console. For those Nintendo gamers who want a purely portable system, Nintendo has produced the Switch Lite. It's a bit smaller than the original Switch, and is ideal for transport.
This small design might be perfect in terms of portability, but it doesn't leave much room for controls. As a result, there's virtually no grip on the Switch Lite. This can be problematic for people with large hands, or for anyone who prefers a beefy grip. We're about to look at three different aftermarket Switch Lite grip cases.
First, we'll be reviewing the OIVO Comfort Grip for Switch Lite. This is a wide grip case, with a long, extended pair of grips. Next, we'll examine the Satisfye New Grip Lite. The actual grips on this case are similar to the OIVO's, but the case itself has a unique drop-in design. Finally, we'll check out the Orzly Grip Case. This is a rubbery case that has fatter, shorter grips. What else sets these three Nintendo Switch Lite grip cases apart? Let's take a closer look, and see what each of them brings to the table!
Nintendo Switch Lite Pros
Before you modify your Nintendo Switch Lite, let's go over a few things that make it special. First, and most obviously, there's the compact size. At only 8.2 inches wide, 3.6 inches high, and 0.6 inches thick, it's considerably smaller than the original Switch. Perhaps more importantly, it's also lighter, weighing only 9.8 ounces. That's a full 30 percent lighter than the original. To take advantage of this small size, you want a grip case that's easy to attach and remove. Otherwise, your Switch Lite won't be as portable.
The Switch's beloved thumb stick and buttons remain untouched. However, the directional buttons have been replaced with a proper D-pad. This is a plus, since you don't have to be as accurate using a D-pad as opposed to separate buttons. The triggers are identical to the originals, so there's no learning curve there. The Switch Lite's battery life is a bit better than the original, but only by about 30 minutes. Unless Nintendo releases firmware for more powerful battery packs, you won't be able to modify this soon anyway.
Another obvious advantage of the Switch Lite is the price. It doesn't offer as many features as the original Switch console, so it costs less to manufacture. This means you'll pay significantly less than you would for an ordinary Switch. If you only want to play handheld games, this won't be a problem. Hold onto your money, or spend it on more games, instead.
Nintendo Switch Lite Cons
As you can see, there are several great features to the Nintendo Switch Lite. That said, there are other aspects of the design that are less praiseworthy. For this reason, it shouldn't be surprising that there are so many accessories and aftermarket mods. Here are a few things you should be aware of about the Nintendo Switch Lite.
To begin with, the smaller overall size necessitates a smaller screen. This means that instead of a 6.2-inch screen, you'll only get a 5.5-inch diagonal measurement. This is a minor difference, but it's noticeable. The resolution remains the same, at 720p, but there's some minimal lack of detail. In terms of color quality and brightness, the Switch Lite's screen is comparable to the original. The edges and bezels have even been cleaned up, which makes it appear larger for the size. Regardless, there's no reason to worry about screen size. There's nothing you can modify about it, anyway.
Another downside that you can't modify is the ability to play games in docked mode. The Switch Lite won't dock, so it won't connect to your TV. It's strictly a handheld game system. Most of the time, that's why people are looking for a Switch Lite to begin with. But if you want to watch a movie instead of game, there's nowhere to set your screen down. When choosing a grip case, it's often helpful to find one with a kickstand. That way, you can set your screen on a table or desk to watch it.
As you can see, most of these complaints are just part of the package. You don't expect a dedicated handheld console to have a big screen, or to connect to your TV. That's what made the original Switch so unique and innovative. But there's one thing that seems to irk a lot of players: the grips are virtually nonexistent. This can cramp your hands after an hour of two or game play. This is another major reason to use a Switch Lite grip case.
Last, the Switch Lite will only play games that support handheld mode. To be fair, this is more than 90 percent of the Switch game library. Nonetheless, it's something to be aware of if you're counting on playing one or two games in particular.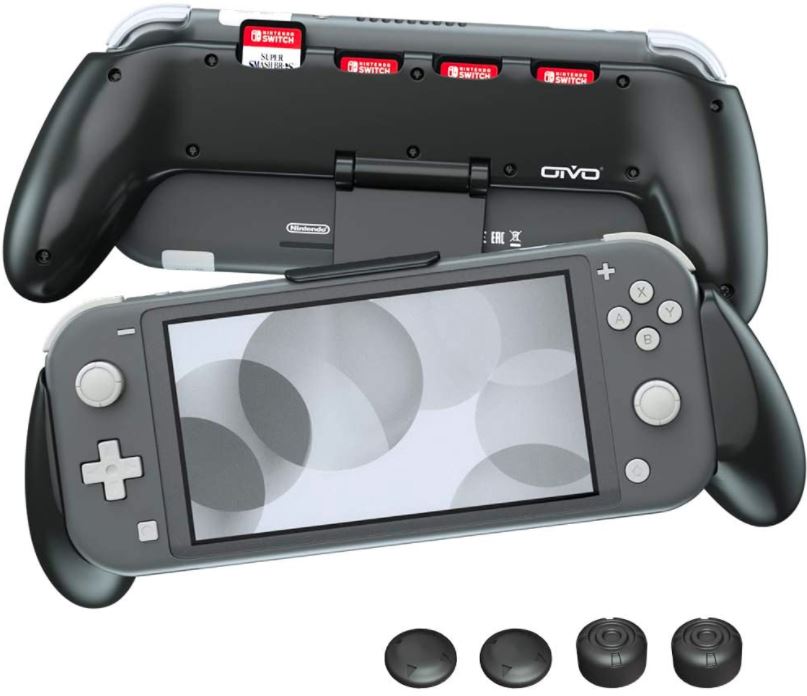 OIVO Comfort Grip for Switch Lite
OIVO is a well-known manufacturer of game console accessories. In fact, we've already reviewed their Switch clip mount for third-party controllers. So we were excited to see how the OIVO Comfort Grip for Switch Lite stacks up.
This is a basic, budget-priced grip case, with not a lot of extra features. That said, for just a few dollars, you're getting a good bargain. To begin with, the grips themselves are big and fat. They're similar to Xbox controller grips, which are well-known for being ideal for larger hands. One interesting quirk is that the right grip is slightly longer than the left. This allows for a more comfortable reach for the right thumb stick. The construction is just fine, although the grip case is constructed from simple ABS plastic. In addition, it's available in pink or white.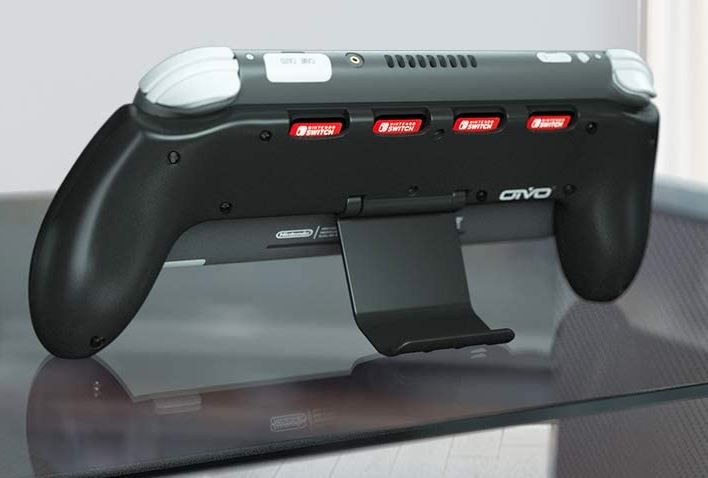 Dropping your Nintendo Switch Lite in and out of the OIVO Comfort Grip is very easy. It just drops in and out, without any unnecessary complications. There's no padding on the inside, so if you're constantly rattling your system, it may get scratched. But for relaxed play, this shouldn't be a problem. Retaining your Switch inside the case is easy. A black clip pivots forward to hold it in place without blocking the air vents. When used in tabletop mode, this clip can pivot downwards to function as a kickstand. Just make sure to remember to flip it back into place when you pick up your Switch Lite.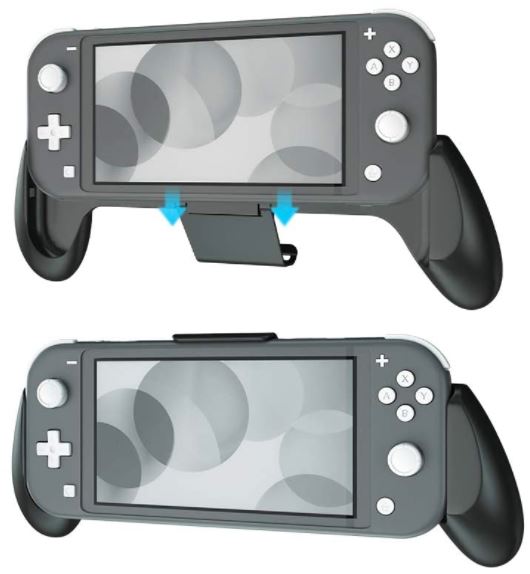 The one major extra feature of this grip case is the row of four slots along the top. These provide convenient storage for up to four Switch games, which isn't a bad upgrade. The OIVO Comfort Grip for Switch Lite is backed by OIVO's three-year manufacturer's warranty. If anything goes wrong within that period, you'll receive a refund or full replacement.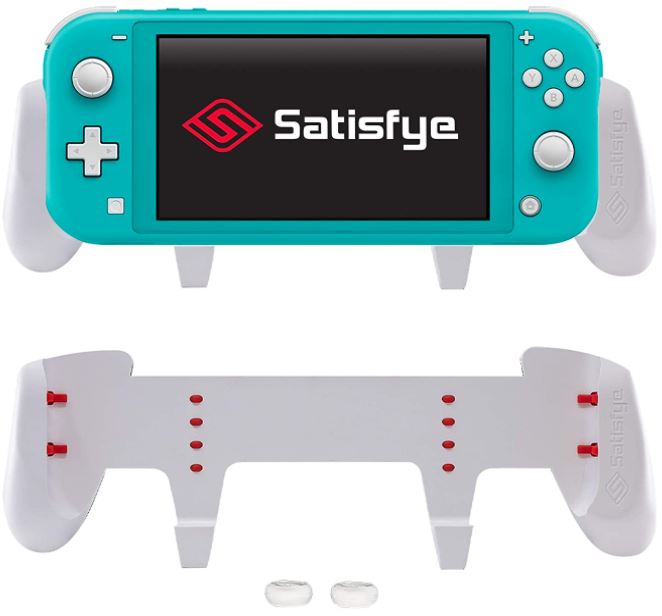 Satisfye New Grip Lite
The Satisfye New Grip Lite is a unique animal, with a quirky, four-pronged design. With a two-tone black and white design, it's not much of a looker. But it has a lot to offer in terms of functionality. Moreso than constant use, this grip case is designed for intermittent use. This is obvious from the drop-in design. Your Switch Lite slides in from the top and comes out the same way. There are no straps or clips holding your Switch in place. To be fair, the grip is snug enough to prevent easy slippage. But you'll still want to be careful about turning your Satisfye case upside down during use. As the saying goes, better safe than sorry.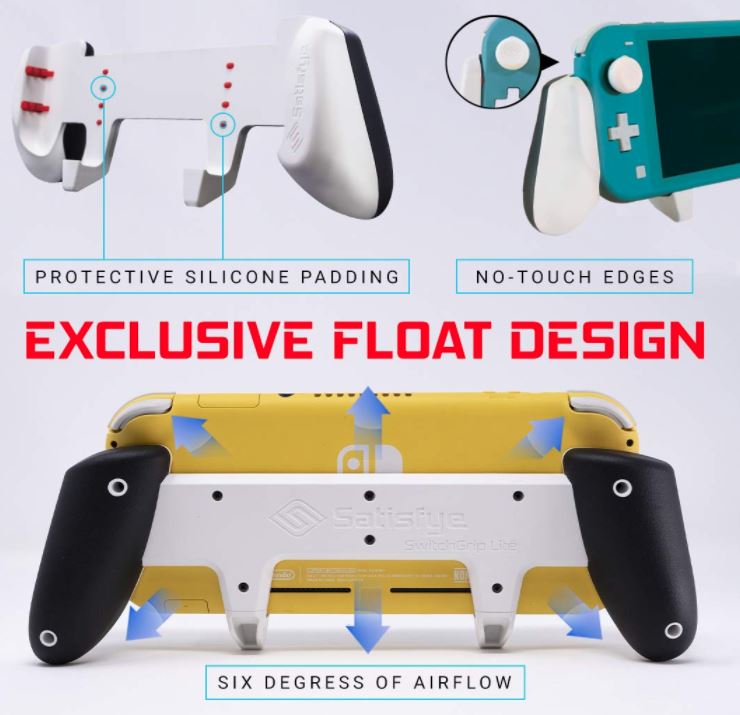 One beautiful feature of the Satisfye New Grip Lite is how lovingly it protects your Switch console. Four rows of silicone nubs cradle your Switch Lite and prevent it from getting scratched. Most manufacturers would have used simple rubber strips, or even felt. But by using small nubs, Satisfye minimizes the amount of actual contact with the case. This maximizes air flow, keeping your Switch Lite as cool as possible during gameplay.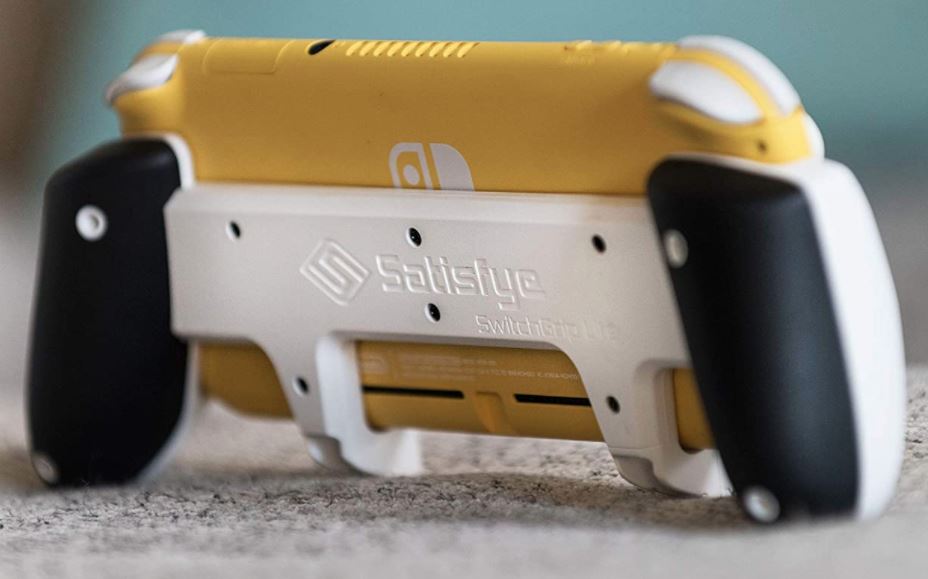 The grips themselves are very similar to the grips on the OIVO grip case. They have a chunky, extended design that's great for big hands. They also have well-rounded sides and bottoms, so people with smaller hands won't be left out. They're well-textured, with a rubbery bottom finish that never slips or slides. And as with the OIVO grip, the right side is extended for more comfortable thumb stick operation.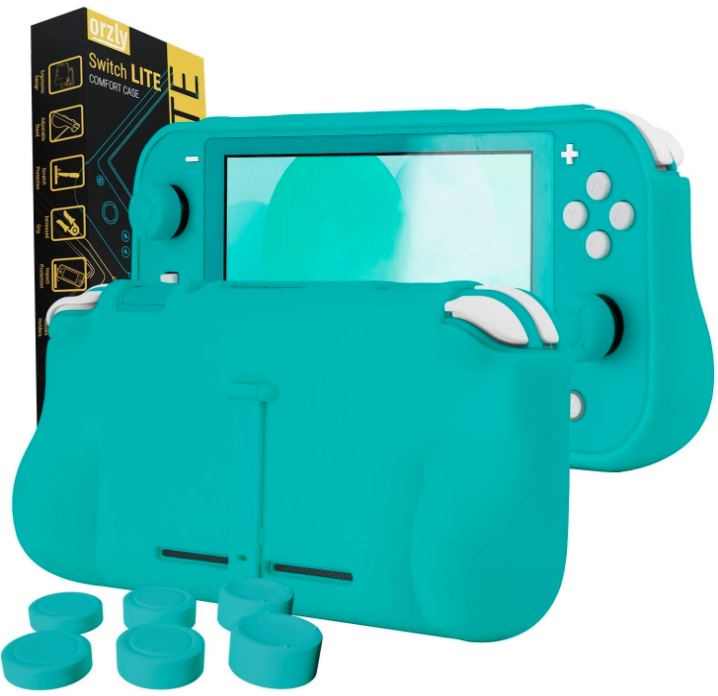 Orzly Grip Case
Orzly is a popular manufacturer of PC and console accessories. Among other offerings, we've reviewed their Nintendo Switch travel case and their tempered glass screen protector. We were impressed then, and we've been impressed again by the Orzly Grip Case for the Nintendo Switch Lite. It's a rubberized, wrap-around case that encloses your entire Switch Lite without blocking the air vents. This means it takes a minute to put on or take off, but it's not going anywhere by accident. It's available in eight different colors, so you can easily get one to match your personal sense of style.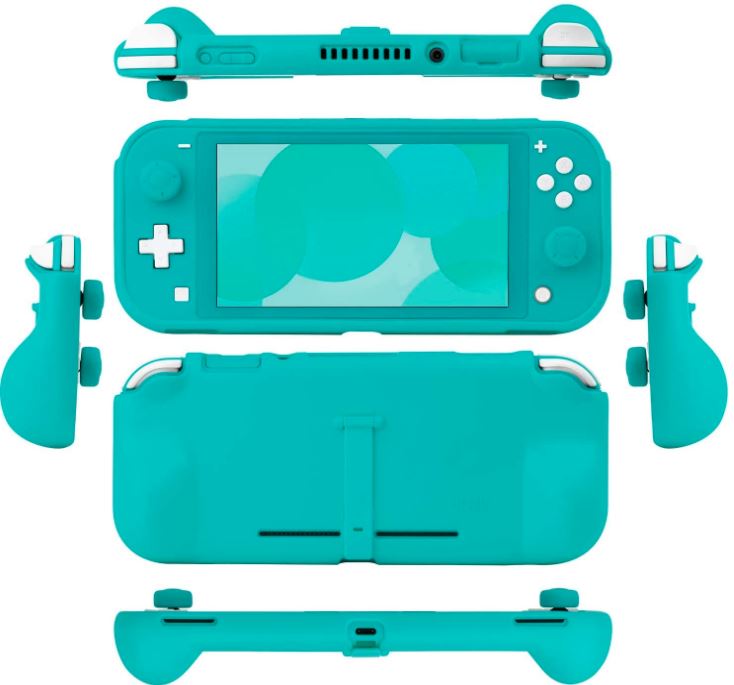 The padded hand grips are a bit different than the last two we looked at. Instead of long, fat, Xbox-style grips, these are no longer or wider than the Switch Lite's profile. This allows for easier packing. The grips are, however, nice and thick. This provides an excellent fit and plenty of comfort for small or medium hands. Even if you have larger hands, you'll have a nice rubbery surface to wrap around.
In terms of bonus features, each grip has a slot where you can store one game cartridge. They can be a bit pain to pulled out. However, it's a great added value and adds some portability. In addition, a rigid kickstand is attached to the back of the unit. It snaps shut when not in use, but is easy to extend for watching movies or videos. Finally, the kit includes a set of matching thumb stick covers. You may or may not like the feel of them, but they're by no means required. And if you do like them, they add a bit of extra flair.
Final Verdict
Which one of these Nintendo Switch Lite grip cases is the best of the bunch? For the most part, it depends on what you're looking for. If you just want a basic grip case, the OIVO Comfort Grip for Switch Lite is a great entry level unit. There's nothing fancy about it, and it's only made of ABS plastic. But it gets the job done and it's easy to put together. We especially liked the way the kickstand doubles as a retention clip.
The Satisfye New Grip Lite might be quirky looking, but it's well-engineered enough to get the job done. The support hooks are very well-padded, and the entire support system is very secure. It also provides more than enough airflow to keep your Switch Lite cool all day long. The only downside here is the cosmetic appearance. Suffice it to say that the Satisfye New Grip Lite won't be winning any beauty contests in the near future.
The Orzly Grip Case is a great choice if you want a softer, more forgiving grip. The rubbery material is very comfortable, and soft enough even for playing for hours on end. It's not as long as the other two grips, so you won't get that hefty, Xbox feel. But you will have something a little fatter to wrap your fingers around. The matching thumb stick caps are also a nice touch.